Happy New Year! I can't bear the idea of starting the year off with a healthy recipe. Plus, I already posted a salad the other day. Snooooze. So, let's do some doughnuts, shall we? I feel like there's not much of a more appropriate way to kick off 2014 (!!) and hopefully these doughnuts can act as a sign for all the good things to come this year. Because there are A LOT of good things. It's the year I'll become an aunt to twins (!!), it's the year Chris and I will start and hopefully end our house hunt (!!) and it's the year who knows what the heck else could happen. We have 12 wonderful open months that could welcome all kinds of fun stuff.
Like I say every single year, I think New Year resolutions are fabulous. It's never a bad idea to make goals and plan on self-improvement and January 1 is as good a time as any to get started. This year, I'm writing them down and really trying to make myself more accountable. The big one that I'm going to force myself to comply with (it always seems to be a resolution I keep for about one second) is to get more sleep and turn the light out before Midnight EVERY night during the week. EVERY night. We'll see how that goes.
But talking about sleep is boring so let's talk about doughnuts instead. I bought some little Milky Way Bites at Target the other day and instead of simply pouring the entire bag into my mouth, I decided to put them to work. On doughnuts. Come to think about it, it probably would have been healthier to just eat the bag of them, but this is way more fun. I went with a baked chocolate doughnut topped with a delicious caramel sauce and Milky Way. Yum.
Milky Way Doughnuts (makes about 16):
Print this recipe!
2 C all-purpose flour
2/3 C cocoa powder
2 t baking powder
1 t salt
1/2 C light brown sugar
1/2 C granulated sugar
2 large eggs
1 1/4 C milk
1 t vanilla
4 T butter, melted
1 C caramel sauce (recipe below)
1 C Milky Way Bites, chopped (you could also chop whole Milky Way bars)
(pre-heat oven to 325 degrees)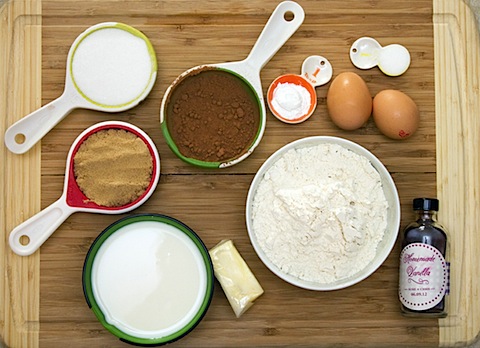 Whisk together flour, cocoa powder, baking powder, salt, brown sugar, and granulated sugar in a large bowl.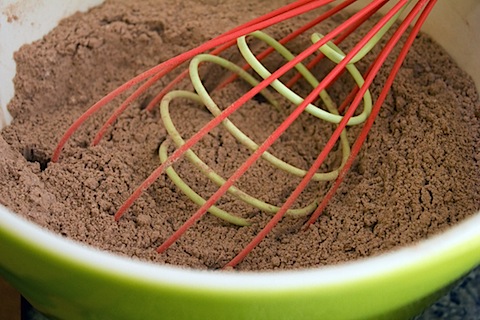 In a separate small bowl, whisk eggs with milk, vanilla, and melted butter.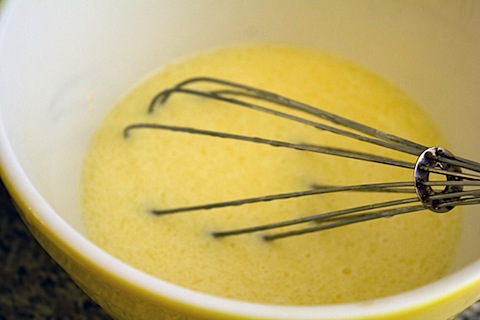 Now, gently stir the wet ingredients into the dry ingredients taking care not to over-mix (over mixing will result in too tough chewy doughnuts!).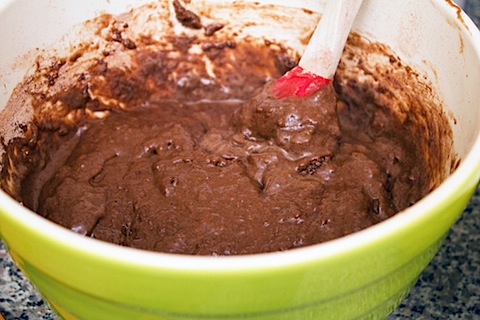 Spray your doughnut pan with some cooking spray and fill about 3/4 of the way with batter.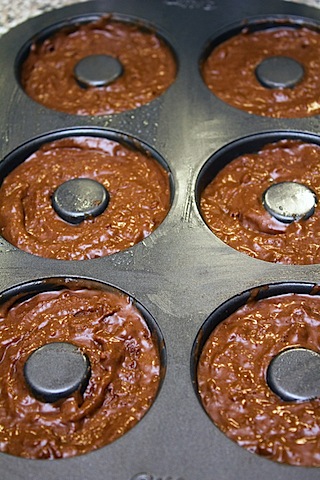 Bake at 325 degrees for about 8-10 minutes. You'll know their done when they're light and springy to the touch.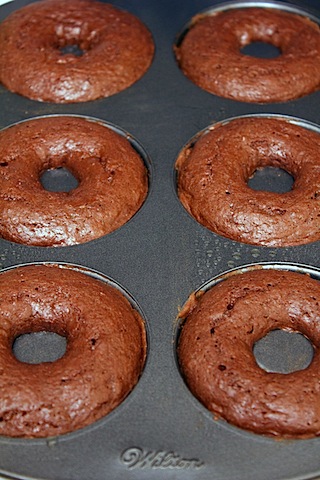 Let cool in pan for a couple minutes and then remove to baking rack to cool entirely.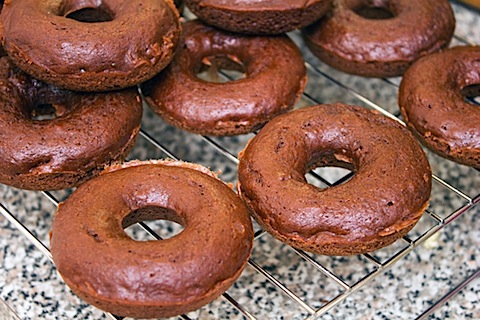 Repeat with remaining batter. And while you're waiting for them to bake, whip up that caramel sauce for the doughnut topping!
Caramel Sauce (makes about 1 cup)
Print this recipe!
3/4 C light brown sugar
4 T butter
1/2 C heavy cream
1/2 t salt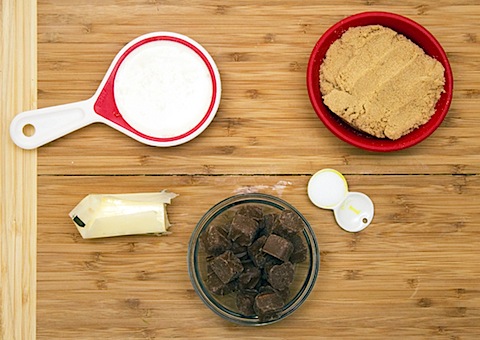 Put brown sugar and butter in a medium saucepan over medium heat. Let mixture come to a boil, stirring all the while.
Remove from heat and stir in heavy cream. Keep stirring.
Put pan back on heat, bring back to a boil and let boil for about two minutes.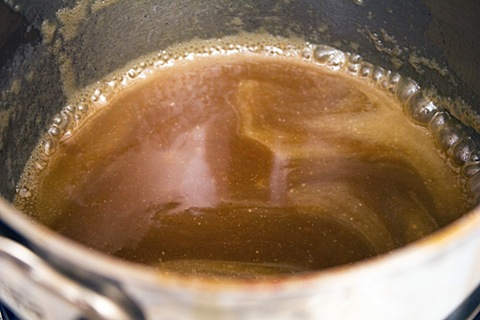 Remove to heat-safe container. Stir in salt and let cool to room temperature.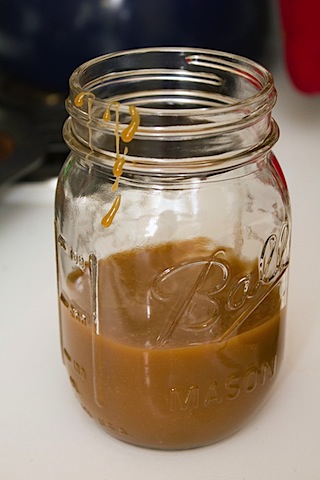 Once doughnuts and caramel are both cooled, spoon caramel over each of the doughnuts. And top with chopped Milky Way bars.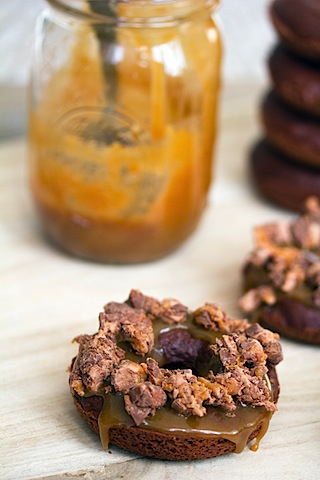 Let caramel harden.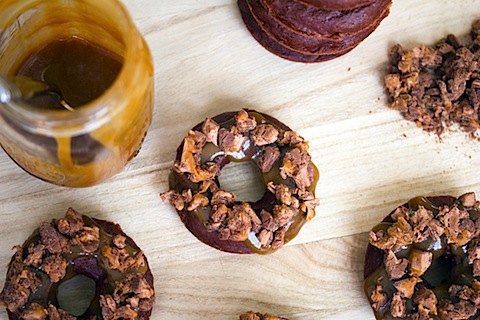 Then again, you don't haveeee to let it harden before you dig in. I won't tell anyone.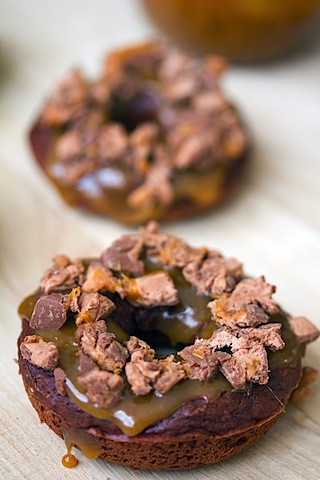 If you're a Milky Way fan, I'm pretty sure you'll be a fan of these, too. In fact, I have to admit these were the BEST baked doughnuts I've made. I think it has something to do with the fact that they're chocolate. Of course, they're still not fried (duh), but they were totally satisfying as a doughnut and one I'd be more than happy to eat for breakfast, lunch, dinner, or dessert.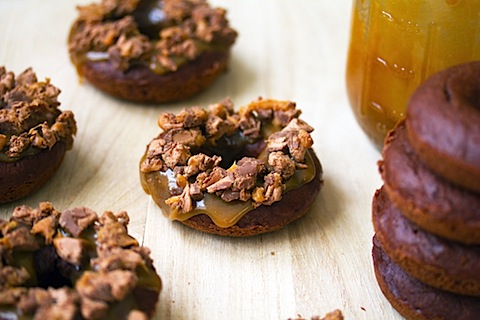 Have I mentioned that I hope doughnuts remain a trend for all of 2014? Even if they don't, I'll still be making them (forever and ever and ever), but I'd also love for new fun doughnut shops to continue popping up. Especially here in the Boston-area (where we tend to pick up on food trends about a million years late).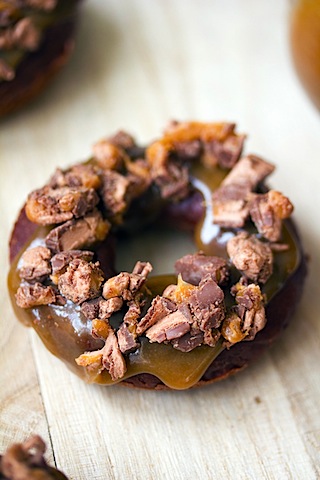 Coincidentally, I actually ended last year in doughnuts (and they involved chocolate and caramel, too. Whoa), so I guess they're just kind of a New Year tradition now. Much like cinnamon rolls (which I have a new recipe for coming soon!). I also wrote about resolving to sleep more last year. Mehh. This year I'm actually going to do it, though. I swear!
Oh, and p.s.: I'm also resolving to be better about responding to emails, so if you're waiting on me, expect an answer soon (see? I wrote it. Now I have to do it).
With what food are you kicking 2014 off?
[Sues]
Nespresso Pixie Winner!
I'm super excited to announce the winner of my Nespresso Pixie Machine giveaway. Drumroll, please…. the winner is Kathy who said: "Soy latte. Best way to start the day. Nespresso is so unbelievably easy and makes the best espresso." I will email you ASAP for your contact info, so we can get your prize out!