When I went back home to be with my parents for several days during Christmas, I realized that my apartment kitchen isn't nearly big enough. OK, so it could be much worse and I know I shouldn't complain, but I'm lacking counter space and it's not fun sharing the space I do have with someone else. If I had a kitchen like my parents', I'd likely be cooking non-stop. So, I decided to do a bunch of baking while I was visiting them. But then I made the cinnamon rolls and we were all on a sugar-high for a couple days and probably couldn't handle the Milky Way Midnight Cheesecake I wanted to make. Plus, sometimes when I'm at my parents', all I want to do is sit on the couch with a cup of tea and a book. And that's mostly what I did.
But, I did get a brand new 11-cup (yes! 11-cup!!!) Cuisinart food processor for Christmas. So, while I opted out of making the cheesecake for the days I was home, my mom gave me a food processor tutorial showing me how to make the graham cracker crust. And then I made the rest of the cheesecake back at my apartment when the cinnamon rolls finally left my system.
It was my first time making cheesecake. But after eating it? Oh, it certainly won't be the last!
Milky Way Midnight Cheesecake:
Crust:
20 chocolate graham crackers, finely ground
1/2 C sugar
1 T instant coffee
1 stick butter
Cheesecake:
16 oz. cream cheese
2 eggs
1/4 C sugar
8 oz. sweetened condensed milk
1/4 C heavy cream
1 t vanilla
1 T flour
1 1/2 C chopped Milky Way Midnight minis (I used 4 full-size bars)
Pinch of salt
(Pre-heat oven to 325 degrees)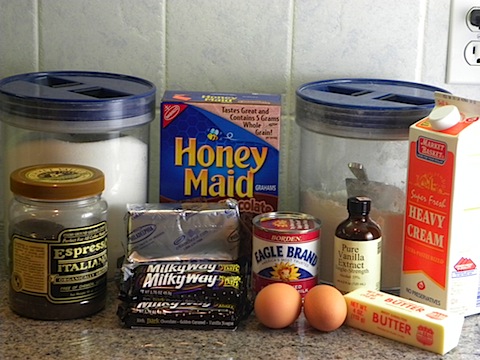 If you've never had a Milky Way Midnight Dark, they're basically heaven. At night? Well, a Milky Way really. But they're really just plain amazing. And dark chocolate is healthier than milk anyway, so you can think of this as the healthy version of the Milky Way. If you can't find bite-sized ones, 4 full-sized ones will do (5 if you want some garnish).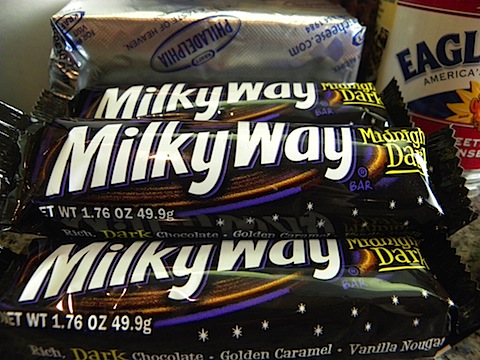 First you'll need to make the crust. Of course you could put the graham crackers in a bag and crush them. Or you could use your brand-new 11-cup Cusinart food processor!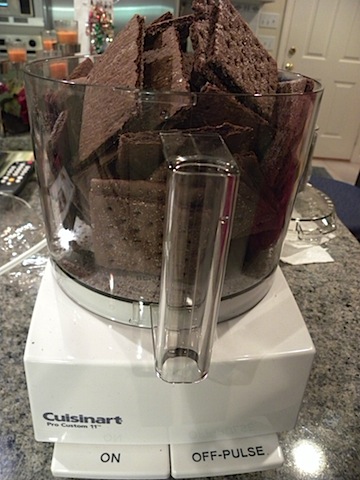 Guess which method I chose?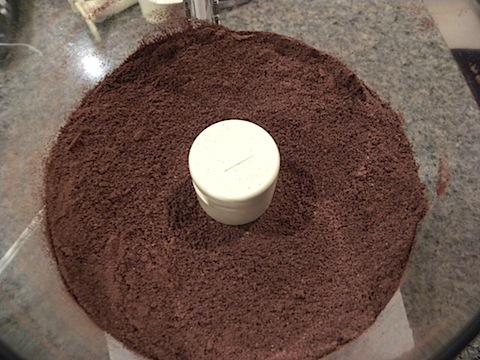 Spray a 9-inch springform pan with cooking spray and then cover in parchment paper.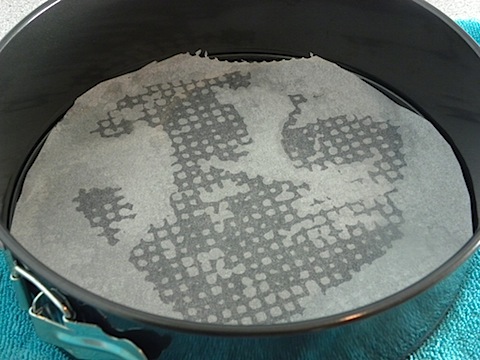 Melt your stick of butter over low heat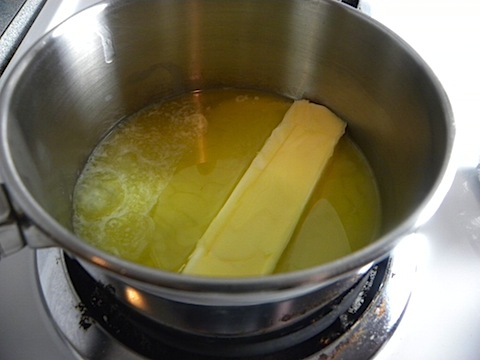 In a medium bowl, combine the butter with graham cracker crumbs, sugar, and instant coffee.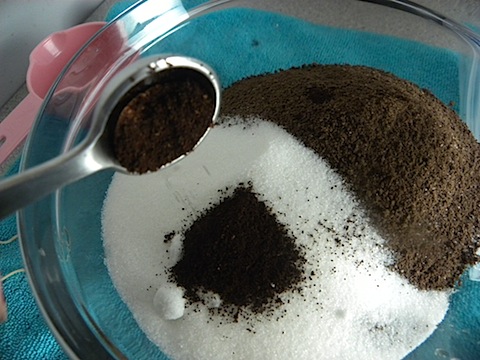 And stir until thoroughly mixed.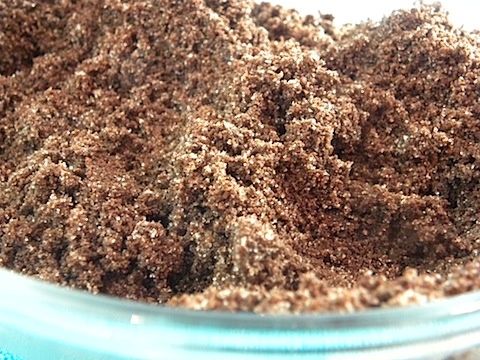 Press the crumbs firmly into the bottom of the pan.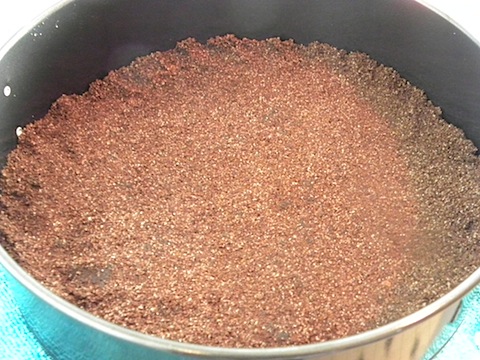 Whip the cream cheese with a mixer on high speed for 5 minutes (you can use a hand mixer too, but then you have to hold it for 5 minutes). Then add the sugar and beat for 2 more minutes.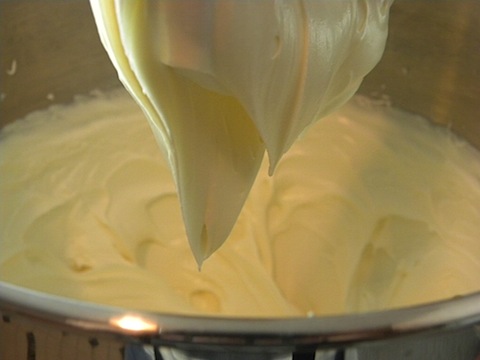 Add the eggs one at a time, keeping the mixer on low-speed and making sure the eggs are well-incorporated.
Then add the condensed milk, heavy cream, vanilla, flour and salt.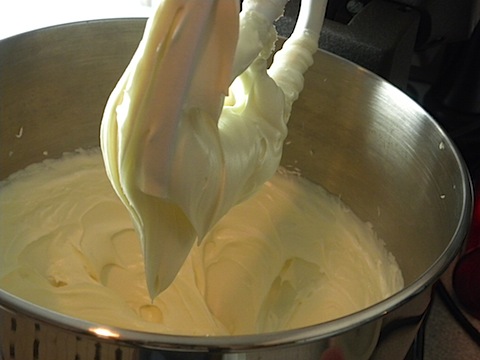 Make sure your Milky Ways are well-chopped.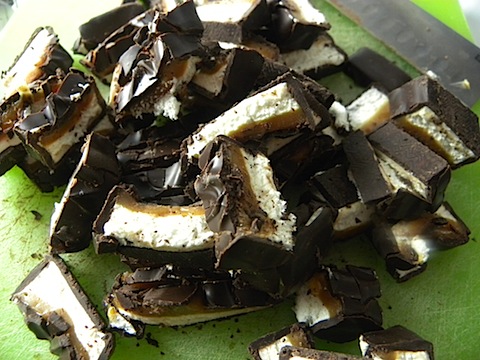 Stir the Milky Ways into the batter and pour the batter in the pan.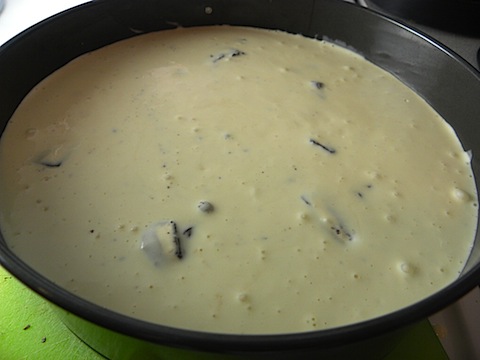 Bake at 325 degrees for about 45 minutes. Then you're supposed to turn the oven off, crack the door, and let it sit in the oven for an hour. Then you'll want to put it in the fridge overnight. I KNOW. It's a lot of waiting.
Ummm. So, when I opened my fridge in the morning, I thought, "eek!" The cheesecake had a bunch of cracks in it!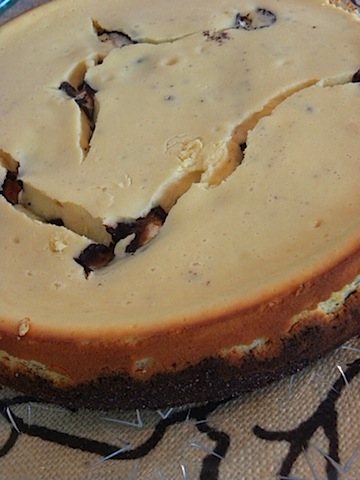 But once I melted some chocolate chips and drizzled the chocolate over the cheesecake, those little cracks really didn't matter.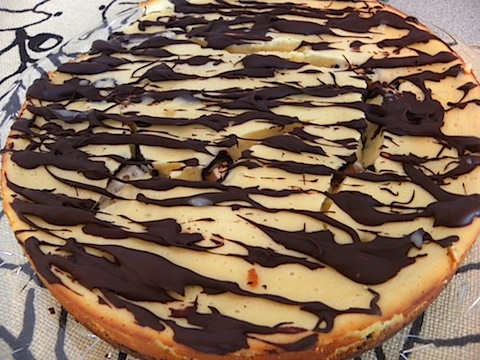 I may have put some chocolate syrup over the top too, as was recommended. OMG this was good. I would even go so far as to call it heavenly.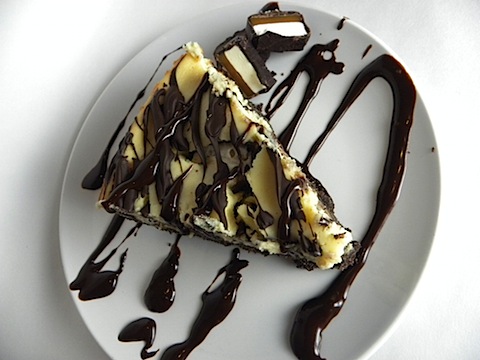 OK, I need to be honest here. I used to HATE cheesecake. Then my sister made one with chocolate in it and I realized it was actually kind of good. Then I realized the peanut butter chocolate cheesecake at the Cheesecake Factory is good too. And then I decided I actually quite enjoy cheesecake. In any way, shape, or form.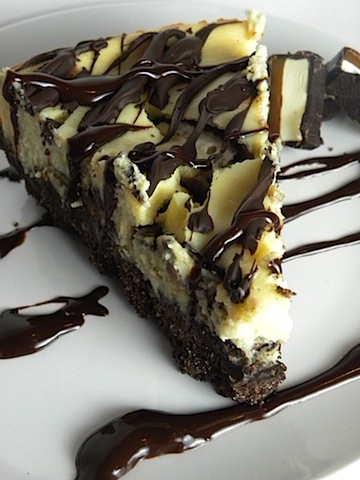 What I'm trying to say is that if you know someone who doesn't like cheesecake, give them this cheesecake. It will be a nice little introductory course in learning to fall in love with cheesecake. And they will fall in love. They're absolutely crazy if they don't.
It was the perfect combination of cheesecake and chocolate, with a little caramel tucked in for good measure.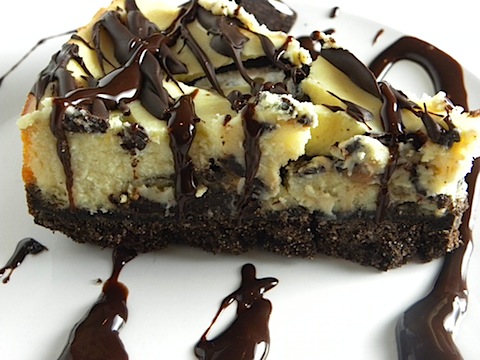 The cheesecake didn't last long and I only regret I didn't get to share it with my parents. But don't worry, Mom and Dad, next time I'm home there will likely be cheesecake. Because now, I love cheesecake! And I know how to make cheesecake! And having a whole one in my refrigerator could prove to be quite dangerous.
[Sues]