This Milky Way Cheesecake is made with Milky Way Midnight Dark Chocolate bars for an extra decadent cheesecake that tastes like it came straight from a bakery!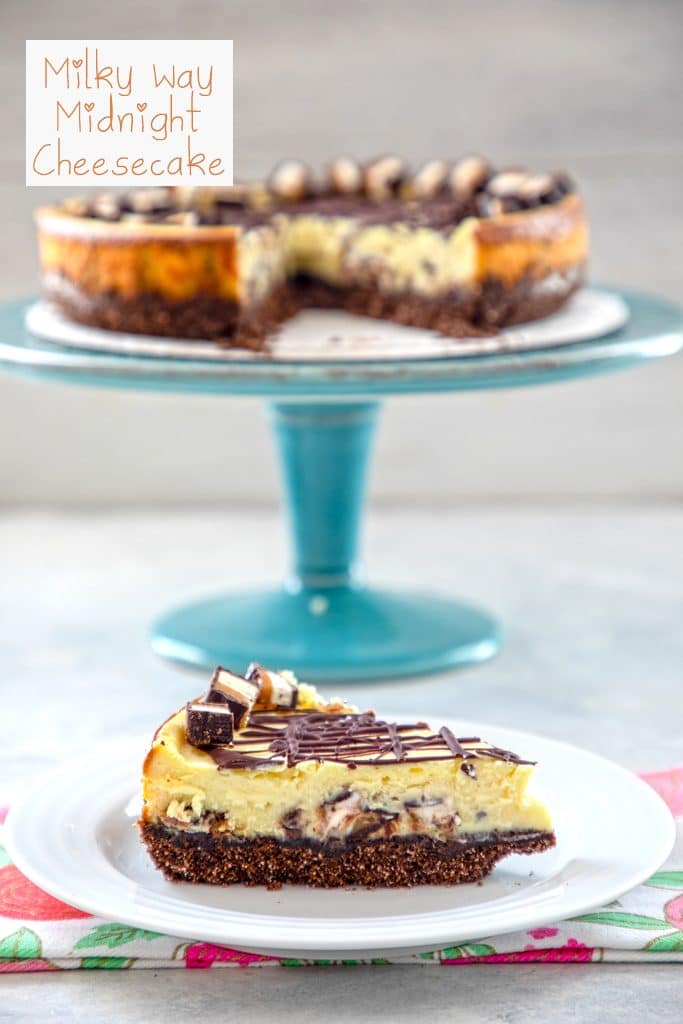 (This recipe for Milky Way Midnight Cheesecake was originally published in January 2010, but was updated with new photos in 2018).
When I went back home to be with my parents for several days during Christmas, I realized that my apartment kitchen isn't nearly big enough. OK, so it could be much worse and I know I shouldn't complain, but I'm lacking counter space and it's not fun sharing the space I do have with someone else.
If I had a kitchen like my parents', I'd likely be cooking and baking non-stop. So, I decided to do a bunch of baking while I was visiting them. But then I made the cinnamon rolls and we were all on a sugar-high for a couple days and probably couldn't handle the Milky Way cheesecake I wanted to make.
Plus, sometimes when I'm at my parents', all I want to do is sit on the couch with a cup of tea and a book. And that's mostly what I did.
But, I did get a brand new 11-cup (yes! 11-cup!!!) Cuisinart food processor (affiliate link) for Christmas. So, while I opted out of making the cheesecake for the days I was home, my mom gave me a food processor tutorial showing me how to make the graham cracker crust. And then I made the rest of the cheesecake back at my apartment when the cinnamon rolls finally left my system.
It was my first time making cheesecake. But after eating it? Oh, it certainly won't be the last! (note that these photos were re-shot in 2018, so they aren't representative of my very first cheesecake anymore!)
Milky Way Cheesecake Recipe
Like most good cheesecakes, this Milky Way cheesecake starts with a chocolate cookie crust. But instead of just chocolate graham cracker crumbs and melted butter, you also add sugar and coffee. Insert evil laugh here.
These ingredients make for the perfect cheesecake crust!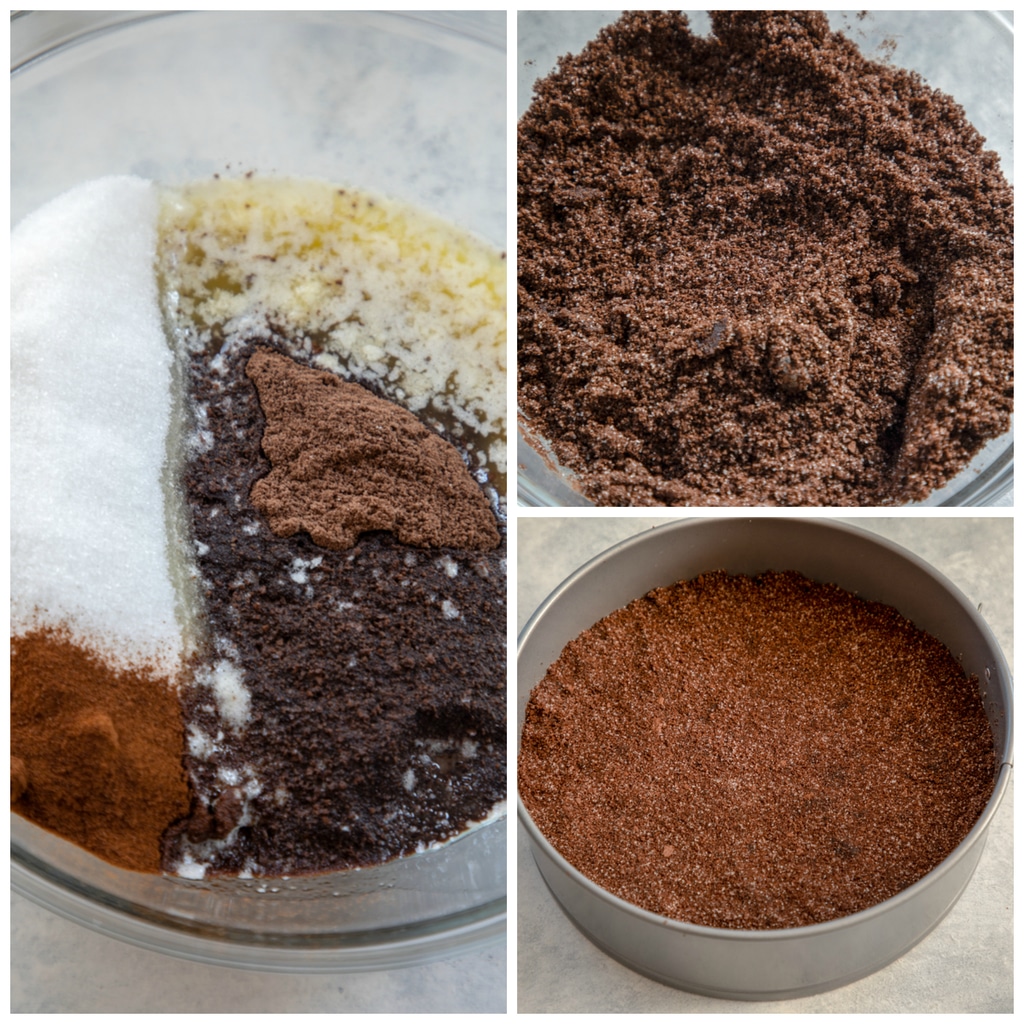 Then comes the Milky Way cheesecake filling making. This is a pretty basic cheesecake recipe made in a 9-inch springform pan with cream cheese, eggs, heavy cream, sugar, vanilla and sweetened condensed milk.
But the fun part? Those chopped up Milky Way Midnight bars!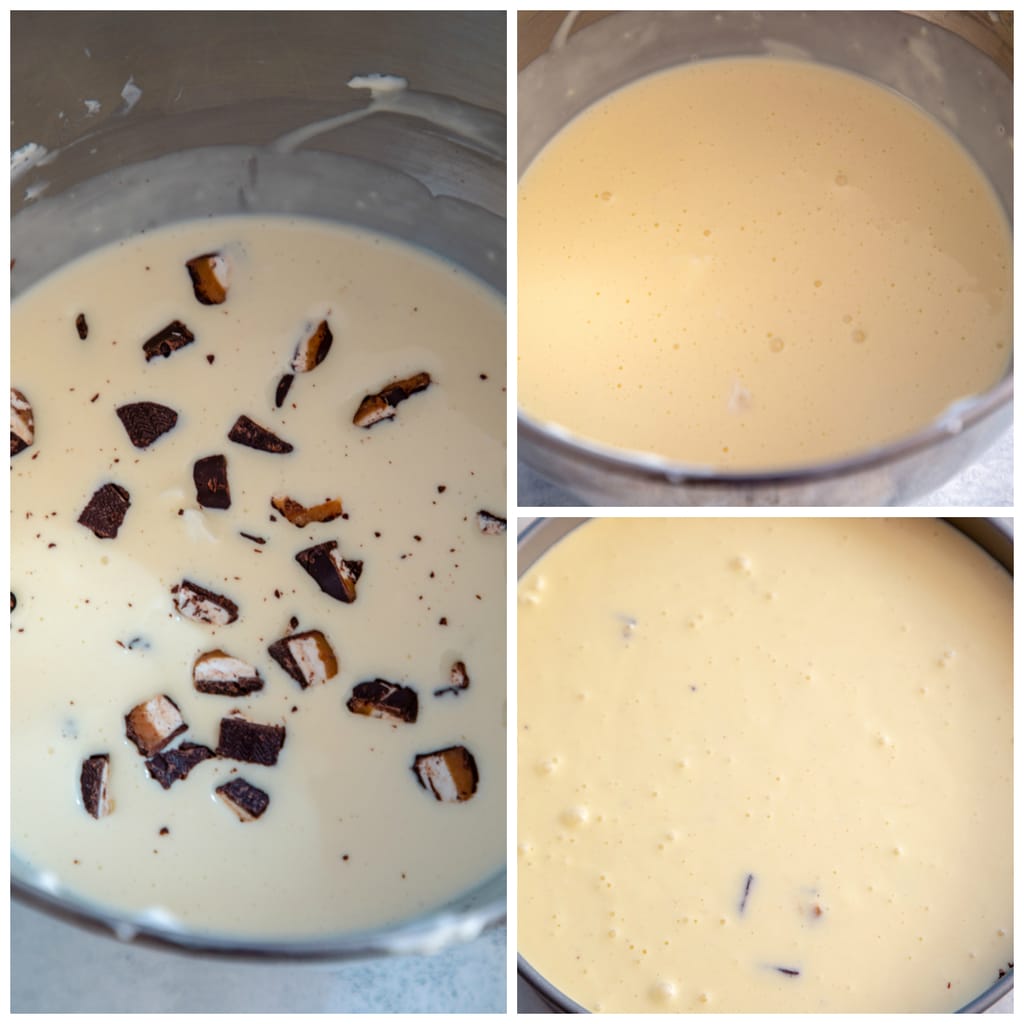 I think Milky Way Midnight Dark bars are one of the most underrated candy bars around. Everyone loves Milky Ways, right? But so many people just straight up ignore how much more delicious they are when made with dark chocolate!
I bought exactly how many bars I needed (5 total; 4 for the cheesecake filling and 1 for topping) and it was SO hard for me not to dig into this bowl before I added them to the cheesecake. Why the heck did I not buy an extra??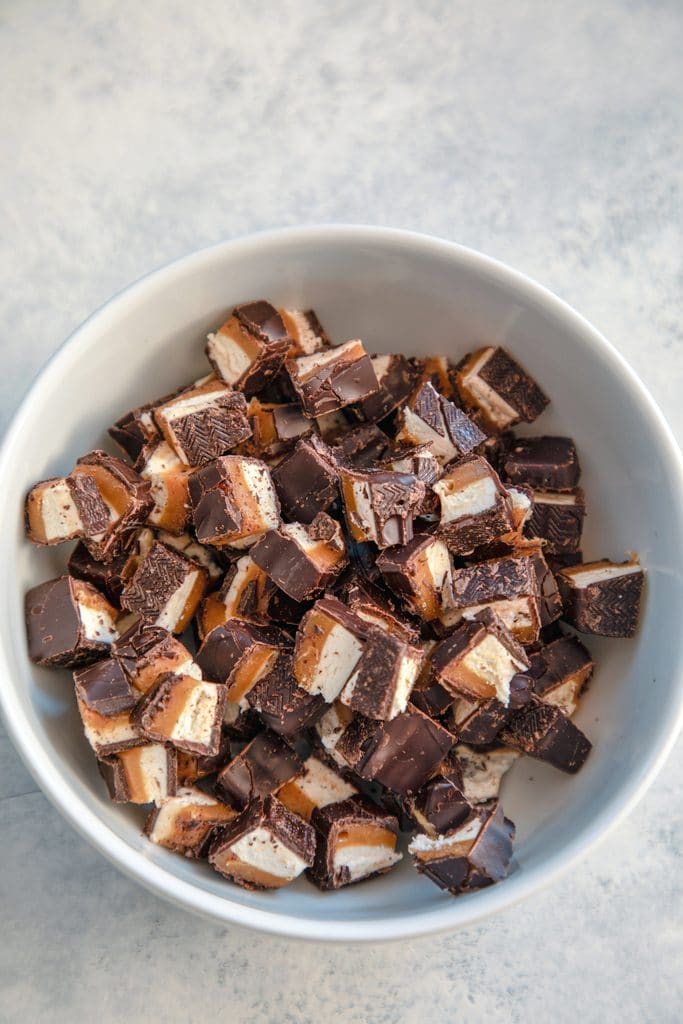 After I let my cheesecake bake for 45 minutes and then sit in the oven with the door slightly cracked for another hour, had a small crack in it. Normally this would make me sad, but I knew I'd be drizzling melted chocolate over the cheesecake and that the crack would be barely noticeable. In my opinion, that's one of the best parts about fully loaded cheesecakes! However, here's a guide for preventing cheesecake cracks... I'm pretty sure I beat my cream cheese for a bit too long.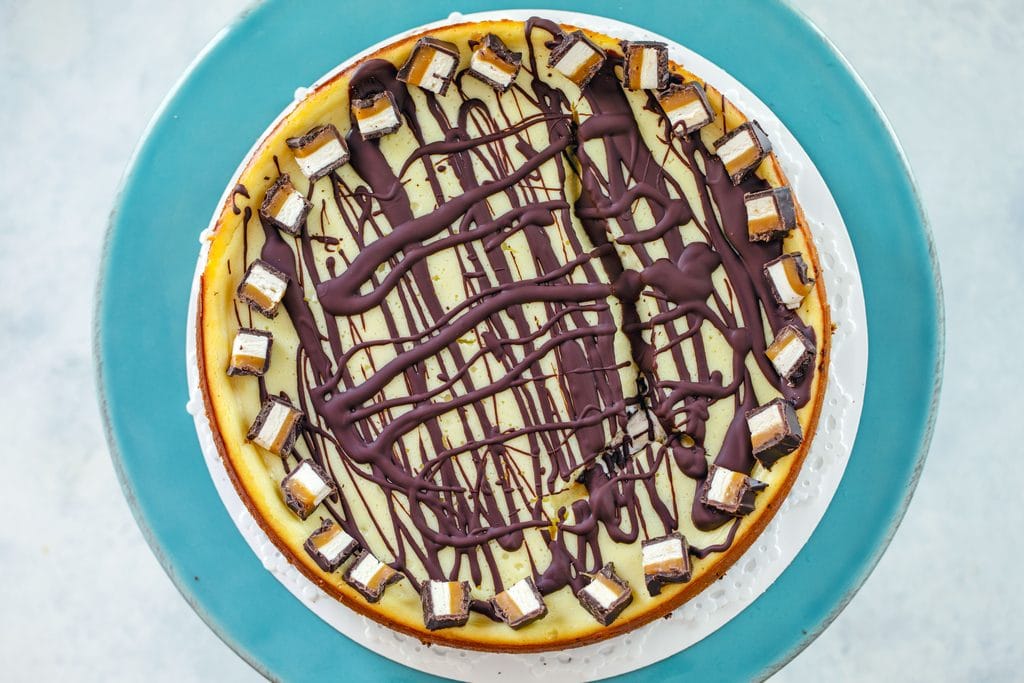 OK, I need to be honest here. I used to HATE cheesecake. Then my sister made one with chocolate in it and I realized it was actually kind of good. Then I realized the peanut butter chocolate cheesecake at the Cheesecake Factory is good too. And then I decided I actually quite enjoy cheesecake. In any way, shape, or form. And yup, I especially enjoy Milky Way cheesecake.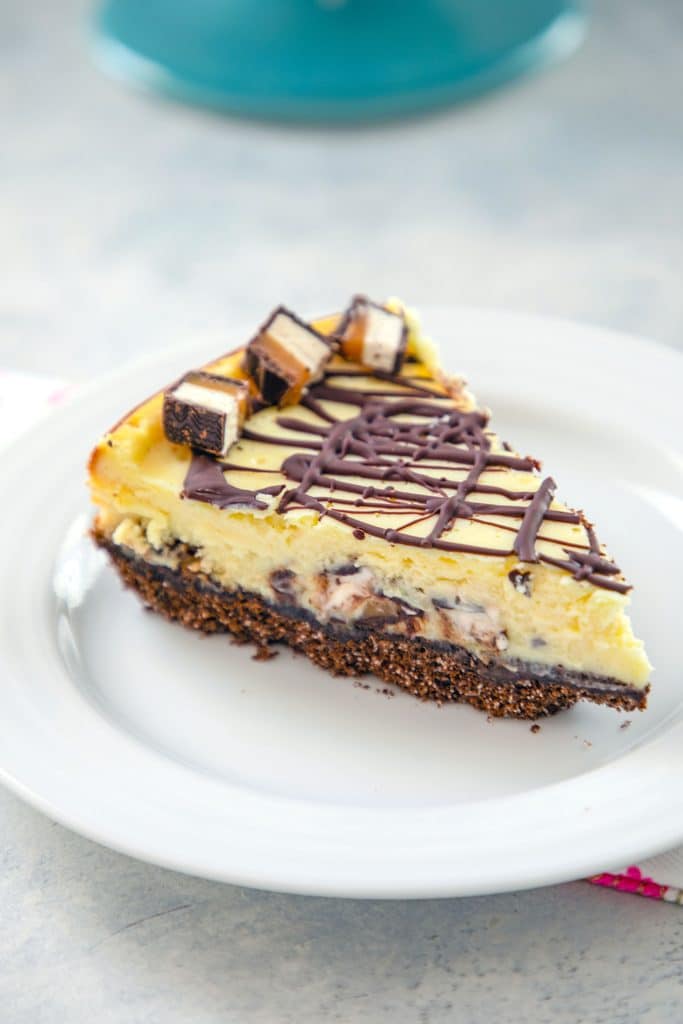 What I'm trying to say is that if you know someone who doesn't like cheesecake, give them this cheesecake. It will be a nice little introductory course in learning to fall in love with cheesecake. And they will fall in love. They're absolutely crazy if they don't. I got many comments that this was even better than a Cheesecake Factory cheesecake and tasted absolutely professional.
I mean, you can SEE the sugar crystals in that chocolate crust!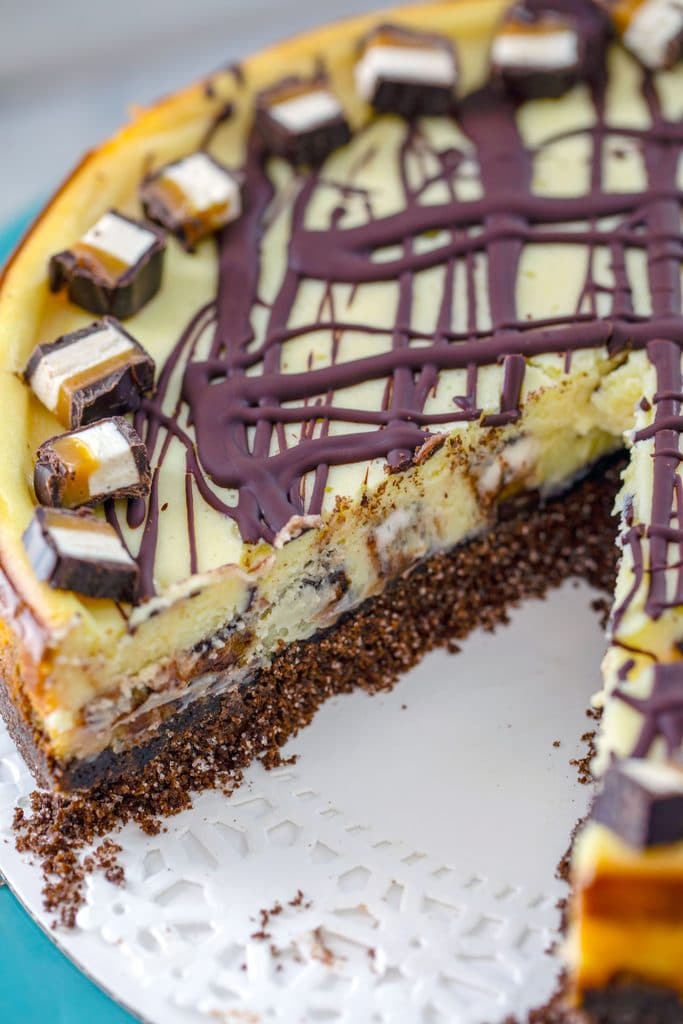 But really, this Milk Way cheesecake is the perfect combination of cheesecake and chocolate, with a little caramel tucked in for good measure.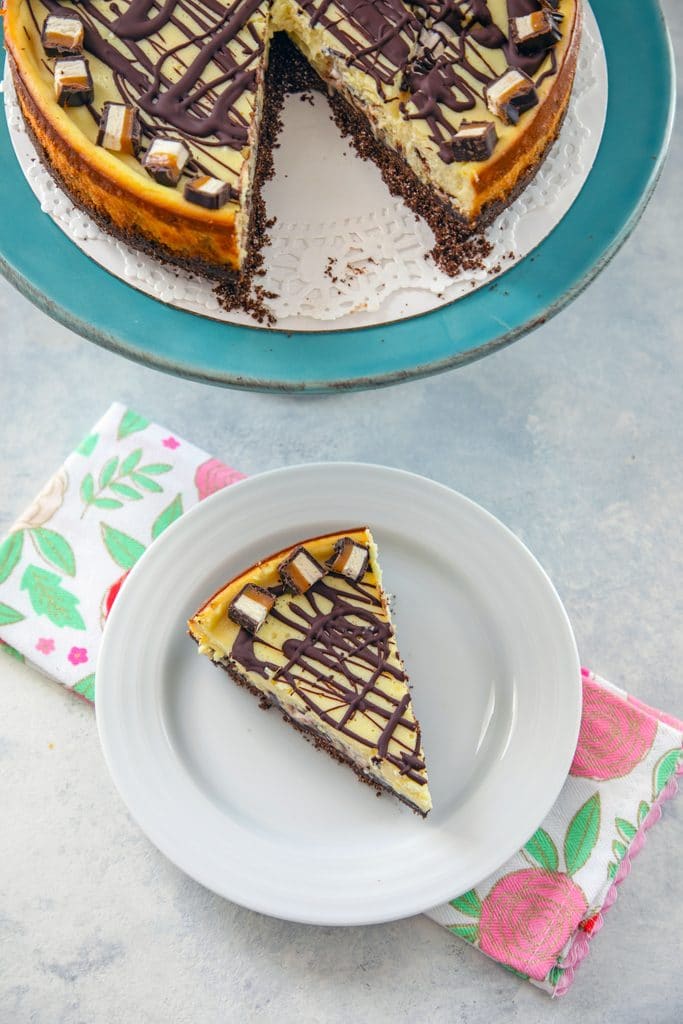 In my house, the cheesecake didn't last long and I only regret I didn't get to share it with more people. But to everyone in my life, don't worry because there will be more cheesecake. Because now, I love cheesecake! And I know how to make cheesecake!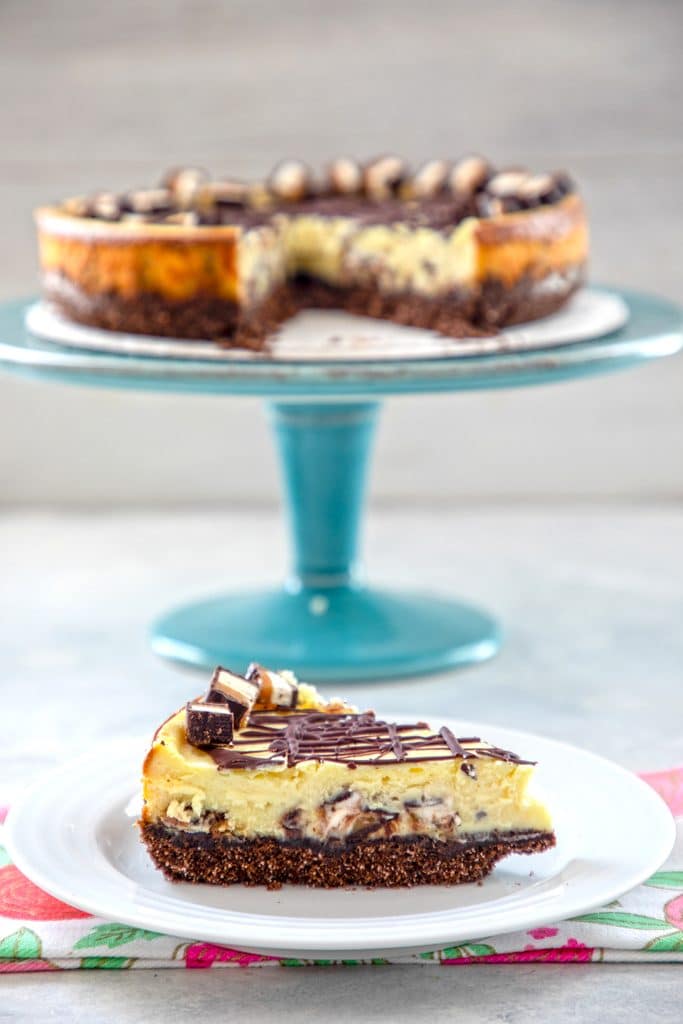 And having a whole one in my refrigerator could prove to be quite dangerous. So, I'm gonna need some help around here.
Are you a cheesecake lover?
If you're looking for other delicious cheesecake treats, check out these Lemon Blueberry Cheesecake Cups and these Frosted Animal Cracker Cheesecake Bars! I also really want to try this Cherry Chocolate Cheesecake from Nourishing Amy.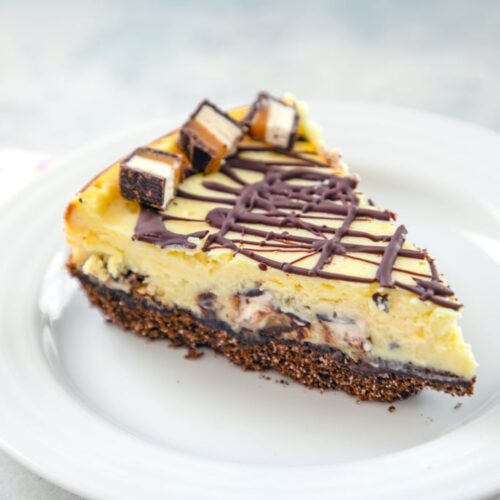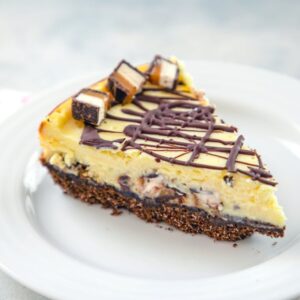 Milky Way Midnight Cheesecake
This Milky Way Cheesecake is made with Milky Way Midnight Dark Chocolate bars for an extra decadent cheesecake that tastes like it came straight from a bakery!
Print
Pin
Rate
Ingredients
Chocolate Crust
18

chocolate graham cracker sheets

(from about 2 sleeves)

½

cup

granulated sugar

1

Tbsp

coffee grounds

1

stick

unsalted butter,

melted
Cheesecake
16

oz.

cream cheese,

softened

2

large eggs

¼

cup

granulated sugar

8

oz.

sweetened condensed milk

¼

cup

heavy cream

1

tsp

vanilla extract

1

Tbsp

all-purpose flour

¼

tsp

salt

1 ½

cups

chopped Milky Way Midnight Bars

(from 4 full-size bars), plus more for topping

⅓

cup

dark chocolate chips or chopped chocolate bar
Instructions
Chocolate Crust
Spray a 9-inch springform pan with cooking spray and then cover in parchment paper.

Place graham crackers in a food processor and process until fine crumbs are formed (if you don't have a food processor, you can simply put graham crackers in a bag and crush them with a mallet).

In a medium bowl, combine graham cracker crumbs with sugar, coffee, and melted butter and stir until thoroughly combined.

Press the crumbs firmly into the bottom of the pan.
Cheesecake
Pre-heat oven to 325 degrees.

In the bowl of a stand mixer or in a large bowl with a hand mixer, combine cream cheese and sugar and beat on medium speed for about 3 minutes.

Add the eggs one at a time, keeping the mixer on low-speed and making sure the eggs are well-incorporated.

Add condensed milk, heavy cream, vanilla, flour, and salt and mix until just combined.

Stir Milky Way pieces into the batter and pour the batter in the pan.

Bake for about 45 minutes until the cheesecake is turning light golden brown and should jiggle just slightly when you shake the pan.

Turn off the oven, crack the door, and let the cheesecake sit in the oven for an hour. Remove to fridge and let chill for at least 4 hours before serving.

Melt chocolate chips or chocolate bar in a double broiler or in the microwave. Once cheesecake is chilled, drizzle with melted chocolate and top with additional chopped Milky Way Midnight bars.
Share a Photo of Your Finished Recipe!
Mention @wearenotmartha and share a photo if you've made the recipe!