The other day, out of the blue, I got the hugest craving for Milky Ways and decided I must bake something that used them. There's just something about the gooey bars of chocolate layered with caramel that could make me devour an entire bag. mmmm. I didn't really know exactly what I wanted to bake, it was a toss up between cookies or a bar of some sort, but I knew I wanted to incorporate graham crackers and definitely marshmallows, you know, to make an extra sticky treat 🙂
After thinking about it for a while, and doing a little research, I found this recipe for S'mores Granola Bars and figured, with a few adjustments, it would make a great base for my idea.
Here's what you need (Roughly. I ended up adding/subtracting things as I baked. The joy of experimenting in the kitchen!):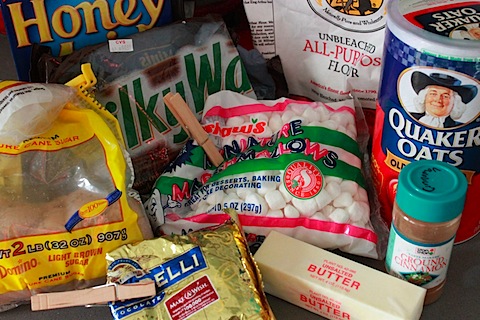 For the Bars:
• 6 tablespoons unsalted butter
• 1/4 cup light brown sugar
• 1/3 cup pure maple syrup or golden syrup
• 1/2 cup all purpose flour
• 2 cups old fashioned rolled oats
• 1 cup graham cracker crumbs
• 1/2 teaspoon salt
• 1/4 teaspoon ground cinnamon
Filling:
• 1 cup roughly chopped mini milky way bars
• 1 1/2 cups mini marshmallows
Here's what you do:
• Preheat oven to 350 degrees.
• Butter a 9×9 inch square baking pan.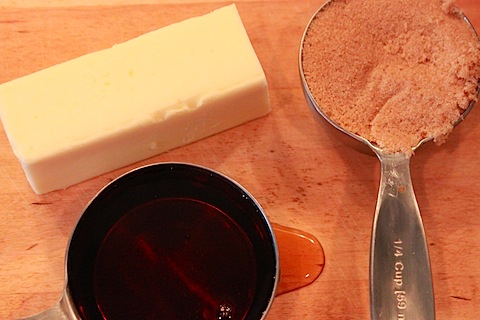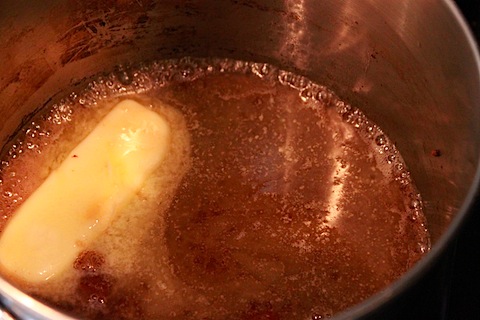 • In a small saucepan over medium heat, melt the butter, brown, sugar, and maple syrup. When the sugar is dissolved, transfer the mixture to a large heatproof bowl.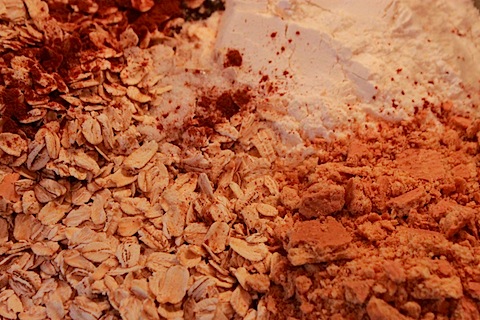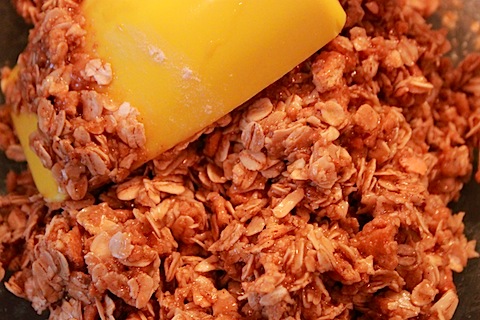 • Stir in flour, oats, graham cracker crumbs, salt, and cinnamon, until all of ingredients are covered in the butter mixture.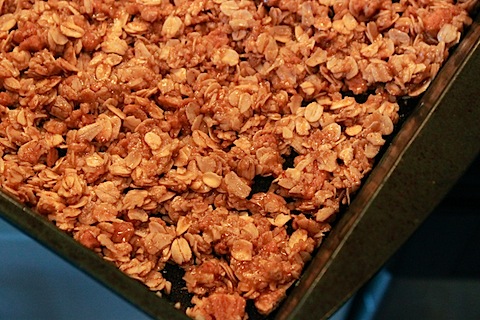 • Press about half of the oat/butter mixture into the bottom of your 9×9 baking pan.
Now it's time for the filling.
• You're going to use your chopped mini Milky Ways along with the marshmallows and just layer them on the pressed oat mixture in the baking pan.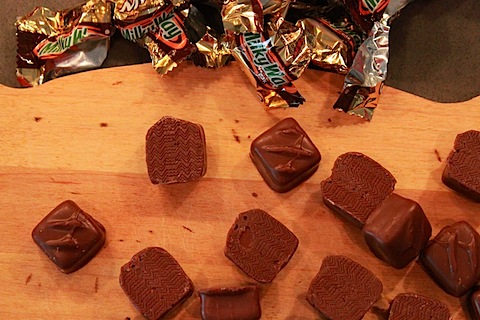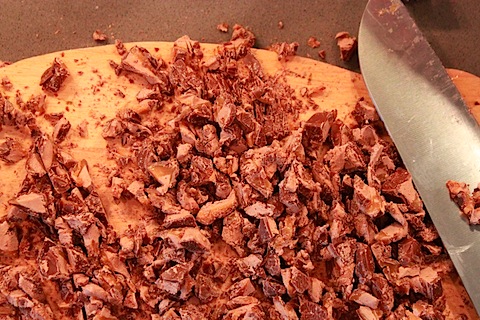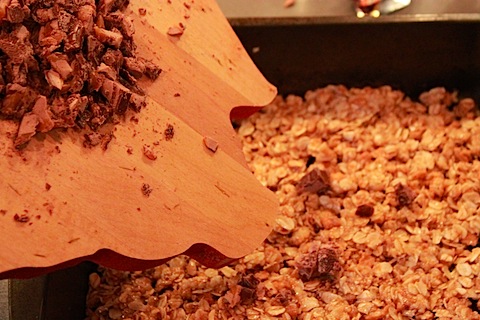 (Side note: I'm madly in love with the pig cutting board my parents got me for Christmas :))
• Then crumble the remaining oat mixture over the top of the marshmallows and Milky Ways.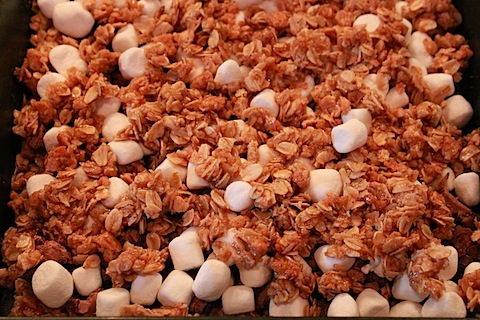 • Bake for about 15 minutes and let cool. Cut into squares or bars (whichever shape you prefer!) and enjoy!
The fun addition of Milky Ways, with their nugget and caramel, add a bit more stickiness and uniqueness to the bars, versus using just regular chocolate chips. These are the perfect dessert bites and will definitely be a crowd-pleaser. Or just a great snack to have around the house for a few days… they store really well in an air-tight container!
And now pardon me while I inundate you with photos of these delightful Milky Way S'mores, I couldn't pick just one photo 😉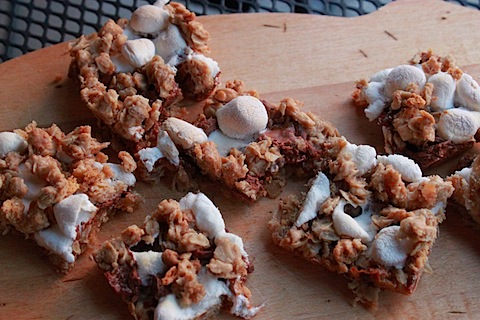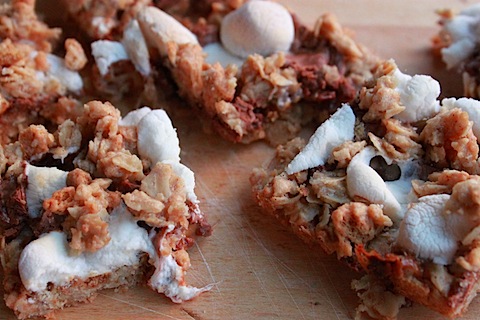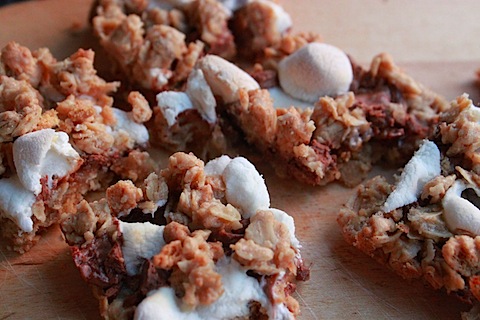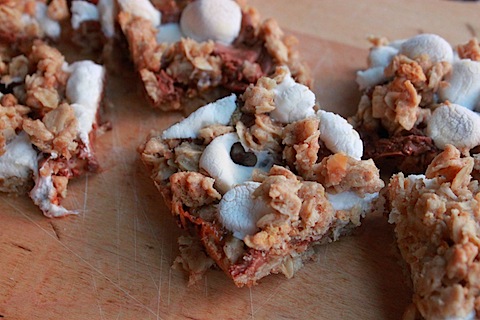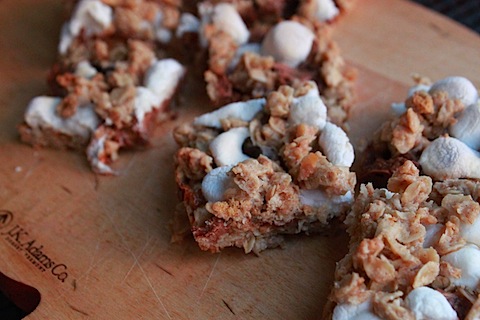 ———————————————————————–
Shellac Manicure at Southwest Day Spa WINNER:
Congratulations to Darcy, the winner of a complimentary Shellac Manicure! We'll send you an email to let you know the details!
[Chels]