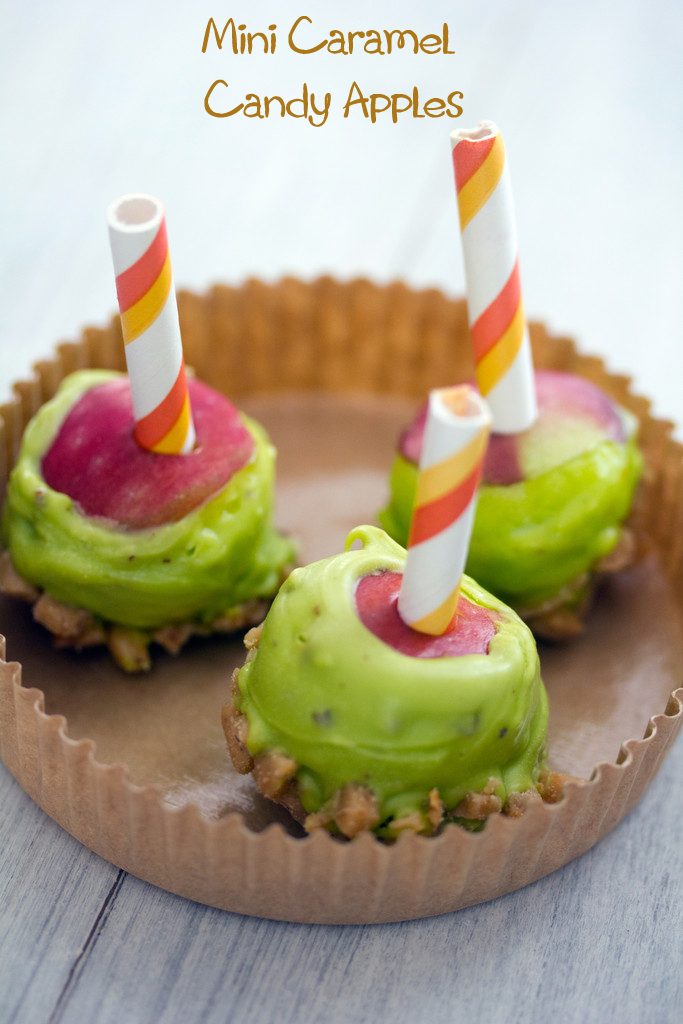 It's October 5 and we're seriously considering turning the heat on. No, no, no. I won't let us do it. Just like I refuse to wear my full-blown winter coat until December 1, I don't think it makes sense to turn the heat on in October. Right?? It really just makes me feel like we can never just be happy. Seriously, we only just turned the air conditioner off and now we're already wanting to turn heat on? There are really only a couple weeks where we're just fine with no assistance from some modern technology? That's just wrong. But ugh, my feet are cold.
Well, if I'm going to be bundling up in sweatshirts and blankets already, I'm at least going to be getting in some sort of happy chilly weather spirit. And candy/caramel apples are pretty much my favorite thing in the entire world. Honestly, it's always a serious fall conundrum. Do I want a candy apple or a caramel apple?? I don't seem to get many candy/caramel apple opportunities each year, so this is a big decision. And it's usually considered gluttonous to go for both. But now I say go for it… Because these Mini Caramel Candy Apples kind of are both… Plus, they're mini, which means you can eat way more than one. 
I actually thought these minis were my own genius idea until I Googled and realized that there are others kicking around the Internet (is nothing new anymore??). But mine are just a little bit different… Instead of covering in the traditional candy coating or caramel, I used Wilton Candy Melts. In Caramel Apple flavor! This all feels a little meta or something. They're candy apples since they're covered in candy… But caramel apples since they're covered in Caramel Apple Candy Melts. Plus, that makes for double apple.
To make the mini apples, all you have to do is scoop out little rounds with a melon baller. While I was working, I put the apple balls into a bowl of lightly salted water (this keeps them from browning without making them taste like lemon).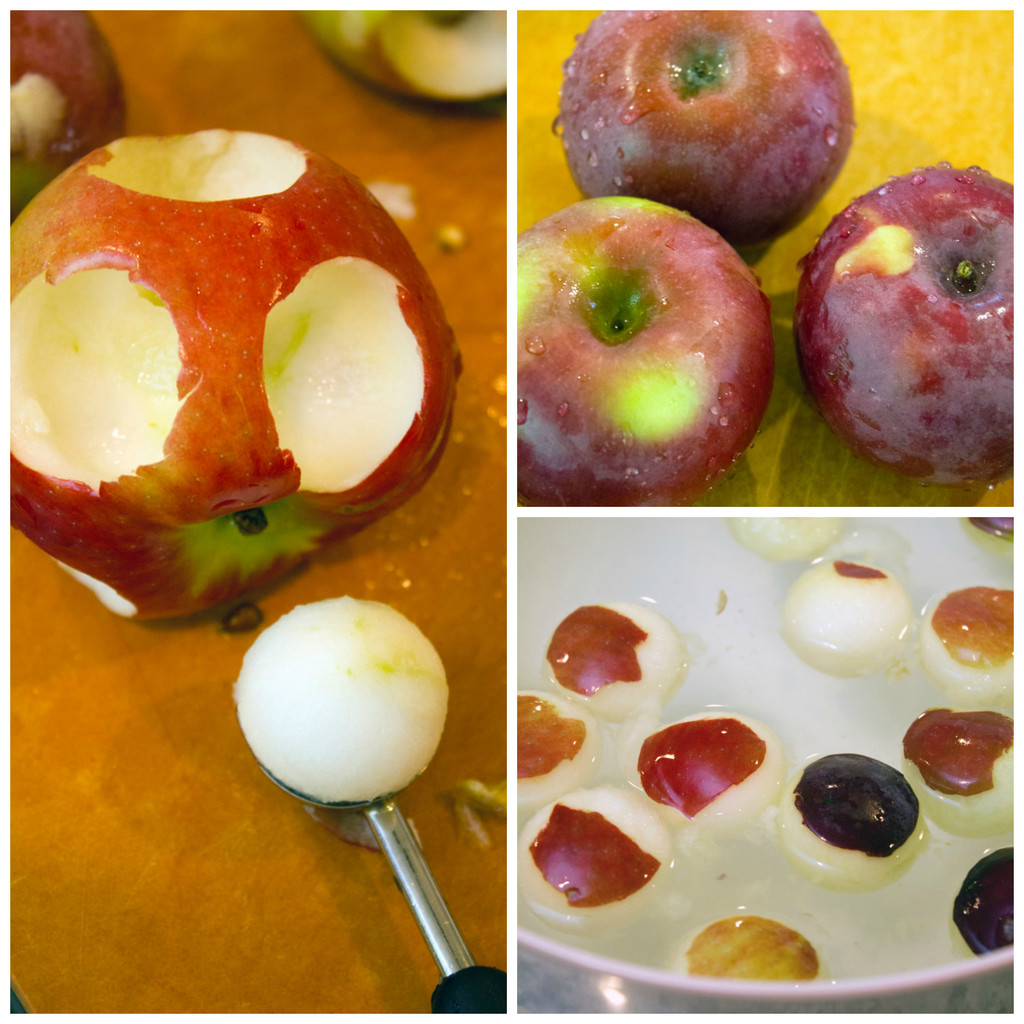 I was excited to use my Wilton Candy Melts Melting Pot for the first time. If you don't have one, you can simply melt candy melts in the microwave. I love this pot, though, because it keeps the candy from hardening while you work. You have to be sure to dry the apples off as much as possible before dipping them into the melted candy. Water and melted chocolate do not work well together.
One the mini apples were fully coated in candy, I dipped them into a little bowl of Heath Bar toffee, too.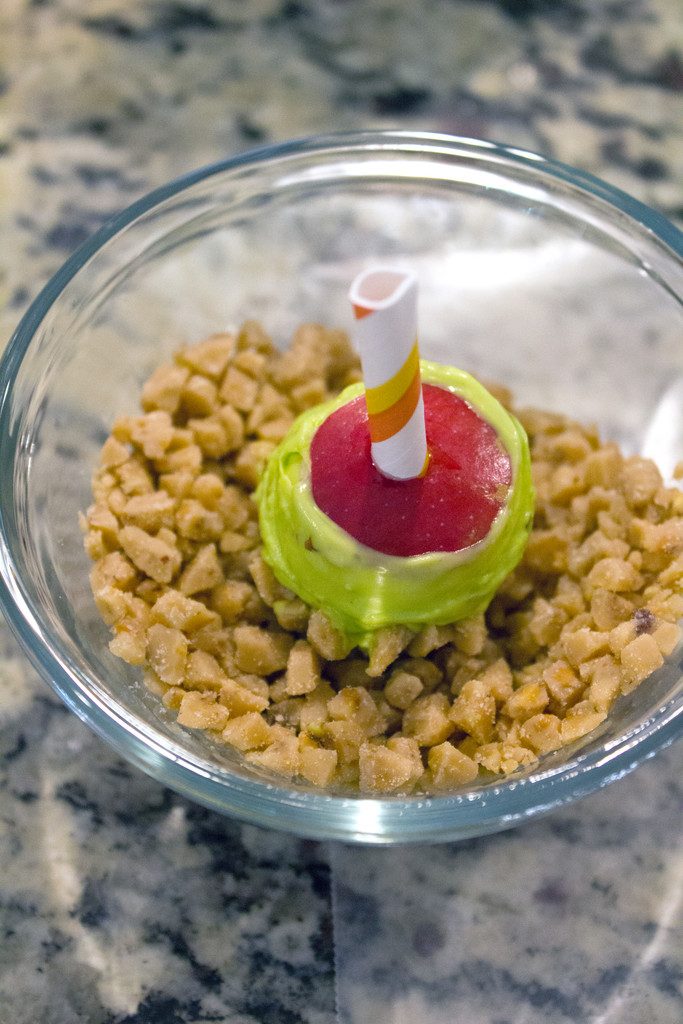 Mini Caramel Candy Apples! They're super mini. Think melon ball mini.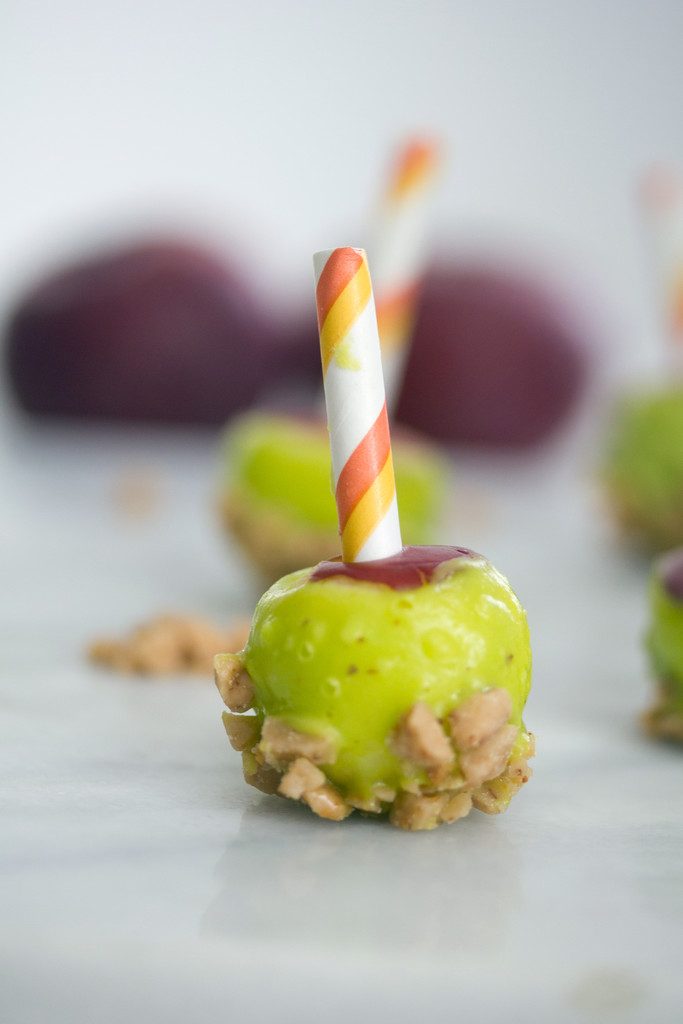 I didn't realize until I was done that this is a three-ingredient recipe. All you need is apples, candy melts, and toffee. And really, you don't absolutely need the toffee. It's just highly recommended.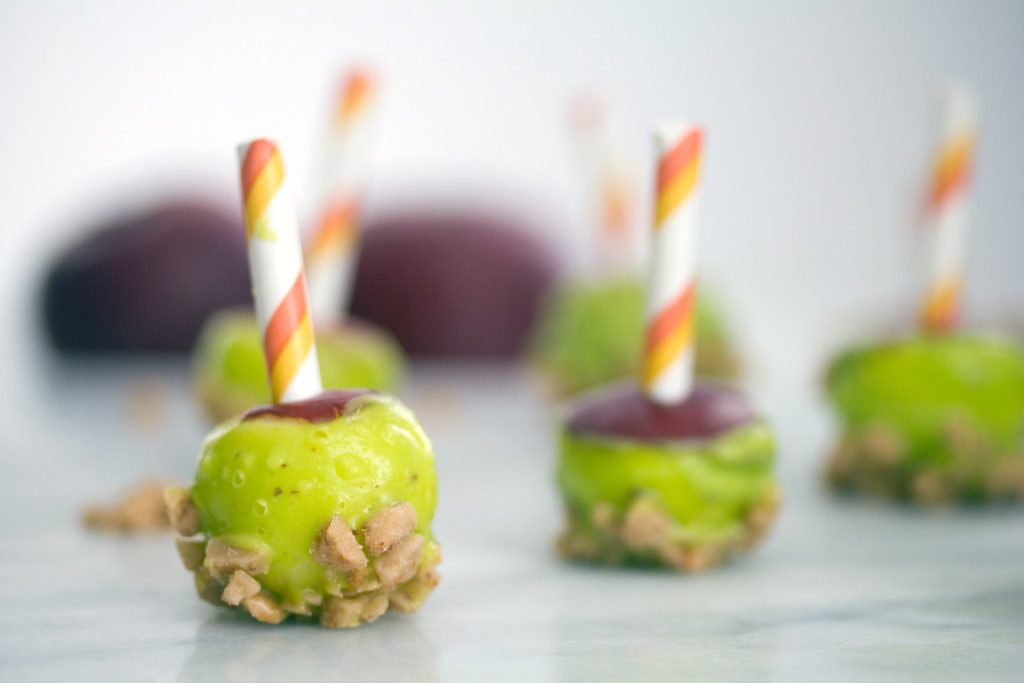 I honestly could eat an entire three apples worth of these. Which actually doesn't sound that crazy. If one apple a day keeps the doctor away, three apples means you'll never have to go again. I'm not sure how the candy melts play into that whole equation, but I do know they'll do wonders for your happiness. So, worth it.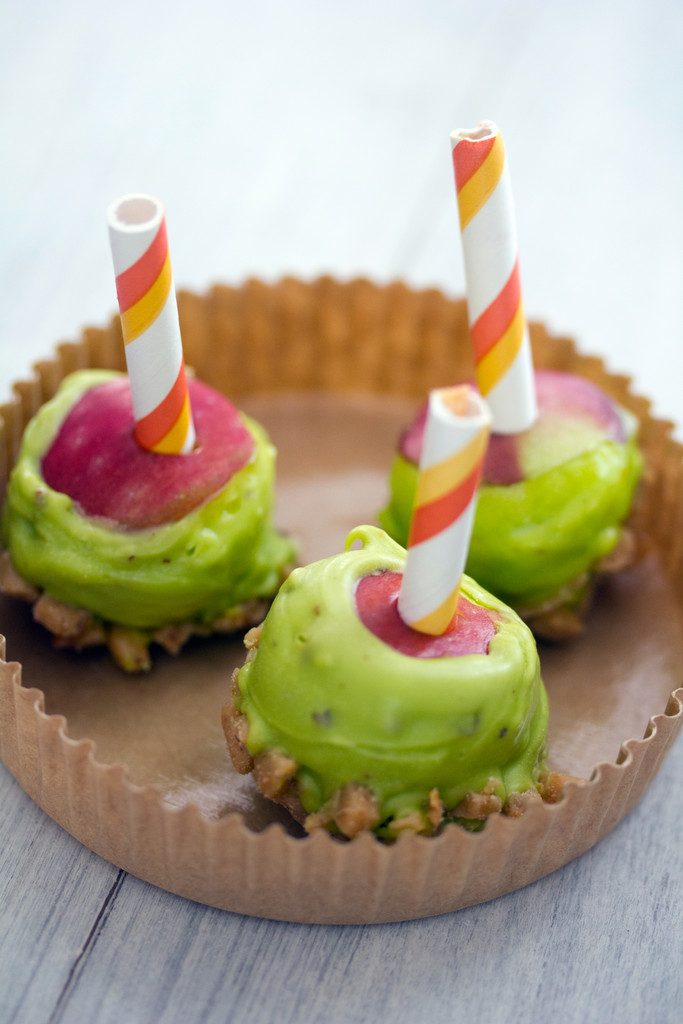 The only disappointing thing about these is I'm not sure how far ahead of time you can make them. I feel like they need to go in the fridge since they're apples… But they'll start sweating pretty quickly. I still ate them.
But I do feel like they'd make a pretty fabulous Halloween party dessert. Or any fall party of your choosing (some of us are not quite as into Halloween as others…).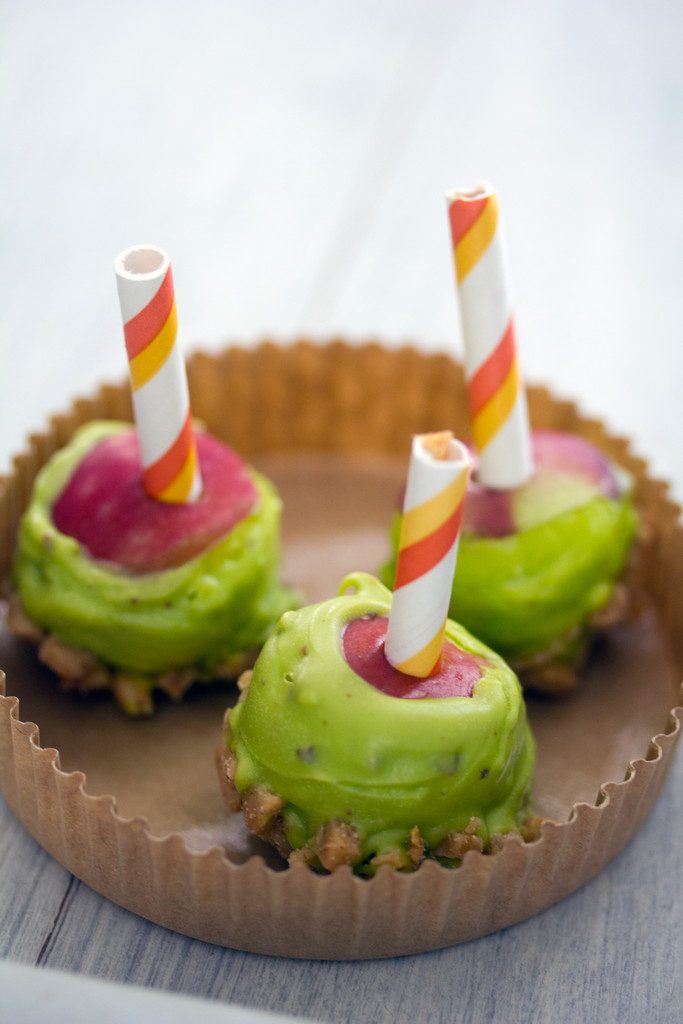 You can really make these with any candy melts of your choosing. I actually went into this with full intentions to use the new Candy Corn Candy Melts… But then I realized the Caramel Apple was just too perfect. I guess that means I'll have to think of something else to do with the Candy Corn Candy Melts… No problem!
Would you choose candy apples or caramel apples?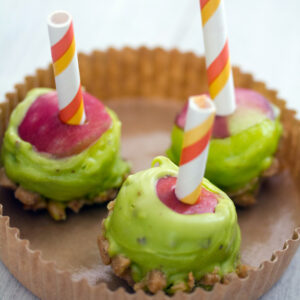 Mini Caramel Candy Apples
These candy apples were dipped in Caramel Apple Candy Melts and toffee bits and miniaturized for a fun fall treat. Made with only three ingredients, you no longer have to choose between candy apples and caramel apples!
Ingredients
3

apples of your choice

I love macintosh

6

oz.

Wilton Caramel Apple Candy Melts

1/3

cup

Heath Bar bits

Equipment: Melon baller

6 drinking straws
Instructions
Using a melon corer, scoop balls out of apples. Try to leave a little skin on top of the ball. You should be able to get about 6 balls out of each apple.

Cut a drinking straw into three equal pieces. Push each straw piece into the tops of the apple balls, where the skin is showing.

Melt Caramel Candy Melts either in microwave according to package instructions or in Wilton Candy Melts Melting Pot.

Place Heath Bar crumbles in a small bowl.

Before dipping apple balls into candy melts, blot with a paper towel to soak up excess moisture.

Dip apples into candy melts, rotating until fully coated, making sure the skin at the top is still showing.

Dunk coated apples into toffee crumbles and place apples on a sheet of waxed or parchment paper to dry.