This Halloween Party Popcorn is a delicious mix of popcorn, white chocolate, Oreo cookies, candy corn, and sprinkles... It's easy to make and always a big crowd pleaser!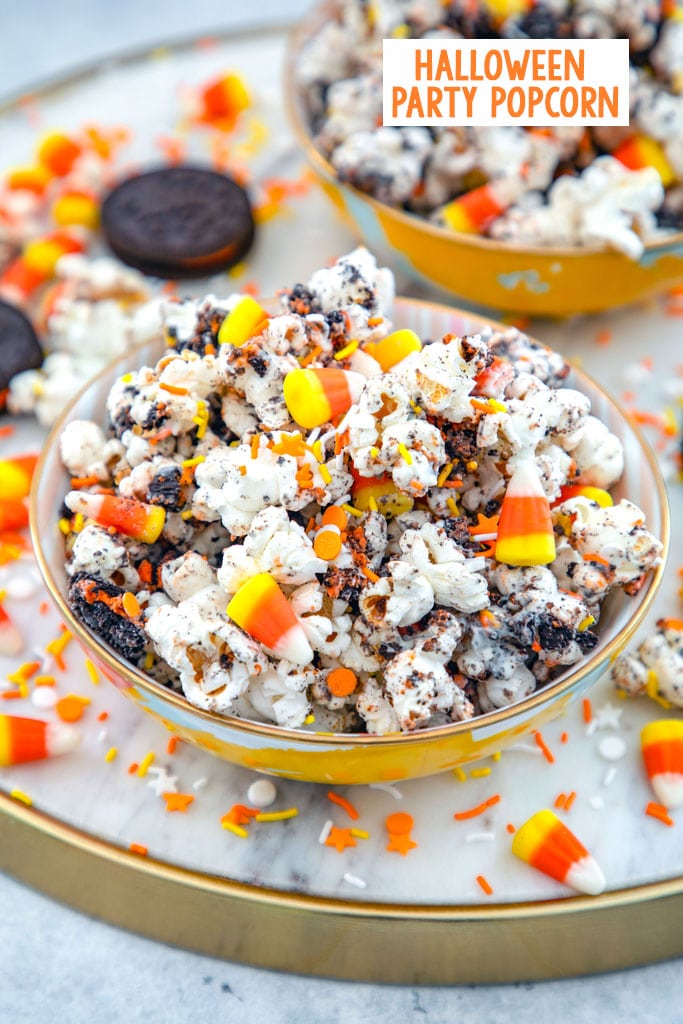 Everyone remembers that one house in their neighborhood that gave out the worst Halloween treats. Raisins, apples, mixed nuts, even toothbrushes, for goodness sake. All are terrible options fro trick-or-treaters. But the worst of all Halloween treat offenders? The infamous popcorn ball.
Don't get me wrong, I love popcorn. And sugary buttery popcorn? Even better. But popcorn balls made by the hands of a stranger that then ends up in my Halloween candy tote? Ew, no thank you. There's the trashcan, see you later.
But that doesn't mean popcorn has no place in your Halloween festivities. Because it definitely should. And luckily the Halloween popcorn I'm sharing here today doesn't involve any "sculpting" with your hands. It's hands-free popcorn, if you will.
Still, I don't recommend giving this Halloween party popcorn out to trick-or-treaters. In this day and age, I think it's pretty much a no-no to give out anything homemade.
But if you're attending any holiday parties? This Halloween popcorn is the dessert to bring. And if you're planning to spend your October weekends on the couch binging Hocus Pocus and other Halloween movies with blankets, your dog, and some snacks? This is the snack you want to be indulging in.
🍿 How to make Halloween popcorn
I love party popcorns and have a similar recipe on my blog for Oreo Funfetti Popcorn. For this Halloween version, I switched a few things up, including using a different melting chocolate. In the past, I've used candy melts, but I'm a pretty big fan of these Ghirardelli melting wafers (affiliate link) and find they tend to melt much more easily with no clumping involved.
You can also feel free to use high-quality white chocolate. And sure, you can risk using white chocolate chips, but they can be a bit tougher to melt.
Of course, I also used Halloween Oreo cookies with orange filling, Halloween colored sprinkles (I get most of my sprinkles from Sweetapolita, but you can also use this Wilton version (affiliate link) or any other orange/yellow combo), and a smattering of candy corn for good measure.
If you're a candy corn hater, you can leave them out. Or keep them in for festivity's sake and simply eat around them. I almost added those candy corn pumpkins, too, but then I thought that may be going too far.
But if you love candy corn, you should also make this candy corn and peanuts mix!
So, how easy is this? All you've gotta do is pop that popcorn. I like popping from scratch, but you could also use microwavable popcorn or even a pre-popped bag of popcorn... Just make sure it's "bare" and doesn't have butter or sugar (or cheese!) added.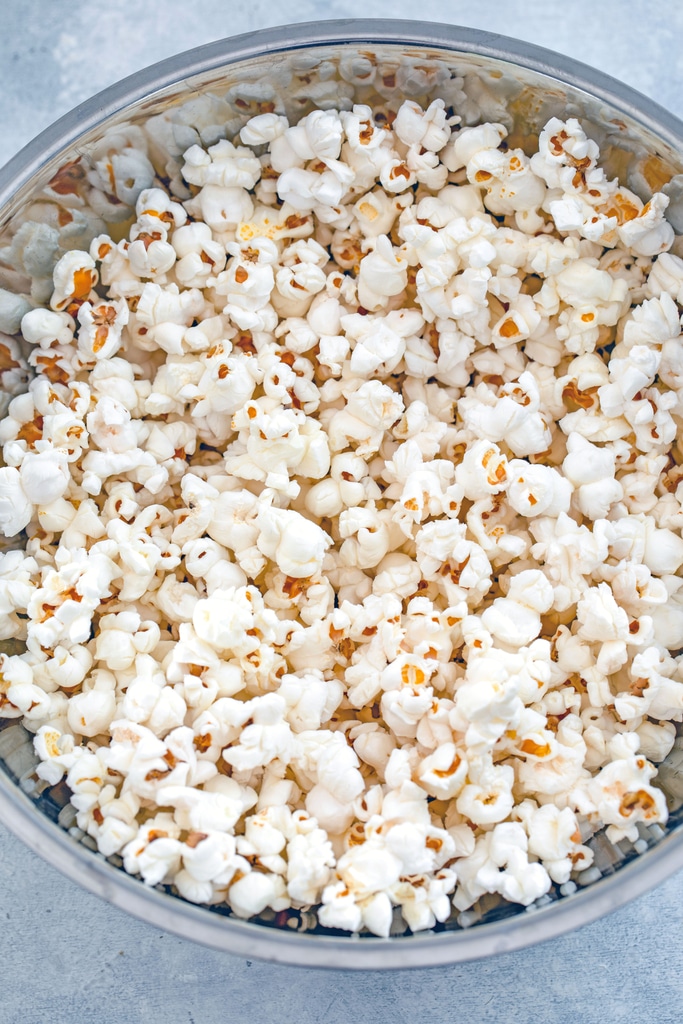 Then melt your white chocolate. You can use candy melts/wafers or actual white chocolate here. I like to melt mine over a double boiler... If you don't have one you can make your own by placing a heatproof metal bowl over a pot of gently simmering water (making sure no steam is escaping).
Or you can always melt the chocolate at intervals in your microwave.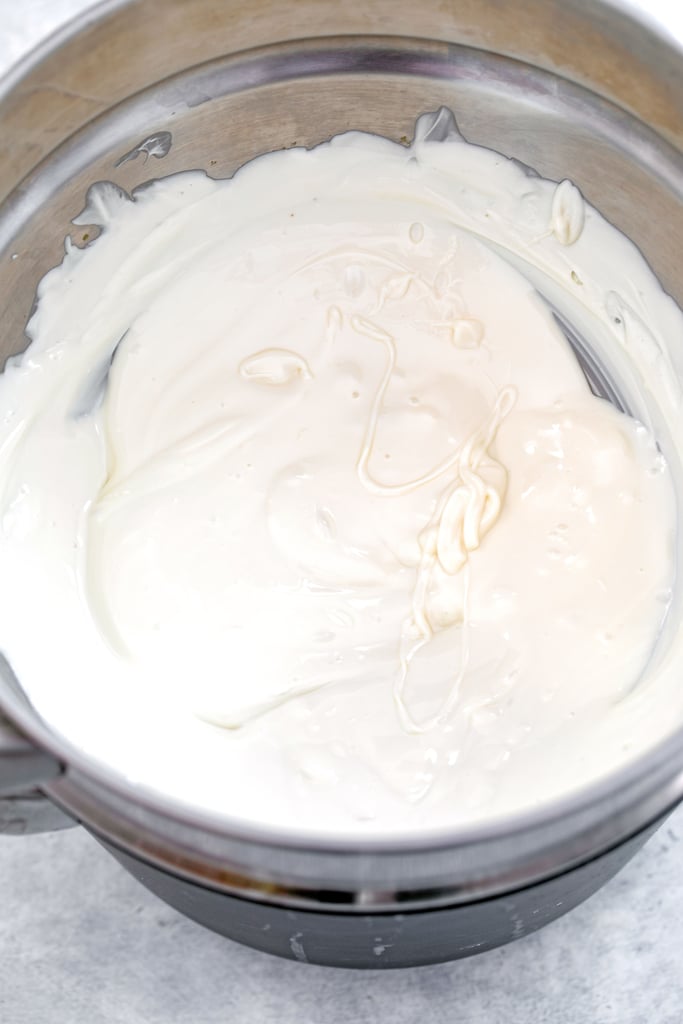 Now, pour the melted white chocolate into your bowl of popcorn and add crushed Halloween Oreo cookies, sprinkles, and candy corn. Toss everything together to combine.
Doesn't it look like a Halloween party in a bowl?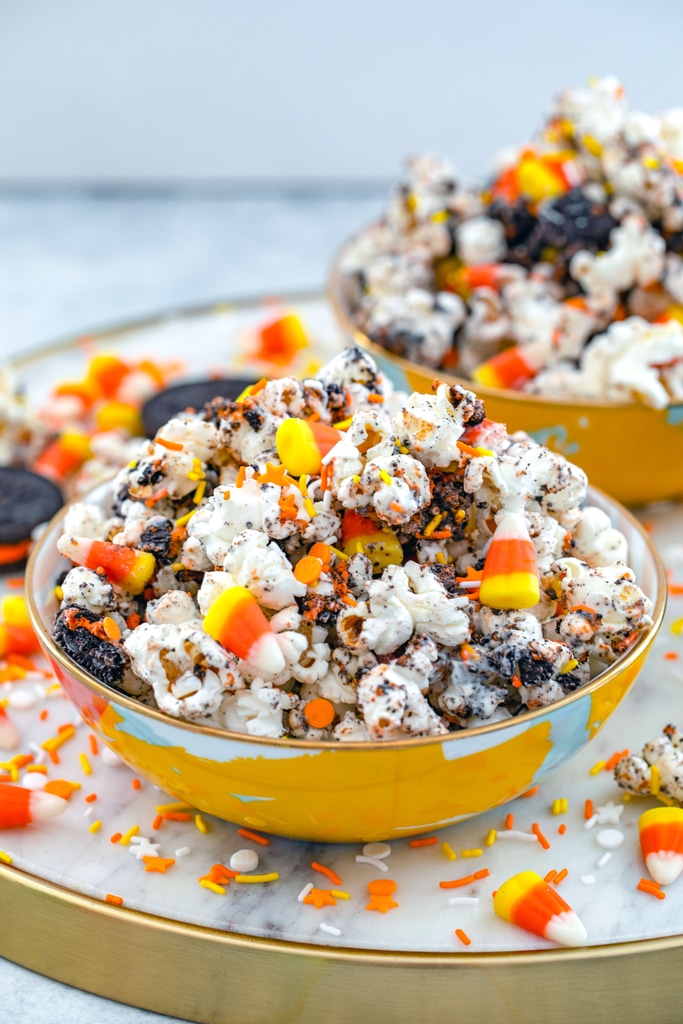 I just have one warning for you... This stuff is dangerous if you're not actually bringing it to a party. I had planned to bring it to my friends, but my plans got changed and I ended up with a great big bowl of it sitting in my kitchen and taunting me. I didn't want to let it go bad, so... you know.
Halloween party popcorn truly is the best of all the worlds. I'm not even the biggest white chocolate fan, but I really enjoy how it just lightly coats the tender crunchy popcorn and adds a nice hit of sweetness... along with the candy corn, of course.
Plus, I love that there's a little bit of chocolate from the Oreo cookies to balance it all out. Because obviously chocolate from Oreo cookies is a great balancer.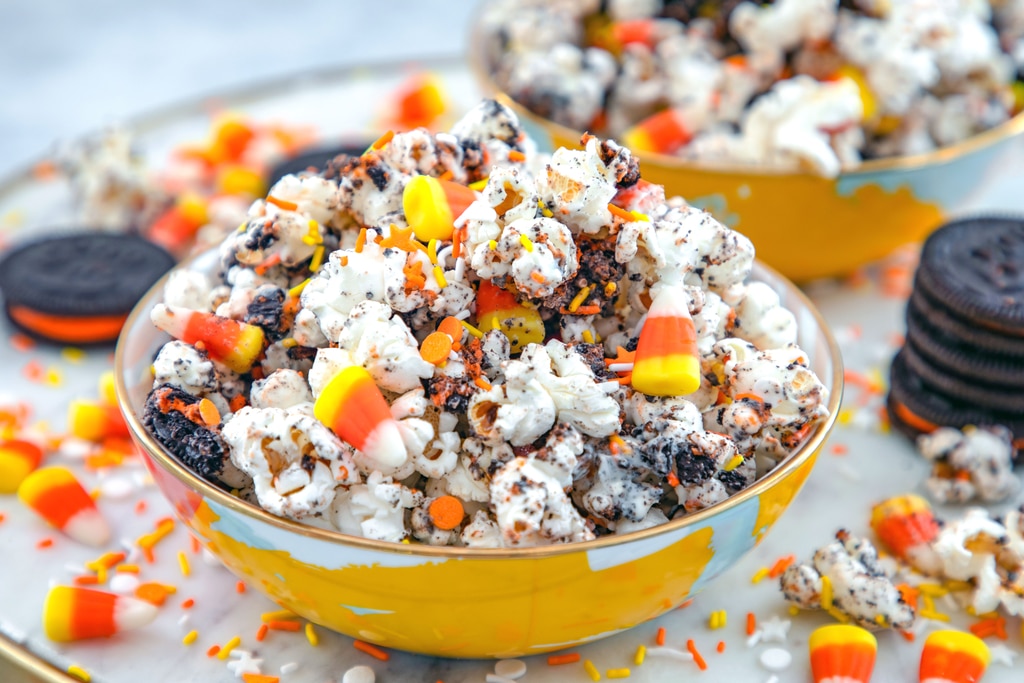 To be perfectly honest, I don't even think I'd be mad if someone gave me a bag of this Halloween popcorn while I was out trick-or-treating. I might be a little hesitant at first (I'm also the person who won't eat a baked good from the work break room unless I know exactly who made it), but I'm pretty sure I couldn't resist digging in.
Oh Halloween party popcorn... somehow you have the power to make me accept candy from strangers. What are you doing to me??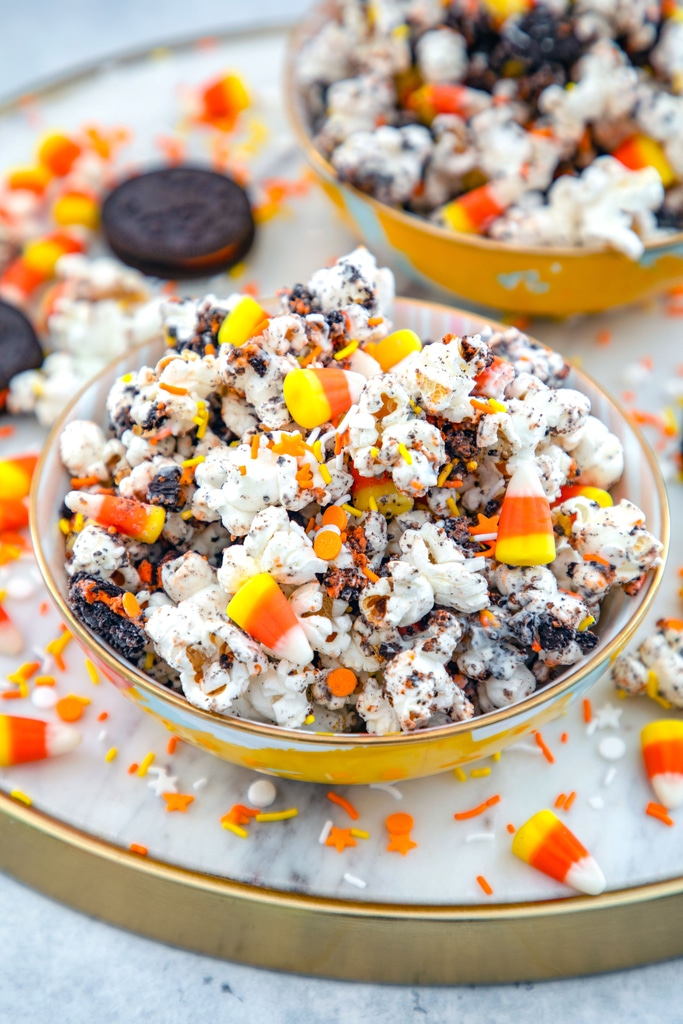 OK, now I feel like I need to go find some good Halloween movies so I can head to my couch and finish off this bowl. I haven't seen Hocus Pocus in probably 15 years, but also really want to watch The Witches. Any other Halloween movies you recommend? 'Tis the season for lots of candy and fun treats like this!
Oh, and another fun movie-watching snack? This Halloween Trail Mix! And Candy Corn and Peanuts, of course.
What's your favorite treat to bring to Halloween parties?
For more delicious desserts that are great for bringing to Halloween parties, check out my Pumpkin Cheerios Marshmallow Treats and my Mini Caramel Candy Apples. I also love these Halloween Spider Cookies from Sugar & Soul!
📖 Recipe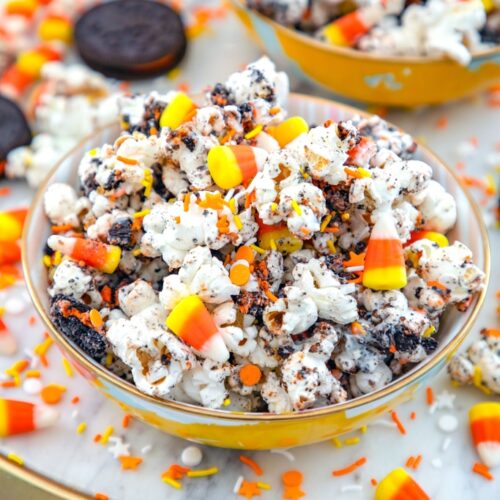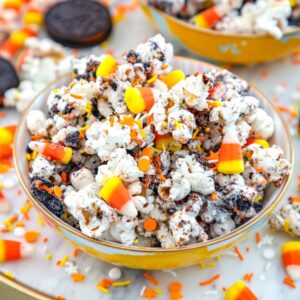 Halloween Party Popcorn
This Halloween Party Popcorn is a delicious mix of popcorn, white chocolate, Oreo cookies, candy corn, and sprinkles... It's easy to make and always a big crowd pleaser!
Print
Pin
Rate
Ingredients
2

Tbsp

canola oil

⅓

cup

popcorn kernels

8

oz.

white chocolate wafers, vanilla candy melts, or white chocolate

8

Halloween Oreo cookies,

crumbled

1

cup

candy corn

Halloween sprinkles
Instructions
Put oil and popcorn kernels in a large pot over medium-high. When the first kernel pops, cover the pot and remove it from the heat for about 30 seconds.

Place pot back on the stove and once kernels start popping, vigorously shake the pot back and forth, keeping it on heat. Once popping slows, take pot off the heat and remove cover. Put popped popcorn in a large bowl.

Melt white chocolate/wafers either in a double boiler or by putting them in a heatproof metal bowl placed over a saucepan of gently simmering water (don't allow water to touch bowl). Alternatively, you can melt at intervals in bowl in microwave.

Drizzle melted chocolate over popcorn and toss with crumbled Oreo cookies, candy corn, and sprinkles.
Notes
If you prefer to use microwavable popcorn (or bagged), use 10 cups popped.
Store popcorn in airtight containers at room temperature and enjoy within a couple days.
Share a Photo of Your Finished Recipe!
Mention @wearenotmartha and share a photo if you've made the recipe!