Apple Cider Cookies are soft, muffin-like cookies stuffed with a little caramel surprise. These fall cookies are best served with a glass of cold apple cider or a mug of hot cider!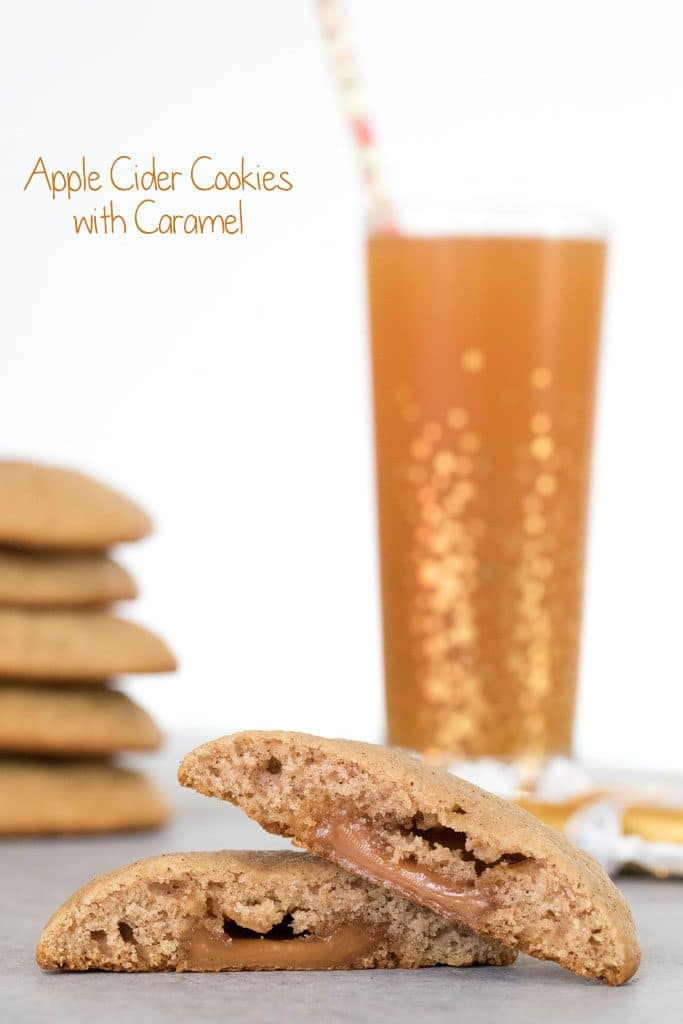 (This recipe for Apple Cider Cookies was originally published in November 2011, but has been updated with new photos and content in 2018.)
Raise your hand if you had candy for dinner last night. Or at least an excessive amount of candy after dinner. If your dinner involved any sort of vegetable, you're excused. Halloween comes but once a year, so you may as well enjoy it.
Of course, if you have leftover candy or a large trick-or-treat haul, the holiday may be sticking around for quite some time.
Last year, Chris and I had candy for like 8 months after Halloween. I blame it on the fact that he bought too much fruity candy (Laffy Taffy? Who did I marry??) and not enough chocolate. I was in charge of Halloween candy this year and bought all chocolate. I also bought far too much due to the fact that I had a 20% and 30% coupon at CVS and I was nervous we'd run out.
We didn't. And now I'm in a danger zone.
So, with all that candy talk out of the way, let's talk cookies. I probably should have posted something healthy-ish today, but I figure that while everyone's sugar addictions are in full force, I may as well sneak these in. Muhahaha.
I feel like Halloween totally starts eating season (my favorite season!), so now it's on and you should spend your first day of November making these Apple Cider Cookies with Caramel.
Apple Cider Cookies with Caramel Recipe
I can't get enough apple cider in the fall and caramel is such the perfect complement to it. Honestly, I'd love these cookies as plain old apple cider cookies, but add in the caramel and it's fall heaven in dessert form.
There's apple cider in the batter (duh) and a caramel stuffed in the middle of each cookie. The first time I made these, I used those little square caramels that are such a pain in the butt to unwrap. But I could only find Werther's Soft Caramels this time, so I went with those instead.
I almost cut them in half since they're a little larger than the squares (longer, but not quite as fat), but then I just decided to go with the whole thing. YOLO.
You could also add a little spoonful of real caramel if you wanted to go that route instead and the middle would be more ooey-gooey and less caramel chewy.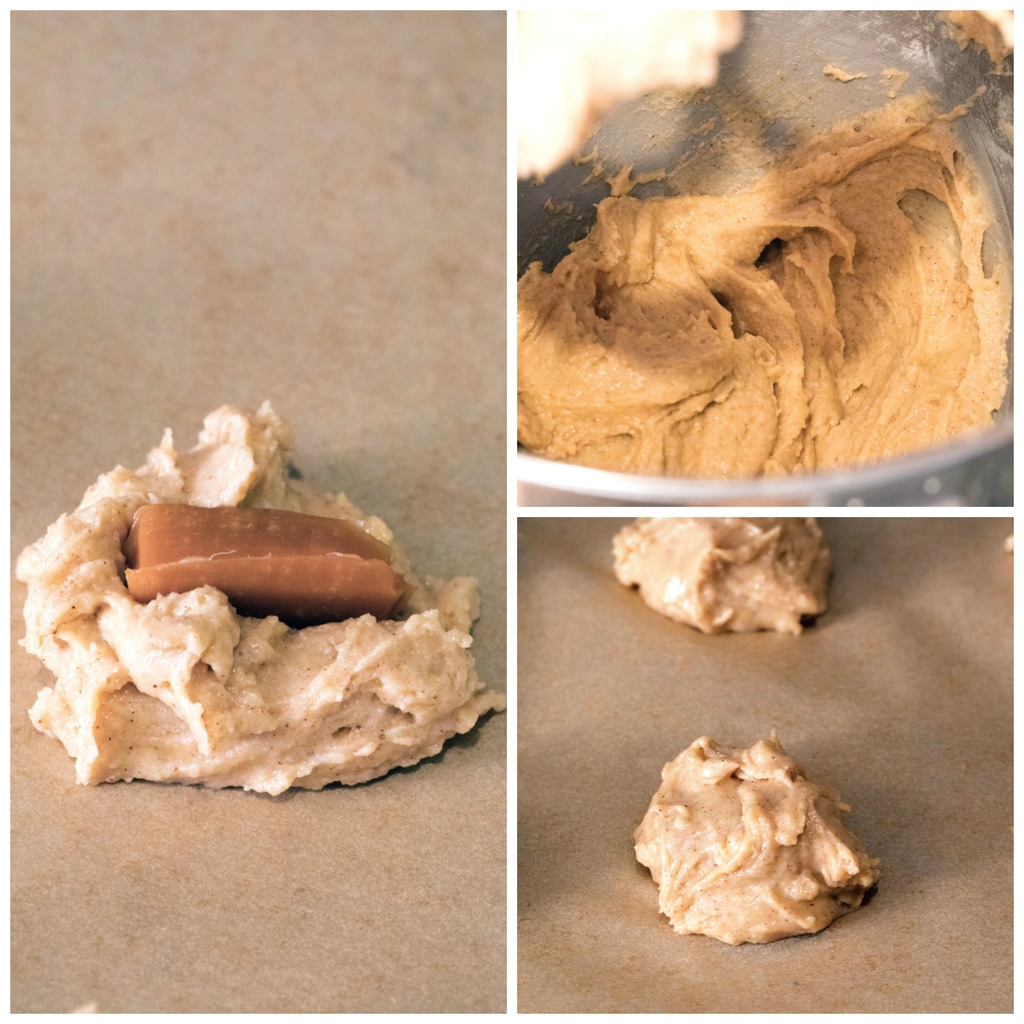 Since it hasn't been too chilly just yet (until literally last night when the weather decided to take a nosedive), I ate these apple cider caramel cookies alongside a nice cold glass of apple cider.
But when I enjoy a couple after dinner tonight (assuming I can keep my hands out of the Halloween candy bowl the rest of the day), I'll probably make some hot cider, which sounds so incredibly divine... I say as I sit here shivering.
Or perhaps I'll turn the gas fireplace on full force and make this Apple Cider Bourbon Slush instead. Bad idea?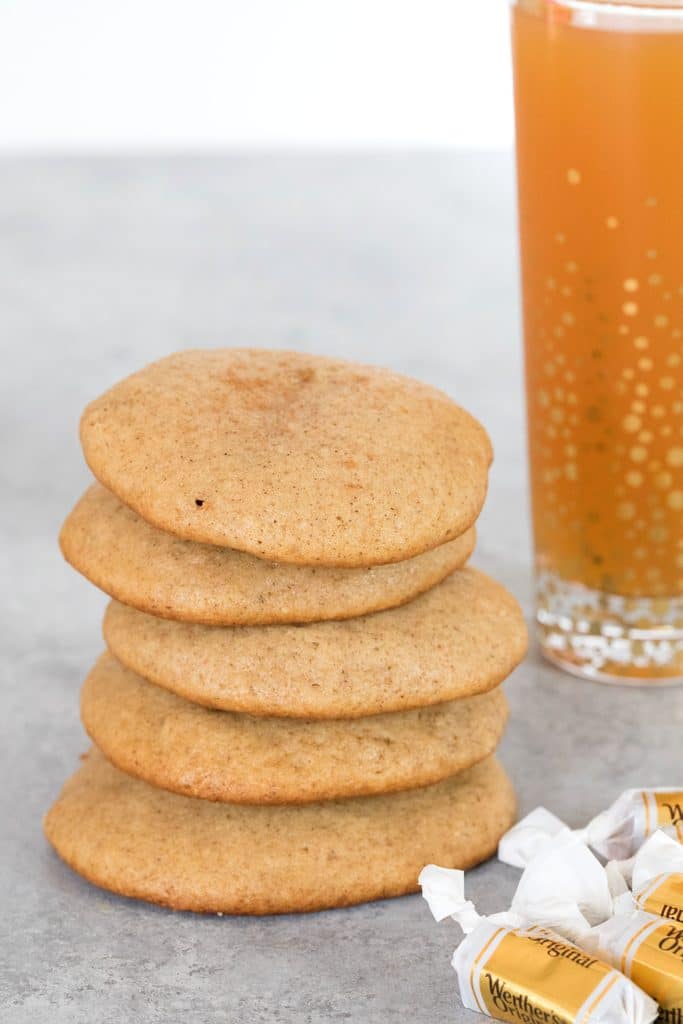 These are soft pillowy apple cider cookies; almost like muffins, which you can probably gather from some of the closeup shots. They're perfectly spiced and taste just how you think fall should taste. Minus the leaves.
The caramel does sink to the bottom of the cookie, but it shouldn't come out of the cookie or make the cookies stick to your parchment or anything.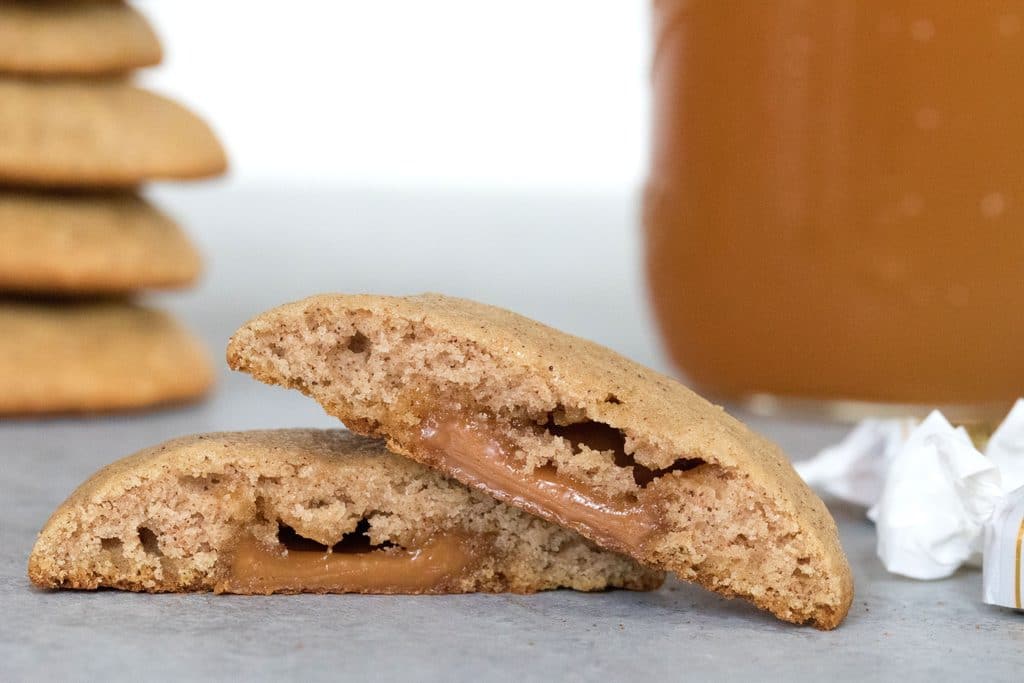 Hopefully we can manage to get through November without any snow.... are you with me on that? I love a little New England snowstorm for the holidays, but once it starts, it legit doesn't go away until April and I can't bear the thought of 6 months with gross brown snow everywhere.
Though something tells me that these cookies would also be delightful with a mug of hot cocoa after playing in the snow all day. Just kidding, I don't play in the snow unless my dog forces me.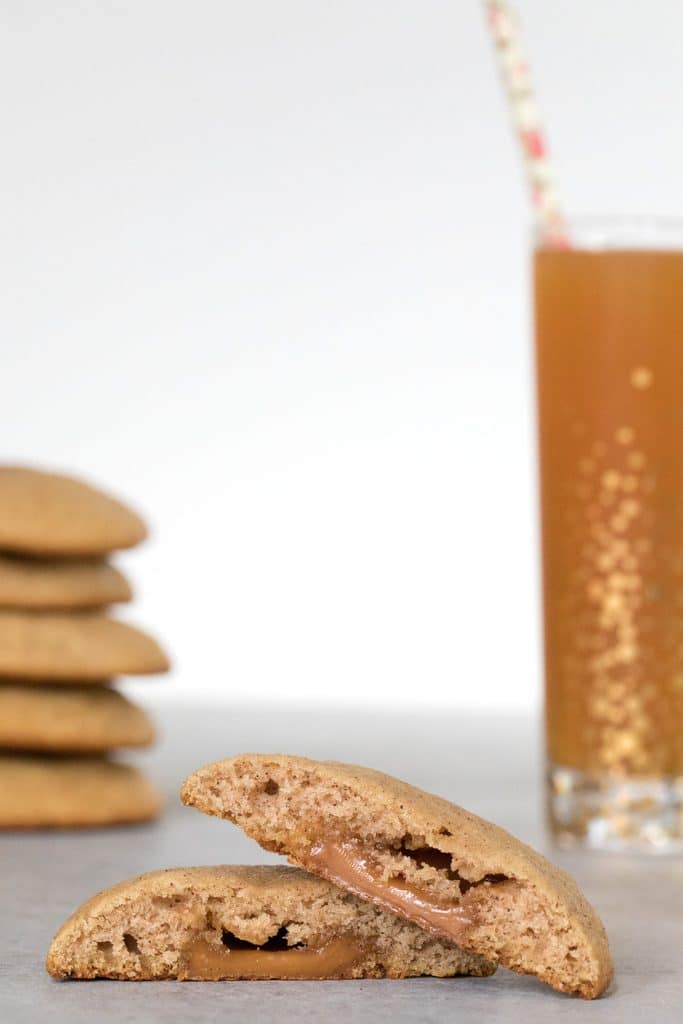 Want to hear something funny? I originally published this recipe on this very day of November way back in 2011 (I made a few edits to it here and obviously shot new photos and wrote new copy). Clearly, these Apple Cider Cookies are on constantly on my mind after Halloween.
But back in 2011, it actually snowed on Halloween weekend... Like a blizzard! Chris and I almost got stuck driving home from our friend's Halloween party. It's hard to believe that was six years ago!
So, for now, I am thankful it feels like fall and not winter. I'll cheers to that with a glass or apple cider and an apple cider cookie or two.
Seriously though, how much candy did you eat last night?
For more fun recipes involving apple cider, try my Apple Pie Ice Cream with Cider Caramel and my Apple Cider Bourbon Slush. I also can't wait to indulge in this Caramel Apple Cider from Mr. Farmer's Daughter!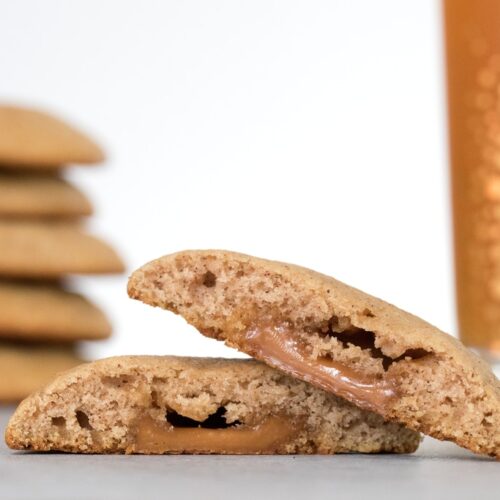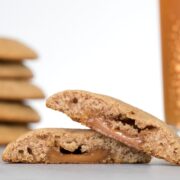 Print Recipe
Apple Cider Cookies with Caramel
Apple Cider Cookies are soft, muffin-like cookies stuffed with a little caramel surprise. These fall cookies are best served with a glass of cold apple cider or a mug of hot cider!
Ingredients
1 ½

cups

all-purpose flour

1

tsp

baking soda

¼

tsp

salt

1

tsp

cinnamon,

plus more for sprinkling

6

Tbsp

butter,

room temperature

½

cup

packed brown sugar

¼

cup

granulated sugar

1

large egg

½

cup

apple cider

14

wrapped caramels
Instructions
Pre-heat oven to 350 degrees and line a baking sheet with parchment paper.

In a medium bowl, whisk together flour, baking soda, salt, and cinnamon.

In the bowl of your stand mixer (or in a large bowl, using a hand mixer or a wooden spoon), cream butter together with both sugars.

Add egg and mix to combine.

Add half of the cider and half of the flour mixture to the bowl and mix until just combined. Repeat with the second half of the cider and remaining flour mixture. Take care not to over-mix.

Take about 1 Tbsp of batter and form a ball with it (batter will be a bit sticky). Place a caramel inside and roll the dough around it. Put cookies on parchment paper-lined baking sheet.

Bake cookies at 350 degrees for about 10-12 minutes, until just starting to turn golden around edges. Let cool in pan for a few minutes before removing to rack to cool completely.