Made with homemade mint marshmallows and chocolate graham crackers, this white chocolate s'mores recipe takes a classic summer treat and gives it a fresh new spin!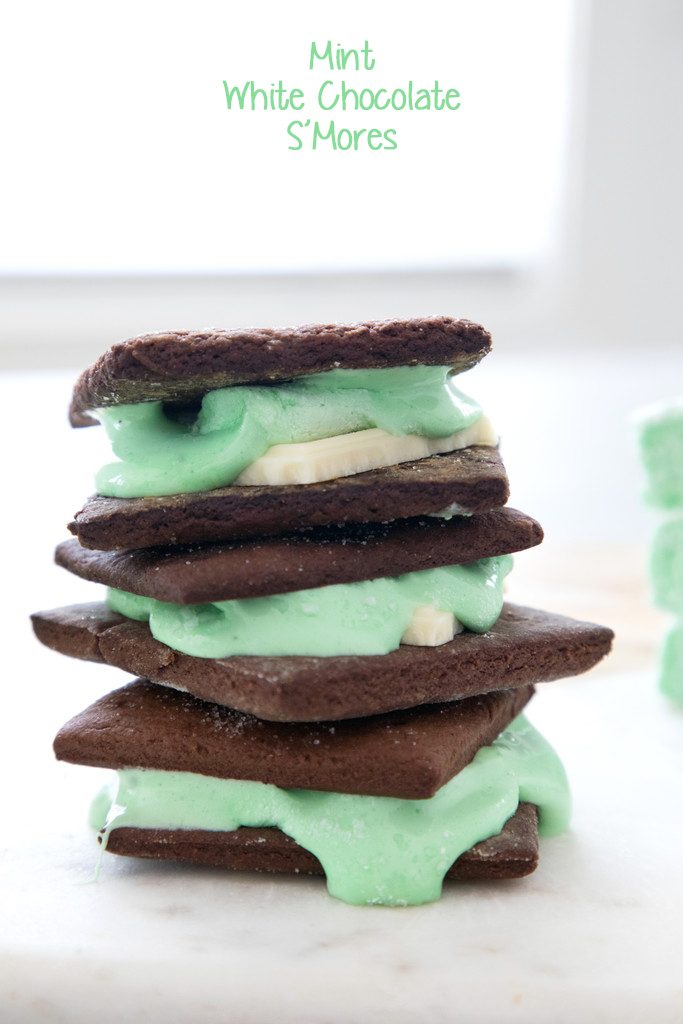 You know what I don't find relaxing? Salon days. As in going to get my hair and nails done and all of that other "pampering" stuff that I think I'm supposed to love. That society tells me the ladies love. I see these things as occasionally necessary (and I love the way I feel after), but not relaxing or fun or enjoyable in any way. I only have so many free hours in my day and about a billion other things I would rather be doing with them. Is anyone else with me?? There are probably plenty of people who think a woman would much rather be in the salon than in the kitchen, but I would vehemently disagree with that, at least from a personal perspective. Then again, I'd rather be in the kitchen than doing pretty much anything else (something tells me this is a food blogger thing and not necessarily an everyone thing!), especially sitting in a chair being poked and prodded.
I actually only started getting manicures and pedicures within the last couple years and really only in the summer or when I have an occasion or vacation. I went yesterday since I'm off to the Everything Food Blog Conference in Salt Lake City this week (see you there???) and felt like I was going to jump out of my skin the entire time since all I wanted to do was get home and write about Mint White Chocolate S'mores with you guys. So, here I am. Hi!
MINT WHITE CHOCOLATE S'MORES RECIPE
S'mores. This certainly isn't the first time I've made s'mores, but it is the first time I made both my own graham crackers (chocolate graham crackers!) and marshmallows (mint marshmallows!). Of course it was more work than regular old s'mores, but it was also my idea of fun. And so worth it for the finished product! If you're feeling super lazy, but still want white chocolate s'mores, no problem! Simply buy chocolate graham crackers and use regular marshmallows and white chocolate. No extra work required!
MINT MARSHMALLOWS RECIPE
But if you haven't made your own marshmallows before, I need to tell you how easy it is. I promise I'm not lying to you. I've made them a few times, but this time I used a base recipe from Epicurious and it was the easiest yet! Once you have a base recipe, you can make marshmallows any flavor and/or color you want. I was craving mint and decided to tint my mint marshmallows a light green.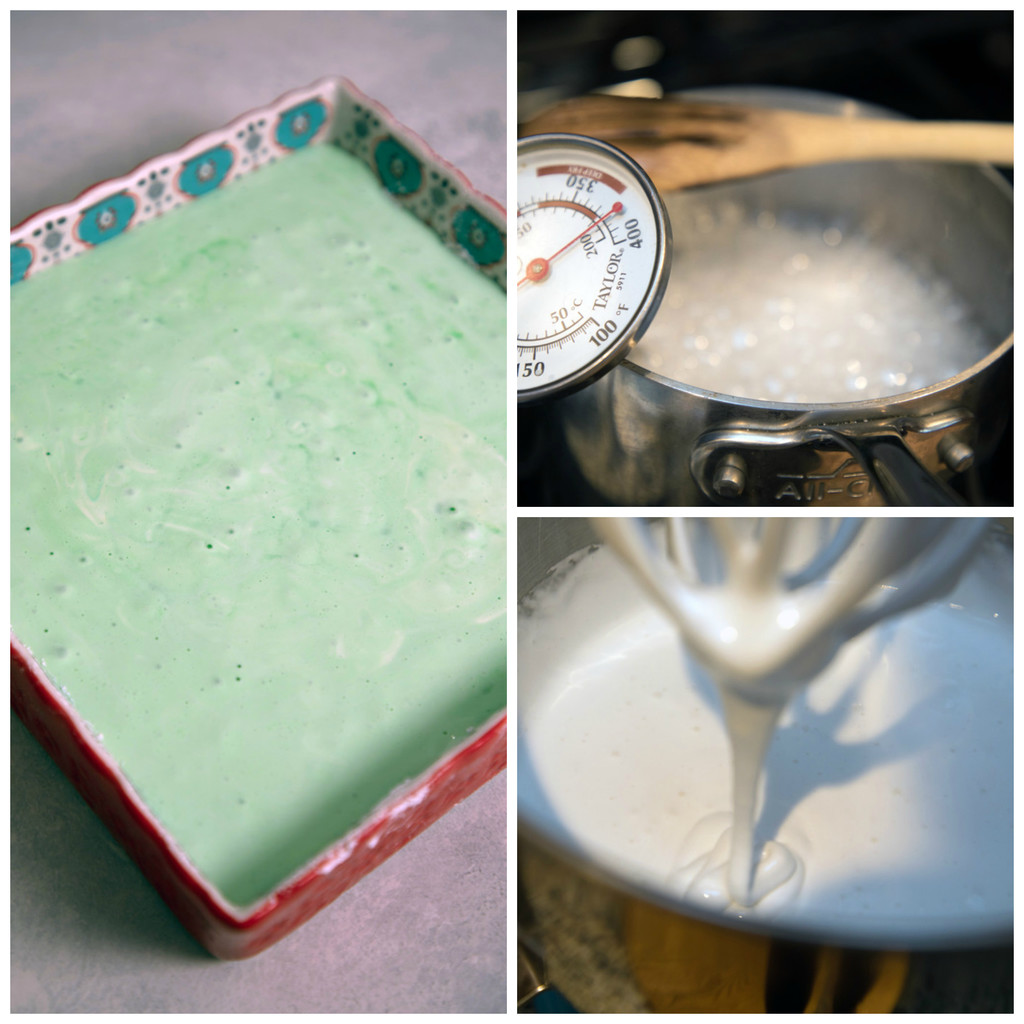 They came out perfectly and I was thrilled!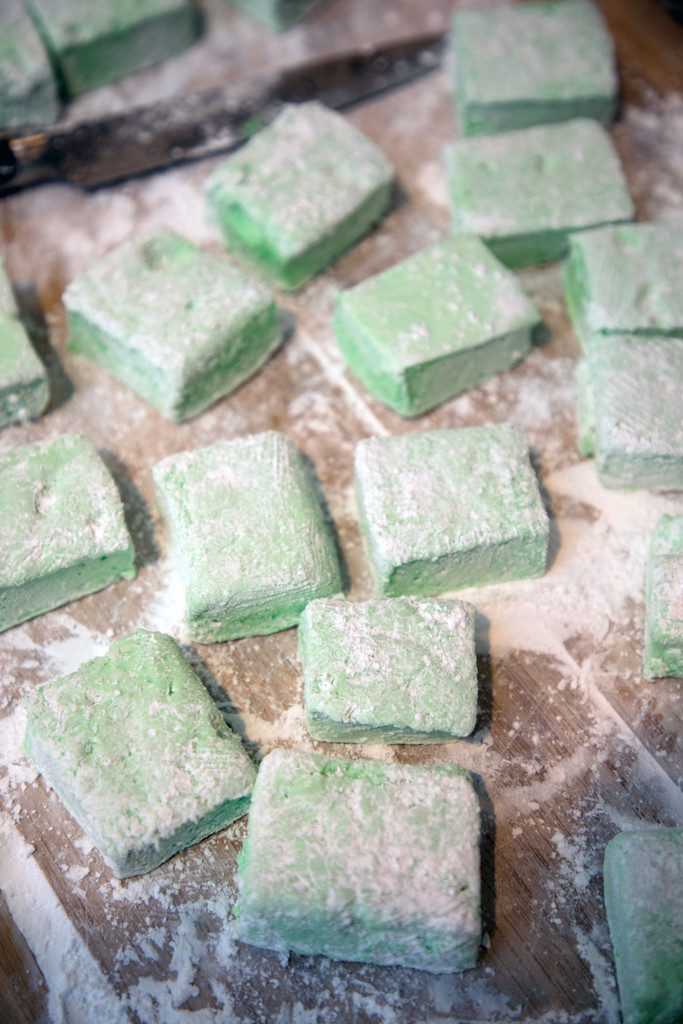 CHOCOLATE GRAHAM CRACKERS RECIPE
It was also my first time making homemade graham crackers. I used a Smitten Kitchen recipe as a base, but made the crackers (cookies) chocolate instead. Again, easy! The toughest part was rolling out the dough evenly, which is something I'm constantly trying to perfect for every dough-based recipe I make.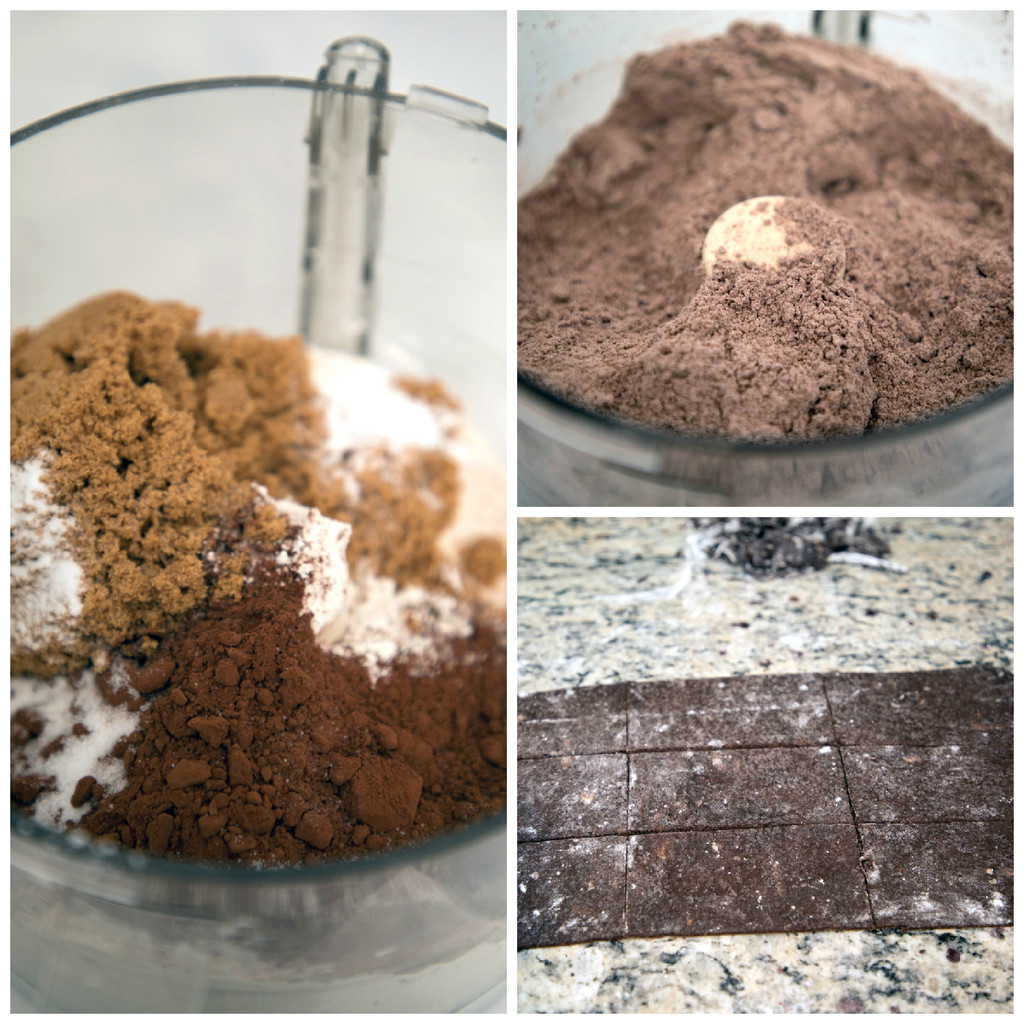 I get a little better every time, but it's a constant work in progress. When I first started these chocolate graham crackers, I was going to make regular sheets of graham crackers, but when I saw Smitten Kitchen made hers into squares, I went with that since squares make the most sense for s'mores.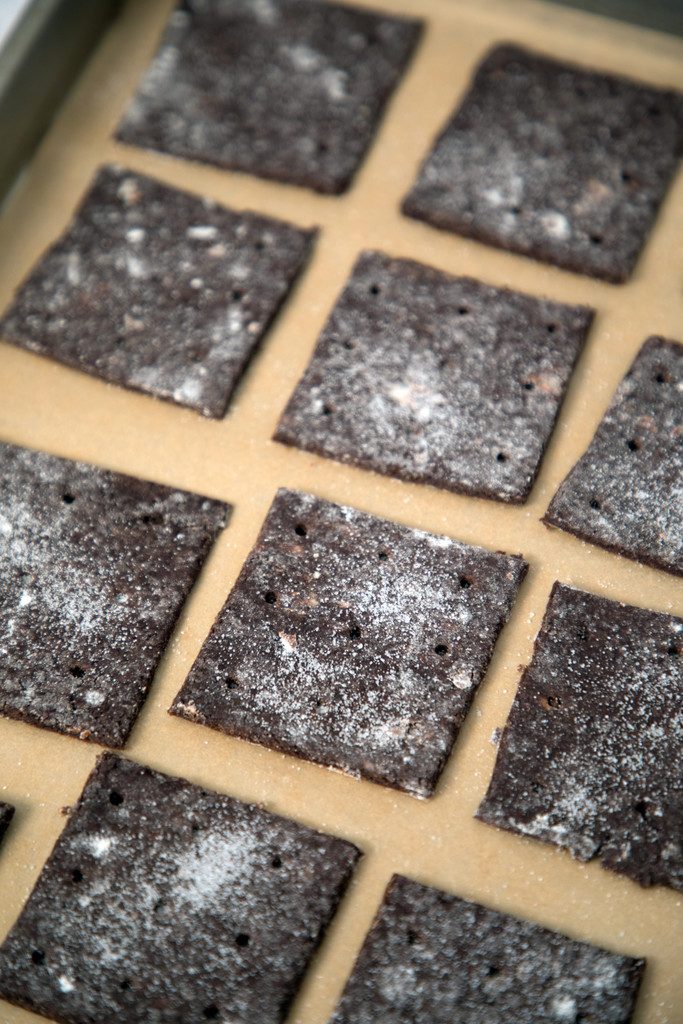 Since the graham crackers were chocolate, I decided these s'mores needed white chocolate instead of milk chocolate. I melted them all together in the microwave... No campfire required! Though I think if you had mint marshmallows at the end of your roasting stick around the campfire, you'd automatically be the coolest one there.
Plus, wouldn't it be such a fun campfire if there was a huge variety of different flavors and colors of marshmallows to choose from? I feel like I need to make that happen this summer.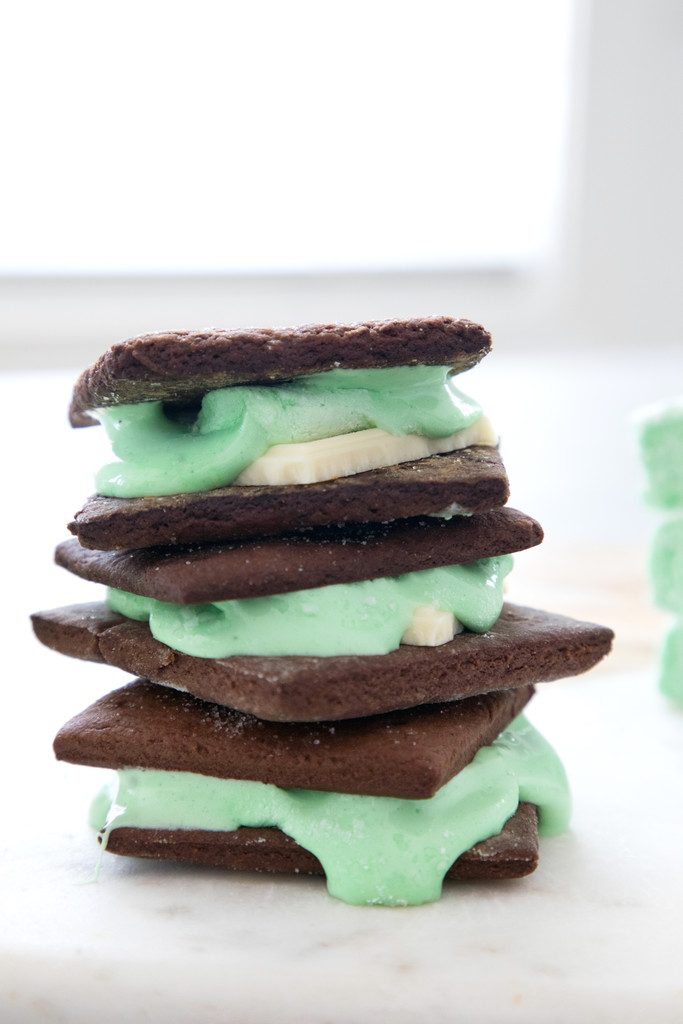 OK, I know you're probably secretly thinking that when these mint marshmallows melt, they look a little bit like slime. Right? And I'm not sure if that's really awesome or really weird or maybe a little bit of both... But I do know that they were absolutely delicious. In addition to eating a few of these white chocolate s'mores, I ate many, many marshmallows on their own. The mint was so fun!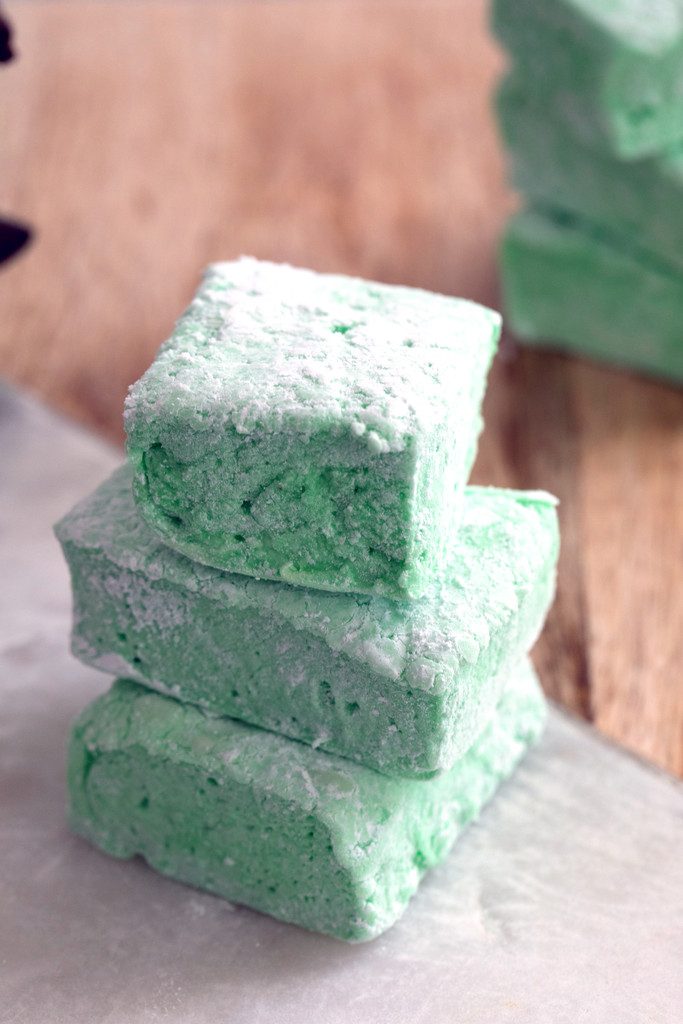 The chocolate graham crackers were pretty fabulous, too, and I definitely want to try a plain old cinnamon graham version next time.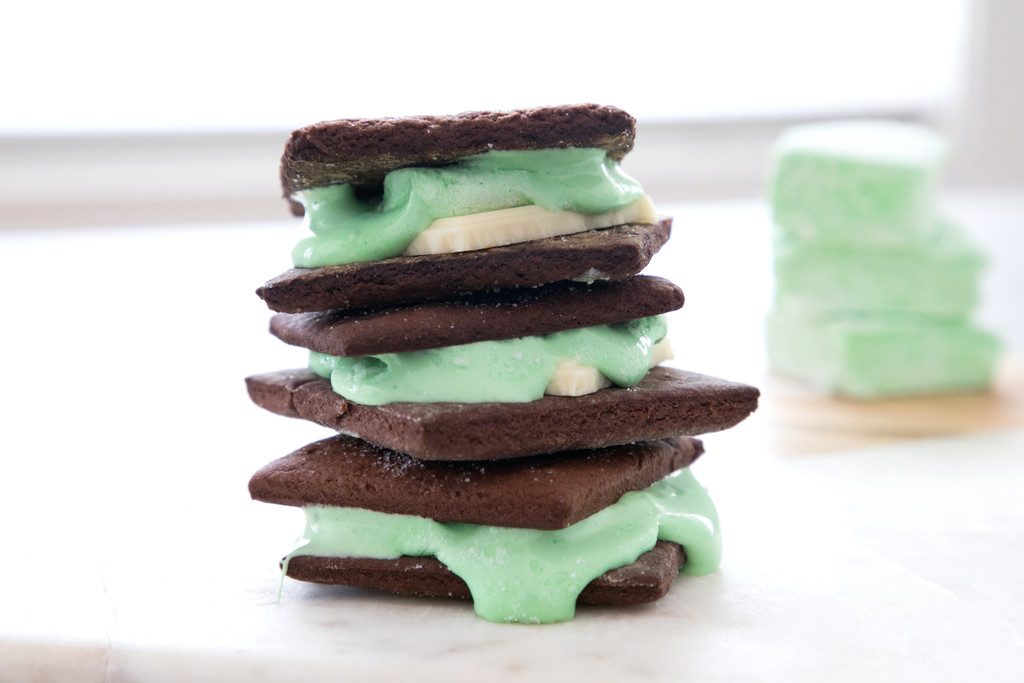 I'm not going to lie; I was pretty proud that I made s'mores with so many homemade components. The only thing I didn't make was the white chocolate bars... And I'm probably not going to touch that one any time soon!
So yeah, I'd much rather be making homemade mint marshmallows and chocolate graham crackers for white chocolate s'mores than getting my nails done. Though I have to admit, I'm pretty thrilled that I'm currently rocking a manicure that's going to last through more than just one marshmallow session in the kitchen (gel manicures save my life).
What's your dream flavor marshmallow? Dream manicure color?
If you love this s'mores recipe, be sure to check out my Salted Caramel Cookie S'mores and my S'mores Cookie Bars. I also can't wait to make these Banana Split Marshmallows from Pine and Crave!
📖 Recipe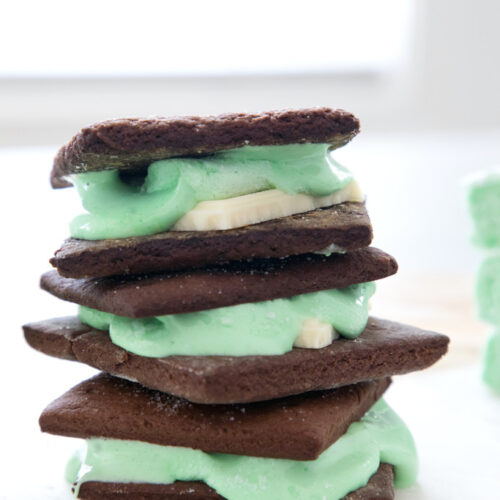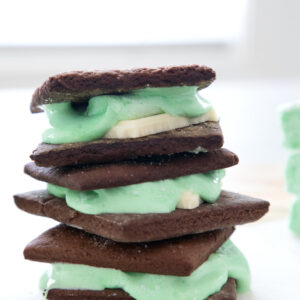 Mint White Chocolate S'mores
Made with homemade mint marshmallows and chocolate graham crackers, this s'mores recipe takes a classic summer treat and gives it a fresh new spin!
Print
Pin
Rate
Makes:
24
s'mores (with some leftover marshmallows)
Ingredients
24

Mint Marshmallows

(recipe below)

24

squares of high-quality white chocolate

48

2"

chocolate graham cracker squares

(recipe below)
Mint Marshmallows
Vegetable oil for pan

1

cup

confectioners' sugar,

divided

3 (¼ oz.)

envelopes

powdered unflavored gelatin

1 ½

cups

granulated sugar

1

cup

light corn syrup

¼

tsp

salt

1

tsp

mint extract

1

tsp

pure vanilla extract

Green

(or blue and yellow food coloring), if desired
Chocolate Graham Crackers
2

cups

all-purpose flour

½

cup

cocoa powder

1

cup

dark brown sugar,

lightly packed

1

tsp

baking powder

¾

tsp

kosher salt

7

Tbsp

unsalted butter,

cut into 1-inch cubes and frozen

⅓

cup

honey

5

Tbsp

whole milk

2

Tbsp

vanilla extract

3

Tbsp

granulated sugar
Instructions
Mint Marshmallows
Brush the bottom and sides of a 9-inch square baking pan with vegetable oil. Then, dust the pan generously with some confectioners' sugar by putting it through a fine mesh sieve. Knock out any excess sugar.

In the bowl of a stand mixer, fitted with whisk attachment, add ½ cup water. Sprinkle gelatin over the top of the water and stir to make sure it all comes in contact with water. Set aside to soften.

In a heavy 3- or 4-quart saucepan over medium heat, combine granulated sugar, corn syrup, and salt. Bring mixture to a boil, stirring until sugar is dissolved. Continue to boil without stirring until a candy thermometer reaches 240 degrees (soft ball stage). If the mixture bubbles up, turn down the heat a bit.

Remove saucepan from heat and let stand briefly until bubbles begin to dissipate.

While mixer is on low speed, pour hot sugar syrup into the softened gelatin by drizzling it in a thin stream down the side of the bowl.

Gradually increase mixer speed to high and beat until marshmallow gets thick and forms a thick ribbon when whisk is lifted, about 5 minutes.

Beat in the mint and vanilla extracts. Beat in a few drops of green food coloring or a mixture of blue and yellow food coloring, if desired (I used 6 drops yellow and 2 drops blue from Wilton's Color Right line).

Working quickly to prevent hardening, scrape marshmallow into the prepared pan (it will be very sticky) and use wet fingertips to make sure it's even and smooth on top.

Let baking pan stand at room temperature and uncovered for at least 4 hours, but ideally overnight. The surface should no longer be sticky and you should be able to gently pull marshmallow away from the sides of the pan with your fingertips.

Dust a cutting board with confectioners' sugar and use a rubber spatula to pull the sides of the marshmallow from the edge of the pan. This may take a bit of work and you may need to also use the spatula to loosen the marshmallow from the bottom of the pan. Invert marshmallow onto cutting board and dust the top with confectioners' sugar.

Using a long thin knife brushed with vegetable oil and dusted with confectioner's sugar, cut marshmallow lengthwise into 6 strips, then crosswise into sixths (you should get about 36 squares total) or into a different size of your choice.

Coat marshmallows, one at a time, in confectioners' sugar and use a pastry brush to brush off any excess.

Store marshmallows in an airtight container layered between sheets of wax paper or parchment paper in a cool, dry place for up to a month.
Chocolate Graham Crackers
Combine flour, cocoa powder, brown sugar, baking powder, and salt in the bowl of a food processor and pulse to combine. Add butter and continue to pulse until mixture is the consistency of a coarse meal. If you don't have a food processor, you can do this in a stand mixer fitted with paddle, mixing on low. If you have neither, you can incorporate with a pastry blender (or even your fingers!).

In a small bowl, whisk together honey, milk, and vanilla extract.

Add milk mixture to the flour mixture and pulse on and off a few times or mix on low until the dough just comes together (being very careful not to over-mix). The dough should be soft and sticky.

Lay out a large rectangle of plastic wrap and dust it lightly with flour, then place dough on it and pat into a rectangle about 1-inch thick. Wrap dough and chill until firm, about 2 hours or overnight.

Once chilled, divide dough in half and return one half to the refrigerator. On a flour-dusted surface, roll dough into a long rectangle about ⅛ inch thick, adding more flour as required.

Using a pastry cutter or a preferred tool, cut dough into 2" squares.

Prick each square with the end of a skewer, toothpick, or fork several times and place on parchment-lined baking sheets. Sprinkle with granulated sugar.

Chill squares in refrigerator until firm, about 30-45 minutes (you could also place in freezer for 15-20 minutes).

Repeat rolling and cutting with the second batch of dough and then gather dough scraps together into a ball, chill until firm, and re-roll. You should get about 48 2" squares.

While squares are chilling, pre-heat oven to 350 degrees.

Bake cookies for 15 to 25 minutes, until browned and slightly firm to the touch, rotating the sheets halfway through to ensure even baking.
S'mores Assembly
To assemble, place a mint marshmallow and white chocolate square on a chocolate graham cracker and place on plate. Microwave on high for about 15 seconds.

Remove from microwave and place a second chocolate graham cracker on top.
Notes
Store leftover marshmallows in between layers of parchment or waxed paper in an airtight container set in a cool, dry place.
Mint Marshmallows slightly adapted from Epicurious
Chocolate Graham Crackers slightly adapted from Smitten Kitchen
Share a Photo of Your Finished Recipe!
Mention @wearenotmartha and share a photo if you've made the recipe!