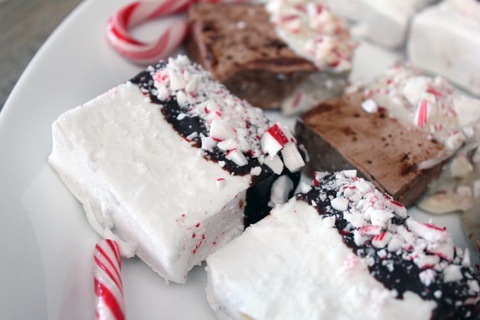 Yes, more peppermint. And more marshmallows, too. This was a sort of experiment in weirdness. But awesomeness as well. I really wanted to dip marshmallows in chocolate and peppermint. But I also wanted to do this totally from scratch and make my own marshmallows. And THEN in a moment of over-eagerness, I decided I really wanted to make chocolate marshmallows, too. And dip them in white chocolate and peppermint. So, I did. This was my second time making regular marshmallows and my first time attempting chocolate marshmallows. I'd say they were a success, but when it came to the dipping, things did get a little bit messy.
I'm giving you the recipe for chocolate marshmallows here. If you want to make both, head over to my post about regular marshmallows, halve the recipe, and use an 8x8 pan to let it set in.
Chocolate Marshmallows:
Print this recipe!
Vegetable/canola oil
2 envelopes unflavored gelatin
1.5 C granulated sugar
½ C, plus 2 T light corn syrup
Pinch of salt
1 t vanilla extract
½ C cocoa powder, plus ¼ C for dusting
Regular Marshmallows:
See recipe here (I halved it for this recipe's purposes)
Chocolate Peppermint Covering:
8 oz. quality white chocolate (for chocolate marshmallows)
8 oz. quality semi-sweet chocolate (for regular marshmallows)
10 candy canes, crushed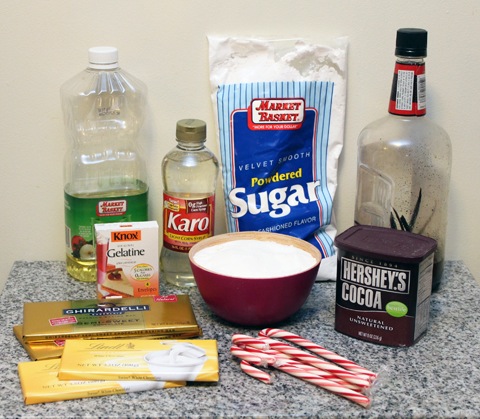 For chocolate marshmallows:
Start by greasing an 8x8 baking dish with vegetable or canola oil. Line the dish with parchment paper, leaving a 2-inch overhang and brush the parchment with more oil. Set aside.
In a medium-size saucepan, add granulated sugar, corn syrup, salt, and ¼ C plus 2 T water. Bring mixture to a boil over high heat, stirring to dissolve all sugar.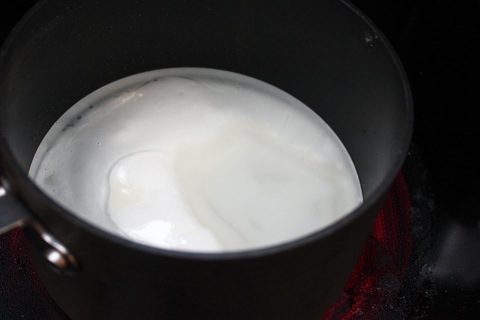 Once sugar is dissolved, continue to cook without stirring until mixture reaches 238 degrees. This should take about 5-7 minutes.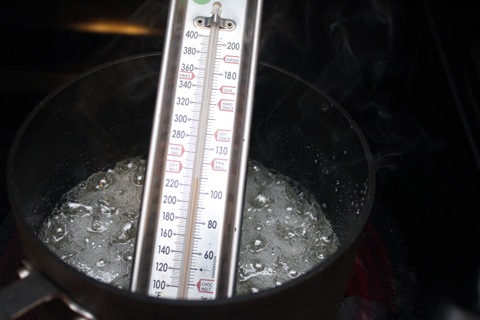 While the sugar is boiling, add ¼ C, plus 2 T water to the bowl of a stand mixer. Sprinkle gelatin powder over the top and let sit for about 3 minutes, to soften.
When mixture has reached 238 degrees, set the mixer on low using whisk attachment and beat the hot syrup into the gelatin mixture.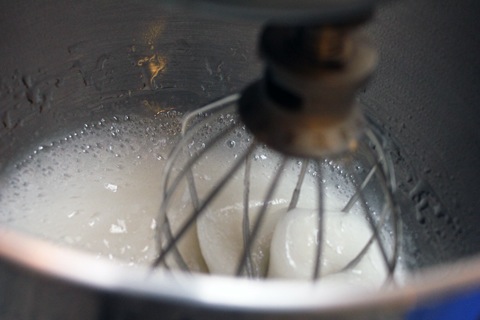 Add ½ C cocoa powder and turn mixer up to high speed.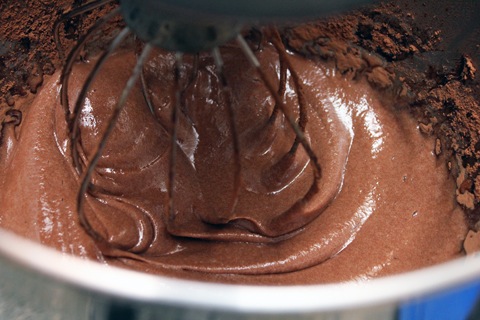 Mix for about 6 minutes, until stiff peaks form. And the mixture looks like fluff… Well, chocolate fluff! Add the vanilla in right before you're done mixing.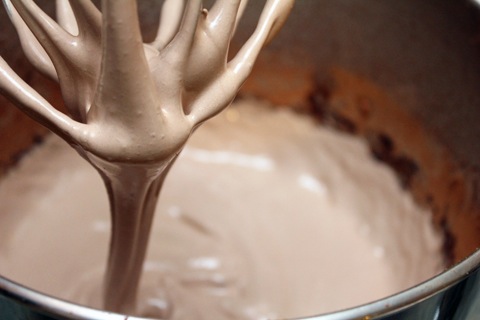 Here's where you need to work QUICKLY. Pour the fluff mixture from the stand mixer into your prepared parchment-covered pan. This will seem easy at first, but the longer you take, the stickier the fluff will get. So, use a good spatula and move as fast as you can.
Smooth the top with an offset spatula, too. The marshmallow needs to sit in the pan for at least 3 hours… I let mine sit overnight. You should cover the pan with plastic wrap or something… Just make sure the plastic wrap doesn't touch the marshmallow… It WILL stick!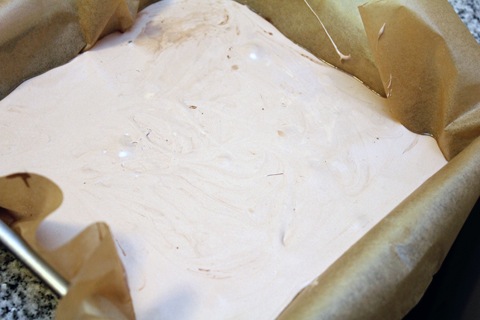 Right after I was done preparing my chocolate marshmallow mixture, I got going on my regular marshmallows. The more you do this, the easier it gets!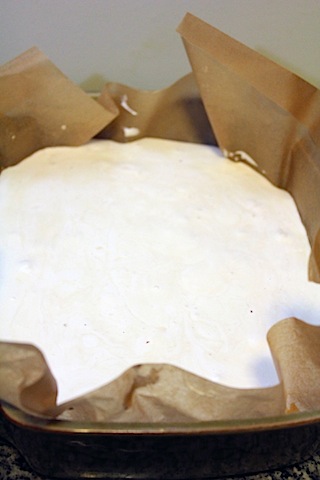 The next morning, I sprinkled about ¼ C of cocoa powder on my work surface and flipped the marshmallow out of the pan. It came out very easily since I had brushed the pan well with canola oil. But unfortunately, because the surface of the marshmallow was a bit oily, it made the cocoa powder kind of smear on the top. Not so pretty.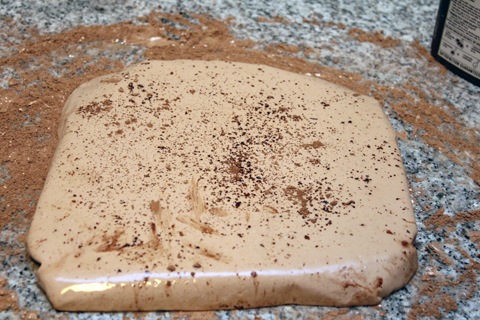 With an oiled knife of pizza cutter, cut marshmallows into desired size. You should be able to get about 16 or so, if you keep them smallish.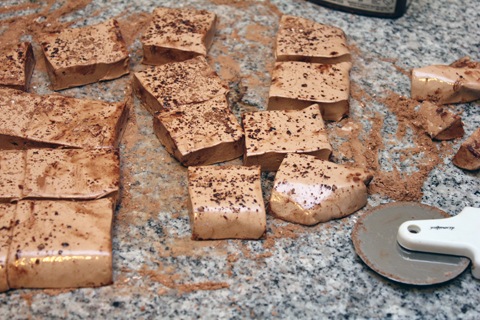 In a double broiler (or a homemade one like I use!), melt your white chocolate.
Dip the chocolate marshmallows into white chocolate, covering about half of the marshmallow.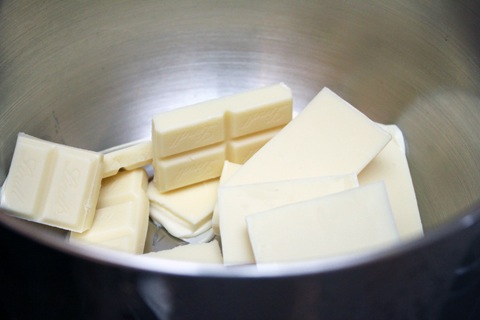 And sprinkle crushed candy cane over chocolate.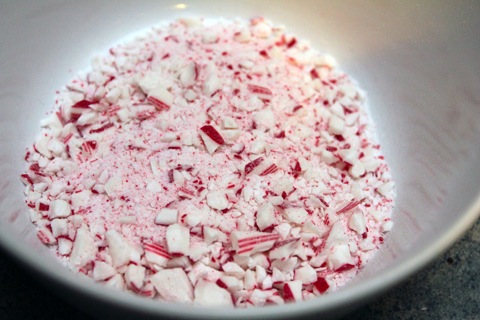 Set marshmallows in waxed paper or parchment paper to set.
The chocolate marshmallows were a bit messy because of the oil and because of the fact that white chocolate never melts as smoothly as I'd like it to.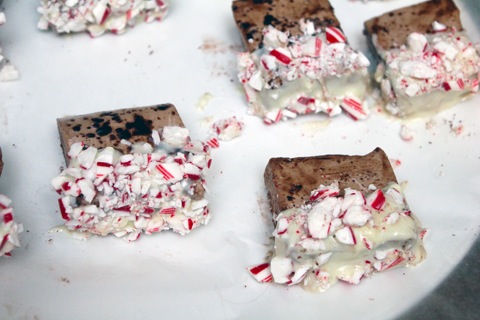 The marshmallows with semi-sweet chocolate worked out much better.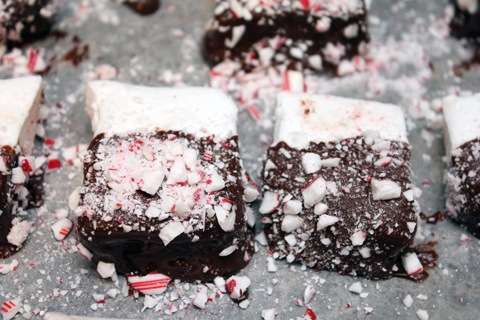 When all of your marshmallows are covered in chocolate and peppermint, let rest in fridge for about 10 minutes, so chocolate will harden.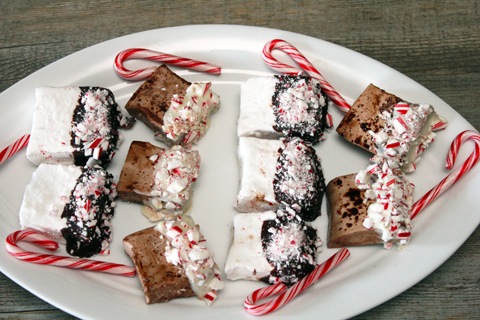 And dig in. I debated whether or not to put these on popsicle sticks, but decided not to. If you wanted to give these as little holiday gifts, I think they would be adorable in a little baggie tied with ribbon.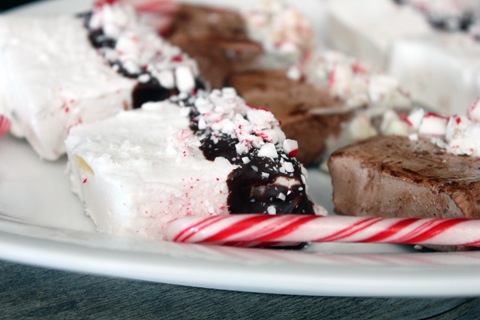 While I was happy with my results, I think they would have been a lot neater if I had used pre-packed marshmallows. Of course, they're not as sticky or oily and would be much easier to dip into chocolate.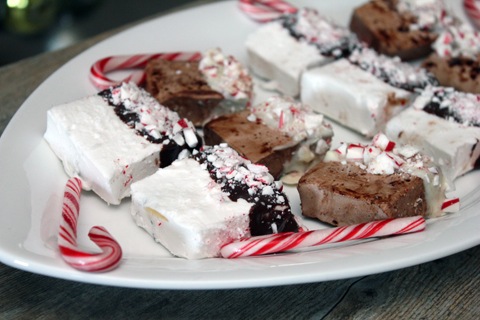 But I'm not known for doing things the easy way. Plus, once I made from-scratch marshmallows, I never wanted to ea a packaged one again.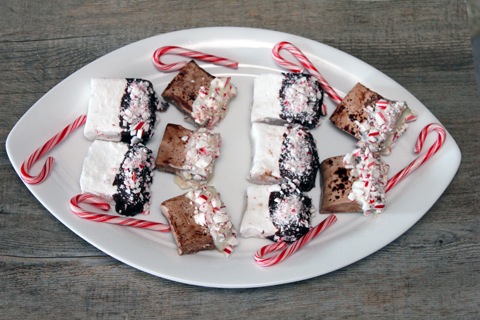 And I still don't. These are just too good. Plus, how often do you see packaged chocolate marshmallows? That's what I thought. And these really truly did taste exactly how you'd expect chocolate marshmallows to taste.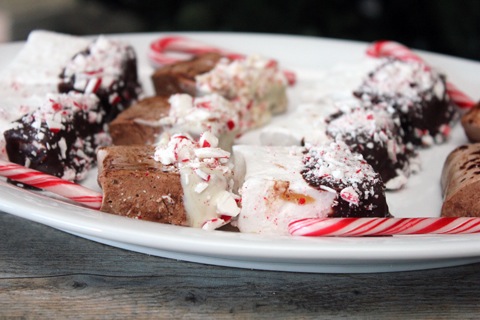 Can you believe there's less than a week until Christmas? I absolutely cannot. But I'll take it. That means a 4-day work-week, followed by a 4-day weekend. Plus, lots of family time, delicious food, and maybe even a gift or two. Can someone please speed this week up already?
Do you have a favorite holiday treat from this season?
[Sues]