These mac and cheese bites are packed with flavor thanks to Parmigiano Reggiano cheese and roasted garlic. They're perfect for serving at parties or for a grab-and-go meal!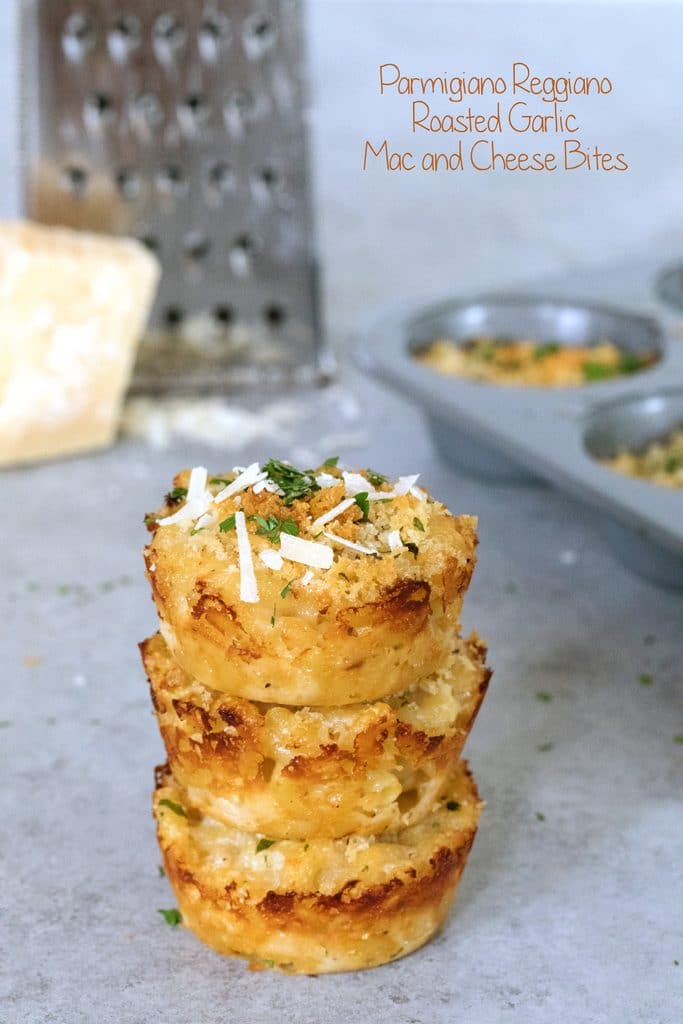 This post is sponsored by Parmigiano Reggiano®, but as usual, all opinions are 100% my own. Thank you for supporting We are not Martha!
They say that you learn something new every day. And while perhaps a bit cheesy, it's totally true. Some of these things blow your mind. Like, when you learn you've been saying the "Berenstain Bears" wrong your whole life (thank goodness I'm not the only one). Or that Sinbad was never actually in a movie called Shazam (why the heck did everyone think he was??) Or that the parmesan cheese you've been eating may not actually be real parmesan cheese. What?! Truth. Did you know that the name "parmesan" isn't regulated and pretty much anyone can call their cheese parmesan if they desire? But considering the word parmesan literally means "from Parma," and the surrounding provinces (including Reggio Emilia, Modena and parts of the provinces of Mantua and Bologna), don't you think your cheese should actually be coming from there? The only way to really know that you're eating real parmesan from Parma is to eat Parmigiano Reggiano. And only Parmigiano Reggiano. That's why they call it the King of Cheese!
For me, this was totally a case of "you don't know what you don't know," but once you learn it, everything changes. I am now completely fearful of saying "Berenstain Bears" in public (because honestly, who says it like that??) and I'm now shopping for my cheese in a completely different way. I'm also a tiny bit nervous that I'm going to start trying to school people in my grocery store's cheese section. But would that really be the worst thing?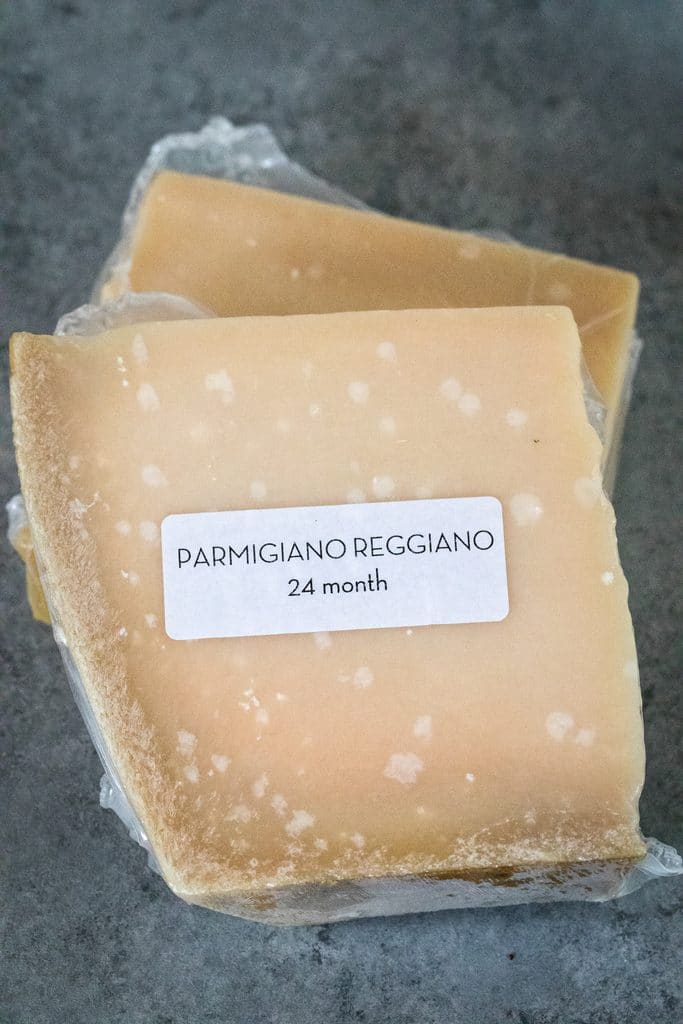 So, how can you tell if your parmesan cheese is legit? Look for the "Parmigiano Reggiano" dot text on the side of the rind.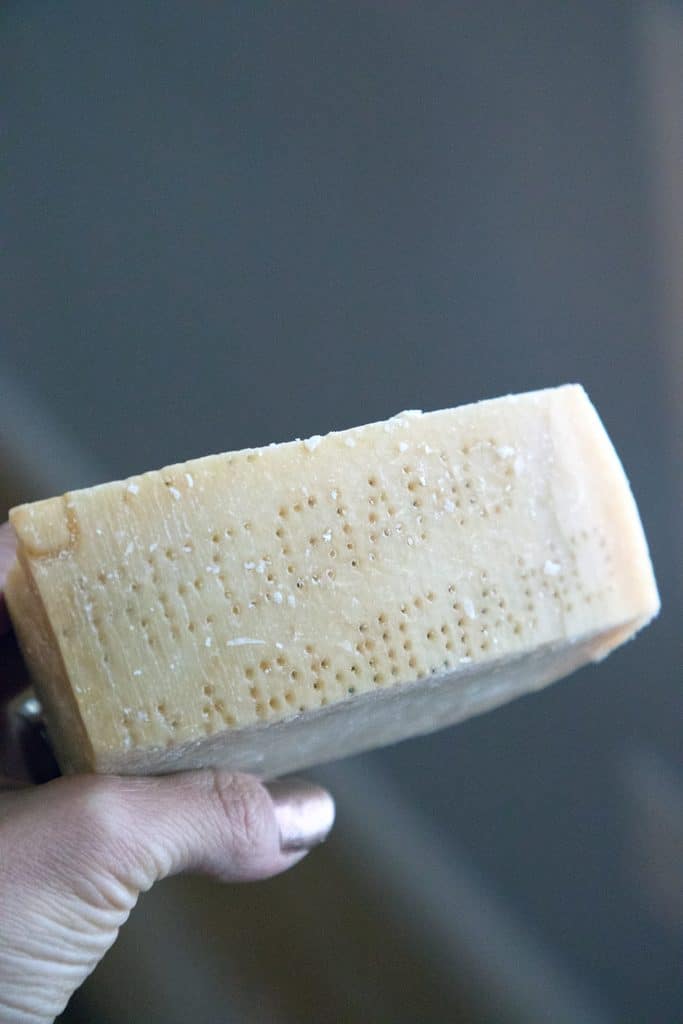 I admit I had no idea that I could have been buying parmesan cheese that wasn't really parmesan. But I can now tell you that doing a side-by-side taste test of the American stuff versus the real Parmigiano Reggiano, the difference is unmistakeable. And once you notice that difference, you will always be able to tell when your parmesan isn't real.
I could eat Parmigiano Reggiano by the handful (please grate directly into my mouth!), but I decided to feature it in mac and cheese bites for this post. I wanted the Parmigiano Reggiano to be the standout flavor, but also wanted to add a complementary flavor, so I decided to roast a head of garlic for Parmigiano Reggiano Roasted Garlic Mac and Cheese Bites.
Roasted garlic is always a good idea.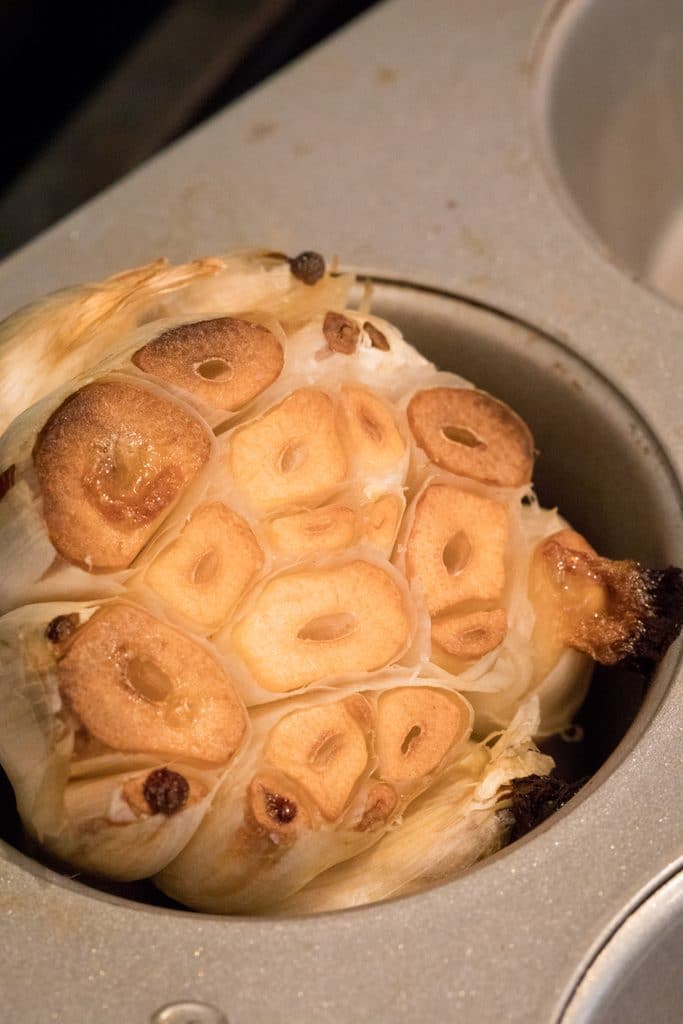 These mac and cheese bites are super easy to make. Everyone should know how to whip up a pot of mac and cheese and the only difference with this one is that you'll spoon it into muffin tins instead of a casserole dish before baking.
But first you'll want to sprinkle a little panko over the top because what's mac and cheese without a little crunch?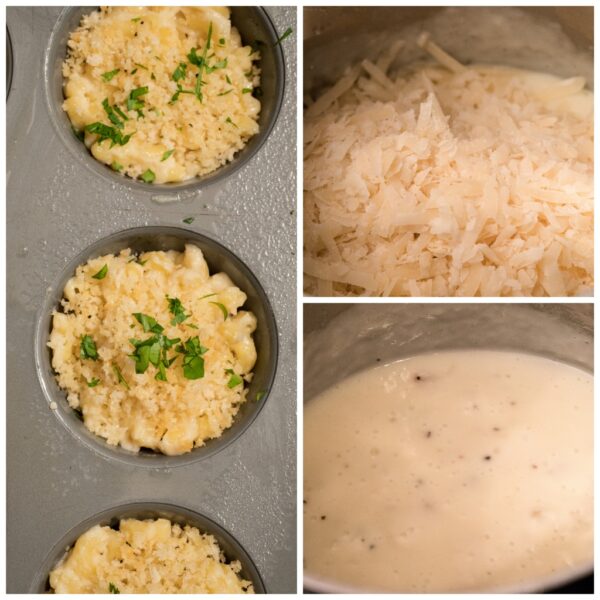 Usually when I make mac and cheese, I add in a few different cheeses, but I absolutely loved the way the Parmigiano Reggiano stood out in this recipe. That's one thing I noticed about real parmesan; its flavor is super robust and pronounced. A little bit goes a long way, but the more, the better for me!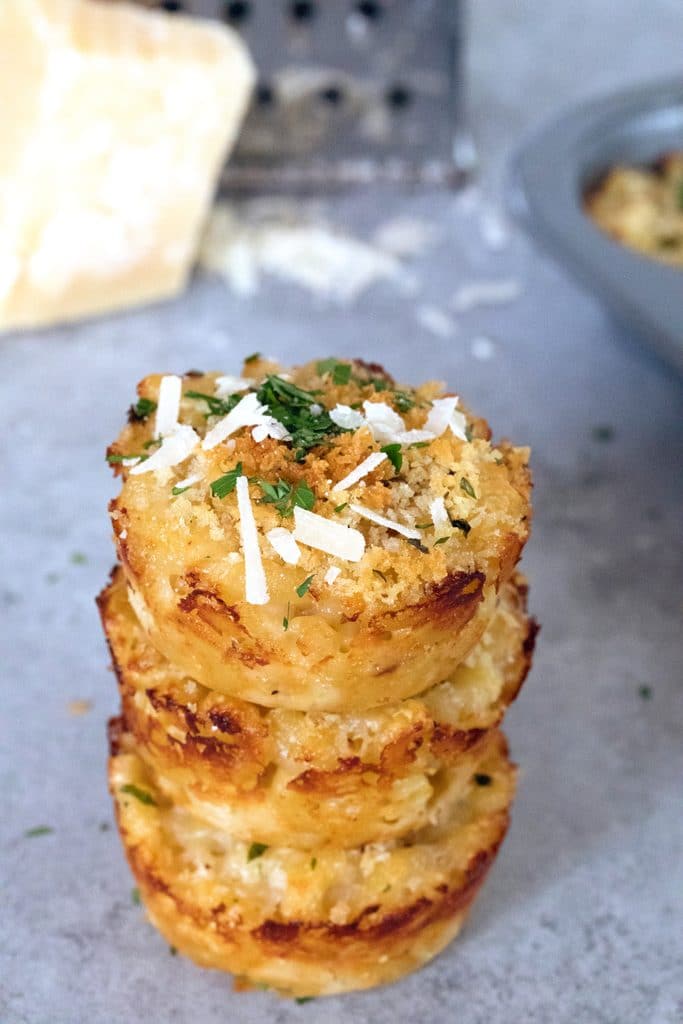 The roasted garlic is a really nice complement to the Parmigiano Reggiano. In my mind, there's nothing worse than a bland mac and cheese, so I was loving these full-flavored bold mac and cheese bites!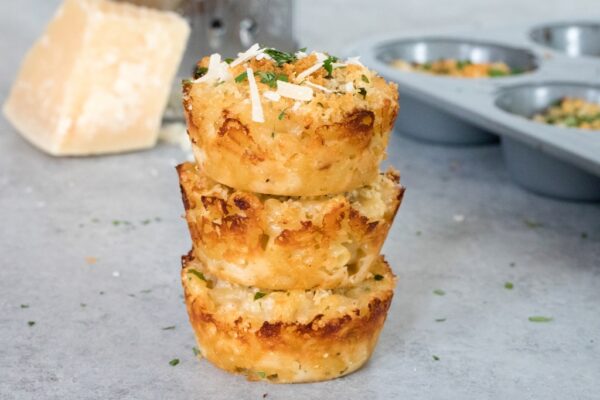 Mac and cheese you can grab as a snack and eat without a fork? One more thing that's blowing my mind. In a really good way.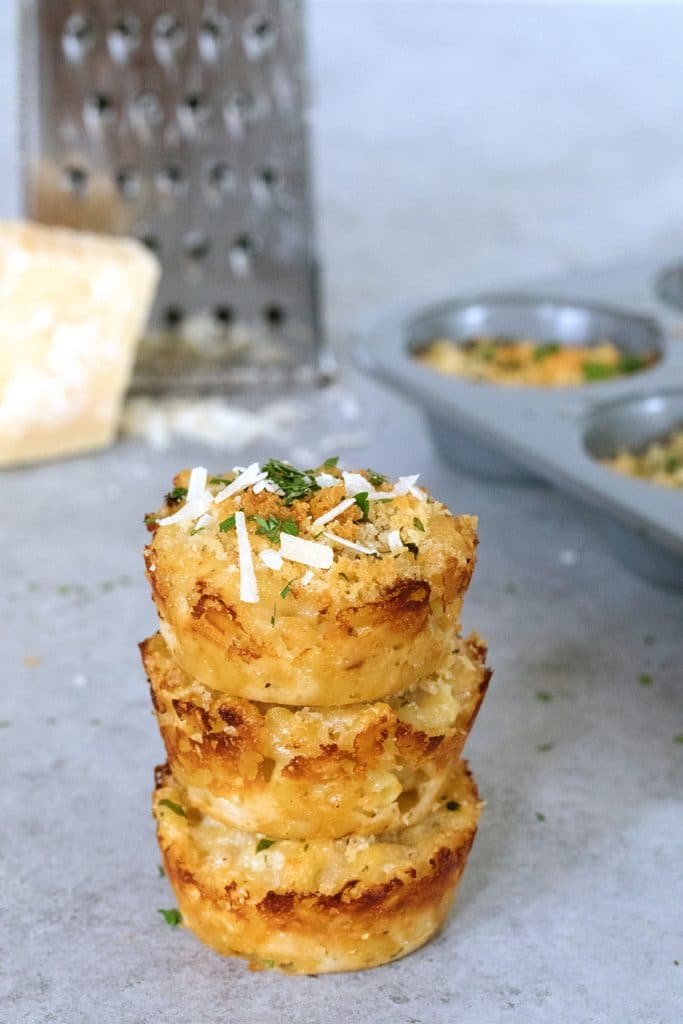 I know that it can be easier to buy the pre-grated cheese to save time when preparing dinner, but I urge you to buy a wedge of Parmigiano Reggiano and grate it yourself. With a nice box grater, it's super easy to do and it really, really makes a difference in freshness and flavor. Also, did you know you can add the Parmigiano Reggiano rind to your homemade stock for added flavor? Worth it!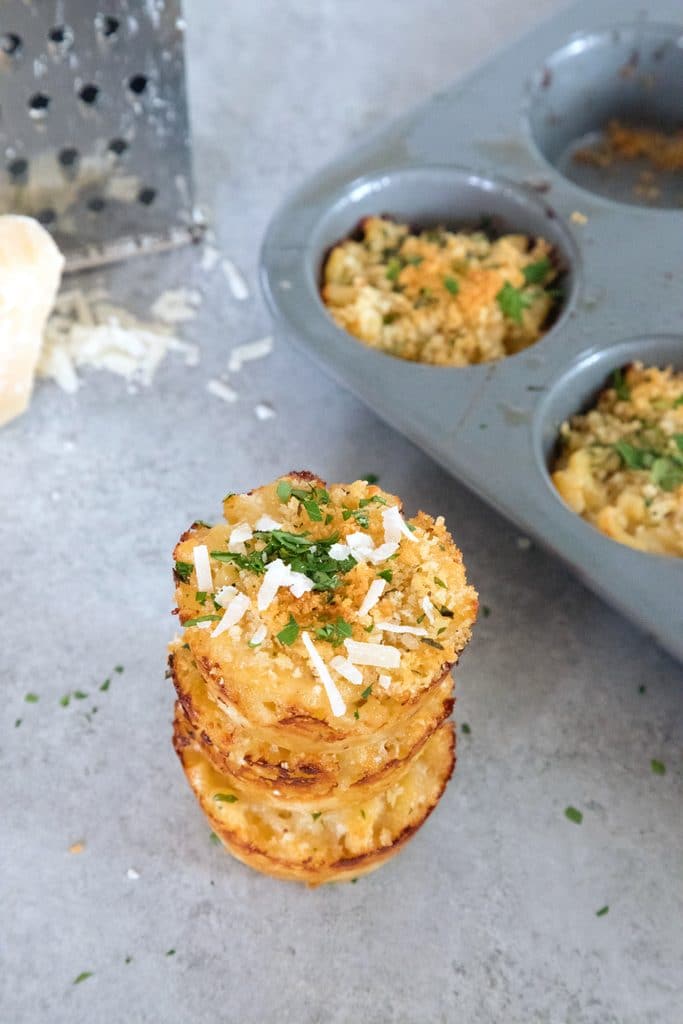 I'm so happy I've been schooled on Parmigiano Reggiano; my weekly (OK, sometimes daily) visits to my grocery store's cheese counter are forever changed.
Did you know Parmigiano Reggiano was the only real parmesan? Have you recently learned something about food that blew your mind?
Want another great recipe to use Parmigiano Reggiano in? This Jalapeño Lemon Parmesan Popcorn is the best snack!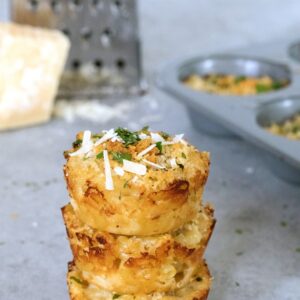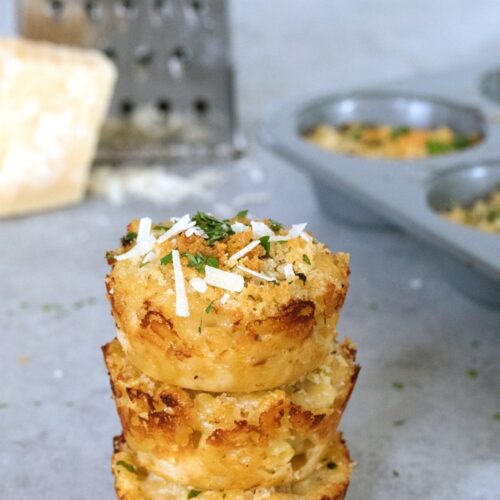 Print Recipe
Parmigiano Reggiano Roasted Garlic Mac and Cheese Bites
These mac and cheese bites are packed with flavor thanks to Parmigiano Reggiano cheese and roasted garlic. They're perfect for serving at parties or for a grab-and-go meal!
Ingredients
1

head

garlic

1

Tbsp

olive oil

1/2

lb

elbow macaroni

3

Tbsp

unsalted butter,

divided

1 1/2

Tbsp

all-purpose flour

1/4

tsp

salt

1/4

tsp

black pepper

1

cup

whole milk

1 1/2

cups

shredded Parmigiano Reggiano cheese

2/3

cup

panko

2

tsp

chopped parsley
Instructions
Pre-heat oven to 400 degrees.

Cut off top head of garlic to expose cloves just a little bit. Place garlic cut-side-up in the cavity of a muffin tin and rub olive oil over the exposed cloves. Wrap foil over the garlic.

Roast garlic for 30-35 minutes, until cloves are soft and golden. Remove from oven and let cool enough to handle. Once cooled, remove each clove of garlic by gently squeezing. Place in bowl and set aside.

Lower oven temperature to 375 degrees and spray a 12-cavity muffin tin lightly with cooking spray.

Boil elbow macaroni in a pot of lightly salted boiling water, about 2 minutes less than package recommends for al dente (the macaroni will finish cooking in the oven). Drain and set aside.

While macaroni is cooking, melt 2 Tbsp butter in a large saucepan over medium high heat. Whisk flour into butter until smooth, about 1 minute. Add salt and pepper.

While continuing to whisk, slowly pour milk into mixture. Stir for about 3 minutes as mixture thickens and comes to a simmer. Don't let mixture come to a full boil.

Lower heat to medium-low and stir in roasted garlic cloves and Parmigiano Reggiano cheese, until sauce is smooth.

Add macaroni to pot and stir to full coat pasta with sauce.

Melt remaining 1 Tbsp butter in a small bowl and stir in panko.

Evenly divide macaroni mixture among cavities in prepared muffin tin. Sprinkle panko mixture over the top and top with chopped parsley.

Bake for 15 minutes, until panko is golden. Let mac and cheese cups cool for about 5 minutes before removing from muffin tin and serving.