What could be better than a pizza topped with meatballs, cheese, and kale? This Meatball Flatbread also has a Parmesan Peppercorn Crust and is the perfect weeknight or weekend dinner!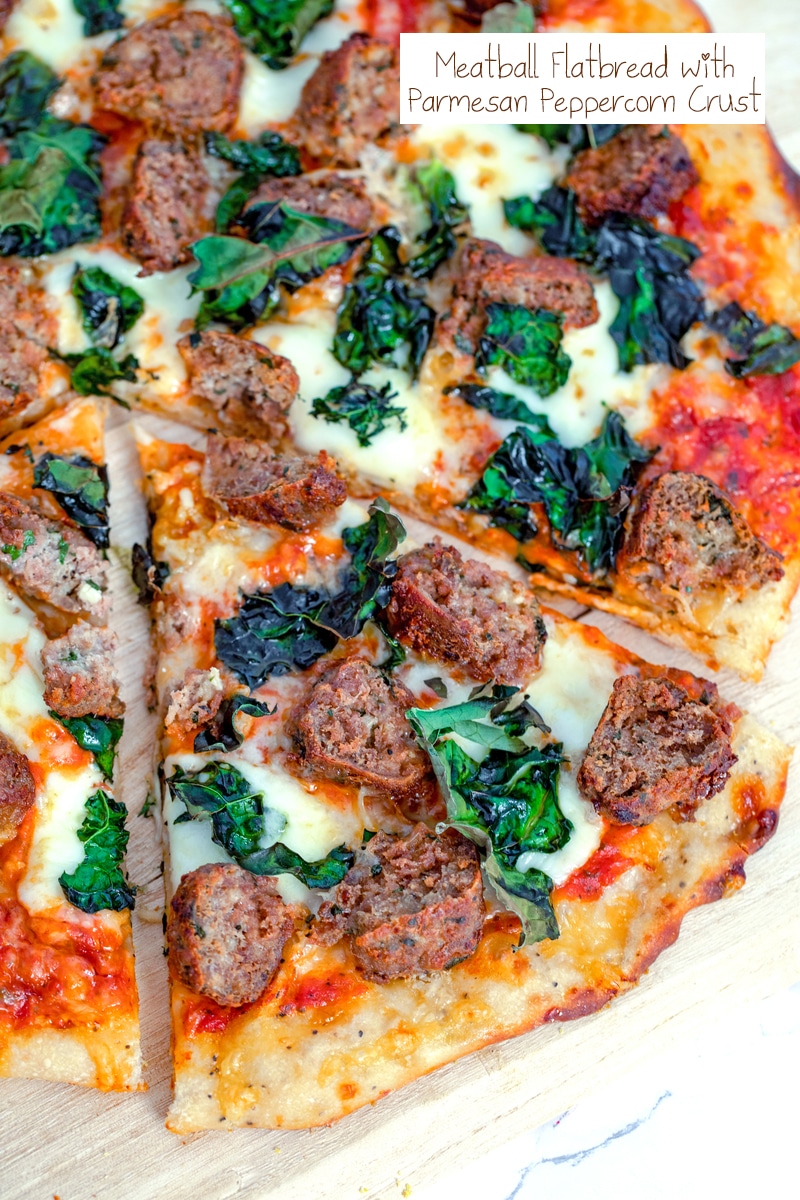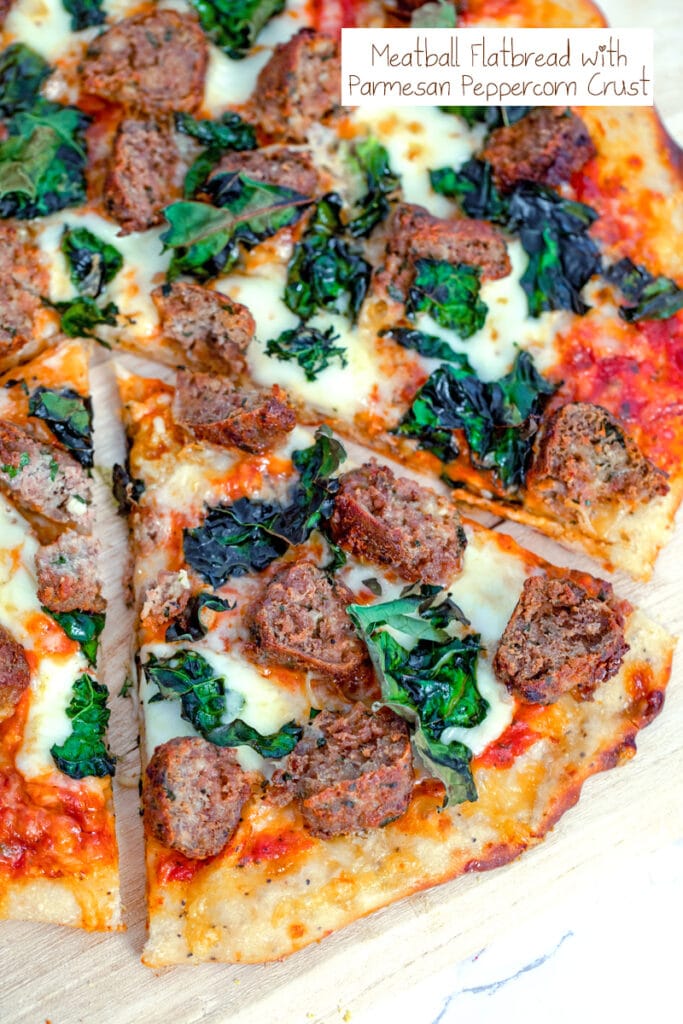 (This recipe for Meatball Flatbread with Parmesan Peppercorn Crust was originally published in March 2015, but has been updated with new photos in 2020).
What's the one food you crave more than anything else? The food you wake up thinking about, go to bed dreaming about, and pretty much go about your business 24 hours a day craving?
I think in a national poll, the overall vote would go to pizza. Our country is in a serious pizza craze to the point where you can buy clothing (even underwear!), bedding, and jewelry featuring pizza.
But for me? The vote goes to meatballs. OK, with pizza probably trailing very closely behind. And nachos. Nachos might actually be tied with pizza (come to think of it, how have I never thought to make meatball nachos before?), but now I'm pretty sure I'm overthinking things.
You probably won't find a comforter featuring meatballs and wearing a meatball necklace may be a sign you have an issue or two (though, um, they do exist). And I'm not even going to touch the underwear concept. Eek. But in terms of for dinner, I'm always on board.
Meatballs always sound like a good idea to me and I'd probably eat them for every meal if possible. Sooo, meatballs on pizza? The only thing that could possibly rival that is meatball nachos (coming soon… to my life!).
MEATBALL FLATBREAD WITH PARMESAN PEPPERCORN CRUST RECIPE
I decided to stick to my standard pizza dough for this meatball flatbread recipe, but I incorporated parmesan and black pepper into it for some extra flavor.
I also whipped up a big batch of meatballs. The first time I made this meatball pizza, I used a beef, pork, and turkey mixture in the meatballs, but this time I used all ground beef. You can use any combination of meat you want!
Hi, do you realize how easy it is to make meatballs? Basically, put all the ingredients in a bowl and mix together.
Then roll that mixture into small meatballs. You'll get about 26 with this recipe. This is enough for the two flatbreads.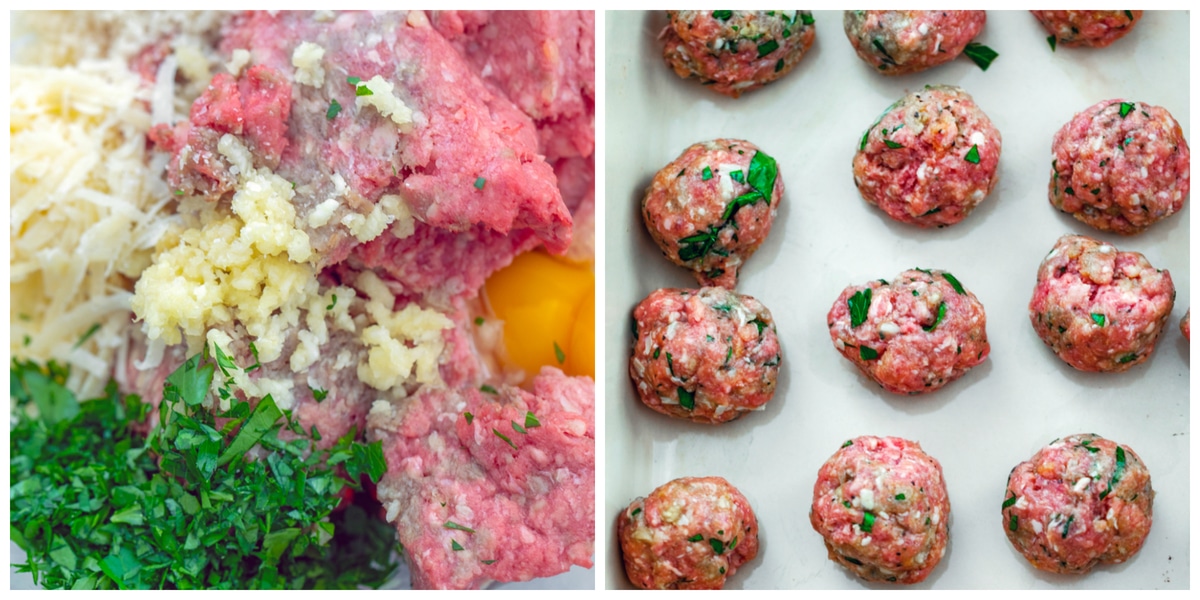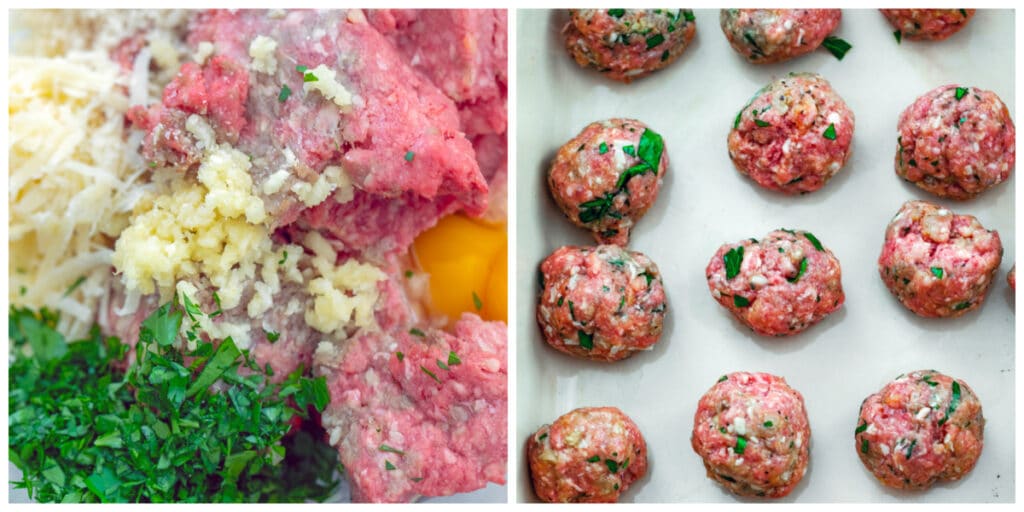 And then fry them in a skillet with olive oil, until cooked through.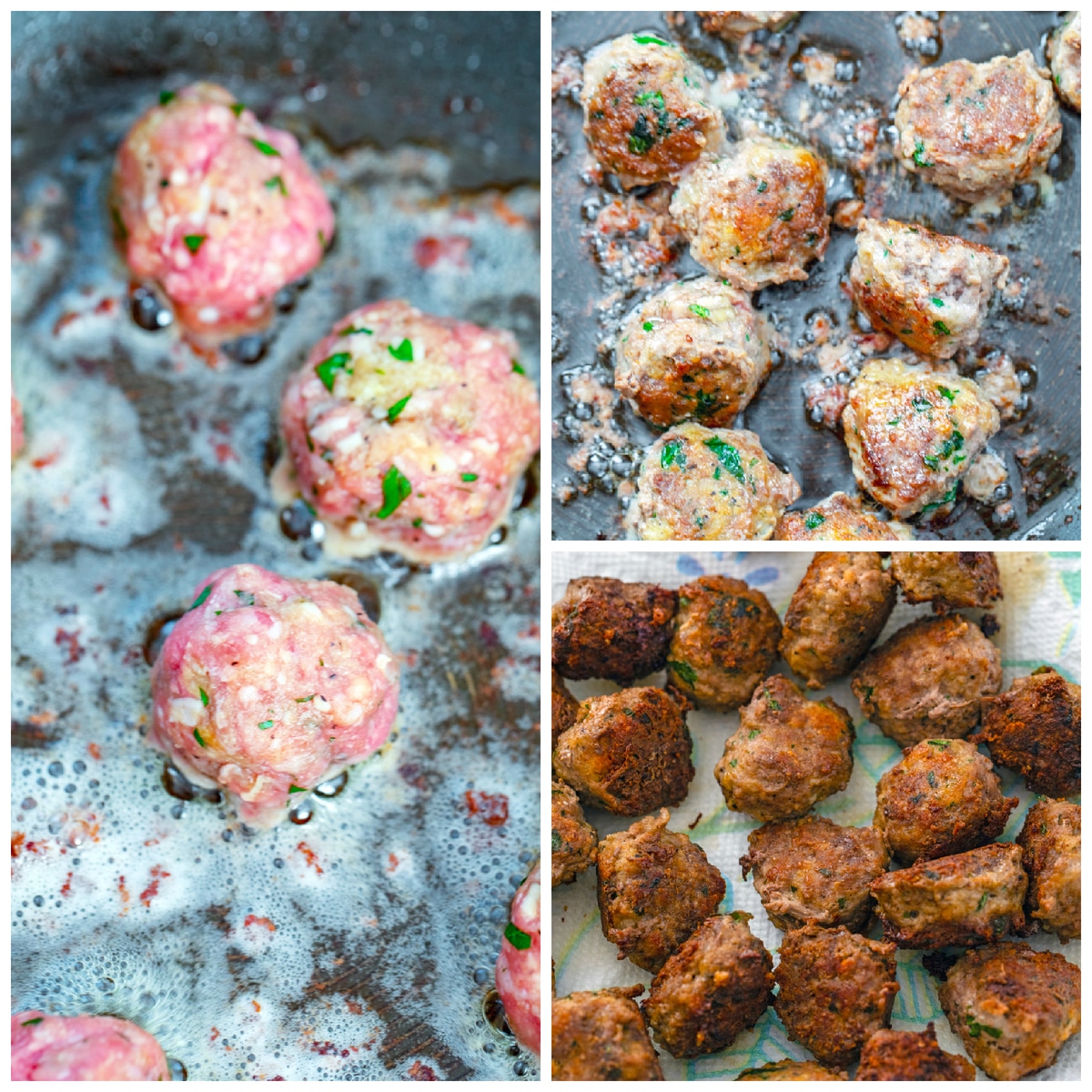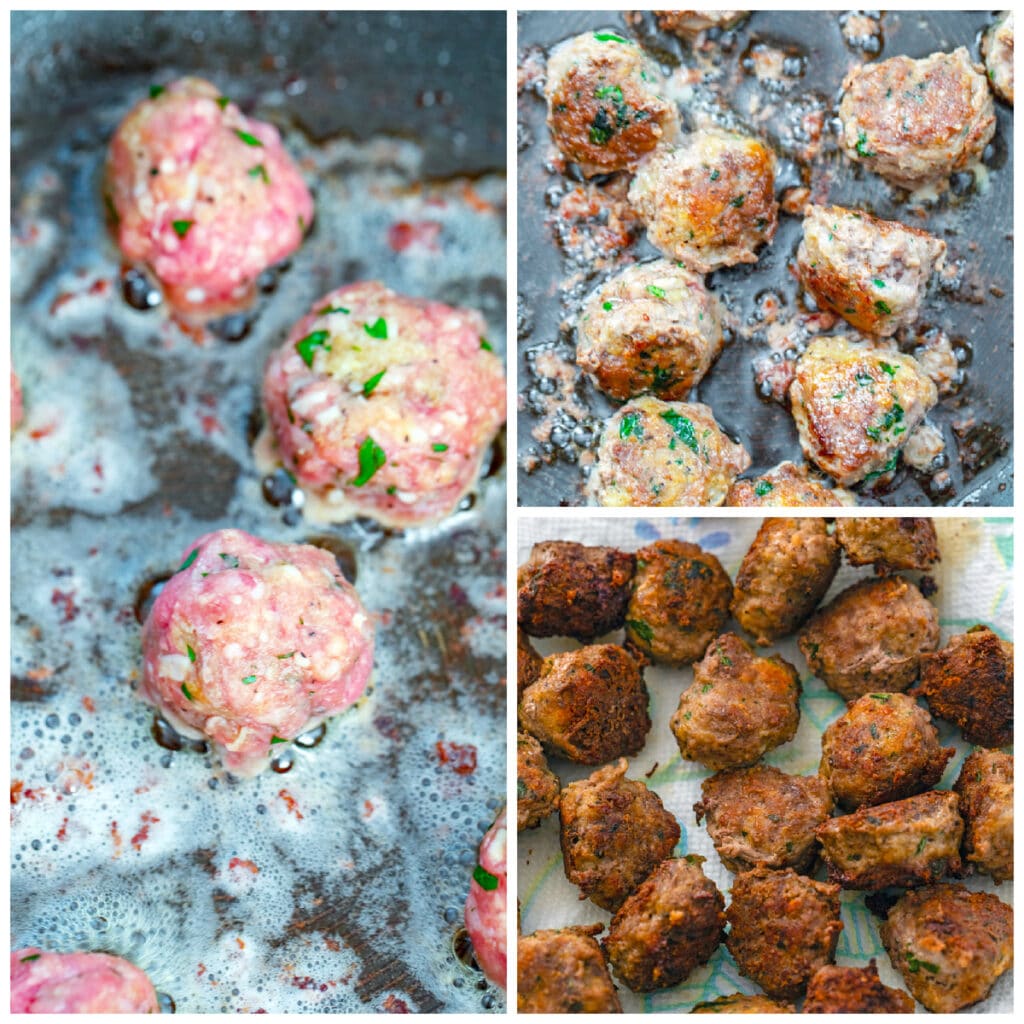 You'll want to slice them in half for the purposes of this flatbread.
Once dough has risen and is ready to go, divide it into two pieces and roll each into a thin, 10-inch round on a lightly floured surface. Of course you can also wrap one of the dough pieces in plastic wrap and keep in the fridge for another time. Just remember that this recipe makes enough meatballs and other topping ingredients for two pizzas!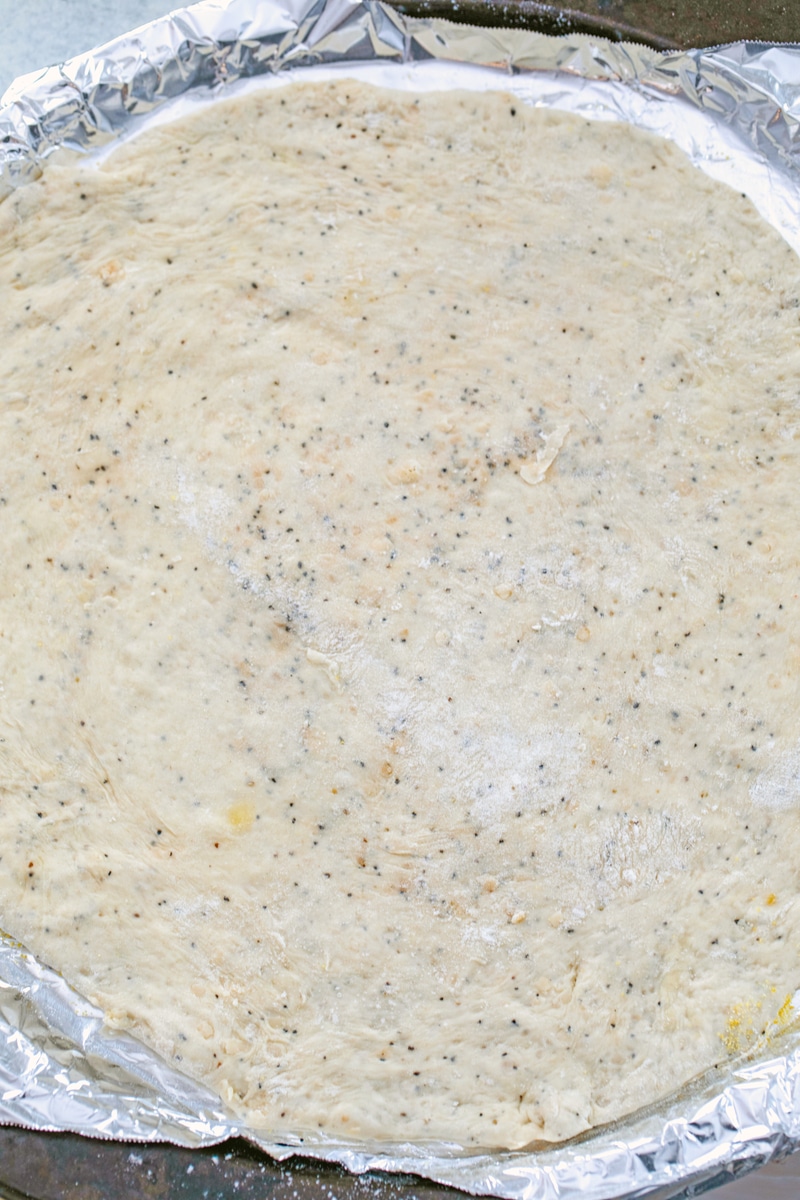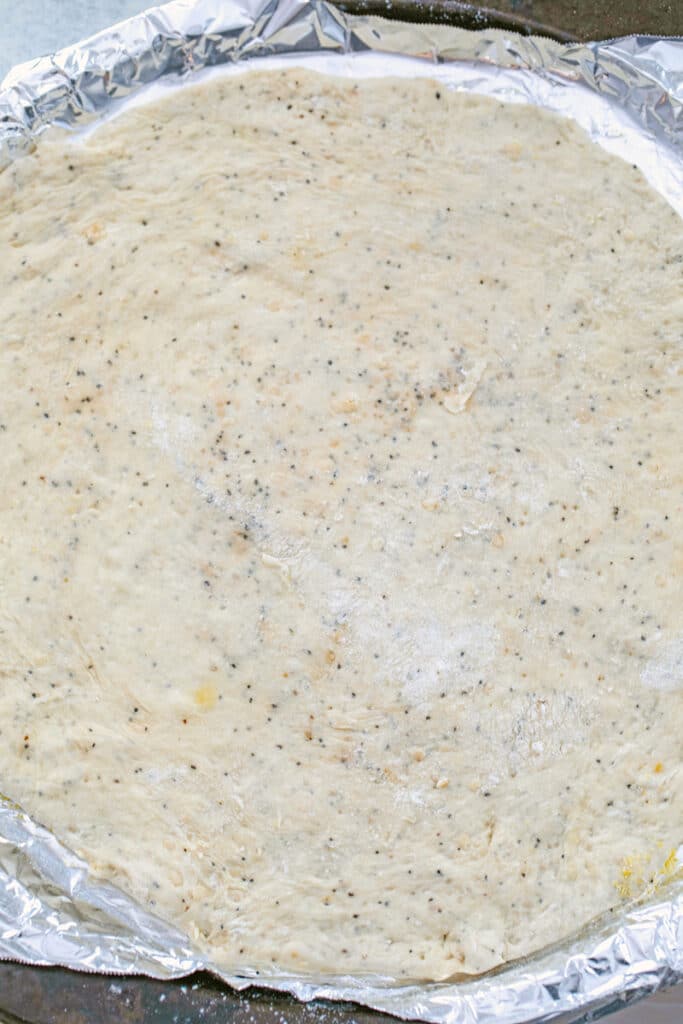 Add the toppings on, making sure to divide in half, so you can load up both flatbread doughs if you're making both at the same time.
Start by brushing the olive oil over the top and sprinkling on the garlic. Then lightly spread tomato sauce over dough and top each round with fresh mozzarella and shredded cheddar cheese. Top with meatball halves and sprinkle kale leaves over the top.
Bake at 450 degrees for about 14-18 minutes until crust turns lightly golden. Cooking time will vary based on how thick the dough is.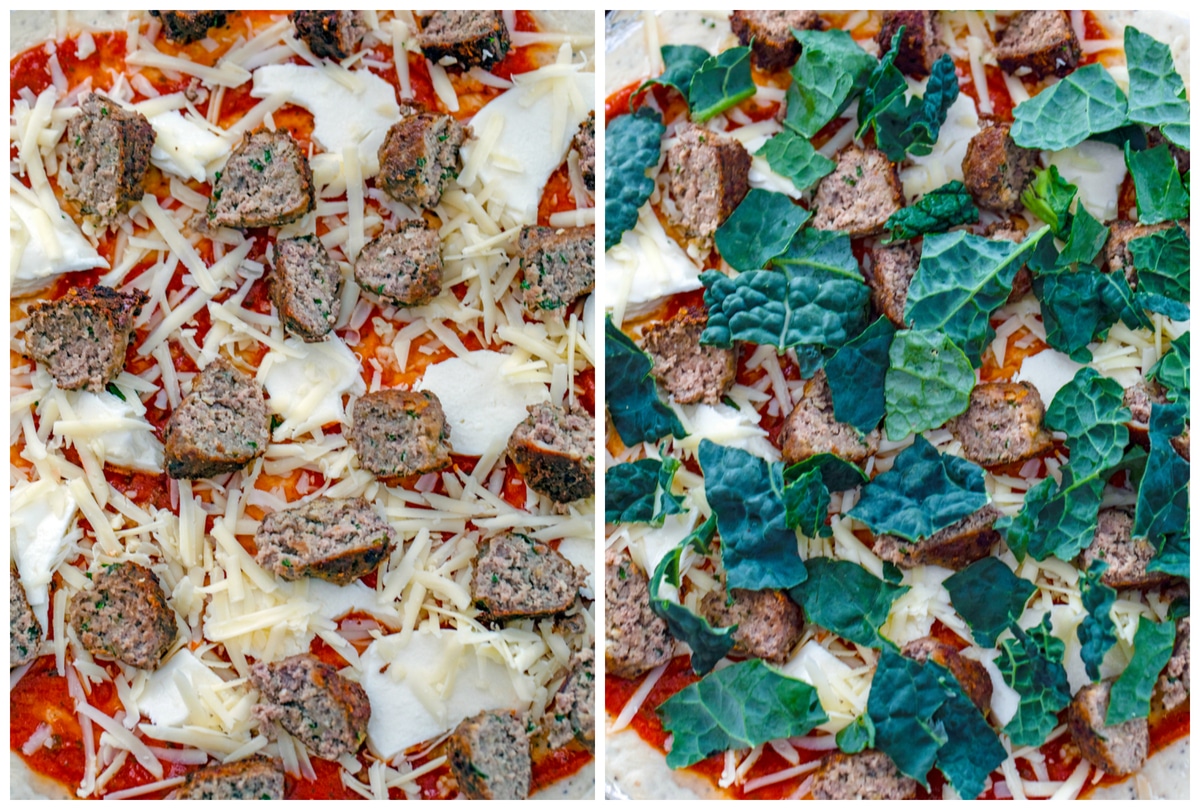 I like this meatball pizza best with tuscan kale (also known as lacinato or dinosaur kale), but you can use any kind. I can't get tuscan in my normal grocery store, but can find about a billion varieties of kale at Wegmans and basically cried when I first saw lacinato.
Also, you should know that tuscan kale tends to be a little bit less bitter than the typical kale, so it's a good "gateway kale" if you ask me.
OK… Time for dinner!
My meatball craving has officially been satisfied. For at least a night or two. But honestly, I loaded these flatbreads with so many meatballs that I practically had a slice in every bite. This is my own personal heaven.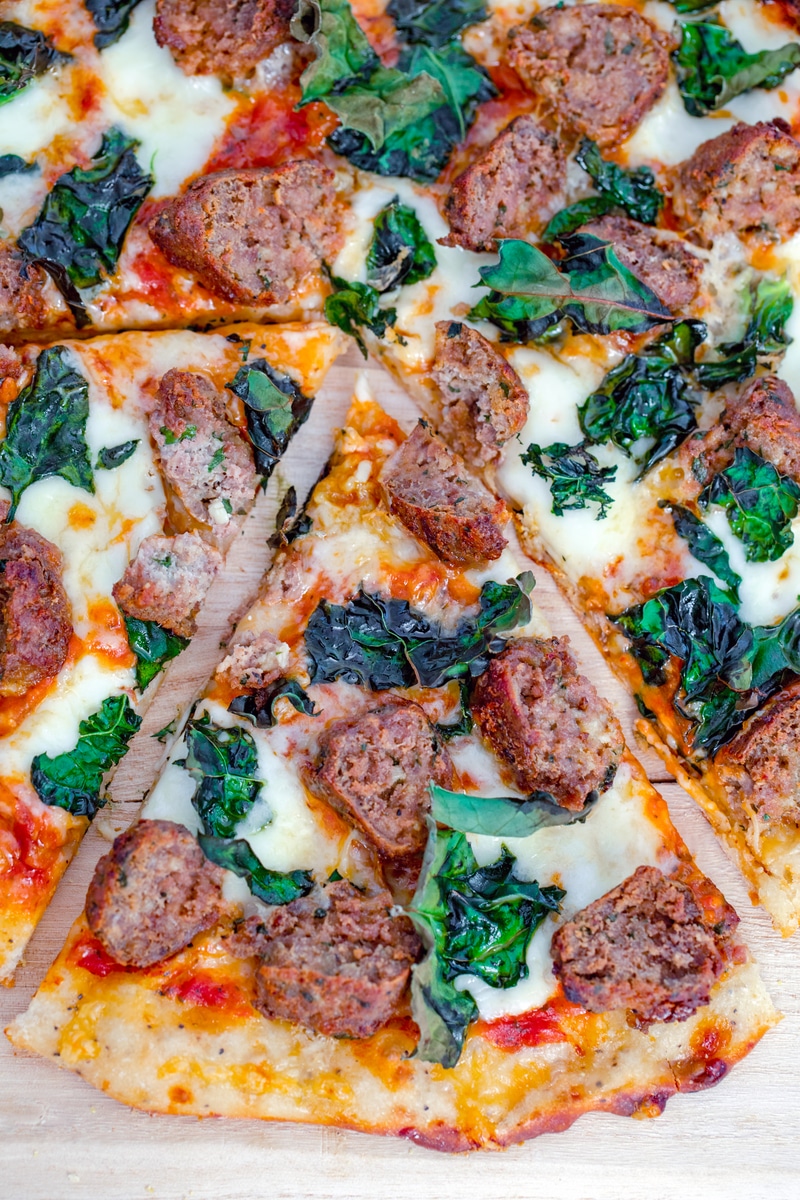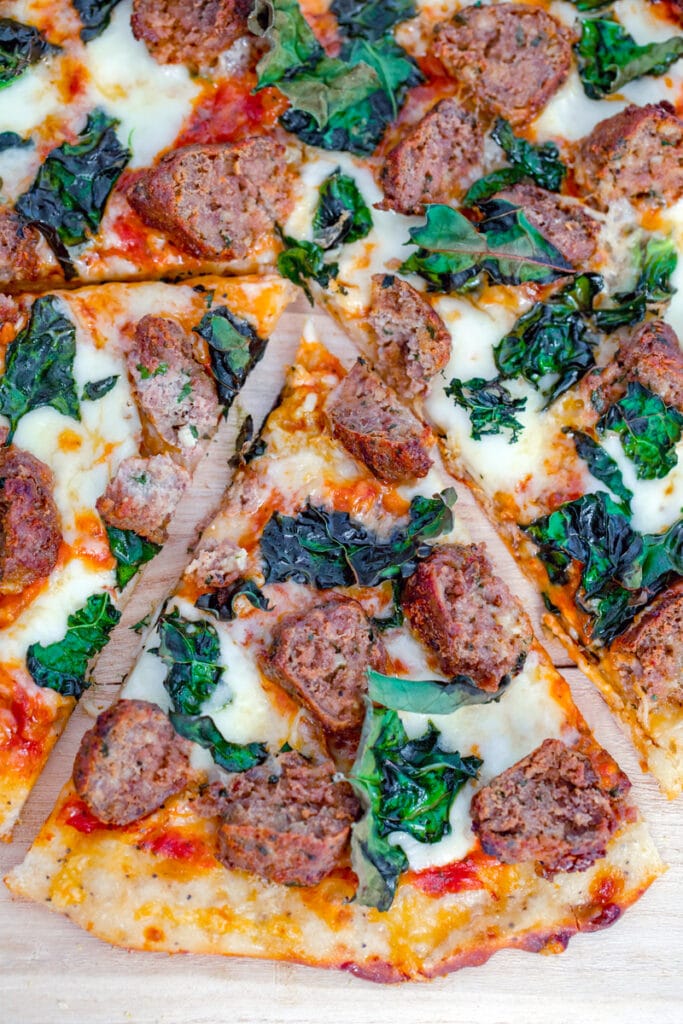 Better than a meatball sub? Well yes, because pizza is always better than subs. That's just science.
I can't even tell you how long it's been since I put a red sauce on a pizza… Forever? I only added a touch to this flatbread, but it was the perfect amount. Meatballs totally call for tomato sauce, but I usually prefer my flatbreads to be more cheese than sauce. Not this time!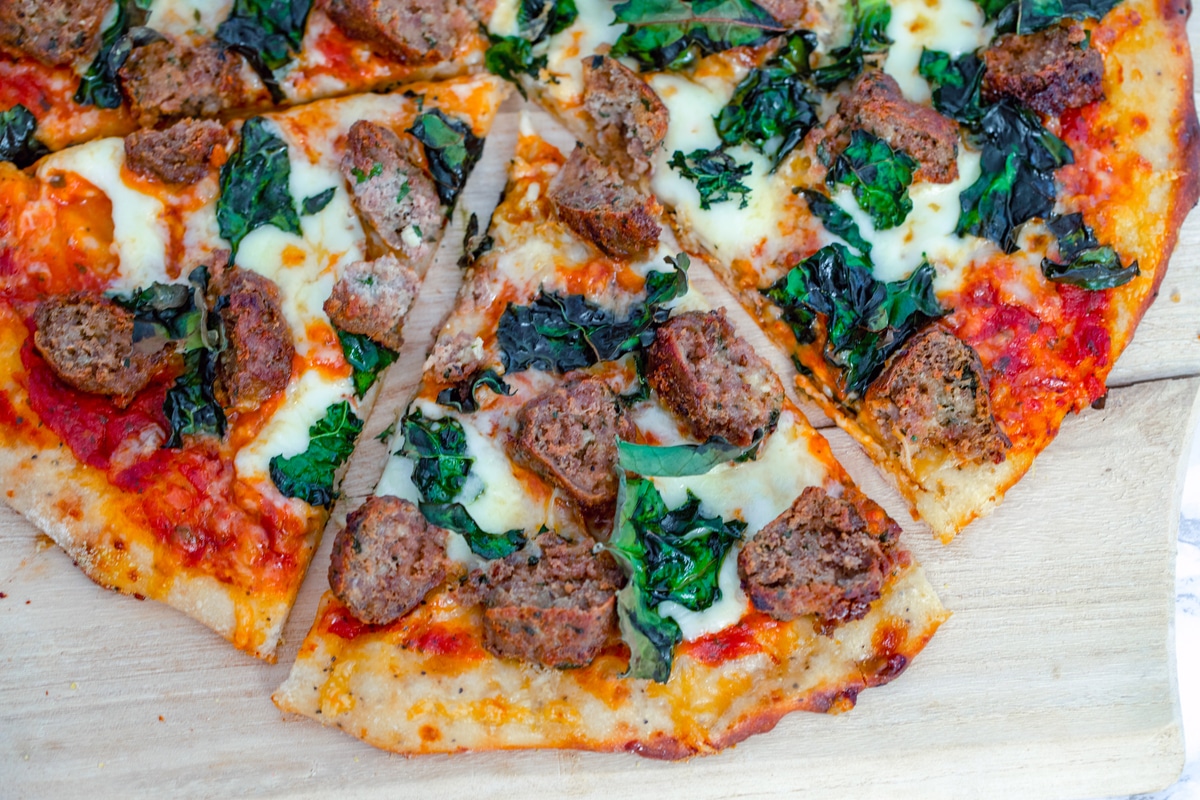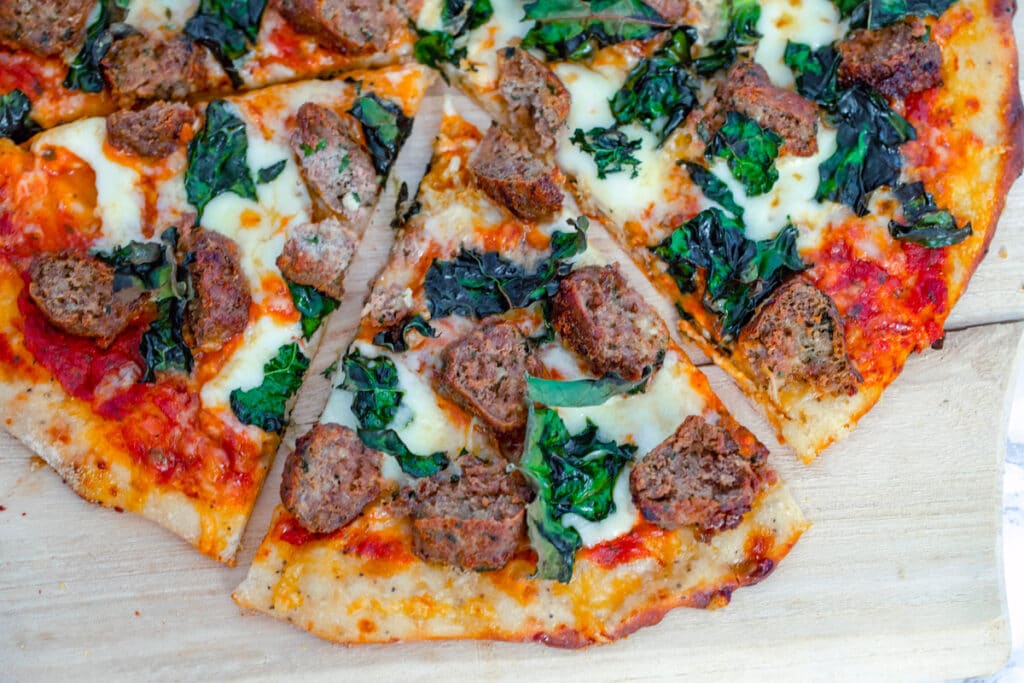 The mild mozzarella and sharp cheddar play together very nicely here. And the kale? It adds a nice subtle little bite to the pizza!
That crust? Perfectly golden. I LOVE a thin crust pizza, which is why I often focus so much on flatbread. I think I secretly like it so much because it means I'm allowed to eat more of it. I also love the crunch.
I'm a full believer in multiple pizza nights in a week, so long as you're making the pizza yourself. You can completely control the ingredients and you can have a totally different meal every night… Just on pizza dough.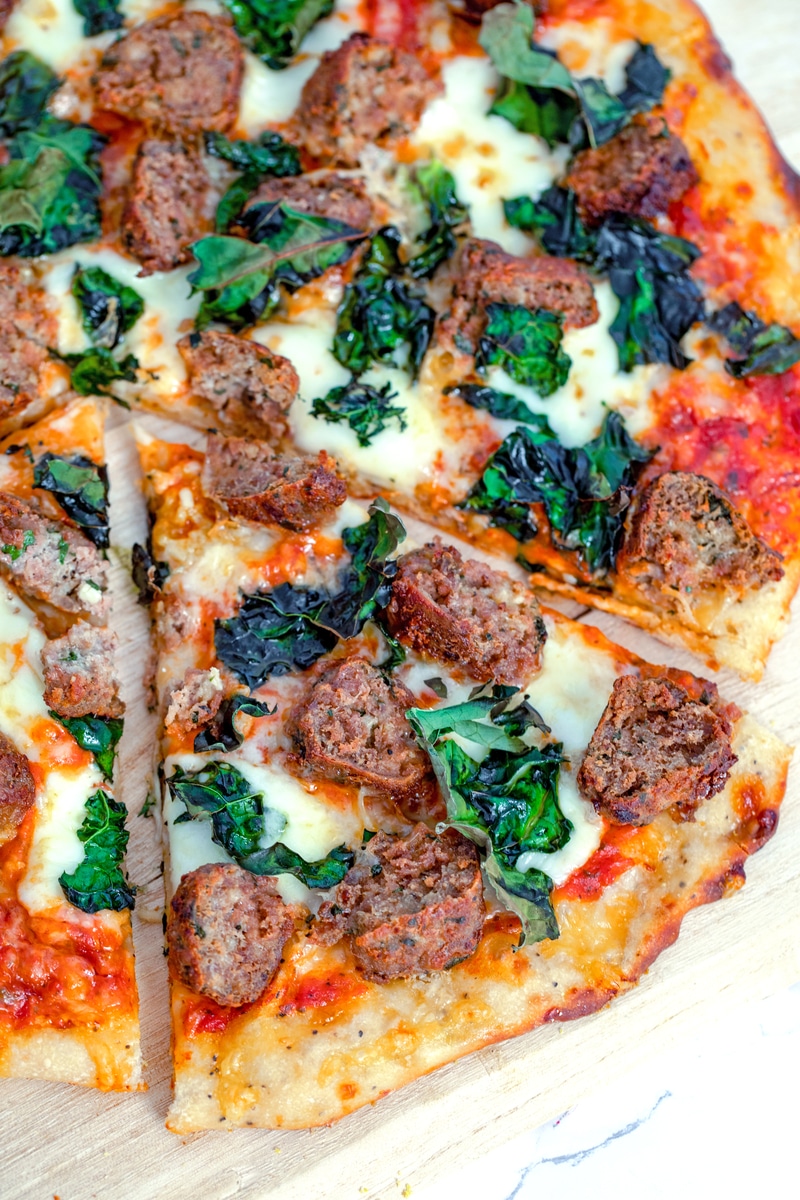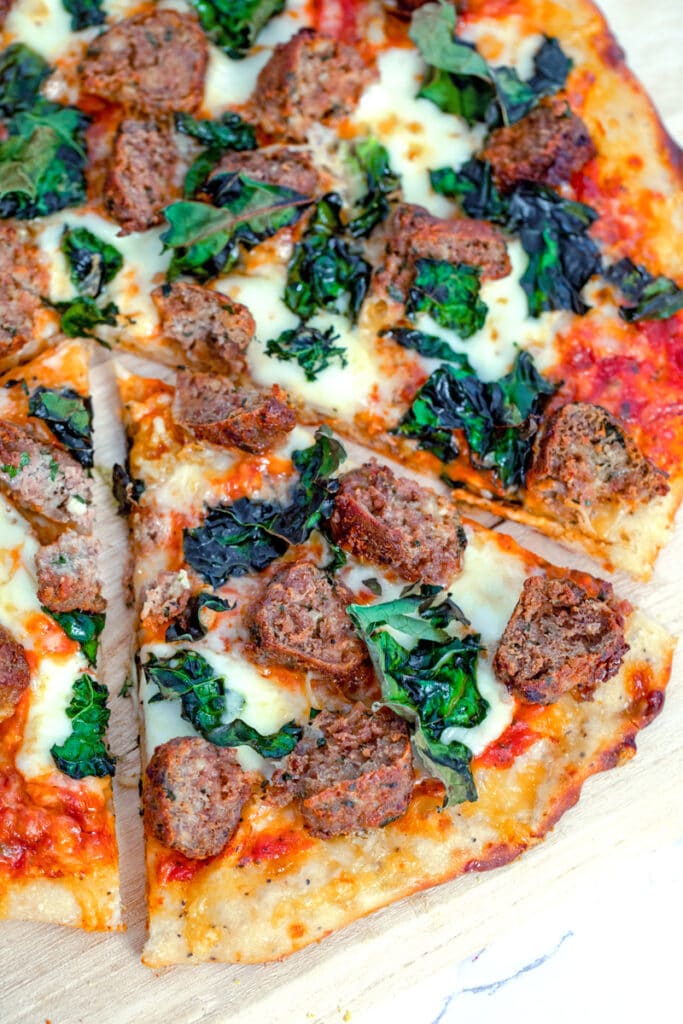 Now I'm going to need those bedding people to get on making a set of meatball flatbread sheets. Is that really too much to ask?
What's the food you crave most often? If it's not pizza, would you put it on pizza?
If you're looking for more delicious meatball recipes, check out my Buffalo Chicken Meatballs and my Pasta with Turkey Meatballs and Mozzarella. And I really can't wait to try these Cheesy Bacon Wrapped Meatballs from Whitney Bond!
📖 Recipe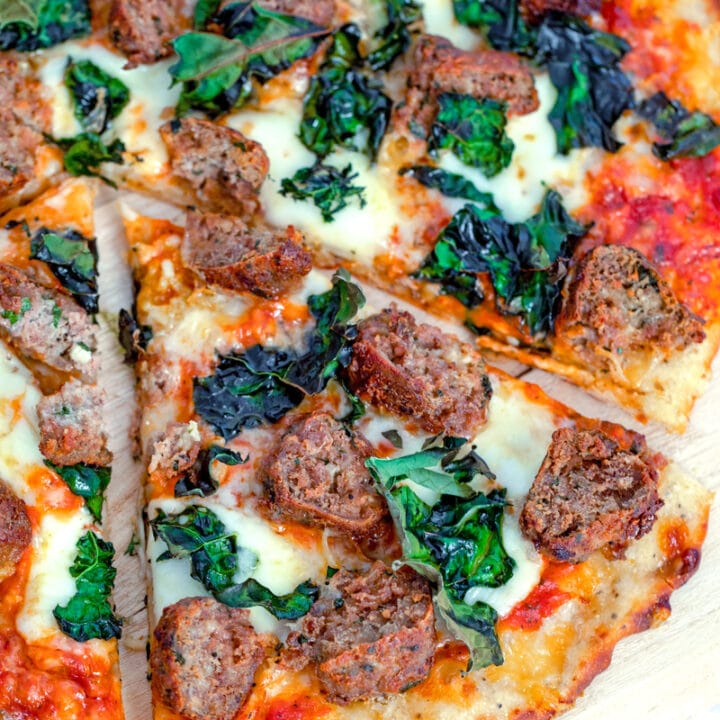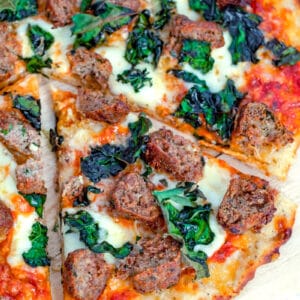 Meatball Flatbread with Parmesan Peppercorn Crust
What could be better than a pizza topped with meatballs, cheese, and kale? This Meatball Flatbread also has a Parmesan Peppercorn Crust and is the perfect weeknight or weekend dinner!
Print
Pin
Rate
Ingredients
1

batch parmesan peppercorn flatbread dough

(see recipe below)

2

Tbsp

olive oil

2

cloves

garlic,

minced

⅔

cup

tomato sauce

6

oz.

fresh mozzarella cheese

1 ½

cups

shredded cheddar cheese

½

batch meatballs

(see recipe below)

2

cups

roughly chopped kale leaves

(I recommend tuscan/dinosaur kale)
Parmesan Peppercorn Flatbread Dough
¾

Tbsp

rapid rise granulated yeast

1 ½

cups

lukewarm water

¾

Tbsp

salt

1 ½

tsp

sugar

⅛

cup

extra-virgin olive oil

3 ¼

cups

unbleached all-purpose flour

½

cup

parmesan cheese

½

Tbsp

cracked black pepper
Meatballs:
1

lb.

ground meat

(I used all beef, but you can use any combination of meat you want)

⅓

cup

panko

2

cloves

garlic,

minced

¼

cup

freshly grated parmesan cheese

2

large eggs

¼

cup

finely chopped parsley

1

tsp

salt

¼

tsp

pepper

½

Tbsp

olive oil
Instructions
Pre-heat oven to 450 degrees.

Divide dough into two portions and roll into two 10-inch rounds on a lightly floured surface.

Brush 1 Tbsp of olive oil on each dough round and sprinkle garlic around.

Spread ⅓ cup tomato sauce on each dough round and top each with 3 oz. fresh mozzarella cheese and ¾ cup shredded cheddar cheese.

Slice meatballs in half and divide between flatbreads. Sprinkle kale over the top.

Bake flatbreads on pizza stones or foil-covered pans at 450 degrees for about 14-18 minutes, until crust is golden.
Parmesan Peppercorn Flatbread Dough
Mix yeast and water in a large bowl and let rest for 2 minutes.

Stir salt, sugar, and extra-virgin olive oil into the mixture.

With a wooden spoon, mix the flour into the mixture. If dough is dry, add more water, 1 Tbsp at a time.

Gently knead parmesan cheese and cracked black pepper into the dough mixture.

Cover bowl with a kitchen towel and let rest in a warm spot for about 2 hours. Dough should rise during this time.
Meatballs
In a large bowl, mix together ground meat, panko, minced garlic, parmesan cheese, eggs, chopped parsley, and salt and pepper.

Using your hands, form about 30 mini meatballs.

Pour olive oil into a skillet over medium heat and fry meatballs for about 10 minutes, until browned and cooked from the inside.

Place cooked meatballs on a paper towel-lined plate.
Notes
If you only want to make one flatbread, halve the ingredients for meatballs (or have leftover meatballs!) and other flatbread toppings and wrap half the dough in plastic wrap. It can stay stored in your fridge for about 7-10 days.
Share a Photo of Your Finished Recipe!
Mention @wearenotmartha and share a photo if you've made the recipe!