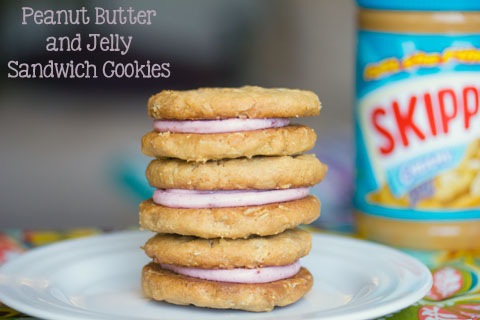 Guys, my neighbors have been fighting for like 12 days straight. Not even kidding. I'm about ready to stage an intervention. But I think Chris and I might need an intervention of our own because we are way too entertained by this. After a couple months of wondering where the heck the yelling was coming from, we finally determined it was the people below us. The walls/ceilings must be thin. Now? Don't judge us, but we totally lie on the ground and listen whenever we hear an argument starting. And sometimes we have to run from room to room because they don't fight in the same spot for long. Once I even put my head on the bathroom floor to listen. I'm sorry, but the Bachelor ended last week and this is better than anything else on television right now. More drama if you can believe it. The gist of it is that the girl is getting SO ready to walk out (with lots of expletives thrown in) and he's lazy and needs to learn to work as hard as he plays. And stop spending money on things they don't need. She sounds really, really mean. But he sounds really dumb and indifferent to the relationship. I can't decide whose side to take.
I briefly considered knocking on their door with some cookies. But then I realized it was only really because I wanted to see what they look like. Is that wrong? But seriously, I think these cookies could help fix things. There's no way they would't at least cheer things up for a little bit. Not only are they cookies, but they bring back memories of our childhood. Peanut butter and jelly in cookie form. I altered one of my all-time favorite cookie recipes (from Tom Colicchio) for some extra peanut butter impact with a jelly twist. New favorite cookie in the world, I'm telling you right now.
Peanut Butter and Jelly Sandwich Cookies (makes one dozen):
Print this recipe!
1/2 C (1 stick) butter, plus 4 T butter, room temperature
1 C old-fashioned oats
1 C all-purpose flour
1 t baking soda
1 t salt
1/4 C granulated sugar
1/2 C packed brown sugar
1/2 C peanut butter
1/2 C peanut butter chips
1 recipe raspberry jelly buttercream (see below)
(pre-heat oven to 350 degrees)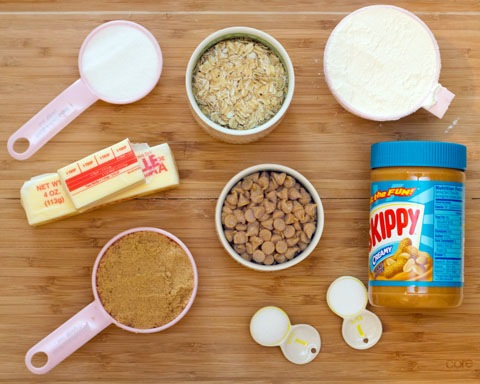 Raspberry Jelly Buttercream:
Print this recipe!
6 T butter, softened
2 C confectioner sugar
3 T raspberry jam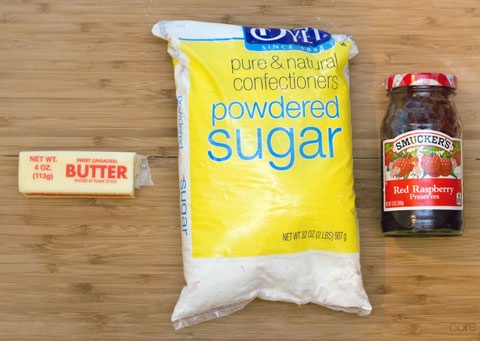 When I first made Tom Colicchio's peanut butter cookies, I declared them the best cookies in the world. This was partly due to the toasted oats. Which is why I don't think I'll ever be able to make another peanut butter cookie without the involvement of toasted oats. Too amazing.
Melt the 4 T of butter in a medium saucepan and then add the oats. Cook for about 5-7 minutes, stirring gently, until the oats are browned and toasted.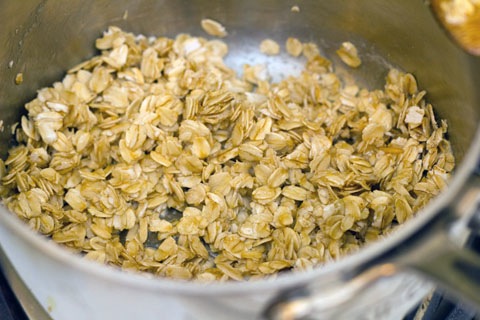 Pour the oats onto a sheet of parchment paper to cool a bit.
In a medium bowl, whisk together the flour, baking soda, and salt. Set aside.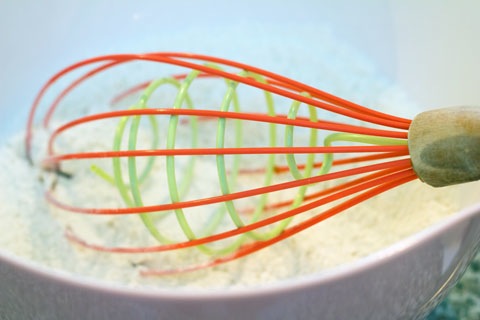 In a stand mixer (or in a large bowl with a hand mixer), cream together the stick of butter and two kinds of sugar.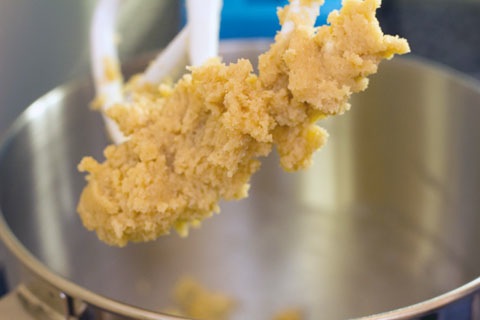 Add the peanut butter and blend together. Try not to lick the bowl yet. It's not time.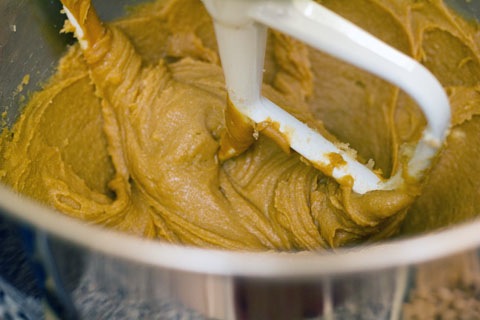 Mix in the flour mixture until just combined (taking care not to over mix).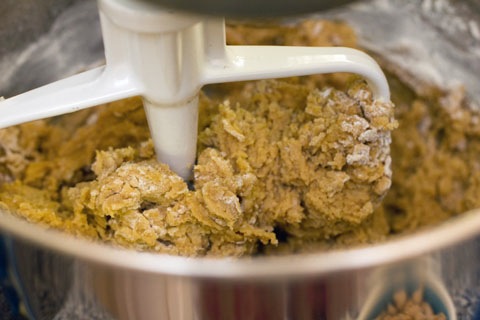 And then stir in the oats and peanut butter chips.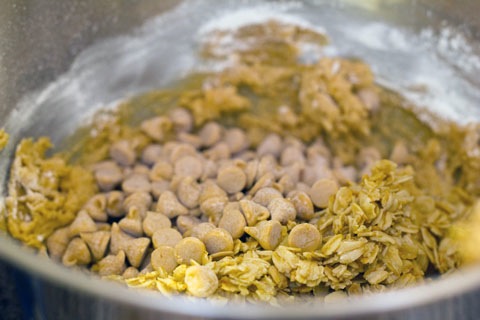 I used Tom's other great trick here, too. Place dough on a sheet of parchment paper.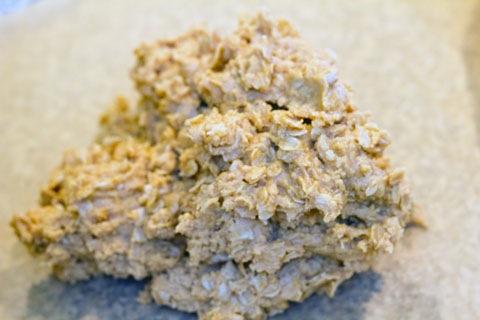 And then place another sheet of parchment paper over the top.
Roll the dough out until it's about 1/4-inch thick. And put it in the fridge for 20-30 minutes to chill.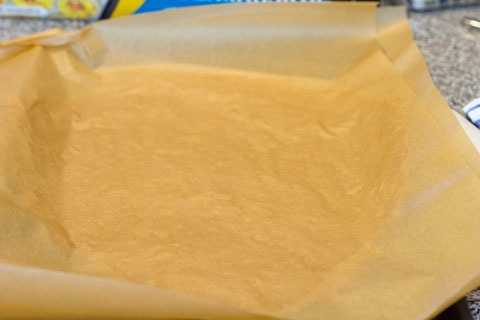 Place dough on counter and remove top layer of parchment paper. Cut 24 circles out of the dough with a 2-inch round cookie or biscuit cutter (or the top of a glass!).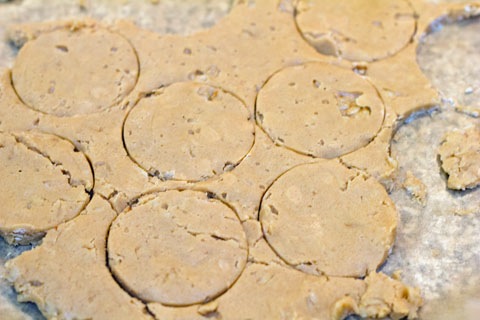 On a parchment paper-lined baking sheet, place rounds about one inch apart (you'll need to baking sheets).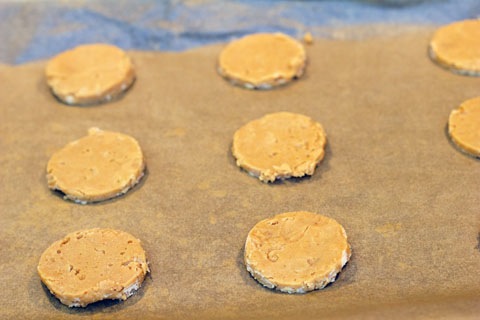 And bake at 350 degrees for about 10 minutes.
Remove from oven, let cool a bit on tray, and then move to a wire rack to cool completely.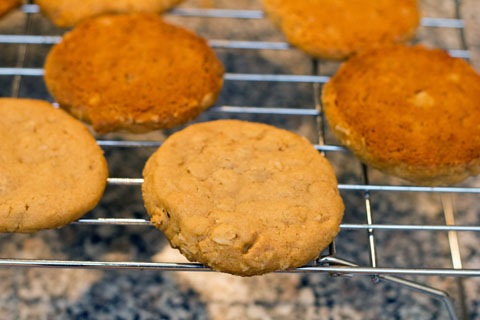 While the cookies are cooling, whip up the raspberry jelly buttercream.
I made mine in my mixer, but you could do it with a hand mixer or even completely buy hand. Basically, just blend all your ingredients together.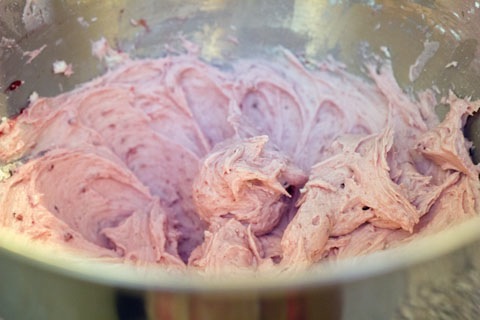 Put raspberry jelly buttercream in a pastry bag or in a ziplock bag with the corner cut off. Squeeze buttercream around 12 of the cookies.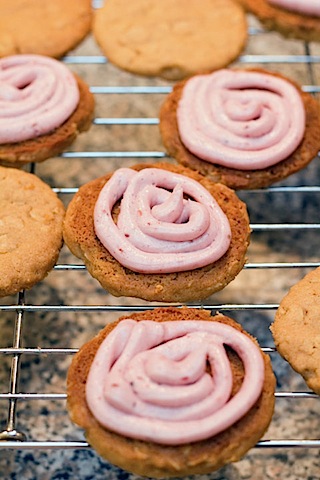 And put a bare cookie on top.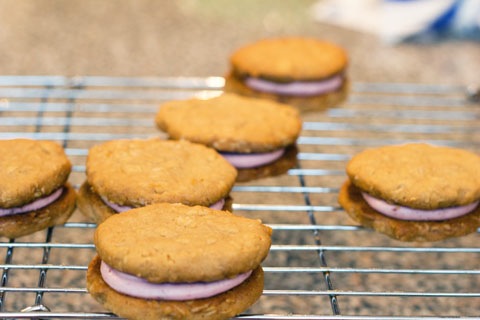 And be prepared to be transported back to your childhood, but even better. If that's possible. But it is because you're now an adult and nobody can limit you to just two cookies. Go ahead, eat them all. Well, maybe not that. Because then someone in your family will probably come sue me for advising you to eat a dozen sandwich cookies. Do I need some sort of disclaimer on this blog?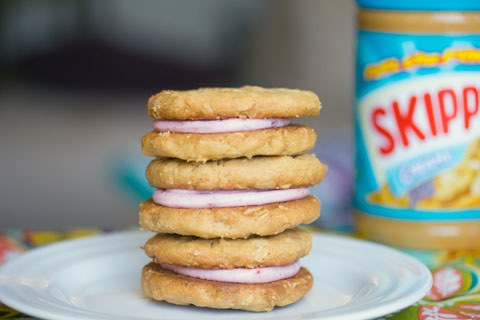 I don't care how old I get; peanut butter and jelly will always hold a special place in my heart. But even more so when it's in cookie form.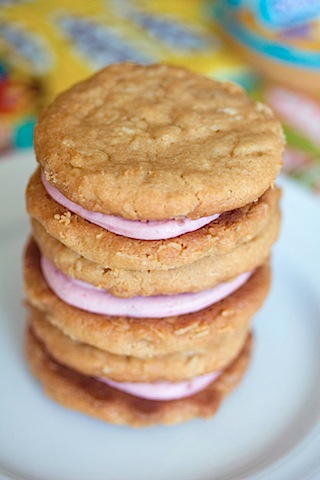 And I really believe these cookies could prevent a fight or two. I think my best bet is to teach my male neighbor how to bake these… and then his girlfriend/wife/whatever won't be able to accuse him of being lazy anymore. Maybe they'll even remember why they fell in love in the first place.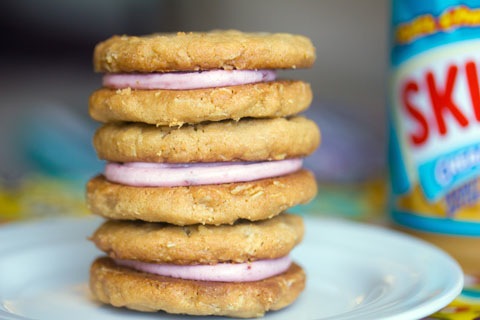 Then again, considering how thin these floors seem to be, maybe it's best if we don't make them fall overly in love with each other. I think I'd prefer the fighting.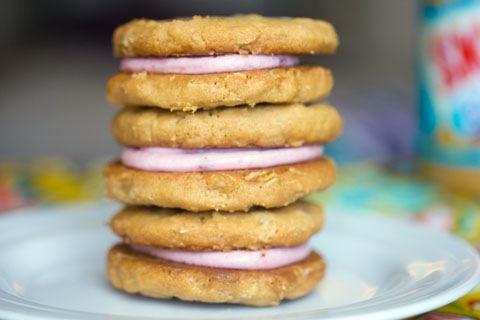 Come to think of it, if I give these to the baby next door, do you think he'll start sleeping later than 5:00 a.m., which will allow his parents to stay in bed instead of talking as loud as they possibly can in baby voices? Ugh. Seriously, these cookies could potentially solve all the world's problems. I'm willing to give it a try.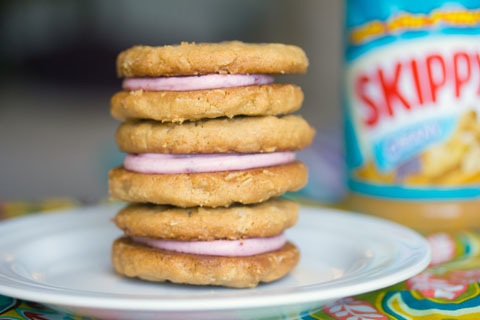 But for now, they're just making me happy. Which I guess is enough. Plus, they're keeping me in the kitchen where my KitchenAid drowns out the sound of the fighting.
Do you ever hear a little too much from your neighbors?
[Sues]