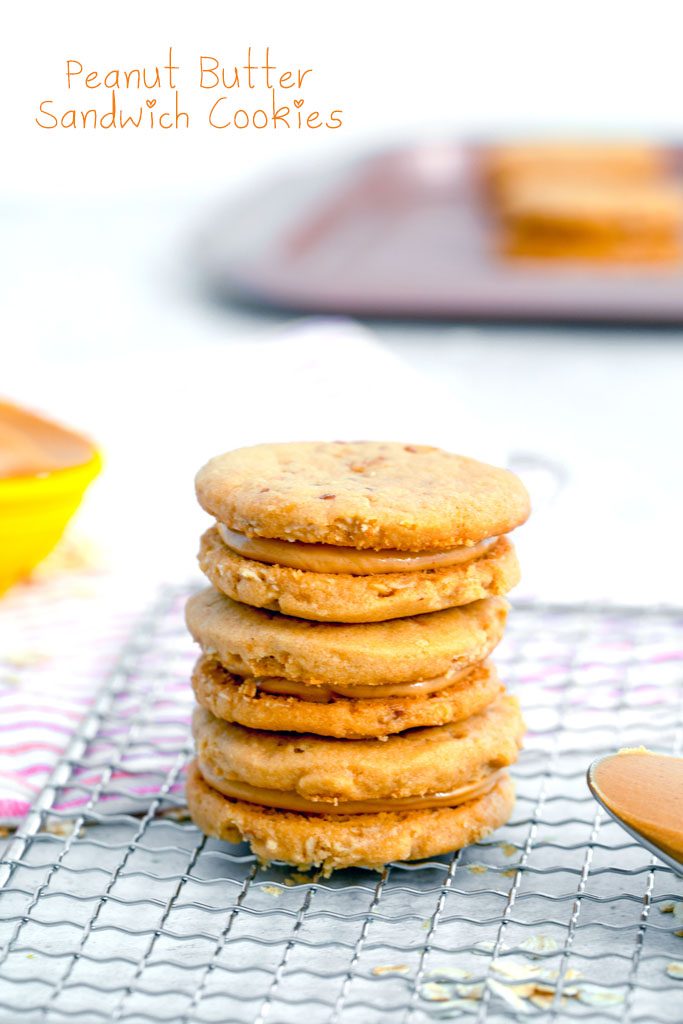 These Peanut Butter Sandwich Cookies are amazingly sweet and delicate and a must-make for any peanut butter lover!

(This recipe for Peanut Butter Sandwich Cookies was originally published in June 2011, but was updated with new photos in 2019).
Once upon a time, WANM had the fabulous opportunity to go to New York City and meet Tom Colicchio and Kelly Ripa. The day was a dream come true and I'm pretty sure Kelly Ripa is my spirit animal.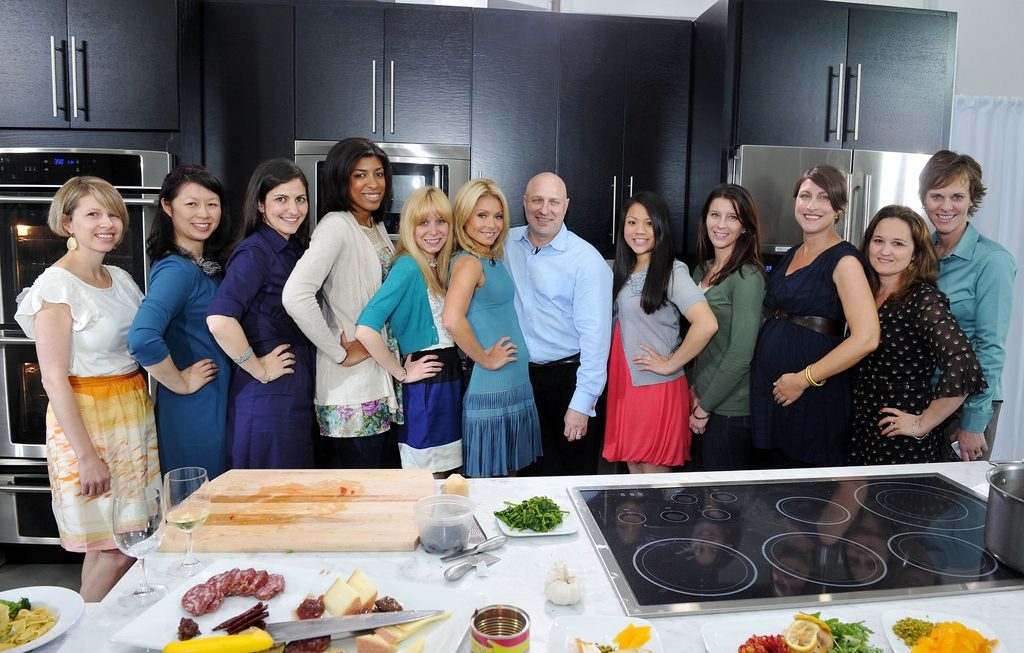 But potentially the best part? Chef Tom brought platters of cookies from his very own restaurant 'wichcraft and I seriously died and went to heaven when I took a bite of the peanut butter sandwich cookie. But then I came back to life in time to eat another one. Thank goodness.
Also, please excuse my bangs.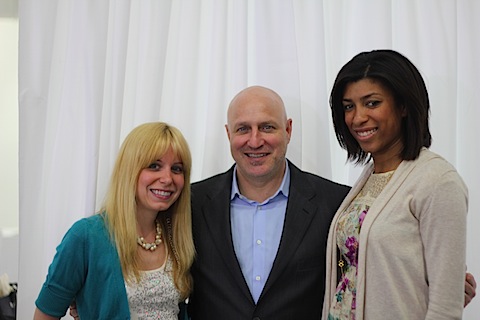 Anyway, I've been thinking about those cookies every day since. I wouldn't normally purchase an entire cookbook of sandwiches, but it turns out Tom Colicchio's 'wichcraft (affiliate link) is not your typical book of sandwiches. Trust me. I'm always game for a sandwich, but every one of these is blowing my mind. Plus, sandwiches in cookie form? Sign me up!
Once you've experienced heaven, you'll do whatever it takes to get back there. So, the first thing I did when I got home was to make the peanut butter sandwich cookies myself. I've made them countless times since and, yup, heaven every time.
PEANUT BUTTER SANDWICH COOKIES RECIPE
Believe it or not, the secret to this cookie recipe is toasted oats. I swear. Since the first time I made these cookies, I've added toasted oats to cookies several times and it's absolutely always a good idea. So please, whatever you do, do not skip that step of the recipe.
Of course, sandwich cookies are a bit more complicated to make than regular old cookies, but I promise these ones are still relatively easy. And worth every little bit.
You'll start by toasting the oats. In a small saucepan over medium heat, melt the 4 Tbps of butter. When it's melted, pour in the oats and stir for about 5-7 minutes, until they'r nicely toasted and browned.
Lay a piece of parchment paper on a cookie sheet and when the oats are done toasting, pour them on the parchment paper.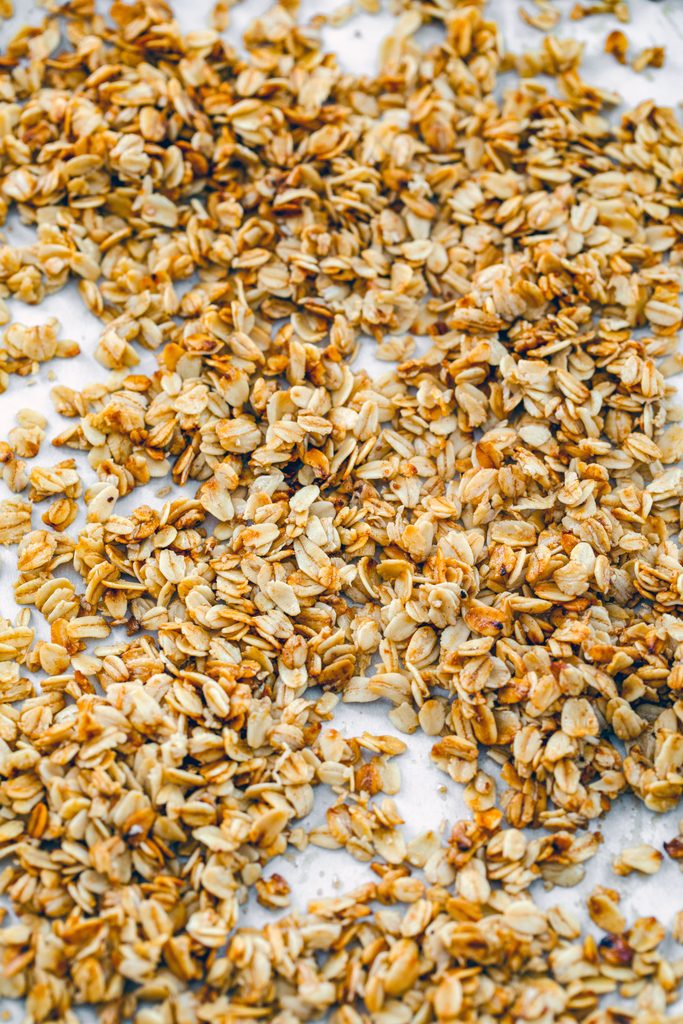 Now, for the batter! In a medium bowl, whisk together the flour, baking soda, and salt. In the bowl of a stand mixer or in a large bowl with a hand mixer, combine 1 stick butter, brown sugar, and granulated sugar, and beat until fluffy, 2-3 minutes.
Add peanut butter and continue mixing until well-combined. And delicious looking.
Now, add the flour mixture and mix until just combined. Fold in the oats, too, as gently as you can.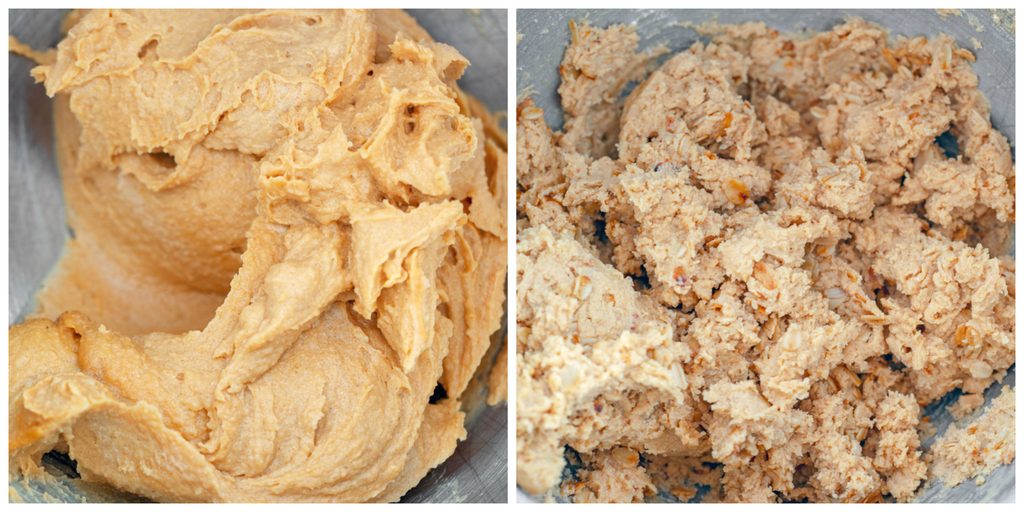 Now, here's a new little trick that I learned and love. Put the dough on a large piece of parchment paper. And put another large piece of parchment paper over the top.
Now roll the dough out with a rolling pin, until it's about ¼ inch thick and even.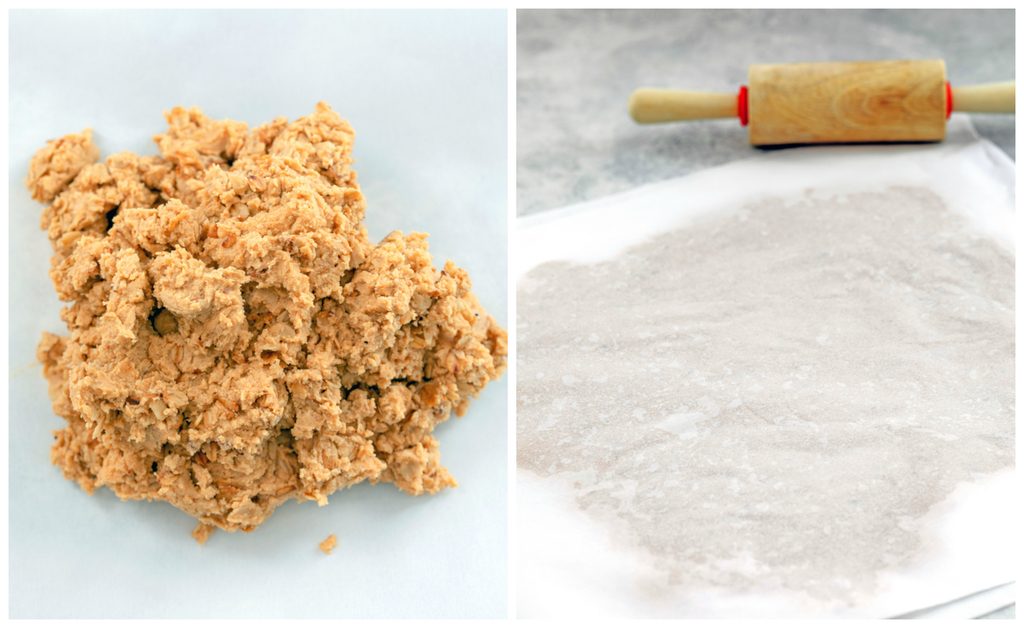 Slide the dough onto the back of a cookie sheet and stick in the fridge for about 20-30 minutes.
When the dough is done chilling, pre-heat the oven to 350 degrees and line two baking sheets with parchment paper. Place dough on the counter and take the top sheet of parchment paper off.
Using a 2-inch round cookie cutter (or biscuit cutter), cut 24 cookies out of your dough. If you're so inclined, you can re-roll the dough and get a few more cookies out of it. However, you'll want to chill the dough again before cutting as it will likely be quite warm at that point.
Place cookies about 1 inch apart on sheets. And bake them for 9-11 minutes, rotating sheets halfway through, until they're just turning golden.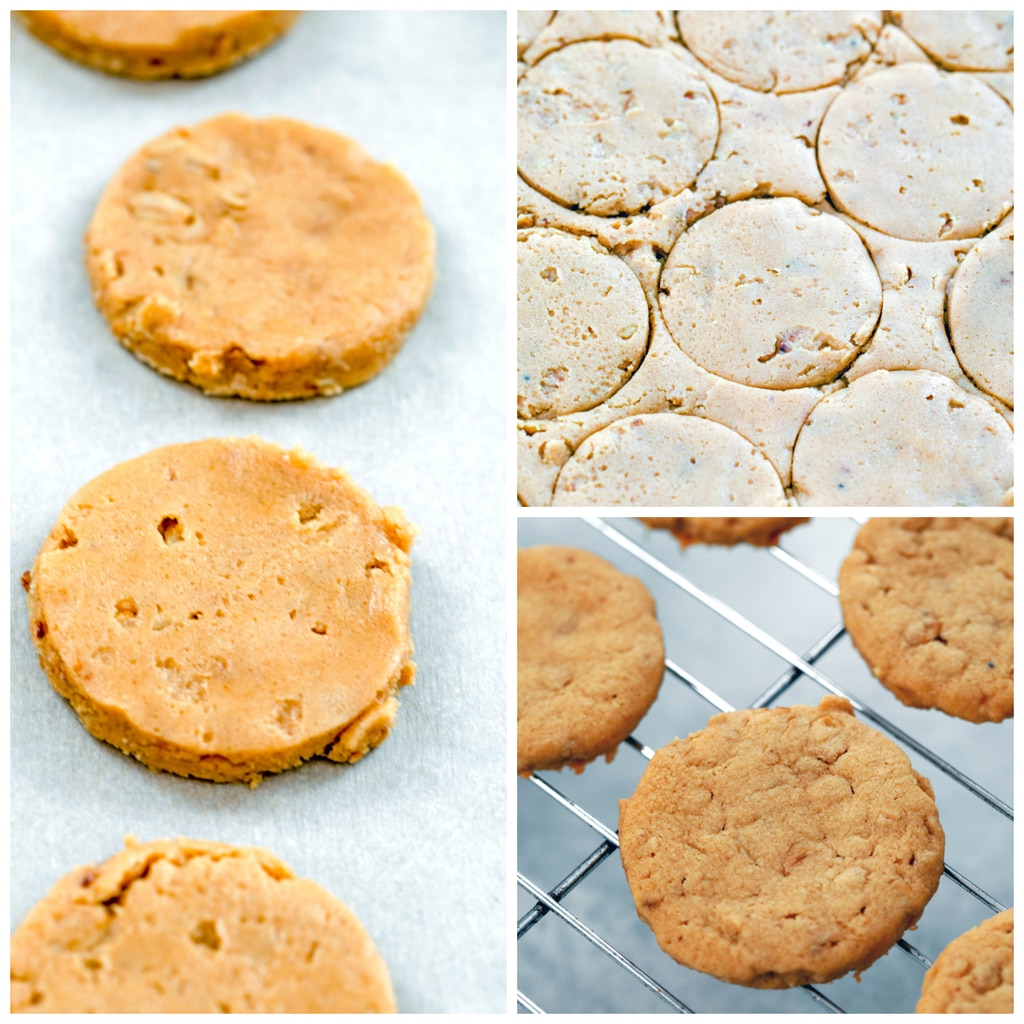 Transfer the cookies to wire racks so they can cool completely.
And while they're cooling, you can make the most amazing cookie filling ever. Also the easiest!
All you have to do is put all of the ingredients (butter, peanut butter, confectioners' sugar, and salt) in the bowl of a stand mixer or in a large bowl with a hand mixer and beat to combine.
Fill a pastry bag (or ziplock bag with the corner tip cut) with the peanut butter filling. And flip half of the cookies over and fill with peanut butter cream.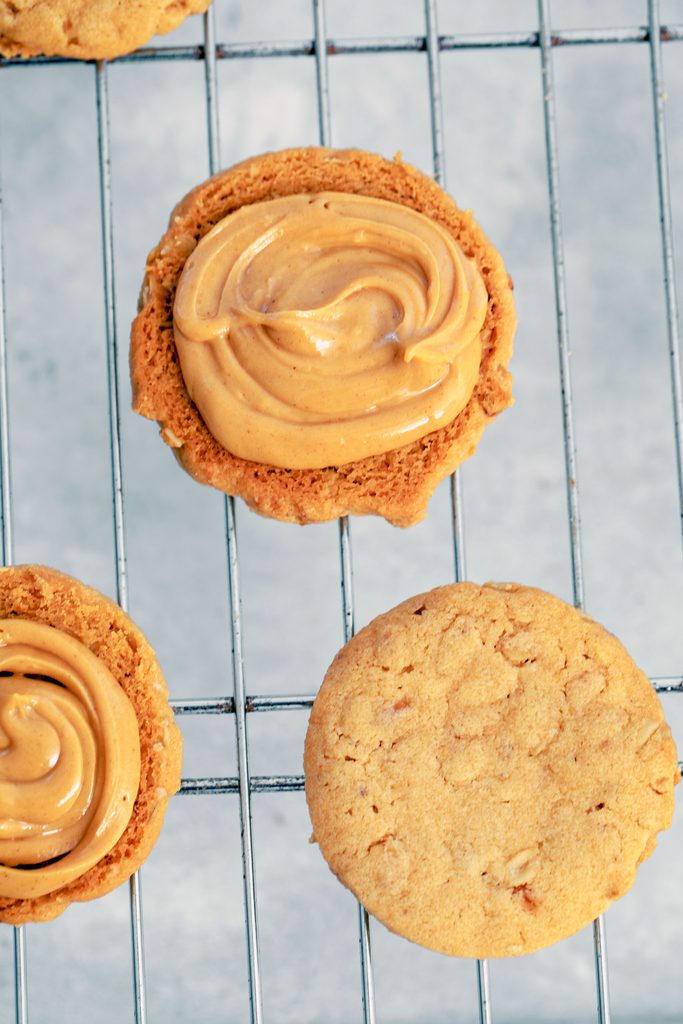 Top filled cookies with unfilled cookies and get prepared to die and go to heaven.
These peanut butter sandwich cookies are literally the best cookies I've ever had. If I had to compare them to anything, I guess it would be the Girl Scout's Do-Si-Dos. But these are so much more delicate and peanut buttery. They melt in your mouth and taste fresh-baked even when they've been sitting out for hours.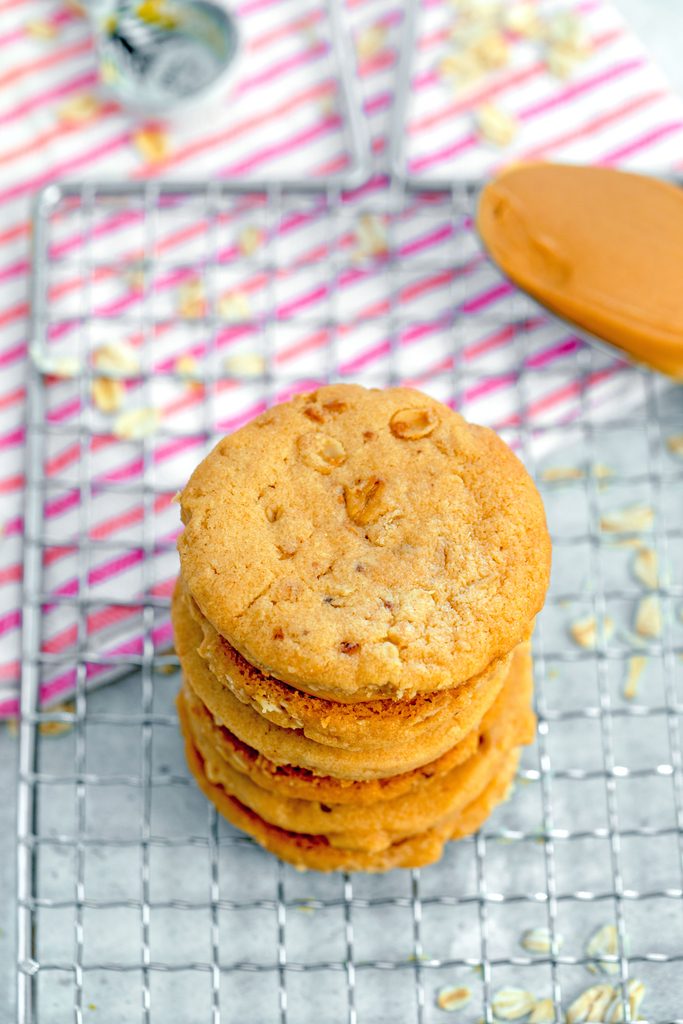 You'll likely die if you eat one. But don't worry because you'll come back just in time for another one. And it will all be worth it.
The cookies are super delicate and crumbly, but in a good way. They'll basically melt in your mouth.