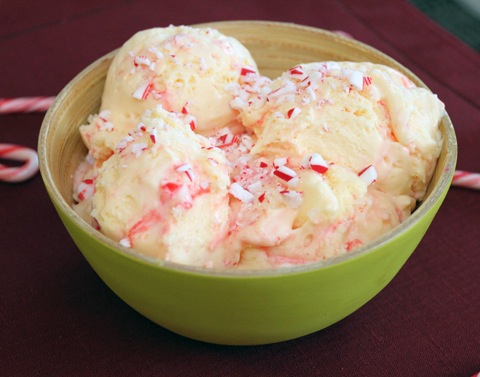 Peppermint again? Yes. Ice cream right when it finally starts to get cold in Boston? Yup. If ice cream wasn't meant to be enjoyed year round, it wouldn't work so well with holiday flavors. And if I wasn't meant to cook and bake with peppermint every day leading up to Christmas, then it wouldn't be so awesome. But it is. And peppermint ice cream is some of the very best ice cream. Add a little homemade marshmallow fluff in for extra silkiness and you'll want December to last year round, too.
In case you don't know, my absolute favorite holiday song from childhood is Marshmallow World. The Johnny Mathis version. I played the song so much when I was a kid, my sister hid the cassette tape on me. But that obviously didn't stop me from singing it out loud all season long. Which was probably worse for her. But it's a seriously catchy song that will make you happy… Annd stay in your head forever. Shhh I'm allowed to be a Johnny Mathis fan for Christmas. Leave me alone. And since it really is a marshmallow world in the winter, I'm tempted to add it to all my holiday treats. So, I am.
Peppermint Marshmallow Ice Cream (makes about 2 pints):
Print this recipe!
Ice Cream:
2 1/2 C heavy cream
1 C whole milk
3/4 C sugar
5 egg yolks
1 1/2 T peppermint extract
1 batch fluff
6 candy canes, crushed
Fluff:
1 egg white
1/2 C corn syrup
1/8 t salt
3/4 C powdered sugar
1/2 T vanilla
1/8 t cream of tartar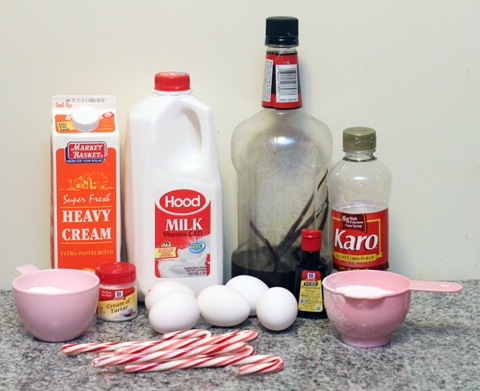 As you may know, making ice cream is a put of a process and, while it's not difficult, it requires a bunch of patience. Which I'm not very good at having. But seriously, making lots of ice cream is teaching me the art of patience. Just know, you'll need at least 24 hours from start to finish, but 36 hours is even better!
Start by heating the cream, milk, and sugar in a medium saucepan and stir until the sugar dissolves and the mixture is hot.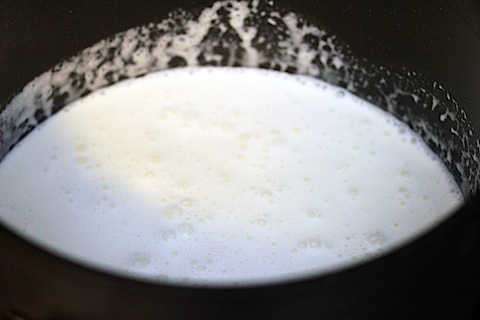 In a small, heat-resistant bowl, whisk the egg yolks (make sure you save one of the whites of the eggs… you'll need it for the fluff!).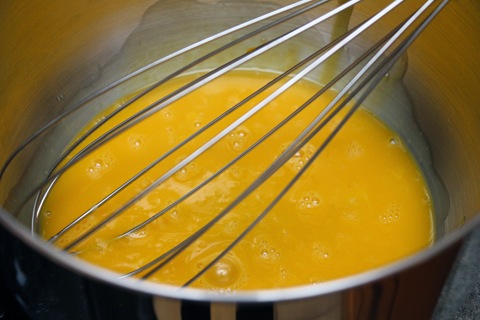 Slowly pour half the heated milk mixture into the bowl with the egg yolks, whisking the entire time.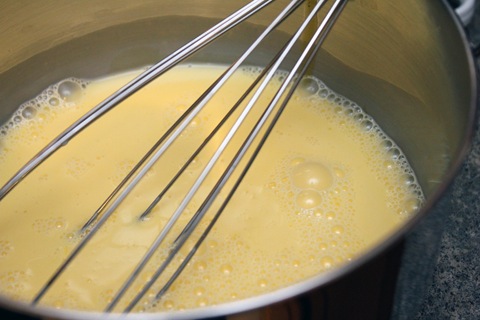 Then pour the egg yolk mixture back into the saucepan with the rest of the milk, continuing to whisk.
Cook over medium-heat until the mixture begins to thicken and coats the back of a wooden spoon, about 5-7 minutes.
Then strain the mixture into a heat-resistant bowl.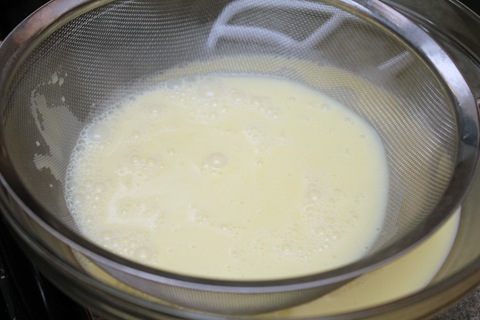 Place the bowl over an ice bath until cool, stirring occasionally.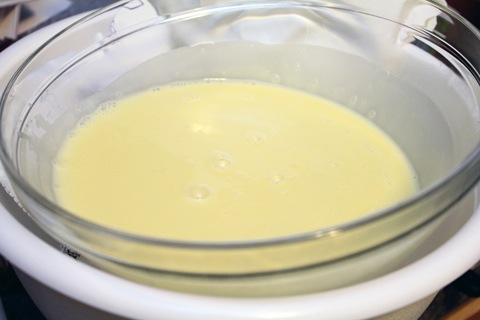 Then cover with plastic wrap and refrigerate until cold. I would refrigerate for at least 5 hours. I had my ice cream plan timed out ahead of time and refrigerated mine overnight. The longer, the better!
While that's cooling, you can get started on the fluff.
In the bowl of an electric mixer, beat together the egg white, corn syrup, and salt on high-speed for about 4-5 minutes, until it's nice and thickened. At first it will look like this: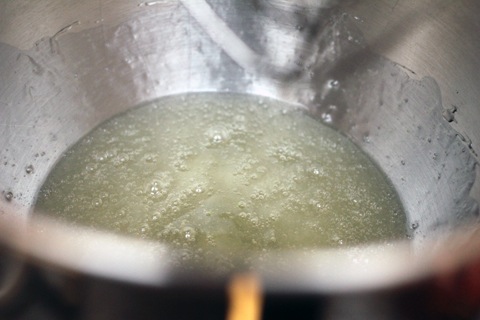 But after 4-5 minutes, it will start to look like fluff!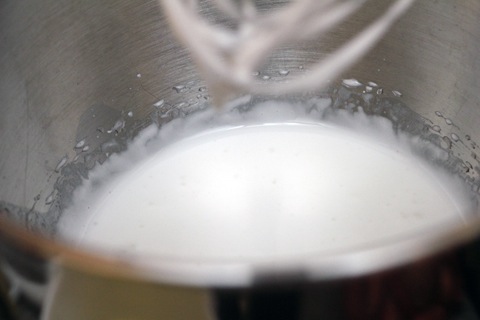 Now mix in the powdered sugar, vanilla, and cream of tartar on low-speed, until combined.
Hello, fluff.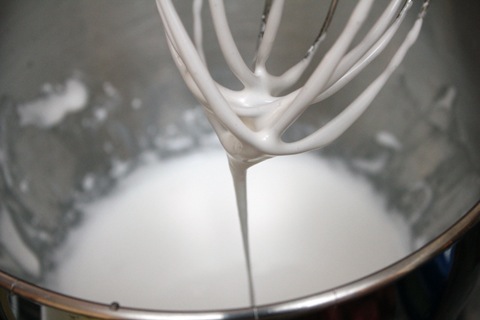 The marshmallow fluff should stay good in your fridge for about 10 days, so just pop it in there until you're ready to use it in your ice cream.
Once your milk/cream mixture is sufficiently cold, you're ready to make ice cream the old fashioned way. Er, with an electric Kitchen Aid mixer. Whatever.
Before you pour the mixture into your ice cream maker, stir the peppermint extract in. Add less then I suggested if you're not a huge fan of strong peppermint flavor. Then again, you wouldn't likely be making this if you're not. If I were you, I'd add a little at a time, tasting as you go.
Then freeze in your ice cream maker, according to manufacturer's instructions.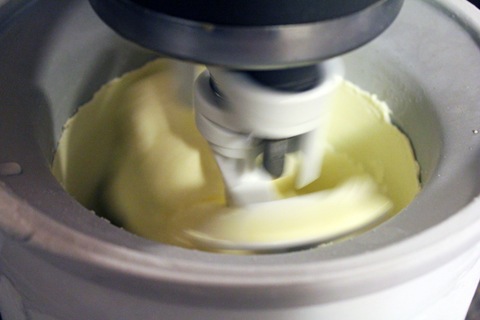 When the ice cream began to thicken, after about 20 minutes, I added the marshmallow fluff in.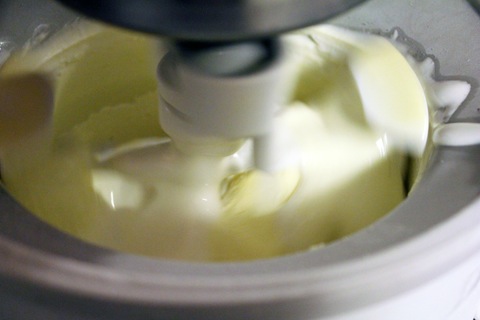 Then, right before I was done mixing the ice cream, I crushed up my candy canes.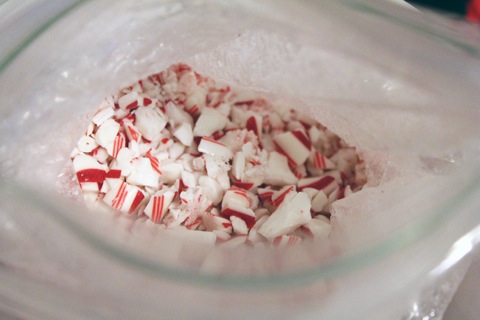 And added them to the ice cream. P.S. did you know Wegman's makes pre-crushed candy canes?? I've heard that Wegman's is basically a heaven, but this just seals the deal. I must make the trek out to Northborough… And I cannot wait for the Wegman's that is slated to arrive in Newton! Pre-crushed candy canes are a dream come true!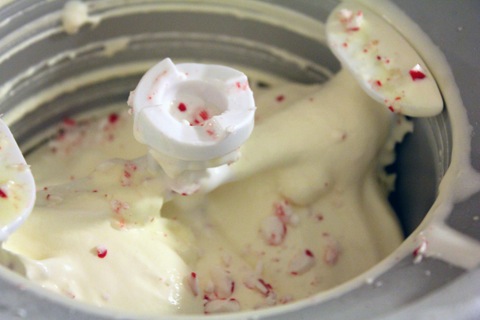 Now, pop your ice cream into an airtight container and put it in the freezer, for about 8 hours. Told ya it was all about patience.
I let my ice cream freeze overnight. And served up a huge bowl of it with some extra candy cane crumbles on top. If I was going to go through the work of crushing up my candy canes manually, I was going to enjoy them, darn it.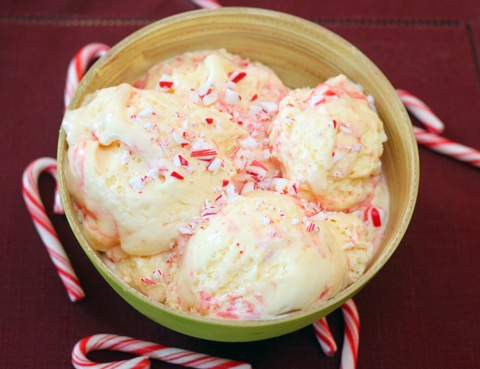 At first I was kind of confused as to why my ice cream was super soft since it usually hardens up quite a bit more in the freezer. Then I remembered I added in a ton of marshmallow. Duh. The marshmallow added a soft smoothness to the ice cream, making it even creamier (didn't think that was possible, huh?), almost like silk!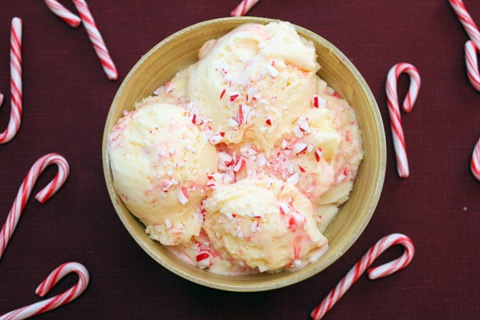 The peppermint taste was like whoa. Which is exactly how I like it. Christmas in a bowl!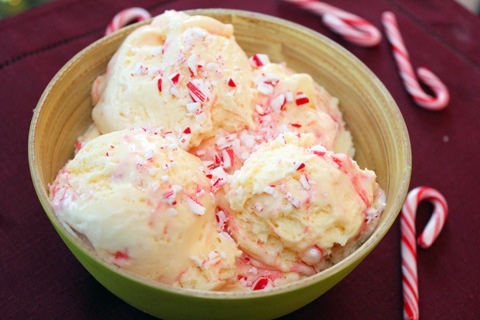 If you generally leave cookies out for Santa, I highly recommend leaving a bowl of this candy cane ice cream out for him instead. It could mean extra gifts! Of course, you may want to simply write Santa a note letting him know this is waiting for him in the freezer… Otherwise it could just be a big bowl of soup by the time he arrives. A delicious bowl of soup, but still.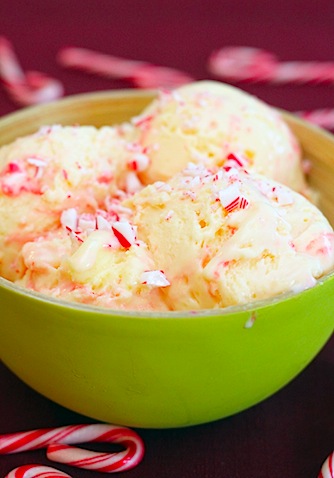 You know, I'm actually really sad Christmas is a mere 12 days away. I'm just getting in the holiday spirit and have so many more holiday flavors I want to experiment with. Instead of thinking of the time in "shopping days," I'm thinking of it in terms of "cooking days" and there just aren't enough left! That may be a sign I'm getting old.
Peppermint ice cream is one thing, but peppermint ice cream with marshmallow is a whole different ballgame. Johnny Mathis would be proud.
What's your favorite holiday flavored ice cream?
[Sues]