Sweet potatoes and ice cream may seem like an unlikely combination, but this Sweet Potato Ice Cream, packed with white chocolate and toasted pecans, will convince you that sweet potatoes make the best fall ice cream flavor!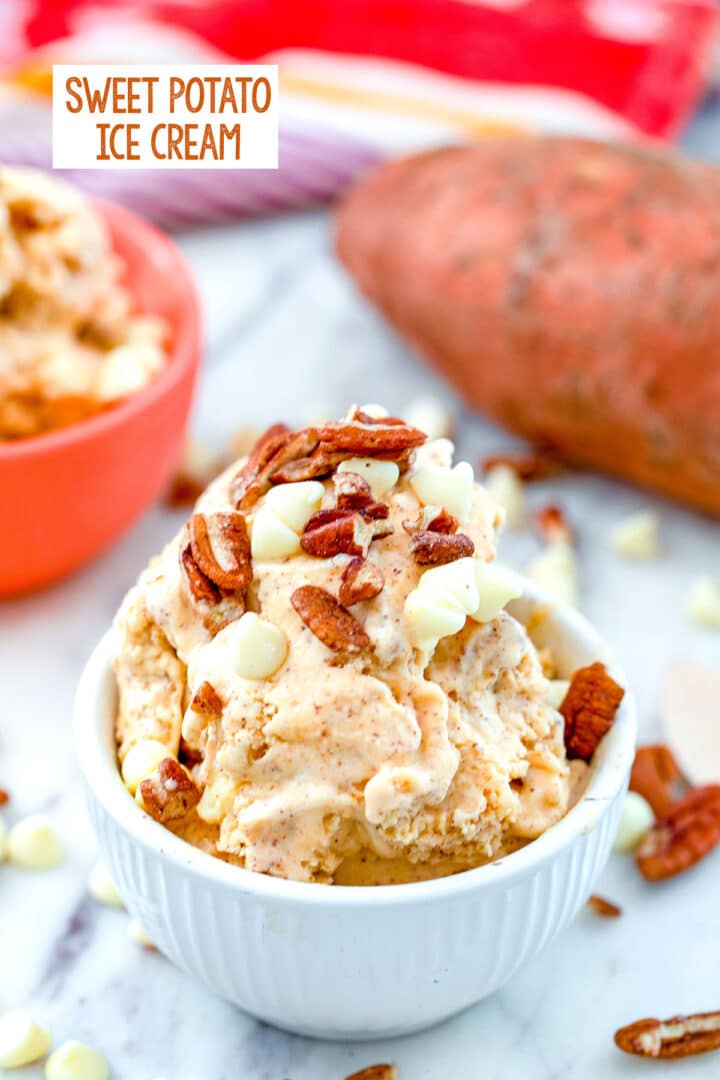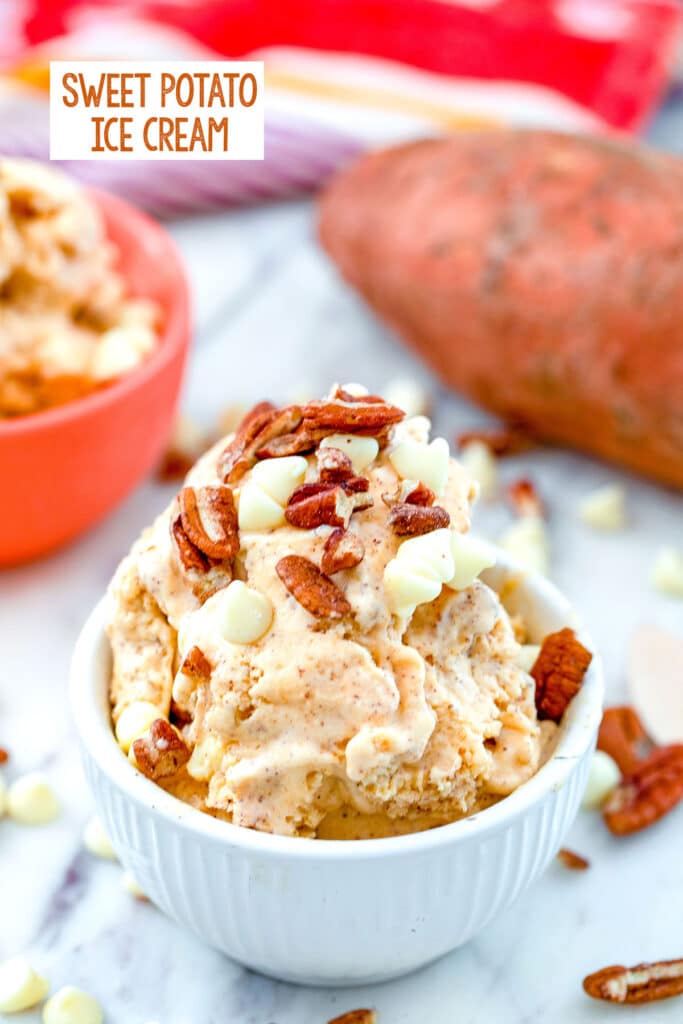 (This recipe for Sweet Potato Ice Cream was originally published in August 2010, but was updated with new photos and content in 2019).
I recently learned that most of the canned pumpkin puree you're buying at the grocery store isn't actually pumpkin. I repeat, there is not actually pumpkin in those cans of pumpkin puree.
So, what the heck is in them?? It's actually a combination of squashes. Whaaat. In some ways, this is shocking and distressing to me. But then when I really think about it, it's not a big deal.
Pumpkins are actually in the squash family and are super similar to many other types of squash. And to sweet potatoes, too. All of those delicious orange veggies are so similar to each other.
Which brings me to the point of this post... Sweet potato ice cream.
Why You'll Love This Recipe
When I tell people I make sweet potato ice cream, a lot of times I don't get a very enthusiastic reaction. In fact, many people wonder why the heck I'd want to ruin perfectly good ice cream with sweet potatoes.
But the thing is, if you find pumpkin ice cream acceptable then you'll most definitely approve of sweet potato ice cream, too. Add in some seasonal spices and you've got a sweet potato spice ice cream that's very similar to a pumpkin spice ice cream.
In fact, I think sweet potatoes are a bit sweeter and more candy-like than pumpkin, so chances are, you'll like it even more!
Ingredients and Equipment
This recipe is a pretty standard custard-based ice cream recipe, with the addition of sweet potato puree and lots of fall spices.
Plus, I added in some pecans and white chocolate chips for extra fun.
Here's everything you need:
Heavy cream
Whole milk
Brown sugar
Egg yolks
Sweet potato puree
Cinnamon
Ground ginger
Ground nutmeg
Salt
White chocolate chips
Pecans
You do need an ice cream machine to make this ice cream. I've owned the KitchenAid ice cream attachment for about 8 years, have used it hundreds of times, and can't recommend it enough if you're in the market for one and already own a KitchenAid mixer.
You'll also need some airtight containers in which to store your ice cream. You can use any kind of container, but I absolutely love these ones.
How to Make Sweet Potato Ice Cream
You are certainly welcome to buy canned sweet potato (though who the heck knows if it's actually sweet potato in there!) for this ice cream, but I decided to make my own.
I just baked a sweet potato at 400 degrees until it was tender (45-60 minutes) and then let it cool. Once cooled, I removed the skin and popped it into my food processor to puree until smooth.
I ended up adding about 1 Tbsp water to thin it out a bit.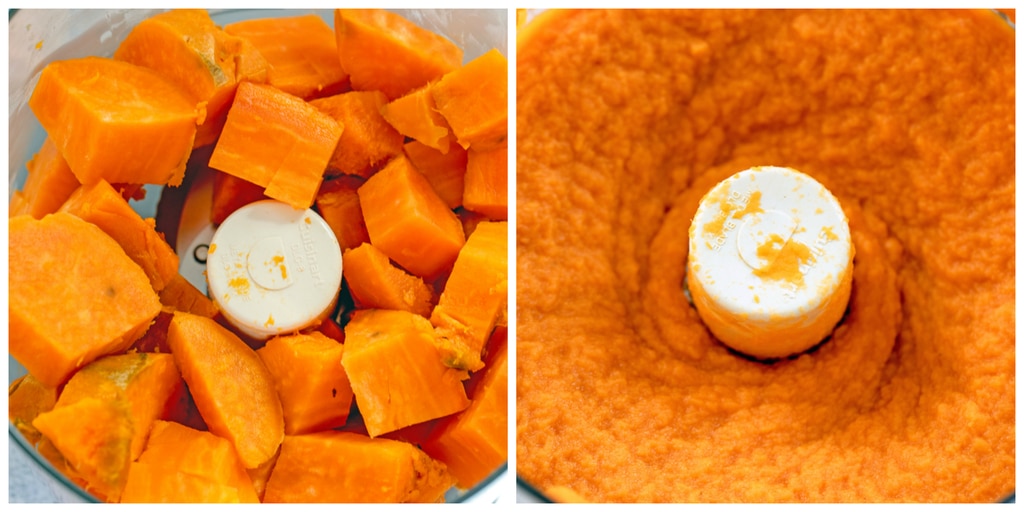 Now you're read to make the ice cream! Heat the cream, milk, and brown sugar in a medium saucepan, stirring until the sugar is dissolved and mixture is hot.
In a medium, heat-resistant bowl, lightly whisk egg yolks. Slowly poor about half the cream mixture into the egg yolks, whisking the whole time. Then pour this yolk/cream mixture back into the saucepan with the rest of the cream, whisking the whole time.
Cook over low heat, stirring constantly, until mixture thickens slightly (should cover the back of your spoon), about 4-6 minutes. Don't let the mixture come to a boil.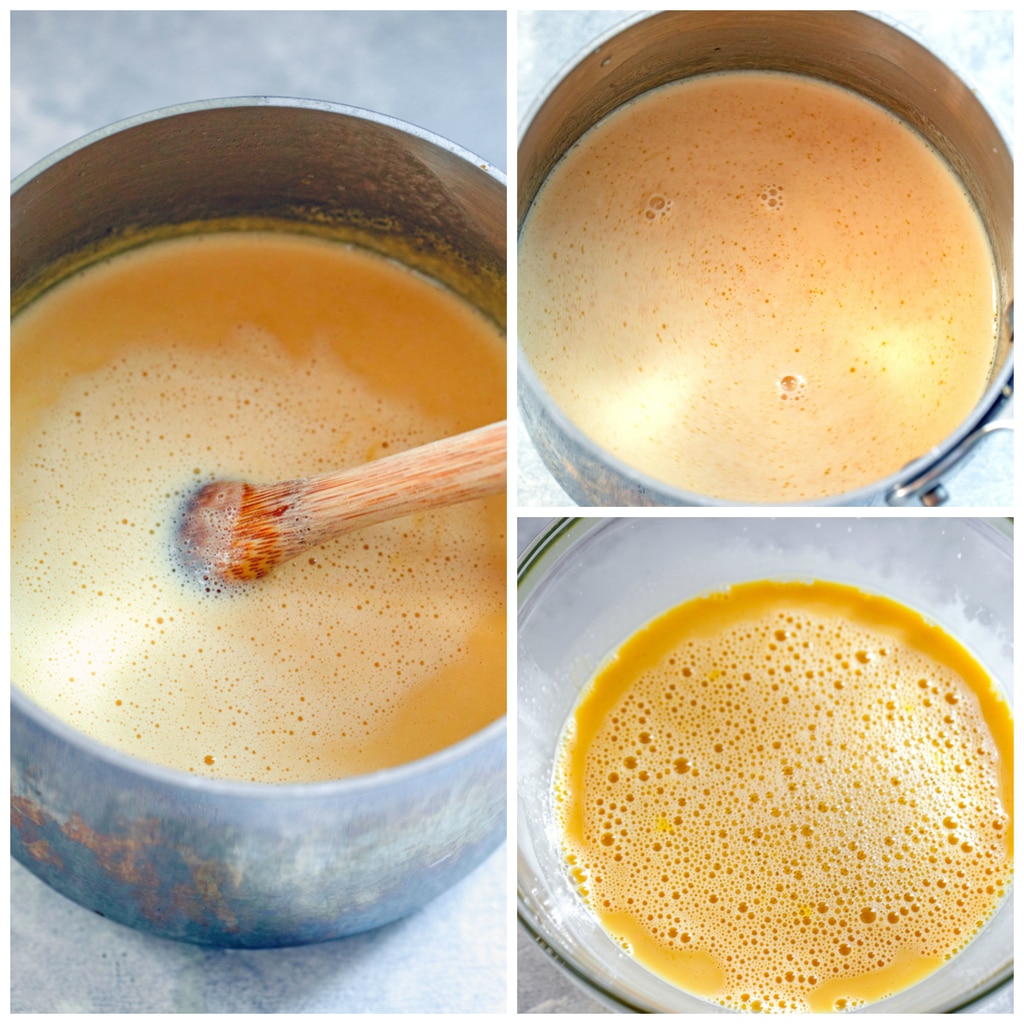 Pour the mixture through a strainer and into a heat-resistant bowl. And while the mixture is still hot, whisk in the sweet potato puree, cinnamon, ginger, nutmeg, and salt.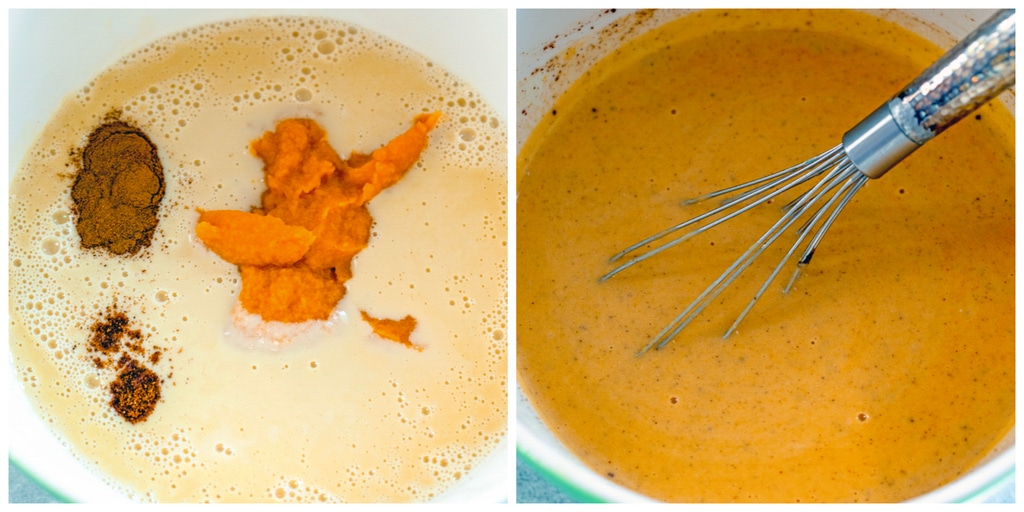 Cover and refrigerate the mixture until it's thoroughly chilled, about 4 hours.
Then, use your ice cream machine to turn the creamy mixture into ice cream!
I let my ice cream maker run for about 20 minutes before I added in the white chocolate chips and toasted pecans and let it finish processing.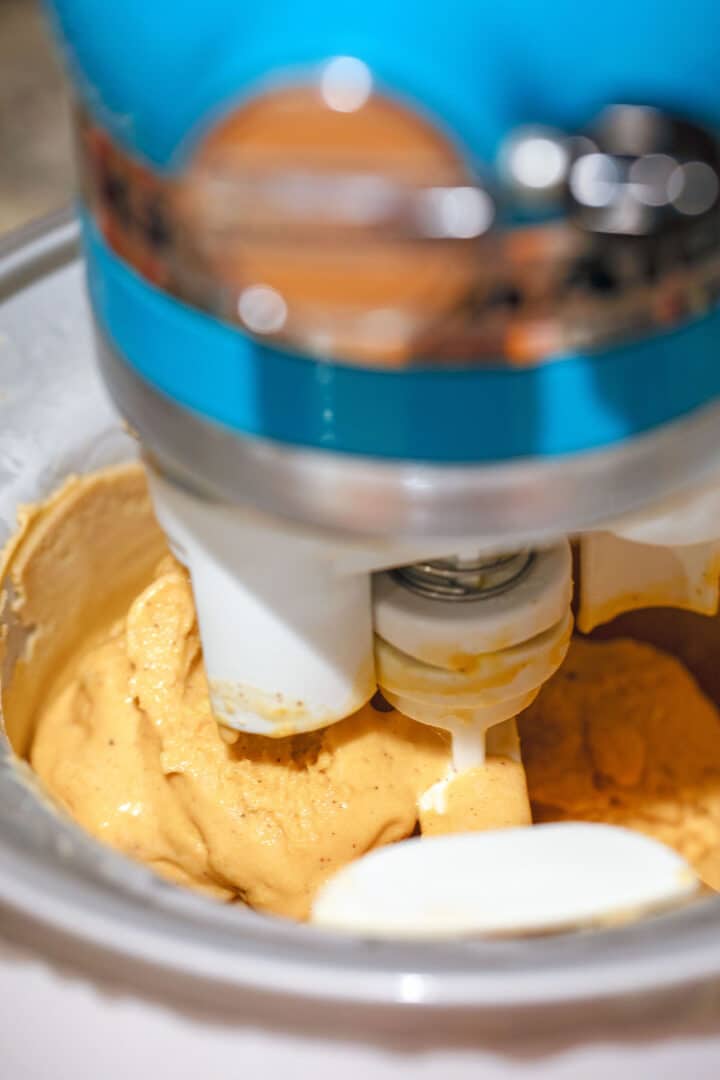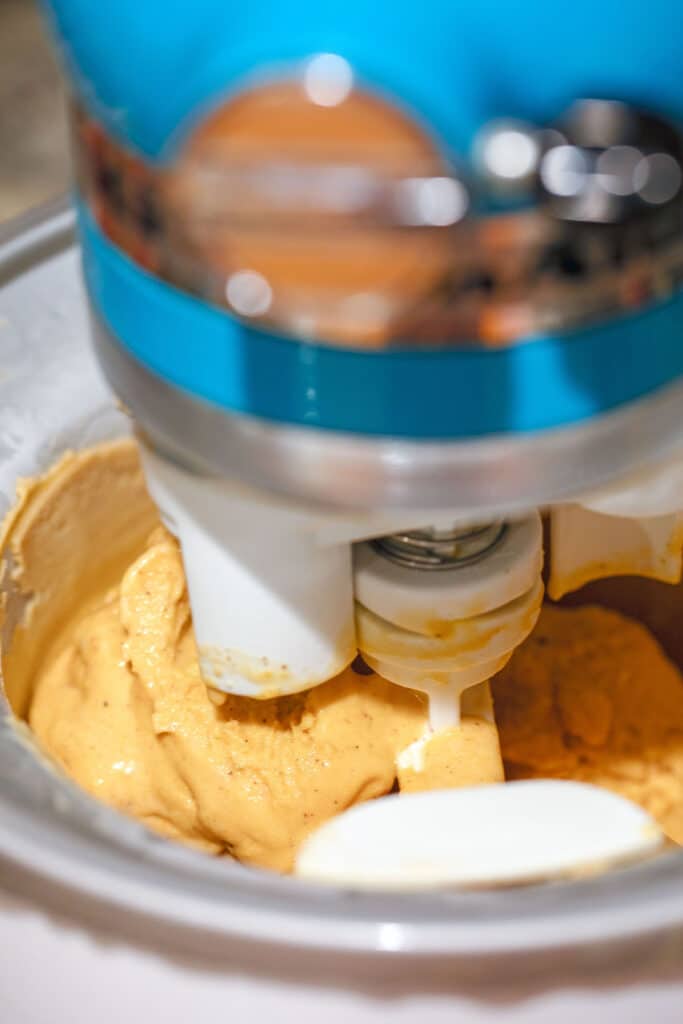 Scoop the ice cream into a separate container (if you make a lot of ice cream, definitely consider getting some quart-sized containers, like theseand pop it into the freezer to fully harden, another 4 hours or so.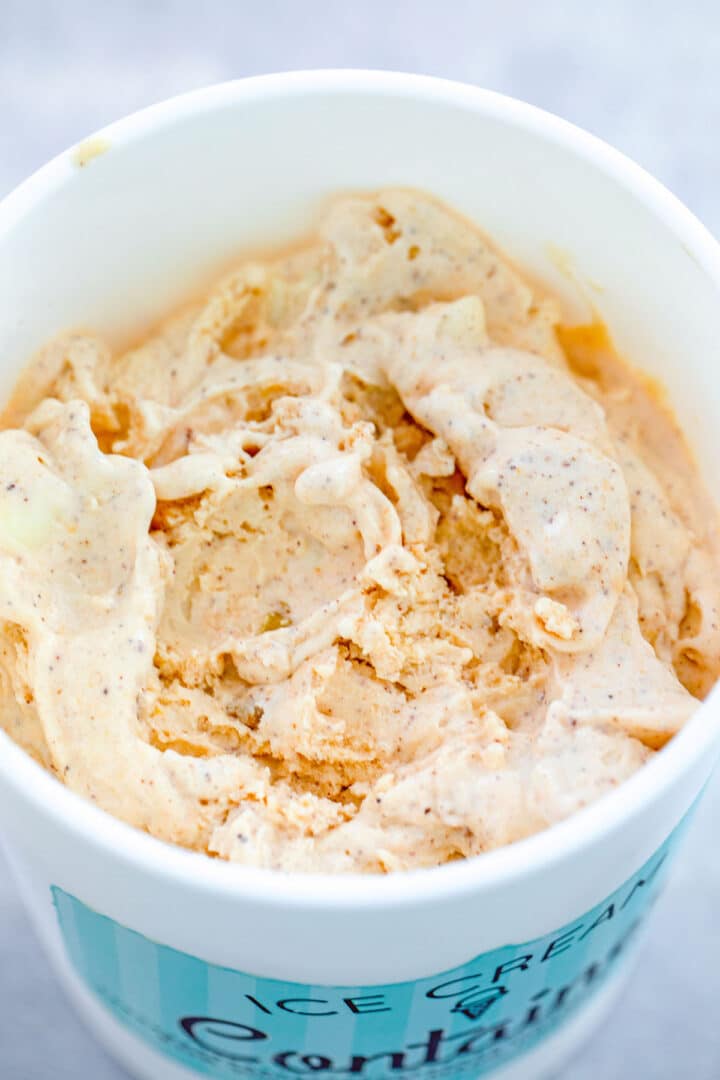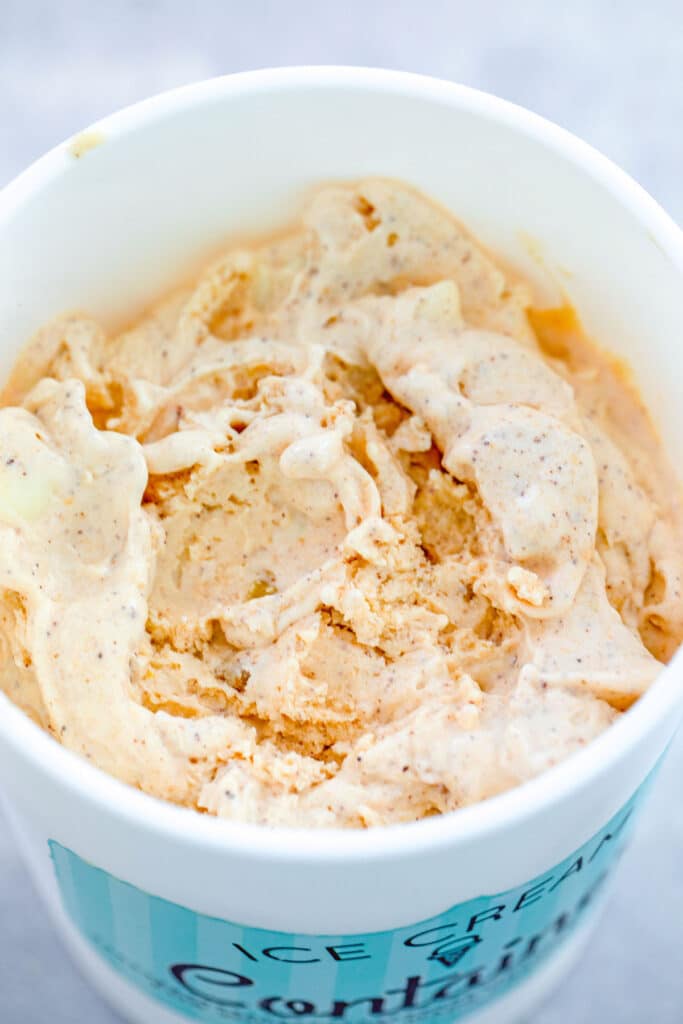 After scooping the sweet potato ice cream into bowls, I obviously topped it with more white chocolate chips and toasted pecans. Because these are the things that make my fall heart happy.
Along with things like cinnamon, ginger, and nutmeg (oh my!).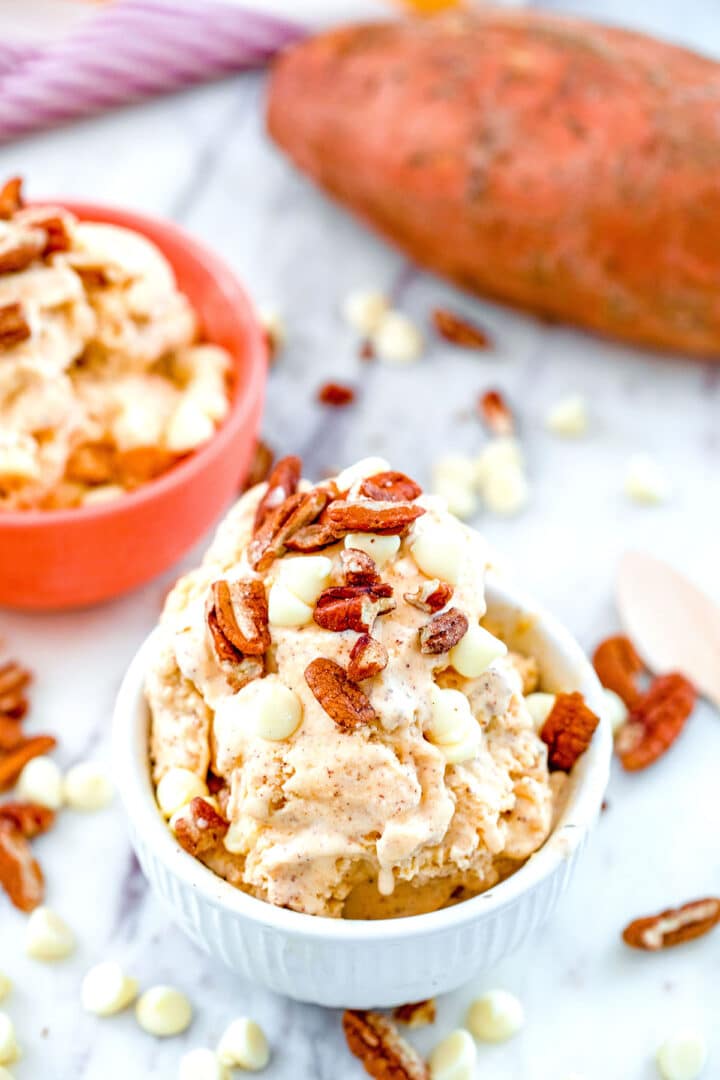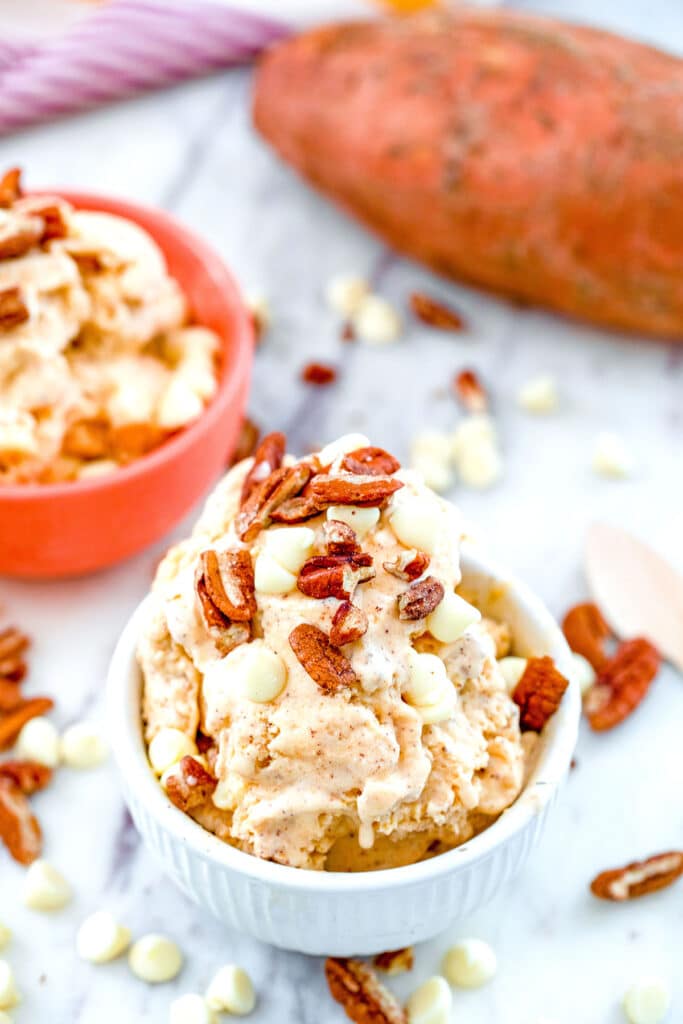 I served this sweet potato ice cream along with homemade triple chocolate cake for my mom's birthday and I think everyone was a bit skeptical at first. Especially my husband who isn't really into the whole "let's put vegetables into desserts" thing.
In fact, he doesn't even like nuts in his desserts. But he actually said this is one of his favorite ice creams! And he ended up eating the rest of the batch the next evening.
I'm counting that as sweet potato success. But seriously, when I was a kid, I wouldn't go near sweet potatoes. My mom would tell me they taste like candy and I'd say, "why would I want my vegetables to taste like candy??" Now, I'm all, "vegetables that taste like candy?? Bring them on!"
How to Store
Just make sure you store your ice cream in an airtight container in your freezer and it should last for about 2 months.
But I'd be surprised if it lasts that long!
This sweet potato ice cream really does taste like fall in a bowl. It's certainly similar to pumpkin ice cream, but I actually like this flavor a bit better thanks to the added roast-y sweetness.
Then again, it's quite possible all my pumpkin ice creams have actually been butternut squash ice creams. Of course, the spices round out the ice cream flavor wonderfully.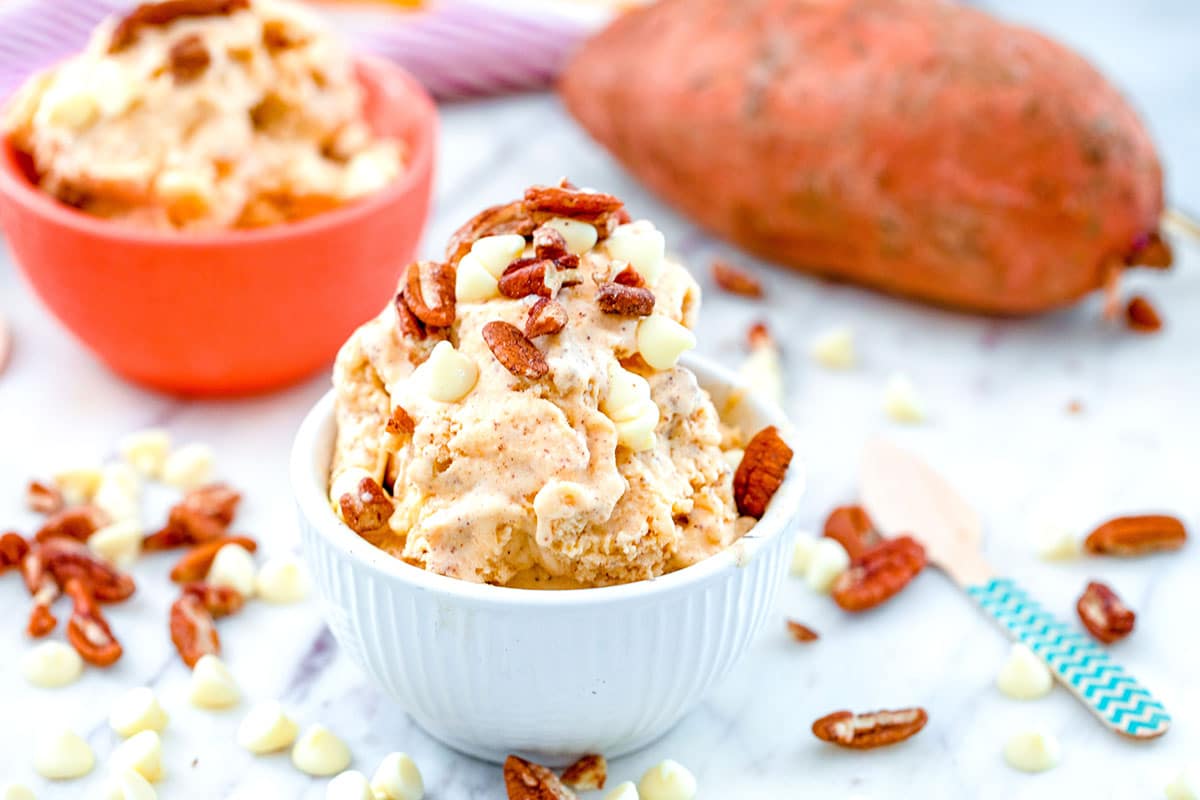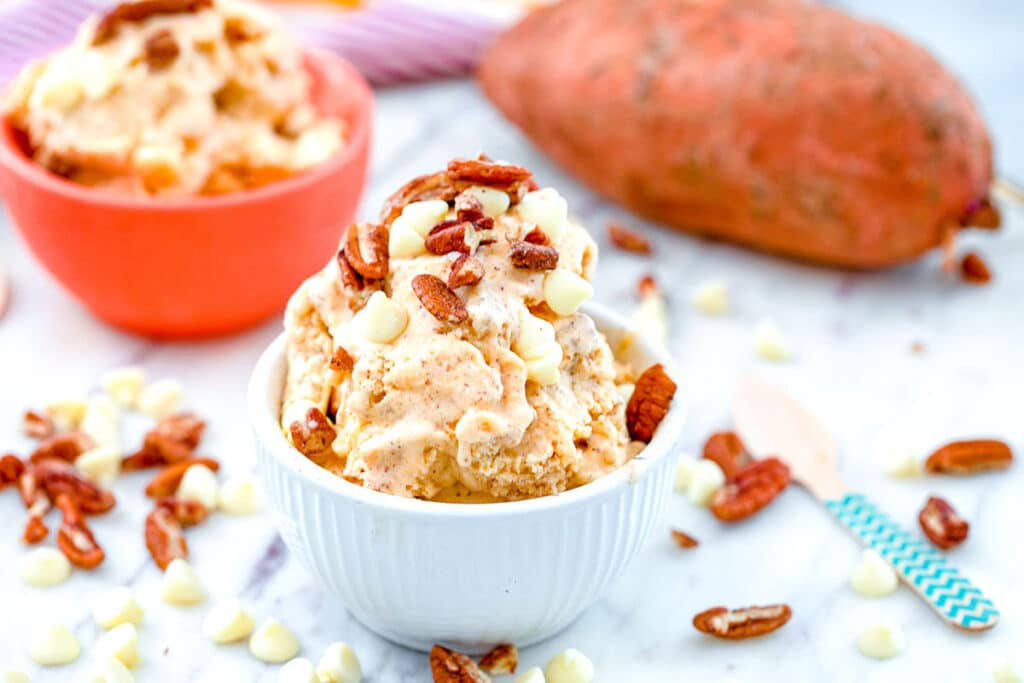 More Sweet Potato Recipes
If you love sweet potatoes as much as I do you may be looking for some more unique recipes, both sweet and savory, that include them. Here are some of my favorites:
Since I pureed my own sweet potatoes, I know that this ice cream is made with 100% real sweet potatoes!
Of course, pureeing your own sweet potatoes is also a whole lot easier than pureeing fresh pumpkin. But you really can replace the sweet potato puree in this ice cream with another puree of your choice.
Whether you're serving this sweet potato ice cream as a simple fall treat or alongside pumpkin pie at Thanksgiving time, it will certainly be the talk of the table... But I promise it will also end up being the hit!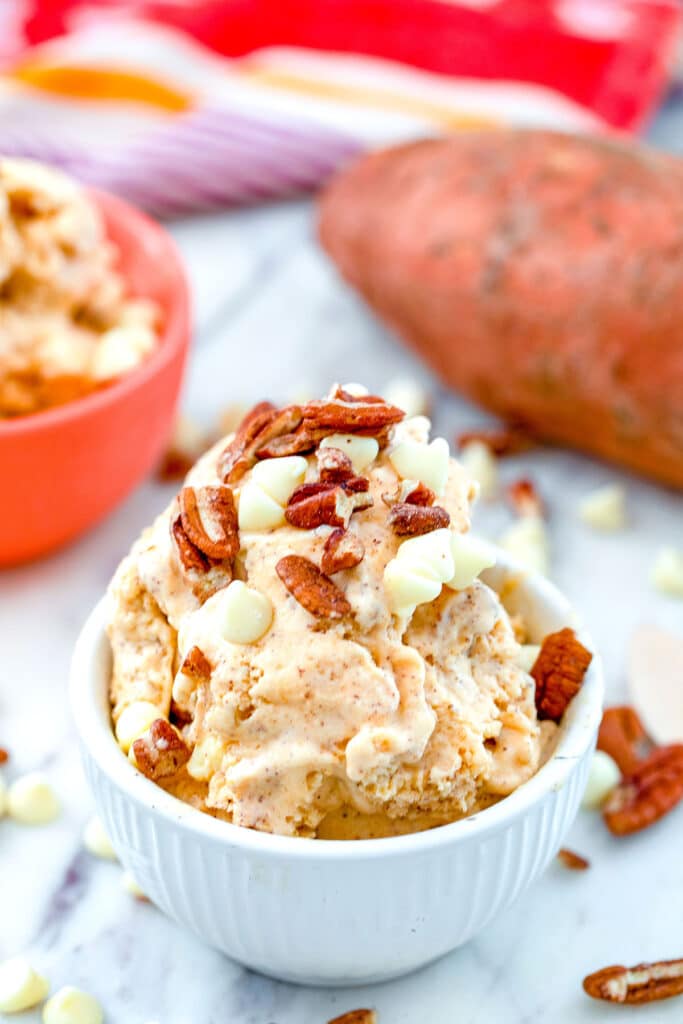 Next time someone tells you sweet potato ice cream is weird, tell them the pumpkin they're eating probably isn't even pumpkin. And at the end of the day, who cares, because all orange vegetables are delicious!
What's the most interesting ice cream flavor you've ever had?
📖 Recipe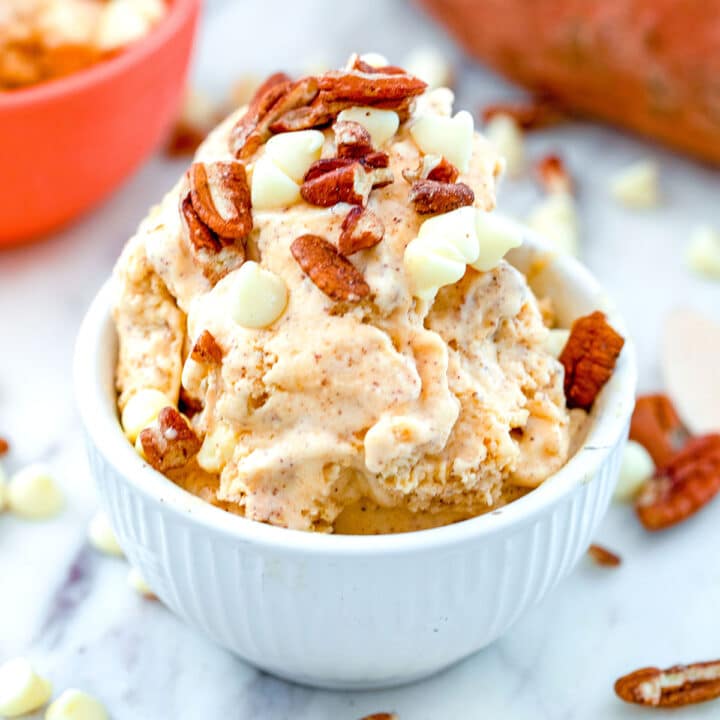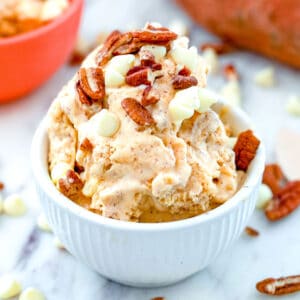 Sweet Potato Ice Cream
Sweet potatoes and ice cream may seem like an unlikely combination, but this Sweet Potato Ice Cream, packed with white chocolate and toasted pecans, will convince you it's the perfect fall ice cream flavor combo!
Print
Pin
Rate
Ingredients
1 ½

cups

heavy cream

1

cup

whole milk

¾

cup

packed brown sugar

3

large egg yolks

¾

cup

sweet potato puree

(homemade from 1 baked and pureed sweet potato or store-bought)

1

tsp

cinnamon

¼

tsp

ground ginger

¼

tsp

nutmeg

¼

tsp

salt

⅓

cup

white chocolate chips

¼

cup

toasted and chopped pecans
Instructions
In a medium saucepan, heat cream, milk, and sugar over medium heat. Stirring constantly, let mixture reach just the point of simmer before removing from heat.

Lightly whisk egg yolks in a separate medium bowl.

Slowly pour about half of the warm cream/milk mixture into the bowl with the yolks, whisking continuously. Then pour egg/cream mixture back into the saucepan with the rest of the cream mixture.

Continue to cook over low heat, while whisking. When the mixture thickens enough to coat the back of the spoon, after about 4-6 minutes, remove the saucepan from heat.

Pour cream mixture through a strainer into a large bowl.

While mixture is still hot, stir in sweet potato puree, cinnamon, ginger, nutmeg, and salt until completely blended.

Cover bowl with plastic wrap so that plastic is touching top of cream mixture (this will prevent a skin from forming). Refrigerate until chilled, at least 4 hours.

Once mixture is chilled, freeze in an ice cream maker according to the manufacturer's instructions. When ice cream is almost frozen, mix in white chocolate chips and toasted pecans.

When ice cream is frozen, remove to airtight containers and place in freezer for at least 4 hours to continue to harden.
Notes
If you're making your own sweet potato puree, bake a sweet potato at 400 degrees for 45-60 minutes (until fork tender). Let cool before peeling and pureeing in food processor or blender until smooth. If mixture is super thick, you can add 1 Tbsp water to thin it out.
Share a Photo of Your Finished Recipe!
Mention @wearenotmartha and share a photo if you've made the recipe!
View Web Story for this recipe.