This Gingerbread Ice Cream has three types of ginger in it: fresh ginger, ground ginger, and gingerbread cookies. It's a Triple Gingerbread Ice Cream that's perfect for the holidays, but is also delicious all winter long!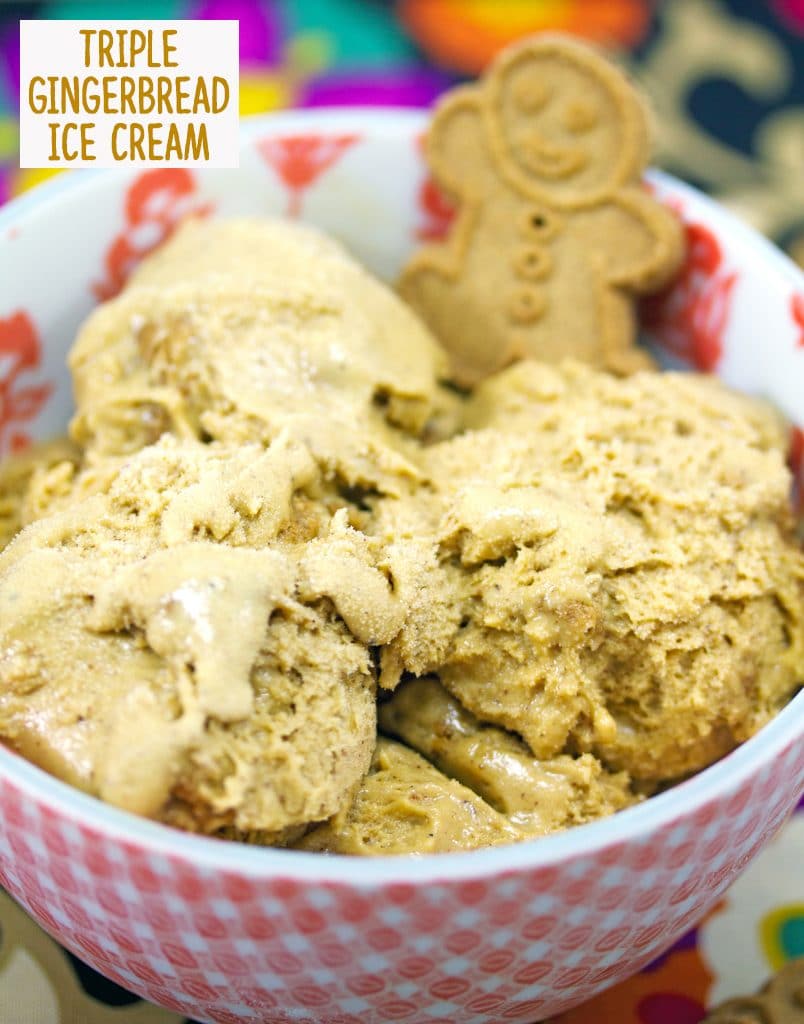 Why do so many people dislike ginger, but love gingerbread? Especially when it comes in little man form? Or house form? Or latte form? I'm non-discriminatory when it comes to ginger and when I order sushi, I often eat the ginger piece by piece. Because I love it that much. I often feel that I'm judged by this, but I don't care. Ginger is delicious and has so many health benefits and I'm getting all of them. But ginger in gingerbread form? Even better. I don't experiment with gingerbread enough on this blog and it's time to step up my gingerbread game in a major way... So, today I introduce to you Triple Gingerbread Ice Cream.
TRIPLE GINGERBREAD ICE CREAM RECIPE
And now, you guys, I think I did it. I created my most favorite ice cream yet. It was the creamiest, most flavorful homemade ice cream I've ever had the pleasure of processing in my ice cream maker. Plus, it involved whiskey. So, there's that. But the best thing about it? It's gingerbread. I'm calling it Triple Gingerbread Ice Cream, in fact. Because I added THREE forms of ginger: fresh ginger, ground ginger, and some gingerbread cookies.
Yes, ice cream in the freezing cold. There is nothing, I repeat nothing, like holiday-flavored ice creams. Unless it's lattes, I suppose. But when you're home sitting on your couch in front of the fireplace watching bad reality TV? Ice cream always wins.
The ice cream making process is pretty standard for custard-based ice creams. You'll start by heating the milk and half the cream and then adding in the sugar all all of the spices. Once the sugar dissolves, remove saucepan from heat let the mixture steep for about an hour so you'll have the most deliciously delightfully fragrant ice cream ever.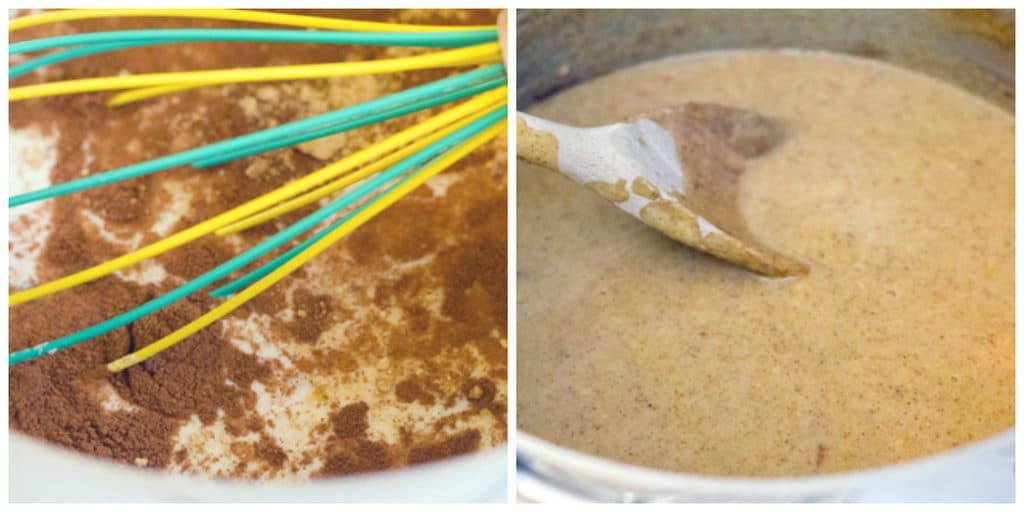 Then comes the custard process. When mixture is done seeping, bring it back up to a simmer and in a separate heat-proof bowl, whisk egg yolks. Pour about half of the hot milk mixture into the egg yolks, mixing the entire time. This will temper the eggs. Now you can pour the egg/milk back into the saucepan with the remaining milk. And then turn the heat back to medium and stir until the mixture thickens up enough to coat the back of a wooden spoon.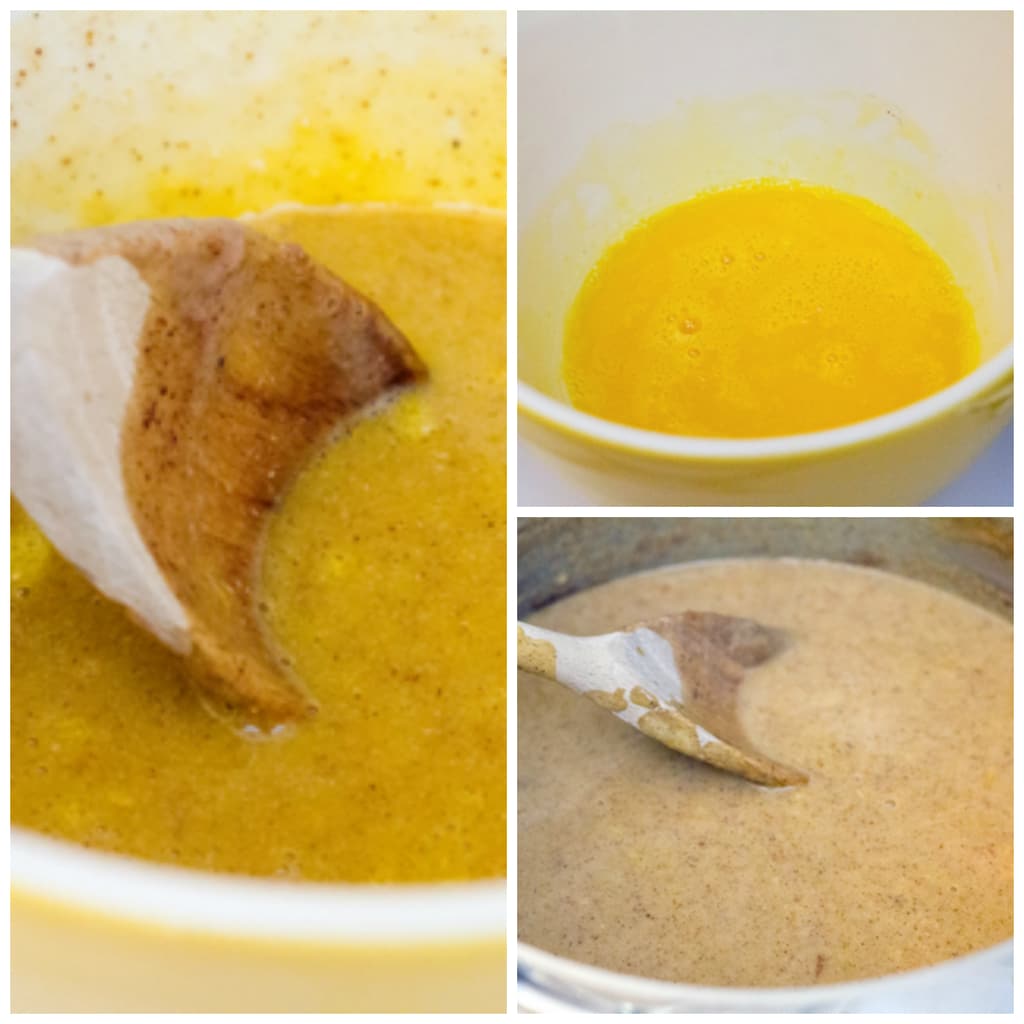 While mixture is thickening, prepare an ice bath by placing a medium-size bowl into a large bowl filled with ice. Pour remaining cup cream into smaller bowl. Strain the hot milk into the cream, making sure to stop ginger and cloves from coming through. Stir in the molasses. Yum yum. And pop this bowl in the fridge for at least 4 hours.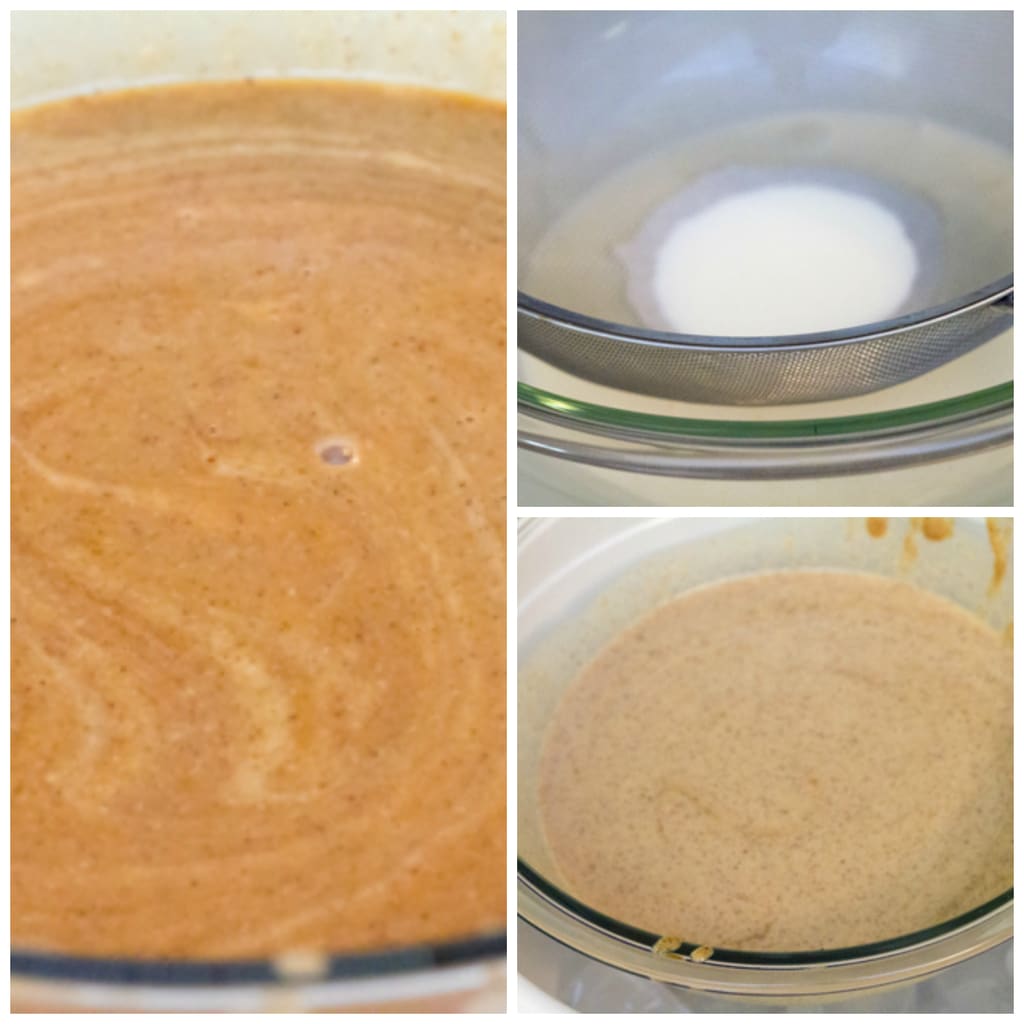 And it's time to process your ice cream! Pour the whiskey in, too, if you're using it. I just think the whiskey adds some nice dimension of flavor, but if you don't have any on hand, you certainly don't have to use it. When the ice cream is almost done processing, you'll add your gingerbread cookies into it. This just gives a little extra gingerbread impact!
Pop the ice cream into an airtight container and immediately put in your freezer so it thickens up some more to become the perfect consistency.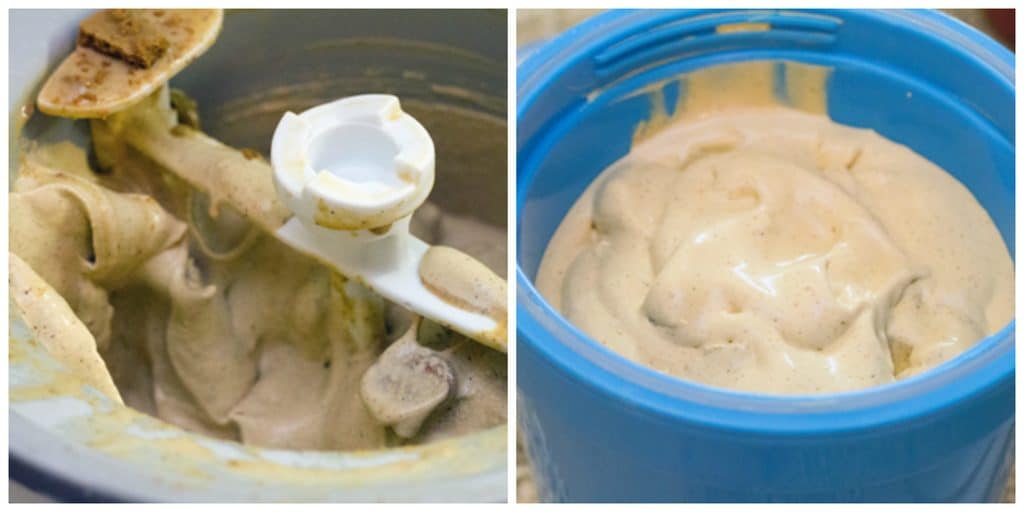 And finally, serve that delicious gingerbread ice cream in a bowl with little men for garnish, if you want. There's really not a better garnish in life. (and this is a bit more humane than my Peeps Ice Cream I believe).
Like I mentioned earlier, I was pretty much in absolute love with this ice cream. The flavor profiles were deep and very intense. Like you take a bite and immediately say, "oh my God, gingerbread!"
I'm crediting it to the fresh ginger, whiskey, and molasses. But also the fact that I've been making A LOT of ice cream lately and my ice cream making knowledge is definitely increasing.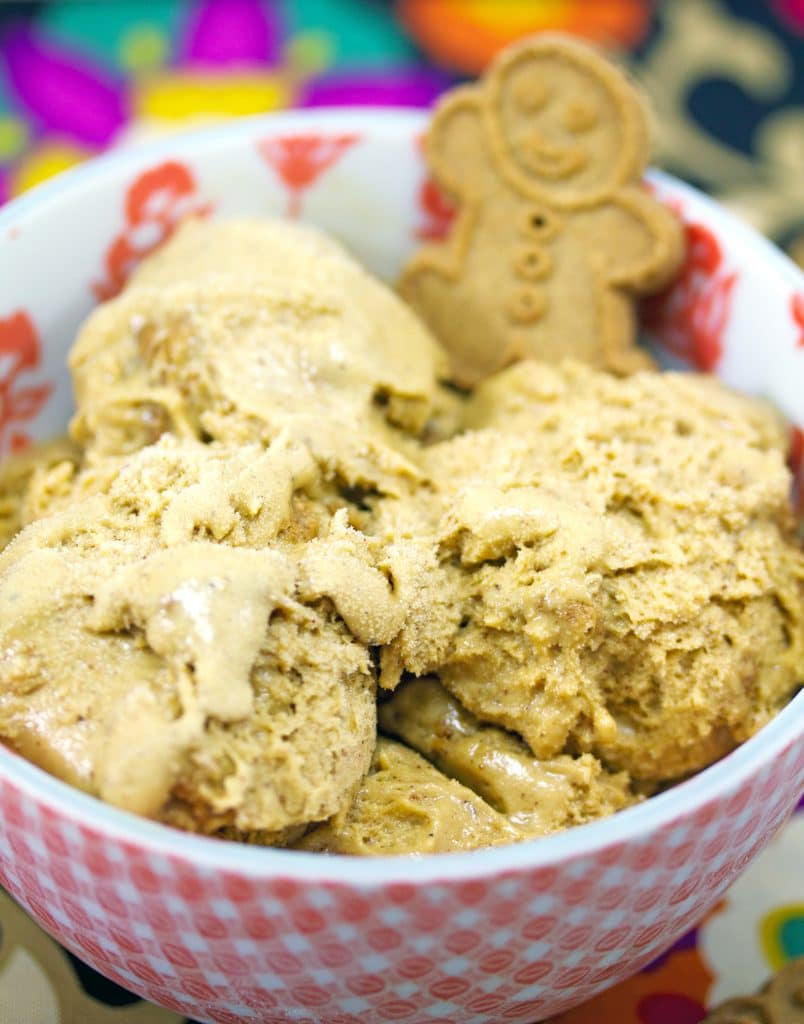 Making homemade ice cream is an addiction. A serious one. But one I refuse to get help for.
OK, so while gingerbread ice cream is most definitely a holiday-ish ice cream, I also feel like I could eat it year-round and not think twice.
Though I might need to check the freezer because I'm pretty sure Chris ate all of this while I was brushing my teeth last night. Which I consider a win as he's not your average ginger fan and cringes when he sees me gobbling it off my sushi plate.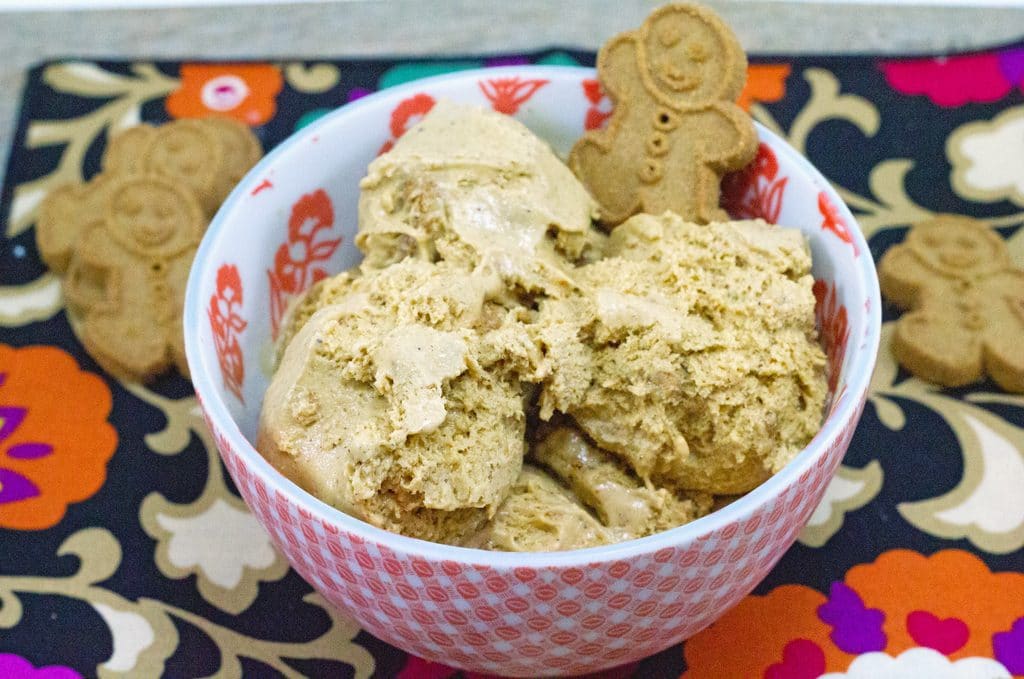 But like I said, gingerbread. Who doesn't love it?
The only way this ice cream could be better is with a side of latte. Or maybe a side of house (gingerbread house, that is).
What's your favorite holiday ice cream?
If you're looking for more delicious gingerbread recipes, check out my Gingerbread Rolls with Eggnog Glaze and my Gingerbread Cookie Cake (and if you think your dog would love gingerbread, too, make him or her these Gingerbread Puppuccinos!)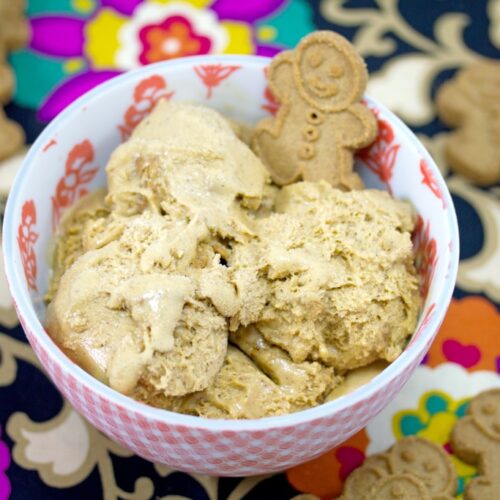 Print Recipe
Triple Gingerbread Ice Cream
This Gingerbread Ice Cream has three types of ginger in it: fresh ginger, ground ginger, and gingerbread cookies. It's a Triple Gingerbread Ice Cream that's perfect for the holidays, but is also delicious all winter long!
Ingredients
1

cup

whole milk

2

cups

heavy cream

¾

cup

brown sugar

¼

tsp

salt

1

Tbsp

chopped fresh ginger

1 ½

tsp

powdered ginger

1 ½

tsp

cinnamon

¼

tsp

nutmeg

5

whole cloves

6

large egg yolks

¼

cup

molasses

2

Tbsp

whiskey

(optional)

15

small gingerbread cookies,

crumbled (plus more for garnish, if desired)
Instructions
Heat milk and 1 cup of the heavy cream in a large saucepan over medium heat. Add in the brown sugar, salt, chopped ginger, ground ginger, cinnamon, nutmeg, and cloves and stir until sugar dissolves.

Remove from heat and let mixture steep for about an hour. Once done steeping, return mixture to a simmer.

In a separate heat-proof, medium size bowl, whisk egg yolks.

Slowly pour about half of the hot milk mixture into the egg yolks, mixing the entire time to temper the eggs.

Pour the egg/milk back into the saucepan with the remaining milk.

Turn heat back to medium and stir until mixture thickens up enough to coat the back of a wooden spoon. You don't' want your mixture to come to a boil, but want it to be quite close.

While mixture is thickening, prepare an ice bath by placing a medium-size bowl into a large bowl filled with ice. Pour remaining cup cream into smaller bowl.

Strain the hot milk into the cream, making sure to stop ginger and cloves from coming through. Stir in the molasses. Cover the bowl with plastic wrap so the plastic wrap is touching the top of the cream mixture (to prevent skin from forming) and place in the fridge for at least 4 hours.

When mixture is chilled, process in ice cream maker according to manufacturer's instructions. If you're using the whiskey, add this in while machine is processing. When the ice cream is almost done, add gingerbread cookies crumbles into it.

Put ice cream into an airtight container and place in freezer for another 6+ hour to thicken.

Serve in bowls with gingerbread men garnish