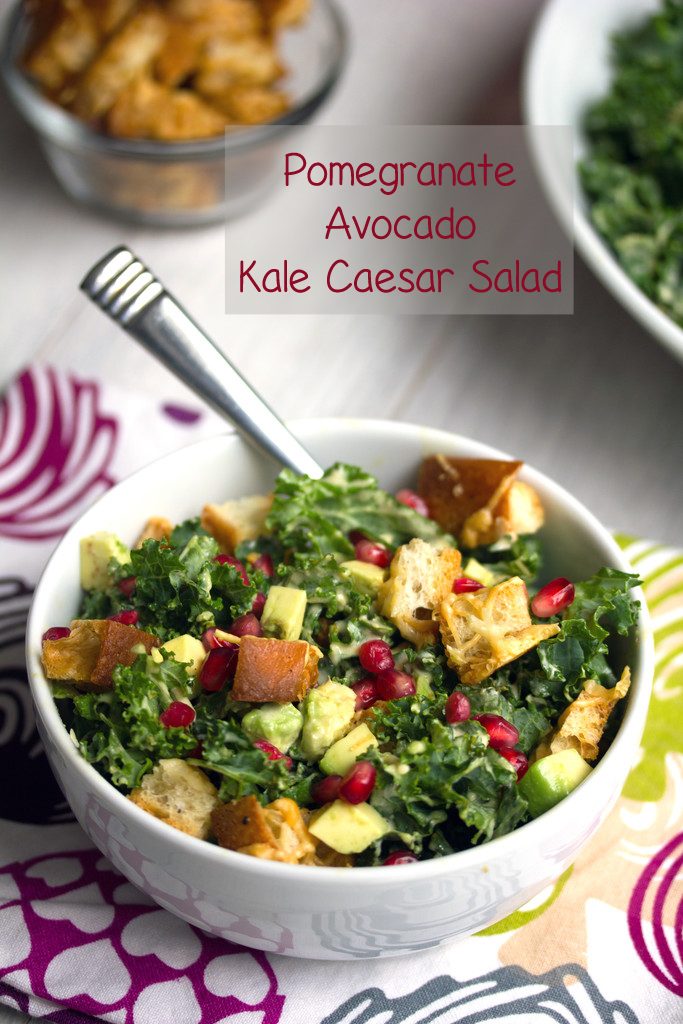 I was walking down the street in Boston last week and overheard a guy say, "I'm pretty sure liking kale means you're basic* now." I stopped in my tracks and laughed a bit (really, I wanted to chase the guy down and ask him SO many questions), but then I started thinking. Was it true? Is kale for "basics" now? If that's the case, so be it… I guess I must be the definition of basic. I've mentioned this a billion times before, but I love kale more than almost anything and I hope it never stops being a trend. Ever.
The other day, I mentioned my favorite lunch place closed and that I can no longer get my precious Kale Caesar Salad for lunch. This is probably a good thing since it's giving me motivation to bring lunch to work, but some nights I still lay awake and think about that salad. So, I did what any logical person would do. I made my own… But I made it even better!
I finally went to Wegman's for the first time last week (I mean, can we talk about this place?! Without crying because we're so happy it exists??) and I told Chris I was feeling overwhelmed and emotional by the whole shopping experience. He responded, "I know you're emotional… You just bought three different kinds of kale." I looked in the cart and realized he was right. I did have three different kinds of kale in there. So, if liking kale is basic, I'm the most basic of all. Ugh.
Oh well, let's talk about the salad! The basis for any good Caesar salad is really the dressing. From my experience, you will NEVER find a bottled Caesar salad dressing that is even close to a homemade one. And it's ridiculously easy to make, so please just whip up a batch at home for maximum happiness.
I love anchovies in my Caesar dressing. If they scare you, you don't have to use them. Or you could use anchovy post, too. To make my dressing, I put into a blender 4 anchovies, 2 cloves of garlic, 1 egg yolk, 1 T dijon mustard, 1 1/2 T fresh squeezed lemon juice, and 1 1/2 T water. Then I blend everything together for about 30 to 40 seconds until nice and smooth.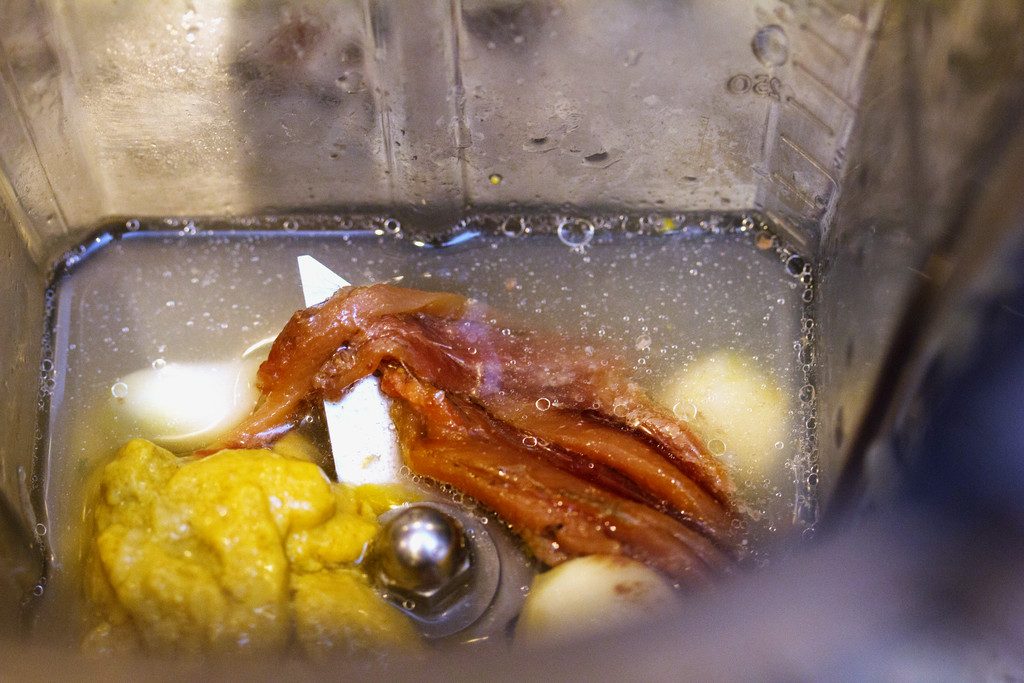 Next, I slowly pour extra virgin olive oil in with the blender still going. I start with 1/4 C, but keep pouring until I have the consistency I like (feel free to stop and taste!). I wouldn't use more than 1/2 C, though.
Pour the dressing into a bowl and stir in 1/4 C grated parmesan and some black pepper.
So, the Caesar salad dressing is really important. But so are the croutons (clearly I'm all about the health in this salad…). Again, homemade is ALWAYS going to be better. Especially if those homemade croutons involve parmesan cheese.
To make the croutons, I pre-heated the oven to 350 degrees. I cut 1/2 loaf of french bread into 1-inch cubes and put them in a large bowl. Then I tossed with 1/4 C olive oil, 1/3 C parmesan cheese, and black pepper.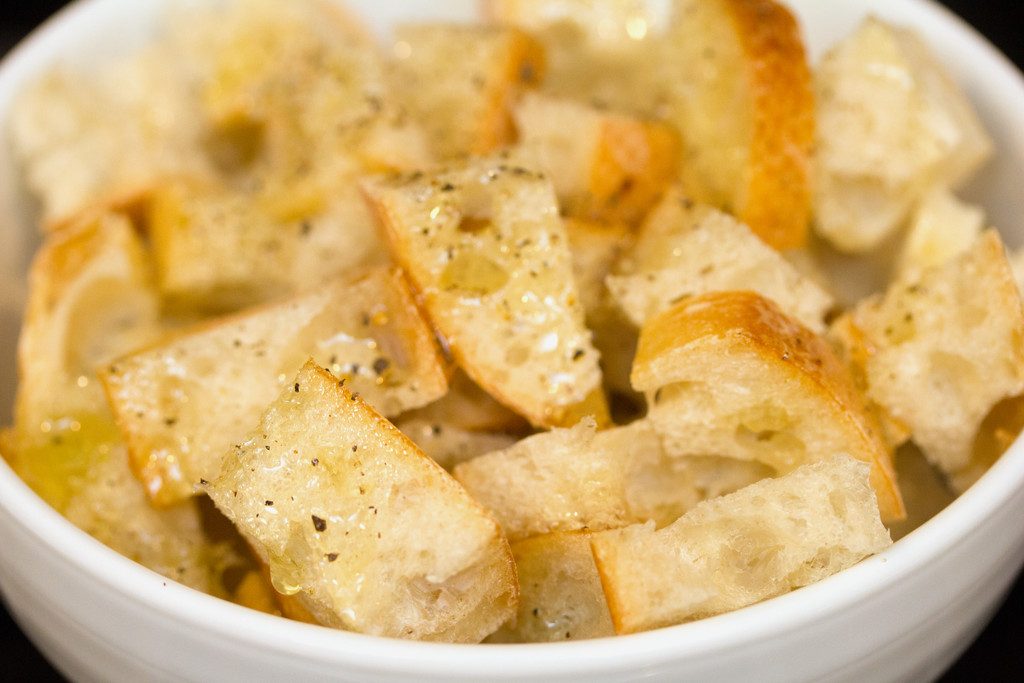 On a baking sheet covered with foil, I placed the bread cubes in a single layer.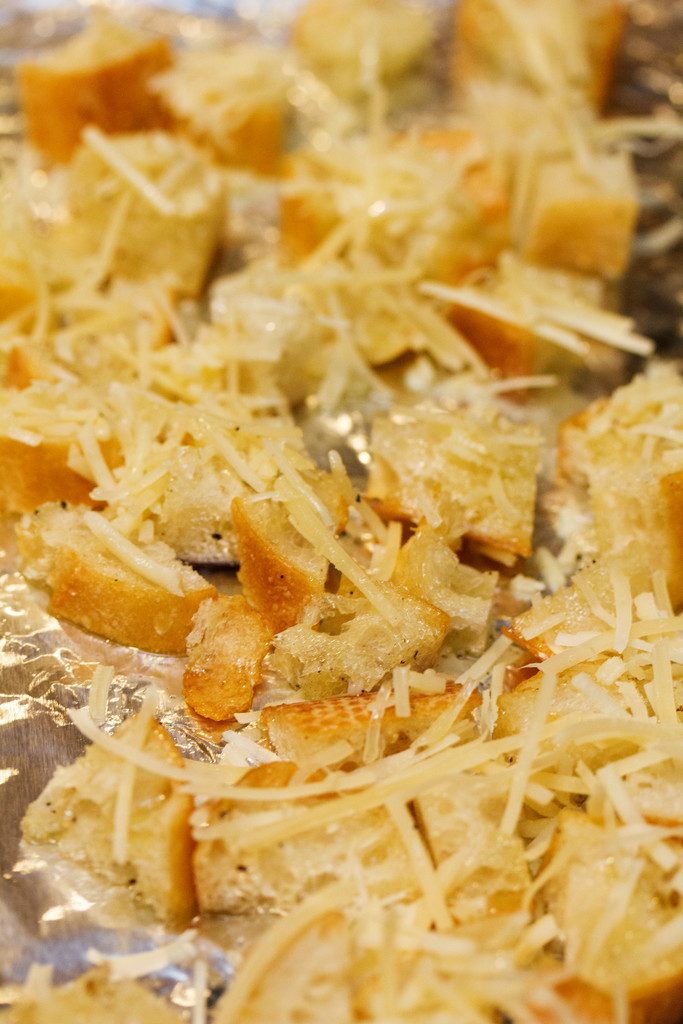 I bake at 350 degrees for about 15 minutes, until the croutons were beginning to turn golden.
Ooh la la.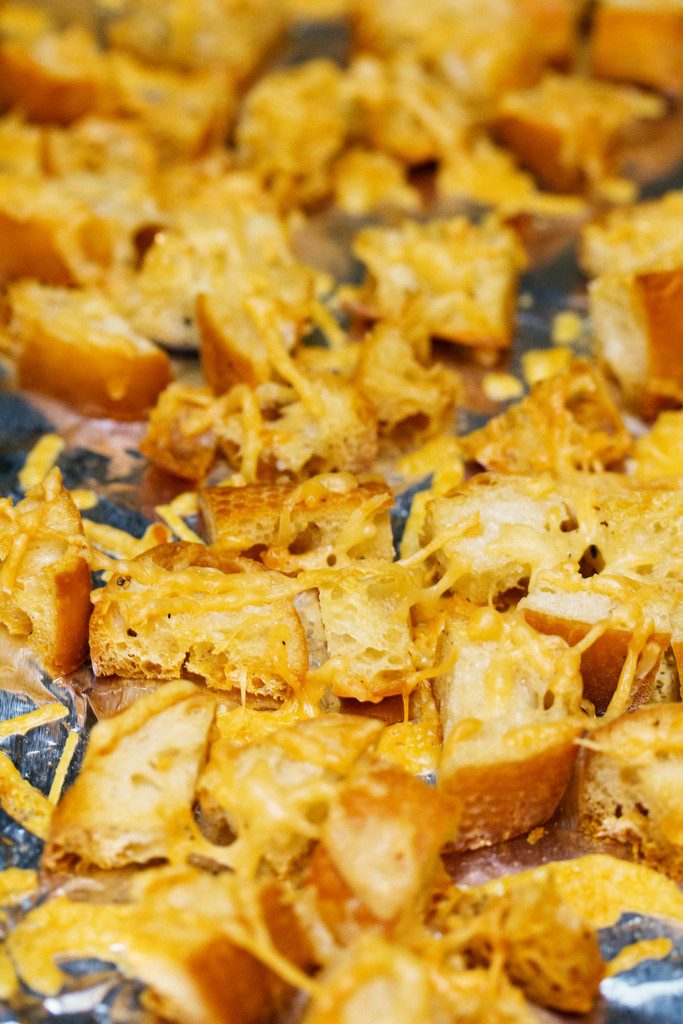 Now for the salad assembly. I filled a big bowl with about 6 C of kale! Obviously you can use any green you want here… But my whole thing is that if you're going to be indulging on this awesome dressing and croutons, you may as well get some health and vitamins in when you can. Right??
I added in 1 C pomegranate seeds and 1 avocado, peeled, pitted, and diced. And, of course, the croutons! Then I drizzled (OK, poured) dressing over the top and tossed everything together.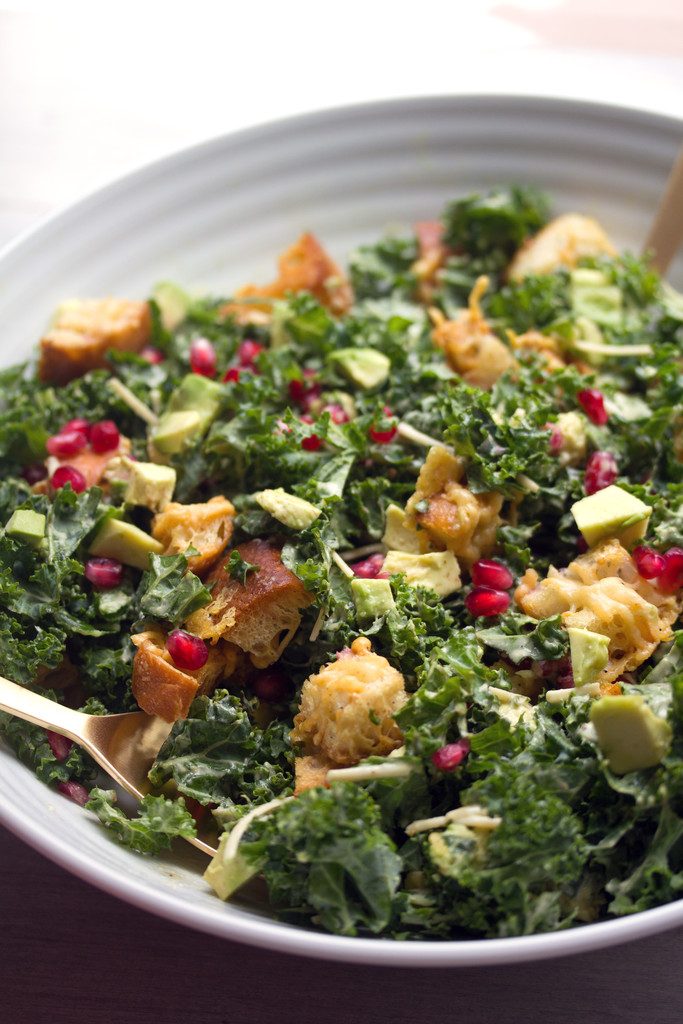 Hi, Kale Caesar Salad… Welcome back into my life.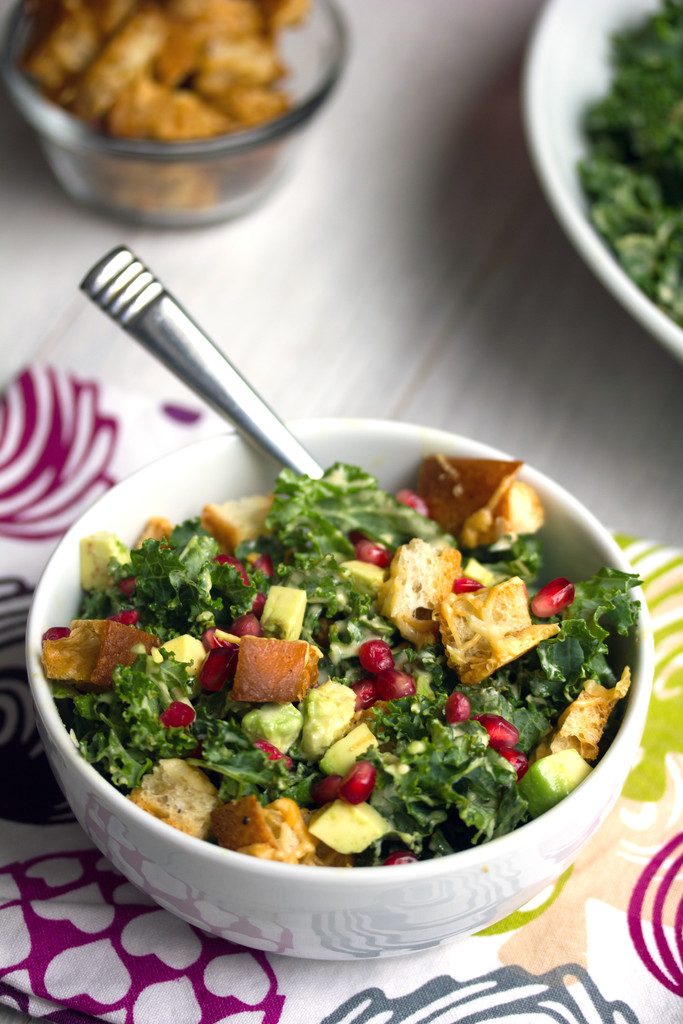 The beautiful thing is that I actually like this Caesar better than the one at my old lunch spot. I mean, the lunch one did not have pomegranate and avocado involved. Nor were the croutons coated in parmesan cheese. So, take that, old lunch spot. Who needs you anyway?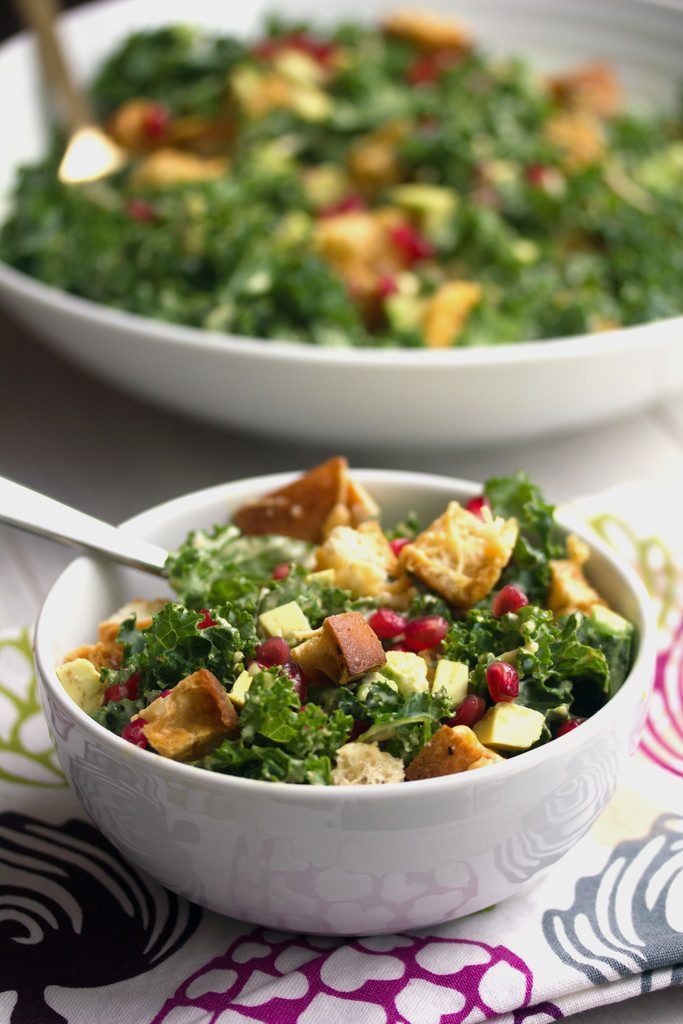 Pomegranate and avocado… It makes a world of difference!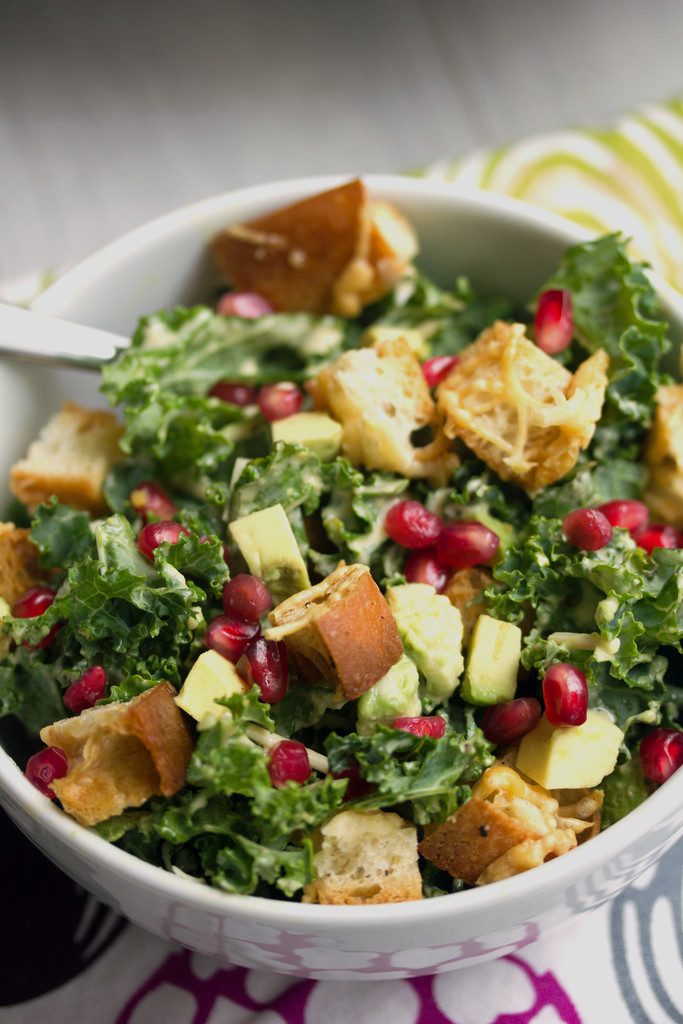 I love my dressing since it's nice and creamy, but not overly heavy. I love the way it coats the kale leaves, making them nice and tender. It's perfectly garlicky, too.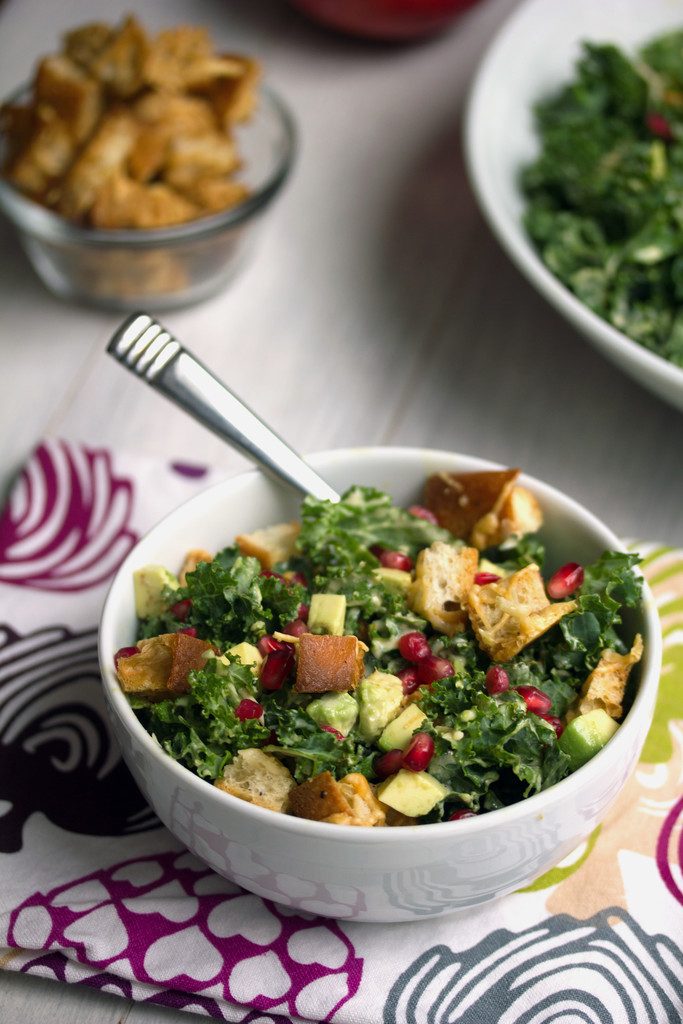 If you're still not a kale person, maybe try this salad and see if you change your mind? Like I've mentioned before, I'm a huge proponent of upgrading your greens for maximum health benefits. Iceberg and romaine just don't do it for me anymore. Salads should at least kind of sort of be healthy and offer a few nutritional benefits. Even if they are covered in Caesar dressing and parmesan croutons.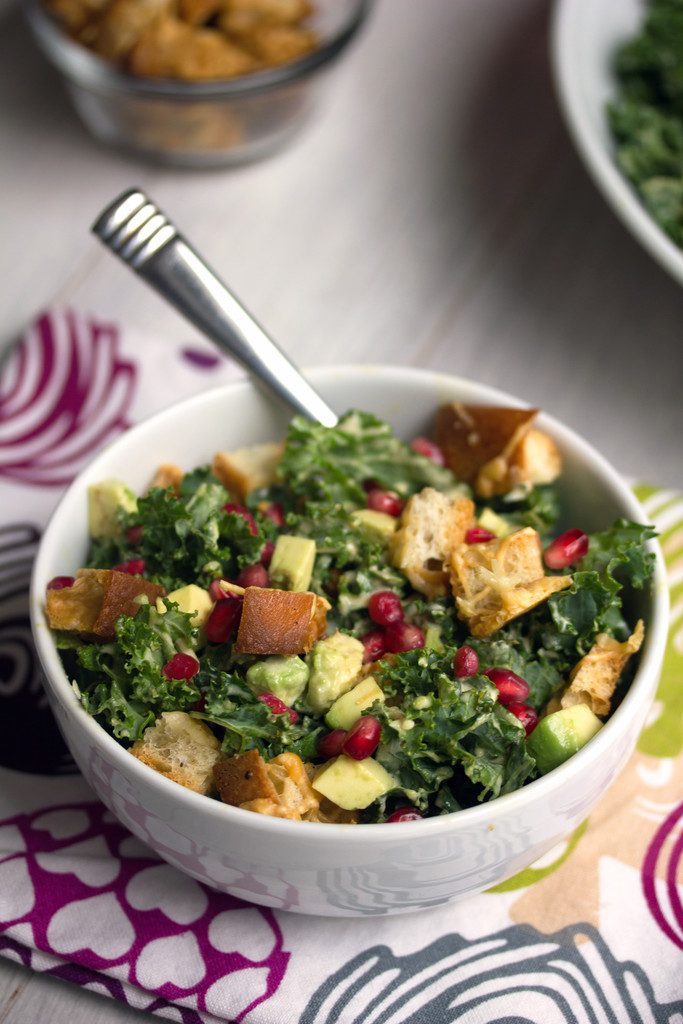 I was tempted to call this one the "Super Food Kale Caesar,' but I didn't want to be totally cheesy and trendy. But I mean… pomegranate, avocado, and kale? This is clearly a superfood salad. Take that for what you will.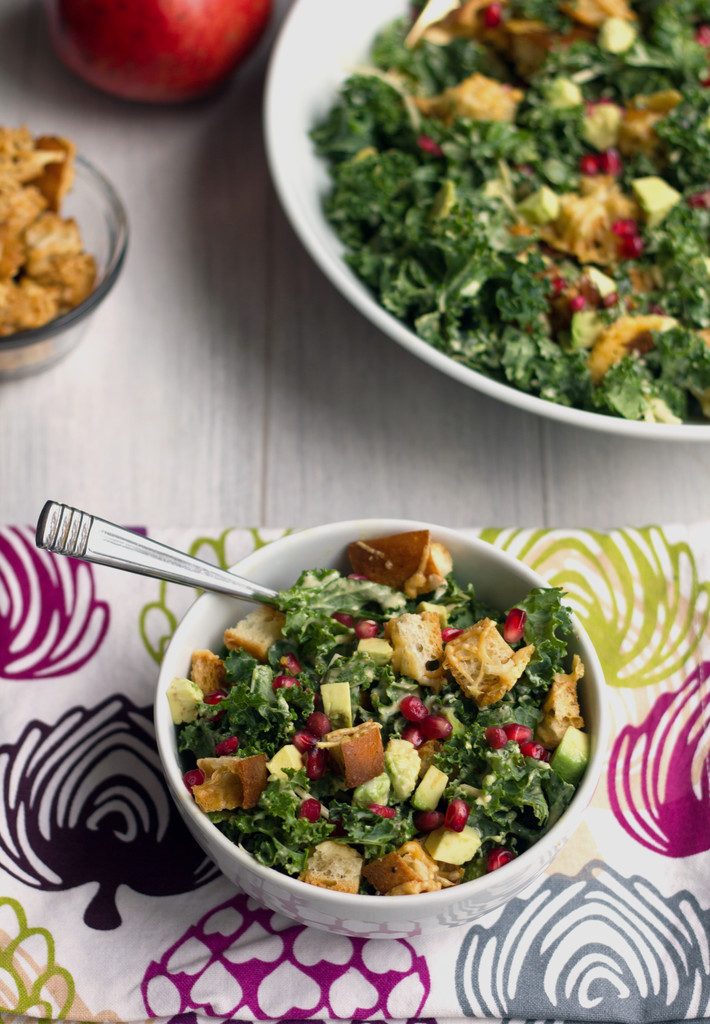 Yes, I really did buy three kinds of kale in one grocery store. But to be fair, I have never seen Tuscan (dinosaur) kale before and needed it. Also, I had never seen "Kalettes" before… those are a combination of KALE and BRUSSELS SPROUTS. So, obviously I needed to buy them. And obviously we'll be discussing those together really soon.
But only if you want to be "basic" with me.
What are your requirements for a good salad?
*If you don't know what "basic" means, this HuffPost article does a pretty good job of explaining. Also, feel free to Google for more information… you can even take "are you basic? quizzes. Good luck.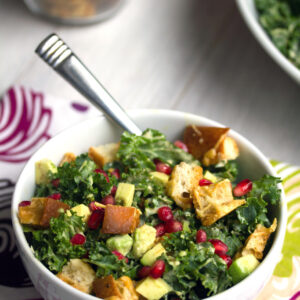 Pomegranate Avocado Kale Caesar Salad
Ingredients
Pomegranate Avocado Kale Caesar Salad:
4

anchovy fillets

optional

2

cloves

garlic

peeled

1

egg yolk

1

T

dijon mustard

1 1/2

T

fresh squeezed lemon juice

1 1/2

T

water

1/4

C- 1/2 C extra-virgin olive oil

1/4

C

grated parmesan

Freshly ground black pepper

6

C

kale

cleaned, ribs removed, and roughly chopped

1

C

fresh pomegranate arils

1

avocado

peeled, pitted, and diced

1

batch parmesan croutons

see below
Parmesan Croutons:
1/2

loaf french bread

1/4

C

olive oil

1/3

C

grated parmesan cheese

freshly ground black pepper
Instructions
Pomegranate Avocado Kale Caesar Salad:
Put anchovies (if using), garlic, egg yolk, dijon mustard, lemon juice, and water in a blender and process for about 30-40 seconds, until the mixture is smooth.

With the blender running, pour the extra virgin olive oil in slowly, until you reach the desired consistency.

Remove dressing to bowl. Stir in the parmesan cheese and ground pepper.

Put chopped kale, pomegranate arils, and avocado, and croutons in a large bowl,

Slowly pour dressing into bowl (you may not need it all) and toss ingredients together.
Parmesan Croutons:
Pre-heat oven to 350 degrees.

Cut french bread into 1-inch cubes. Place in a large bowl and toss with olive oil and parmesan cheese. Sprinkle pepper on top.

Cover a baking sheet in foil and place bread cubes in a single layer on the sheet.

Bake at 350 degrees for about 15 minutes, until beginning to turn golden.