This Caesar Salad Pizza combines pizza and salad with a thin crust parmesan dough, lots of cheese, spinach and romaine, and a creamy dressing.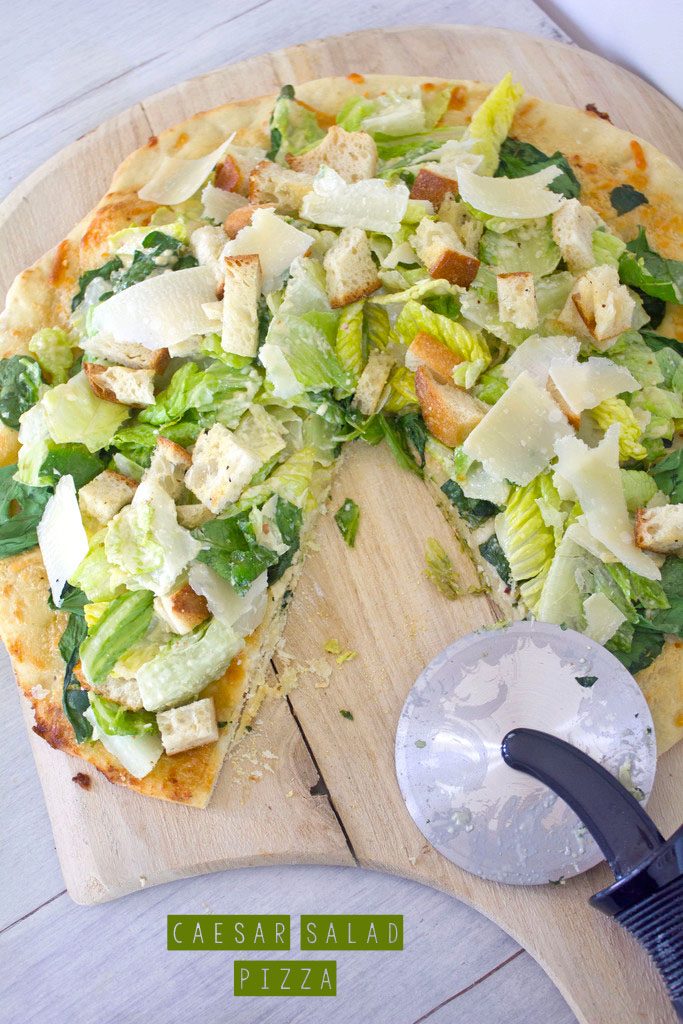 Hi, Monday. I vote that we all go back to bed and declare today a wash. No? I don't have the power to make those kinds of decisions? OK, then let's at least have pizza for dinner. Traditionally, Friday night is pizza night, but I'm sick of letting Fridays have all the fun. They have cocktails, Dateline, and everyone in a good mood.
Mondays get "a case of the Mondays," meetings, and that constant feeling that you didn't use your weekend as wisely as you should have. Well, and The Bachelor. Thank goodness because I'm not sure I could do them if I didn't at least have that small concession. But yes, I know that for most of you, that is not a Monday perk at all and is maybe even another strike against Mondays. In that case, you probably aren't interested in hearing all about the Bachelor podcast I discovered yesterday (because I totally need to spend another hour of my week on all things bachelor-related). I won't bore you with my thoughts and opinions on this season (ugh, I have SO many).
Anyway, I consider Caesar salad my old standby food. I'm pretty much always in the mood for it, sometimes I seriously crave it, and it never lets me down. I sometimes feel bad about ordering it out probably because it makes me feel like a kid. It was pretty much all I ate at restaurants (that and french onion soup) for a good few years when I was in middle school.
But I never feel bad about making it at home, sometimes as a meal and sometimes as a side. Caesar salad goes especially well with pizza... And now I know that it also goes well ON pizza. Now, instead of just craving Caesar salad, I've been thinking about this Caesar Salad Pizza nonstop.
CAESAR SALAD PIZZA RECIPE
I made my own crust (with parmesan dough!), but you could also feel free to use store-bought dough instead. While I felt that this Caesar salad must be made with romaine lettuce, I wanted to add a little bit of nutrition, so I layered on some baby spinach leaves, too.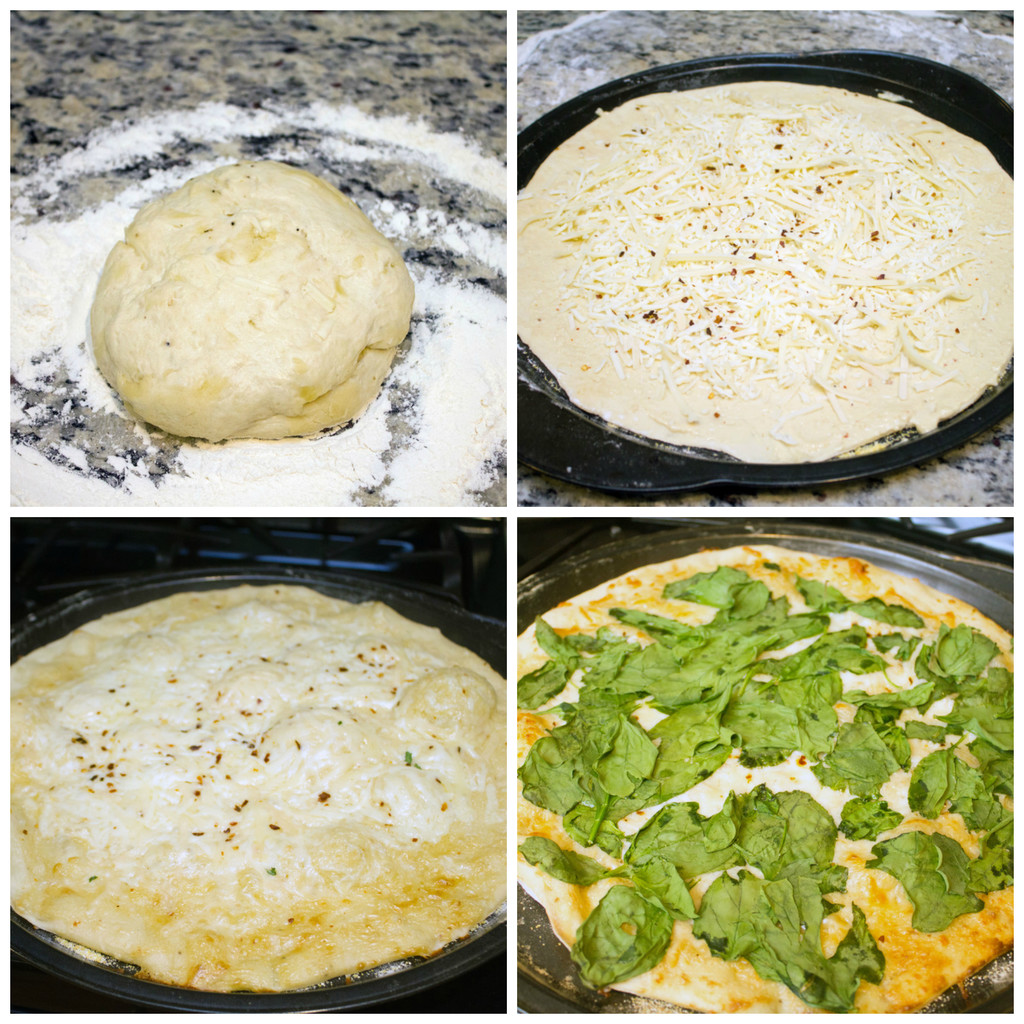 And obviously plenty of dressing, parmesan and mozzarella cheese, and croutons. All on top of a super crispy thin crust, which is my favorite kind of crust in the world.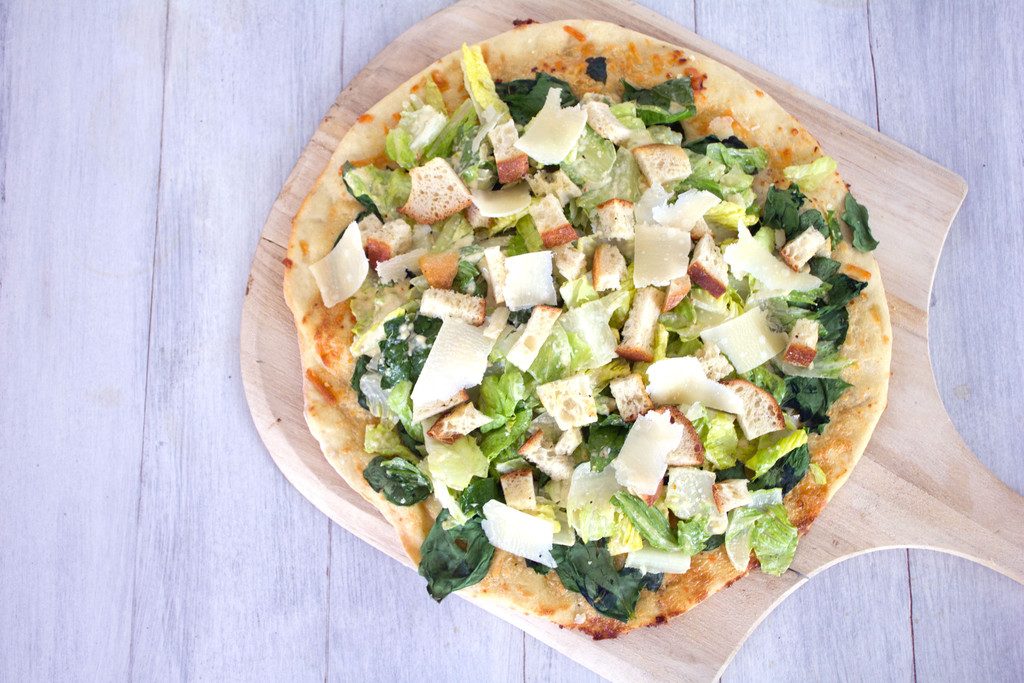 Legit I could eat this entire Casear salad pizza on my own. In fact, this would probably land on my list of top 10 foods I could never get sick of. Somehow, I practiced self control and ended up having some leftovers to bring to work the next day. Which also made for the best Tuesday ever.
Obviously this would be just lovely on a Friday. But I feel like I'd appreciate it more after a long hard Monday when I just want to sit and watch The Bachelor and have a little downtime before the rest of the workweek. I'm already happy enough on Fridays and have enough joyful activities to keep me occupied. I wouldn't even be able to give this Caesar Salad Pizza the attention it deserves.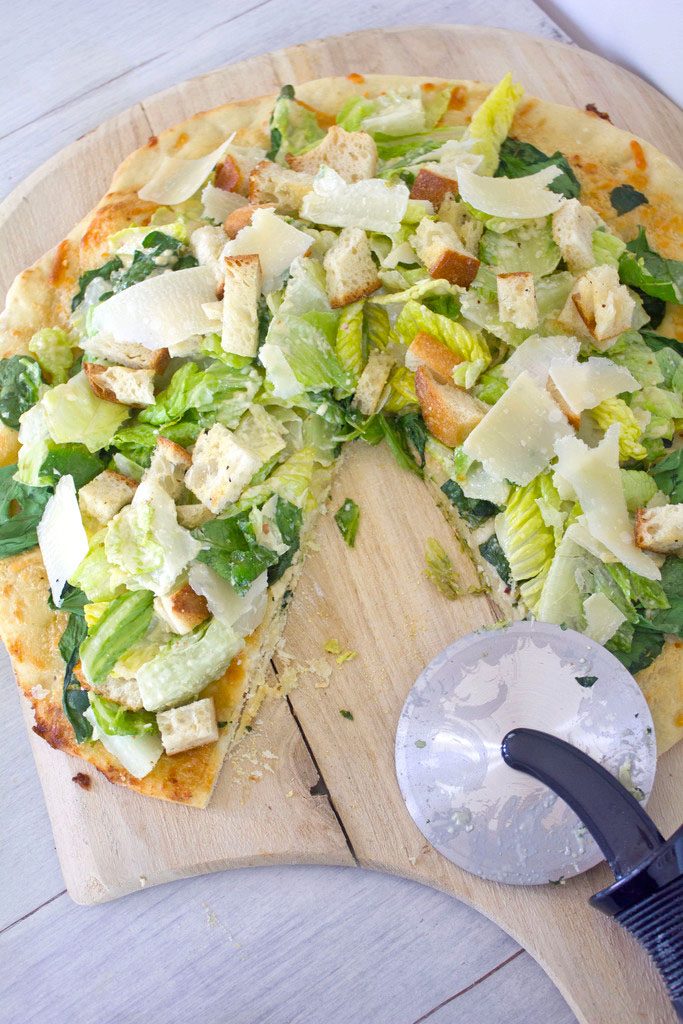 Also, the dough and Caesar dressing will stay good in your fridge for a couple days, so you can make them on the weekend and then just assemble everything when you're done with work on Monday. See? I'm trying to make your Monday as easy for you as I possibly can!
And when you know this Caesar Salad Pizza is waiting for you at the end of a long Monday, getting through the day will be a breeze. You can just repeat to yourself over and over "pizza, pizza, pizza..." (but not in that Little Caesar's Pizza voice, please). I'll probably throw in a few "Bachelor, Bachelor Bachelors," too, but you don't have to.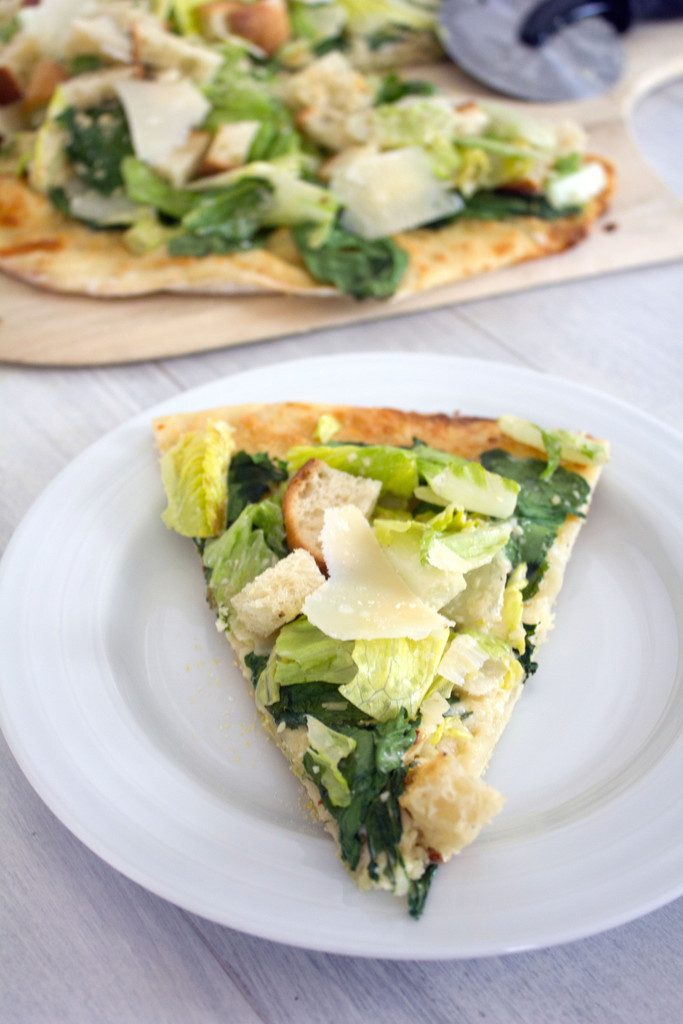 So, there you have it. Monday night is now pizza night and I just made it so much easier for you to get through your day. I vote we all start with this Caesar Salad Pizza and that we cuddle up for the night and put something good on TV while we eat. And when I say "good," I obviously mean "really trashy and ridiculous and played out." But if you'd prefer to watch some actual quality television, all the more power to you.
What's your Monday night television show of choice?
If you're looking for more unique pizza ideas, be sure to check out my Shrimp Scampi Pizza or my French Onion Soup Pizza.I'm also really excited to try this Lasagna Pizza from Pastry Chef Online!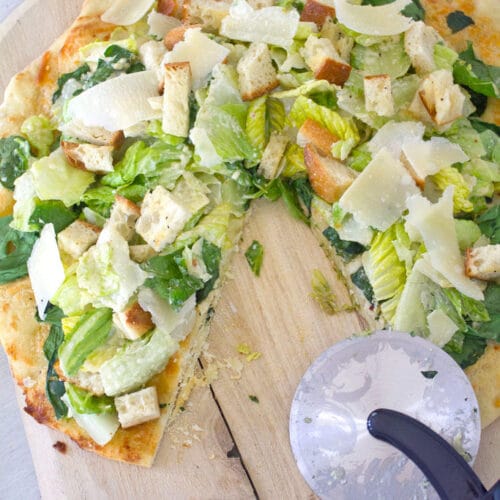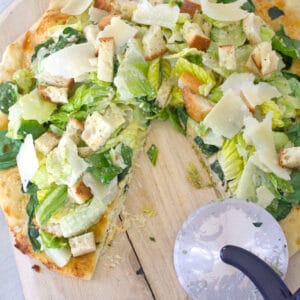 Caesar Salad Pizza
This Caesar Salad Pizza combines pizza and salad with a thin crust parmesan dough, lots of cheese, spinach and romaine, and a creamy dressing.
Print
Pin
Rate
Ingredients
Parmesan Pizza Dough

(recipe below)

Olive oil,

for brushing dough

¾

cup

mozzarella cheese

¾

cup

grated parmesan cheese,

plus shaved parmesan for topping pizza

1

tsp

red pepper flakes

2

cups

baby spinach leaves

2

cups

chopped romaine lettuce

½

cup

croutons

(homemade or store-bought)

1

batch Caesar Dressing

(recipe below)
Parmesan Pizza Dough
1 ½

cups

lukewarm water

¾

Tbsp

granulated yeast

(I used rapid rise)

¾

Tbsp

salt

½

Tbsp

sugar

⅛

cup

extra-virgin olive oil

3 ¼

cup

unbleached all-purpose flour

½

cup

grated parmesan cheese
Caesar Dressing
1

clove

garlic

¼

cup

fresh parmesan cheese

¼

cup

lemon juice

1

tsp

Worcestershire sauce

1

Tbsp

dijon mustard

1

tsp

red pepper flakes

2

anchovy filets

(optional)

1

egg yolk

½

cup

extra-virgin olive oil
Instructions
Pre-heat oven to 450 degrees. Place pizza stone or foil-covered round pan in oven while it's heating.

On a floured surface, separate dough in half and roll half of it out into a large round (wrap the other half in plastic and keep in the fridge for another pizza).

Remove pizza stone or foil-covered pan from oven, sprinkle a little flour and/or cornmeal over, and place dough round on top. Brush dough lightly with olive oil.

Sprinkle mozzarella cheese, parmesan cheese, and red pepper flakes over pizza dough.

Bake pizza for 5 minutes. Remove from oven, place spinach on pizza, and bake for another 6 minutes.

Remove pizza from oven and top with romaine hearts, croutons, Caesar dressing, and parmesan shavings.
Parmesan Pizza Dough
Mix yeast and water in a large bowl and let rest for two minutes.

Stir salt, sugar, and extra-virgin olive oil into the mixture.

With a wooden spoon, mix flour into the mixture. If dough is dry, add more water, 1 Tbsp at a time.

Gently knead parmesan cheese into the dough.

Cover bowl with a kitchen towel and let rest in a warm spot for about 2 hours so dough can rise.

Wrap dough in plastic wrap and refrigerate until ready to use. Recipe makes enough for two large pizzas.
Caesar Dressing
In a food processor, add garlic, parmesan cheese, lemon juice, Worcestershire sauce, dijon mustard, red pepper flakes, anchovies (if using) and egg yolk and blend together.

While food processor is still running, slowly pour ½ cup of extra-virgin olive oil in. Blend well.

Taste and add more olive oil if necessary.
Notes
Dough recipe makes enough for 2 large pizzas.
Share a Photo of Your Finished Recipe!
Mention @wearenotmartha and share a photo if you've made the recipe!