I really need to get going if I want to get in all my pumpkin recipes before Thanksgiving. This recipe for Pumpkin-Chocolate-Chip Squares is probably one of my all-time favorite recipes, pumpkin or not. I made it last year and pretty much everyone who had it was obsessed with it. My sister pestered me for the recipe for a whole year (I finally gave it to her when pumpkin season started again. I don't believe in eating pumpkin foods between the months of January and September. And December's stretching it a bit) and everyone she's made it for has loved it and demanded the recipe as well. A couple people have even e-mailed me this recipe because they know I'm obsessed with all things pumpkin and Martha Stewart.
So yes, it's one of the best pumpkin recipes you'll ever find. Oh, and it's super super easy and I generally have all the ingredients involved in my apartment at all times.
Here's what you need to make Pumpkin-Chocolate-Chip Squares:
2 cups all-purpose flour

1 T pumpkin pie spice

1 t baking soda

3/4 t salt

1 C (2 sticks) unsalted butter

1 1/4 C sugar

1 large egg

2 t vanilla extract (I always use more)

1 C canned pumpkin puree

1 package semisweet chocolate chips (I usually use less just because I don't like the chocolate overpowering the pumpkiny-ness.)
Whisk the flour, pumpkin pie spice, baking soda, and salt in a mixing bowl.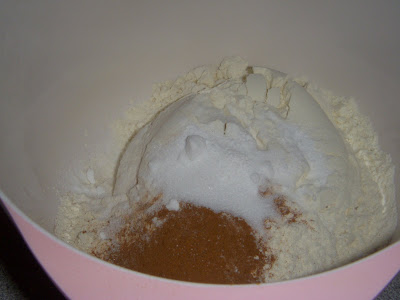 In a different bowl, cream the butter and sugar on medium-high until smooth. And FYI, when I first started making this recipe, I didn't have a mixer and did it all by hand and it wasn't too tough at all. Obviously having a mixer makes things incredibly simple, but it's definitely possible without (But, Christmas is coming. Put it on your list!). Beat in the egg and vanilla until they're combined and then beat in the pumpkin puree. And like the recipe says, it does look a little curdle-y and weird, but it's totally fine.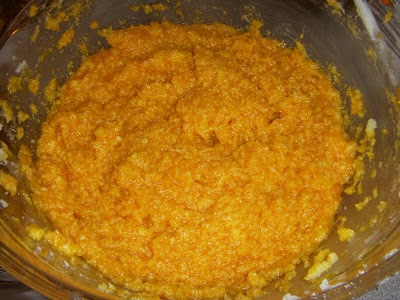 Now mix the dry ingredients in on low until they're all combined.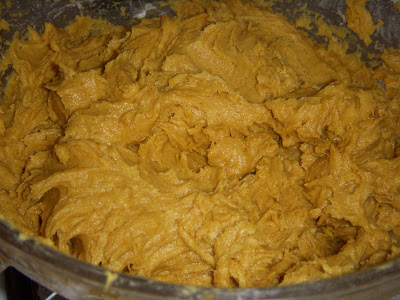 Then stir in the chocolate chips. You should use a 9×13 pan (or somewhere around that) and line it with foil. This makes taking the squares out of the pan sooo much easier. Trust me. Pour the batter evenly into the pan and put it in the oven at 350 for 35-40 minutes.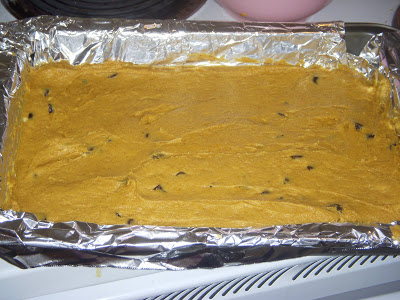 It should be a little bit brown on top, but make sure it's cooked all the way through.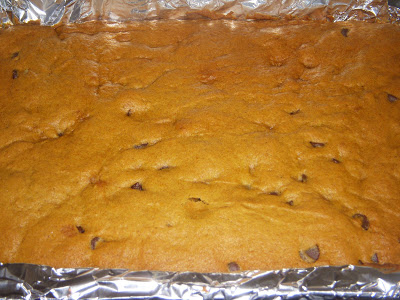 Now let it cool and then carefully pull the foil out of the pan and cut into squares.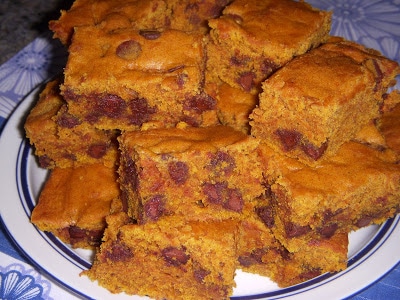 I'm being completely honest when I say these are absolutely amazing. Every time I've made them, they've come out perfectly moist and people go absolutely crazy for them.