These Pumpkin Spice Linzer Cookies are filled with pumpkin cinnamon buttercream and are the perfect pumpkin-shaped fall cookie!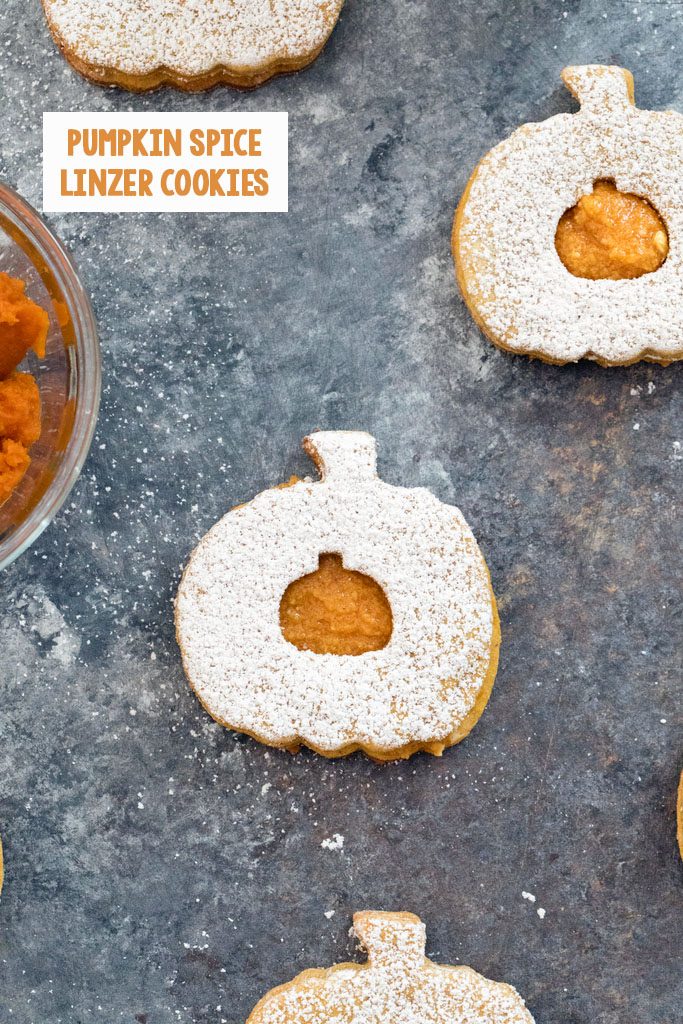 I never want to sit in a car ever again. Ever. OK, that's not totally true because I've obvi got places to go and people to see, but after driving alllll the way from Boston to Richmond, VA, and back again, my butt hurts. It could also have something to do with the fact that my dog basically slept on my lap for the entire 12+ hours each way, but she was so sweet and cute and NOT barking or crying, so I wasn't about to move her.
But legit, that drive is no joke and I say that as a person who merely sat in the passenger seat while my amazing husband drove the entire way. Other than not having to be behind the wheel (in the rain, omg the rain), the only things that can make a 12-hour car ride semi bearable are as follows:
Having an adorable pup sleeping on your lap
Jamming out to the Hamilton Soundtrack (which basically covers all 12 hours of the road trip, especially if you follow the soundtrack with the Mixtapes)
Forcing your husband to listen to food and blogging podcasts (he was driving, so the least I could do was entertain him, right??)
The beginnings of fall foliage. It's already happening, friends! The leaves are turning! We drove through some seriously pretty stretches, mostly in Connecticut (related: who knew Connecticut was so freaking big?!?!)
Road snacks (however, it should be noted that said road snacks are not nearly as fun when you have a begging dog on your lap)
I will admit that I go WAY overboard on packing food for road trips. I basically pack like we're going on a month venture trip into the wilderness with no hope for sustenance aside from what we carry with us. And then, without fail, the coolers and bags of food that I bring end up buried under our suitcases and bags of shoes in the way back trunk, never to be reached while the car is in motion.
That's why I always try to remember a simple rule: Always keep a Tupperware of cookies in the front seat. For drive-time emergencies and all that.
You can consider this recipe major follow-through from my post back in June when I made Lavender Lemon Cookies and said, "Come fall, I'm already planning to make little pumpkin linzer cookies with a cinnamon pumpkin butter filling. You can hold me to that." I literally said that. And I also literally have not stopped thinking of pumpkin linzer cookies since June. And now I'm here to deliver.
Pumpkin Spice Linzer Cookies Recipe
I personally think these cookies are super cute (#humblebrag), but even better? They're super easy to make! I don't make a lot of "cute" baked goods because they never seem to actually come out cute for me, so if I can make these cute cookies, you can, too!
The cookie dough comes together quickly and then after chilling, it's pretty easy to roll out and cut into shapes. Since these are pumpkin spice linzer cookies, I highly recommend making them in the shape of pumpkins, but if you wanted to make a more traditional linzer cookie shape or a ghost or a heart, anything goes.
I got a set of three pumpkin cookie cutters on Amazon, which aren't available anymore, but this set (affiliate link) should work, too.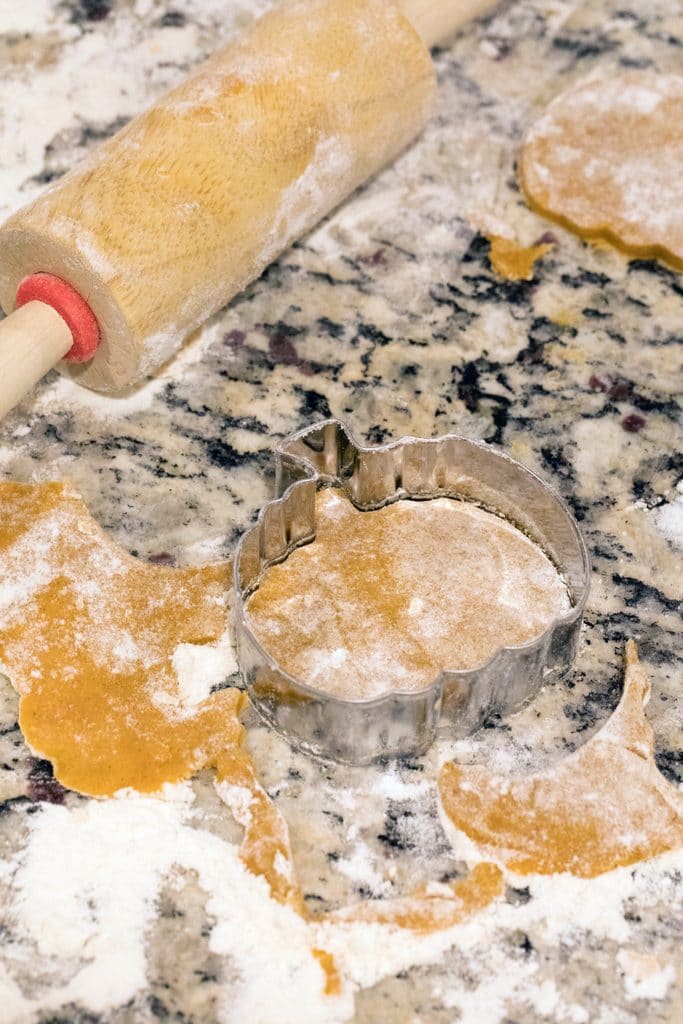 The dough does need to chill for a bit before you cut out the shapes and then the shapes need to chill again once they're on the parchment paper-lined baking sheet.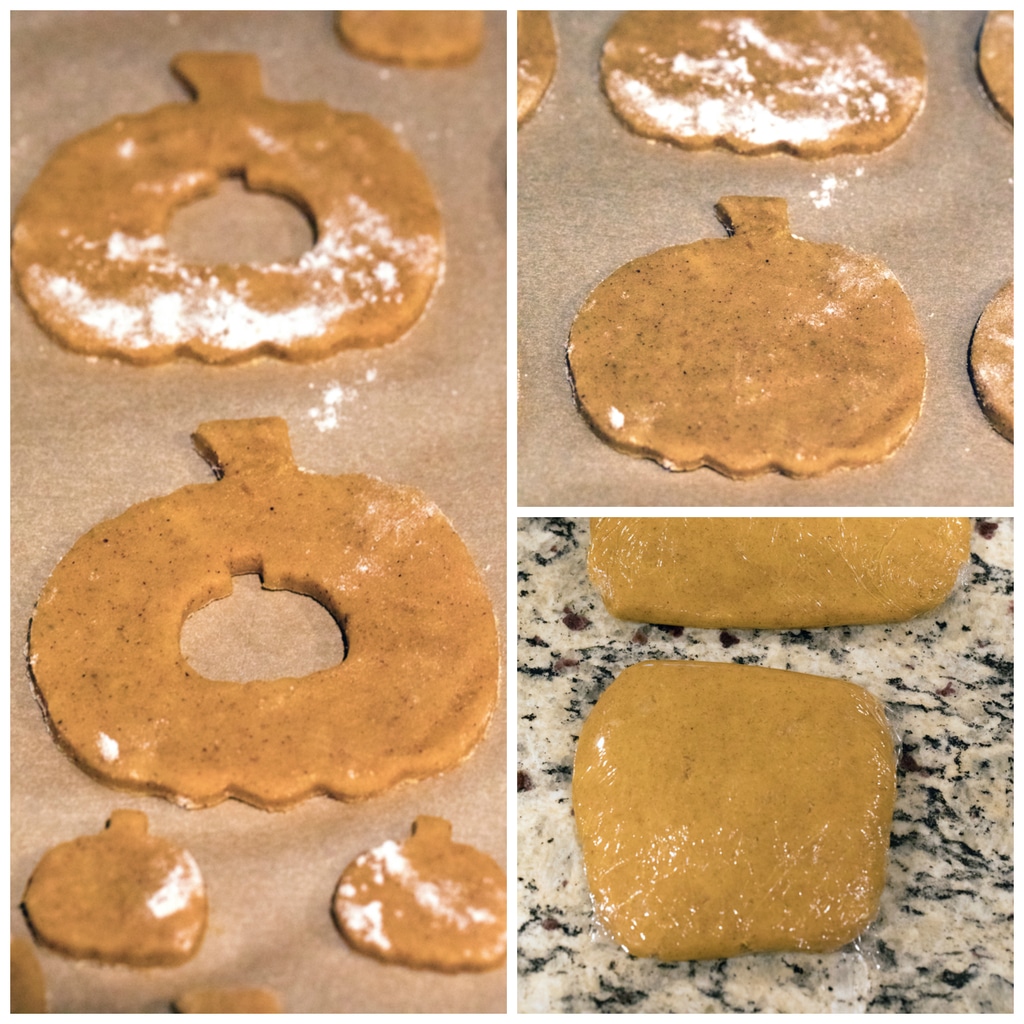 While the cookies are baking, you can make the super easy filling. Which just happens to be a super pumpkin-y pumpkin buttercream with cinnamon that I would have eaten with a spoon if I didn't have cookies to make.
But instead, I diligently filled my pumpkin-shaped cookies and waited until all twelve were complete before licking the bowl clean.
And then I allowed myself one cookie and I allowed Chris one cookie, before packing up the rest of the pumpkin spice linzer cookies for our road trip. But omg they were good. They had the perfect amount of crunch and the best intensity of pumpkin spice flavor.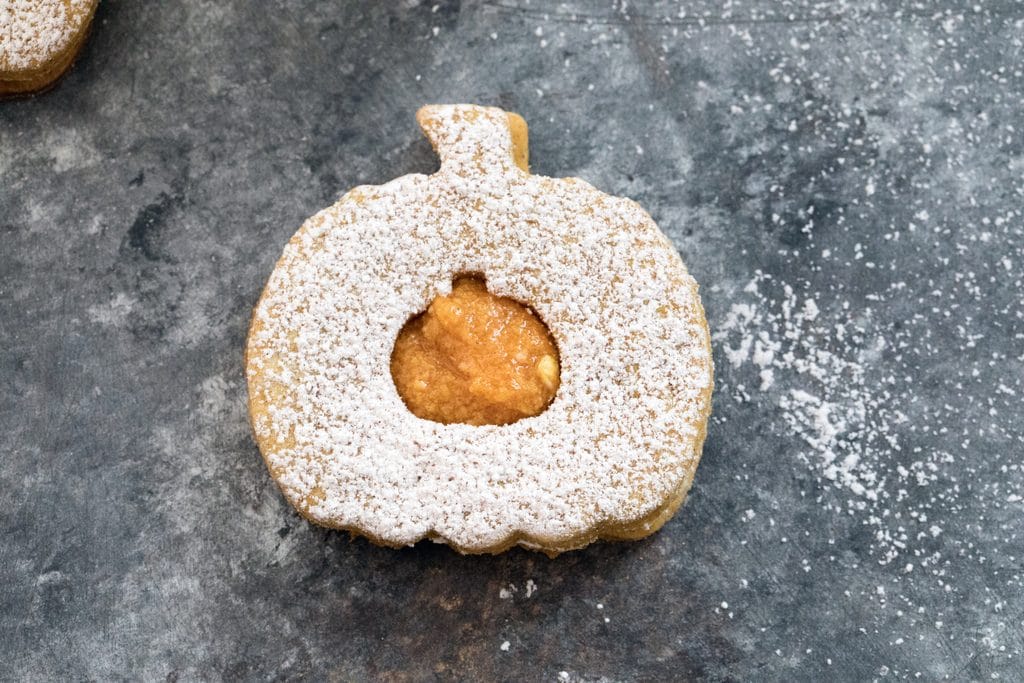 I almost has to ask Chris to hide the cookies from me before we left on our trip. But I knew that instead of hiding them, he'd probably just eat them all. Between the two of us, we probably require some sort of childproof cookie jar (that's gotta exist, right??).
And guess what? I then idiotically packed the Tupperware full of cookies in the very back of the car, under a giant bag of dog treats. But that's OK because it meant that when we got to Chris's family's house, we still had a full Tupperware to share with everyone.
And I was much happier sharing these pumpkin spice linzer cookies with family than sitting in a car stuffing my face with them while singing "Satisfied" from Hamilton with powdered sugar covering my face.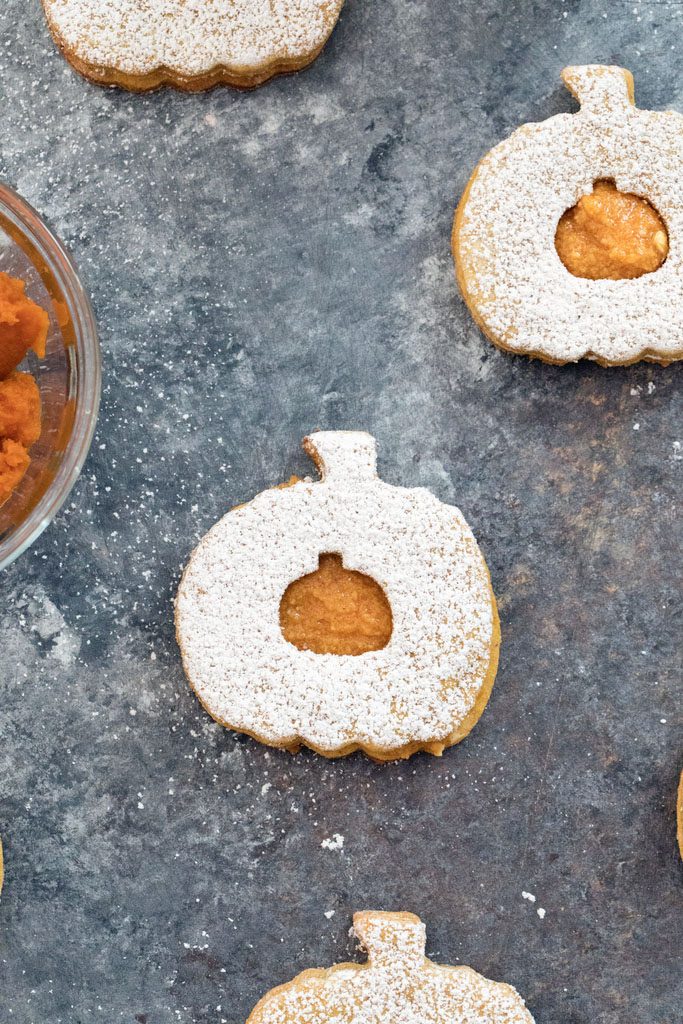 Not that that doesn't sound like a seriously lovely experience. After 12 hours in a car, I was willing to do pretty much anything for a little entertainment that doesn't include critiquing everyone else's driving skills (verdict: most people don't know how to drive. People from Massachusetts/New England actually do know how to drive... they're just jerk drivers... Not sure what's worse).
Seriously though, I'm all set with being in a car for now.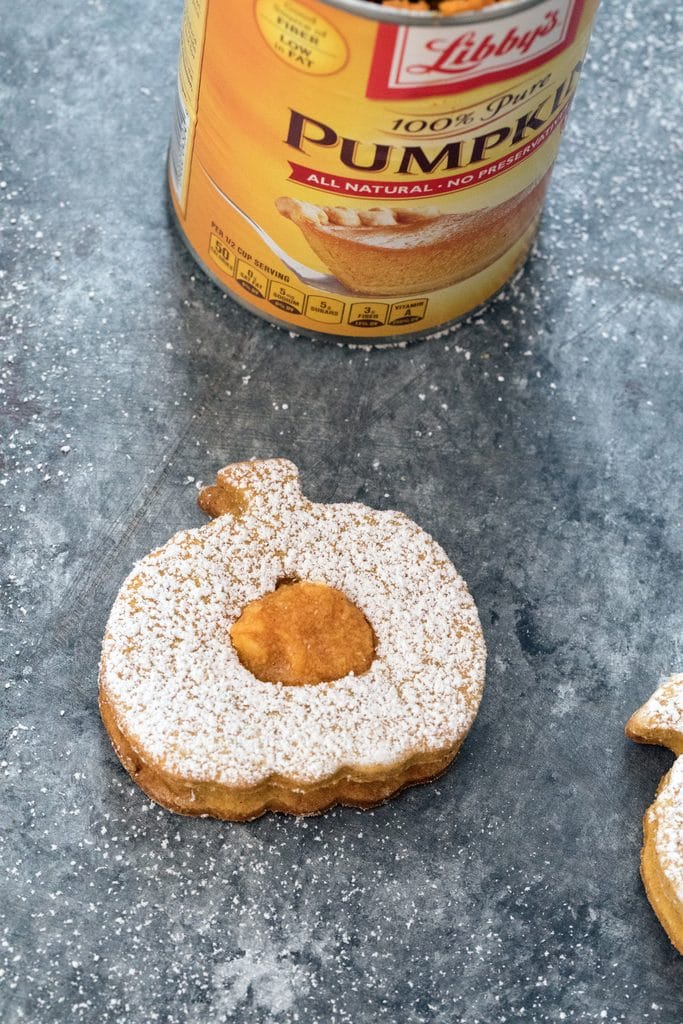 But I'm thrilled that fall has just begun (um, it was 80 degrees in Boston today... but will be in the 60s tomorrow!) and there's still plenty of time left for these Pumpkin Spice Linzer Cookies.
You better believe I'll be making them again before the season is over. But for now, I'm starting to plan my holiday linzer cookie recipe.. I'm thinking either candy cane or cranberry, but will obviously update you soon!
What are your favorite road trip snacks?
If you're looking for more fun pumpkin treats, be sure to check out my Pumpkin Cinnamon Rolls and Pumpkin Eggnog Danish. I also love these Chocolate Pumpkin Butter Cups from Build Your Bite!
📖 Recipe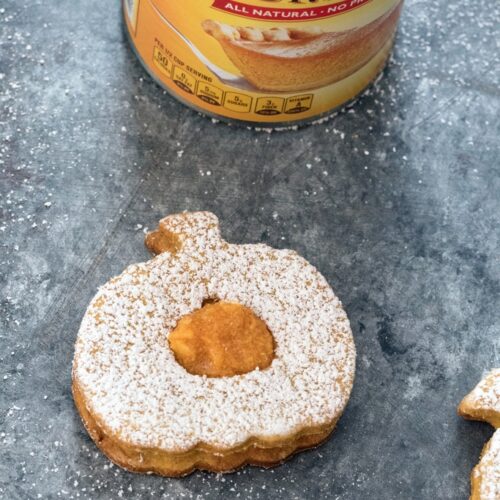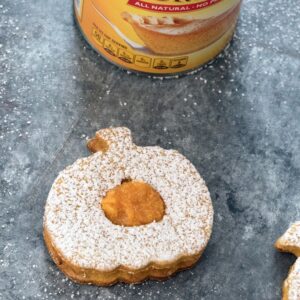 Pumpkin Spice Linzer Cookies
These Pumpkin Spice Linzer Cookies are filled with pumpkin cinnamon buttercream and are the only cookie you'll need this fall!
Print
Pin
Rate
Ingredients
½

cup

1 stick unsalted butter,

room temperature

⅓

cup

pumpkin puree

½

cup

granulated sugar

1

large egg yolk

1 ½

tsp

vanilla extract

1

cup + 1 Tbsp,

all-purpose flour

¾

cup

almond flour

1 ¼

tsp

cinnamon

½

tsp

ginger

½

tsp

nutmeg

¼

tsp

salt
Pumpkin Cinnamon Buttercream
½

cup (1 stick)

unsalted butter,

room temperature

½

cup

pumpkin puree

½

tsp

cinnamon

2

cups

confectioners' sugar
Instructions
In the bowl of a stand mixer or in a large bowl with a hand mixer, beat together butter, pumpkin puree, and sugar until light and fluffy, about 3 minutes.

Beat in egg yolk and vanilla.

In a separate large bowl, whisk together flour, almond flour, cinnamon, ginger, nutmeg, and salt. Add flour mixture to the wet mixture and mix until just combined, taking care not to over-mix.

Divide dough in half and pat each half into a disc. Wrap dough in plastic wrap and place in fridge until firm, about 1 hour.

On a floured surface, sprinkle a dusting of flour over one dough disc (leave second disc of dough in fridge) and roll dough out to be about ¼"-thick. Cut out cookies with a medium or large cookie cutter (2½" is recommended) and transfer to a parchment paper-lined baking sheet.

Be sure to re-roll and dough scraps to cut out as many cookies as you can. Place cookie sheet in fridge for about 30 minutes and take second dough disc out.

Roll second dough disk out to be about ¼"-thick and cut shapes with same cookie cutter. Transfer these to a second parchment paper-lined baking sheet and use your smallest cookie cutter to make a cutout in the center of each. Place this cookie sheet in fridge for 30 minutes to chill.

Preheat oven to 350°F.

Bake both sheets of cookies for 8 to 10 minutes, or until the edges are just beginning to turn golden. Let them cool for 5 minutes on the pan, before transferring to a wire rack to cool completely.

Place the cookies with the holes in them on a cookie sheet and sift confectioners' sugar over the top. Turn the remaining cookies flat side up and spread about 1 teaspoon of pumpkin cinnamon buttercream into the center. Top with the sugar-dusted cookies.
Pumpkin Cinnamon Buttercream
In the bowl of a stand mixer or in a medium bowl with a hand mixer, beat together butter and pumpkin puree until fully combined.

Add cinnamon and 1 cup confectioners' sugar and beat on low-speed until combined. Add second cup of confectioners' sugar and blend until combined.
Share a Photo of Your Finished Recipe!
Mention @wearenotmartha and share a photo if you've made the recipe!