These Pumpkin Toffee Gingersnaps are deliciously soft and chewy cookies packed with sweet fall flavor. They're even better than the typical gingersnap cookie!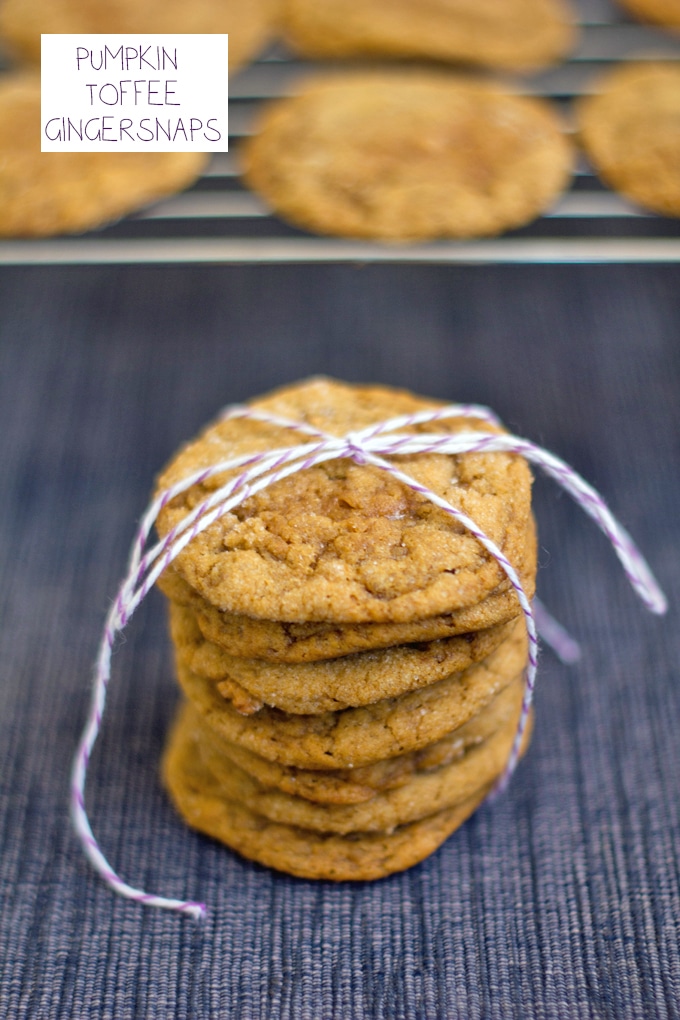 I think I've come to the conclusion that I don't make enough cookies. What exactly is the definition of enough cookies? Well, I'm not even sure that definition exists and if it does, it shouldn't. But my point is that there are SO many cookies in this world and I am not spending enough time focusing on them. So from this point forward, I aim to change that. I'm kicking things off with these Pumpkin Toffee Gingersnaps and now I fear that I'm going to be spending the next year making various types of gingersnaps because honestly? They might just be the best cookie in the world.
PUMPKIN TOFFEE GINGERSNAPS RECIPE
What makes gingersnaps so delicious? Two things… ginger and molasses. And what makes pumpkin toffee gingersnaps so delicious? Four things… ginger, molasses, pumpkin, and toffee. It's as simple as that. And these cookies are incredibly simple to bake with an easy cookie batter.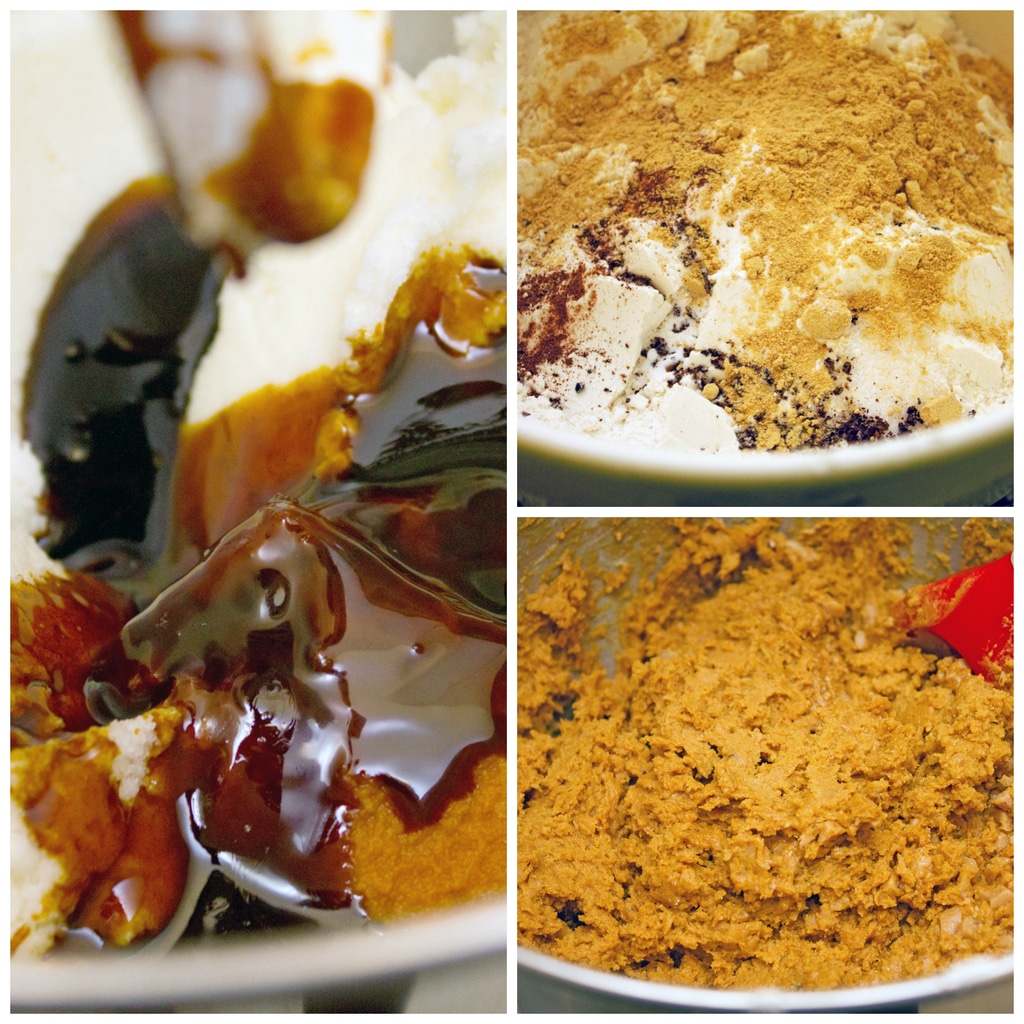 I recommend letting the cookie batter chill in the fridge for about 20 minutes before forming dough into balls, rolling in sugar, and baking.
Once you get these in the oven, your kitchen will almost immediately start smelling like fall.
And you will be counting down the seconds until you can start eating these. And the short wait is worth it. So, so worth it. These gingersnap cookies are soft and chewy and packed with fall flavor. But they're even better than the typical gingersnap because of the added pumpkin and toffee bits. I didn't even know it was possible to make gingersnaps more delicious, but I think I just did it!
Chris says they're the best cookies I've ever made. I'm still trying to decide if I like these better or the Peanut Butter Toffee Cookies I made a while back. Maybe the moral of the story is just that I love toffee. And butter. And sugar.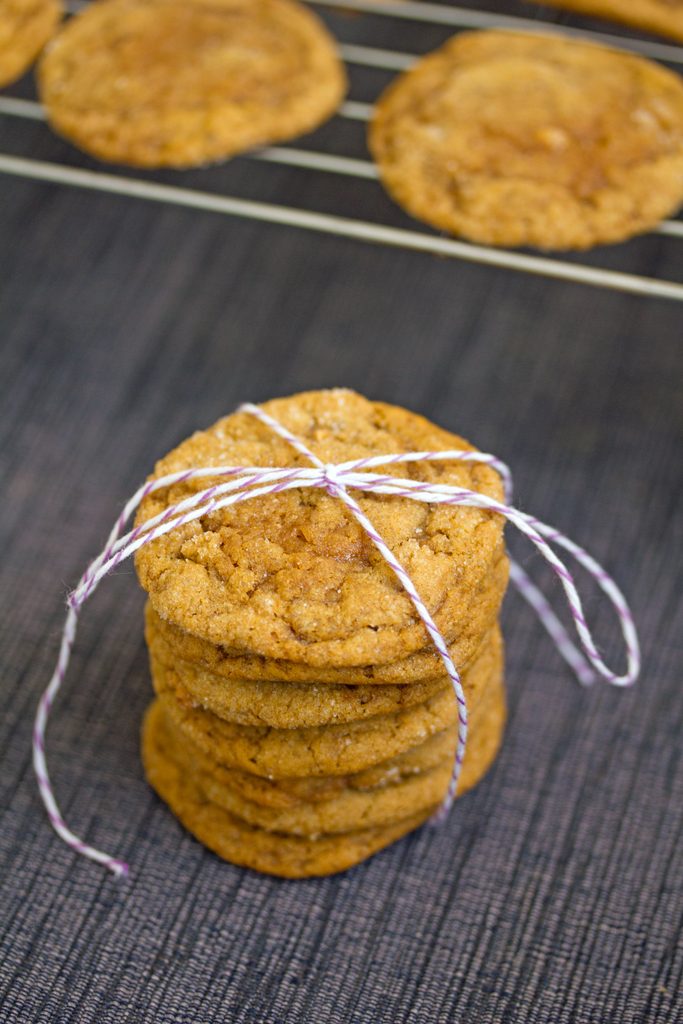 I could probably bake a different cookie every day for the rest of my life and never get bored of it. I might not be able to fit in any of my clothing and you might get sick of seeing me whisk flour and baking soda and cream butter and sugar together, but I'd probably be quite happy.
But really, gingersnaps are such a classic cookie. And when you start to think about putting things like pumpkin and toffee into gingersnaps, your mind becomes boggled with all of the glorious combinations you could come up with.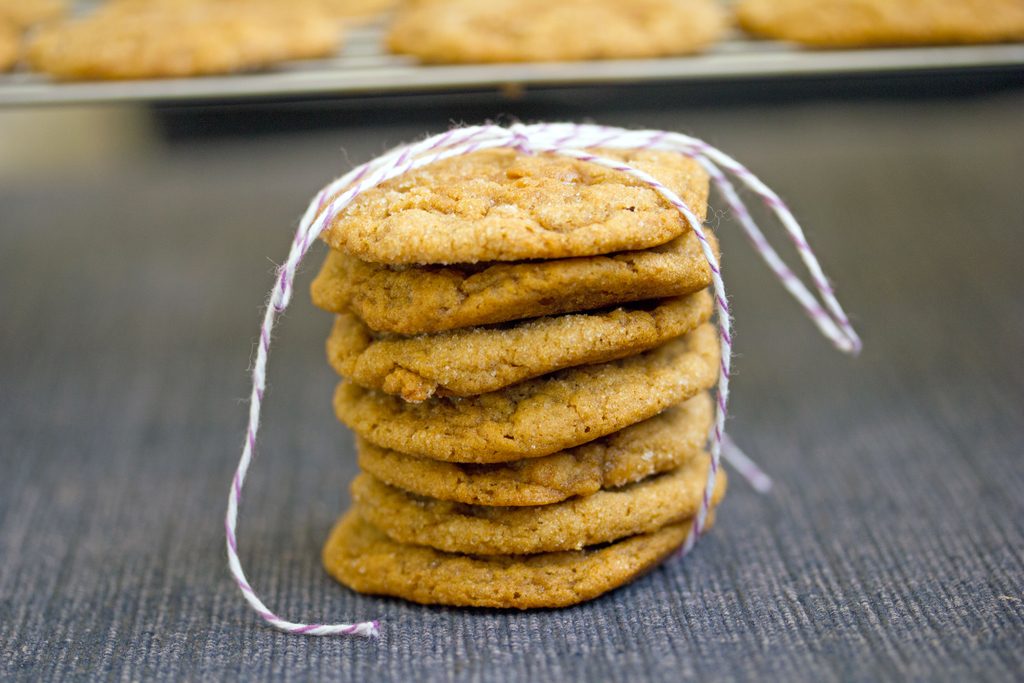 In any case, I think it's pretty essential that you whip up at least one batch of these this season. You must be going to a cookie swap or something, right? Or just want to make your family really, really happy?
Ginger is good for you, right? That's what I thought. Oh and also, you should know that I made a very similar cookie (sans toffee) into Pumpkin Gingersnap S'mores. Fall s'mores are my new favorite thing!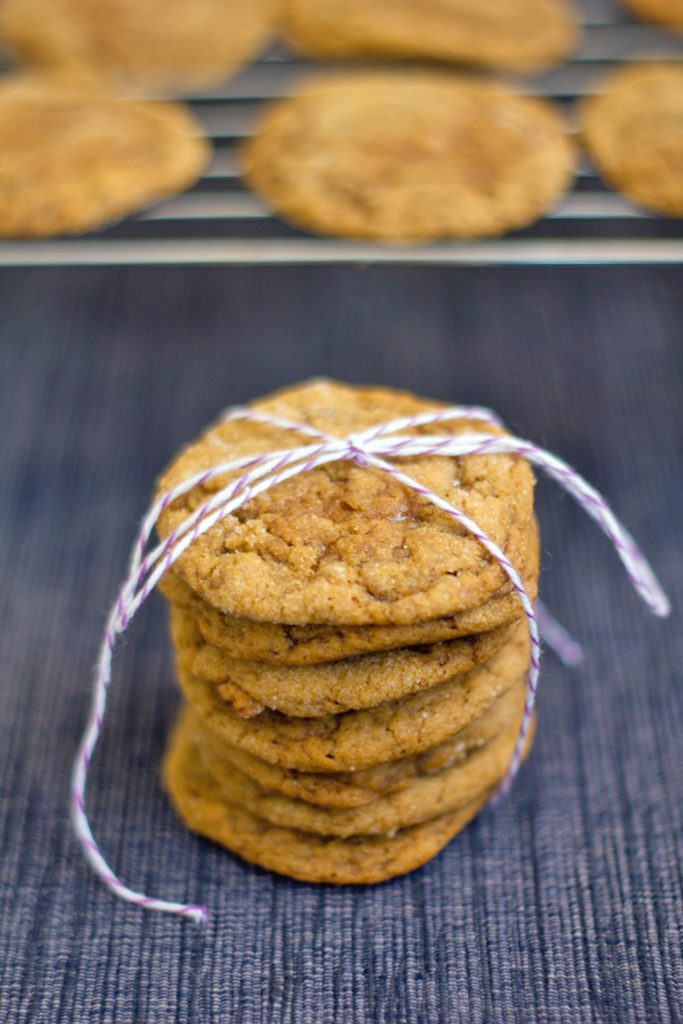 I absolutely cannot wait to make these pumpkin toffee gingersnaps again. And again. And again. And again. I hope you will, too!
Are you a gingersnap fan?
If you love these gingersnaps, you will probably also love my Molasses Ginger Cookies and my Gingerbread Shortbread Cookies. I also can't wait to make this Gingerbread Bark from Hunger Thirst Play!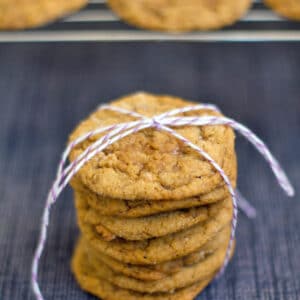 Print Recipe
Pumpkin Toffee Gingersnaps
These Pumpkin Toffee Gingersnaps are deliciously soft and chewy cookies packed with sweet fall flavor!
Servings:
4
dozen cookies
Ingredients
1 1/2

sticks (3/4 cup)

unsalted butter,

room temperature

1 3/4

cups

granulated sugar,

plus more for dusting cookies

1

large egg

1/2

cup

pumpkin purée

1/2

cup

molasses

3 1/2

cups

all-purpose flour

1

Tbsp

baking soda

1

Tbsp

ground ginger

1/4

tsp

cinnamon

1/4

tsp

ground cloves

1/4

tsp

salt

1/2

cup

toffee pieces
Instructions
In the bowl of a stand mixer (or in a large bowl with a hand mixer), cream together butter and sugar until light and fluffy, 2-3 minutes.

Add egg, pumpkin purée and molasses and mix until combined.

In a separate large bowl, whisk together flour, baking soda, ginger, cinnamon, ground cloves, and salt.

Pour flour mixture into wet mixture and mix until just combined, taking care not to over-mix. Fold in toffee pieces.

Place dough in refrigerator for at least 20 minutes.

Pre-heat oven to 350 degrees and line a baking sheet with parchment paper.

Scoop tablespoons of dough, roll in extra sugar, and place on prepared- baking sheets about 1 inch apart.

Bake for about 7-10 minutes, until cookies are just starting to brown at edges.

Let cool in pan for a 5-10 minutes before moving to rack to cool completely.