During the work week I'm all about a dinner that tastes fantastic but doesn't take a whole lot of time to make and also that have basic enough ingredients that don't require any trekking around Boston and beyond to search for. I also quite enjoy leftovers to bring to the office for lunch and I knew this Tex-Mex lasagna from Cooking Light would give me just that.
Here's what you'll need: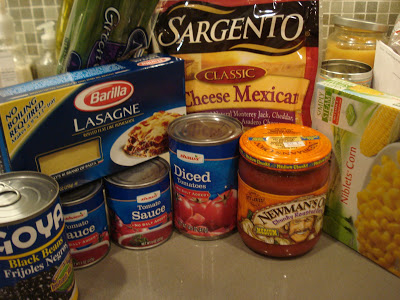 3/4 cup bottled salsa
1 1/2 teaspoons ground cumin
1 (14.5-ounce) can no salt-added diced tomatoes
1 (8-ounce) can no salt-added tomato sauce
Cooking spray
6 precooked lasagna noodles (I used Barilla)
1 cup frozen whole-kernel corn, thawed
1 (15-ounce) can black beans, rinsed and drained
2 cups (8 ounces) preshredded reduced-fat 4-cheese Mexican blend cheese (I didn't use reduced fat because they didn't have it at my grocery store. TOOOOOO bad!)
1/4 cup chopped green onions
Here's what you do:
• Preheat oven to 450 degrees.
• Combine salsa, cumin, no salt-added diced tomatoes, and no salt-added tomato sauce

• Spread 2/3 cup sauce in bottom of an 8-inch baking dish coated with cooking spray
• Place two of the noodles over the sauce and top with 1/2 cup of corn and 1/2 cup of beans, sprinkle with a 1/2 cup of cheese. Repeat layers and cover with remaining noodles. Sprinkle with remaining cheese. I pretty much just eyeballed this part and added however much I thought looked appropriate. I love cheese so I added it to my liking, which probably voided the whole "cooking light" aspect.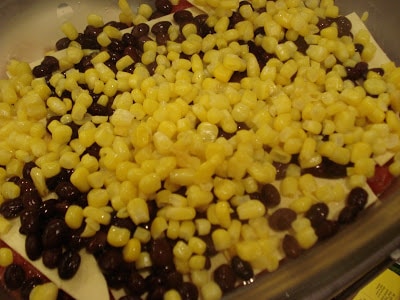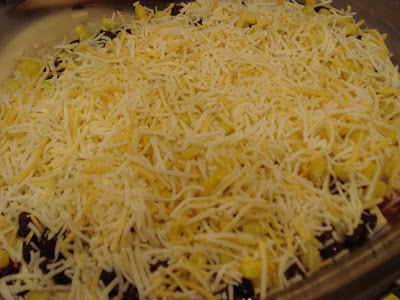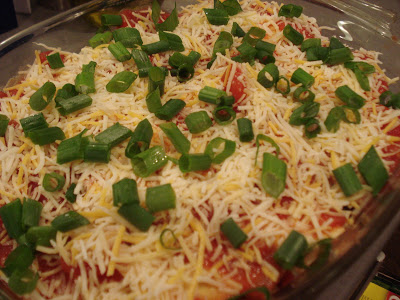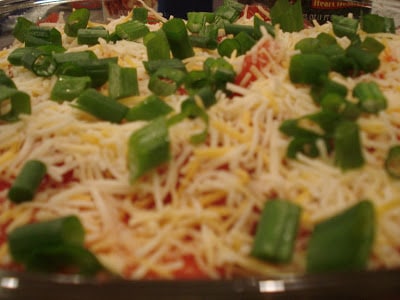 • Cover (which I did not because I don't think this dish had a lid) and bake at 450 degrees for 30 minutes or until golden brown and sauce is bubbly. I most always prefer my food to be very golden brown (sometimes I openly enjoy eating nearly burnt food, which is an issue I should probably address soon!)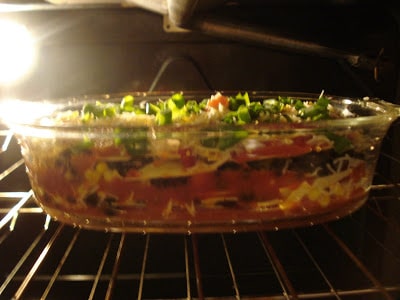 check out the layers!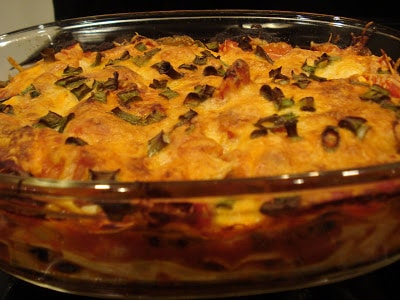 • Let stand for 15 minutes and sprinkle with onions (which I did before I put it in the oven, clearly I had issues following directions this day.)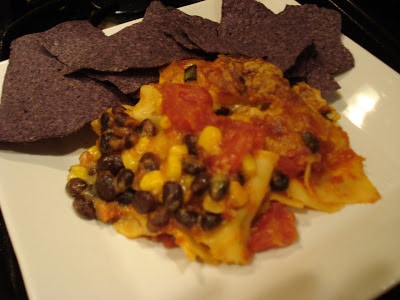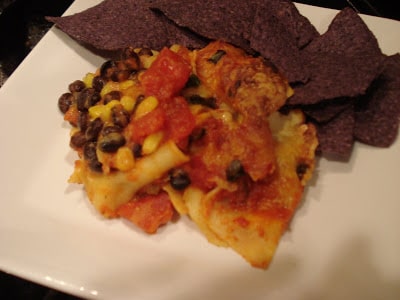 I think I had leftovers for a good handful of days which made lunching at work a breeze!
[Chels]