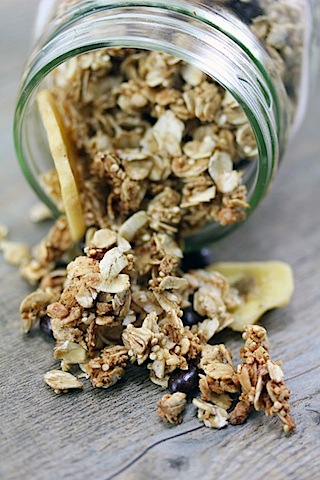 This weekend was the true definition of the word busy. I feel quite accomplished, but not quite relaxed. I'm still not certain why weekends aren't 3 days long. And why, pray tell, does it seem like every time I cross one thing off my to-do list, I'm forced to add 3 more things on? Is it ever possible to simply finish a to-do list and go a few days without having to start a new one? Maybe that's what our honeymoon is for. No to-do lists allowed on the honeymoon.
The weekend was mostly filled with wedding planning (about 2.5 months to go!). We picked out our rehearsal dinner menu and had a glorious cake tasting at Party Favors in Brookline (it's my dream come true to have them making out wedding cake!). I also spent about 7 hours at Chelsee's helping her finish up our wedding invites. I love pretty much all the invites Chels makes, but I'm not gonna lie, I'm absolutely obsessed with ours and I can't wait to send them out! Chris and I also spent a little time apartment hunting this weekend as we'll likely be moving out of Brookline, the town that has been my home for the past 7 years and into the suburbs later this summer. Wah. I'm trying not to think about it too much. We also braved Market Basket, which is always an adventure on Sundays.
After a big grocery trip, I had every intention of making a Sunday night dinner. But then we got home kind of late and we noticed that our favorite Thai restaurant Rod Dee just reopened (after like 3 years) in our neighborhood. And it was too tempting. So, we indulged in beef basil and I made a simple 3-minutes-of-work granola recipe. Seriously, 3 minutes. I've had these ingredients out on my counter for the past week because I've been meaning to make it for so long. And now that I realize it takes 3 minutes, I'm not sure why I didn't do it sooner. Since my pantry is seriously overflowing with grains, I've been wanting to make a grain-packed granola. And I decided to toss a bunch of quinoa in for an extra crunch and protein. Awesome idea… Next time I'm adding more! And the dark chocolate pomegranate arils need no explanation. They make any granola better.
Quinoa Granola with Dark Chocolate Pomegranate (makes about 6 cups):
Print this recipe!
3 C old fashioned oats
1/3 C quinoa
1/3 C ground flaxseed
1/4 C coconut
1 T cinnamon
Pinch of salt
1/2 C maple syrup
3/4 C dark chocolate covered pomegranates
3/4 C banana chips
(pre-heat oven to 325 degrees)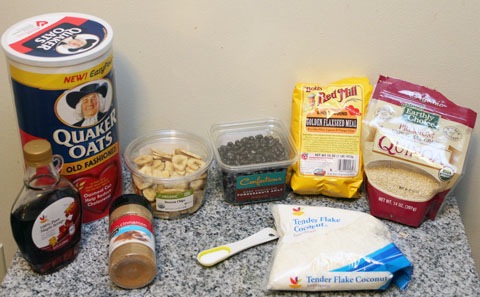 In a medium bowl, mix together the oats, quinoa, flaxseed, coconut, cinnamon, and salt.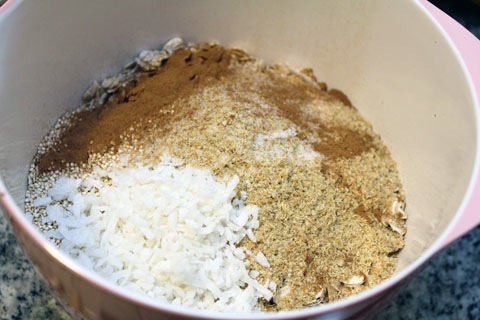 Stir in the 1/2 C of maple syrup.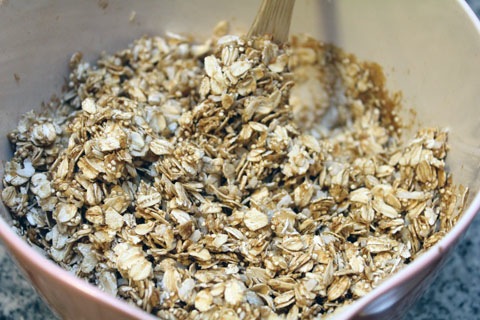 On a foil-covered baking sheet, place the granola in an even layer.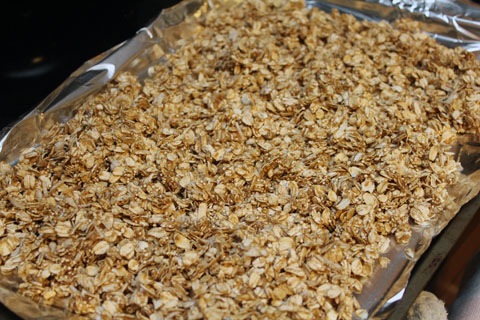 Bake at 325 degrees for about 30-40 minutes, checking to make sure the granola isn't browning.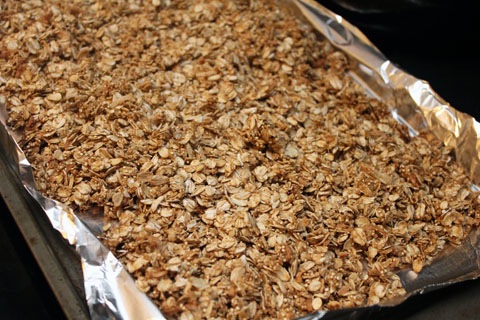 Take granola out of the oven, let it cool, and mix in the dark chocolate-covered pomegranates and banana chips.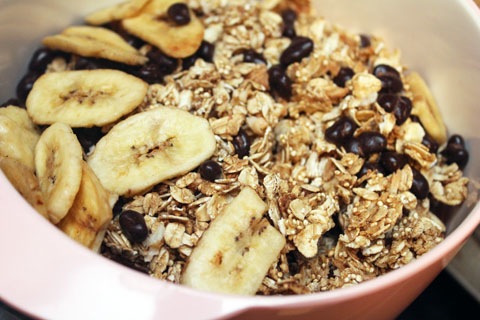 Told you it was easy. It probably didn't even take 3 minutes to mix the ingredients together and put them on a baking sheet.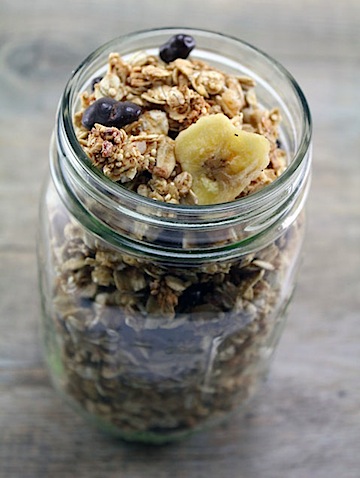 Of course, you can customize this recipe to your own loves. Not a fan of banana chips? Leave 'em out. Can't find dark chocolate pomegranate arils? Well, keep looking. Because they're awesome and are packed with antioxidants and granola is no good unless it has some form of chocolate in it.
I actually completely forgot that I added coconut to the granola until I looked back at my ingredient list… So next time I may leave it out. I just didn't feel like it added much to the mix.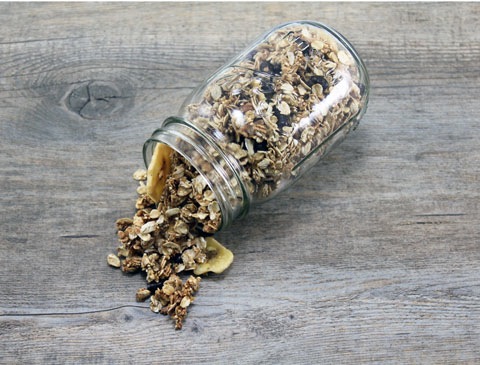 You should most definitely add quinoa to your next granola recipe. I loved the extra flavor it added and it will make me happy to know I'm starting my day off with a super grain every time I enjoy a serving of this granola.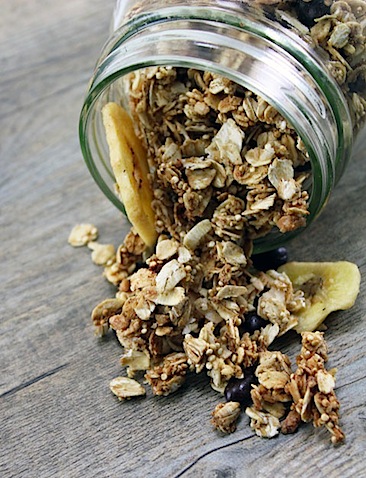 I'm thinking I'll bring this granola to work for the mornings and either eat it by the handful or pour it on my Blood Orange Chobani (which I majorly stocked up on today, thank you very much).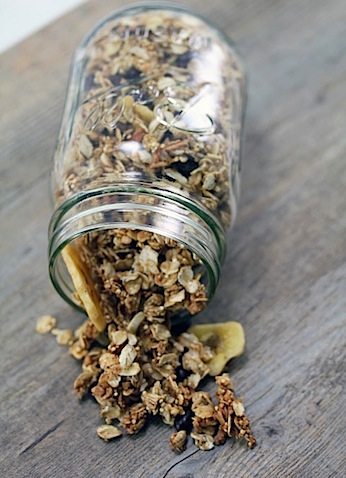 Granola is one of those things I like to always have in my kitchen, but I know it can get pretty pricey at the grocery store. If I make my own every couple weeks and store it in a mason jar, it's a much more cost-effective solution. Plus, I can mix it up and try something new every time I make it. But always chocolate. There's just gotta be some chocolate in it.
What's your favorite granola mix?
[Sues]