Kick boring old granola up a notch by making this Fruity Granola with Fruity Pebbles and freeze-dried strawberries. The bright colors and fruity flavors make this fruity granola the perfect hostess gift.
Christmas week is here!! And if you're like me you're equal parts celebrating and freaking out. Because... how many things on your to-do list did you not get to yet?? And why is there never enough time to get everything done during the holiday season?? Ugh. Luckily, this post contains a tip or two. While I may not be an efficiency expert (seriously, I barely sat down this weekend and still only got through a little over half my to-do list), I love finding easy solutions to saving time where I can. Not only am I giving you an easy recipe for Fruity Granola that makes the perfect host/hostess gift at this time of year, but I'm telling you how you can make it without ever leaving your home. Swoon! Have you guys heard of Peapod? It's an online grocer that delivers to homes and businesses. I'm partnering with them on today's post and am excited to share what they're all about and give you a chance to win a Peapod gift card for groceries or a PodPass of your own!
I actually used to use Peapod quite often when I lived in the city several years ago. I shudder when I remember walking to the grocery store and carrying tons of heavy bags back to my apartment. I would walk a couple blocks, stop, put down all my bags, readjust, and continue on. Peapod basically saved my life back then. My Boston office actually uses Peapod now, but to be honest, I had no idea they even offered the service out in the suburbs until they reached out to me a couple weeks ago. While getting to the grocery store is a whole lot easier for me now that I have a car and live close to one, I still pretty much always dread going.
Really, I have a love hate relationship with the grocery store. I love the idea of it... Wandering through the aisles, checking out all the new products, and carefully selecting what I'll purchase based on price, nutrition, and packaging. But the reality of it is that I hate wasting a weekend morning at the grocery store, I hate the crowds that are always there on the weekends, and I just plain hate getting out of my pajamas first thing on a Saturday. This past weekend was an especially awesome weekend to take advantage of Peapod since we woke up Saturday to a whole lot of snow and the last thing I wanted to do was leave the house. I placed my order on Friday for a Saturday morning delivery and it was just as easy as I remembered it being.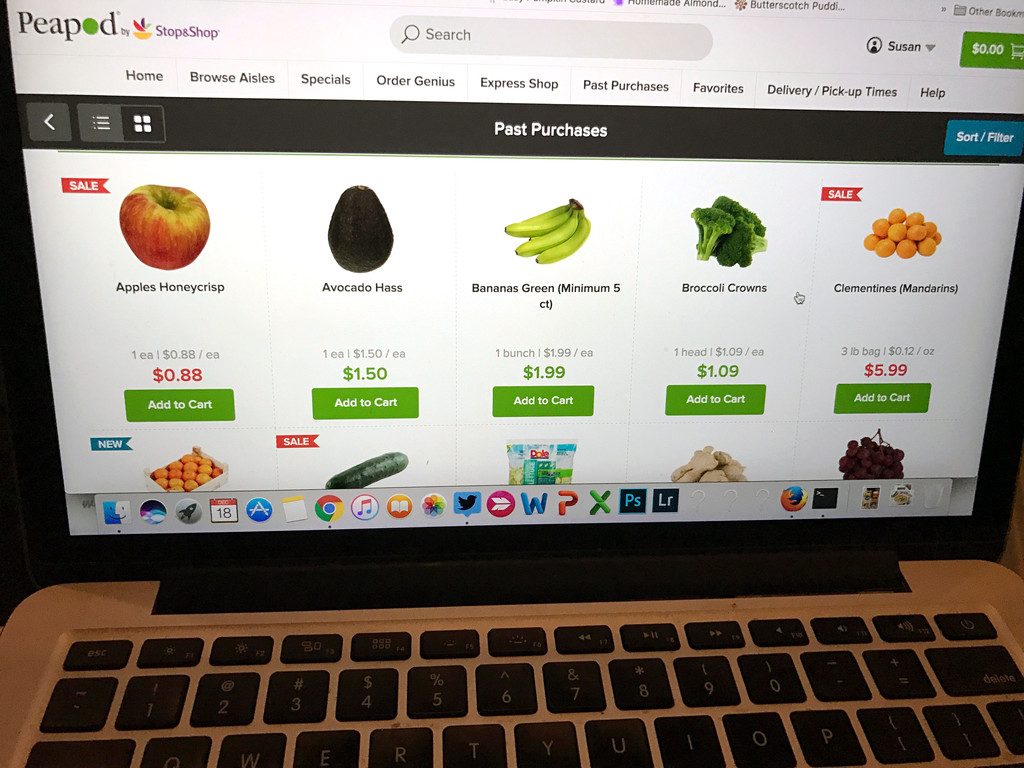 You can sit and leisurely fill your cart, checking out the sales and wide variety of products. Personally, I love that you get a running tally of what you're spending as you go, unlike when you're at the grocery store and only realize how much you've spent when you get to the register! Peapod also saves all your orders so you can easily re-order the next time you shop. This is huge for me since I have quite a few items I buy every single time I'm at the store.
My delivery came right on time despite the horrendous weather.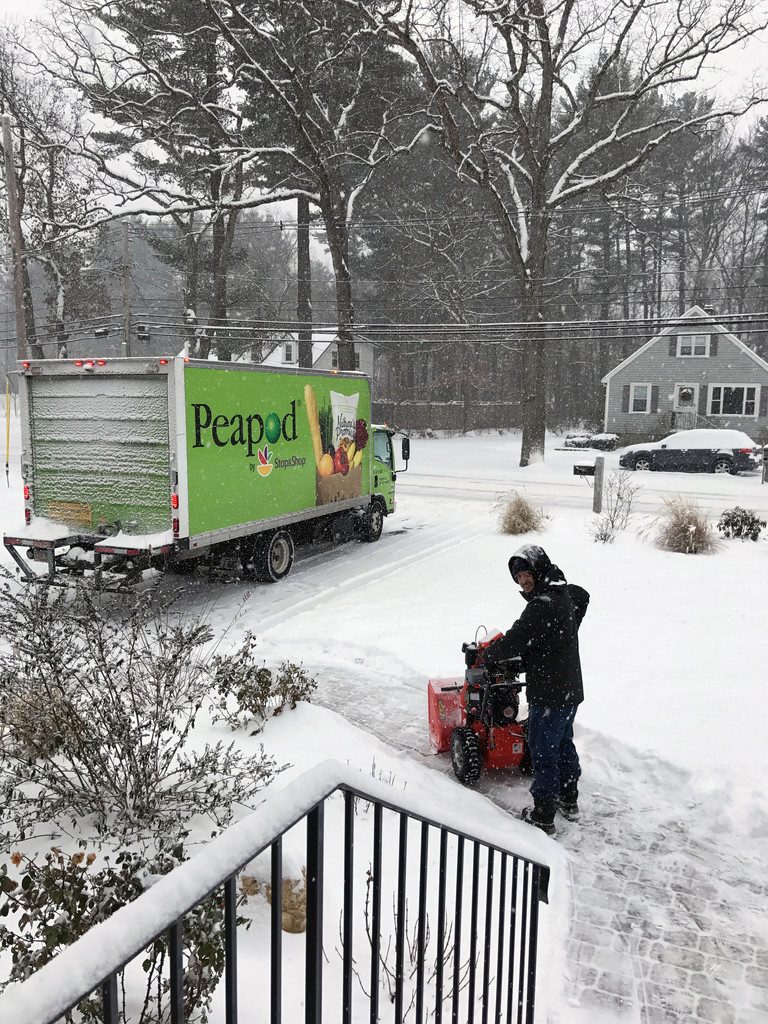 Hooray for a house full of groceries and me still in my pajamas! Obviously, Winnie was quite curious about this magical delivery. I do wish Peapod had a reusable bag option, but we re-use plastic grocery bags all the time in my house, so these will definitely be utilized.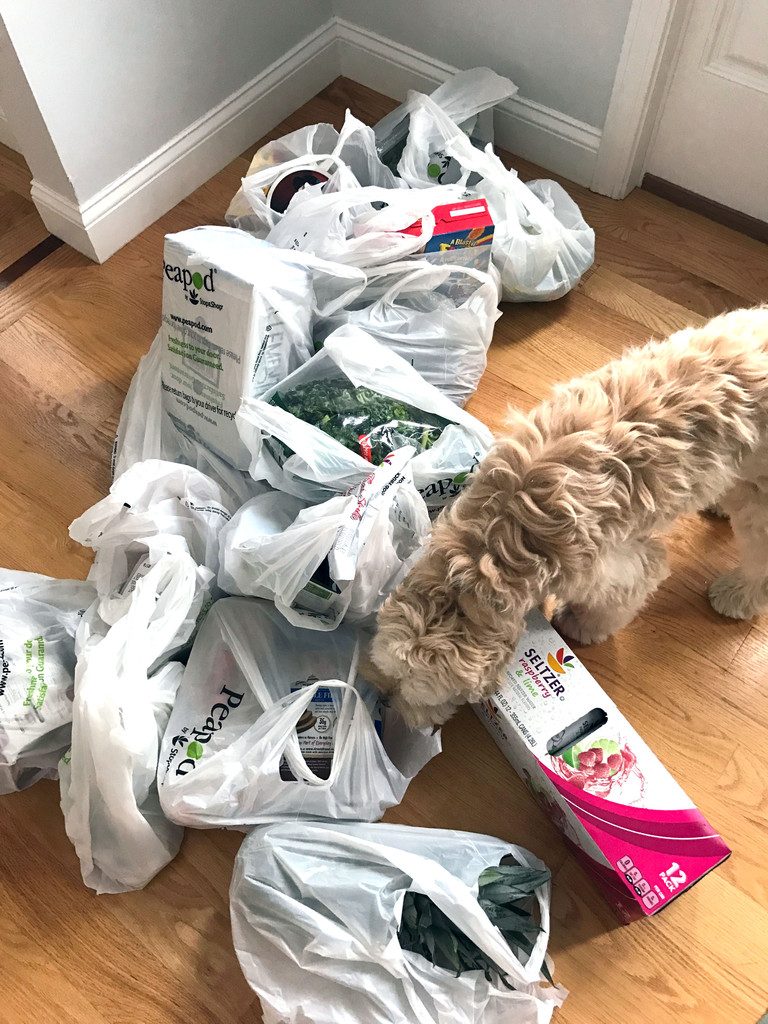 I got what's a pretty typical haul for me. I try to do all my grocery shopping in one trip (or in one order in this case!) a week and that includes making about 4 dinners/week, breakfasts and lunches to bring to work, and anything I make for the blog. One reason I'm sometimes nervous to get my groceries delivered is because I like being able to pick out my own produce... But I'm happy to say everything I ordered from Peapod looked great! There is a bit of a learning process to ordering... For instance, I didn't realize how little one "crown" of broccoli would be. Next time, I'll order a couple! I'm so happy they had my precious bagged kale. I know it's not that difficult to clean and chop kale, but buying it already prepped in the bag is one of my simple pleasures in life.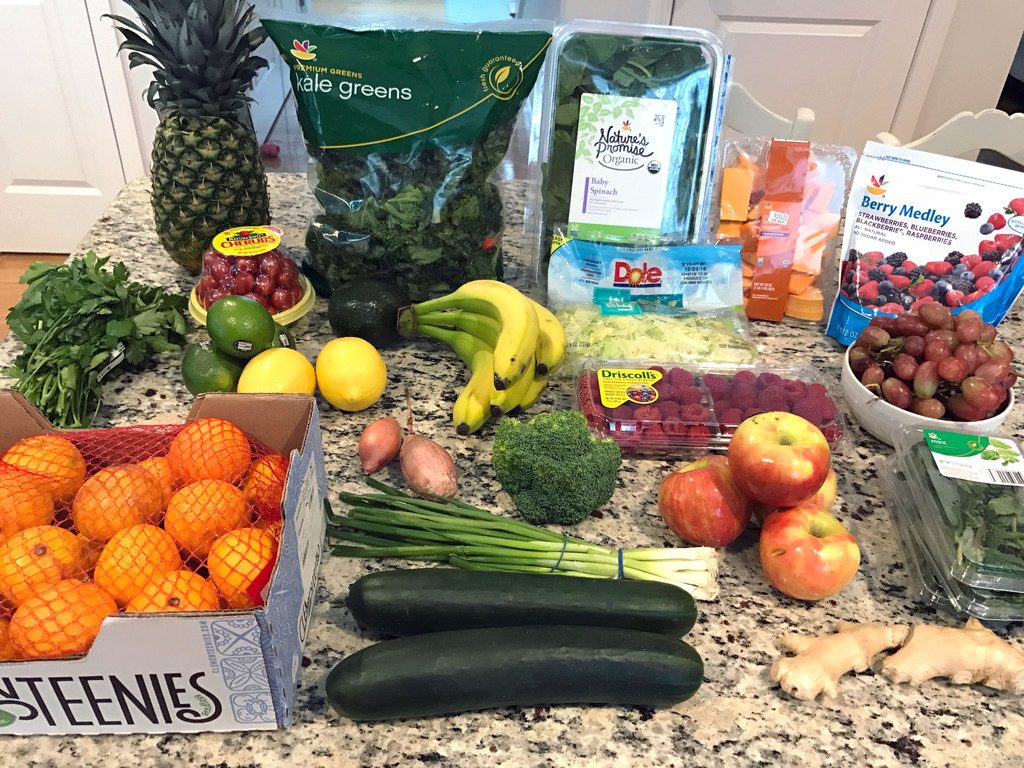 I couldn't resist buying those Chili Lime Rippled Potato Chips... One benefit of Peapod is that I can discover new products without crowds of people pushing and shoving me to get out of the aisle. I can take all the time in the world! I can't wait to try that Everything Hummus...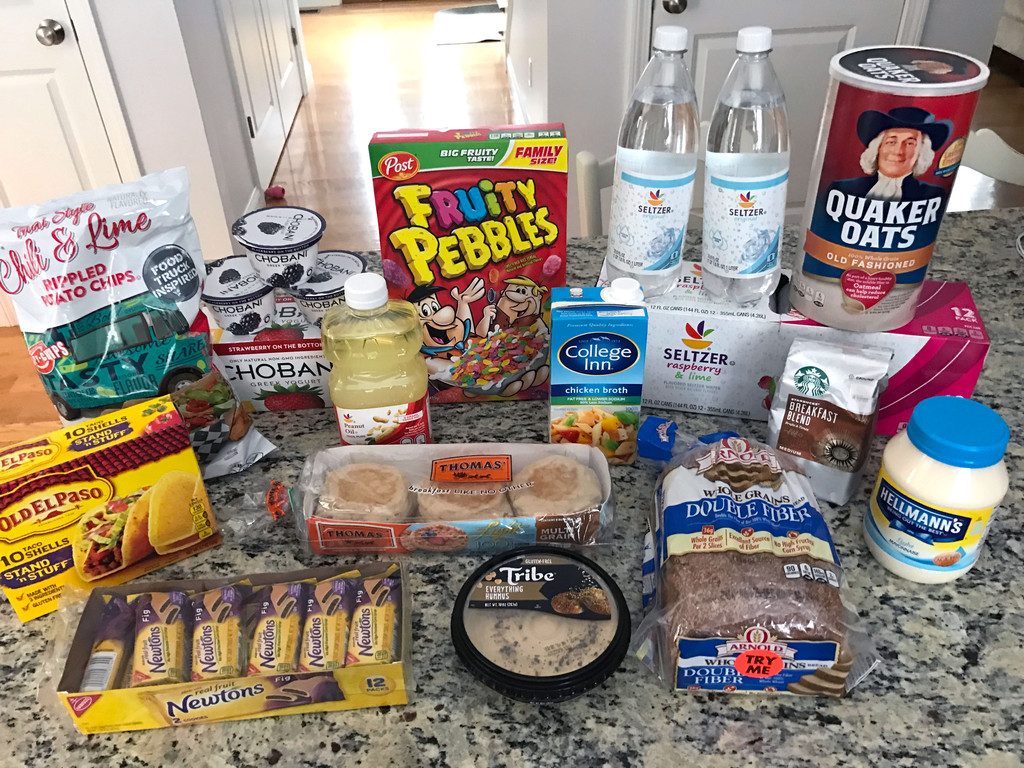 Somehow these two very important groceries got left out of the above shot. 'Tis the season! Eggnog is one of Chris's all time favorite things and I'm pretty sure we've had it in our house since Halloween.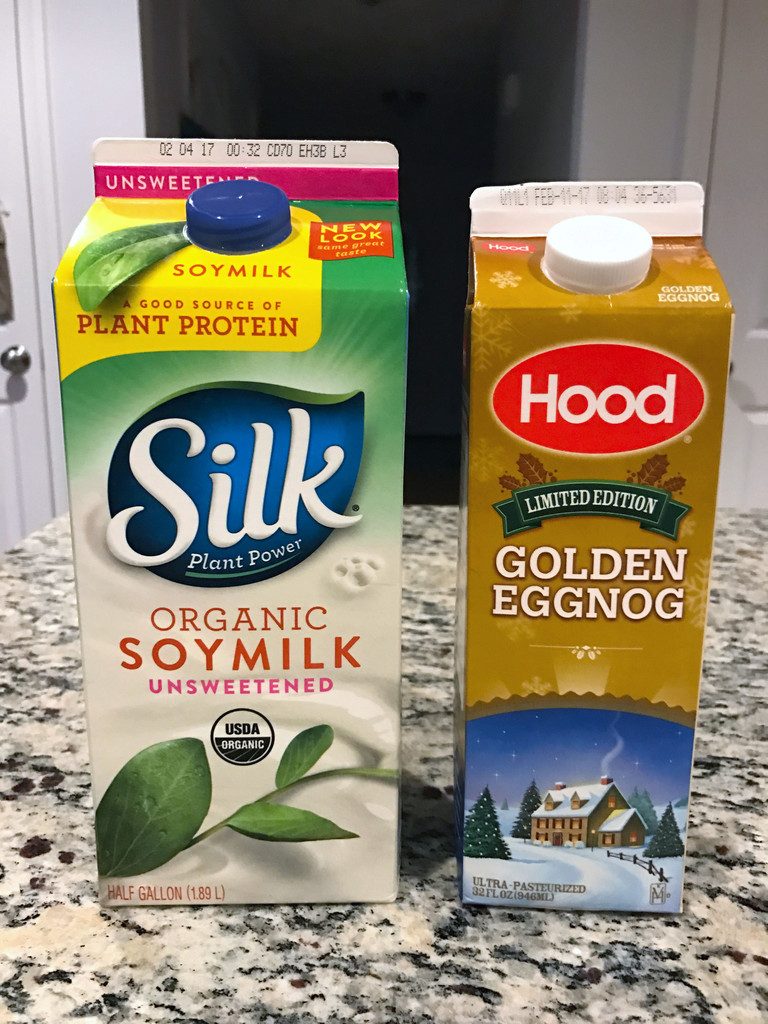 I usually take leftovers to work for lunch, but Chris likes sandwiches, so I was happy to see Boar's Head deli meat available on Peapod. And plenty of organic, grass-fed meat, too.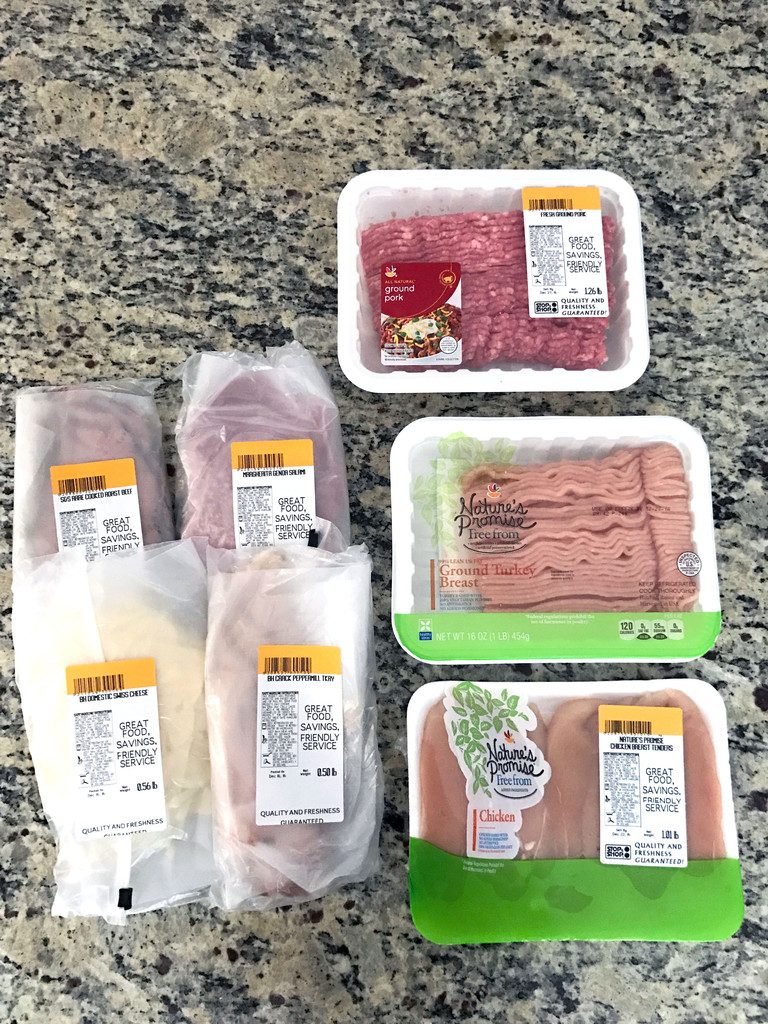 Right after my delivery arrived, I put it away and got baking! I decided to make what I think of as a pretty perfect hostess gift. Doesn't it always seem like right when you have your gift shopping list complete, you remember that you're headed to a party and have nothing to bring the host? While a store-bought gift or something for the party is always great, I love the idea of bringing the hosts something they can enjoy the next morning. You know, when they wake up feeling a little bit hungover and their house is a mess and the last thing they want to do is think about making breakfast.
I opted for granola, but gave it a little bit of holiday spirit with a fruity flair!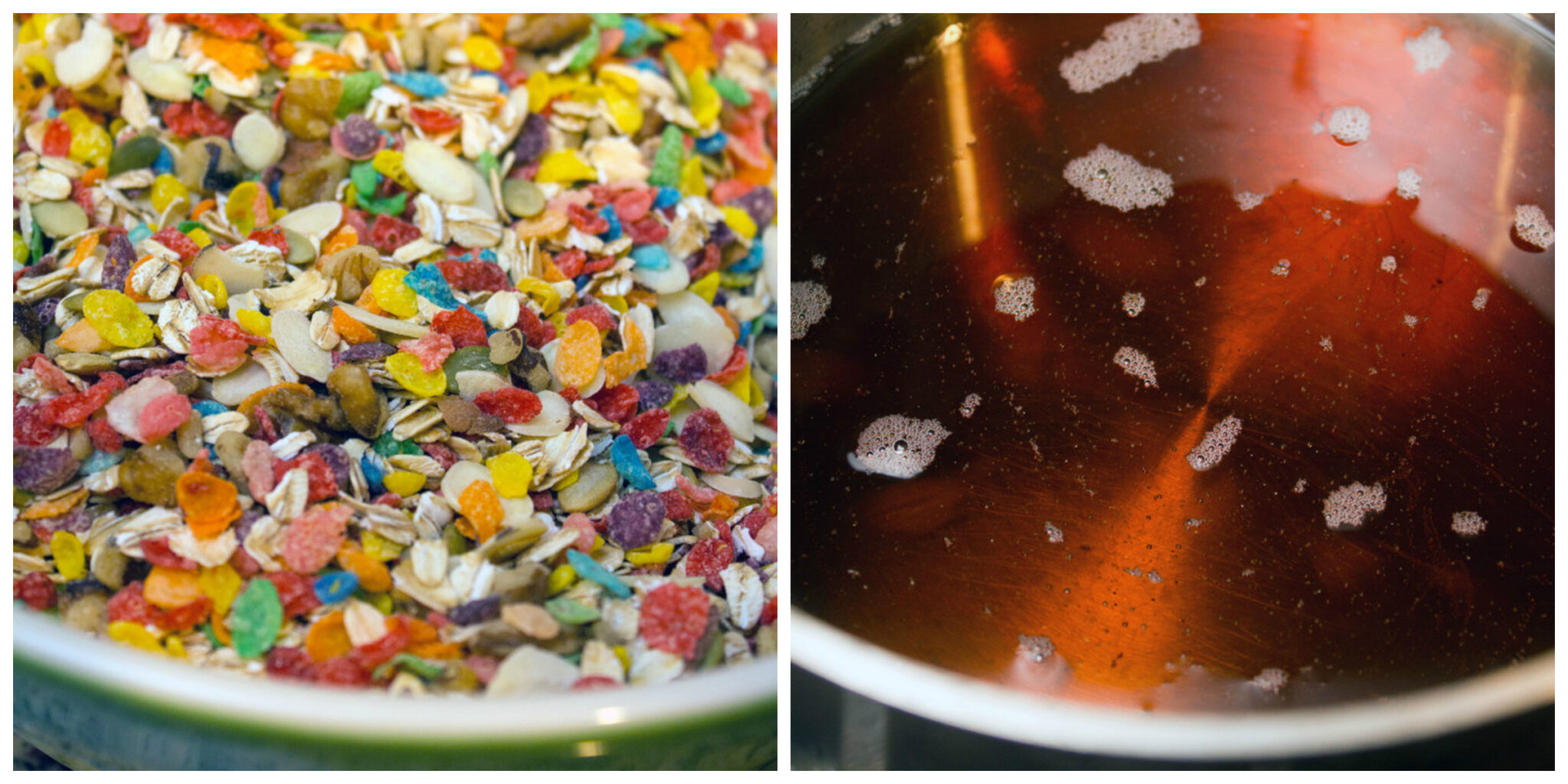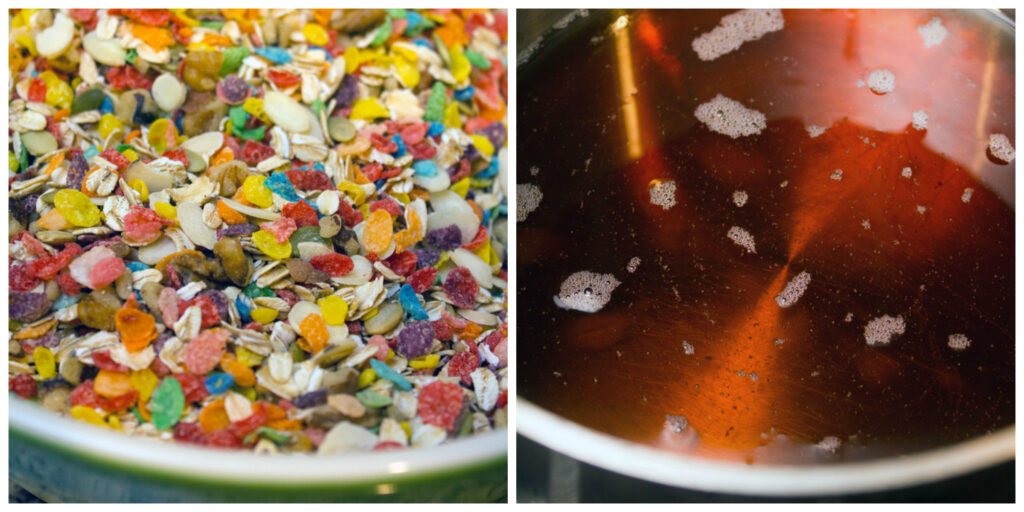 This Fruity Granola involves old fashioned oats, Fruity Pebbles, walnuts, almonds, pumpkin seeds, and chia seeds, with freeze-dried strawberries mixed in at the end.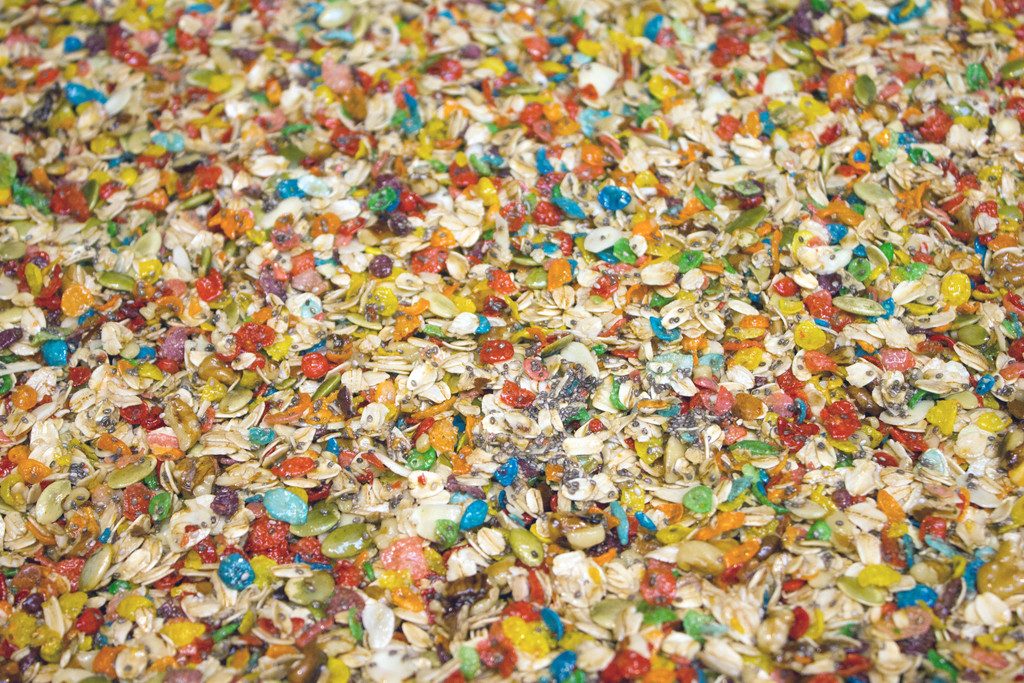 It's ridiculously easy to make and one batch will provide you with about six mason jars full of granola.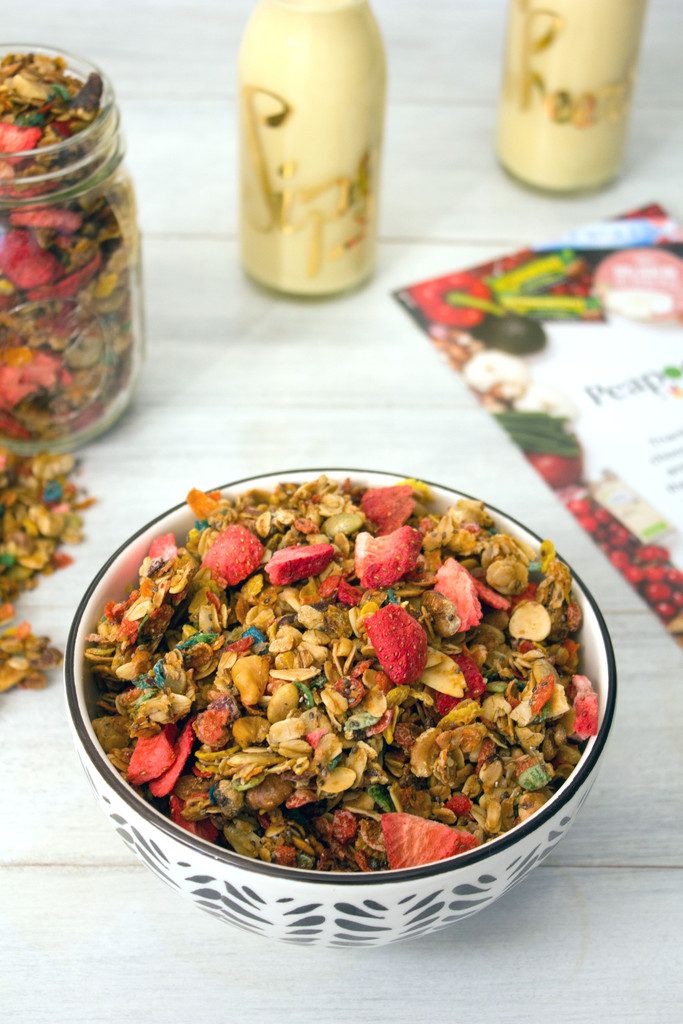 I'm a big fan of simply eating granola in a bowl with milk, but also love the idea of sprinkling this Fruity Granola over yogurt or ice cream or incorporating it into a holiday dessert.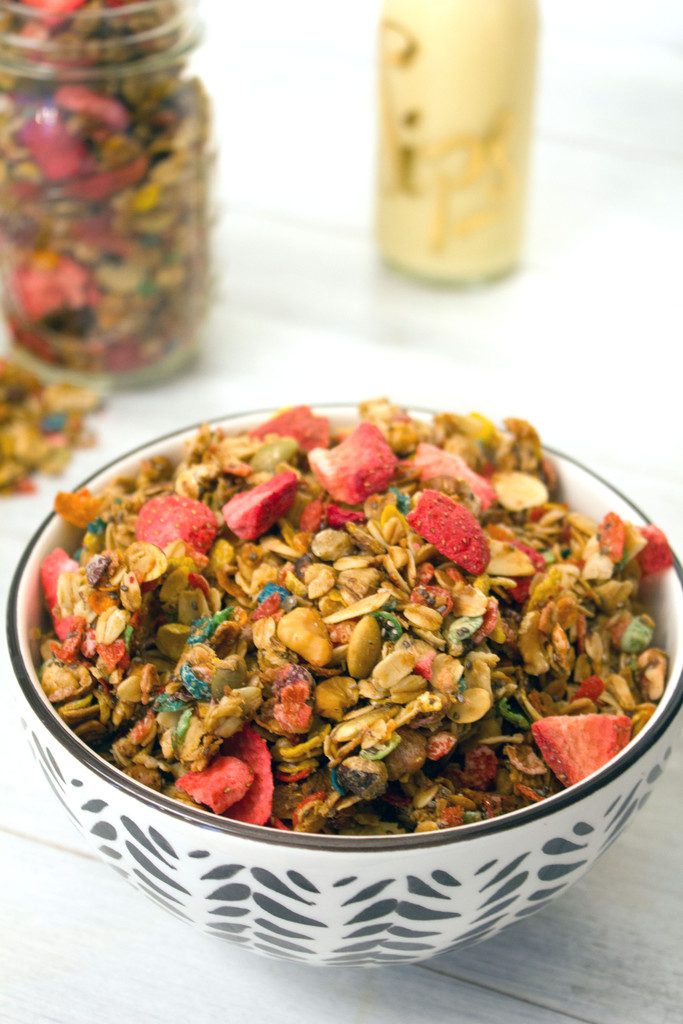 Since I'm a firm believer in the "one for you, one for me" strategy of gift buying, I recommend giving a few of these jars away, but also keeping a few for yourself. Because even though you may not be throwing the party, you still attended and had some fun and don't really want to make breakfast in the morning, either. At least your house isn't a mess?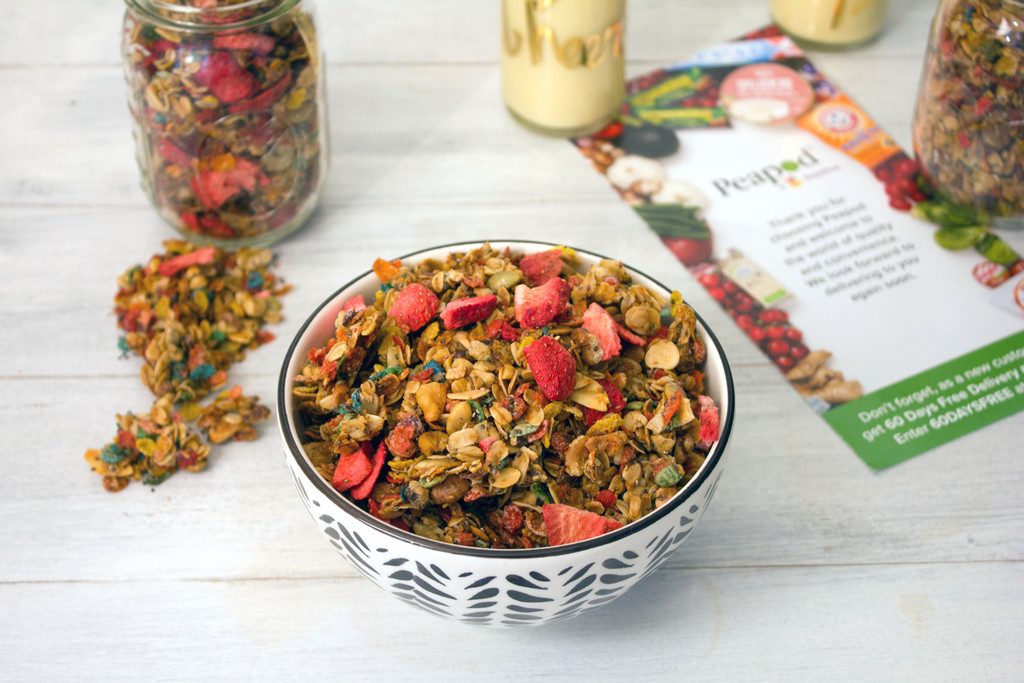 Sooo, dare I ask if you're done with your Christmas shopping yet? Touchy subject? If you're not, leaving your house to go to the grocery store is probably the last thing you want to do, right? Or maybe going to the mall is (thank goodness for Amazon Prime!). If you're still trying to plan your holiday menu (me too!), Peapod has a great recipe content site, FromthePod.com with some super fun ideas. Basically, why don't you just sit down and let Peapod do pretty much everything for you this season?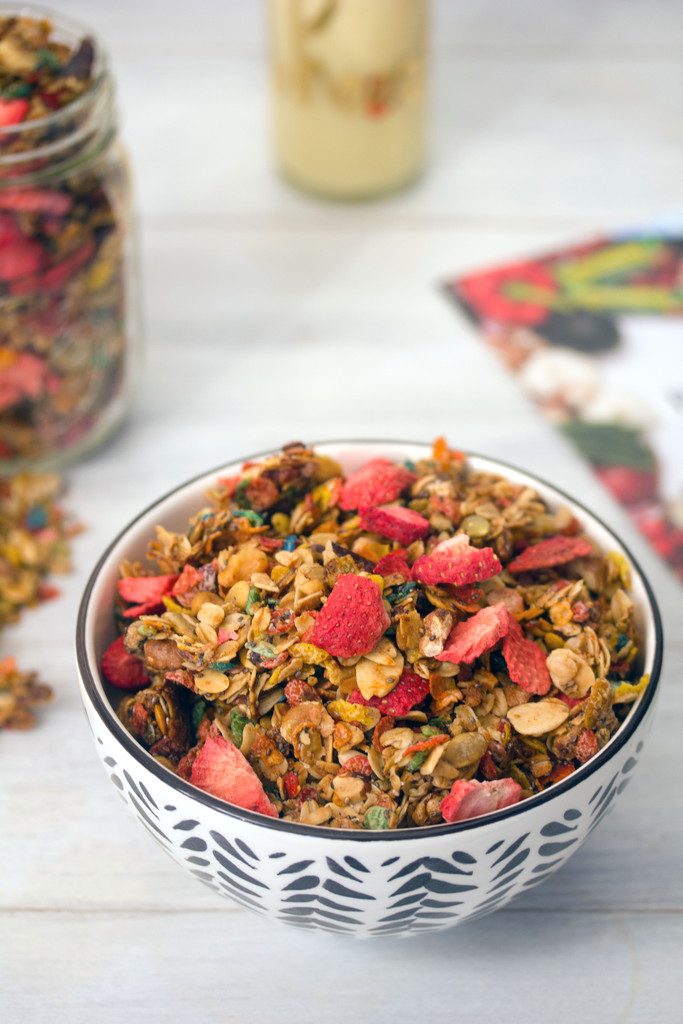 Guess what? You can! I'm giving away a $119 gift card to Peapod today. You can either use the gift card for groceries or you can use it to purchase a PodPass, which will get you free delivery on all of your orders (so long as you spend at least $100). Imagine waking up every weekend to a house magically filled with groceries? Especially at this time of year! Now if only they'd put the groceries away for you (I didn't ask, but our delivery guy was super nice, so maybe he would have?). You can kick back and relax with your Fruity Granola while enjoying this otherwise hectic holiday season.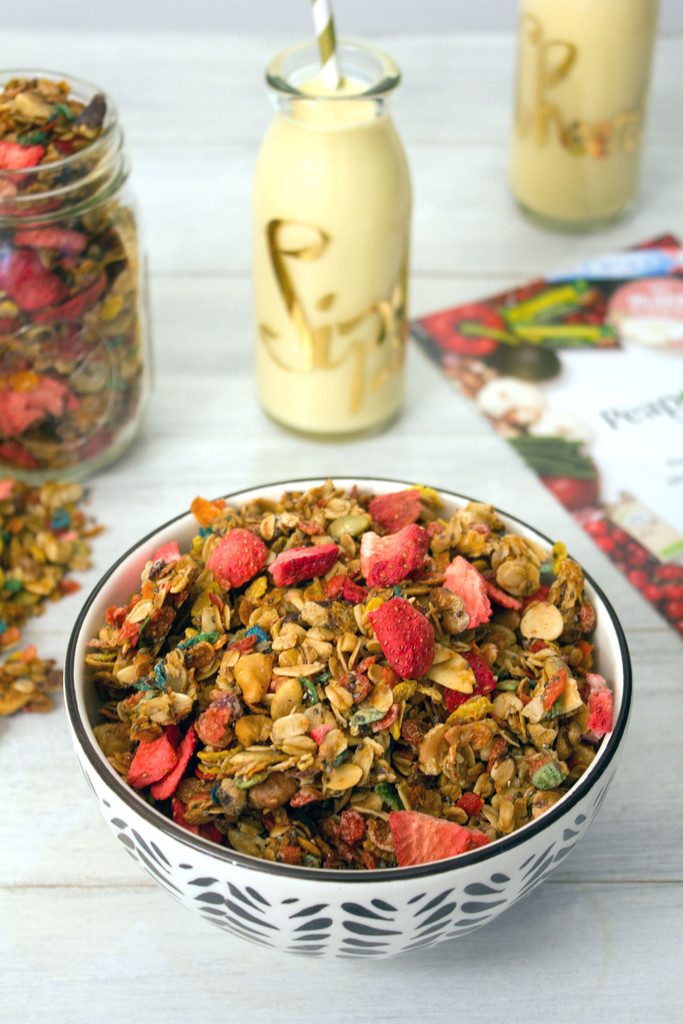 To enter to win a Peapod gift card, simply comment on this post letting me know how often you usually go to the grocery store. You have until Friday, December 23, at 11:59 p.m. EST to enter and must live in the U.S. to qualify.
Please note that Peapod operates in the following states: Illinois, Wisconsin, Indiana, Maryland, District of Columbia, Virginia, Massachusetts, Connecticut, Rhode Island, New Hampshire, New York, New Jersey and Pennsylvania. Head to their website and put your zip code in to see if they serve your area. Some markets even deliver alcohol! Silly Massachusetts...
If you're looking for another cereal-based granola recipe, check out these Chocolate Peanut Butter Cheerios Granola Bars. This Quinoa Granola with Dark Chocolate Pomegranate is also delicious!
📖 Recipe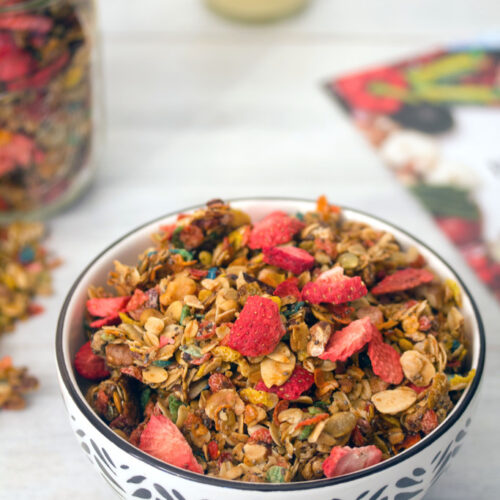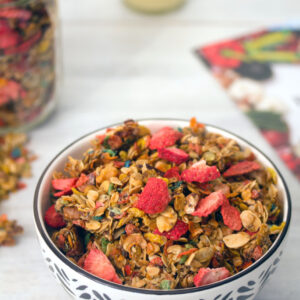 Fruity Granola
Kick boring old granola up a notch by making this Fruity Granola with Fruity Pebbles and freeze-dried strawberries. The bright colors and fruity flavors make this fruity granola the perfect hostess gift.
Print
Pin
Rate
Ingredients
2 ½

cups

old fashioned oats

2 ½

cup

Fruity Pebbles

1

cup

chopped walnuts

½

cup

sliced almonds

½

cup

pumpkin seeds

¼

cup

chia seeds

¼

cup

coconut oil

¼

cup

maple syrup

1 ½

tsp

vanilla

1 ½

cups

chopped freeze-dried strawberries
Instructions
Pre-heat oven to 275 degrees.

In a large bowl, mix together old fashioned oats, Fruity Pebbles, walnuts, almonds, pumpkin seeds, and chia seeds.

In a medium saucepan over low heat, stir together coconut oil, maple syrup, and vanilla until coconut oil is completely liquid and mixture is warmed.

Pour coconut oil mixture over oats mixture and mix together until well-coated.

Spread the mixture into a single layer on a large cookie sheet.

Bake at 275 degrees for 40 minutes, stirring mixture halfway through.

Remove from oven and let rest (without stirring) until cooled.

Once cooled, break into clusters and stir in freeze-dried strawberries.
Share a Photo of Your Finished Recipe!
Mention @wearenotmartha and share a photo if you've made the recipe!
Full Disclosure: This post was sponsored by Peapod, but as always, all opinions are 100% my own!