Quinoa-Stuffed Acorn Squash is the perfect healthy dinner for the holiday season and beyond. The tender acorn squash stuffed with a delicious quinoa and mushroom filling and topped with feta is incredibly filling and satisfying.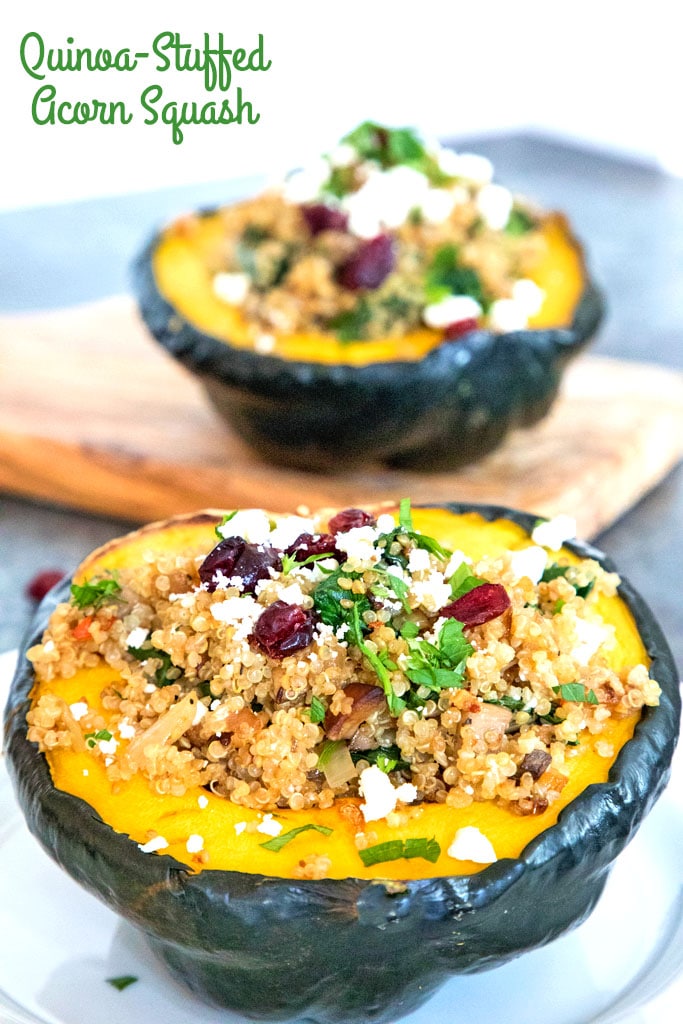 (This Quinoa-Stuffed Acorn Squash recipe was originally published in February 2011, but has been updated with new photos and content in 2017.)
Soooo, who's sick of turkey and stuffing yet? I'm actually not! I think I could happily eat turkey/stuffing/cranberry sauce sandwiches with a side of sweet potato soufflé every day for the rest of my life and be perfectly happy. But sadly, my leftovers are officially gone and I'm being forced to move on.
I'm trying my best to make some super healthy dinners from now until Christmas so as to not get stuck in that holiday season spiral of too much indulgence. If you know me, you know that I'm not the type to deprive myself and I'll pretty much never say no to a cookie, burger, or piece of pizza if I want it; which means, I try to pack in the veggies and good stuff when I can.
Honestly, I don't actually feel like the holidays are too much more indulgent than the rest of the year for me; I go a little crazy on days that call for it (parties, dessert recipe development, festive dinners, etc.) and then go in healthy on the other days. And after that long Thanksgiving weekend packed with party foods, I'm ready for a healthy start to the new week.
I actually first made this recipe for Quinoa-Stuffed Acorn Squash back in 2011, but I've gone back and tweaked it a bit and updated the photos. Can we talk about how awesome it is that quinoa has stuck around for so long? Everyone seemed to think it was a sort of trendy food when it first came on the scene, but they quickly discovered that it was healthy, satisfying, and worth keeping in a nutritious diet.
QUINOA-STUFFED ACORN SQUASH RECIPE
Not only is this a super healthy, but it's also a meatless meal! But don't worry, it's been tested by true carnivores. Like my husband. He's still totally skeptical if I tell him we're having a "meatless" meal, but if I don't mention it, I don't even think he notices it. And a lot of that is thanks to the quinoa. I'm sure mushrooms help in this stuffed acorn squash, too, since they have a meaty consistency and are often used as a substitute.
It's also an incredibly easy dinner to put together, provided you have a little bit of time to roast the acorn squash (and a sharp knife to cut it!). One change I made in this recipe update is to increase the servings to four rather than two. Some of you may have families of four you want to feed, but for others (like me!), I just love having healthy leftovers around the house.
So, Chris and I were able to eat Quinoa-Stuffed Acorn Squash for dinner one night and then each had an awesome lunch the next day, too.
While the acorn squash is baking, you'll prepare the quinoa. And sauté the onions, garlic, mushrooms, and habanero peppers. Then stir in the quinoa, spinach, parsley, and feta cheese in.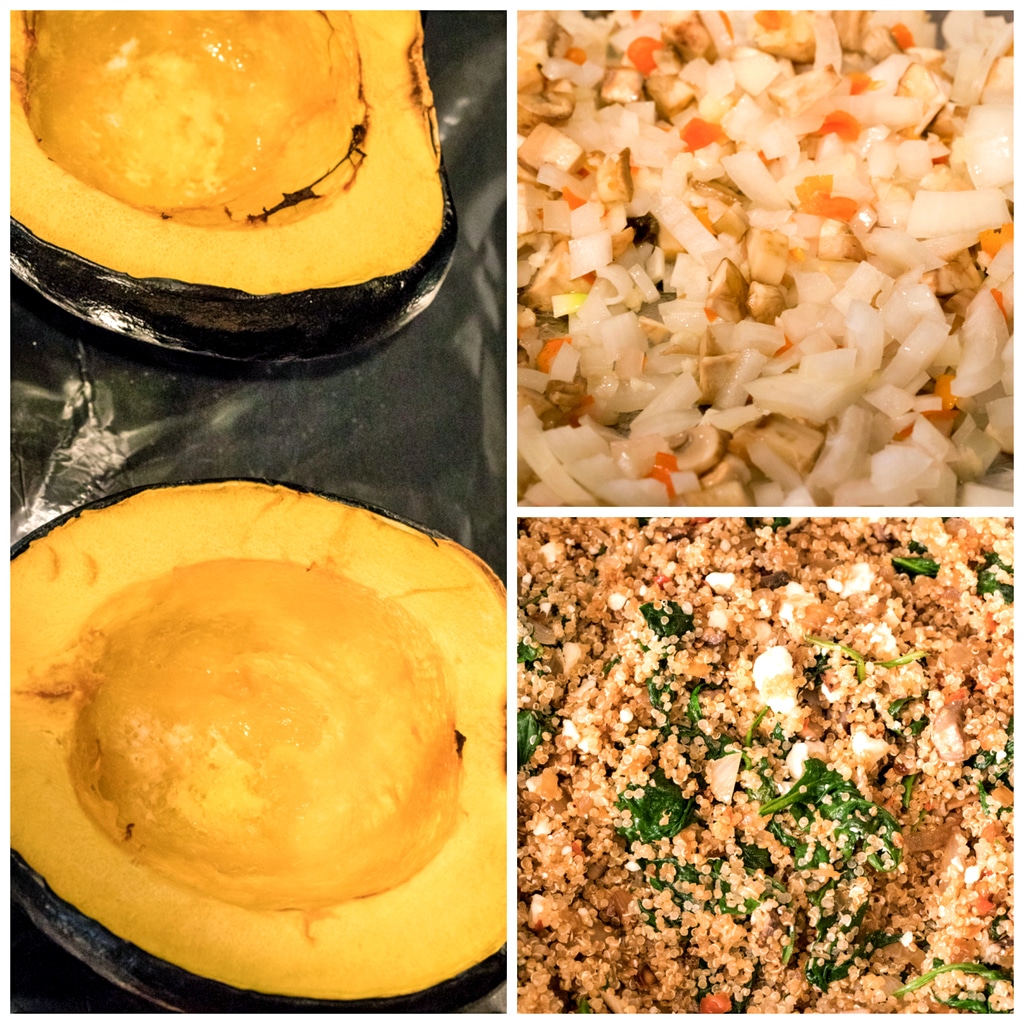 Stuff those beautiful acorn squash halves and top with dried cranberries if you want. I wanted.
I especially love meals like this because they take time to eat and I don't gobble them down in an instant. The filling is best eaten together with bites of the squash. And then once the filling is gone, you need to really dig into that squash flesh.
I'm pretty sure quinoa-stuffed acorn squash is what fall and winter is all about! Or any kind of stuffed squash, really. Hopefully that's not just me. But seriously, I love that my grocery store has a whole aisle devoted to squash at this time of year.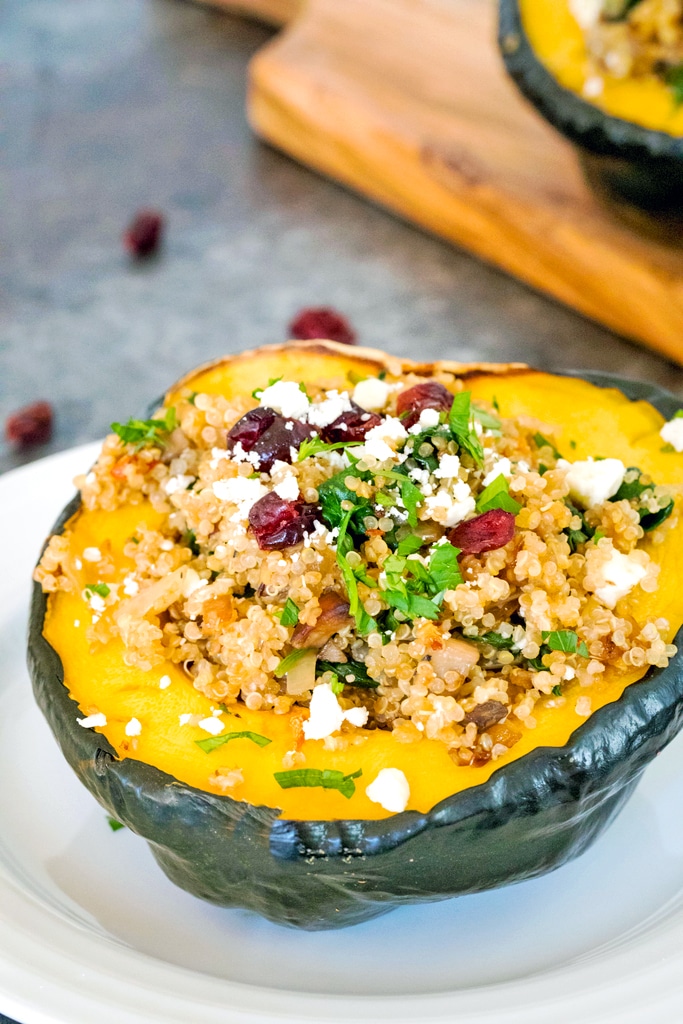 The options are really endless with stuffed acorn squash and you can include all kinds of delicious ingredients in the filling. I'm sure this won't be the last variation I make this year. Of course, you could definitely add meat (sausage would be delicious!) or some more indulgent ingredients, too. Feta is as crazy as I got here; I just love how you can add a tiny bit and get tons of flavor from it.
I obviously can't forget about the habanero pepper either. That packs in a ton of flavor and a little spice. If you can't find habanero or don't like it, you can use jalapeño. Even if you're not crazy about heat, I recommend using the peppers for flavor; just remove the seeds.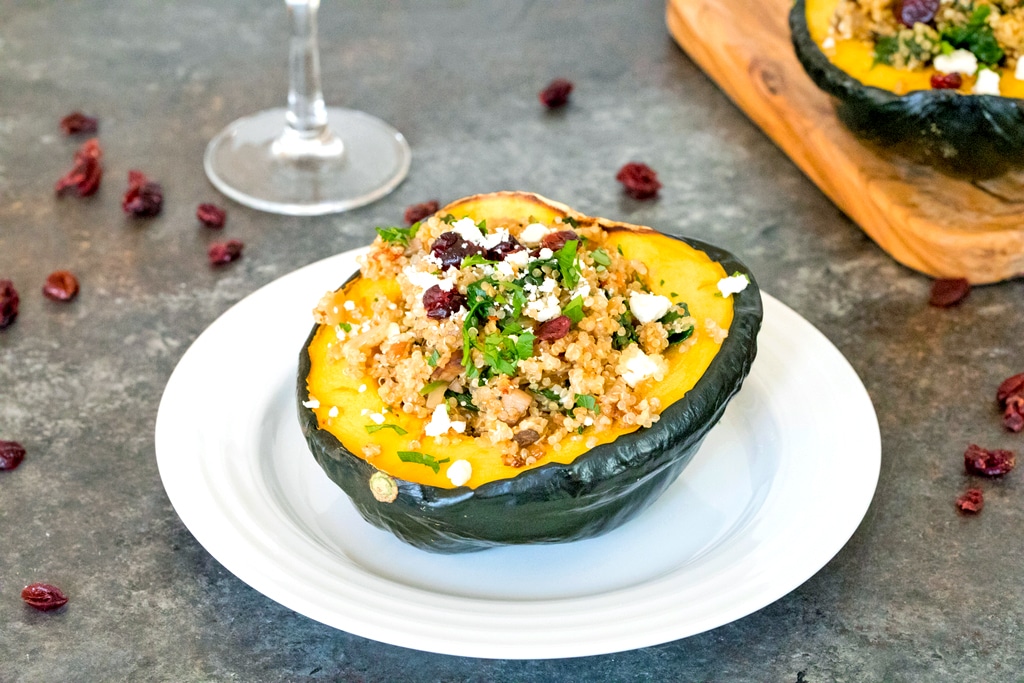 I know the holiday season can be crazy for a lot of people, but it's not like you're out every single night of the week partying it up. You likely still have plenty of quieter evenings at home, making out your Christmas cards or frantically online shopping for last minute gifts (or, you know, watching cheesy holiday Hallmark movies) when the time is perfectly right for a healthy holiday season dinner.
And since today is Cyber Monday, something tells me many of you will be running home from work to settle on your couch and try to take advantage of some crazy good deals. Unless you're just doing it AT work. Which is totally cool. No judgment here.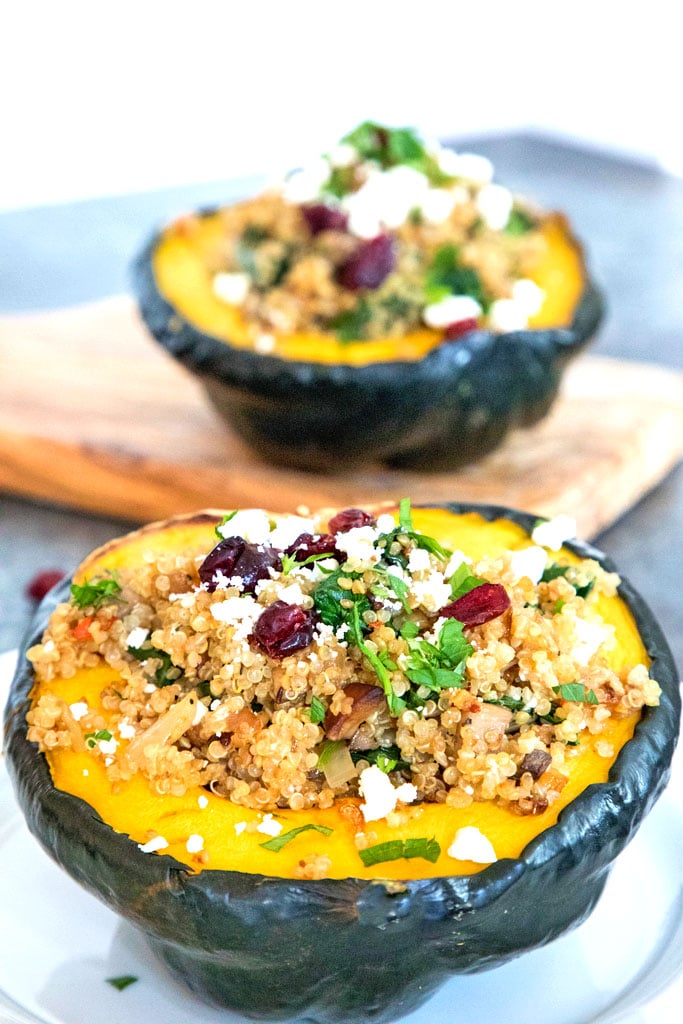 I'm super excited to say that I am almost done with my holiday shopping. Of course, I think I say that at this time every single year and then end up freaking out about the final items I need with no time to spare. Perhaps I'll get a little more done tonight with a healthy dinner by my side. Have you found any awesome deals today??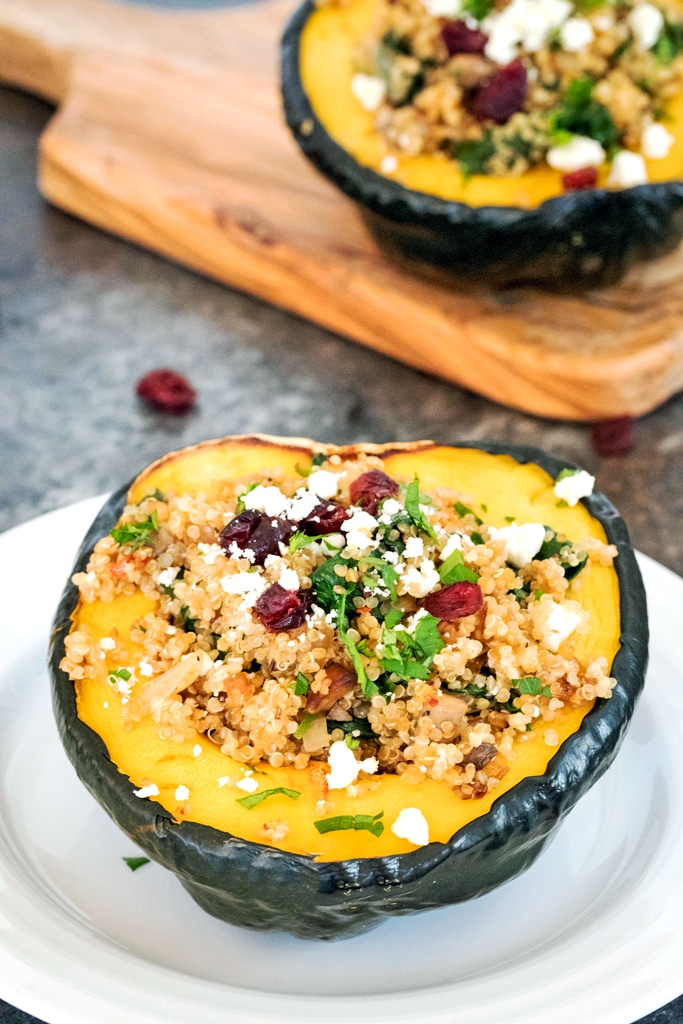 Oh, just one more question... Do you think it would be bad to eat this Quinoa-Stuffed Acorn Squash with a large glass of eggnog?
'Tis the season!!
Are you trying to get in some healthy eats this holiday season?
If you're looking for another healthy squash recipe, I'm still swooning over my Chipotle Butternut Squash Soup recipe! Grilled cheese croutons optional... But I mean, it is the holiday season. And this Moroccan-Style Stuffed Acorn Squash is also a delicious stuffed squash recipe... Plus it involves ground beef! And I'm VERY into this Crab-Stuffed Acorn Squash from Dish on Fish!
📖 Recipe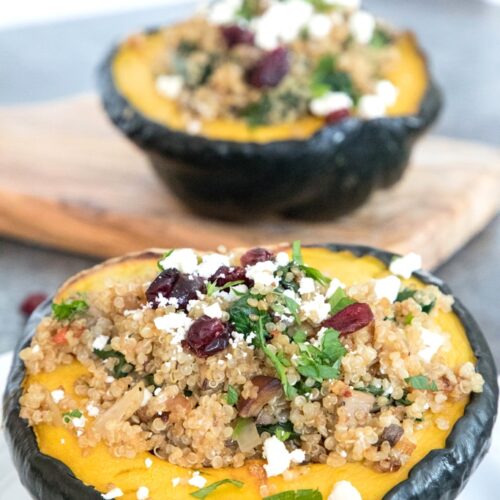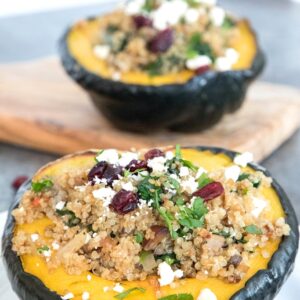 Quinoa-Stuffed Acorn Squash
This Quinoa-Stuffed Acorn Squash is the perfect healthy dinner for the holiday season and beyond. Tender acorn squash with a delicious quinoa and mushroom filling topped with feta cheese is filling and incredibly satisfying.
Print
Pin
Rate
Ingredients
2

halved and seeded acorn squash

2

Tbsp

unsalted butter

¾

tsp

salt,

divided

¾

tsp

pepper,

divided

1

cup

quinoa

2

cups

reduced-fat vegetable stock

(can also use water)

2

Tbsp

olive oil

1

yellow onion,

finely chopped

4

garlic cloves,

minced

1

cup

finely chopped mushrooms

1

Tbsp

finely chopped habanero pepper

(remove seeds for less heat)

1

Tbsp

fresh lemon juice

2

cups

baby spinach

⅓

cup

crumbled feta,

plus more for topping

1

Tbsp

chopped parsley,

plus more for topping

Dried cranberries for topping,

optional
Instructions
Pre-heat oven to 375 degrees and line a baking sheet with foil.

Place squash halves on baking sheet. Put ½ Tbsp butter in each acorn squash half and sprinkle with ½ tsp salt and ½ tsp pepper. Roast squash for about 45 minutes, until it's tender to the fork.

While the squash is roasting, prepare the quinoa. Bring quinoa and vegetable stock or water to a boil in a medium saucepan. Once boiling, lower to a simmer, cover, and let cook for about 15 minutes, until all water is absorbed. Fluff with a fork and set aside.

Add olive oil to a large skillet over medium heat. Add onions, mushrooms, garlic, and habanero pepper and sauté while occasionally stirring for about 7 minutes, until beginning to brown. Sprinkle about ¼ tsp salt and ¼ tsp pepper into mixture and squeeze lemon juice over.

Turn heat to low and add the cooked quinoa to the veggie mixture. Add in spinach and stir to combine and wilt spinach a bit. Stir in feta cheese and parsley.

Spoon quinoa mixture into acorn squash halves and top with additional feta and parsley. Add dried cranberries, if desired.
Share a Photo of Your Finished Recipe!
Mention @wearenotmartha and share a photo if you've made the recipe!