The day after Valentine's Day. Also known as the day all Valentine's Day candy goes on clearance. And stores start selling Easter candy (though I noticed they've already been selling it for weeks!). I'm trying to avoid CVS and all other Valentine's Day candy-selling spots today. Wish me luck.
Trust me, I totally indulged yesterday during my Valentine's Day dinner 🙂 I had the most amazing meal at one of my favorite spots in Brookline, The Fireplace. I always love it there, but for some reason, dinner last night was extra good. Chris and I started by indulging in a cheese plate (we can never help ourselves!) and it was the perfect way to start our meal. Then I ordered the braised beef short ribs for dinner. They were super tender and incredibly flavorful and I ate almost every bite (the cheesy cornmeal porridge, baby carrots, and garlicky broccoli were delicious, too). But I was still slightly jealous of Chris's lobster bisque and lobster mac and cheese. He claims it was the best lobster mac and cheese he's ever had. I confirm. And dessert? Apple cider doughnuts with 3 dipping sauces (apple cider, salted caramel, and chocolate). So yes, I ate a lot. Clearly, I woke up thinking about this meal, too… And I haven't stopped.
Anyway, as much as I hate to admit it, tonight might call for something a bit lighter. I am absolutely obsessed with this recipe for quinoa-stuffed acorn squash (inspired by a combination of recipes I found, including ATX Gluten-Free… I don't think I added any gluten to the recipe, so it's still gluten-free!) and it's perfect for eating a bit lighter without sacrificing flavor. I never think I'll be satisfied with salad and vegetables for dinner, but quinoa does it to me every time! I could be happy eating it every night. Make this. And make any alterations or additions you want. I love this salad because anything goes.
Quinoa-Stuffed Acorn Squash:
• 1 acorn squash
• 1 T butter
• 1 C quinoa
• 2 C chicken/veggie stock or broth (reduced sodium)
• 1 T extra virgin olive oil
• 1 small yellow onion, chopped finely
• 4 garlic cloves, minced
• 2 habanero peppers, chopped finely (remove seeds for less heat)
• 1/2 C mushrooms, chopped
• 2 C spinach, uncooked
• 1/2 feta, crumbled
• 1 T parsley, chopped
• 1 T fresh lemon juice
(Pre-heat oven to 375 degrees)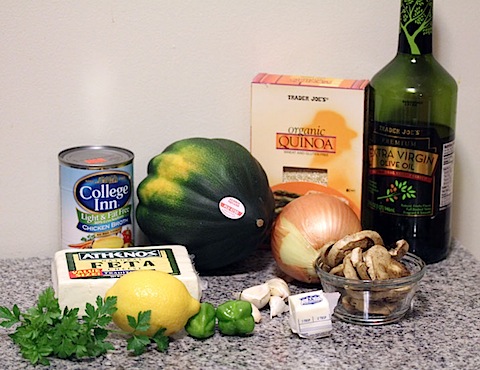 Start by slicing your acorn squash in half. You'll need a sharp knife to do so. Trust me.
Once sliced (albeit perhaps unevenly), scoop out all the seeds.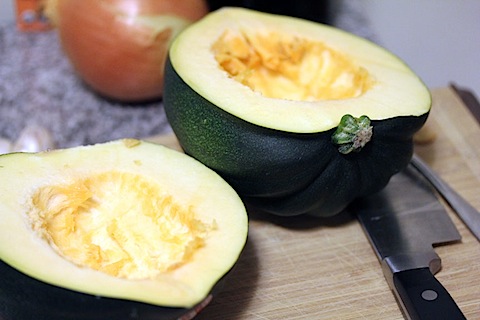 Sprinkle with a little bit of salt and pepper and put 1/2 T butter in each squash half.
Place on a baking tray and roast at 375 degrees for about 45 minutes. Make sure squash is tender to the fork upon removal (otherwise, stick it back in the oven for a few more minutes).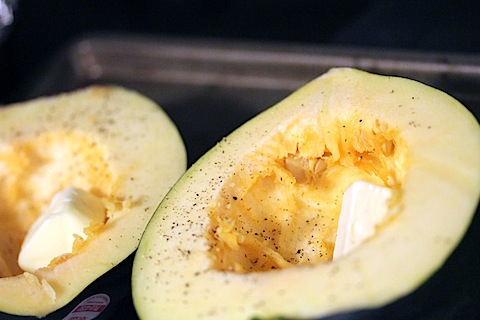 In the meantime, start cooking your quinoa, according to directions. You can use water, but I find chicken stock/broth to be a bit more flavorful. I generally try to get low-sodium, so I can control levels of salt. And, of course, use vegetable broth if you want to keep this dish vegetarian-friendly.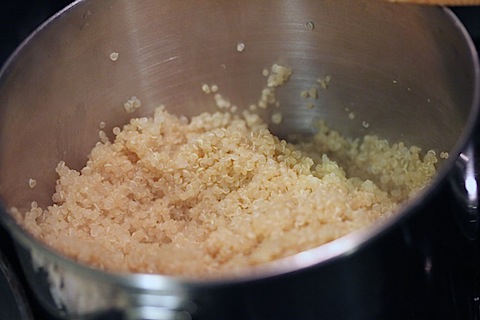 While the quinoa is cooking and the squash is roasting, pour your extra virgin olive oil into a skillet over medium heat. Sauté mushrooms, onion, garlic, and habaneros until they're slightly browned, about 7-10 minutes.
Season with salt and pepper to taste and squeeze lemon juice over.
Now, turn heat to low and add the cooked quinoa to the veggie mixture. Throw in 2 cups of spinach and stir to combine and wilt spinach a bit.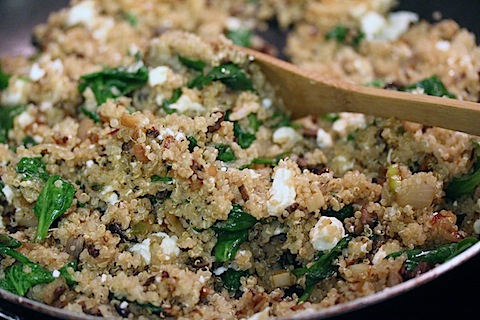 Add in feta cheese and parsley here, as well. Save a little of each for topping, if you want.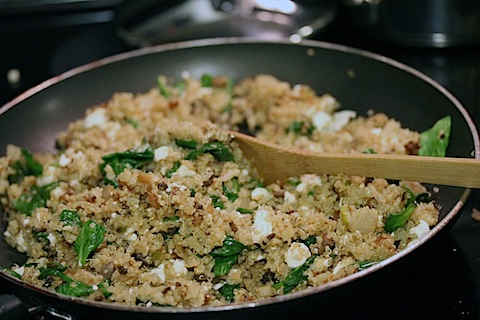 Your acorn squash should be looking beautiful by now.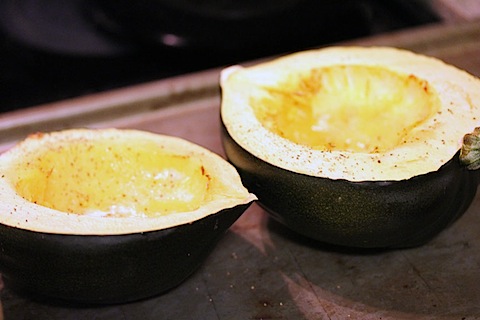 Spoon quinoa mixture into acorn squash halves and top with a little extra feta. And parsley too, if you desire.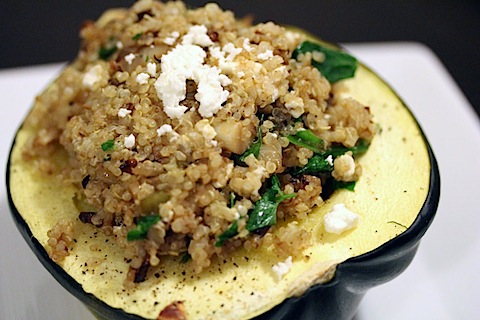 This is the kind of salad I could eat all day, every day. And it gets total bonus points for coming in an edible bowl. I loved taking a bite of the quinoa and then digging my fork into the squash. I swear, if you're going to eat healthy this is the way to do it! I kind of want to add artichokes or sun-dried tomatoes to this next time. Or dried cranberries. The options are endless!
I was super full and satisfied when I was done with my squash. And I felt pretty good about myself, too.
It's likely that you'll have some leftover quinoa, too, which means you can have it for lunch the next day.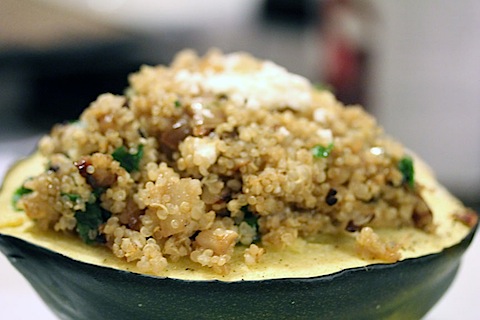 And that's the kind of meal I need tonight. You?
Enjoy! And now I'm off to indulge in these: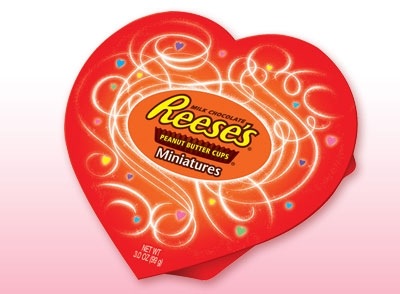 What? I said I wouldn't buy any more Valentine's Day candy. I didn't say I wouldn't snack on what I already had 🙂
If you live in Boston or anywhere in New England, be sure to tune into Chronicle on Channel 5 at 7:30 p.m. tonight. Chels and I filmed a little piece for them at the Porter Square Exchange in Cambridge. Full disclosure: Depending on how they edited the piece, there could be awkward shots of us eating huge pieces of sushi… Who knew sushi wasn't the best on-camera food?
Head here to see a little preview of tonight's show!
Did you over-indulge in Valentine's Day? And what candy deals have you found today??
[Sues]