These Rainbow Sherbet Meringues are packed with orange, lime, and raspberry flavors and taste just like a bowl of rainbow sherbet… Except they won't melt!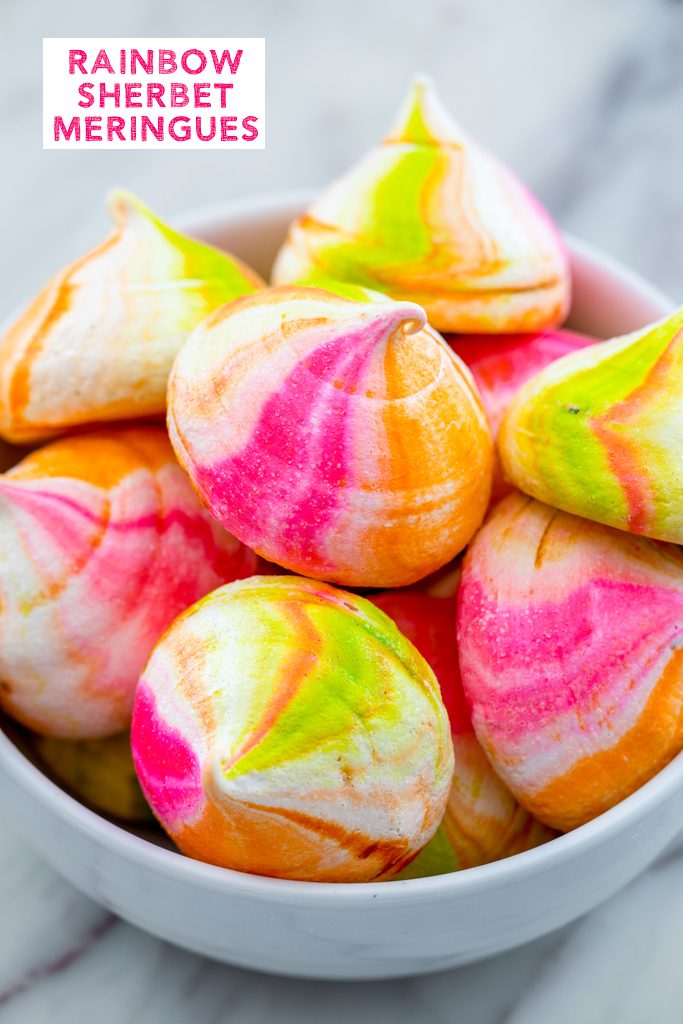 When it comes to ice cream, I'm all about the chocolate. And coffee. And peanut butter, caramel, cookies, brownies, etc. Basically, I like a lot of stuff in my ice cream. And hold the fruit, please. But every now and then, I seriously crave sherbet. Rainbow sherbet (why would you choose plain old orange when you could have rainbow??). To be fair, sherbet isn't really ice cream. Nor is it really sorbet. It's kind of in that in-between world. It's creamy and sweet and so very fruity. Plus? It's always gorgeous! The colors of sherbet make me so happy.
A few years ago, I made Rainbow Sherbet Cupcakes and discovered that the flavors of sherbet go really well in all kinds of desserts. Since meringues are basically a blank canvas for flavor, I decided rainbow sherbet meringues needed to happen. And so they did. These are the perfect little summer treats that are great for bringing to BBQs and picnics and anywhere your summer loving heart desires.
RAINBOW SHERBET MERINGUES RECIPE
If you haven't made meringues before, I recommend getting into the kitchen immediately. They're so very easy and, like I said, can be flavored in pretty much any way you dream. I love peppermint meringues during the holiday season and chocolate meringues any time (and you probably already know I have a serious thing for pavlova, which is very similar to meringues). Not only can you make them look pretty with food coloring, but you can also dip them in chocolate, crushed nuts, candy canes, etc. Once you have the basic meringue recipe down, the world is your oyster! These rainbow sherbet meringues are definitely the most "complicated" meringues I've made, but they're still quite easy!
You start with just egg whites and salt in a stand mixer or large bowl with a hand mixer. Beat them until foamy and then add cream of tarter and beat until soft peaks form. Add the sugar a little bit at a time and continue beating until stiff peaks form. I've said this before, but beating egg whites is seriously like therapy to me.
What you see below are the stiff peaks: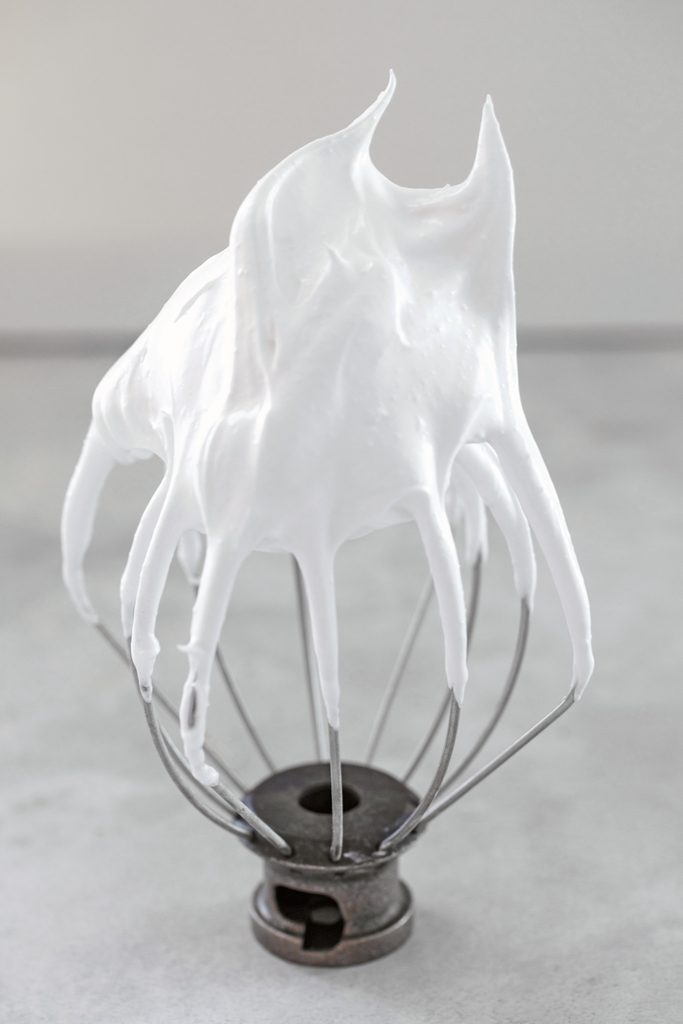 Now for the "complicated" part. Normally, you could add some flavoring and pipe your meringues now. But for these rainbow sherbet meringues, I wanted to utilize the three flavors of sherbet (orange, lime, and raspberry), so I divided my meringue mixture into three bowls and flavored each differently.
To one bowl, I added orange zest and orange juice. To another I added lime zest and lime juice. And to the third, I added raspberry extract.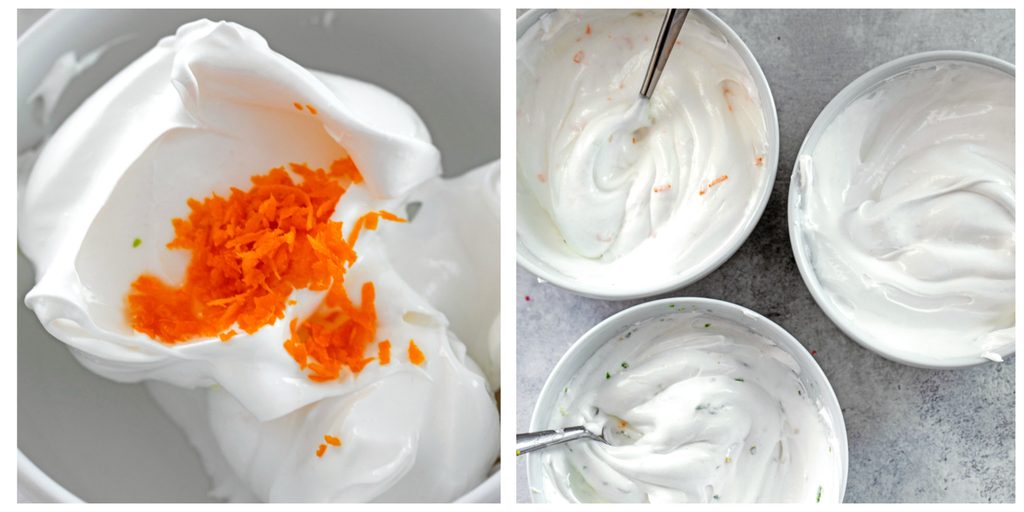 I also wanted to incorporate the three rainbow sherbet colors, so I fit my pastry bag into a tall drinking glass and brushed orange, green, and pink food coloring along the sides. Then I scooped each of the three meringues into the bag. Instead of layering them, I tried my best to get each of the three flavors along the side of the bag (without smudging the color too much) so there would be a little of each flavor in all of the meringues.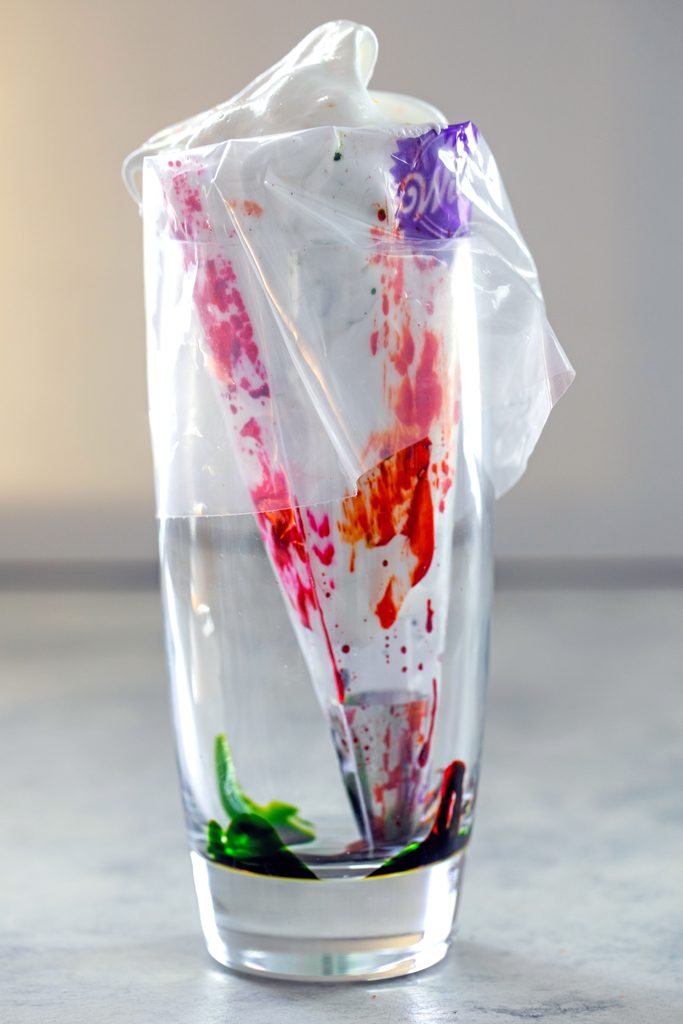 I piped my little meringues on a baking sheet and baked for an hour at 250 degrees. Once the hour was up, I turned off the oven, opened it a crack (I hold mine open with a wooden spoon), and keep the meringues in there for another two hours.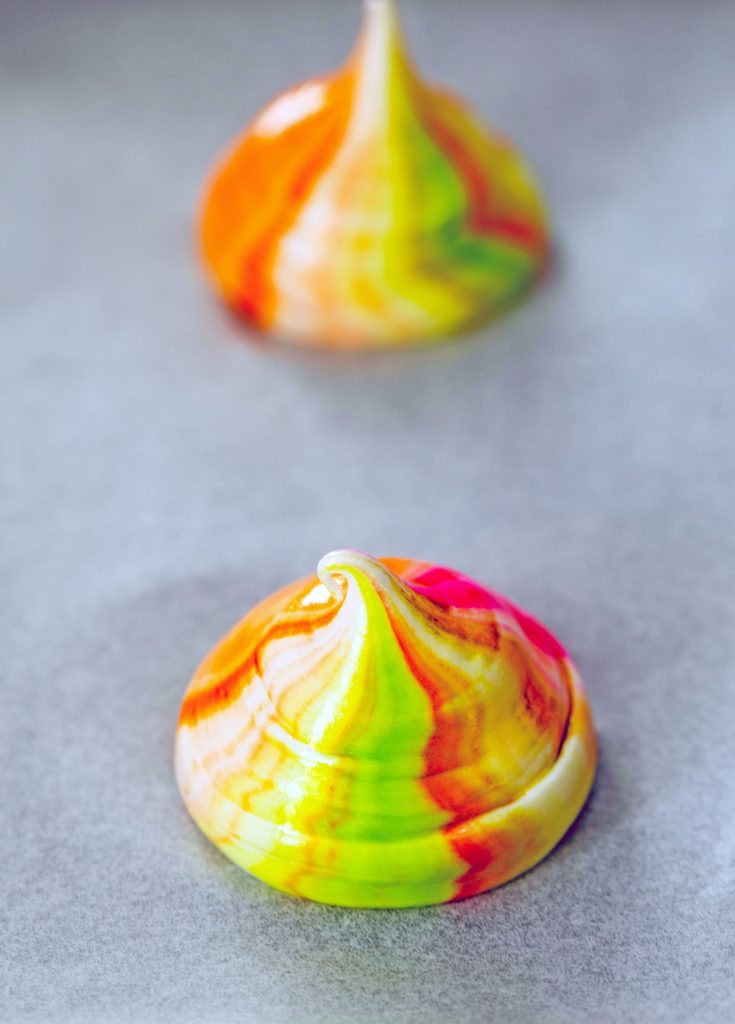 Then they're ready to enjoy! I was instantly in love with these rainbow sherbet cookies. They're perfectly crunchy and packed with deliciously fruity flavor. I promise that they really do taste like rainbow sherbet; it's actually kind of mind-blowing.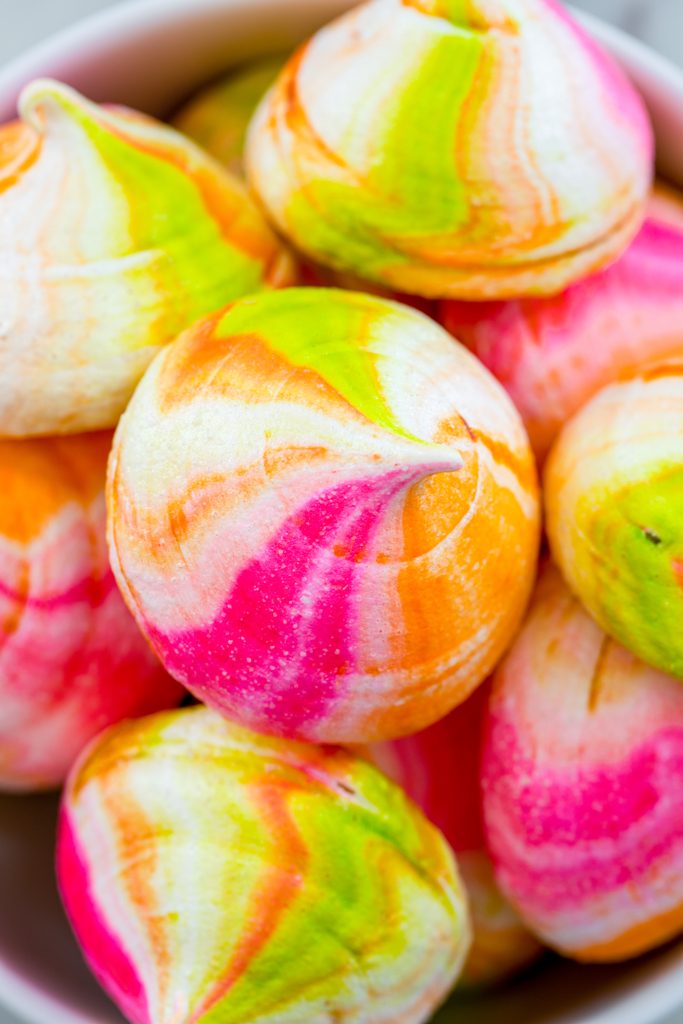 Meringues are technically cookies, but I never actually think of them as cookies. Probably because there's no flour or butter. Really, they're egg white cookies and a fabulous option for anyone who's gluten-free.
But just a warning that they're also addictive. There's something so satisfying about the crunch of a meringue and obviously the sweetness and rainbow sherbet flavors make them that much more appealing.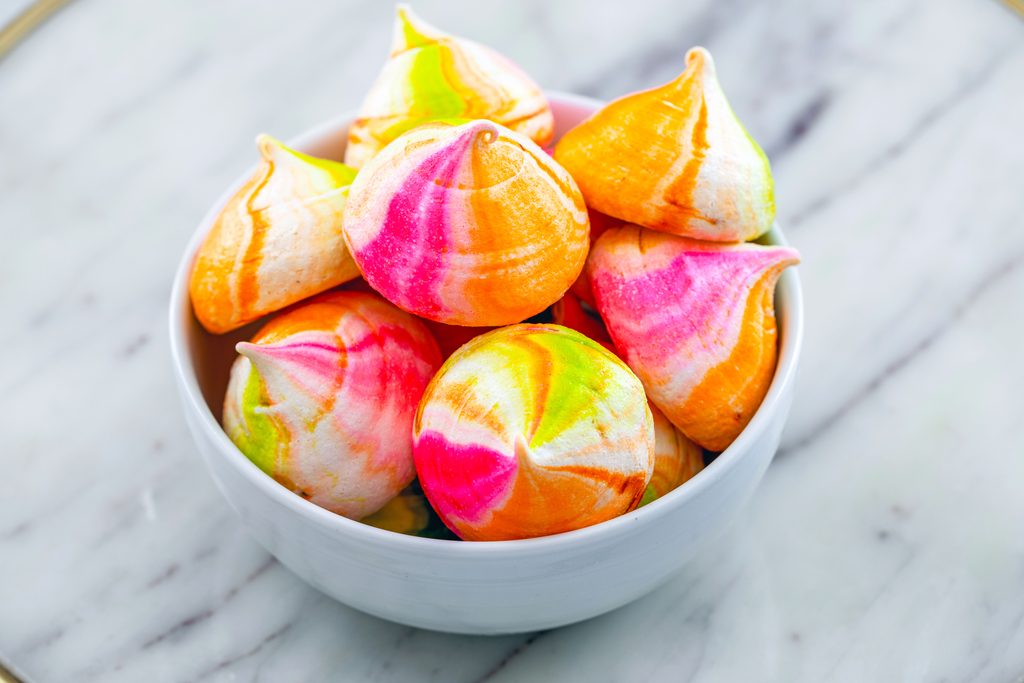 Meringues are a great cookie for transporting and you can keep them in an airtight container and tote them around to all your summer events. They're pretty unique in terms of cookies go… And I'd be pretty shocked if anyone else turned up to your summer BBQ with rainbow sherbet meringues in hand!
Plus, the colors are enough to brighten up any summer celebration.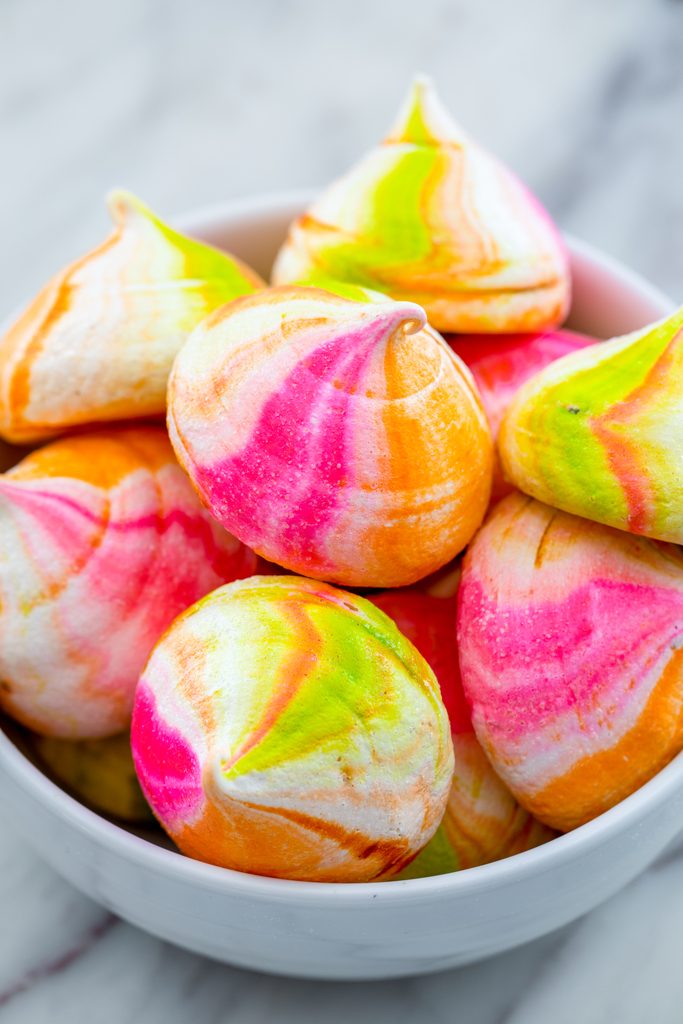 If you got through this post without starting to crave a bit bowl of rainbow sherbet, I give you credit. These meringues have reignited my love for the flavors of sherbet and now I can't wait to incorporate them into more desserts!
Do you love rainbow sherbet?
If you like these meringues, be sure to check out my recipes for S'mores Pavlova and Fruity Pebbles Meringues! I also can't wait to make these Lavender White Chocolate Meringues from Compelled to Cook!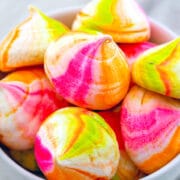 Print Recipe
Rainbow Sherbet Meringues
These Rainbow Sherbet Meringues are packed with orange, lime, and raspberry flavors and taste just like a bowl of rainbow sherbet... Except they won't melt!
Ingredients
4

large egg whites

1/4

tsp

salt

1/2

tsp

cream of tarter

1

cup

granulated sugar

1

tsp

lime zest

1/4

tsp

freshly squeezed lime juice

1

tsp

orange zest

1/4

tsp

freshly squeezed orange juice

1/2

tsp

raspberry extract

Orange, green, and pink food coloring
Instructions
Pre-heat oven to 250 degrees F and line 2 baking sheets with parchment paper.


In the bowl of a stand mixer or in a large bowl with a hand mixer, beat egg whites and salt on medium-high speed until foamy. Add cream of tartar and continue to beat until soft peaks form, about 2 minutes.

Begin adding sugar, 1 Tbsp at a time. Keep beating until stiff peaks form, about 6-8 minutes.

Divide egg white mixture into 3 different bowls. In the first bowl, mix in lime zest and lime juice. In the second bowl, mix in orange zest and orange juice. In the third bowl, mix in raspberry extract.

Place a pastry bag fitted with a large round tip (I use Wilton 1A) in a tall drinking glass and fold over the top of the bag. Dip a pastry brush or paintbrush in the green food coloring and starting inside the pastry tip, brush a stroke of food coloring from the tip to the top of the bag. Repeat with orange food coloring and again with pink food coloring. Fill the bag with each of the flavors of meringue taking care to scoop each flavor on each side of the bag (rather than layering them) so that you'll get each flavor in each meringue you pipe out. Pipe mounds about 1 1/2-inch in diameter onto prepared baking sheets.

Bake until meringues are dry and no longer glossy, about 1 hour. Turn off the oven, crack the door open a bit, and leave meringues in oven for another 2 hours to completely dry and avoid cracking.
Notes
To store meringues, place in airtight container and keep at room temperature for 2-3 days.
If you want to keep these meringues naturally colored, you can simply add the flavoring and skip the food coloring. They won't be as pretty, but they'll still taste just as delicious!