I think I've found the recipe of my dreams. When I went to my parents' house for Easter a couple weeks ago, I wanted to make an hors d'oeuvr, but something that I had never made before. And something that wasn't typical. I searched for a recipe that would be semi-easy, unique, and delicious, and immediately started drooling when I laid eyes on this one. Roasted baby pears with herbed goat cheese. And bacon. Done. Coincidentally, I had some goat cheese in my fridge sent from Ile de France, so I was good to go!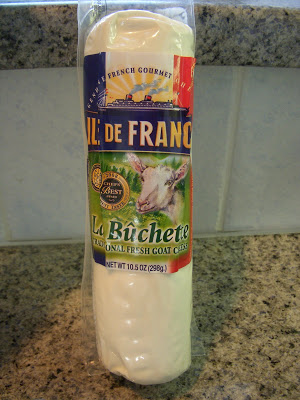 Roasted Baby Pears with Herbed Goat Cheese (and bacon):
1/2 lb. goat cheese
1/4 cup chopped mixed herbs (I used fresh chopped parsley and dried thyme)
2 T extra-virgin olive oil, plus some for drizzling
Kosher salt and fresh ground pepper
4 baby pears (I couldn't find "baby" pears, so I simply used small anjou pears)
8 slices of bacon
2 T honey
Arugula for garnish (I didn't do this part, but it would have been a really nice touch)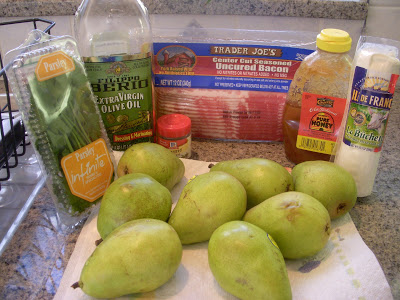 In a bowl, mix your goat cheese, chopped herbs, and 2 T olive oil. Season with salt and pepper.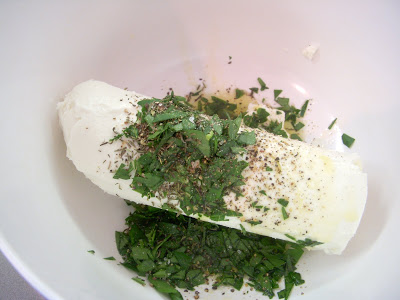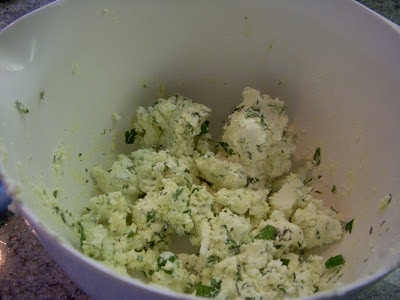 Cut your pears in half length-wise and scoop out the seeds and core. You can leave the stem on; I like the way it looks.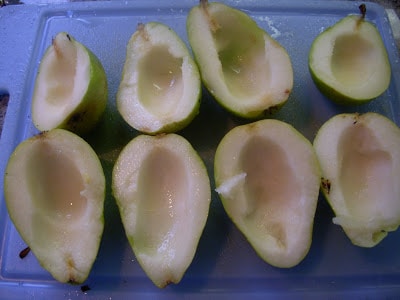 Now stuff each pear with the goat cheese filling. I filled them until they were overflowing, because the more goat cheese, the better, obviously!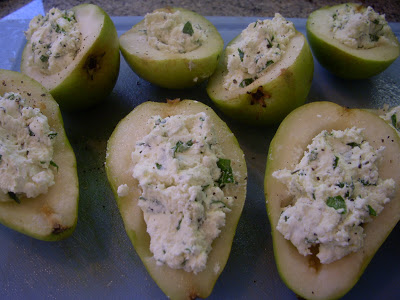 Wrap a slice of bacon around each pear. The recipe actually called for the bacon slices to be cut in half but I conveniently forgot to read that part. Plus my pears were a bit bigger than the recipe called for, so a whole slice of bacon was totally necessary.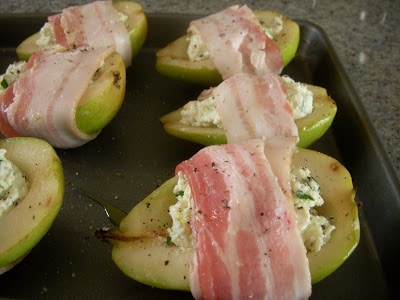 Drizzle some olive oil on the pears and sprinkle with salt and pepper. Then pop them in the oven for about 25-30 minutes or until bacon is crisp, at 375 degrees. I kept mine in the oven for the whole 30 minutes.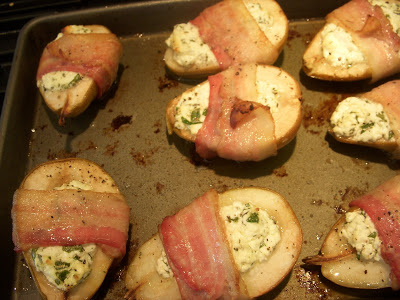 Plate and then drizzle the pears with honey. I definitely wish I had put the pears on top of arugula like the recipe called for because it would have complimented the flavors really nicely. Plus, the pears are so pretty and the arugula would make them even prettier. But they still looked lovely on my mom's pretty heart plates.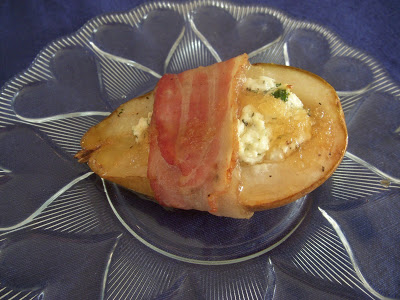 Basically, these pears were amazing. I absolutely loved the juiciness of the pear, combined with the sharpness of the goat cheese and the deliciousness of the bacon. The flavors were out of control!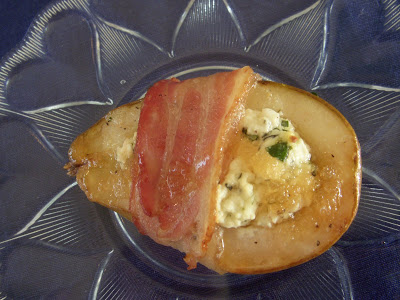 I will definitely be making these again and absolutely love this idea for a super easy (really!) and quick hors d'oeuvr for a dinner or party. Everyone said they were a little skeptical of the combination at first and didn't know whether they were going to be sweet or savory. Well, it was pretty much an amazing combination of the two and everyone loved them!
They were a fabulous start to a dinner that included ham and lamb that my parents made and tiramisu made by my sister for dessert. I absolutely love having a family who cooks amazing food and enjoys the food I make; it makes going home that much more fun!
[Sues]