These easy-to-make Rosé Sour Patch Kids are homemade wine gummy bears with a sweet and sour coating. Perfect for parties!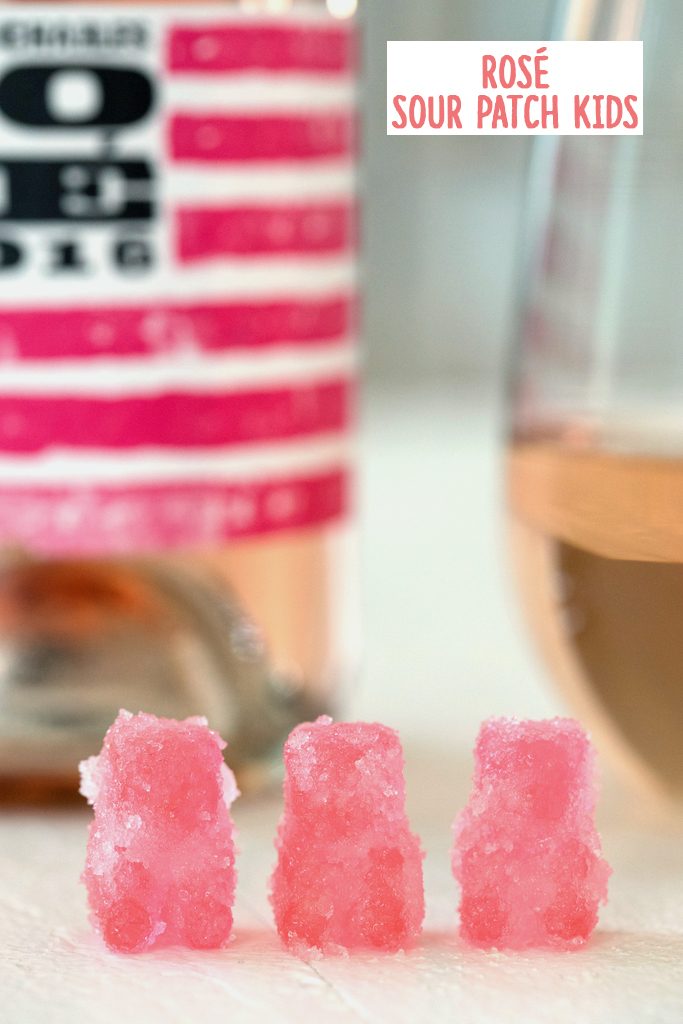 Who else needs some mid-week rosé? I'll tell you how badly I need it. Yesterday, when I left work, I was so tired and distracted that I got on the wrong train. THE WRONG TRAIN. I live in the suburbs, so we're talking about the commuter rail and leaving the city with an hour+ between trains. Not the T, where you can just get off at the next stop and hop back on the next train. For some weird reason, the conductor asked me where I was going (they usually don't bother talking to anyone, but I think my train pass must have confused him) and when I told him, he was like "uh yeah, this train isn't going there." By some crazy stroke of luck, the train I got on also has a stop just 15 minutes from my house, so it wasn't a big deal as Chris was picking me up anyway. There are so many trains I could have got on that went in all kinds of crazy directions far, far away from my town, so for this I am very thankful.
But it took me a heck of a lot longer to get home and man, I just couldn't get over the fact that I made such a rookie move. I pride myself on paying attention and being on top of things, so I was pretty ashamed in myself. But I'm chalking it up to pure exhaustion and the fact that I'm in serious need of rosé.
Homemade wine gummy bears are nothing new and I had bought some molds when I made them for my mom's birthday party a couple years ago (I originally got these small ones, but I recently bought these molds for larger gummies, as well). Regular wine gummy bears are always fun, but when I want gummy candy, I almost always want sour gummy candy. Sour rosé sounded like it would make for the most perfect candy, so I ordered myself a bag of citric acid and got gummying (can that please be a word?).
ROSÉ SOUR PATCH KIDS RECIPE
If you've never made them before, you should know that rosé gummies are super easy to make. All you really need is wine, sugar, and plenty of gelatin. If you want to make them sour, you just coat them in a combination of granulated sugar and citric acid. And pucker away.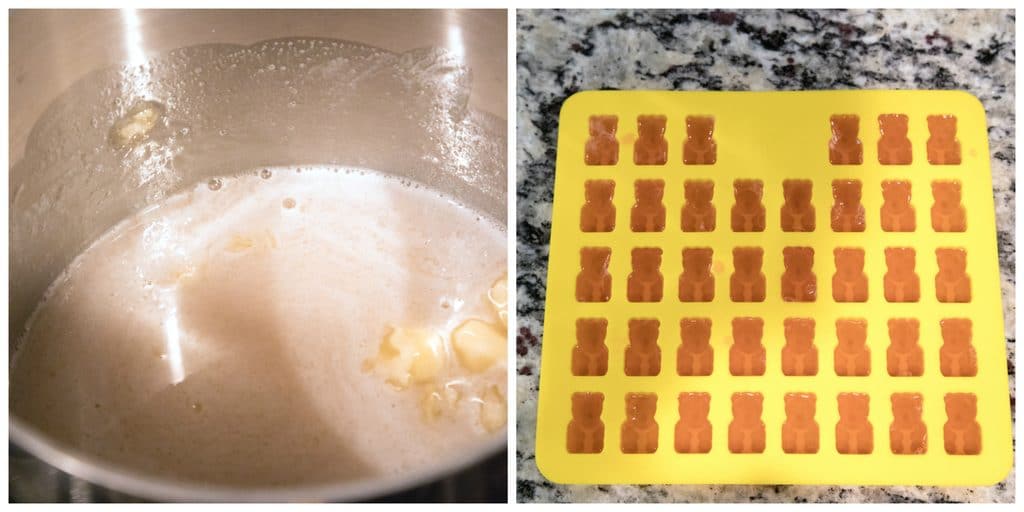 The wine gummies will need about two hours to chill in the fridge so they can firm up.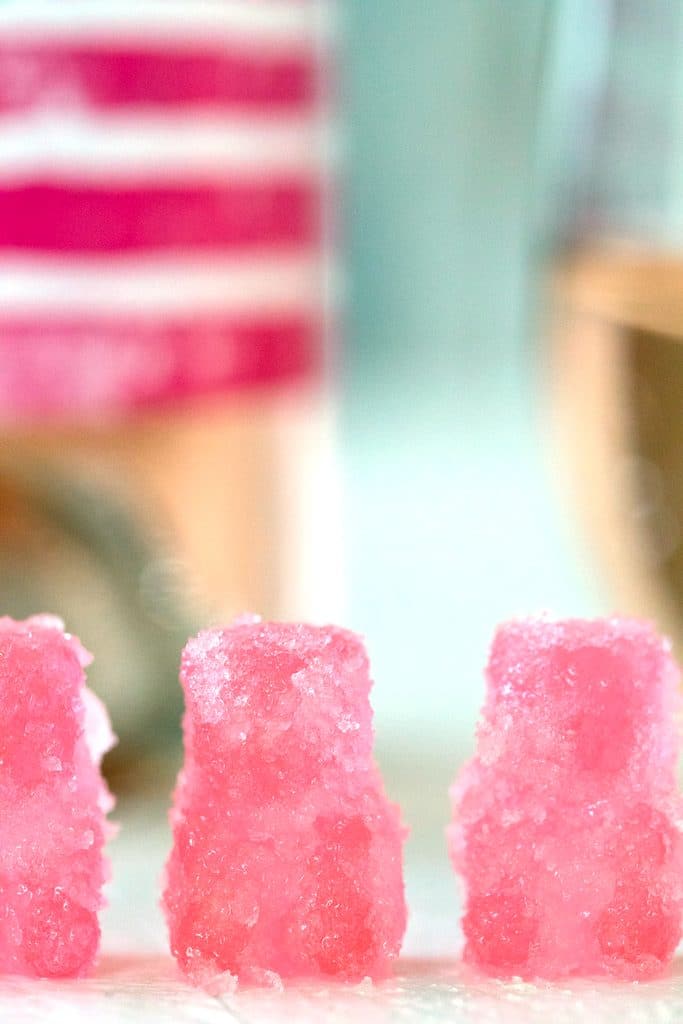 Yes, these are bears, but I'm still calling them Rosé Sour Patch Kids because who ever heard of sour patch bears? It's always the kids and the worms that are sour… I guess bears are just too sweet!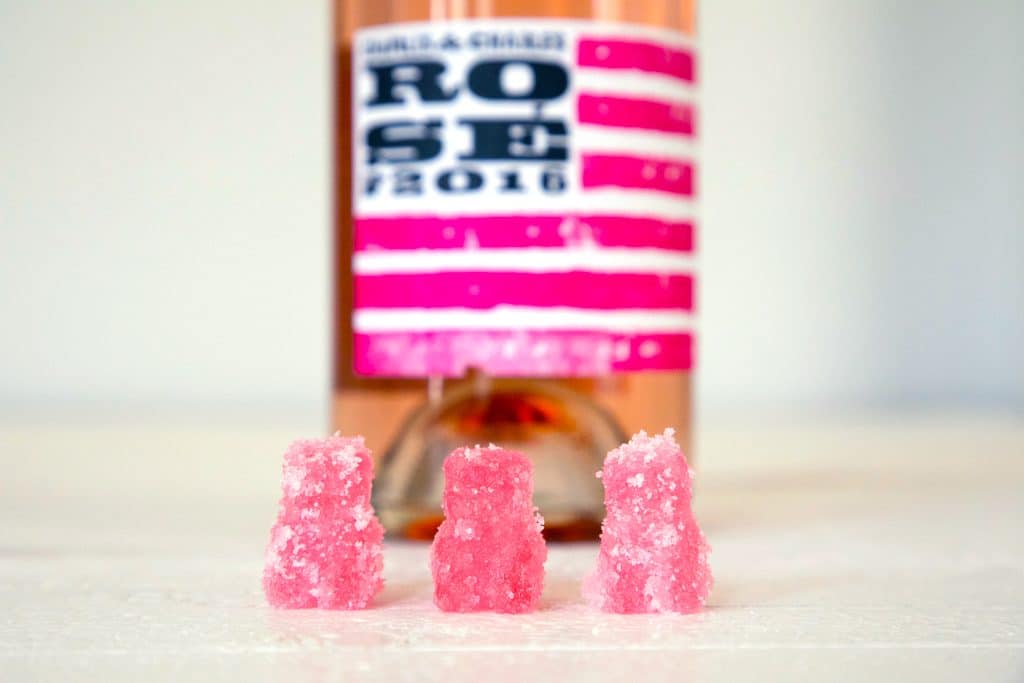 One thing to note is that if it's super humid where you are, the sugar/citric acid mixture may begin to melt away. Whatever you do, do not put these in the fridge or it will make them sweat even more. The same weekend I made these Rosé Sour Patch Kids, I also had a failed experience with a pavlova because my meringue just couldn't handle the humidity. I love pretty much everything about summer, except when the weather causes baking fails!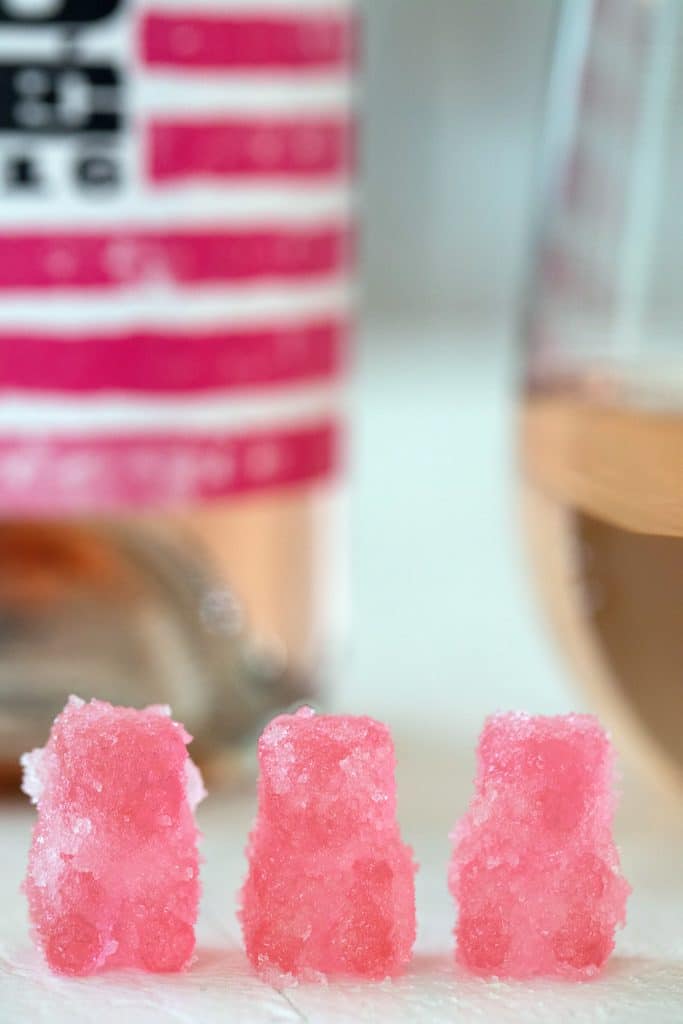 Though you shouldn't really have a problem with these since you'll likely be scarfing these down just as quickly as you can. They're super fun to have in little bowls at parties, too, as your guests will be snacking on them all evening long. Just BE SURE to tell them there is wine involved as they could get a bit dangerous. Because the rosé gummies are cooked over very low heat, all of the alcohol doesn't burn off, which is good…But could also be bad if you're just mindlessly popping them into your mouth. Or you know, serving these homemade sour patch kids when there are kids around.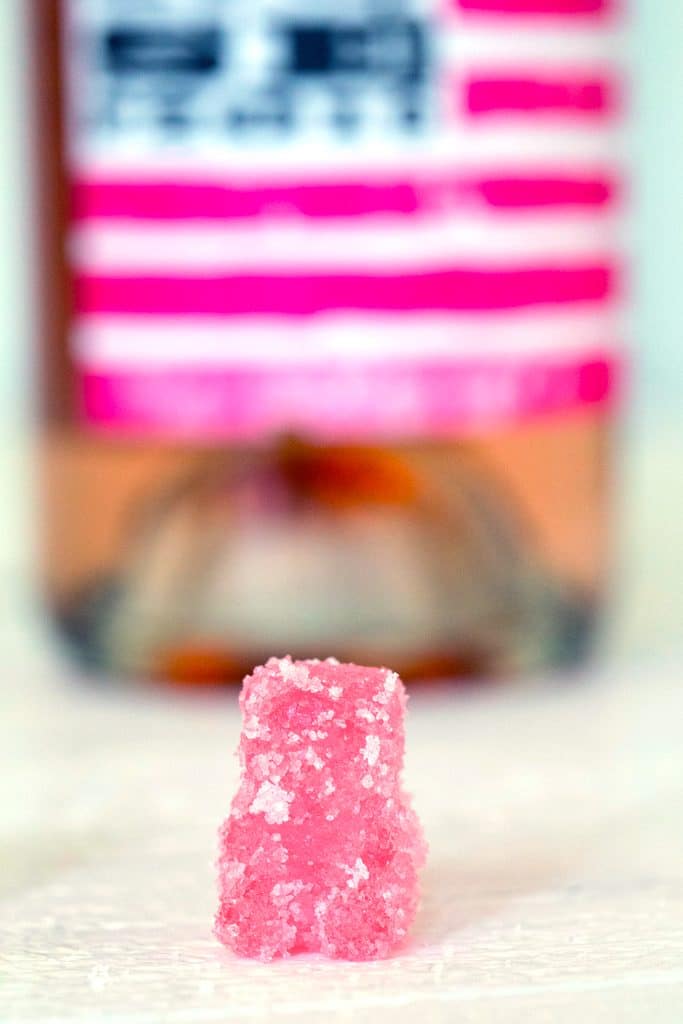 I should also mention that the 1/3 cup sugar and 2 tsp citric acid mixture worked for me, but if it's too sour (or not sour enough!) for you, feel free to adjust. I like a lot of pucker!
I hope that your week does not need wine as much as mine does, but if it does, I recommend enjoying it in Rosé Sour Patch Kid form!
Have you ever made your own homemade gummies?
If you like these homemade sour patch kids, but sure to check out some of my other fun summer treats, like these Rainbow Sherbet Meringues and these Strawberry Lemonade Shortbread Cookies. If you're looking for more homemade candy recipes, check out these Cherry Cordials from Baking Sense.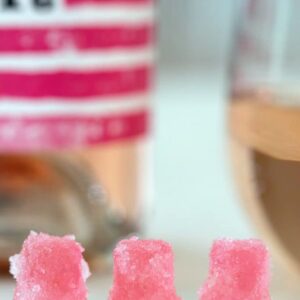 Print Recipe
Rosé Sour Patch Kids
These easy-to-make Rosé Sour Patch Kids are homemade wine gummy bears with a sweet and sour coating. Perfect for parties!
Ingredients
1

cup

rosé wine

5

packets gelatin

(about 1/4 cup)

1/3

cup,

plus 1/3 cup granulated sugar

1-2

drops

pink food coloring

2

tsp

food-grade citric acid
Instructions
Pour rosé into a medium saucepan and sprinkle gelatin over the top. Stir gelatin into wine until it's completely dissolved. Mixture will be thick.

Over very low heat (do not let mixture boil), continue stirring mixture until the it melts back down into a liquid consistency, taking care not to let gelatin clump up. If clumps remain, press it against the side of the saucepan with your spoon to break them up.

Once wine is liquid, add 1/3 cup sugar and stir until dissolved.

Turn off heat and add drop or two of pink food coloring.

Place gummy bear molds on trays and working quickly, fill molds with wine mixture. You can either pour the mixture over the molds, and use an offset spatula to clean up or you can use an eyedropper (one usually comes with gummy bear molds).

Once molds are filled, place in fridge for about two hours to firm up.

In a small bowl, mix together remaining 1/3 cup granulated sugar and citric acid.

Pop gummies out of molds and let come to room temperature.

Toss gummy bears in sugar mixture to coat.

Store in airtight containers if not enjoying right away.