These Strawberry Lemonade Shortbread Cookies are like little bursts of sunshine and are the ultimate summer cookies. Plus, they're incredibly easy to make!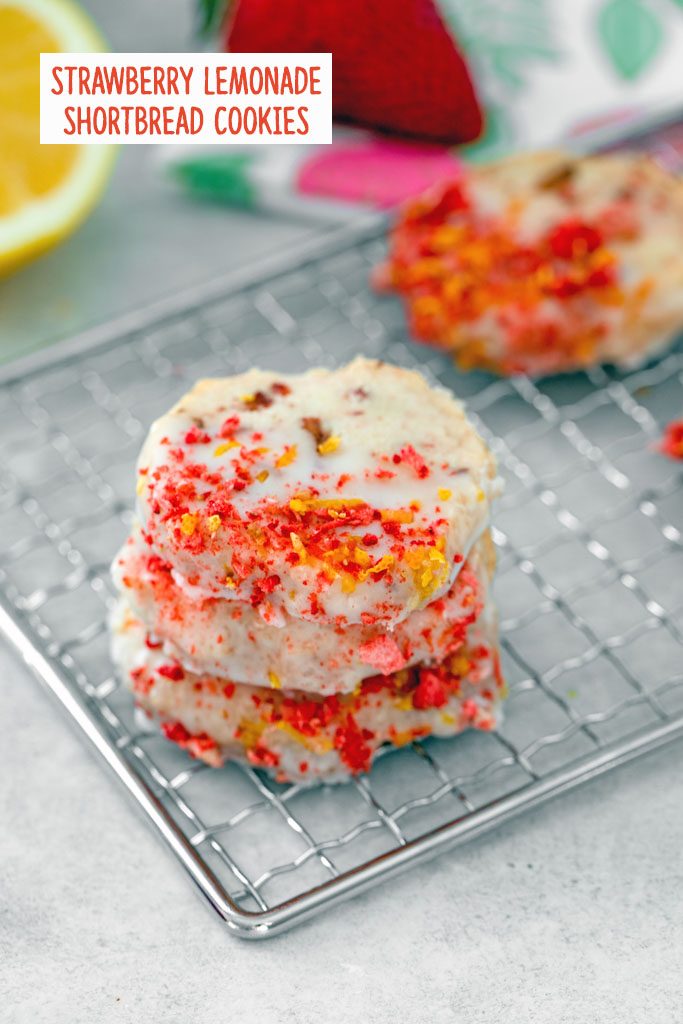 I'm just sitting here waiting for those May flowers we were promised. Goodness knows we experienced enough April showers this year. To be fair, there are lots of May flowers currently in bloom... It's just difficult to enjoy them amidst all this rain.
At least I can see them out the window? Where I'm sitting in my family room with the fireplace on. Because brrrr. I know it's only the second day of the month, but the 10-day forecast does not look promising and I am getting pretty impatient for some spring/summer in my life!
Enter cookies.
I used to think shortbread was the most boring cookie in the world. And I should note that I still don't understand people who choose to purchase shortbread cookies from the Girl Scouts over Tagalongs or Samoas (slightly unpopular opinion: I also love Do-si-dos).
BUT the thing about shortbread is that it's an entirely versatile cookie that you can do absolutely anything with. I've made a deliciously nutty floral version with these Rose Pistachio Shortbread Cookies and also a festive holiday version with these Gingerbread Shortbread Cookies and a summer cocktail version with these Margarita Shortbread Cookies.
And now I'm back with a summer shortbread cookie. I hope these strawberry lemonade shortbread cookies can help bring a little bit of sunshine into your day!
I definitely think you should try these, but if you're just not a shortbread fan, make these strawberry cheesecake cookies instead!
Strawberry Lemonade Shortbread Cookies Recipe
The first time I made shortbread cookies (using the famous shortbread cookie recipe), they seemed a bit daunting. But I simplified my recipe a bit and now that I've become a shortbread connoisseur, I've realized how ridiculous easy it is.
It doesn't take much to get an incredible cookie and like I said, there's just so much you can do with them depending on the season and your mood.
You'll start by making a super easy batter that consists of just butter, sugar, salt, flour, and extracts. I used both strawberry and vanilla extract to boost that summery strawberry flavor.
But if you don't have strawberry extract (it should be in more regular grocery stores or you can use my affiliate link and get it here), just add additional vanilla extract and let those crushed freeze-dried strawberries do their work!
I bought freeze-dried strawberries for the first time a few years ago for this Fruity Granola and though you can get them in most grocery stores, they're pretty expensive, so I recommending buying in bulk on Amazon (affiliate link) for a much better deal! You can snack on them or add them to so many different recipes.
Once your batter is made, you'll separate it into two portions and roll each of them into a log. Wrap each log in plastic wrap and chill for a couple hours.
After the dough is chilled, brush each log with egg wash and roll around in coarse/decorative sugar. And then slice and bake!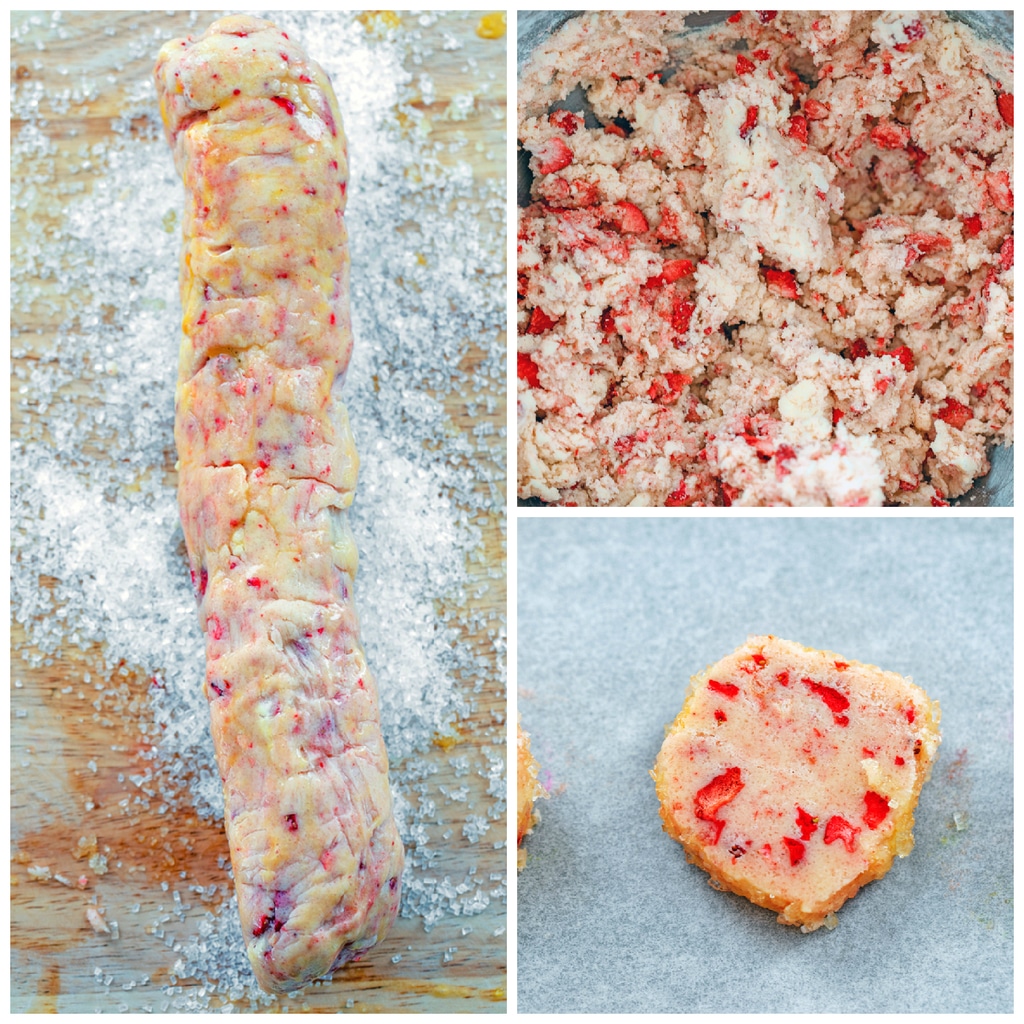 The cookies are ready when they're turning golden around the edges. The strawberries lose a little bit of their happy brightness during the baking process, but they're still quite pretty!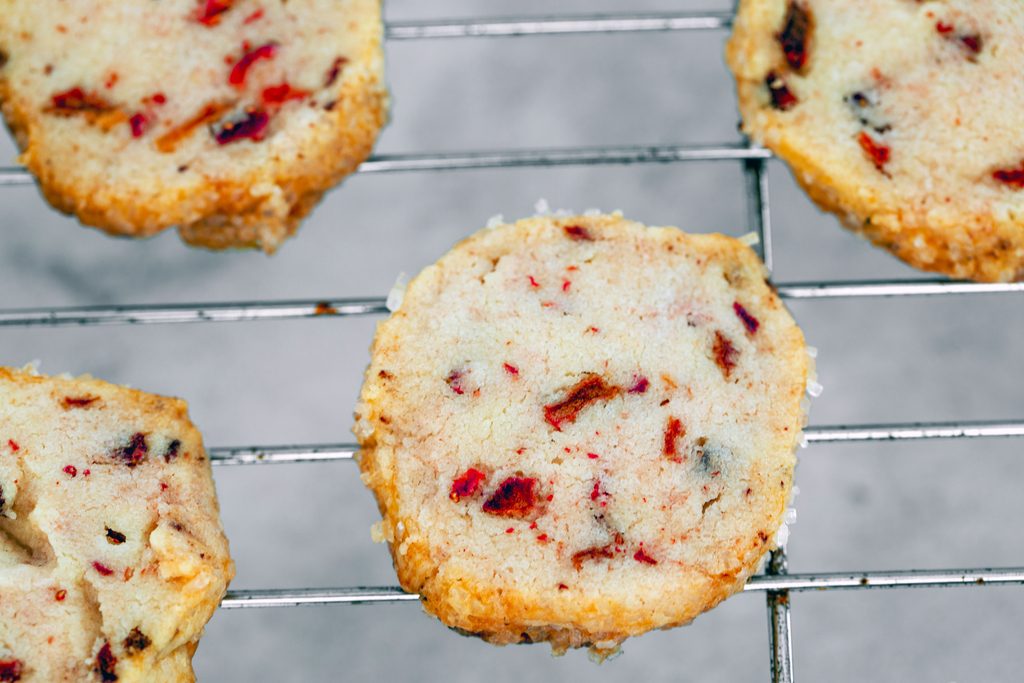 While the cookies are cooling, you can whip up the lemon glaze. Which is literally just confectioners' sugar and lemon juice. So yeah, when life gives you lemons, make a lemon glaze and dunk strawberry cookies in it. That's how the saying goes, right?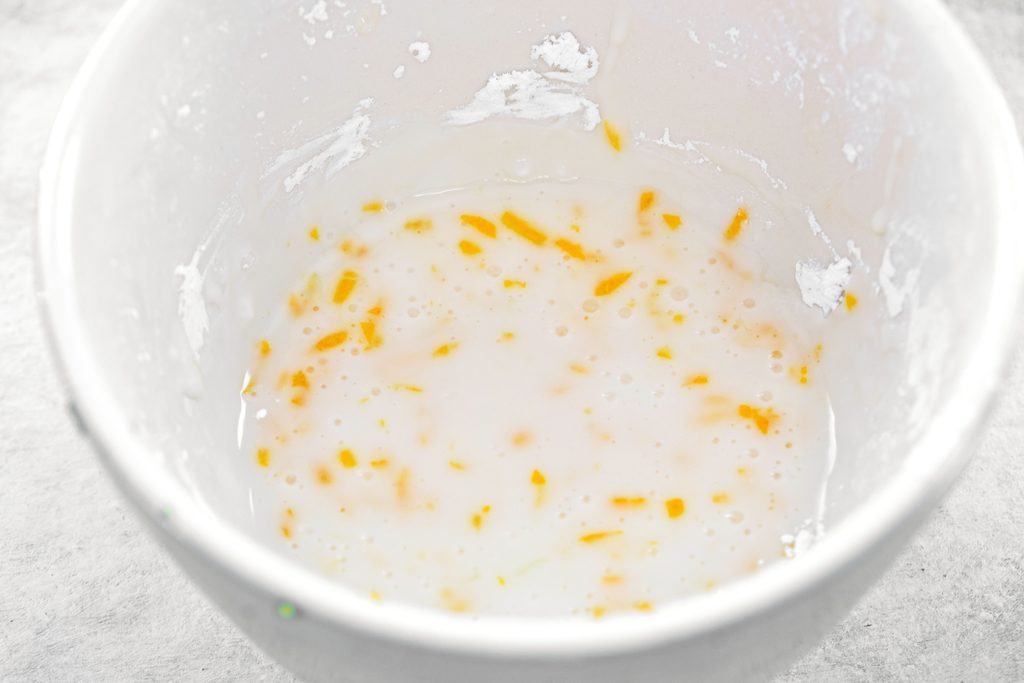 After I dipped the cookies, I decided to sprinkle some lemon zest and more crushed freeze-dried strawberries on them in part for visual appeal and in part for omg yum.
They definitely boost the strawberry lemonade flavor of the cookies!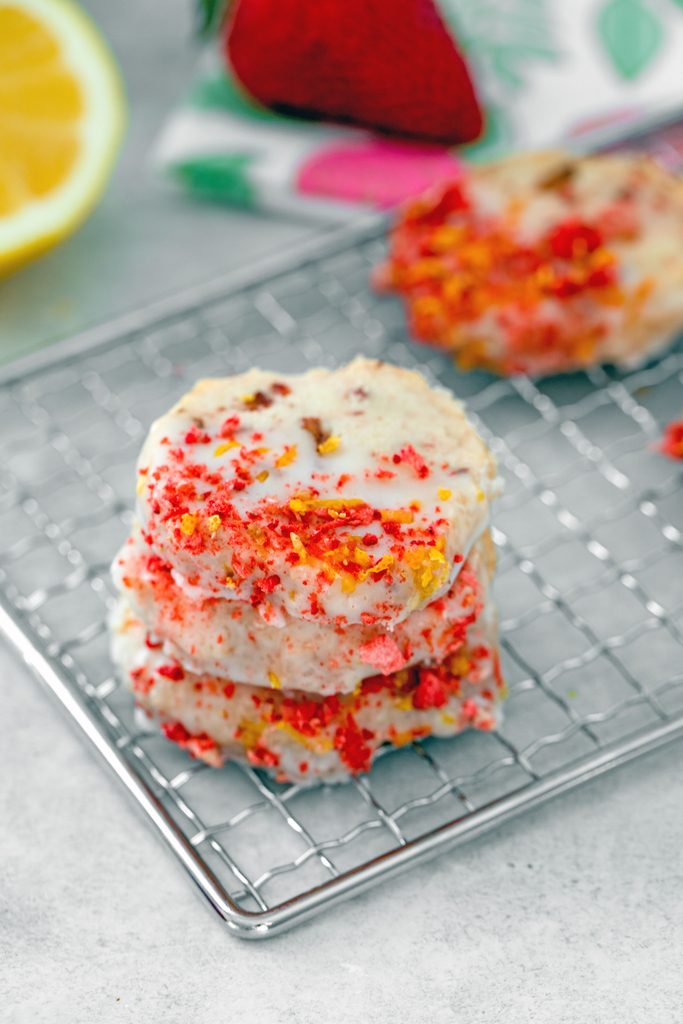 Yup, these strawberry lemonade cookies are pretty much summer sunshine in baked good form. They're not overly sweet, but they have a nice strawberry flavor with a little bit of tartness from the lemon.
Plus, they have that fabulous crunch that all the best shortbread cookies should have. OK the coarse sugar on the sides helps, too. By the way, you don't HAVE to add that. But you probably should.
It's kind of like rimming your lemonade glass with sugar. You don't have to do it, but given the opportunity, why wouldn't you?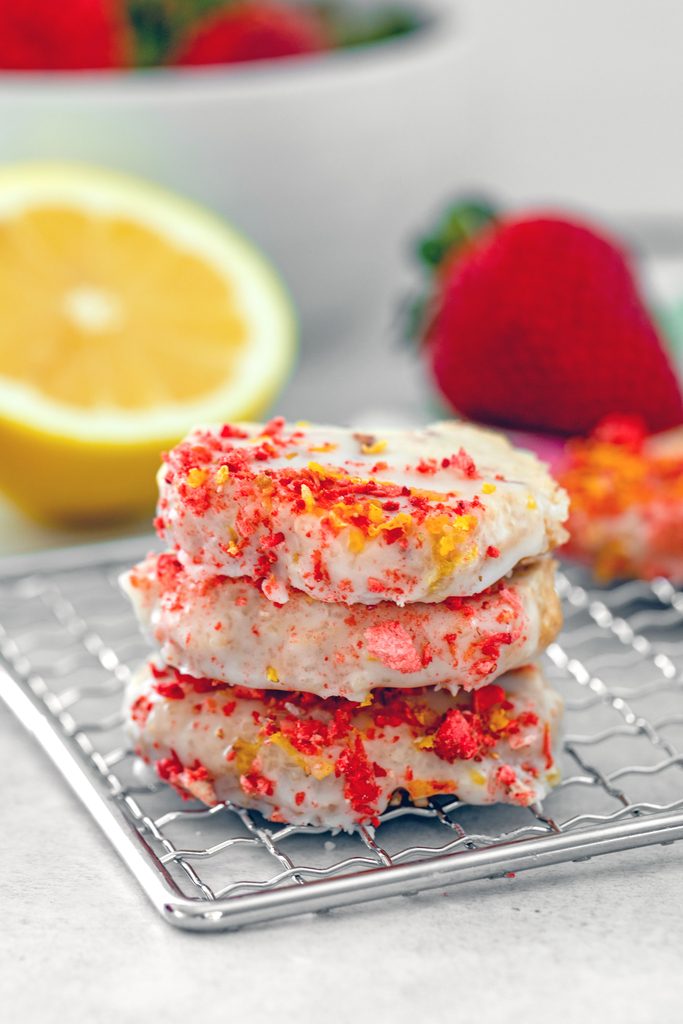 I realized that a lot of times when I write about summer foods and drinks, I say, "this would be perfect for a summer garden party!" Well, guess what? I've never had a summer garden party. And I don't even have a garden.
But I can still envision a party full of people wearing sundresses (and hats! I think they'd be wearing hats, too) eating these strawberry lemonade shortbread cookies and sipping on little glasses of strawberry lemonade, too.
But I think the strawberry lemonade would also have vodka in it. Right??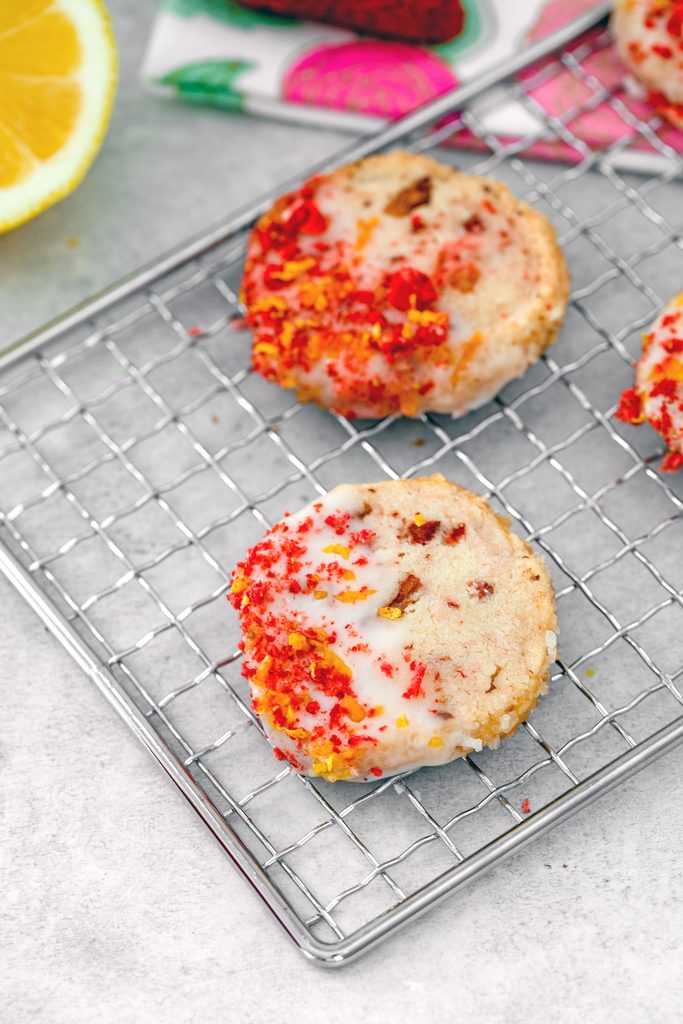 At least at my garden party it would.
They say food can change your mood and they're right because these cookies are like little bursts of sunshine on an otherwise gloomy day. And since they use freeze-dried strawberries instead of fresh, it doesn't even have to be strawberry season for you to enjoy them.
Bring on the blizzards! Just kidding. I sincerely hope we're done with those, but with it being New England and all, you never really know.
At least we have cookies.
What food can instantly put you in a more cheery mood?
Aside from a nice refreshing glass of strawberry lemonade (with vodka obvi), I think this Strawberry Pimm's Cup Granita from Baking the Goods would be the PERFECT pairing to these cookies!
📖 Recipe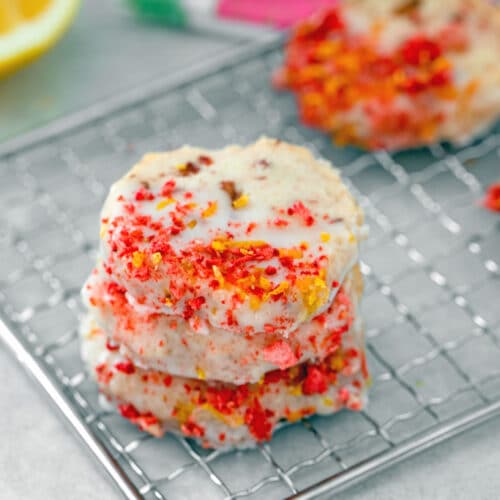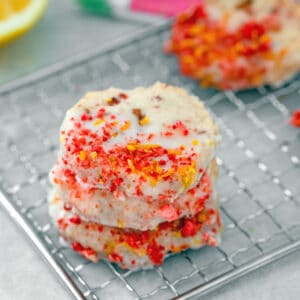 Strawberry Lemonade Shortbread Cookies
These Strawberry Lemonade Shortbread Cookies are like little bursts of sunshine and are the ultimate summer cookies. Plus, they're incredibly easy to make!
Print
Pin
Rate
Ingredients
1

cup (2 sticks)

unsalted butter,

room temperature

¾

cup

granulated sugar

½

tsp

salt

½

tsp

strawberry extract

½

tsp

vanilla extract

2

cups

all-purpose flour

1

cup

crushed freeze-dried strawberries,

plus more for sprinkling on cookies

1

egg,

lightly beaten

¼

cup

coarse/decorative sugar

Zest of 1 lemon

(for sprinkling on cookies)
Lemon Glaze
1 ½

cups

confectioners' sugar

1

tsp

lemon zest

3-4

Tbsp

lemon juice
Instructions
In the bowl of a stand mixer or in a large bowl with a hand mixer, beat butter, sugar, and salt on medium-high speed until light and fluffy, 3-5 minutes. Mix in strawberry extract and vanilla extract.

With mixer running on low speed, add flour and crushed freeze-dried strawberries to butter mixture and beat to just blend, taking care not to over-mix.

Divide dough in half and place each half on large pieces of plastic wrap. Fold plastic wrap over dough to completely cover and use your hands to roll the dough into a smooth log, about 2" in diameter. Repeat with second half of dough and then place in fridge to chill until firm, about 2 hours.

Preheat oven to 350 degrees and line a rimmed baking sheet with parchment paper. Taking one dough log out of the fridge at a time, brush the outside of each log with egg wash and roll in coarse sugar.

Slice each log into ½"-thick rounds and arrange on prepared baking sheet about 1" apart. Bake for 11-13 minutes, until edges are just beginning to turn golden. Let cool slightly on pan before moving to wire racks to cool completely before icing.

Dip cooled cookies in lemon glaze coating about ½ of cookie. Sprinkle on additional crushed strawberries and lemon zest, if desired.
Lemon Glaze
In a small bowl, whisk together confectioners' sugar, lemon zest, and 3 Tbsp of lemon juice. Add remaining Tbsp lemon juice if mixture is too thick.
Notes
The below are affiliate links for the products I use or mention in this recipe:
Share a Photo of Your Finished Recipe!
Mention @wearenotmartha and share a photo if you've made the recipe!