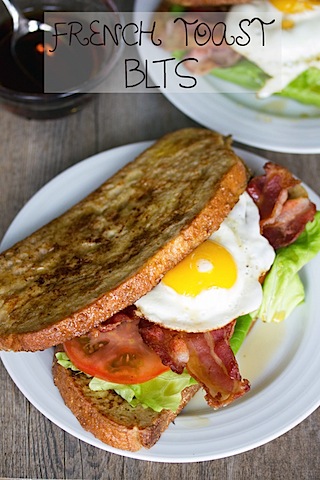 Hello and welcome to the holiday season! And winter coat season! Seriously, I make a deal with myself every year that I won't start wearing my winter coat until December 1. Mainly because winter doesn't even officially start until December 22 and when you live in Boston, it's a long, long winter. I can't bare the thought of wearing a winter coat for 5 months of the year. Shudder. I'll be honest, there were several days in November that definitely qualified as winter coat days. And it was tough out there… But I persevered. Obviously it's not even going to be super cold out today, but at least I have the winter coat option should I want it. That's all that matters. And yes, I'm weird.
Winter weather makes me want to stay in my apartment (which is still incredibly warm without any heat turned on at all this year. WHAT) all day and do things like eat brunch and bacon and not talk to anyone for 94023 hours. BLTs are probably one of my most favorite foods in all the world and since bacon is involved, I feel like they should be incorporated into brunch more often. So I did it. By putting an egg on it and sandwiching it between french toast. And utilizing a generous serving of maple syrup. Please don't be weirded out by the lettuce, tomato, and maple syrup. There's nothing to be afraid of. Just do it.
French Toast BLTs (serves 2):
Print this recipe!
6-8 slices bacon
4 large eggs (2 are for for frying)
1/2 C milk
1 t vanilla extract
4 slices bread
2 T butter
1 large tomato
4 large lettuce leaves
Maple syrup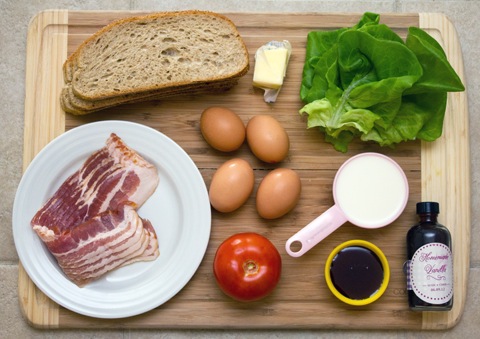 Start by frying up that bacon until it's nice and crispy.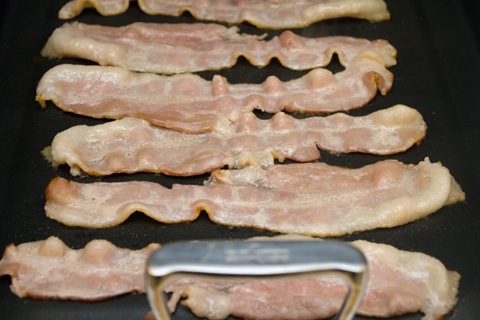 If you're like me, you add a little bit of fenugreek and black tellicherry pepper. Move bacon to a paper towel-covered plate.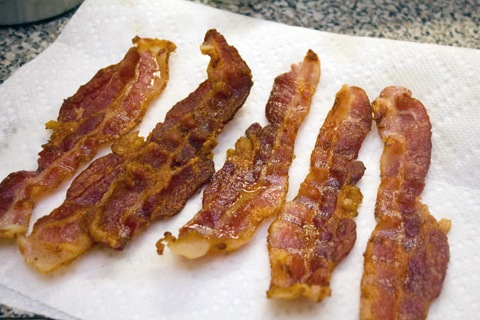 In a medium-sized bowl, lightly whisk together 2 of the eggs, milk, and vanilla extract.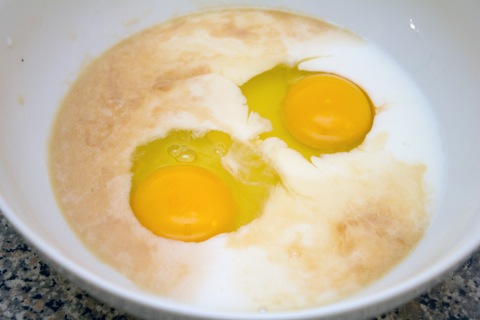 Dunk the bread in the mixture until well-coated.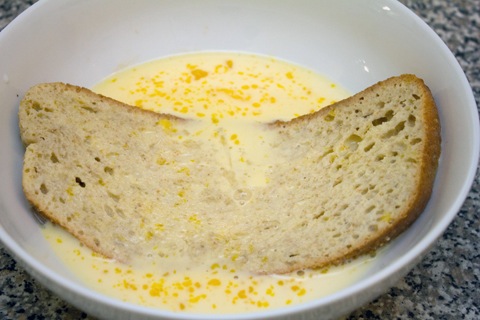 Then, melt butter on a skillet over medium hear. Place bread on skillet and cook for about 2-3 minutes on each side, until well-browned.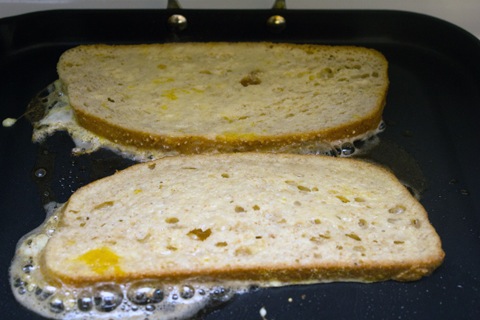 Move to separate plate or pop in the oven set to low if you're going to take a little while and want to keep it warm.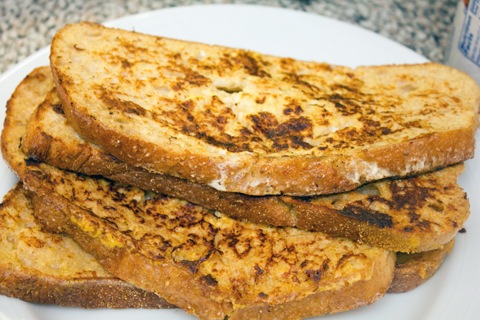 Fry up your 2 eggs to your liking.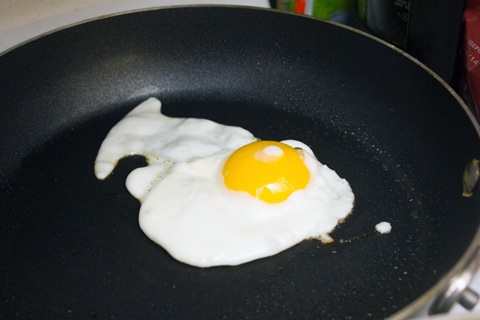 Assemble sandwich by piling on the lettuce, followed by the tomato, bacon slices, and egg.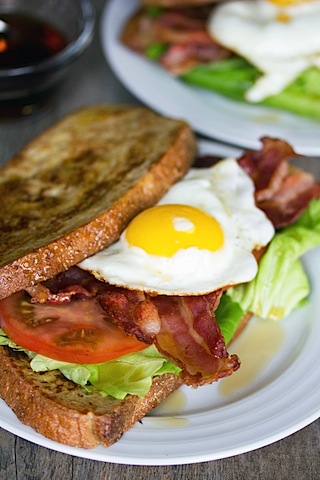 Drizzle generously with maple syrup.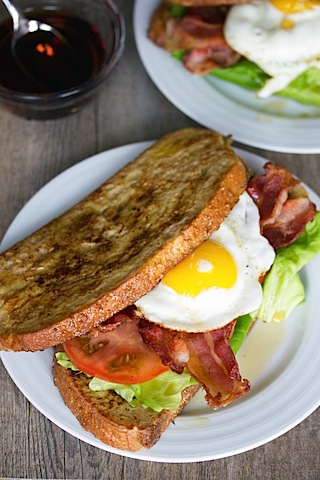 Buddy the Elf would totally be all over this one. But it's also kind of perfect for people who want to love BLTs, but can't stand mayonnaise. This is a BLT without mayonnaise, but WITH tons of sweet flavor and awesomeness.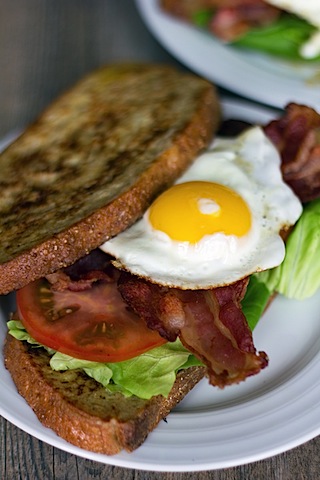 How does the maple syrup go with the rest of the sandwich? Well, we already know maple syrup and bacon are fab hand-in-hand. And while you probably wouldn't want to dip your lettuce and tomato into a bowl of syrup, I have to admit this all goes quite well together. Then, I'm the person who totally drags my eggs through the leftover maple syrup on my breakfast plate. But just try it and then let me know.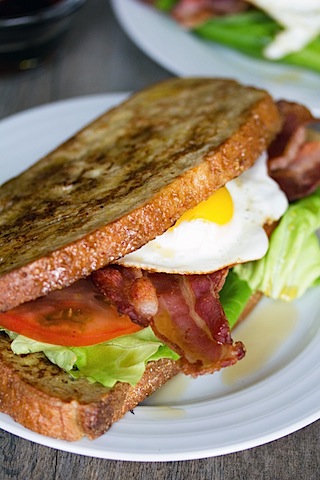 The true definition of salty and sweet.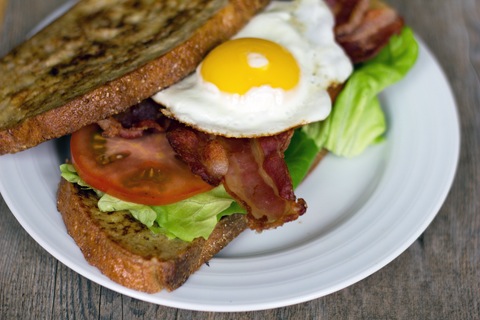 And now I'm not sure how I'm going to sit at work all day without getting to eat another one of these. Life just isn't fair. OK, I need to stop staring at them. Now… now. Seriously. Goodbye.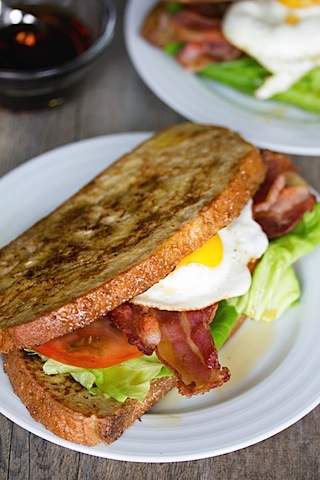 Anyway, I hope you had a glorious Thanksgiving and are enjoying the start to your holiday season! Happy winter coat day to me! Only 23 more days until Christmas… Whoa. That's frightening. But absolutely wonderful at the same time. Now I need to figure out how the heck I'm going to cook and post about all of the holiday goodness I have in mind this season.
Are you with me that maple syrup is good on most things?
[Sues]