One of my very favorite flavor combinations this time of year is salted caramel. I actually fell for the sweet/salty combo when I found myself always buying the salted caramel hot chocolate at Starbucks a few winters back. It was soul-warming and lovely and very easy to become addicted!
Since fall is officially here now I decided what better way to end the weekend than by baking some seasonal cupcakes. I was caaaa-raaaa-ving cupcakes. And caramel. And salt? Yes. So, naturally, salted caramel cupcakes had to be made. It was a glorious 2-hour baking session spent by my lonesome, in my kitchen, listening to solid tunes, on a sunny Sunday afternoon before the Patriots game. It was exactly what the final day of the weekend should be.
Salted Caramel Cupcakes (makes 15)
Adapted from Sprinkle Bakes  
Print this Recipe!
The Cupcakes: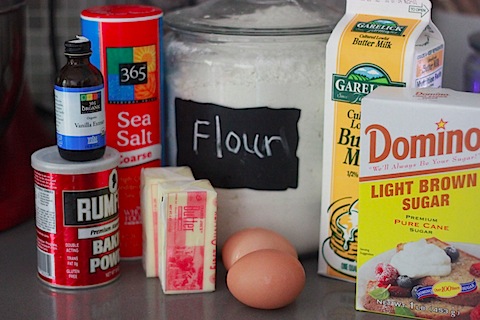 • 1 1/2 cups all-purpose flour
• 1 teaspoon baking powder
• 1/4 teaspoon sea salt
• 1 stick (1/2 C) unsalted butter, room temperature
• 1 cup plus 2 tablespoons light brown sugar, packed
• 2 large eggs, room temperature
• 1 teaspoon vanilla
• 1/2 cup buttermilk
Preheat oven to 325 degrees and line a muffin tin with cupcake liners.
In a medium bowl, combine the flour, baking powder, and sea salt together and set aside.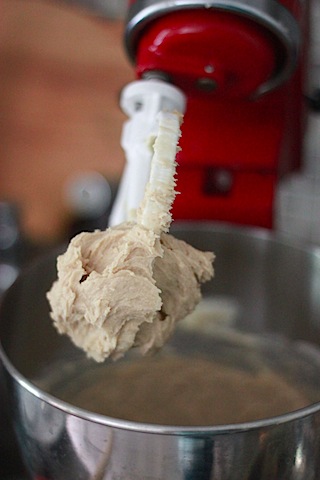 In the bowl of an electric mixer, cream the butter and brown sugar on medium-high until the batter begins to appear fluffy.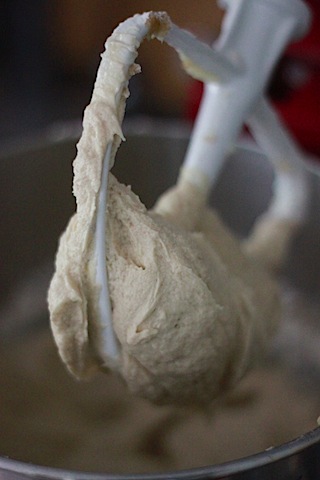 Add eggs, one at a time, until each is well incorporated into the mixture. Then add the vanilla.
Now, in three batches, add the flour and alternate adding the buttermilk, making sure that each previous batch is incorporated before adding the next.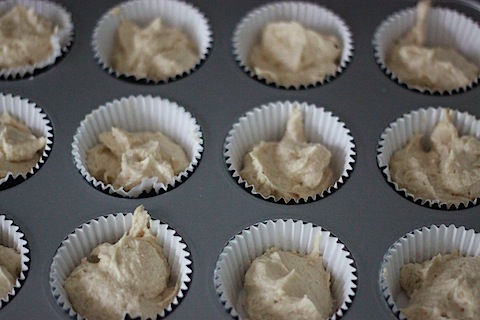 Fill each muffin tin about half way with batter and bake for 23-25 minutes. Allow cupcakes to cool completely on a wire rack before the next step. It's difficult to wait but you must 😉
Salted Caramel Filling: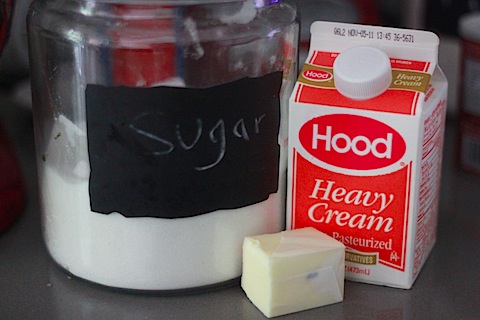 • 1/2 cup sugar
• 3 tablespoons salted butter, cubed
• 1/4 cup heavy cream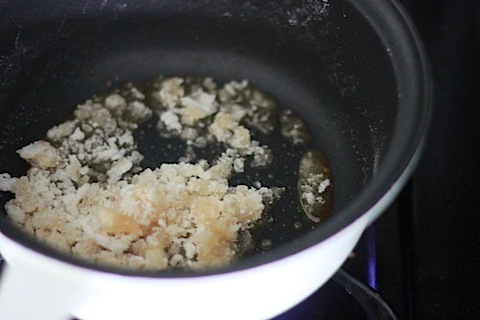 In a large pot, melt sugar over medium/high heat. Begin to gently whisk the sugar until it begins to melt.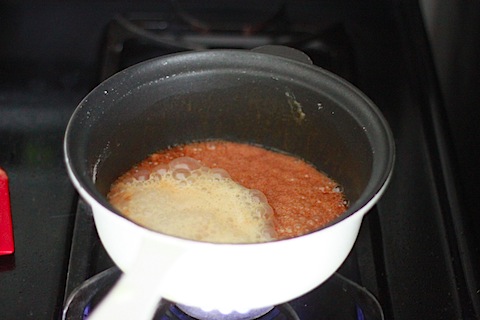 Add the butter and mix until it begins to melt.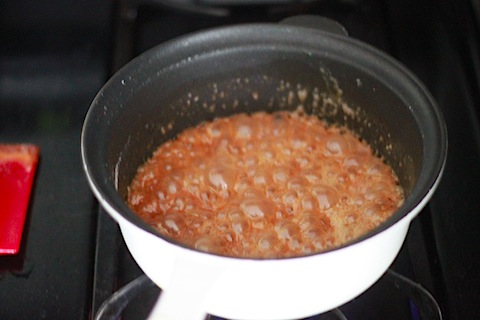 Incorporate the heavy cream. The mixture will immediately begin to foam and you'll probably feel like you're in science class, which is neat 😉 Continue whisking until the sauce is smooth. Try your hardest not to dive into the hot pot to take a bath in the caramel. Because it's that good and I nearly burned my finger "sampling" it while it was hot. I don't have patience when it comes to food.
Remove from heat and allow the sauce cool just slightly.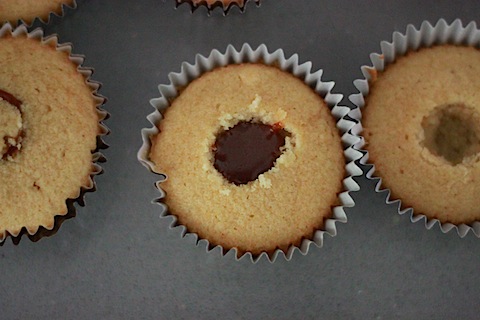 When the cupcakes are cooled, cut a small circle out of the top of each. Fill with a teaspoon of the delicious caramel sauce.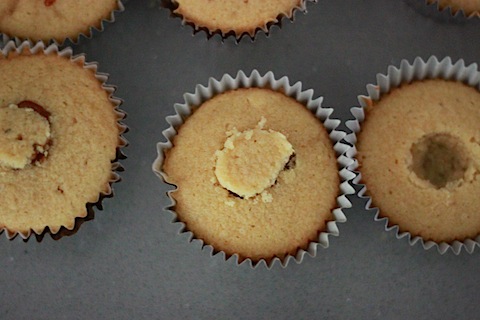 And re-top the missing piece.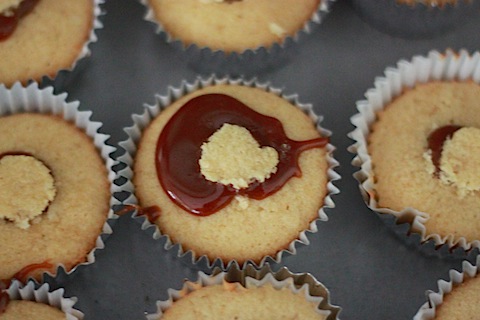 Oh, and it's totally okay if your cupcakes look like a hot mess at this point, so don't you even worry about that. They still taste the same and you're going to slather them in frosting anyway, sooooo it's all good. Definitely a "We are not Martha" moment. I think the real Martha would have politely scolded me if she saw the above photo, teeheehee 😉
Salted Caramel Buttercream Frosting:
Did I mention these cupcakes are in no way healthy? Eep. Let's continue, shall we?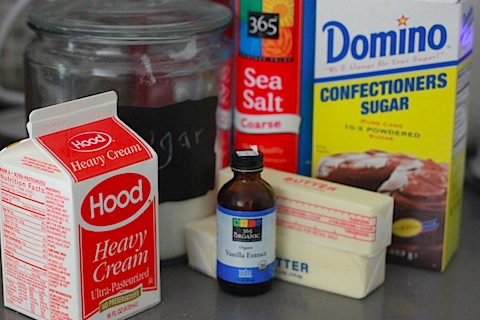 • 1/4 cup sugar
• 2 tablespoons water
• 1/4 cup heavy cream
• 1 teaspoon vanilla extract
• 1 stick (1/2 C) salted butter
• 1 stick (1/2 C) unsalted butter
• 1/2 teaspoon sea salt
• 1 1/2 cups powdered sugar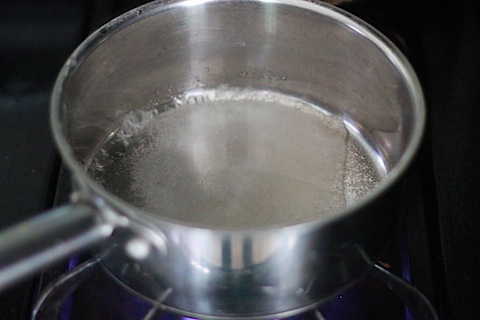 In a saucepan, combine sugar and water and bring to a boil. Cook, without stirring at all, until it starts turning a deep brown/amber.
Exhibit A: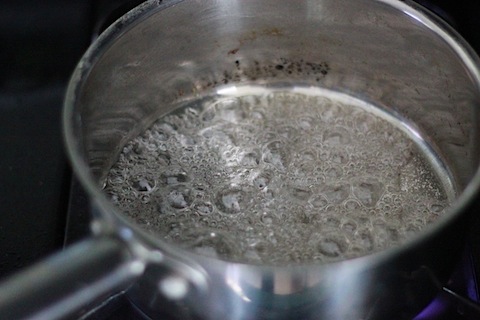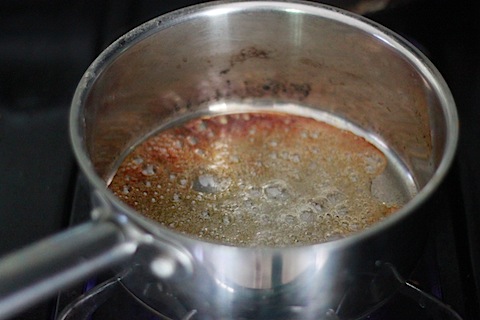 Remove from heat and very slowly add the cream and vanilla. Lightly mix until the mixture is smooth in texture. Allow the caramel to cool, for about 20-25 minutes, but make sure while it's cooling you keep an eye on it to make sure you're still able to pour it. If it gets too thick, you can add a touch of water, reheat on the stovetop, and continue whisking until the caramel is pourable again.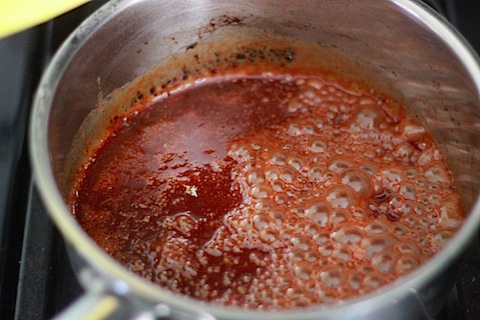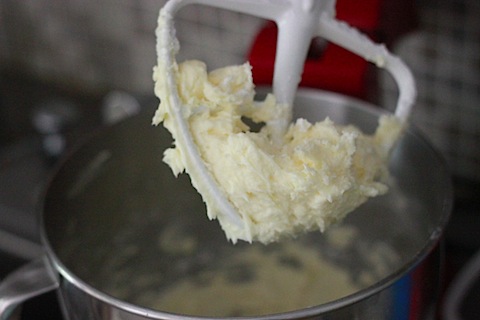 In the mixer, beat the butters and salt until fluffy. Slow the mixer speed down a bit and add the powdered sugar, until combined.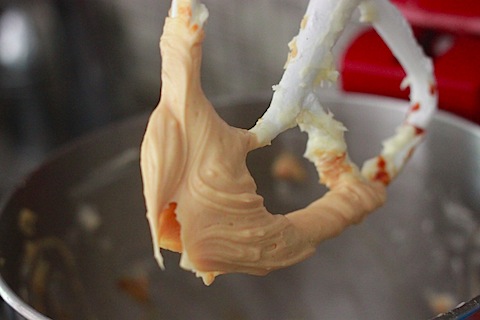 Using a spatula, scrape the sides of the mixer (just to make sure you get all of the good stuff!) and add in the caramel. Mix until all of the caramel is incorporated.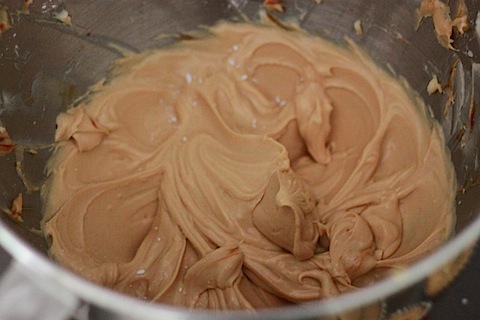 I refuse to be a lier. I licked the spatula like there was NO TOMORROW. While doing a little (big) jig. This frosting is everything to me. Okay, the last sentence is being dramatic but I did think about eating a bowl of it for dinner.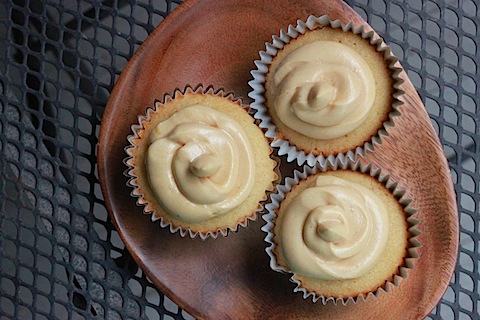 Now you're ready to top the cupcakes with the frosting and never look back.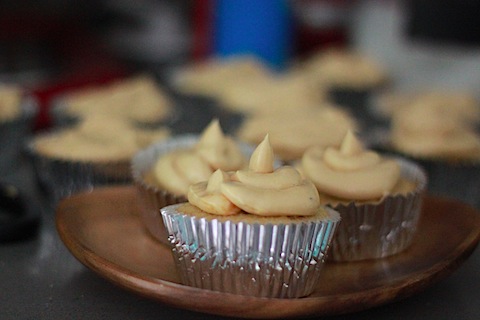 Life from this point on will be a sweet (and salty), caramel-filled, wonderland.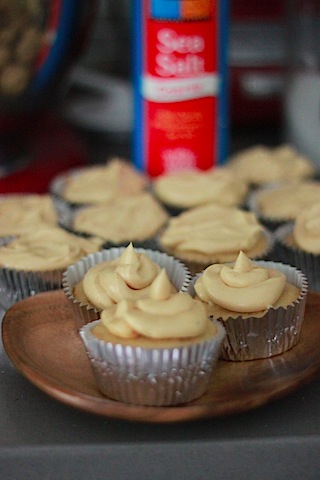 What's your favorite non-tradiational seasonal flavor combination?
[Chels]