This post is sponsored by Gloria Ferrer, but as always, all opinions are my own. Thank you so much for supporting my blog! Make sure you read to the end of this post to learn how to win tickets to the Glorious Bites Boston event!

Just because you can't get baby sweet potatoes doesn't mean you can't make smashed sweet potatoes! These delicious smashed potatoes are topped with maple avocado crema, goat cheese, and crushed pecans. Best served with a glass of sparkling wine.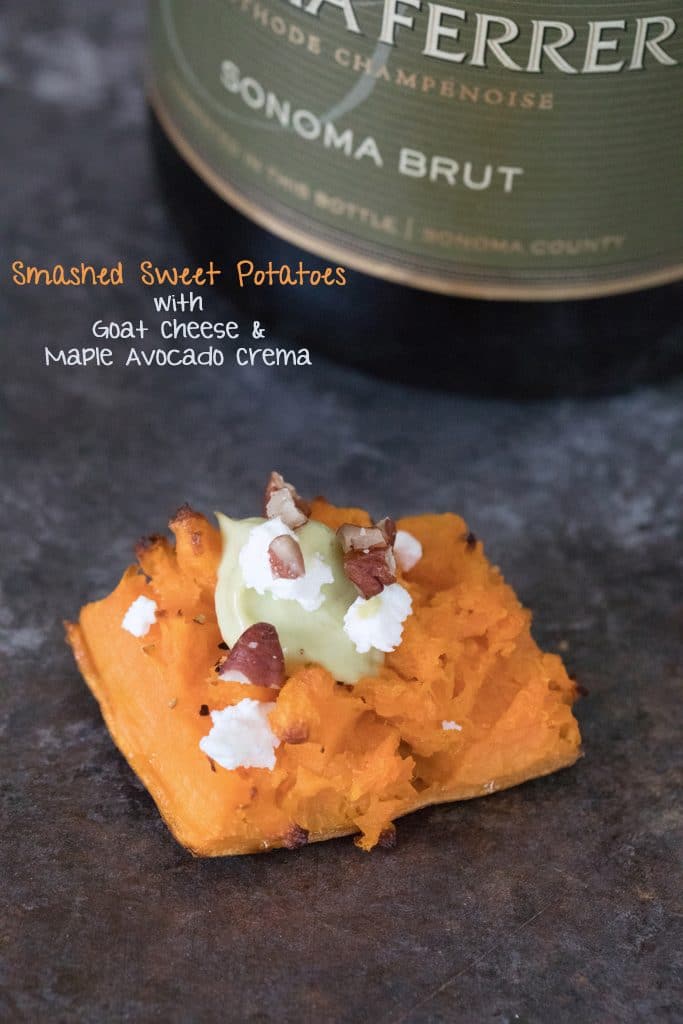 I've legit been dreaming of these smashed sweet potatoes for years. Years! Ever since I made my first smashed potato with white potatoes and actually started getting excited about potatoes (white potatoes usually make me zzzz). It has something to do with smashing them down and baking them at a high temperature so that a nice crispy crust is formed. Omg so good. I immediately knew I had to make smashed potatoes with sweet potatoes, but wasn't quite sure how to pull it off. After all, you can't buy those adorable little bags of baby potatoes in the sweet variety (why not?? Why haven't we genetically engineered a baby sweet potato yet?? And if I'm just late to the game and it has already been done, why are they so tough to find??). But then I realized, duh, all I have to do was cut sweet potatoes into small pieces and carry on. So, I did.
These Smashed Sweet Potatoes can only really be described as a glorious bite. Which is precisely why I chose to make them for this post. After all, this post is part of my partnership with Gloria Ferrer to tell you all about the Glorious Bites challenge. So, did you enter your recipe yet? You have less then two weeks to enter, so make sure you get your appetizer recipe in for a chance to win $5,000! I know you guys are ridiculously talented and have a fabulous chance at winning. Also, if you live in or near Boston, Denver, or Minneapolis, make sure you get your tickets to the Glorious Bites events (they're only $25) and include a ton, including special guests, delicious Gloria Ferrer wines, savory bites and a cooking demonstration by Keynote Judge and Point Reyes Farmstead Cheese Company Executive Chef Jennifer Luttrell! If you're in Boston, stay tuned for the end of this post for a chance to win tickets!
But first, let's get back to these sweet potatoes. I cut regular sweet potatoes into bite sized pieces and boiled them for a bit before putting them on a cookie sheet and smashing them down with a potato masher. A little olive oil and salt and pepper and they were popped into the oven.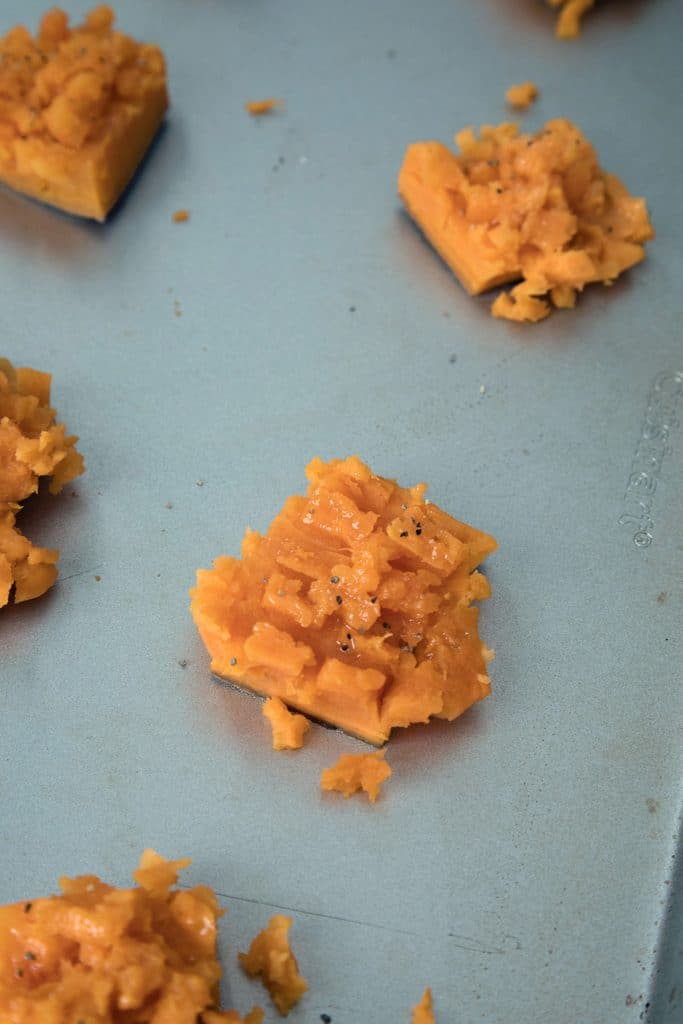 Once the crispy tops had form and they came out of the oven, I added some fall toppings, like a maple avocado crema, goat cheese, and chopped pecans.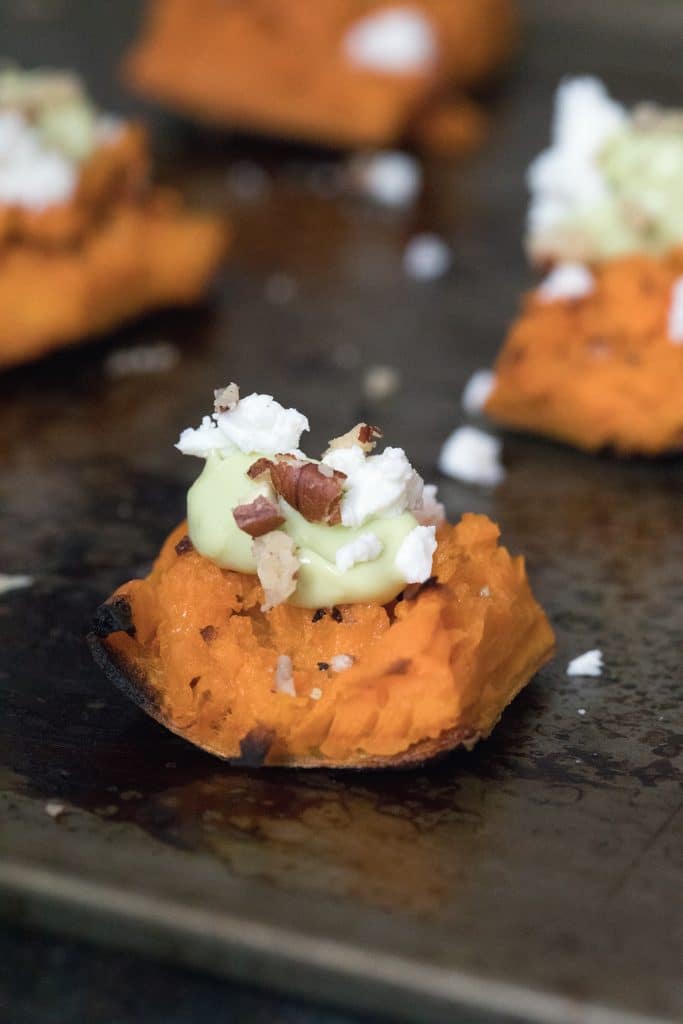 And now I officially love smashed potatoes even more than I thought possible. I will forever choose sweet potatoes over white potatoes and this just solidifies the deal.
Of course, these little bites go perfectly with a glass of Gloria Ferrer's Sonoma Brut. That's one thing you'll want to keep in mind when you're developing your recipe for the challenge: will it go well with a nice cold glass of Gloria Ferrer's sparkling wine? Last month, I made a summery mussel dish, which was perfect for enjoying outside in the summer sun. This month, I jumped fully into fall with my appetizer and it still felt like the perfect pair.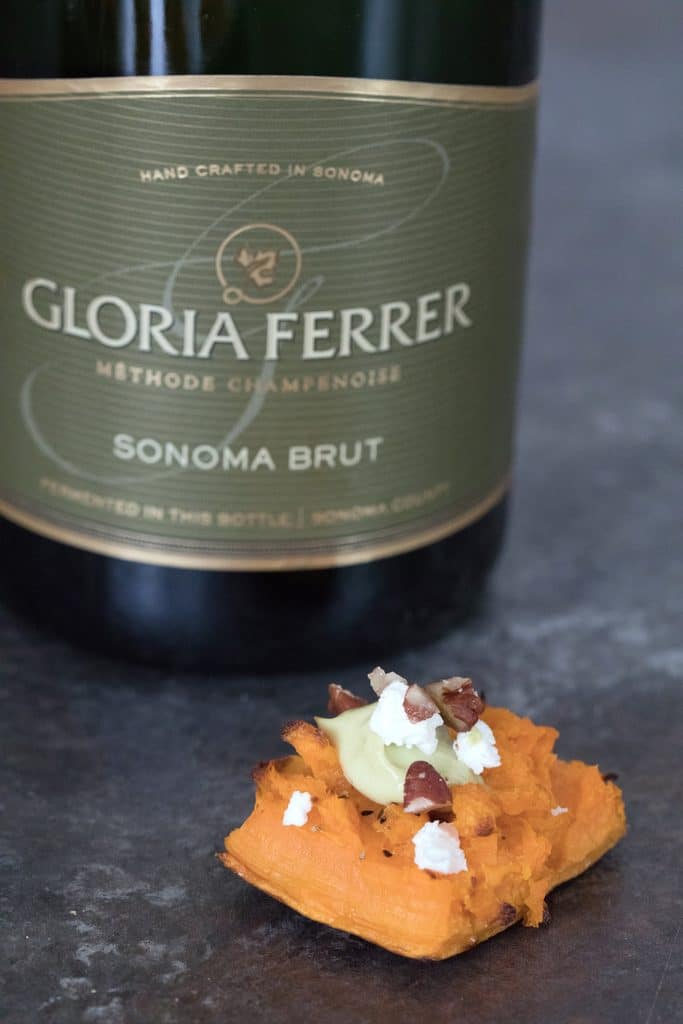 The Sonoma Brut lightened up the more robust flavors of the sweet potato and goat cheese and even with a chill in the air; bite, sip, bite, sip was the way to go.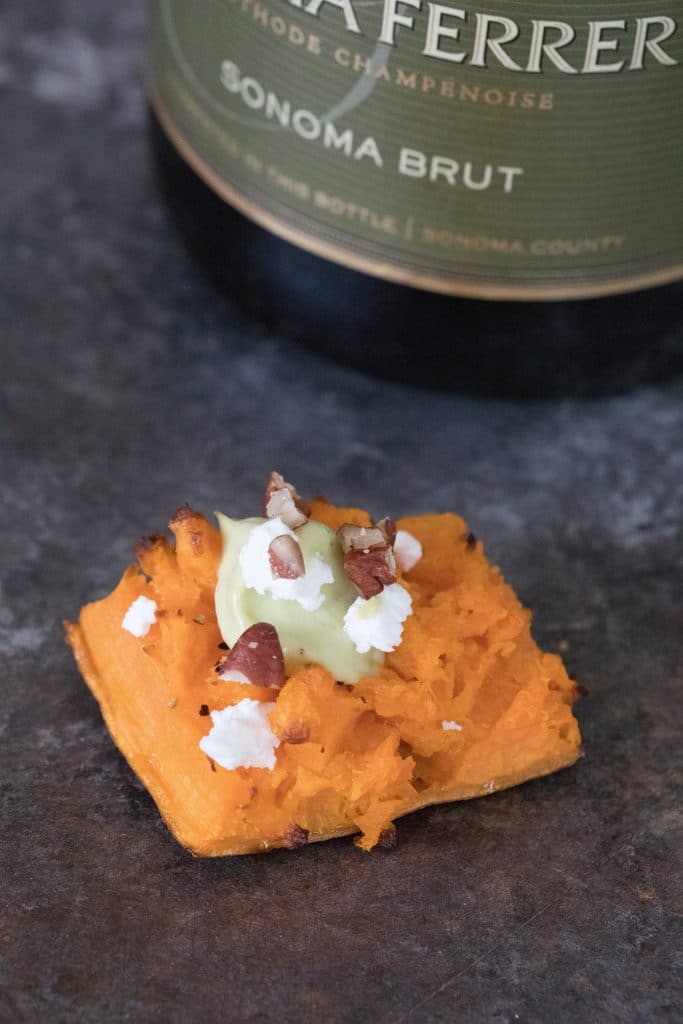 And that avocado maple crema!! At first, I wasn't sure how adding maple syrup to avocado was going to go, but it ended up being a wonderful idea. It adds a little bit of fall sweetness to the slightly tart avocado and sour cream mixture and complements the hearty sweet potato well. Sometimes a little risk pays off and I'm glad I took this one.
Of course, there are a million toppings you could add to these Smashed Sweet Potatoes that would be equally delicious. They're an incredibly versatile bite that can change with the seasons and your mood.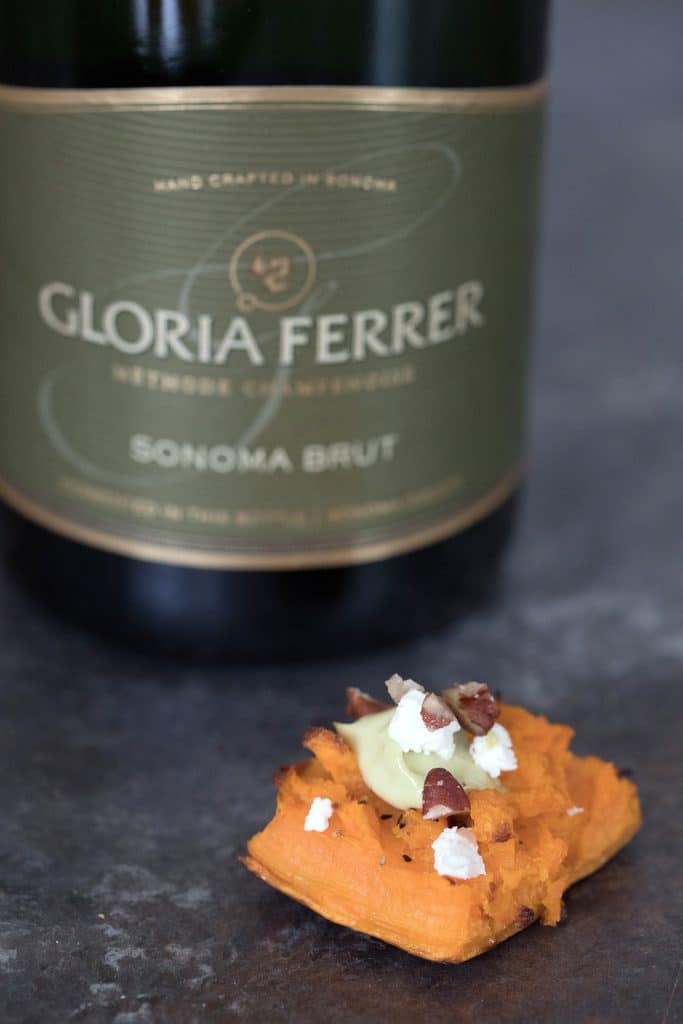 You could even have an entire smashed potato party and create a toppings bar for all different varieties of smashed potatoes. One requirement? You better have plenty of sparkling wine on hand!
To all my Boston-area readers: I'm giving away 4 tickets to the Glorious Bites Boston semi-finals on October 3 at the Divine Design Center! Join us to watch the live cook-off, sample appetizers, and sip on Gloria Ferrer's Sonoma Brut. I'll be judging the event! All you have to do is comment on this post letting me know your all-time favorite appetizer by Friday, September 15, at 11:59 p.m. I'll be randomly selecting two readers to win pairs of tickets! Good luck!!
And for everyone else, be sure you enter the Glorious Bites challenge before time runs out!

Smashed Sweet Potatoes with Goat Cheese and Maple Avocado Crema
Just because you can't get baby sweet potatoes doesn't mean you can't make smashed sweet potatoes! These delicious smashed potatoes are topped with maple avocado crema, goat cheese, and crushed pecans. Best served with a glass of sparkling wine.
Author:
We are not Martha
Ingredients
2 large sweet potatoes (try to get long sweet potatoes)
1 Tbsp olive oil
Salt and pepper
Maple Avocado Crema (recipe below)
1 oz crumbled goat cheese
1 Tbsp toasted and crushed pecans
Maple Avocado Crema:
1 avocado, peeled and pitted
¼ cup sour cream
1 Tbsp maple syrup
Instructions
Pre-heat oven to 450 degrees and bring a medium pot of water to a boil.
While water is boiling, cut potatoes into 2-inch pieces (it depends on the size of your potato, but I cut each potato in half, then cut each half into quarters lengthwise, and then cut each quarter in half width-wise).
Put sweet potatoes in boiling water for about 10 minutes, until tender. Drain from water.
Place potatoes on a baking sheet and smash using a potato masher (you could also use the bottom of a drinking glass or even a large fork) and brush lightly with olive oil. Sprinkle with salt and pepper.
Bake at 450 degrees for about 20 minutes until tops are crispy.
Spoon a dollop of Maple Avocado Crema onto each smashed potato. top with crumbled goat cheese and crushed pecans.
Maple Avocado Crema:
Add avocado, sour cream, and maple syrup to a food processor and blend until smooth.