This post has been sponsored by Gloria Ferrer, but as usual, all opinions are my own. Thank you so much for supporting my blog!
These Sparkling Wine Mussel Crostini are not only made with sparkling wine, but they pair perfectly with a glass of it! The crostini are topped with mussels, avocado, grilled lemon, and basil, making them the perfect little appetizer... Or Glorious Bite!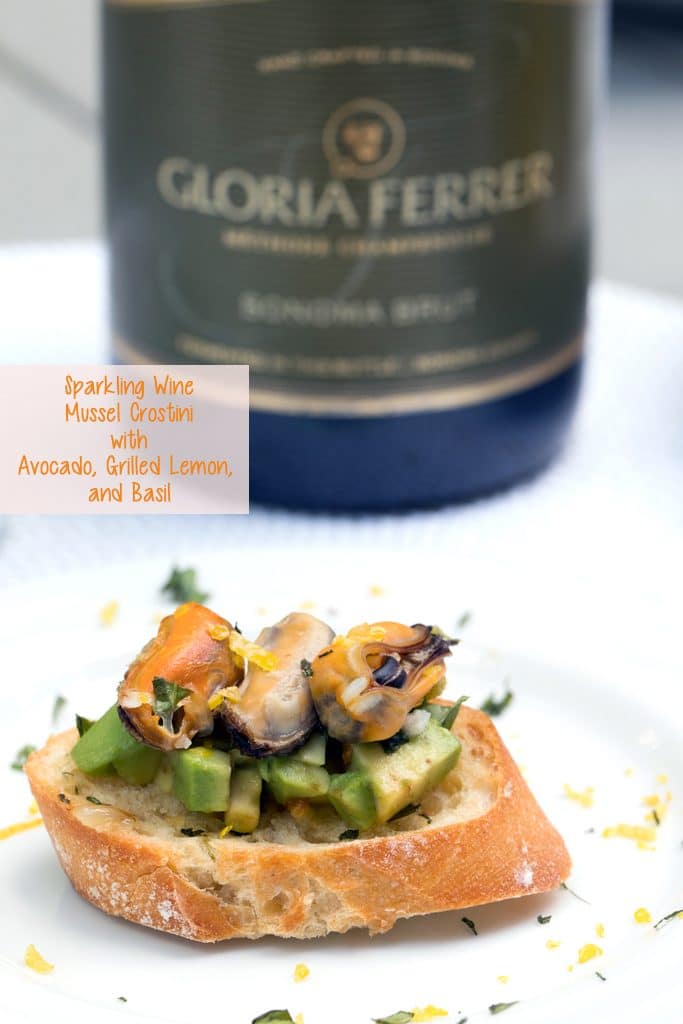 That first week home from vacation is always the toughest, isn't it? After a glorious and relaxing week in the sun, this week is a struggle with a capital "S." I miss the beach, I miss eating lobster rolls, I miss my family, and I miss Bloody Marys in the morning, cocktails in the afternoon, and rosé and sparkling wine in the evening. Why does vacation have to end?
But thank you to Gloria Ferrer for saving my first week back in the real world. They're giving me life again by a) providing me with delicious sparkling wine to drink and b) officially launching the 3rd annual Glorious Bites Challenge today! I'm super excited to be partnering with them on this year's challenge for about a million reasons.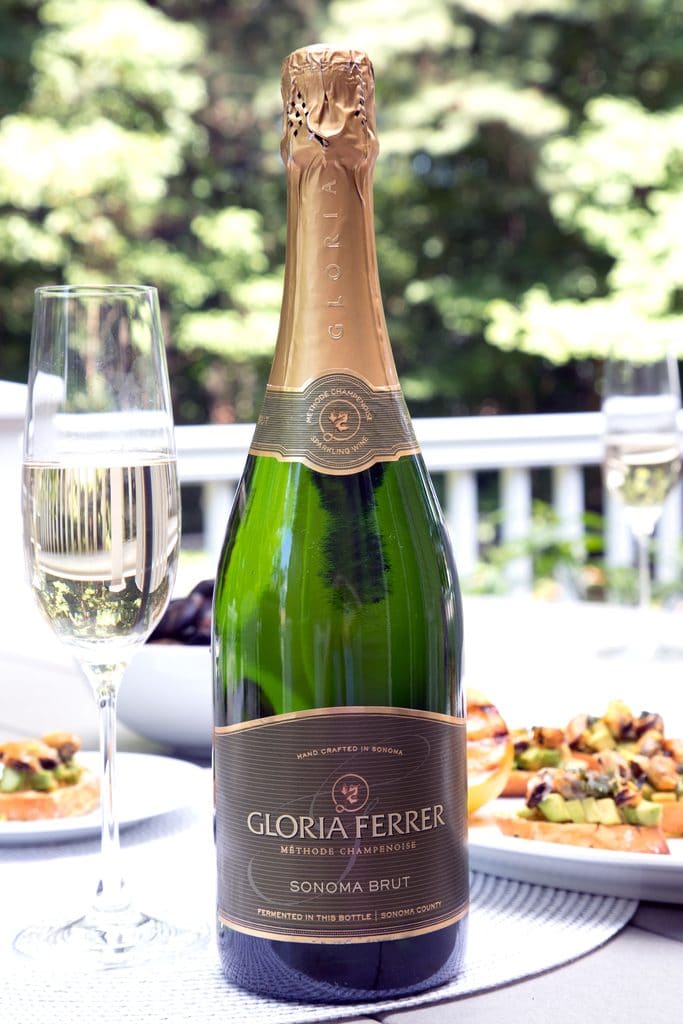 The biggest reason is that I know many of my blog readers are also awesome chefs and would be the perfect candidates for entering this challenge. Gloria Ferrer wants to see your signature appetizer that would pair well with their award-winning Sonoma Brut. Once entered, all recipes will be reviewed by a panel of wine and food experts and judged based on originality, perceived taste appeal and perceived ability to pair with the Sonoma Brut.
And then, 12 semifinalists will be chosen to participate in three live cook-off events scheduled around the country that will culminate in the Glorious Bites Challenge Finals at Gloria Ferrer Winery in Sonoma, California (AKA heaven on Earth). The grand prize? $5,000!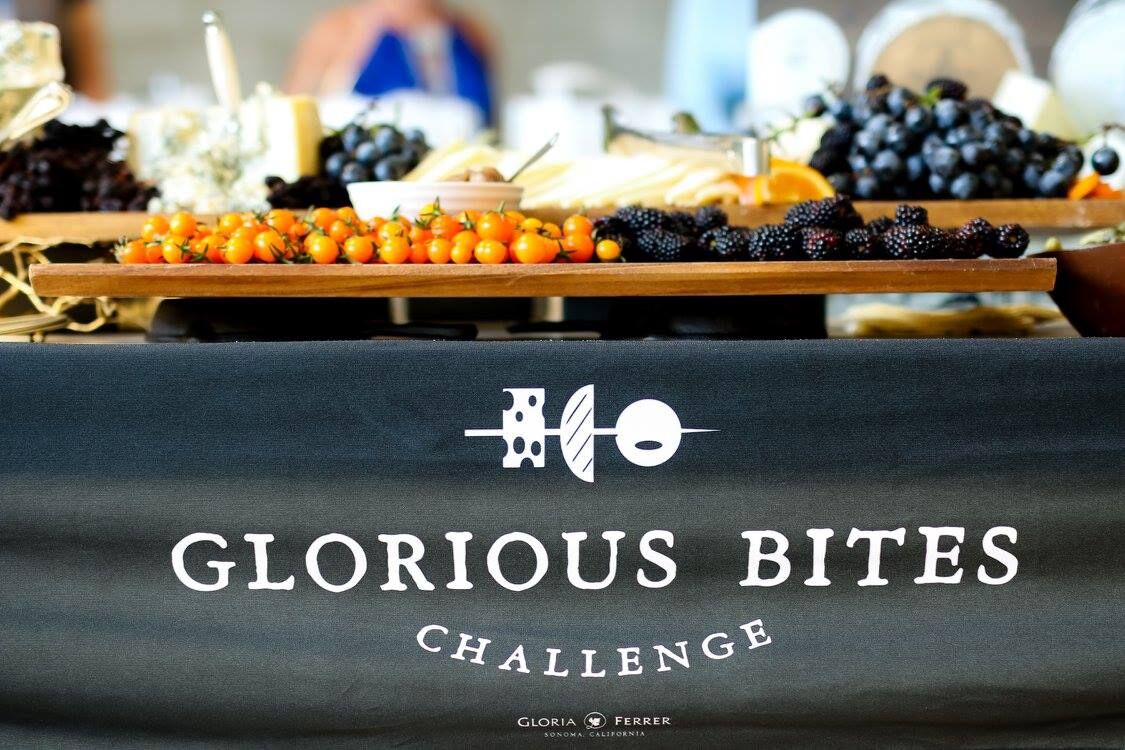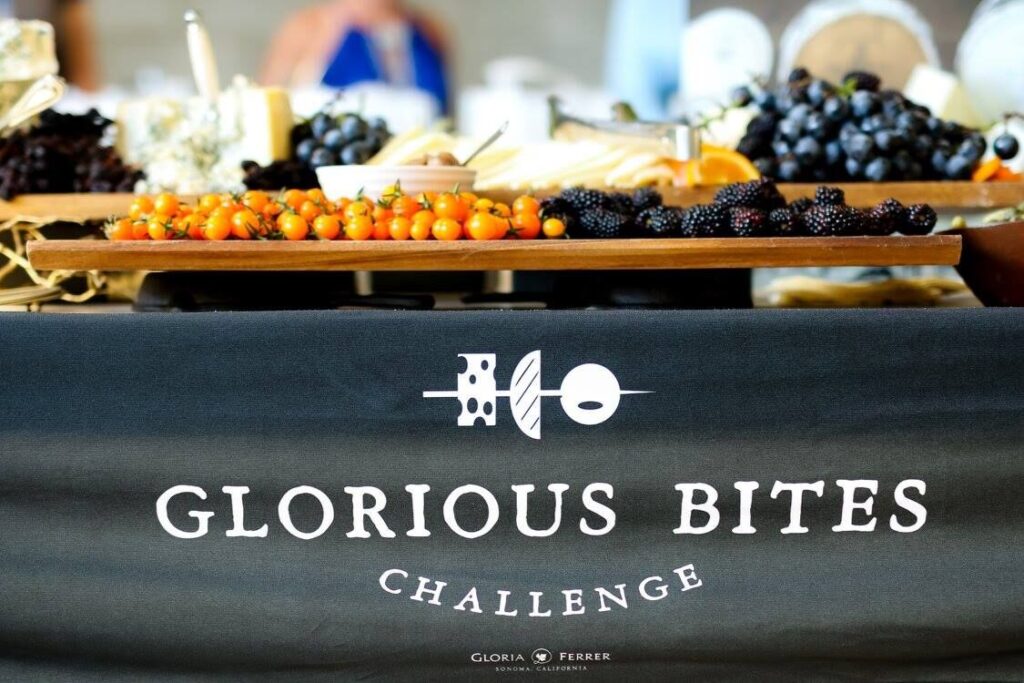 OK, and another exciting thing? Along with Keynote Judge and Point Reyes Farmstead Cheese Company Executive Chef Jennifer Luttrell, I will be judging the Boston semifinalist event, held at the Divine Design Center on October, 3! The other semifinalist events will be in Minneapolis, MN (October 5) and Denver, CO (October 7).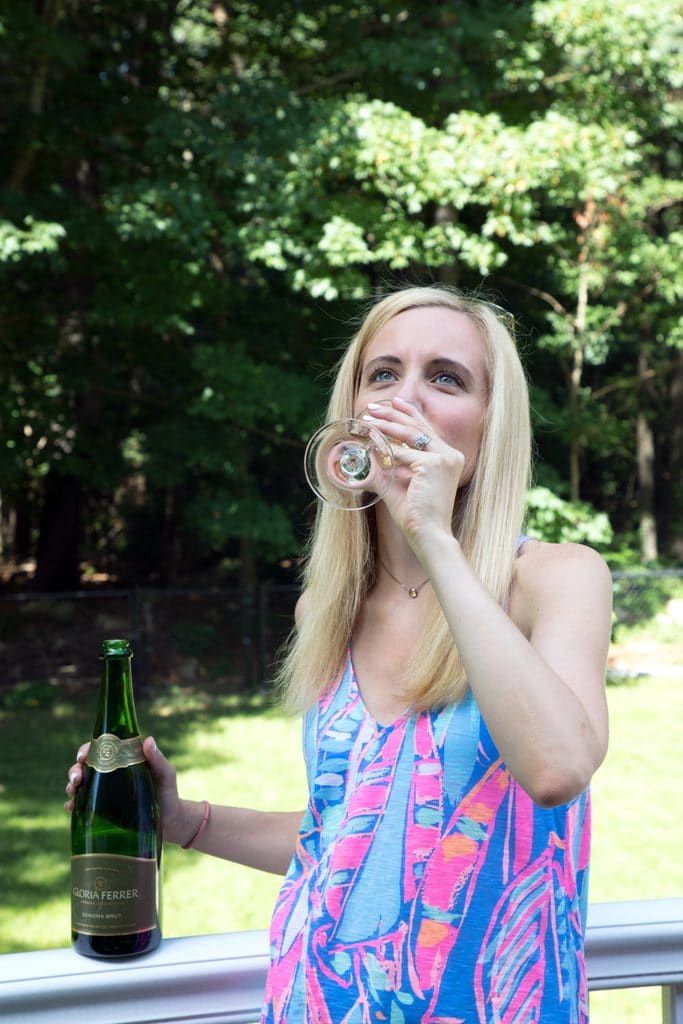 To help get some inspiration going, I decided to come up with my own recipe to pair with Gloria Ferrer's Sonoma Brut. As an avid mussel lover, I realized that I pretty much always make mussels the same way- I may switch out the broth (beer/wine/stock) and accompaniments (garlic bread/pasta/fries), but I pretty much always steam them and eat them right from their shells. This time, I decided to steam them and take them out of their shells for a summer crostini appetizer. The result was Sparkling Wine Mussel Crostini with Avocado, Grilled Lemon, and Basil.
I think mussels are one of the most satisfying foods to cook. Especially when you're doing so in sparkling wine.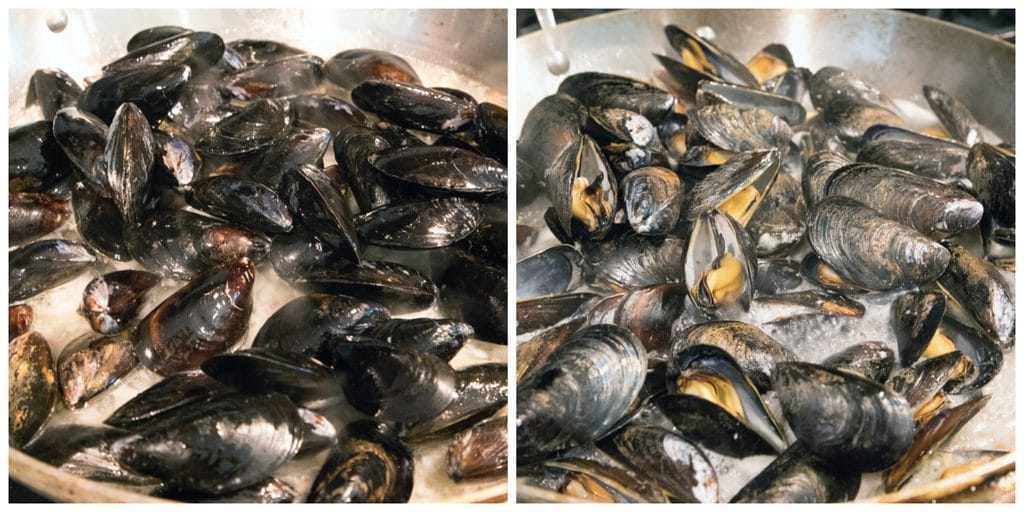 Why do I not grill lemons more often and when am I making grilled lemonade? Or better yet, grilled lemonade topped off with a little bubbly? All very important questions that must be answered before summer is over.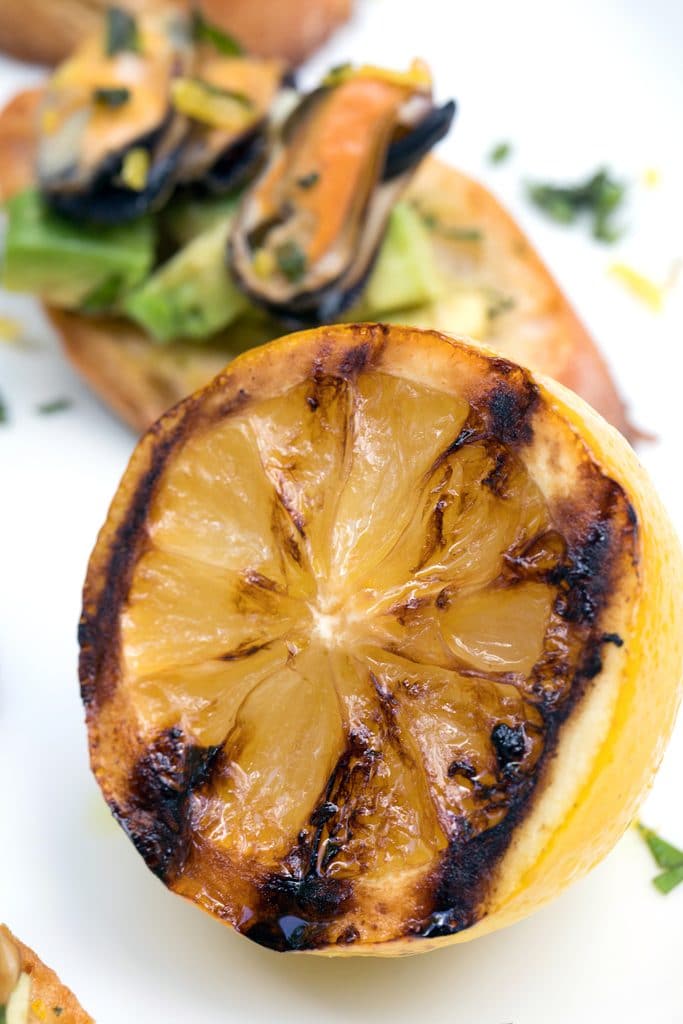 I brushed a little garlic butter onto each of the mussel crostini bread slices before topping them with diced avocado, mussels, and chopped bail and lemon zest. A little squeeze from the grilled lemon was drizzled over each crostini.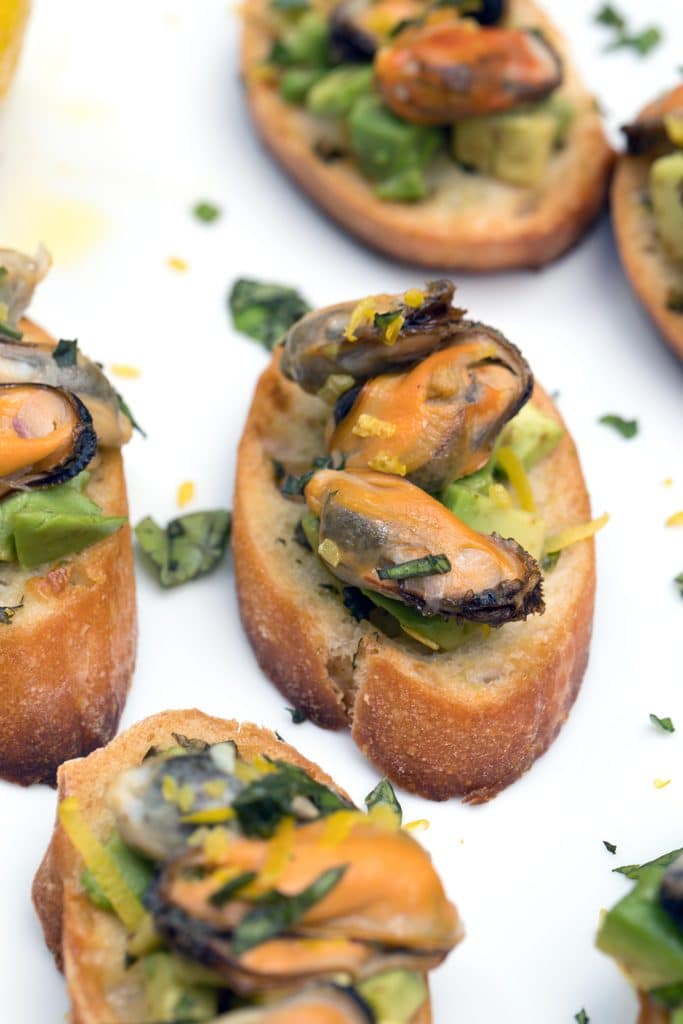 I think it's safe to say this glorious bite paired quite well with Gloria Ferrer's Sonoma Brut.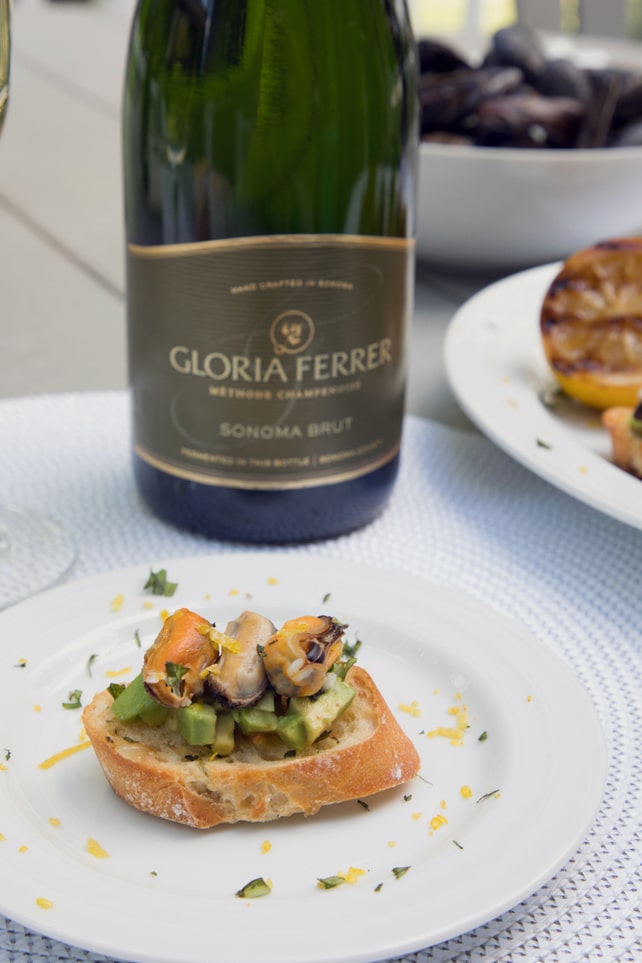 I promise you that I did extensive testing. One sip of Sonoma Brut, one bite of mussel crostini. One sip of Sonoma brut. One bite of mussel crostini. I'm nothing if not precise.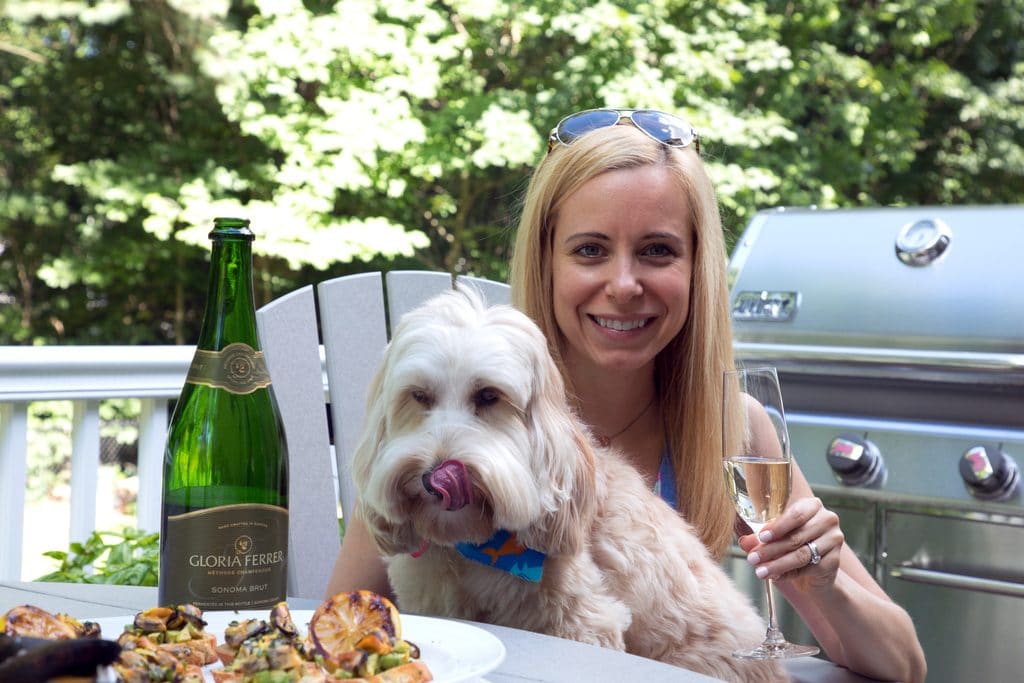 With a little help from my pup... Who is probably the one reason I am actually happy to be back from vacation. I missed her SO much! She also really, really, wants to be a Glorious Bites judge along with me. See her eyeing those mussel crostini?

Do you think you can come up with the next best glorious bite to pair with Gloria Ferrer's Sonoma Brut? Be sure to enter your recipe any time between now and September 24. If you're not as much of a chef as you are an eater, you can still purchase tickets to any of the events, including the Boston one I'll be judging at!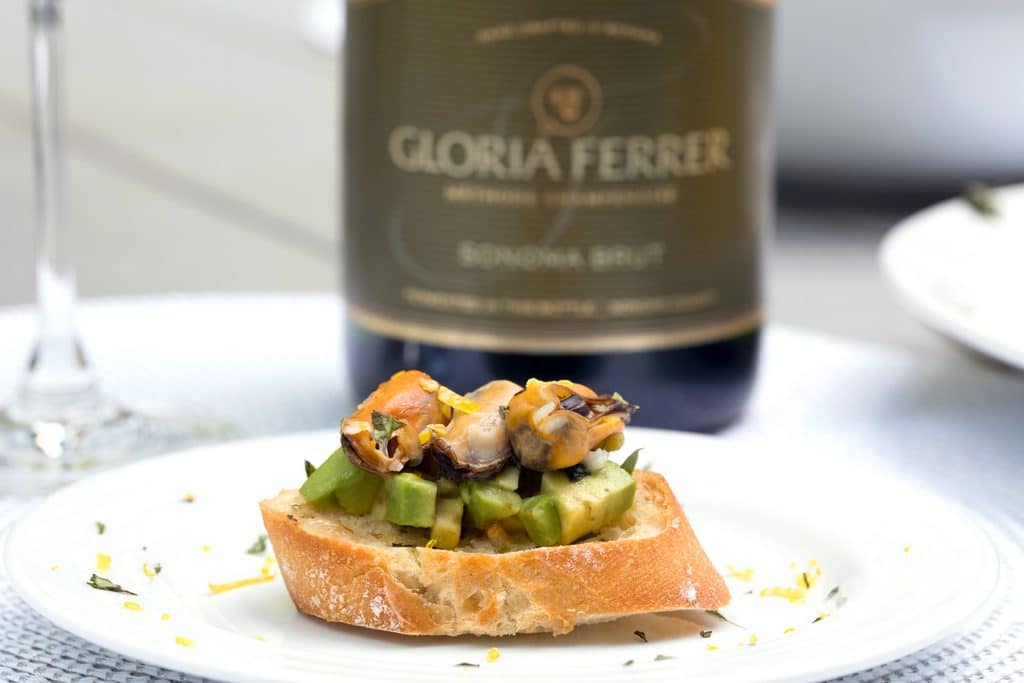 Check out the Gloria Ferrer recipe database to get inspired even more with recipes from the years' previous winners. Last year, Chera Little of Leander, Texas, won for her recipe for Miso-Maple Glazed Cod Wonton-Cho's with Crispy Bok Choy Slaw. Yum! Also, be sure to take a look at Gloria Ferrer's tips for how to pair sparkling wine with food. Now I want to make every single one of these recipe recommendations!
And be sure to follow #GloriousBites on social media to see the latest updates on the challenge!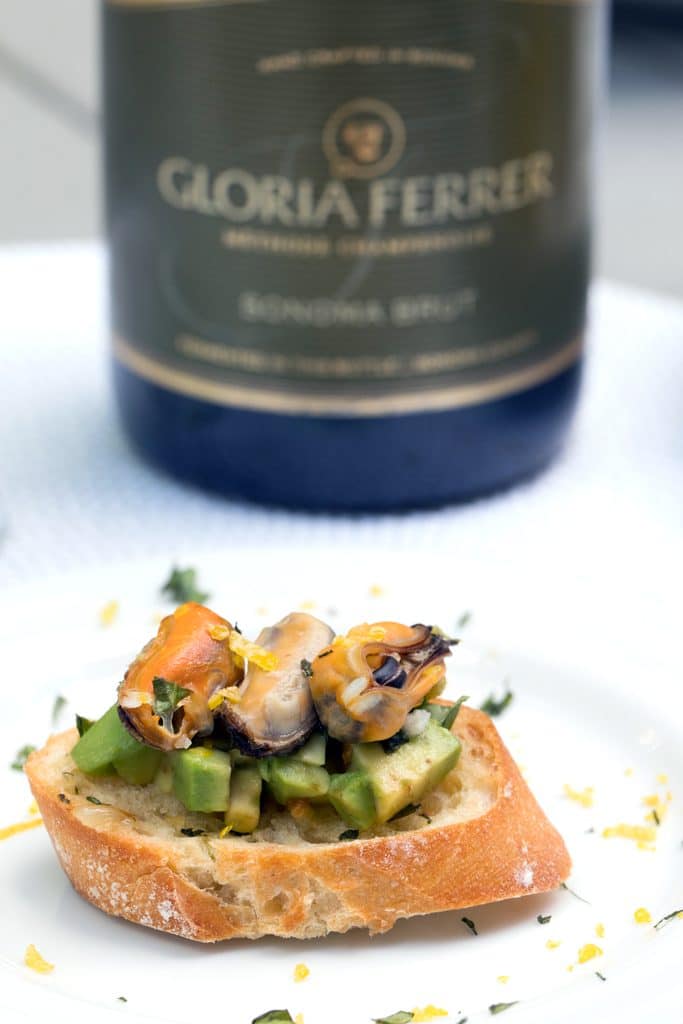 What's your favorite food to pair with sparkling wine?
📖 Recipe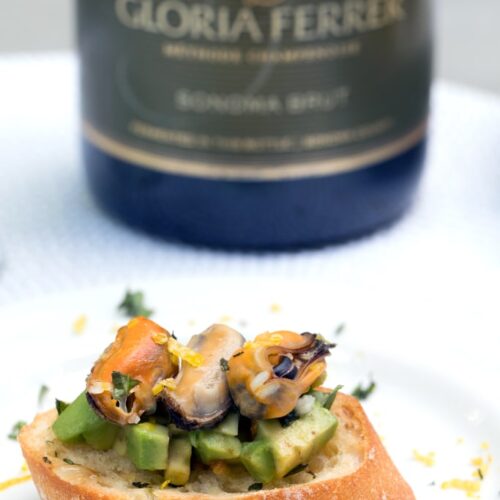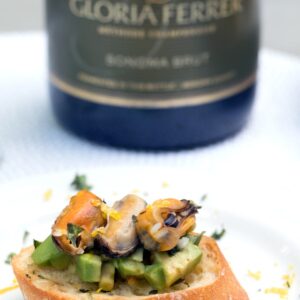 Sparkling Wine Mussel Crostini with Avocado, Grilled Lemon, and Basil
These Sparkling Wine Mussel Crostini are not only made with sparkling wine, but they pair perfectly with a glass of it! The crostini are topped with mussels, avocado, grilled lemon, and basil, making them the perfect little appetizer.
Print
Pin
Rate
Ingredients
1

French baguette,

sliced diagonally into about 24 ½-inch slices

4

tsp

olive oil,

divided

4

Tbsp

unsalted butter,

softened

7

cloves

garlic,

minced and divided

1 ½

tsp, plus 1 Tbsp chopped basil

1

shallot, finely chopped

(about ¼ cup)

3

lbs.

mussels,

cleaned and de-bearded

½

cup

Gloria Ferrer Sonoma Brut

⅓

cup

freshly squeezed lemon juice

1

avocado,

peeled, pitted, and diced

1

Tbsp

finely chopped lemon zest

(from 2 lemons)

2

lemons,

halved and grilled
Instructions
Pre-heat oven to 350 degrees.

Brush bread slices lightly with about 2 tsp olive oil and place on a foil or parchment paper-lined baking sheet.

Bake at 350 degrees for 16-18 minutes, until just crispy.

While crostini are in oven, mix together butter, 4 cloves minced garlic, and 1 ½ tsp chopped basil in a small bowl.

When crostini are out of oven, lightly brush butter mixture onto each piece of bread. Set aside.

Pour remaining 2 Tbsp olive oil into large skillet or dutch oven over medium heat. Add shallot and cook for about 2 minutes. Add remaining 3 cloves minced garlic and cook for 2 more minutes.

Add the mussels to the pan, along with the Sonoma Brut and lemon juice.

Bring to a boil, cover pan, and let cook for 8-10 minutes, until mussels have opened. Discard any mussels that have not opened. Place cooked mussels in a large bowl.

When the mussels are cool enough to handle, remove meat from the shells.

Top each piece of bread with diced avocado and three mussels.

Evenly distribute lemon zest and remaining Tbsp chopped basil on top of crostini and squeeze grilled lemon over the top.
Share a Photo of Your Finished Recipe!
Mention @wearenotmartha and share a photo if you've made the recipe!