Bad day? Week? Month? Life? I've got the cure. Really, all you need is to have had a bad minute to justify eating chocolate and marshmallow fluff for dinner. Because that's essentially what this is. You're probably better off eating it for a Sunday afternoon brunch after a rough Saturday night, when indulgences are always excused. But I had it for dinner. And I refuse to feel bad. So there.
If you know me, you know I have a special place in my heart for s'mores. Really, I do. I think it's one of the best flavor combinations in the world and I would love to recreate those flavors a million different ways. When the idea of s'mores pancakes crossed my mind, I realized it could be pretty perfect. Graham cracker pancakes, marshmallow fluff, and chocolate sauce. Simple, yet beyond satisfying.
I made my own marshmallow fluff for this recipe because a) it's the easiest thing ever and b) store-bought Fluff scares me. I'm totally going to be one of those moms who lets their kids eat junk food, but only if it's junk food I make myself. They'll be like "mommy, can I have an Oreo cookie?" And I'll be all, "Sure, honey; just give me an hour in the kitchen and your Oreo cookie will be ready." But at least we'll always have marshmallow fluff in the refrigerator. Yes, refrigerator because it doesn't have all those shelf-stable preservatives that the store-bought stuff has.
S'mores Pancakes (serves 2 hungry or greedy people):
Print this recipe!
Marshmallow fluff:
• 2 egg whites
• 1 C corn syrup
• 1/4 t salt
• 1 1/2 C powdered sugar
• 1 T vanilla
• 1/4 t cream of tartar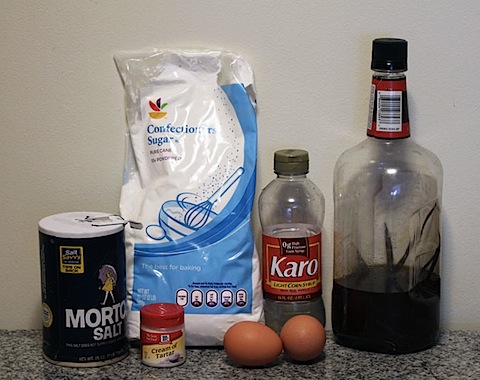 Because I've made marshmallows before, I knew I could make fluff. Because really, all marshmallows are are fluff with gelatin. Making the fluff is a lot easier and less messy than going all the way with the marshmallow (you know what I mean).
In the bowl of a stand mixer beat together the egg whites, corn syrup, and salt on high speed for 4-5 minutes until it thickens quite a bit. Your mixture will have started clear, but after beating, it will turn bright white… like fluff!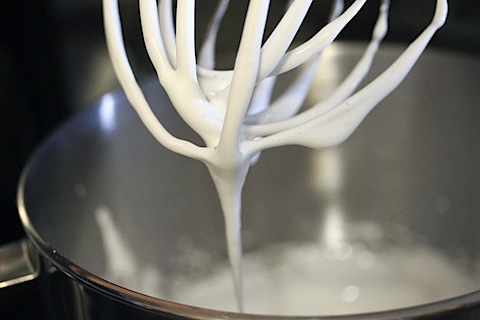 Now, simply mix in the powdered sugar, vanilla, and cream of tartar on low speed, until combined.
See? Easy. And it looks exactly like what you'd buy in the store.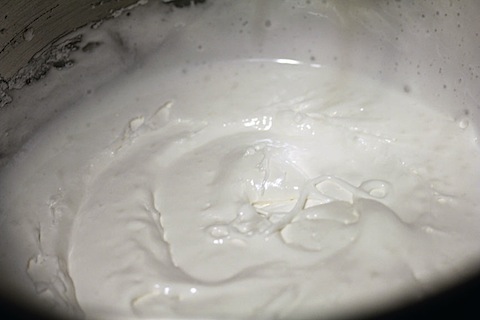 You can make this ahead of time and pop it in the fridge. It should stay fine in your fridge for about 10 days and if you're making it for these pancakes, you'll have a couple cups extra, for lots of peanut butter and fluff sandwiches. Or just plain fluff on everything.
Next, I started making the graham cracker pancakes. Which are basically the same as regular pancakes, but with graham cracker crumbs.
Graham Cracker Pancakes:
• 1 C flour
• 1 T sugar
• 1 T baking powder
• 1/2 t salt
• 3/4 C graham cracker crumbs (about 8 crackers)
• 1 egg, beaten
• 2 T butter, melted
• 1 1/4 C milk (I used light vanilla soy, but any kind should do)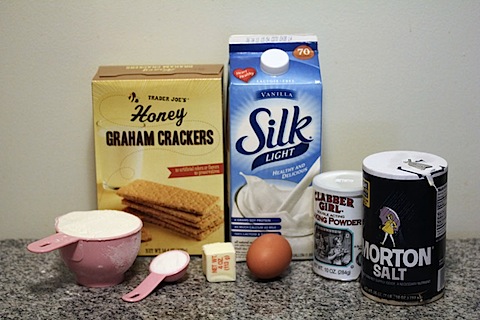 Take about 8 graham crackers, put them in a plastic bag, and whack them with something like a meat tenderizer, until they're in fine crumbs.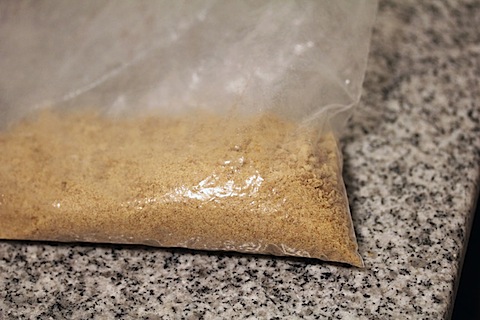 Now, whisk together the flour, sugar, baking powder, salt, and graham cracker crumbs until well combined.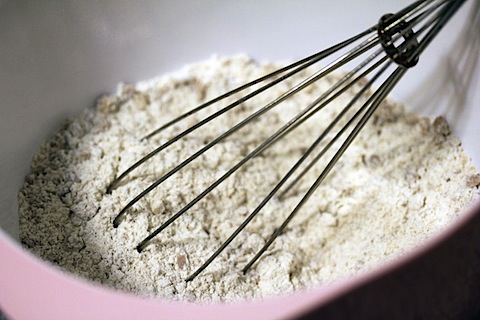 Add whisked egg, melted butter, and milk into the flour mixture and mix until blended.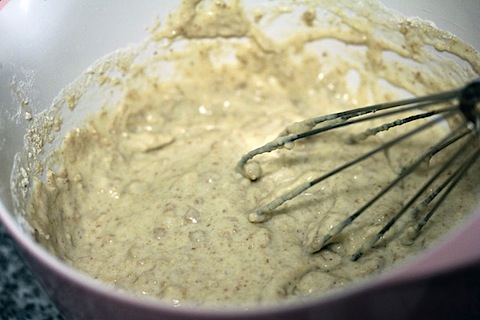 Heat a griddle or pan at medium heat and spray lightly with cooking spray.
Pour a couple tablespoons of batter onto the griddle and let cook about a minute on each side.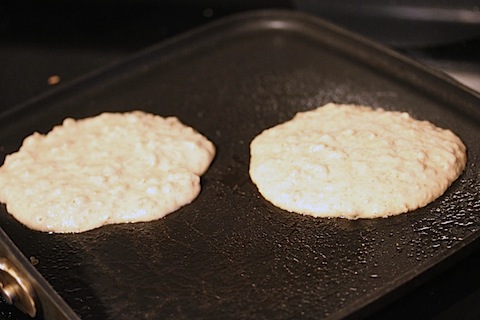 They'll be pretty light and fluffy, thought the graham crackers give them a little extra denseness.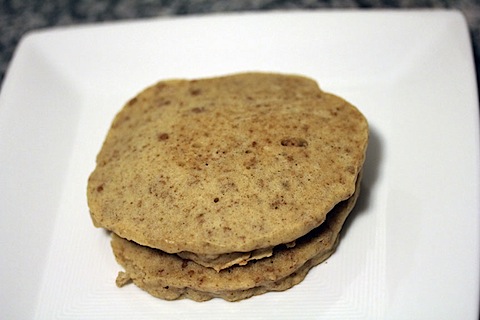 And well, if you're going to make s'mores (in any form) you need chocolate. I made a super simple sauce with a Hershey's bar because if you're making s'mores, you need to use Hershey's chocolate.
Chocolate topping:
• 1 bar Hershey's Milk Chocolate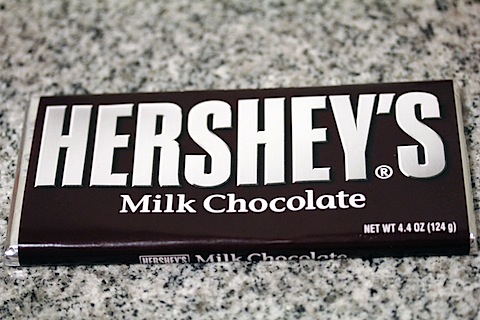 Just break the chocolate up and put the chocolate in a double broiler (or in a saucepan over another saucepan of boiling water) and stir it until melted.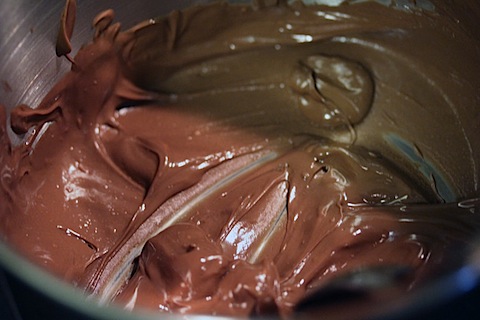 Really, my photos aren't all that pretty. And I probably should have made these pancakes a second time before posting about them. But, to be honest, these pancakes are a once a year sort of meal. As tasty as they were, they're as decadent as anything and after eating a plate-full, the pancakes and I need a little time apart. I think they understand
You can arrange these any way you want. I started by spreading the marshmallow fluff on the top of one pancake.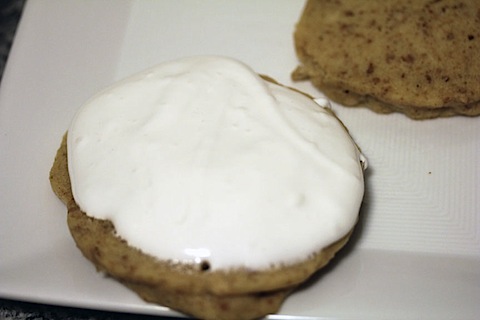 Then I put the second pancake on top.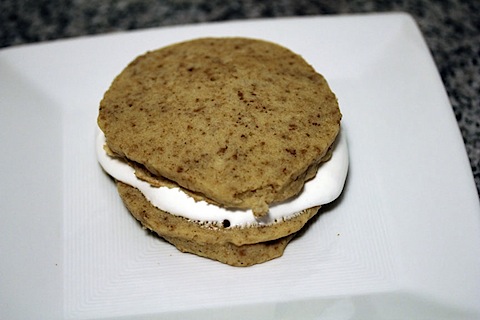 I put a little chocolate sauce on top of that.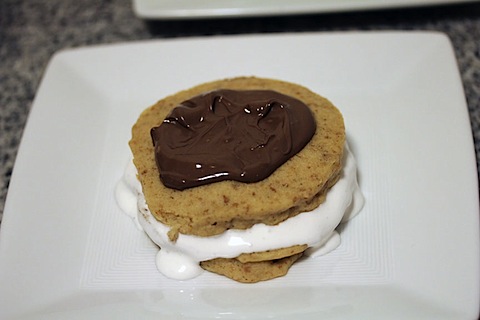 And then repeated, with another pancake, more fluff, a fourth pancake, and more chocolate. It's messy. But a beautiful sort of mess.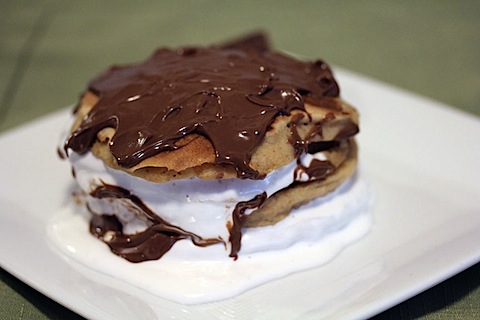 I was going to put a fifth pancake on top to sandwich the whole shebang together, but frankly, it had to end somewhere. And I think that somewhere was here.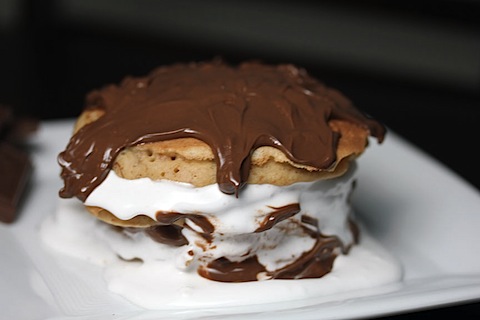 I think Chris thought I was crazy for serving graham cracker pancakes covered in marshmallow and chocolate for dinner, but he didn't try to stop me. We've both had rough weeks, we haven't been able to get to the grocery store, and a little chocolate and fluff has never hurt a soul. If anything, it helped us. In fact, I think we're both a little happier this morning.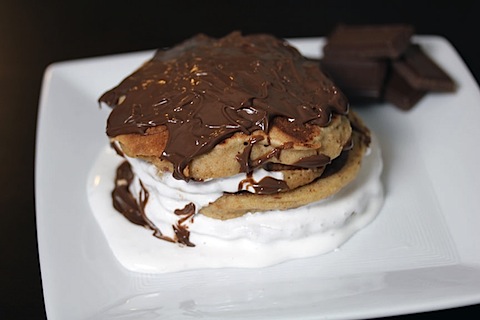 And when I saw Chris take a bite of the Hershey's chocolate bar I left on the plate for decoration, I knew I was totally justified in my dinner choice. There is never enough chocolate.
Make these for brunch or dinner or simply for the best afternoon snack ever.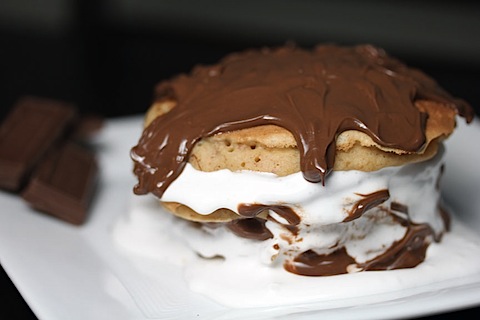 They'll cure a bad day or simply a bad second and make you feel like a kid again. Bonus points for the fact that you don't even need a campfire or marshmallow roasting stick to make them.
Speaking of, have you ever seen this video of Martha Stewart making marshmallow roasting sticks? Watch it. It's fantastically wonderful.
What's your favorite not-really-dinner meal to have for dinner?
[Sues]