I don't think I've posted an actual recipe on here since 1977! It seems like it's been such a long time. With all the traveling we've been doing lately I've had very little desire to stock up on groceries just to watch them go bad, so my eating habits have probably suffered a bit. Back on TRACK.
The other night I was finally in the mood to look up a recipe, follow it, create it…and eat it. Yum. I wasn't up for anything really heavy, just something satisfying. I went to Cooking Light's website first, since I can always rely on them for quick and simple recipes… that are light. I found a recipe for Spicy Asian Lettuce Wraps that not only sounded like it wouldn't take too long to make but it sounded delicious. As I was cooking I listened to The Best of Dave Brubeck 1979-2004. I love listening to jazz while cooking, especially when it's chilly outside. It's so comforting and more importantly it makes me feel like I'm in a movie… which, at the end of the day, is what we should all strive for 😉
Here's what you'll need: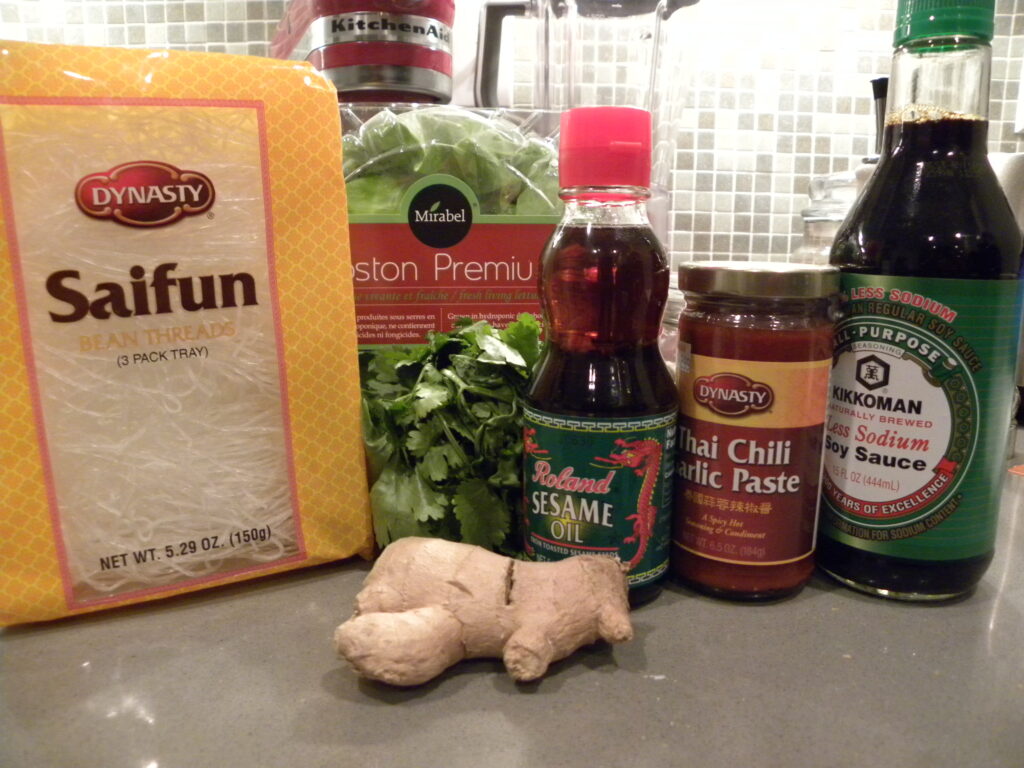 • 2 1/2  ounces  bean threads (cellophane noodles)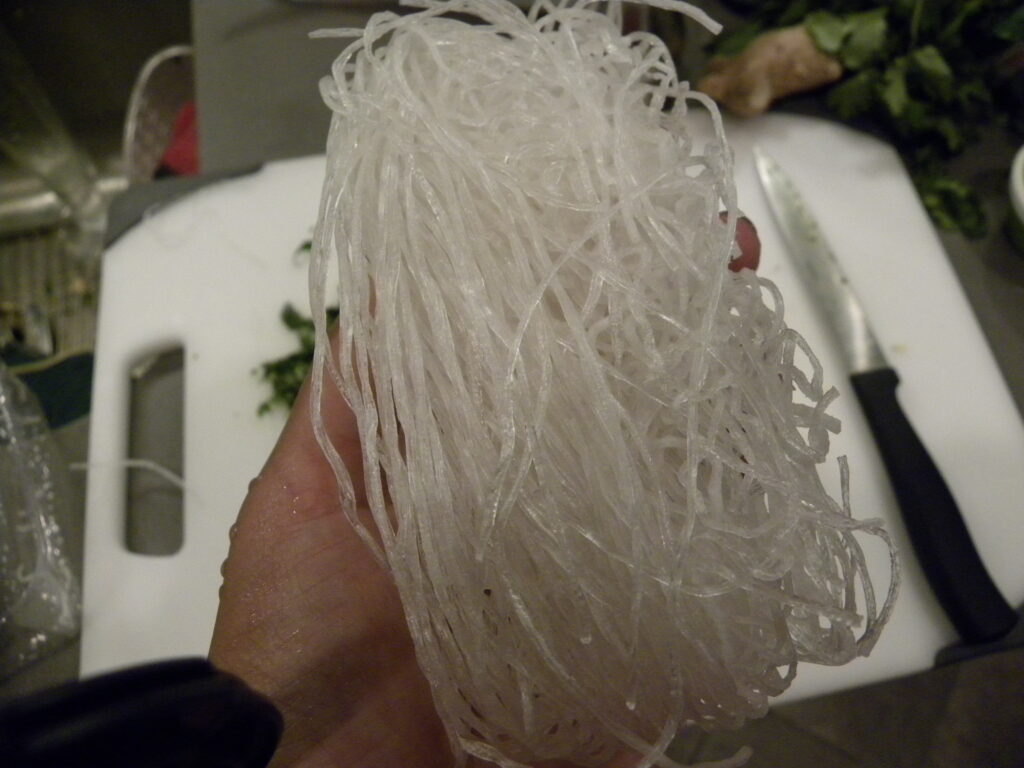 • 1/4  cup  minced fresh cilantro
• 1/4  cup  low-sodium soy sauce
• 1  tablespoon  chile paste with garlic (use a little bit less if you want to cut back on the spiciness)
• 2  teaspoons  dark sesame oil
• 2  cups  chopped roasted skinless, boneless chicken
• 12  large Boston or Romaine lettuce leaves
• I also added a little minced ginger, about a teaspoon, because I felt like it was necessary 😉
Here's what you do (it's a breeze!)
• Prepare noodles to package instructions. Drain, and rinse with cool water. Roughly chop noodles.
• Roast or prepare the chicken to your liking.
• Combine cilantro, soy sauce, chile paste, and oil in a large bowl, be sure to mix well. The ingredients below are actually IN a bowl that is on top of a cutting board, funny how it looks like all the ingredients are on the cutting board 😉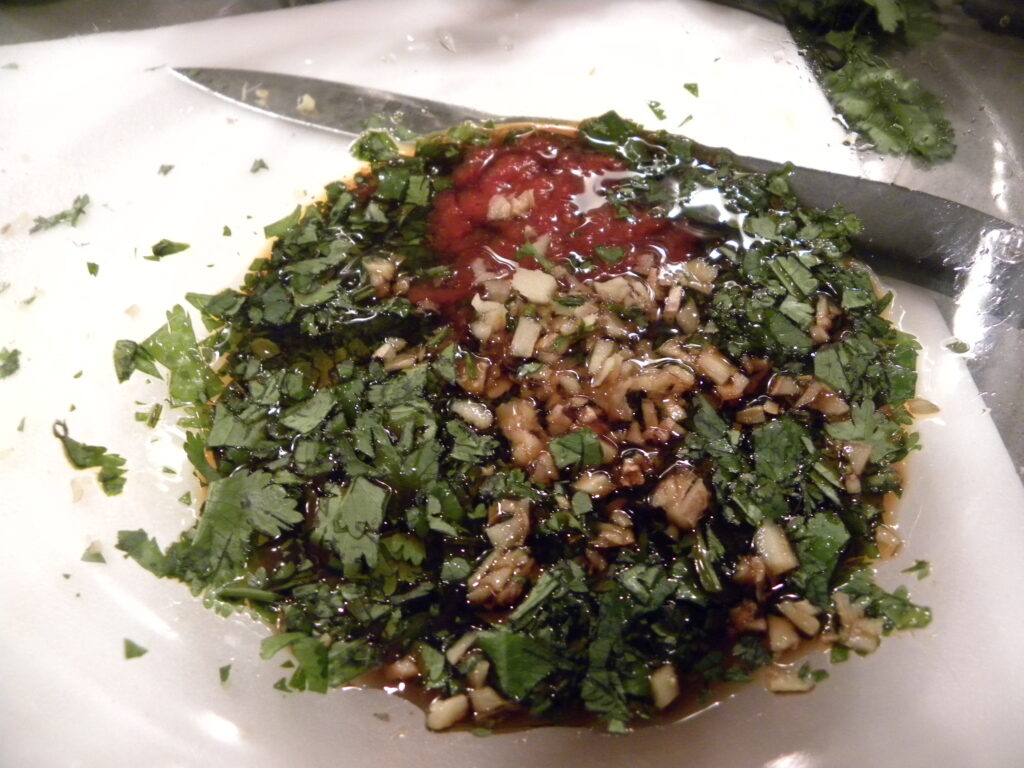 • Add noodles and chicken to soy sauce mixture; toss well making sure to coat well with sauce mixture.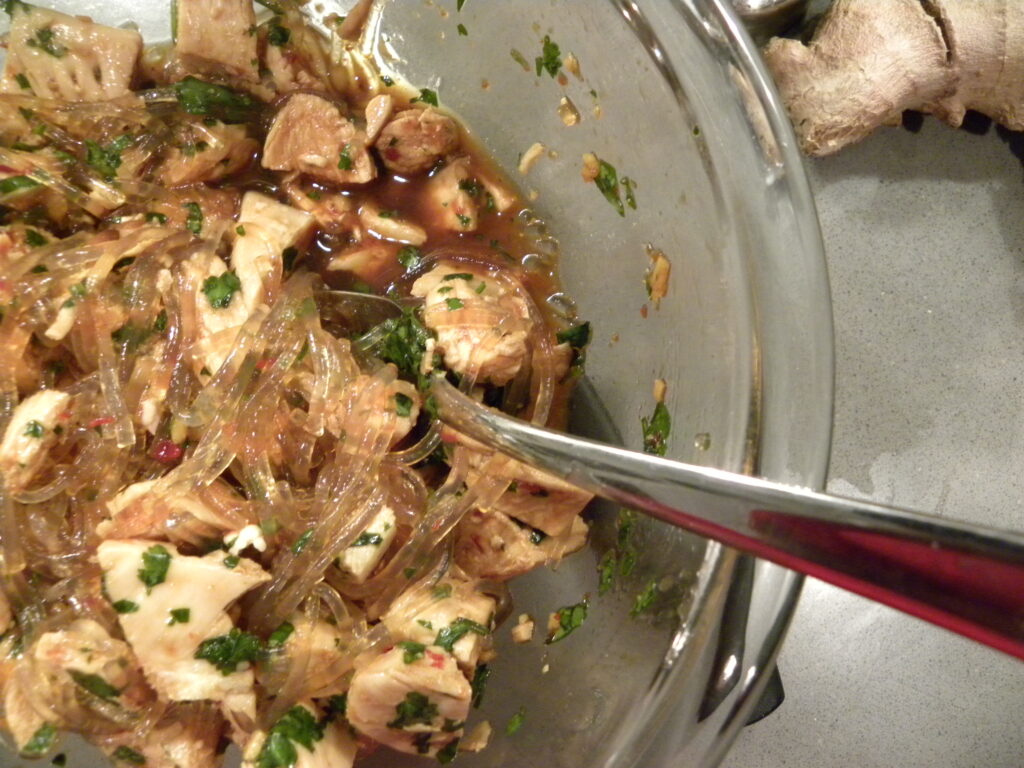 • Spoon about 1/3 cup of the chicken mixture down the center of each lettuce leaf and roll up.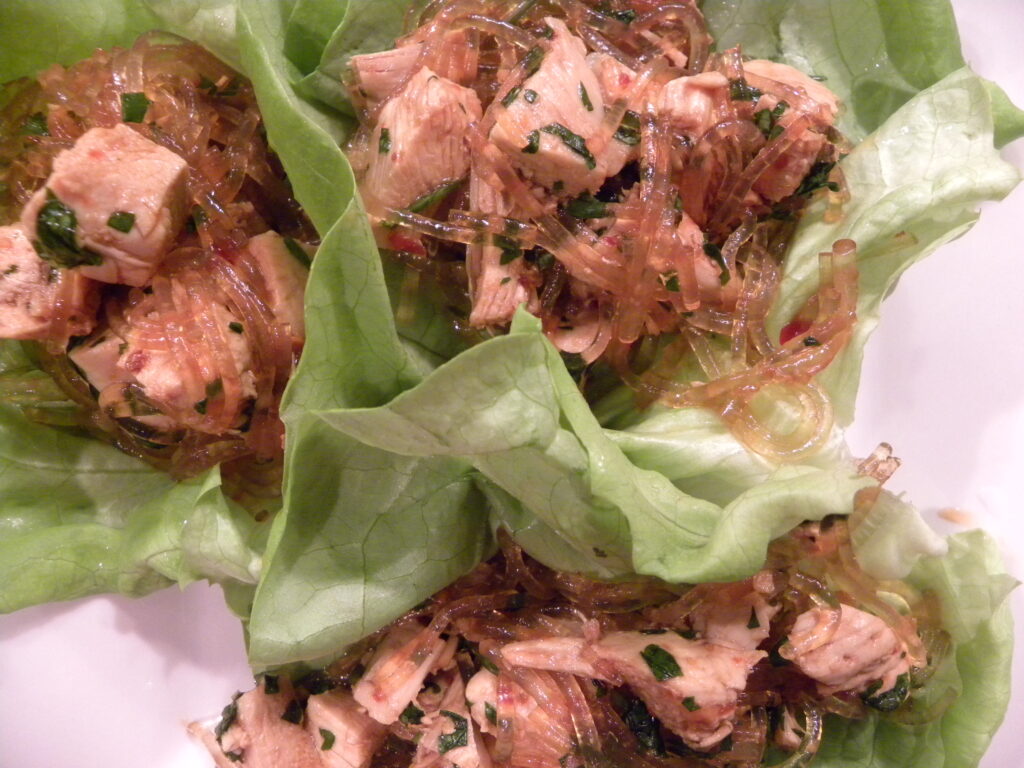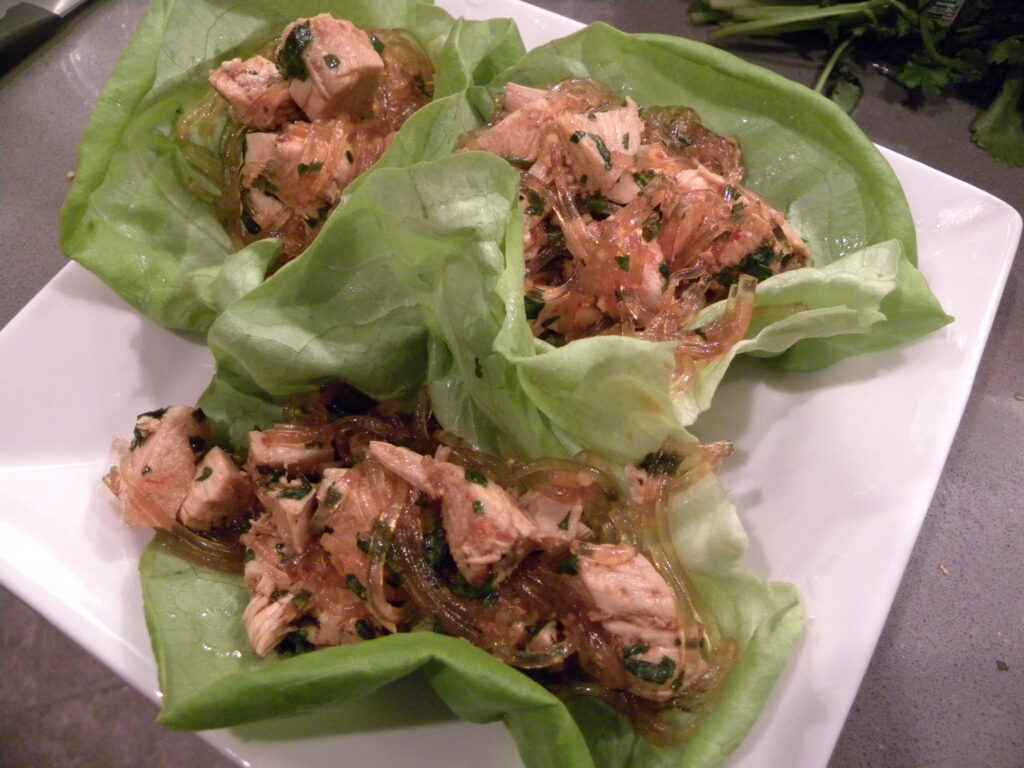 I loved all the different textures and flavors, not to mention they're quite pretty. The cool crunch from the lettuce and the warm bites of chicken mixed in with a little spiciness from the chili powder… plus the addition of the ginger was pretty brilliant, if I do say so, myself! 😛
Since lettuce wraps have the reputation for being a tad messy, for lunch the following day I hate the leftovers and roughly chopped the lettuce. Instead of doing a traditional "wrap" I made a little salad. It worked wonderfully. I just wasn't in the mood to eat with my hands the next day I guess! Same tastes and flavors, just a different approach…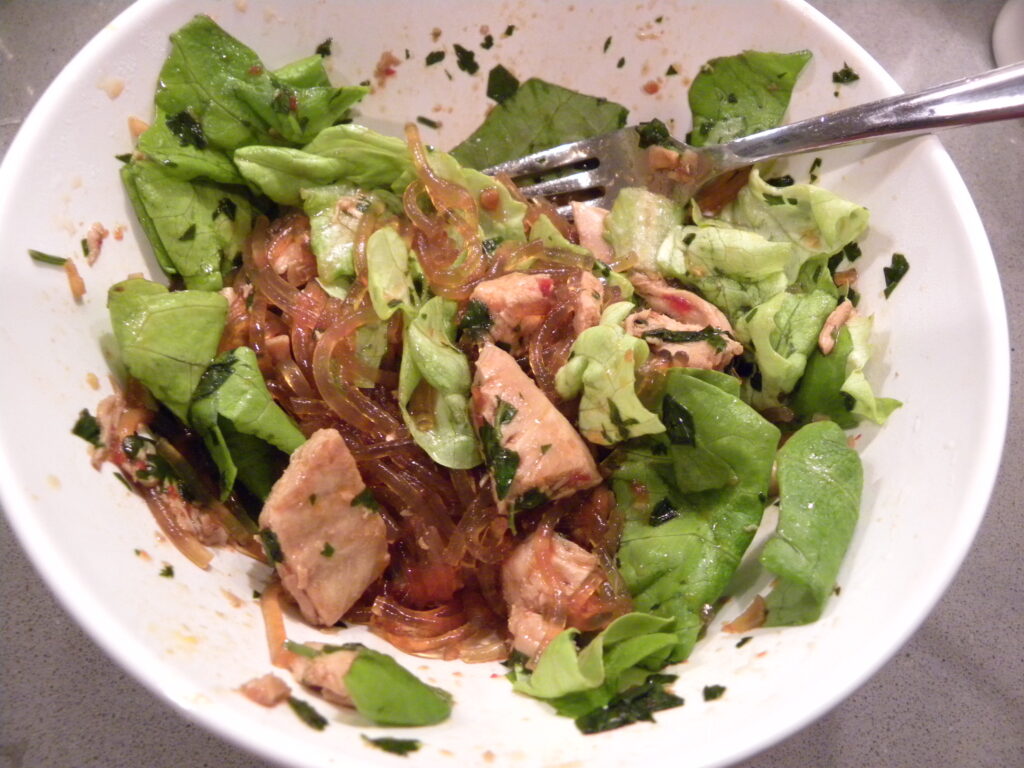 [Chels]