Linguine with Clams and a spicy twist... The secret ingredients in this meal favorite are spicy sausage, lime juice, and a hot pepper hard cider.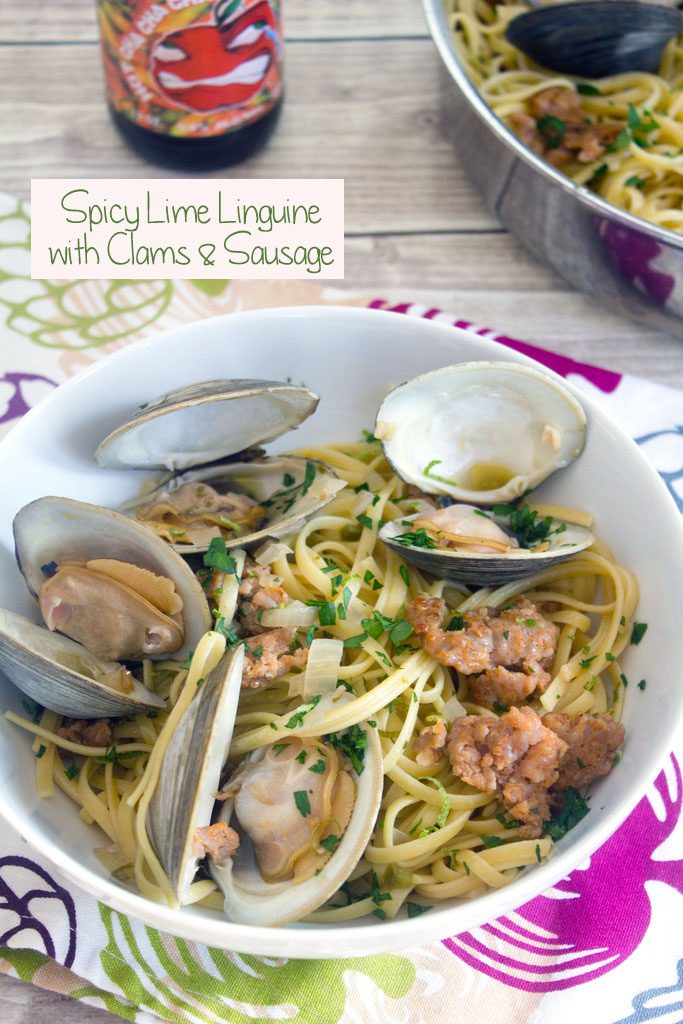 The other day, I face swapped with my dog. Because why the heck not, right? If you don't know what face swapping is (because you're old like me, only you don't work in social media with young co-workers who force you onto social platforms no matter how much you resist), it's basically a filter on Snapchat (yup) that allows you to swap faces with anyone you have a picture of. I'm not even going to post the face swap of me and Winnie because it's creepy as anything and you'll probably never talk to me again if you see it. Some things are just not meant to be. I did send it to Chris and he said he wasn't sure if he loved it or was really disturbed by it... probably a combination of the two. We live in some seriously weird times.
That includes the world of alcoholic beverages, as well. I mean, have you seen how many ridiculous flavors of vodka exist these days? I feel like it's only been somewhat recent that hard ciders have become popular and now my local liquor store has about a million of them. Chris recently brought Woodchuck's Hot Cha Cha Cha! home for me and not only did I love drinking it, but I also knew I had to do some cooking with it. I just happened to see three different recipes for versions of linguine with clams in food magazine all on the same day and immediately began craving a slightly spicy version. I pretty much combined all of the recipes and accomplished my mission with the spicy hard cider, jalapeños, and a little bit of spicy sausage.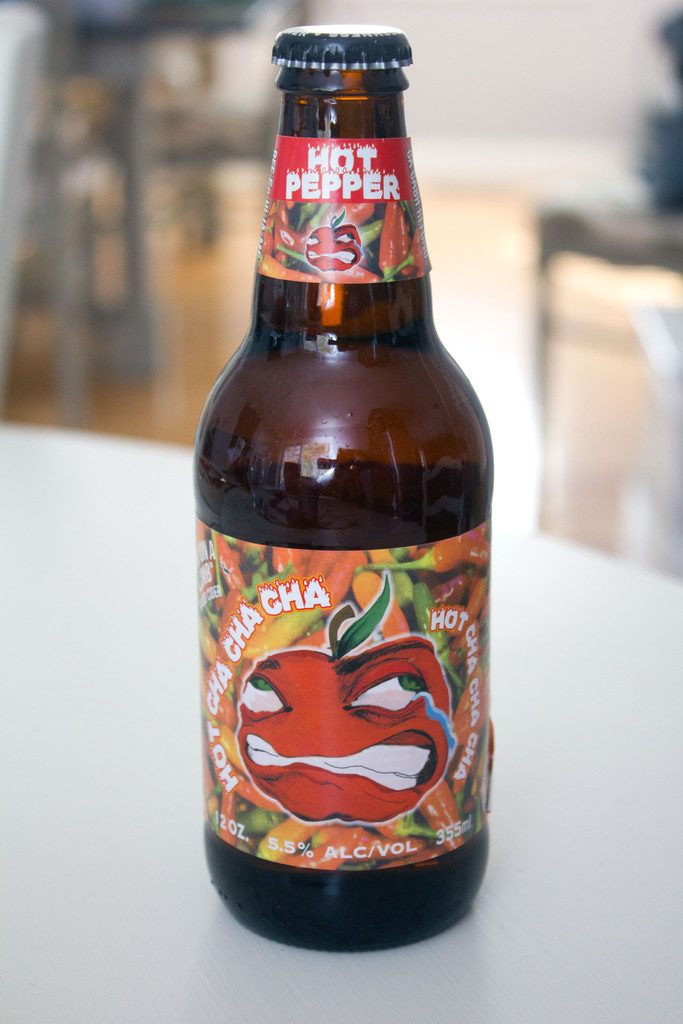 I definitely start craving shellfish more when warmer weather hits and it's so, so easy to make at home. And usually pretty inexpensive, too. This linguine with clams dish is perfect for spring since it combines shellfish with the comfort of pasta, a food you may not always want in the middle of summer (though let's be honest, when do you not want pasta??).
SPICY LIME LINGUINE WITH CLAMS AND SAUSAGE RECIPE
Is it just me or is there something seriously satisfying about putting closed clam/mussel shells into broth and seeing them open up within minutes? I always think linguine with clams sounds so fancy, but it's such an incredibly easy dish to make. Even when you add sausage and a spicy kick in! All you have to do is cook the sausage, onion, jalapeño, and garlic; cook the linguine, and cook the clams in the cider until they open up.
Would you ever guess that linguine with clams is a 30 minute meal??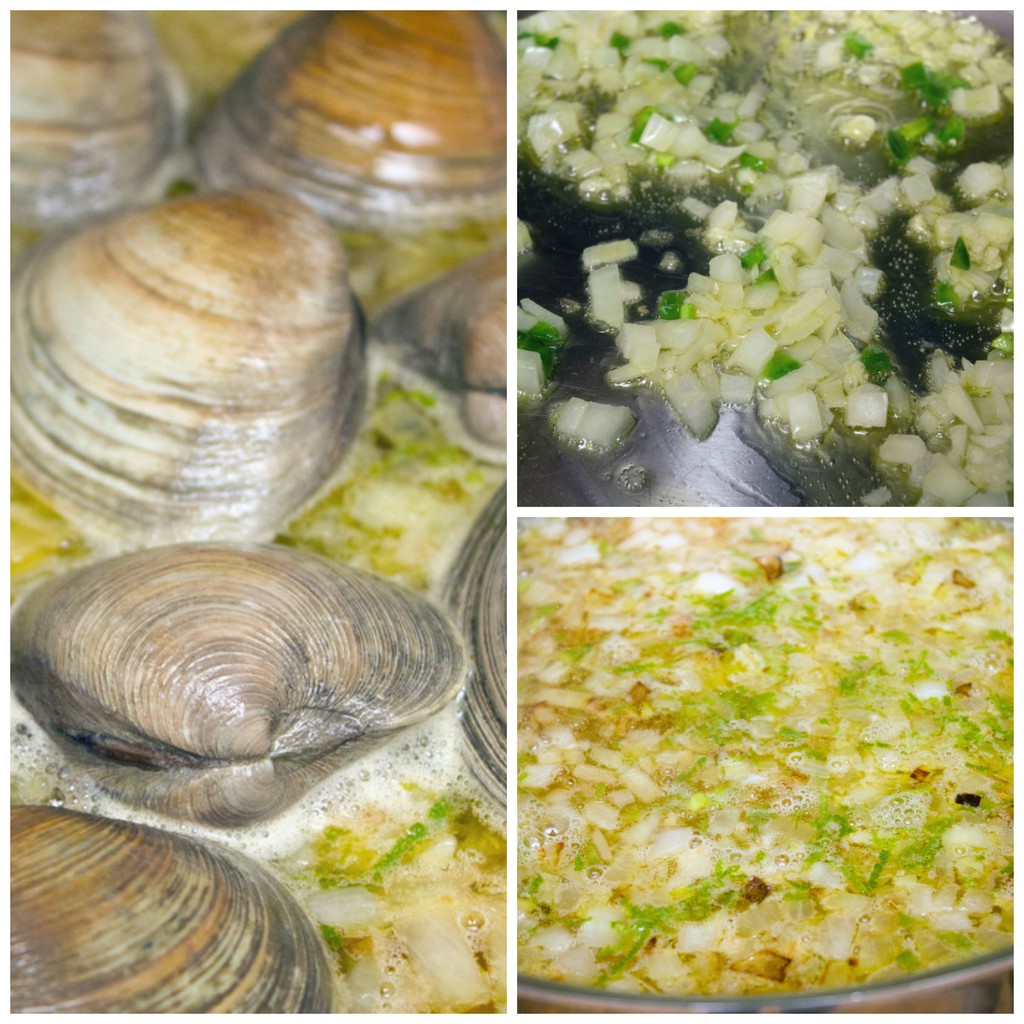 This dish has so many things I absolutely love in it that I'm pretty sure I could eat it all spring long and never complain.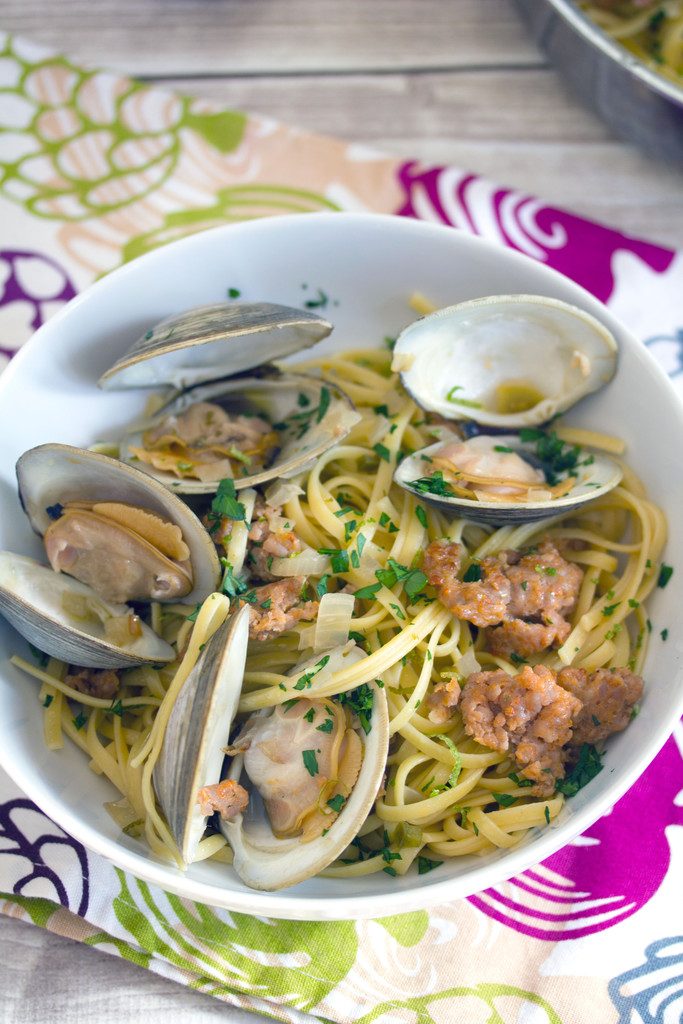 Including the fact that I used real pasta as opposed to non-whole wheat. I actually enjoy whole wheat pasta, but don't always love the way it looks in photos (#FoodBloggerProblems)... Plus, sometimes you just need real pasta in your life.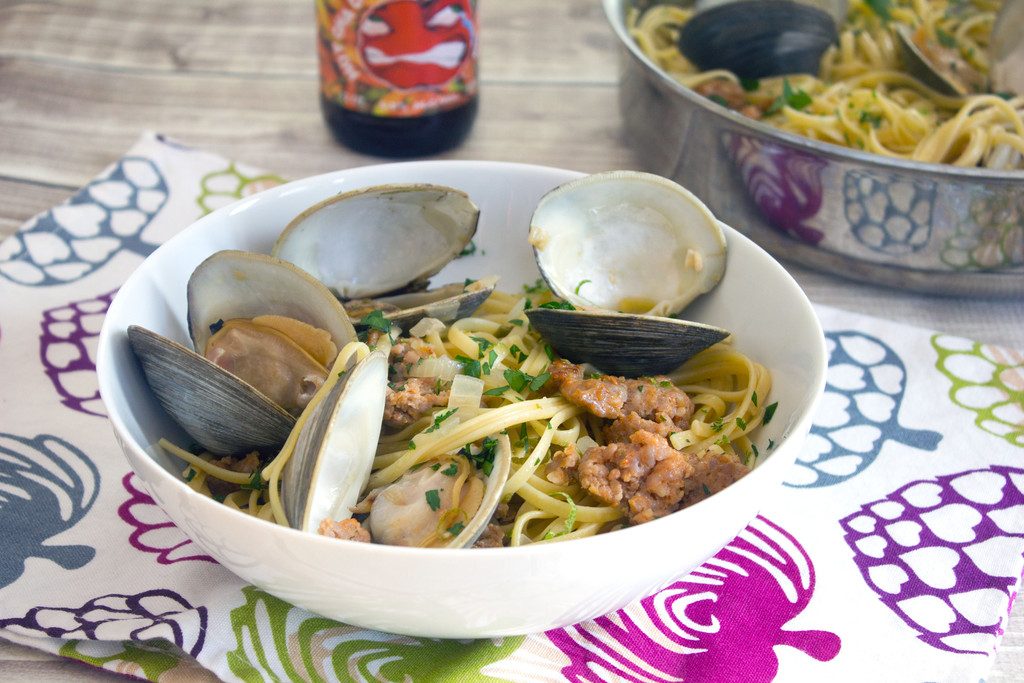 And sausage, too. If you don't love spicy, you can definitely use sweet Italian sausage instead. I still recommend using the hot pepper hard cider if you can find it as it adds more of a pleasant kick rather than a serious spiciness to the linguine with clams. If you can't find it? Add in some more jalapeños and maybe some red pepper flakes, too!
The lime juice and zest is so essential here, too, though it will most likely cause you to wish you were eating this dish with an ocean view. Instead of your normal cold weather kitchen/dining room/family room television view.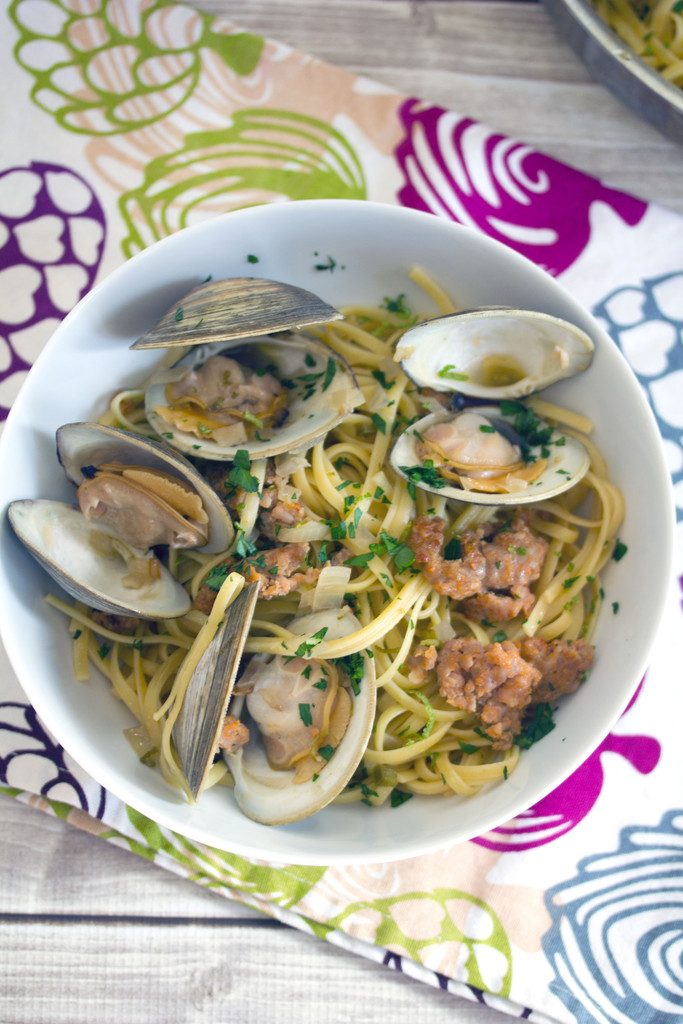 Don't be afraid to slurp up any extra broth remaining in your bowl. And also to enjoy another bottle of hard cider on the side. Nobody expects you to cook with it and not also be drinking it. They know you better than that.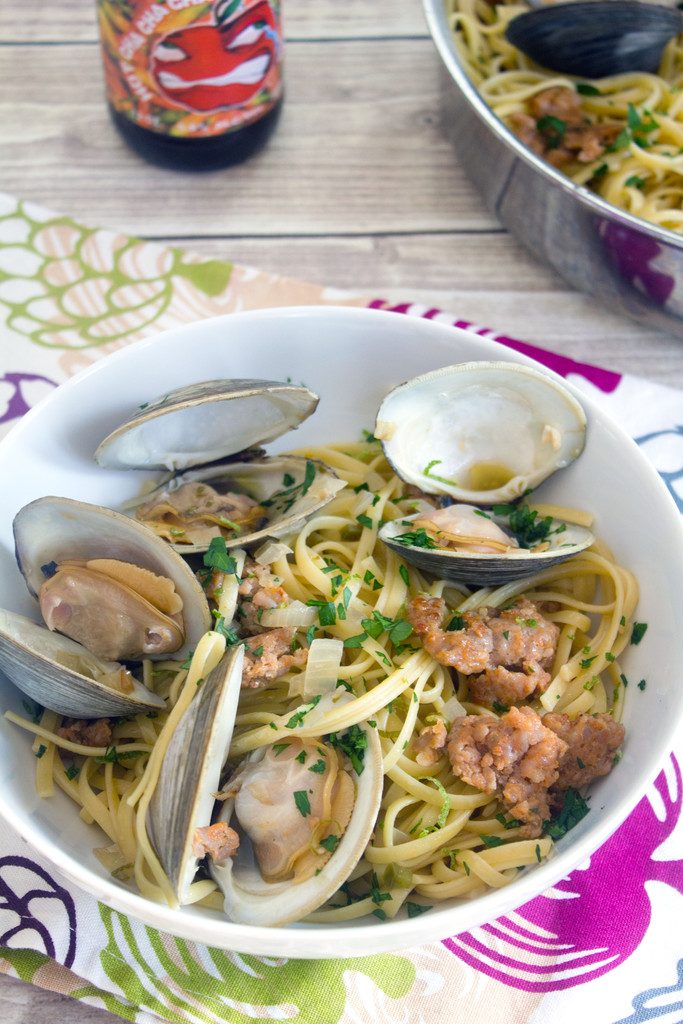 I thought my craving was satisfied, but now that I wrote this post, I realize I need to make this dish again like right this instant. Thank goodness warm weather is just arriving and shellfish season is here. Um, speaking of, can I have my first lobster roll of 2016 already?
What's your favorite add-in for linguine with clams?
If you love this recipe, chances are you'll enjoy this recipe for Grapefruit Shandy Mussels with Grapefruit Linguine. If you're looking for more clam dishes check out this recipe for Clams with Smoky Bacon and Tomatoes from The Blond Cook.
📖 Recipe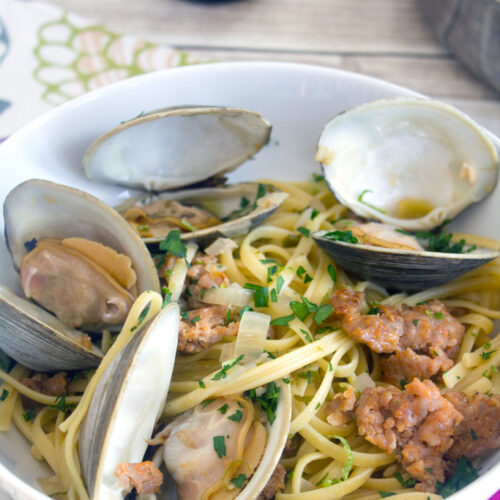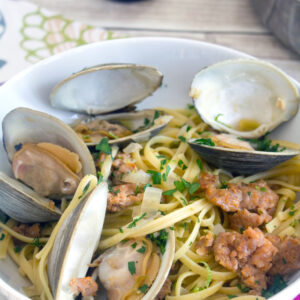 Spicy Lime Linguine with Clams and Sausage
Linguine with Clams and a spicy twist... The secret ingredients in this meal favorite are spicy sausage, lime juice, and a hot pepper hard cider.
Print
Pin
Rate
Ingredients
1-2

Tbsp

olive oil

¾

lb.

ground hot Italian sausage

1

lb.

dried linguine

1

small yellow onion,

finely diced

2

cloves

garlic,

minced

1

jalapeño pepper,

finely diced

2

lbs.

littleneck clams

or similar, scrubbed

1

cup

Woodchuck Hot Pepper Hard Cider

(can use any cider of your choice)

2

Tbsp

freshly squeezed lime juice

1

Tbsp

lime zest

1

Tbsp

chopped parsley

1

Tbsp

unsalted butter
Instructions
In a large skillet, heat 1 Tbsp olive oil over medium heat. Add sausage and cook until browned, about 5 minutes. Remove sausage to a plate or bowl and set aside.

Bring a large pot of water to a boil. Add linguine to pot and cook until al dente.

In the same skillet you cooked the sausage in, add onion, garlic, and jalapeño and cook, stirring, until softened, about 2 minutes. Add more olive oil if necessary.

Add clams and hard cider to skillet and bring to a simmer. Add lime juice and zest and cover skillet. Cook, until clams open, about 5 minutes. Be sure to discard any clams that don't open.

Drain pasta and add along with butter to skillet with clams. Toss with sausage and parsley and season with salt and pepper.
Notes
If you can't find a spicy cider, you can simply add hot pepper flakes to the dish.
Share a Photo of Your Finished Recipe!
Mention @wearenotmartha and share a photo if you've made the recipe!