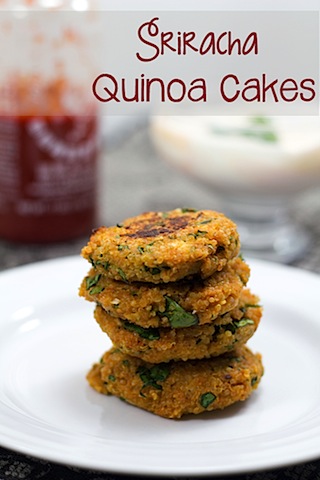 I'm pretty sure it's the grown-up version of ketchup. And though there will always be a special place in my heart for the tomato-based condiment, I've been replacing ketchup with sriracha in pretty much everything these days. You probably are too, since I'm pretty sure everyone in the world is obsessed with it (aside from my blogging software, which keeps trying to autocorrect it to "smirch"). It's the perfect level of heat, but heat with flavor. I'm pretty sure there may also be some sort of crack or other addictive substance in sriracha, but I'm willing to overlook it just to get my fix.
I made these quinoa cakes in an effort to bring a little more nutrition into my life. I think I eat pretty healthily (with indulgences and cocktails here and there, too, obvi.). But it's so much easier to eat healthily when planning ahead, bringing my lunch to work, etc. I love my daily lunch salads, but was getting a bit bored and decided they needed something to make them a bit more interesting. I remembered these sweet potato cakes I made and added to my salads last year… but wanted something that would keep me satisfied a bit longer. And involved my favorite condiment. Enter Sriracha Quinoa Cakes!
I'm absolutely obsessed with these quinoa cakes and they are so delicious that I'm actually recommending them to you as a Super Bowl food. Seriously. Alongside all your chips, dip, and chicken wings, serve up a platter of Sriracha Quinoa Cakes and I pretty much guarantee your guests will gobble them up. You know I'm the last person to tell you not to eat cookies and doughnuts all day long, but these are making me look at healthy eating in a whole new light. And they're giving me a reason to get absolutely giddy about lunchtime. Sriracha. Quinoa. You guys should totally get married.
Sriracha Quinoa Cakes (makes about 12):
Print this recipe!
2 C cooked quinoa
3/4 C breadcrumbs (whole wheat if you want)
2 cloves minced garlic
1 C chopped baby spinach
1/4 C sriracha
2 oz. goat cheese, crumbled
2 large eggs, whisked
1/2 t fresh lime juice
Pinch salt
1-2 T olive oil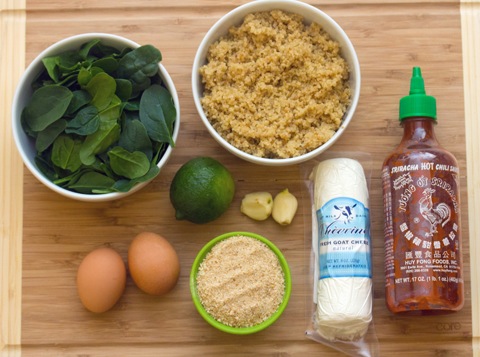 Not only are these quinoa cakes delicious and make healthy eating fun, they're ridiculously easy. And you can make a batch on a Sunday and eat them all week. Obviously you can switch up the ingredients, adding whatever you'd like!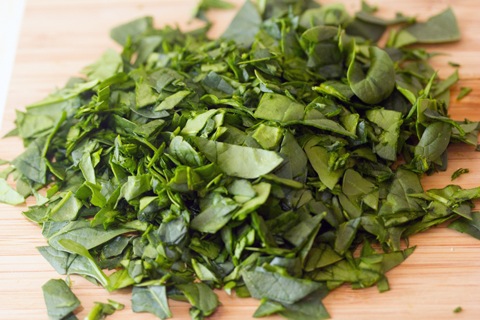 Basically, all you do is combine all the ingredients in a large bowl…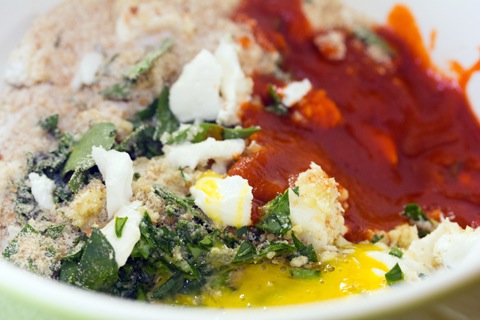 Making sure they're mixed well.
I kind of wanted to eat it just like this and pretend it was a salad. I probably would have, but for the raw eggs. Even then, I still considered it.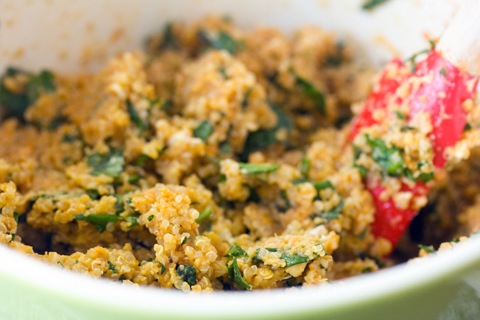 Pour a little olive oil in a skillet (or griddle) over medium heat. With your hands, form patties with the quinoa mixture and place on the skillet.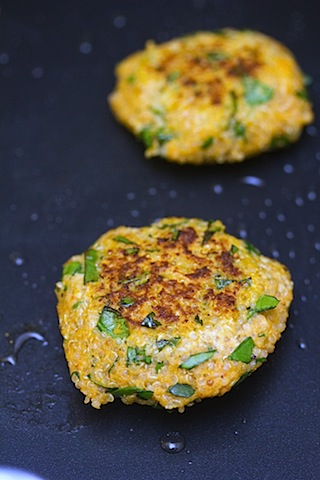 Let cook for about 5 minutes before flipping and cooking another 5 minutes on the other side. Cakes should be lightly browned. Remove to a plate and continue cooking remaining patties. You might need to add a little more olive oil to the skillet in between batches.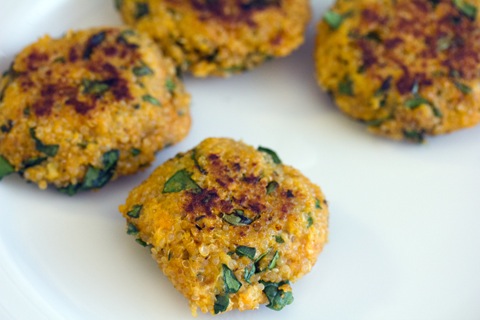 Of course, how many quinoa patties you get will depend on the size you make them, but I managed to get about 12 out of my mixture.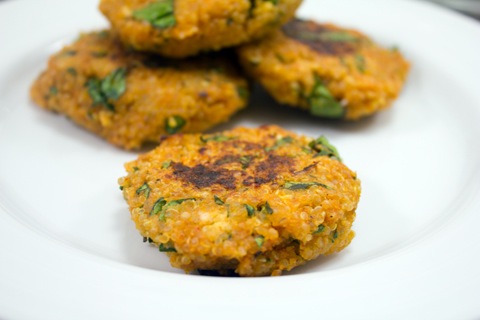 I served with a little sriracha yogurt, too, since there's never enough sriracha in the world.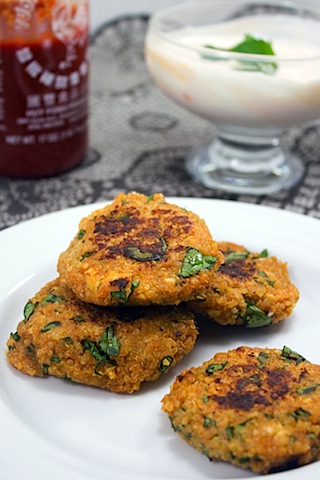 Say hello to my new favorite snack. I'm seriously in love with these cakes and am telling you, they're the perfect party food! You could probably even make them with buffalo wing sauce for more of a football party food. Though I'm predicting sriracha is going to rival buffalo sauce for top sauce title.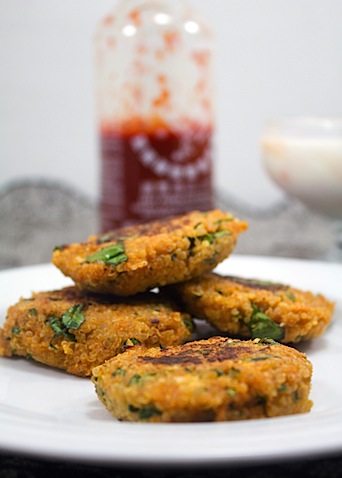 If you make a batch of these on a Sunday, you can pop them like candy throughout the week. I love them because I get insanely hungry if I don't eat every 2 hours and this gets super annoying when trying to get through a work day with lots of meetings. So, I desperately need foods like this that will keep me full until I can grab food again.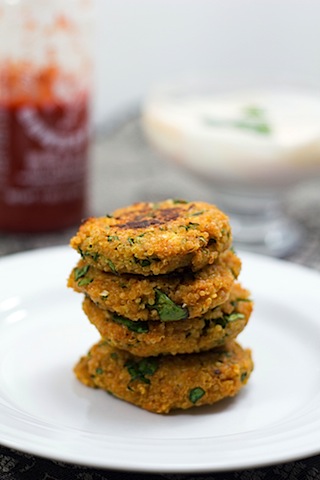 I've been adding one of these quinoa cakes over my salad (often with a hardboiled egg, too) for a lunch that is totally filling and satisfying.
I really, really hope I don't get sick of these any time soon because as of right now, I'm planning on making a variety of them every single Sunday to get me through the week.
Though there's 1/4 C of sriracha in these cakes, the spice is more of a flavor with a kick and not a lingering OMG so hot feeling. I also love the pretty color the sriracha made these.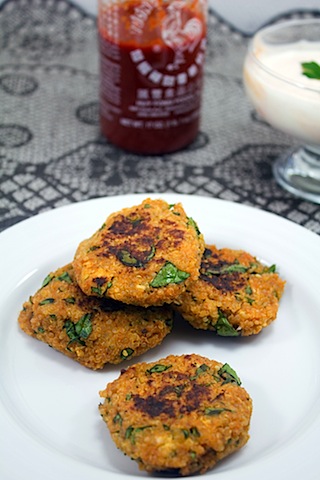 Is there such thing as including too much sriracha in your diet? I hope I never find out.
Next up? I'm going to attempt a breakfast version of quinoa cakes. Maybe I'll leave the sriracha out of those ones….
What's your favorite satisfying workday lunch?
[Sues]