Whether you're rooting for your home team or just in it for the food, these Clam Chowder Potato Skins are the perfect game day appetizer. And if you have any leftovers, they're easy to repurpose the next day!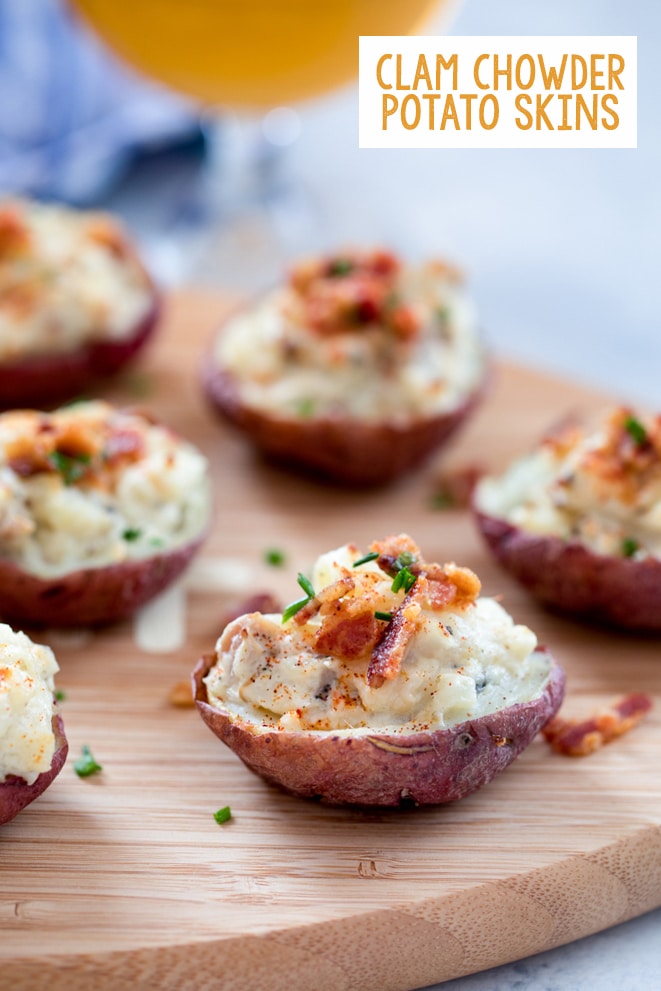 This post is sponsored by Morton Salt, but as usual, all opinions are 100% my own. Thank you for supporting We are not Martha!
We're just days away from the Big Game! Yay!!! I think you know me enough by now to know that while I enjoy watching football on occasion (I mean, it helps when your team makes it all the way!) and am a big fan of watching the commercials (mostly because of the hilarious social media commentary), I'm really mostly here for the food. Did you know that the Sunday of the Big Game is the second biggest day for eating in the U.S., behind only Thanksgiving? I believe it, considering that even when I'm just staying home watching the game with Chris, I have a tendency to make a TON of food. There's just something about a high-stakes game that calls for chips and dip and chicken wings and pizza and basically all that fun food you don't eat every day. But because it's such a popular food day, that also means it's a big day for food waste. I'm excited to be teaming up with Morton Salt once again to help Erase Food Waste!
To celebrate the Big Game and my very favorite football team, I made these Clam Chowder Potato Skins, which are not only delicious, but can easily be repurposed the next day (when you're hopefully coming down from your game day high after your team's victory!). Before I jump into the recipe, I wanted to share a few tips for how I reduce food waste after game day gatherings. I'm honestly loving Morton's campaign because it's really pushing me to think think about how I'm using food and where I can be better about waste. Throwing parties has definitely been a struggle since it's easy to go overboard and sometimes difficult to know exactly how much food you'll need and feels safer to have too much food than too little. I'll be keeping these tips in mind now for all my future parties:
Don't put out all the food at once: Instead of filling the chip bowl up to the brim or putting out all the chicken wings, put smaller portions of your party foods out and then refill as necessary. That way, you'll have any extra food safely stored (and away from grubby hands!) when the game is over.
Make smaller portions of dips: I LOVE dips and could eat an entire taco dip by myself. But I think they're also probably one of the top most wasted party foods since there's something a little icky about saving a dip a bunch of people have been digging into all night. Try making a few smaller dips that you bring out one at a time. If you end up serving them all, great! If not, at the end of the night, you'll at least have a pristine dip in your fridge that you can enjoy the rest of the week.
Make smaller bites that people can grab and eat instead of bigger dishes that everyone will be touching: Similar to my dip tip, think about foods you can serve that won't have lots of germs around them by the end of the night. Everyone will have their hands in a cheese ball, but they'll only touch the potato skin they're going to eat.
Make foods you can repurpose after the party: When you're planning your menu, think about what you can do with the leftovers. Stuck with a lotta cheese plate extras? Make a mac and cheese! Leftover clam chowder potato skins? I've got a plan for those, too!
Yup, potato skins are a fabulous game day eat for many reasons. And since they're so incredibly versatile, there's a lot you can do to help them match the theme of your party or to celebrate your favorite team. I chose to use small red potatoes for these potato skins (about 3 oz. each) because the best appetizers are little bites and shouldn't require a fork and knife. These clam chowder potato skins are incredibly easy and simply require roasting and hollowing out your little potatoes: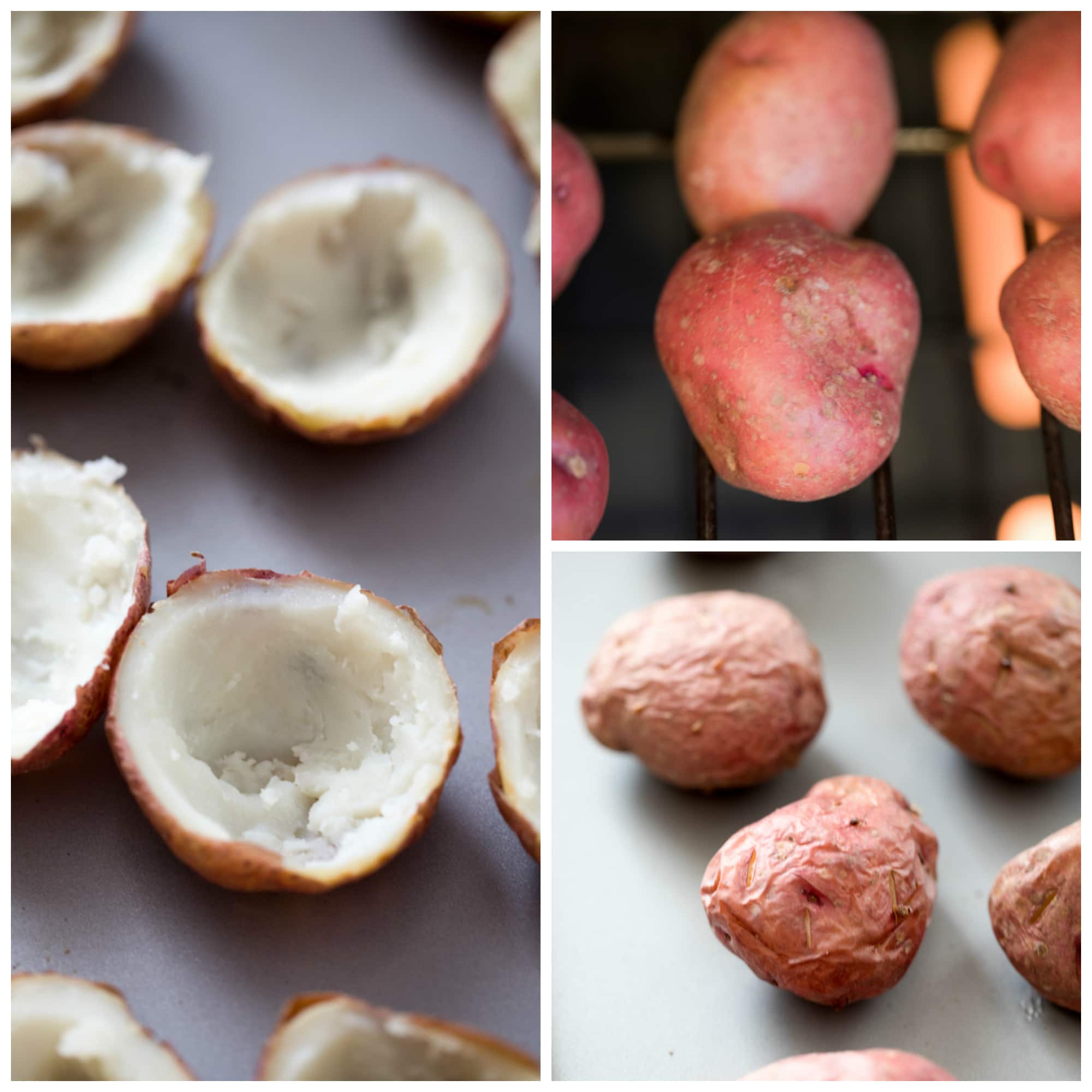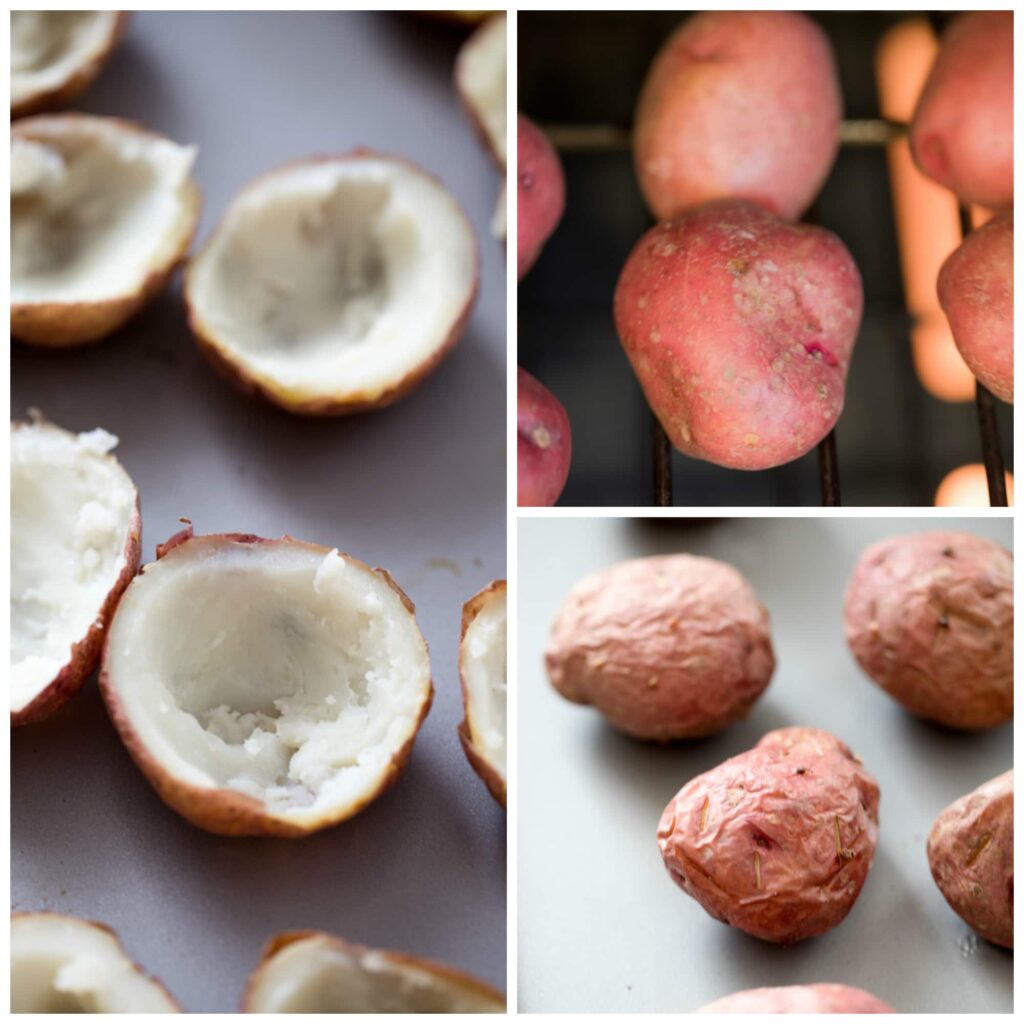 And making the clam chowder filling to put in them: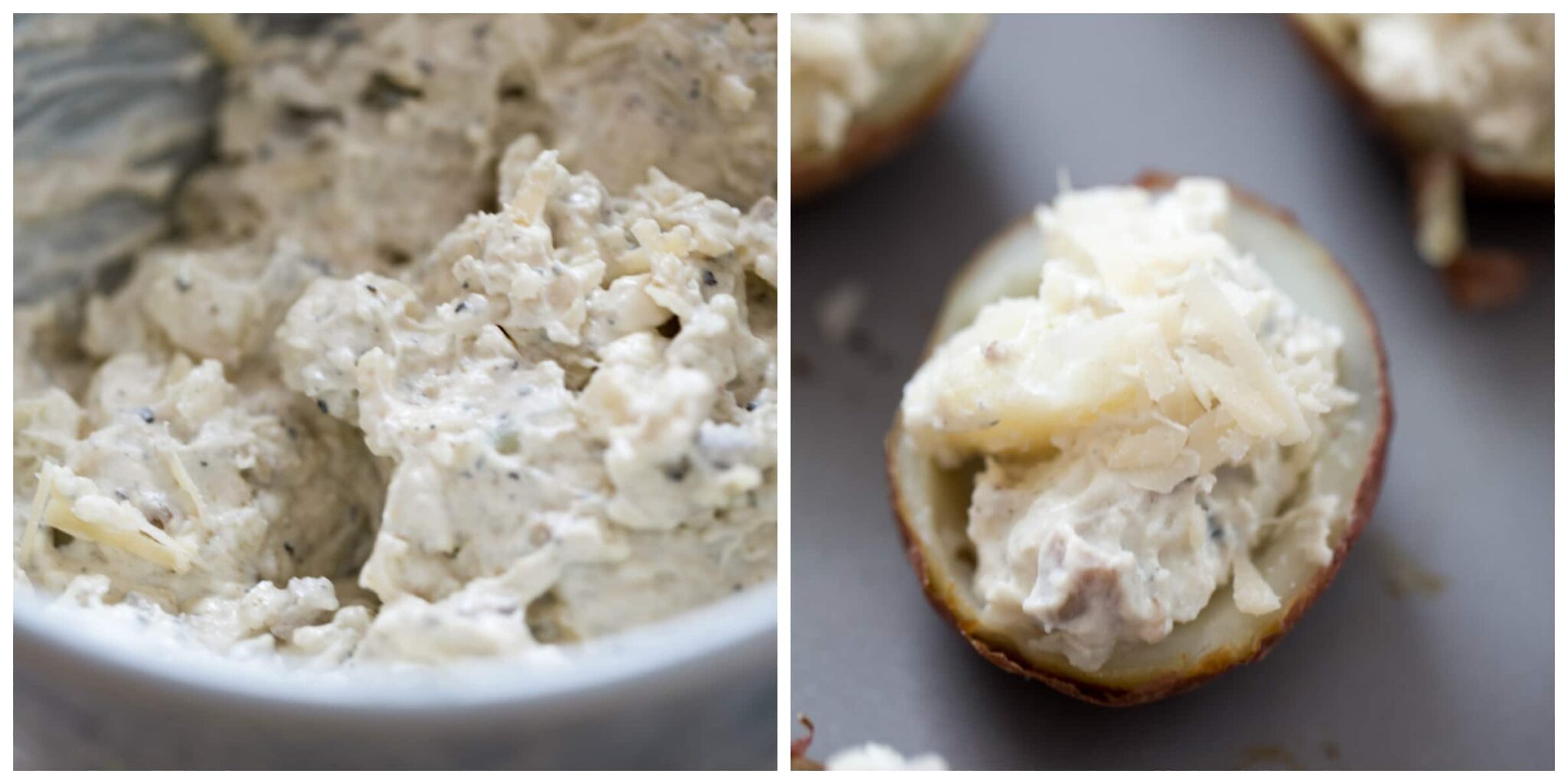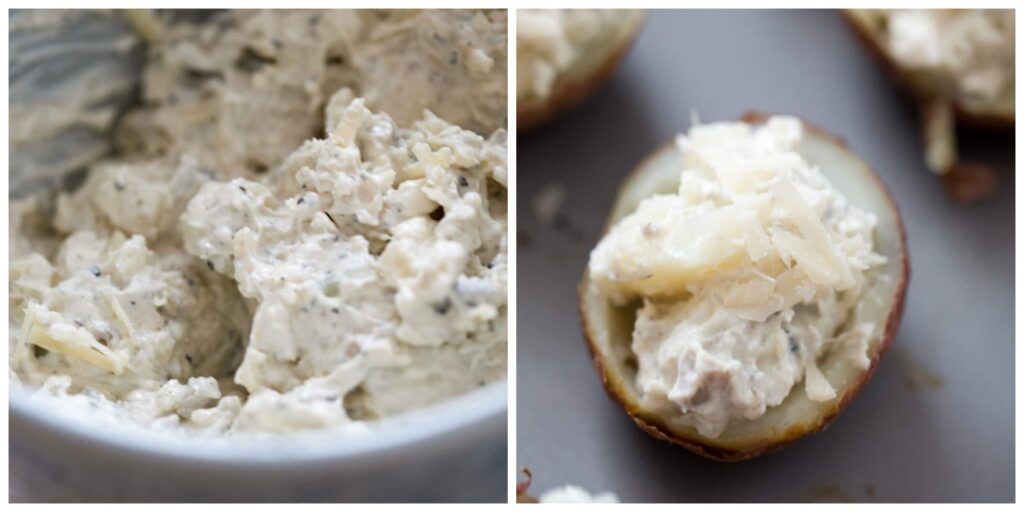 Obviously they're not filled with a soupy clam chowder, but more of a clam chowder dip. And also obviously, they're topped with bacon. Because all good potato skins are and all good clam chowder is. It's kind of like a match made in heaven and I can't believe I've never thought of these before!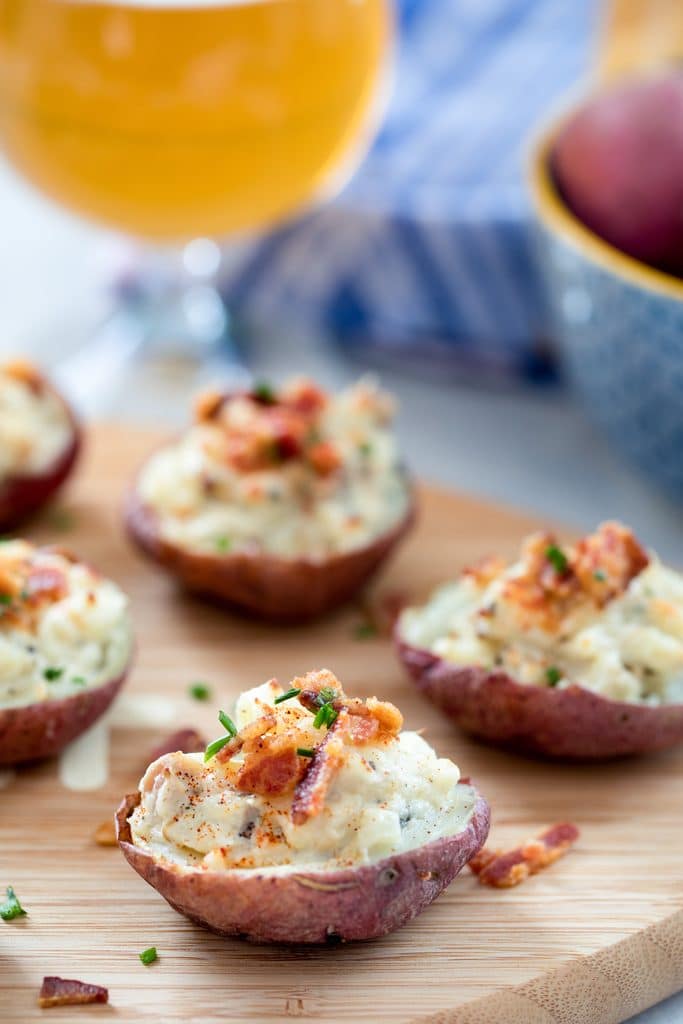 Can I tell you something embarrassing? When I was a kid, I thought that you had to be FROM the place of the professional sports team on which you played. So, if I wanted to play a professional sport (if you ever went to one of my softball/soccer/field hockey/track games, you'd be rolling on the floor laughing right now), I'd have to be on a Boston team. I was honestly pretty upset when I found out this was not, in fact, true. And if you ask me, it's actually a really good idea and one all professional sports teams should immediately implement. It would make the games so much more exciting! I was even more upset when I learned you could be traded from a team you had been on your entire career. Seriously? Where's the loyalty??
But I probably shouldn't be giving sports people any ideas right now when I happen to be from a place where the sports teams are generally pretty awesome. You know, because I'm sure they're going to think my idea makes so much sense and go ahead and make some changes ahead of Sunday's game.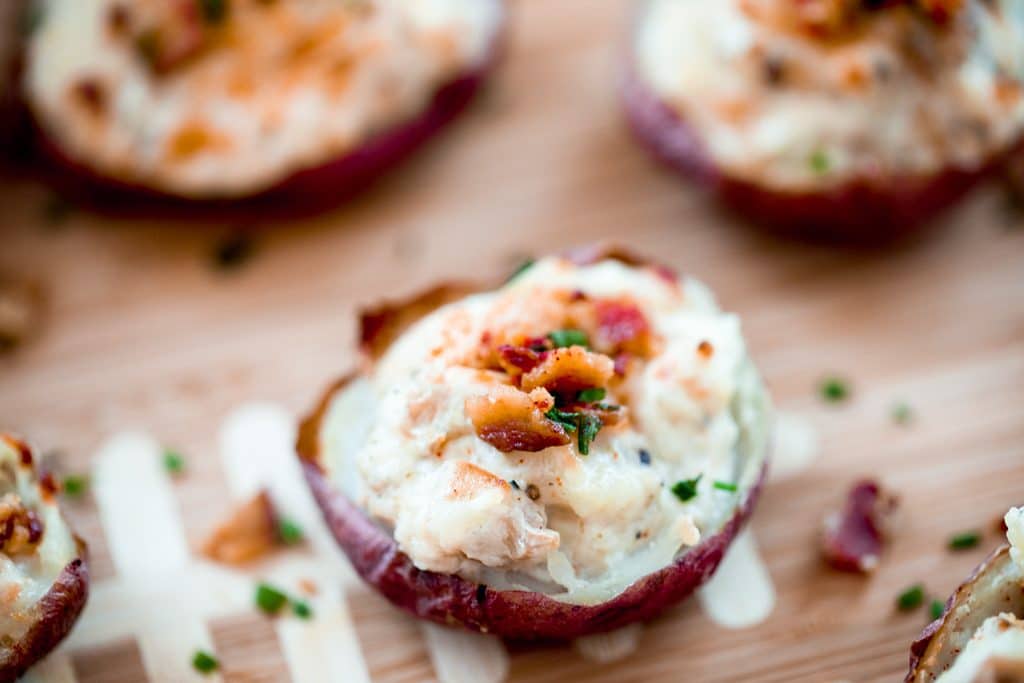 And that's exactly why I stick to cooking lots of fabulous food and staying home and watching the game from my couch. And generally keeping my mouth shut even though I have SO many ideas for how to make professional sports better. And don't even get me started on the Big Game commercials.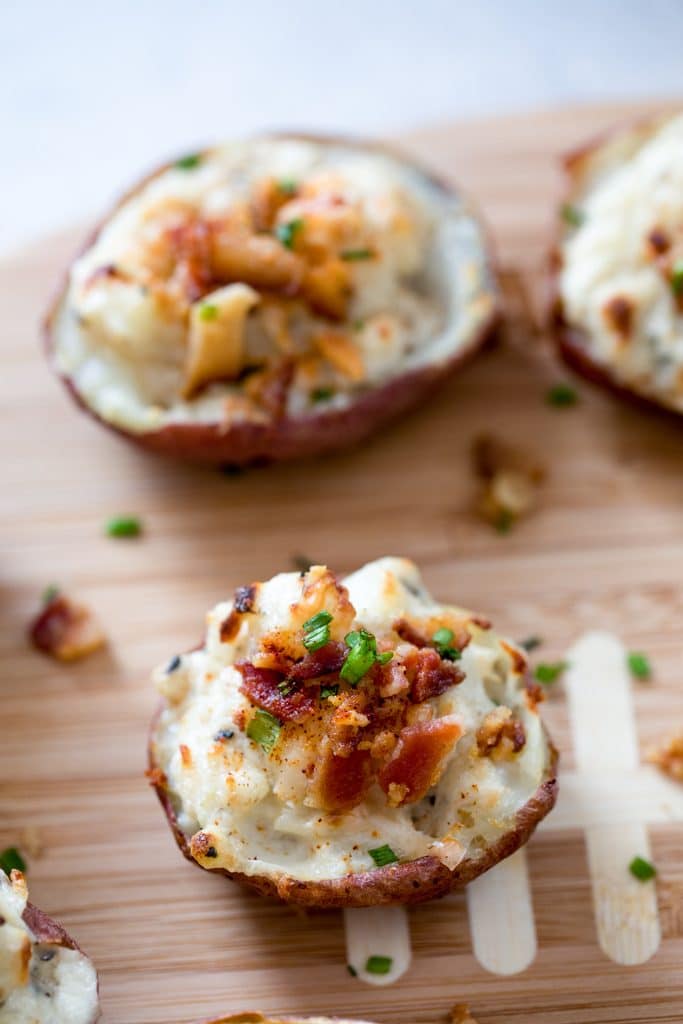 But, back to these clam chowder potato skins! If you're a lover of chowder, you will be a fan of these little appetizer bites. It's almost like a thicker version of New England clam chowder, served in an actual mini potato bowl. Life is good.
And if you happen to have any leftovers... Not only can you happily snack on them in the days following the game, but you can also easily repurpose them. Potato skins are PERFECT for turning into potato pancakes. That's exactly what I'm planning to do with these leftovers and I'll show you how they turn out on my social media platforms next week!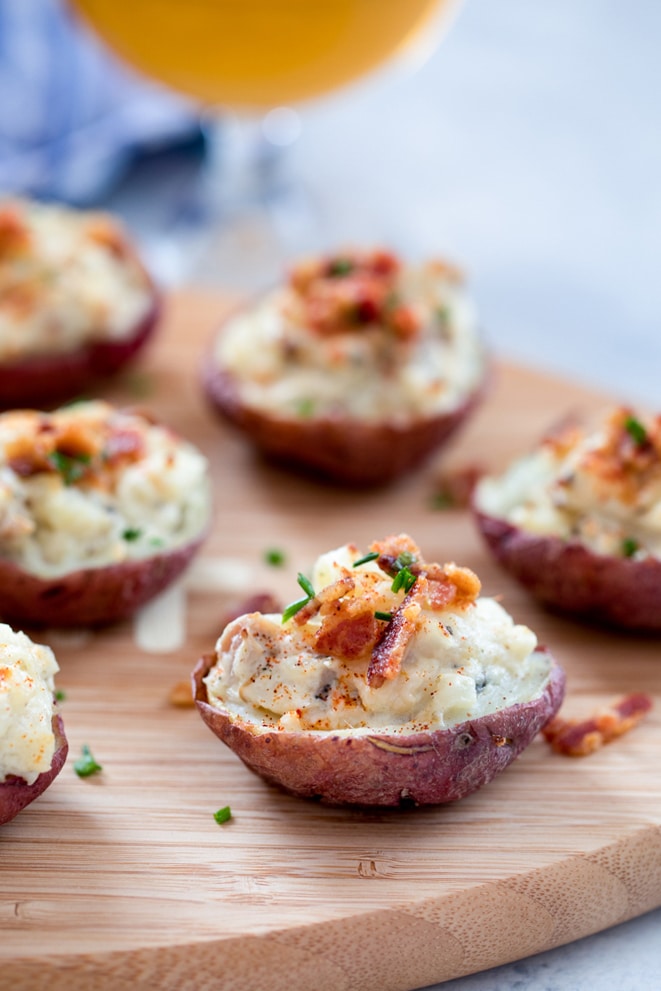 But for now, I'm going to cook up a few more treats and settle in on my couch for another (hopefully!) Big Game victory. Full stomachs, happy hearts, and empty trashcans at the end of the night. OK, that was a little weird, but you know what I mean 🙂
What's on your Big Game menu this year??
📖 Recipe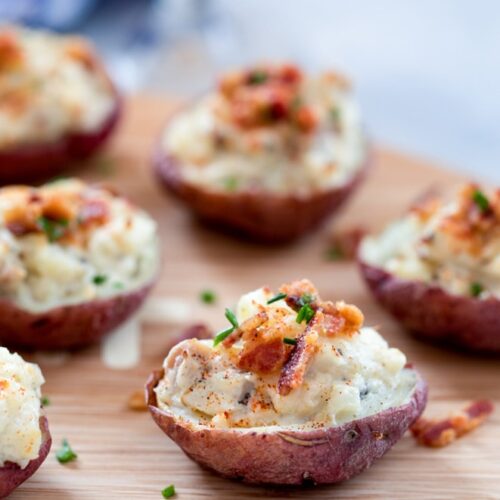 Clam Chowder Potato Skins
Whether you're rooting for your home team or just in it for the food, these Clam Chowder Potato Skins are the perfect game day appetizer. And if you have any leftovers, they're easy to repurpose the next day!
Print
Pin
Rate
Ingredients
12

small

red potatoes

(about 3 oz. each)

2-6.5

oz

cans clams, chopped, with 3 Tbsp juice reserved

8

oz.

low-fat cream cheese

1

cup

sour cream

½

cup + 2 Tbsp

shredded parmesan cheese, divided

1

tsp

pepper

1

tsp

Tabasco

½

tsp

garlic powder

4

strips

crispy bacon, crumbled

2

Tbsp

chopped chives

⅛

tsp

paprika

¼

tsp

Morton Coarse Kosher Salt
Instructions
Pre-heat oven to 400 degrees.

Pierce potatoes several times with a fork and put in oven, directly on rack (you can use a baking sheet if you prefer) for about 40 minutes, until potatoes are tender.

Remove potatoes from oven and place on a foil-lined baking sheet. Lower oven temperature to 350 degrees. Let potatoes rest for 5 minutes to cool a bit.

When potatoes are cool enough to touch, cut each potato in half lengthwise. Scoop out potato flesh into a large bowl, leaving about ¼ inch in tact. Place potato skins back on baking sheet.

Add clams, cream cheese, sour cream, ½ cup parmesan cheese, clam juice, pepper, Tabasco, and garlic powder into the bowl with the potato flesh. Mix until well combined.

Mound mixture into the potato skins and sprinkle remaining parmesan cheese on top.

Bake filled potatoes for about 15 minutes, until heated through. Turn oven to broil and broil for 2-3 minutes so tops brown.

Remove from oven and top potato skins with crumbled bacon and chives. Sprinkle paprika and Morton Coarse Kosher Salt over the top.
Notes
If you have extra filling or leftover potato skins, make potato pancakes out of them! Simply mash leftovers together, form into patties, and cook over medium heat in a skillet lightly coated with olive oil.
Share a Photo of Your Finished Recipe!
Mention @wearenotmartha and share a photo if you've made the recipe!