Steak and cheese sandwiches remind me of two things. One: my friend Corey who spent a couple years living in Philly. Whenever he drove home to Boston he would bring me back a real cheesesteak from the motherland of cheesesteaks. I'm assuming he always had a little cooler or something to keep it in… but really, I guess I don't care because I'm still alive and it was worth it, yum! I do, however, remember always getting a little nervous that Corey would eat the cheesesteak before it arrived safely in my hands. And two: My dad. Whenever my dad orders a steak and cheese sub I somehow manage to mooch a good portion of it for myself. Can't help it, steak and cheese (and cheesesteaks) are irresistible. And since today is my dad's birthday I decided to make a steak and cheese in honor of him! Even though he's on the road with my mommy dropping my brother off in NYC 🙂
I did a little perusing on the internets and apparently there are 2.1 billion ways to make a steak and cheese. I sort of mixed things up and made it my own (like they tell the contestants on Idol to do, hehe!). I used this recipe from Emeril as my "base" and just incorporated other elements in as I found necessary.
Here's what you need: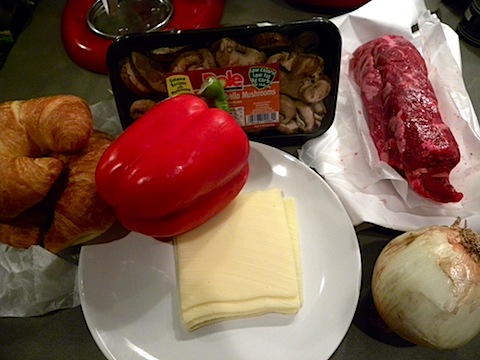 • Bread of choice. The recipe calls for 2 fresh Italian sandwich rolls, but I chose to use croissants.
• 1 white onion, thinly sliced
• 1/2 large green pepper. I diced a red pepper.
• Mushrooms, thinly sliced… or diced. This wasn't in the original recipe but I deemed it necessary to include them 😉
• 1 teaspoon minced garlic
• 1/2 teaspoon salt
• 1/4 teaspoon ground black pepper
• 1/2 pound rib-eye steak, very very thinly shaved or sliced. I used sirloin tip steak since it was my only option and I just tried to slice it as thin as possible myself. My grocery store didn't have the proper equipment to shave the steak. Oh well. We do what we can.
• 1/3 pound thinly sliced white American cheese, or Provolone cheese, or 4 ounces melted cheese whiz. I used American.
Here's what you do:
• Heat a griddle (or pan, whichever you have) over medium-high heat. When hot, add olive oil (or butter, yes!), onions, and peppers. Cook until caramelized, about 6 minutes.
• Add garlic, salt, and pepper, cook and stir for about 30 seconds. Push the veggies to the side of your pan.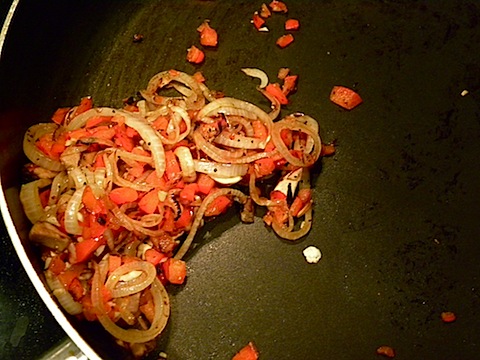 • Add steak to pan, stirring and attempting to break the meat with the back of 2 spatulas, until no longer pink. I say "attempt" because I tried to do this and the pan started shifting etc. etc. I got a vision of a hot pan falling on my toes, so I decided the size I'd cut the steak would have to suffice. Safety first, people. Safety first.
• Mix in the sauteed veggies.
• Top the steak and veggies with slices of cheese. I sort of lined all of the steak up like they do in Philly 😉 My spatula chopping skills were definitely subpar so I figured this was the best I could do to act like a pro 🙂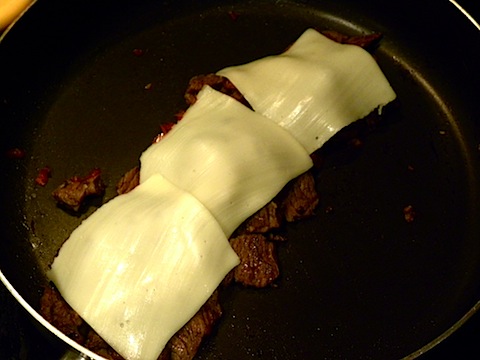 • I sliced the croissant in half and put it under the broiler for a minute to brown it. The broiler might be my best friend.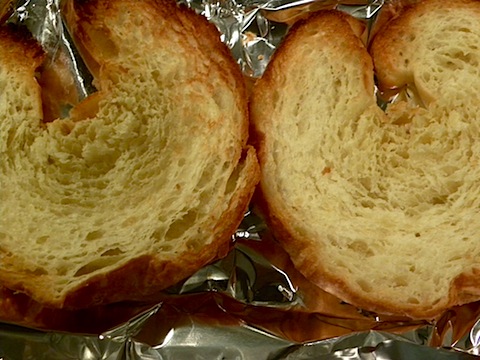 • I don't think any real steak and cheese I've eaten had lettuce in it, but I felt like adding a little "greenery".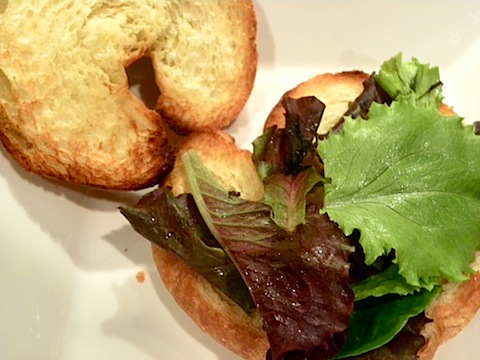 • I then topped it with the steak, cheese, and veggie mixture. From the photos it actually doesn't even look like there's much cheese, but trust me… There was glorious melted cheese in there.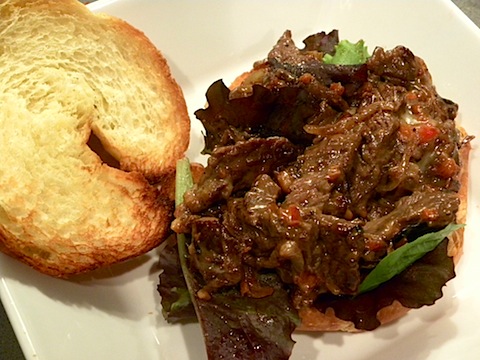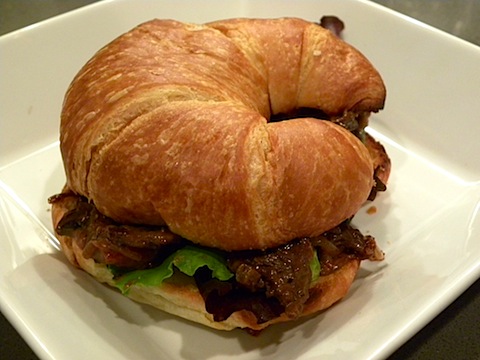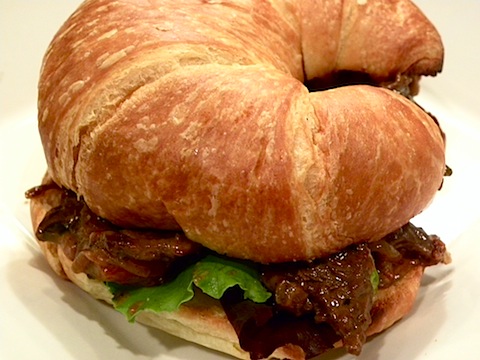 I actually really dig the steak and cheese on a croissant! I wasn't in the mood to eat a real heavy sub roll so I opted for the croissant after seeing Giada do it. Might just be my new thing!
And HAPPY BIRTHDAY to my wonderful and lovely father! 🙂 🙂 🙂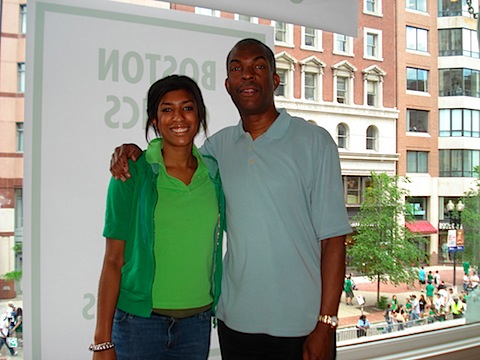 And how fitting! This photo was taken at my old office on Boylston Street in 2008 at the Celtics rally after we… BEAT LA! My dad came to my job to get front row seats of the parade! GO CELTS!!!! I also made that HUGE banner we're standing in front of. Such fun was had that day! 🙂
[Chels]