Rose Pistachio Shortbread Cookies take the best ever shortbread cookie recipe and add a fresh twist with crushed pistachio nuts and a pink rose petal icing.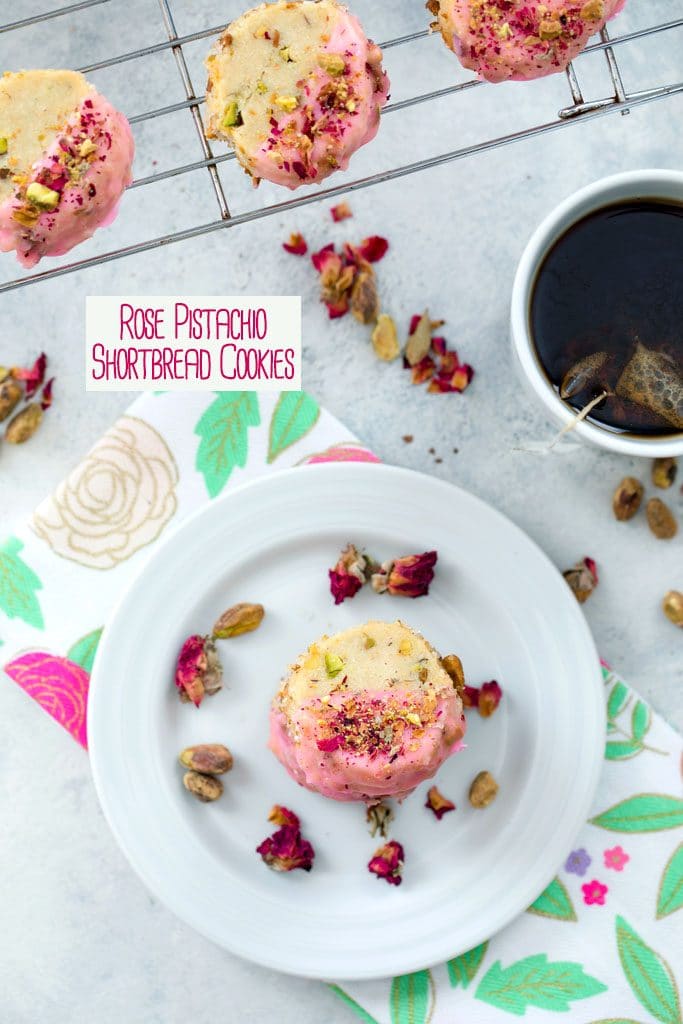 I'm pretty sure I am the worst trip prepper in the world. It doesn't matter how long I have to prepare, if I'm going on vacation or on a work trip, I 100% know I'll be up until 1:00 a.m. the night before, freaking out and frantically shoving items into my suitcase (inevitably causing it to weigh more than 50 lbs. with tons of ridiculous clothing I have no need for).
It seems crazy, but I'm just not sure I'll ever change. Despite the fact that I'm trying to get ready for a trip at the end of this week, I'm also currently working to tackle four recipes before I go. And write three blog posts. And clean my entire house from top to bottom (to be fair, we have some friends staying with our pup, so obviously things need to be clean).
And intermittently crying over the fact I'm leaving my dog. And also trying to figure out how to dress for 90 degree weather when it's basically been hovering around 42 degrees here in Boston.
BUT. It's only Tuesday. Which means I have 2.5 full days to get ready. So, there's still a slight chance that if I put my mind to it, I can go to bed at a normal time on Thursday night and wake up bright and early Friday morning, bags fully packed, house cleaned, and pup content with goodbye cuddles and treats.
Wish me luck. In the meantime, I made these cookies and am hoping they can power me through the prepping process.
I'm sure by now, many of you have heard of Alison Roman's famous salted chocolate chunk shortbread cookies. I made them a few months ago (funfetti style!) and legit haven't been able to get them out of my mind since.
So, I decided to take the basis of the shortbread recipe and give it a bit of a spring twist with pistachios and rose petal icing. If you know me, you know I love all things chocolate, but I didn't even miss it in these rose pistachio shortbread cookies; that's how good they are.
Rose Pistachio Shortbread Cookies Recipe
The key to this shortbread recipe is to make the dough, roll it into two logs, and then let it chill for a couple hours. Once chilled, roll the dough log in a decorative sugar/pistachio mixture. I used Bob's Red Mill's sparkling sugar (affiliate link) since the granules are nice a big and pretty.
Note that in her recipe, Alison recommends salted butter for the cookies, but if you don't have any (I almost never buy salted butter), you can simply add a little salt to the batter.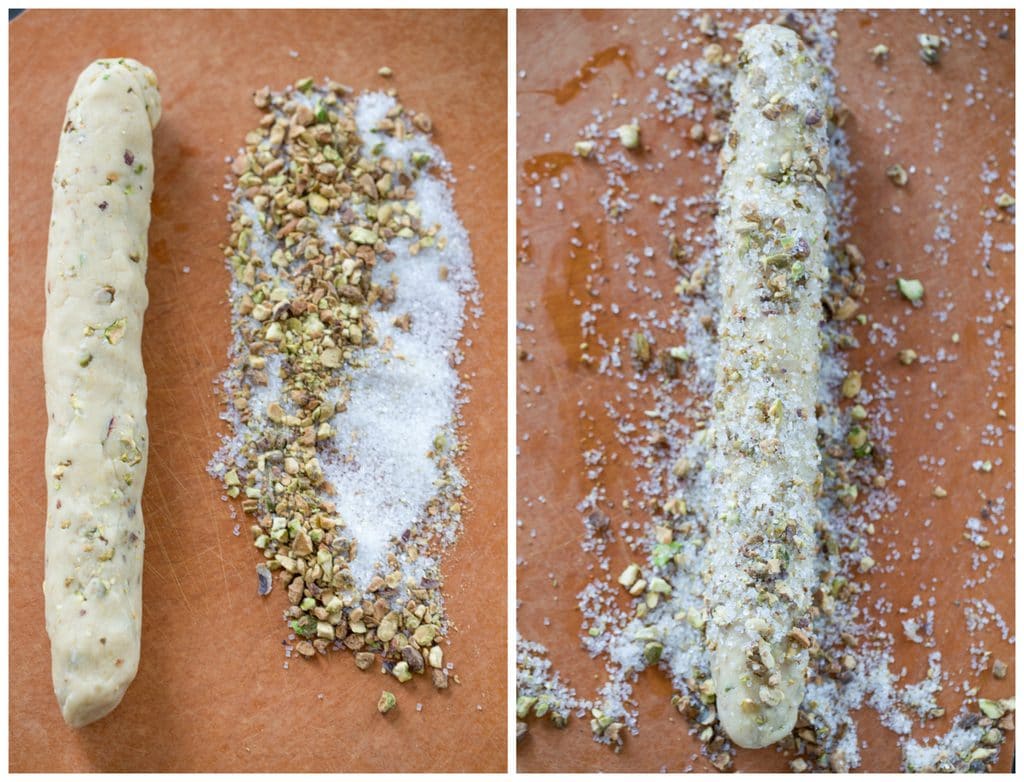 Then slice the dough into ½"-thick rounds. The first time I made Alison's recipe, the slicing was a little tough because there were so many chocolate chunks to cut through. But without chocolate chunks, the slicing was much easier!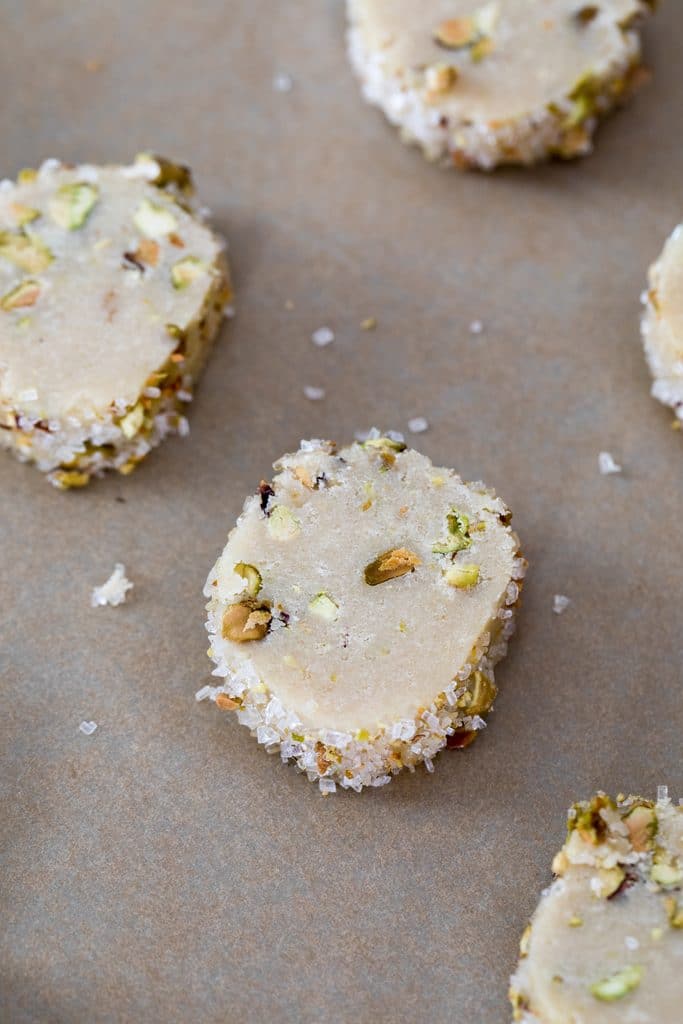 Bake the cookies until they're just starting to turn golden. I love that the pistachios and sugared edges stayed so pretty.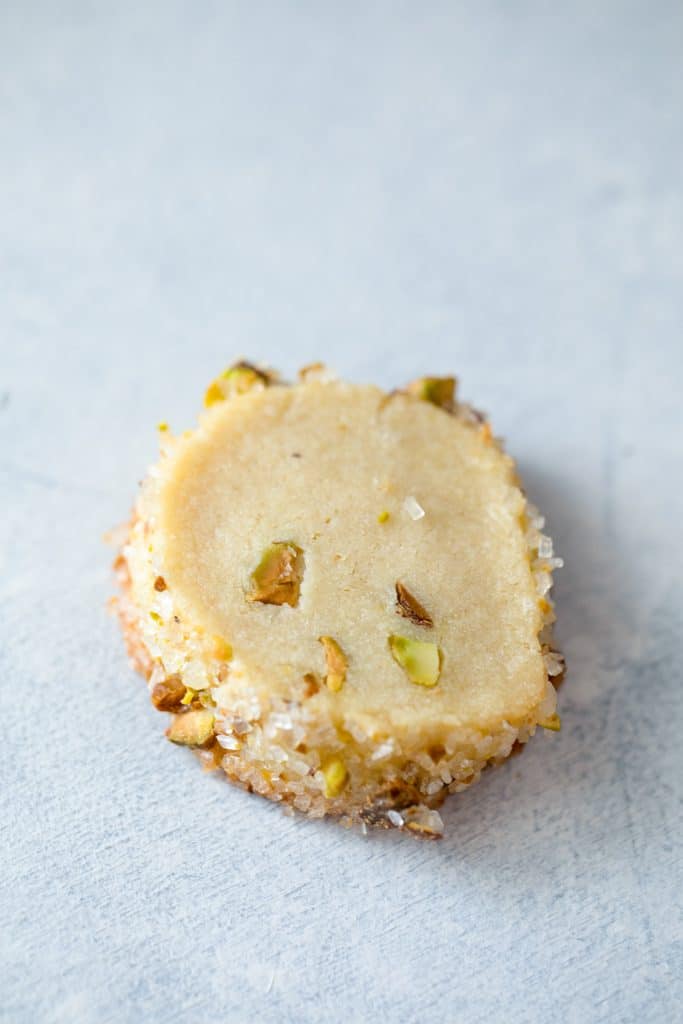 While the cookies were cooling, I whipped up some rose petal icing and crushed some more pistachios to top the cookies with.
If you're going to make rose cookies, you definitely need a rose icing!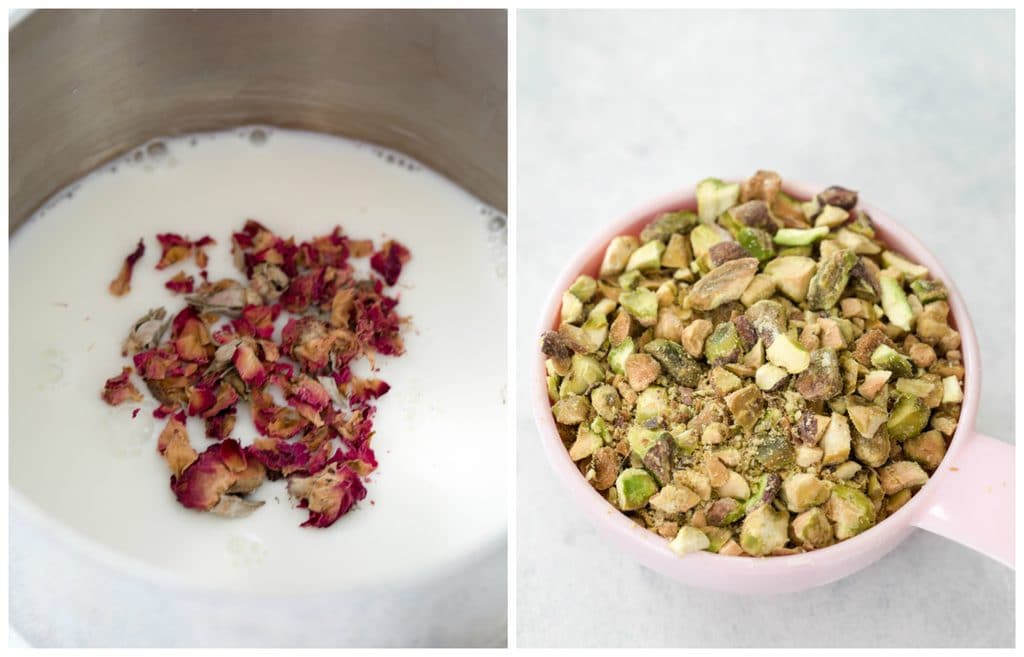 Of course, the roses don't actually turn the icing pink, but one drop of pink food coloring fixed that.
Then I sprinkled some more crushed rose petals and pistachios over the icing. If you're in the market for culinary grade rose buds/petals, I always get mine from Amazon (affiliate link). There's so much you can do with them.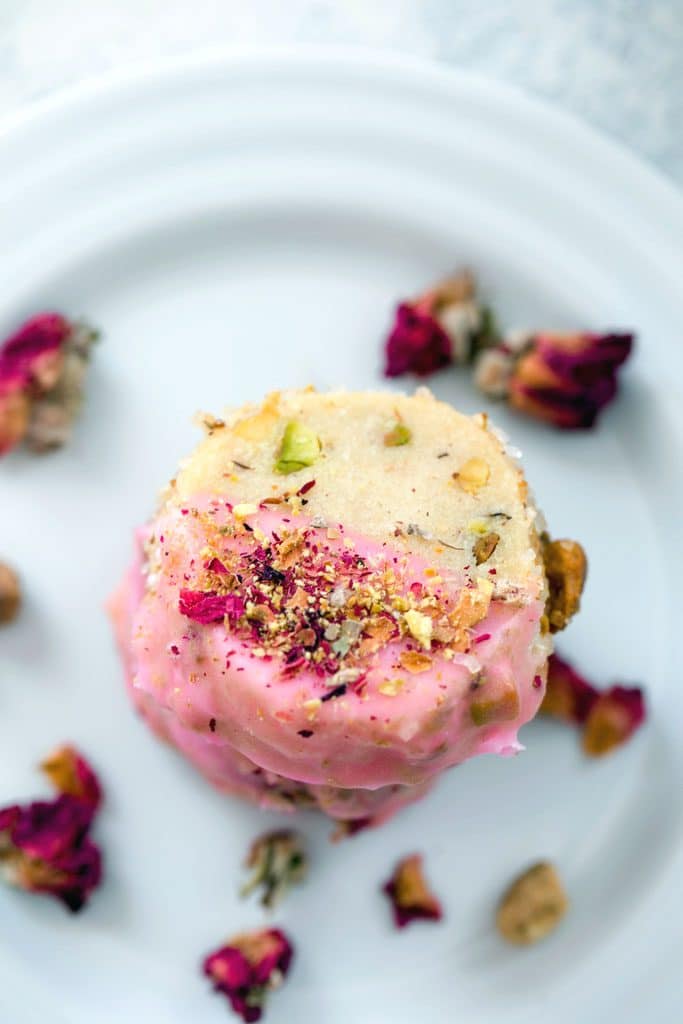 And a pretty little tea cookie is born! Normally, I am not crazy about shortbread cookies at all and "tea cookies," sound so boring, but omg these rose cookies were so good.
I could happily eat about a million of them. While shortbread alone may not be super exciting, a nice salty pistachio shortbread cookie is very exciting. Obviously the same goes for chocolate chunk shortbread, but sometimes you need to switch things up and every once in a while, I need a little chocolate break.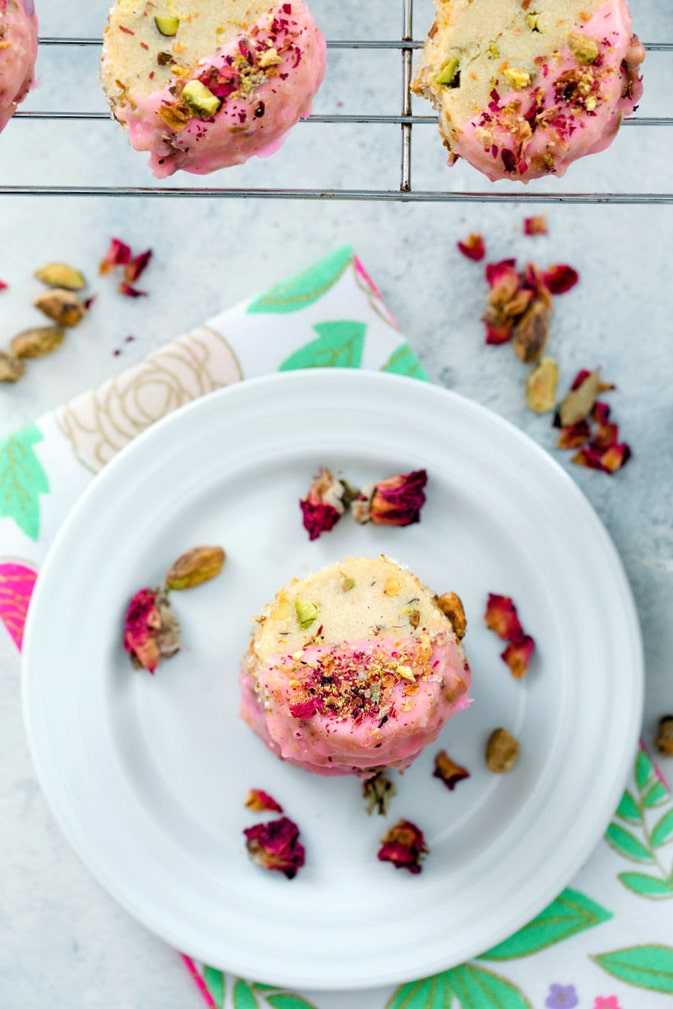 In fact, Chris actually told me these rose pistachio shortbread cookies are his favorite cookie of all the cookies I've ever made.
And that, my friends, is a pretty big compliment. Of course, I have Alison Roman to thank for the genius shortbread recipe, which is amazingly versatile.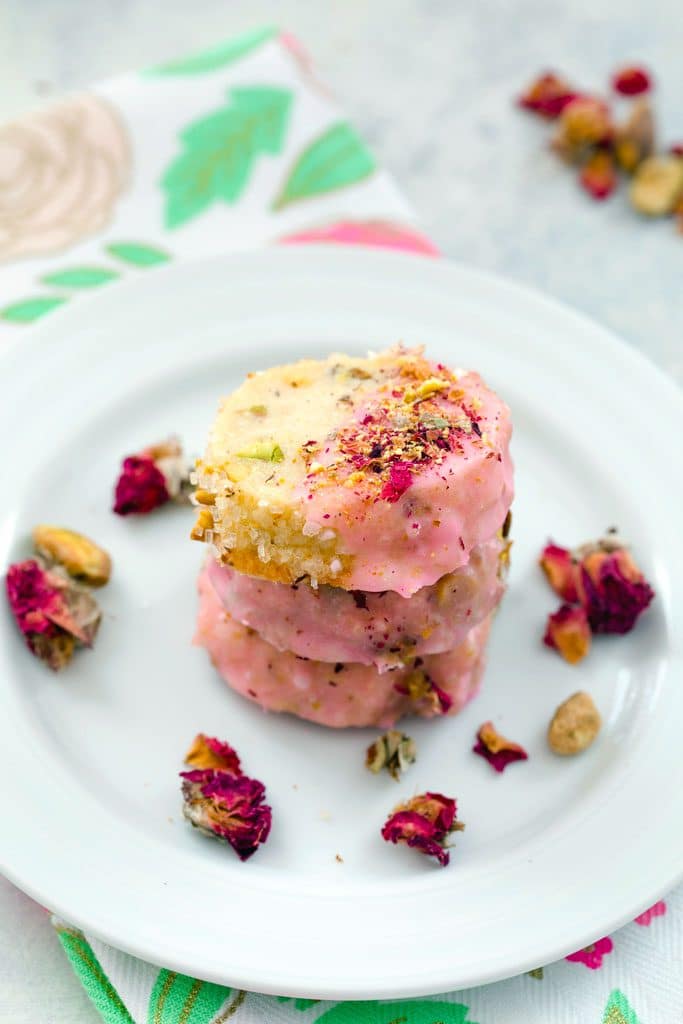 I mean, think about all of the crazy varieties of shortbread cookies you could make with this base. I have about 35 ideas in my head that I want to bake immediately. And since I have a trip to prepare for, it feels like the perfect time to get in the kitchen and start baking. Ha!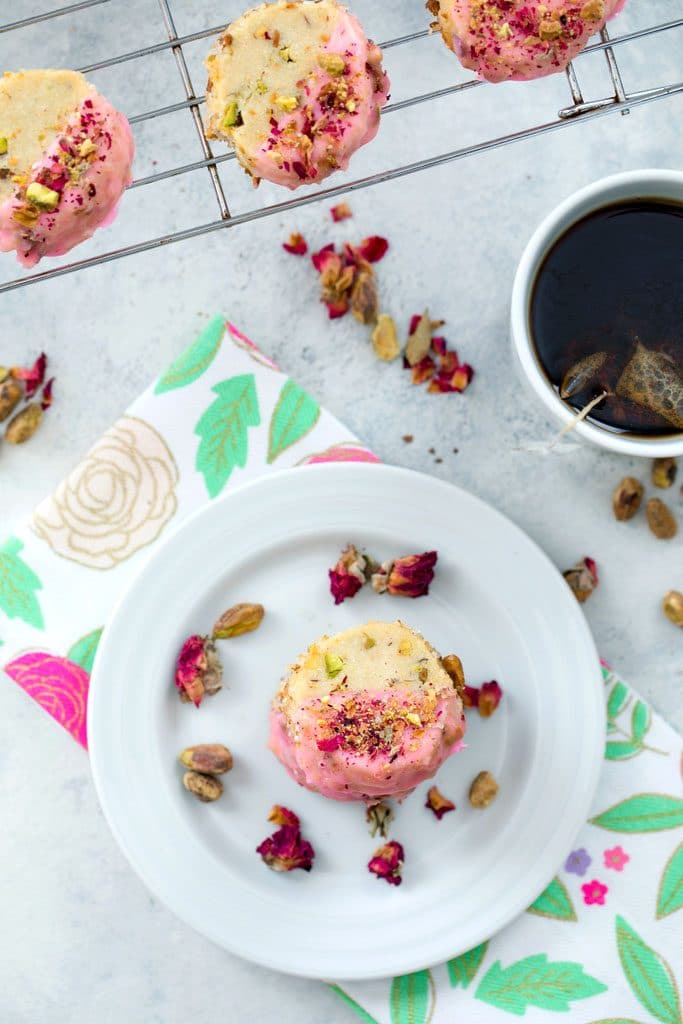 But for now, excuse me while I pour a cup of "stress relief" tea and eat a few more rose pistachio shortbread cookies. Maybe if I wait long enough, my suitcase will pack itself (please!!!).
What's your idea of a dream shortbread cookie? Have you made Alison Roman's recipe yet?
If you're looking for a fun drink to serve these rose pistachio shortbread cookies with, consider this English Rose Cocktail. For another delicious shortbread cookie, try my Strawberry Lemonade Shortbread Cookies. I also love these Lemon Poppyseed Shortbread Cookies from Dinner Then Dessert.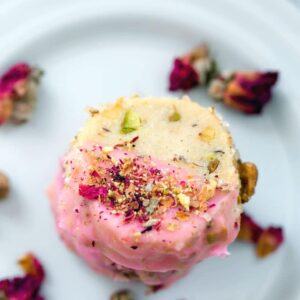 Rose Pistachio Shortbread Cookies
Rose Pistachio Shortbread Cookies take the best ever shortbread cookie recipe and add a fresh twist with crushed pistachio nuts and a pink rose petal icing.
Print
Pin
Rate
Ingredients
1

cup, plus 2 Tbsp (2 ¼ sticks)

salted butter,

chilled and cut into ½-inch pieces (if you only have unsalted butter, add ¼ tsp salt to the flour)

½

cup

granulated sugar

¼

cup

light brown sugar,

packed

2

tsp

vanilla extract

2 ¼

cups

all-purpose flour

½

cup, plus ⅓ cup

crushed pistachios

(plus more for topping)

1

large egg,

lightly beaten

¼

cup

decorative sugar,

for rolling

Rose icing

(recipe below)

¼

cup

crushed dried culinary-grade rose petals
Rose Icing
½

cup

whole milk

1 ½

Tbsp

dried culinary-grade rose buds/petals

3

cups

confectioners' sugar

1-2

drops

pink food coloring
Instructions
In the bowl of a stand mixer or in a large bowl with a hand mixer, beat butter, granulated sugar, brown sugar, and vanilla on medium-high speed until light and fluffy, 3-5 minutes.

Scrape sides of bowl with a spatula and while mixer is running on low speed, slowly add flour and ½ cup crushed pistachios and beat to just blend, taking care not to over-mix.

Divide dough in half and place each half on a large piece of plastic wrap. Fold plastic wrap over dough to completely cover and use your hands to roll the dough into a smooth log, about 2" or 2 ¼" in diameter. Repeat with second half of dough and then place in fridge to c

hill until firm, about 2 hours.

Pre-heat oven to 350 degrees and line a rimmed baking sheet with parchment paper. In a small bowl, mix together decorative sugar and remaining ⅓ cup crushed pistachios. Taking one dough log out of the fridge at a time, brush the outside of each log with egg wash and roll in decorative sugar and crushed pistachios.

Slice each log into ½"-thick rounds and arrange on prepared baking sheet about 1" apart. Bake for 12-15 minutes, until edges are just beginning to turn golden. Let cool slightly on pan before moving to wire racks to cool completely before icing.

Dip cooled cookies in rose icing and sprinkle on additional crumbled pistachios and crushed rose petals. Let icing harden before serving.
Rose Icing
In a small saucepan over medium heat, bring milk and rose petals to just a boil.

Remove saucepan from heat and let roses steep in milk for about 10 minutes.

Strain and discard roses. Let mixture cool to room temperature.

Place 6 Tbsp of the rose milk mixture into a medium bowl and whisk in confectioners' sugar until smooth. For a thinner icing, add more rose milk, 1 tsp at a time.

Add pink food coloring until you reach desired shade.
Notes
Recipe slightly adapted from Alison Roman
Cookie dough can be made and kept chilled up to one week in advance. It can also be frozen for one month in advance of baking.
Note that recipe cook time does not include 2 hours chilling time
Pin this Recipe for Later!
Mention @wearenotmartha and share a photo if you've made the recipe!