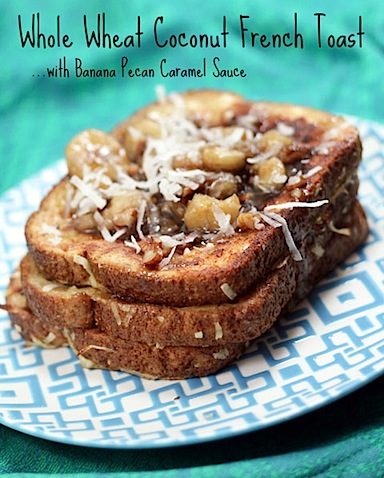 On Monday, I was sitting at my desk minding my own business when the strongest eggs benedict craving hit me. Now, I love eggs benedict with all my heart so this isn't really such an odd thing. And by the time I got home that night, it was far too late to whip any up. But then yesterday, I was sitting at my desk, again minding my own business completely immersed in my social media report, when the strongest french toast craving hit me. It's pretty much all I thought about all afternoon until 6:30 when I hopped on the T and willed it to move a little faster so I could get home and in the kitchen (thank goodness I don't take the Green Line home anymore or else I may have died from my cravings while on the T… OK, that's a little dramatic. Kind of). I've also been craving all things coconut lately, or really anything tropical and summery, so I grabbed some coconut milk, shredded coconut, and bananas and got to business.
You should know I rarely post recipes right after I make them. I usually have quite the backlog and take my time editing and writing because I'm a crazy planner and don't like to be stressed out (when it comes to blogging… which is supposed to be fun… every other area in my life, I'm pretty much a mess). But this one was so good, I had to blog it right away. Despite having a fully-loaded title, this breakfast/brunch/breakfast for dinner (Brinner) dish has relatively few ingredients and is actually quite simple and easy to make. Which is why it was the ideal craving-buster for making after a long day of work.
Whole Wheat French Toast with Banana Pecan Caramel Sauce (serves 2 hungry people):
Print this recipe!
6 slices whole wheat bread (a little bit stale is OK… actually a good thing!)
2 eggs
1 C coconut milk
1 t vanilla
1/2 C shredded coconut
3 T butter (plus more for pan)
1/4 C brown sugar
3 T water
1 banana, sliced
1/4 C chopped pecans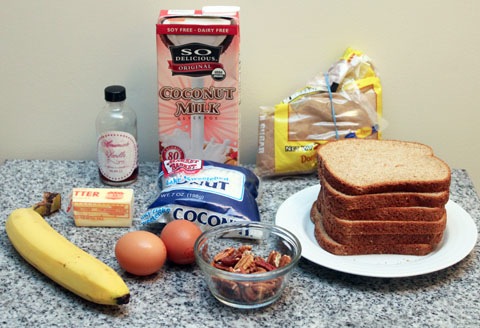 Let's start with the Banana Pecan Caramel Sauce, shall we? Melt 3 T butter in a medium saucepan over medium heat. Add brown sugar and 3 T water, turn the heat up, and stir. Let the mixture simmer for about 2 minutes, so it thickens. Don't let it go too long or else it will burn. And nobody likes burnt caramel. At least I don't.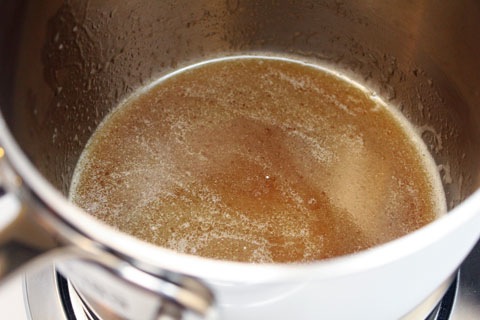 Remove saucepan from heat and mix in sliced bananas and pecans.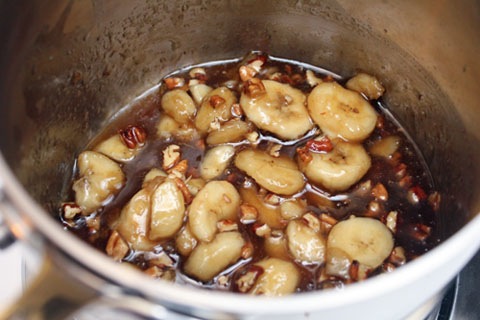 While the mixture is simmering and all that fun stuff, start whipping up that french toast. In a shallow bowl (large enough for a slice of bread to put in), whisk eggs. Add coconut milk, vanilla, and coconut and whisk together.
Bonus points for using a fun whisk.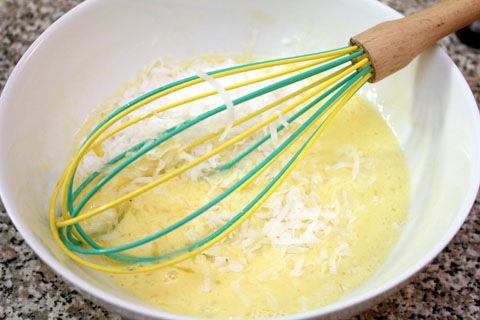 Heat your pan or skillet over medium heat and melt about 1/2 T butter. Can we pause for a moment to discuss how obsessed I am with our new All-Clad Griddle (affiliate link)? I mean, hi answer to my prayers. In my house, we affectionately call this griddle "the bacon cooker" because do you have any idea how brilliant this is at cooking bacon and how much bacon it can hold? But last night I discover it does a pretty mean french toast, too. And I'm sure it could handle some fantastic pancakes, as well. Best pan ever.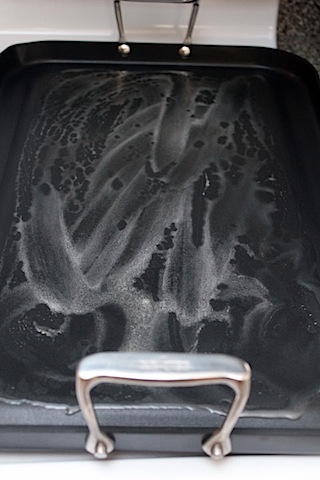 OK, back to the french toast. So, dredge each of your slices of bread into the coconut mixture, making sure the bread is fully covered.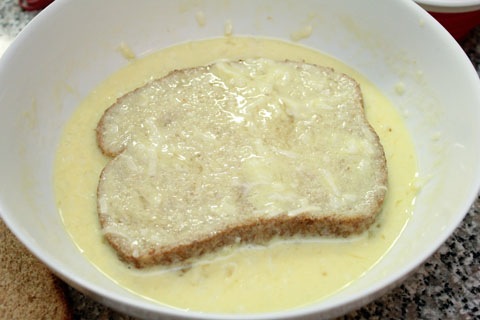 And set it on the griddle or pan.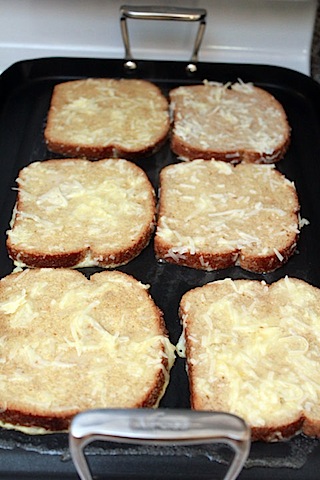 Let cook for about 3 minutes on each side before flipping.
When the french toast is browned to your liking, remove from heat and set on a plate. Drizzle Banana Pecan Caramel Sauce over the top and some extra shredded coconut, too.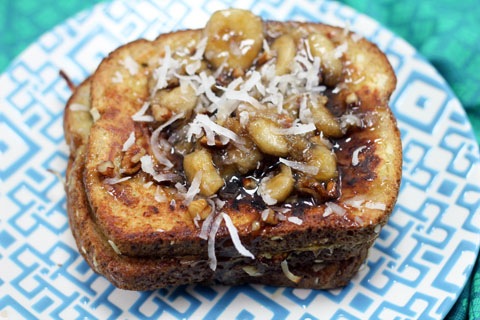 And your french toast cravings have been satisfied. At least mine were anyway. Yours are probably just starting, right? Oops.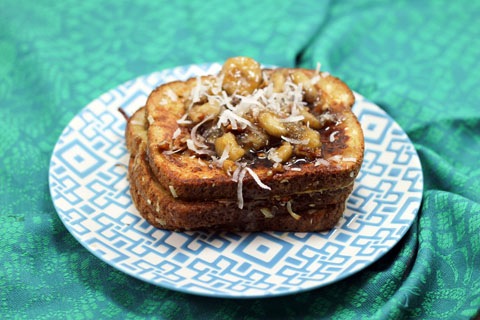 I loved that the coconut milk, coconut, and bananas gave this dish a slight tropical flavor, without being overwhelming at all.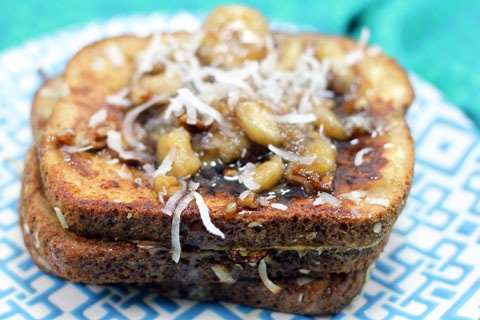 OK, so this isn't the most nutritiously sound meal in the world. But I ate salad and yogurt during the at work and I needed something like this. Plus? Did you know that, even though coconut has a lot of saturated fat, it's actually proven to be pretty good for you? All fats are not created equal!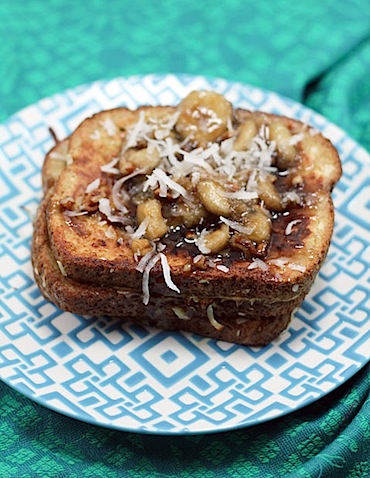 And I made it with whole wheat bread, so that right there obviously has to score me some extra bonus points.
Serve it with some bacon if you like. Then you'll get protein, too.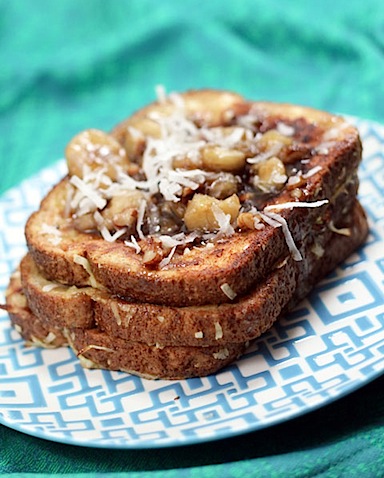 Bad idea? Nah, everyone needs a meal like this from time to time. I'm getting sad that pumpkin products are already in stores in early August (Chris bought Pumpkin beer the other day and I about died…) and this tropical-like french toast will help bring a little summer back into your life. You know how I feel about pumpkin… But it can wait until September.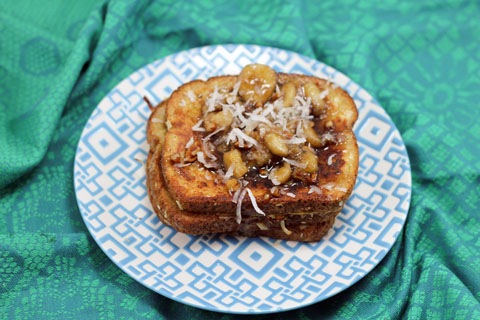 I wonder what I'll start craving for dinner while I'm at work today? Something tells me it's going to involve bacon. Because for all my breakfast cravings, bacon hasn't played a factor just yet.
P.S. I'm not sure what bed I've been hiding under, but while at BlogHer, I learned one very valuable piece of information. PicMonkey is awesome. That's how I put the text on my photo and I'm seriously obsessed with it. How did I not know about this fab site? In my mind, that made every second of BlogHer worth it (then again, meeting the Jimmy Dean Sun already made it worth it).
P.P.S. Happy 100th birthday to Julia Child 🙂 While this blog was obviously originally inspired by Martha Stewart, I have to wonder where we'd all be without Miss Julia. Thanks for doing your thing, Girl! You'll never ever be forgotten.
P.P.P.S. (I feel like I'm writing a middle school note) Have you heard of NoshOn.It yet? They bill themselves as "culinary school in your inbox" and are basically a daily themed email that features a recipe, tips, and more. I was featured in yesterday's "Healthy Tuesday" (LOL. Nobody ever calls me healthy!) with my quinoa granola yesterday. It was actually really impressive that they took my recipe, discussed it, and drew some awesome granola tips from it. While you may be thinking "ugh, I don't need ANYTHING else in my inbox on a daily basis," this would actually be a welcome email. At least for me. And I'm the person who immediately wakes up, checks my phone, and deletes everything without opening. This is good stuff.
OK, I'm done P.S.ing.
What have you been craving this week?
[Sues]