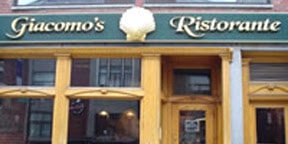 Image from Boston100.net
The North End is one of my favorite places to go out to eat in Boston. The only problem is, whenever I go, I feel so extremely overwhelmed by all of the restaurant choices, it can take hours to decide where to eat. When I finally decide on a place, I walk in to discover a 2 hour wait. And I'm sometimes hesitant to try somewhere I've never heard of because, gasp, what if the food's not as good as I know it is somewhere else? This means I usually end up going to the same old standbys (Bella Vista and Limoncello) and have a great difficulty trying anything new.
So, I was pretty excited when my sister and her friend came to visit and had already decided we would be having dinner at Giacomo's. I'd never been, but had heard good things so I was down for it. We went to the restaurant at 7:45 on a Monday evening and there was only a 5 minute wait. However, I hear the line is usually ridiculous and reservations cannot be made. It's really tiny inside, with maybe about 8 tables and an open view of the kitchen. It's small but homey.
I've never been to a restaurant where I've had such a hard time deciding what to order. Because everything sounded SO good. I finally decided on the clams and mussels in scampi sauce and didn't regret it at all. They were extremely generous with the shellfish and the sauce was to die for. But seriously, I wanted everything. Butternut squash ravioli, pumpkin ravioli (I know. I turned down my two favorite orange foods...what is wrong with me??) I also came really close to getting fettuccini with swordfish and tuna in a pesto cream sauce. And the goat cheese filled gnocchi with mushrooms and mascarpone. Basically I need to go back to Giacomo's about 50 more times before I've tried everything I want. If you're in the mood for seafood, Giacomo's has pretty much anything you can think of and lets you choose from a variety of sauces.
The prices at Giacomo's are very reasonable, with entrees from around $12-$17 (and worth every penny). Oh, and most bottles of wine are only $16. We got a fabulous pinot noir. The host (owner?) was extremely friendly and charming. He chatted with us, laughed with us, made fun of us, and took pictures with us. He pinched my cheek when he found out I graduated from grad school and seemed to be very proud of me, asking me questions about my degree and work. This is exactly how I envision the North End to be.
I will definitely be back at Giacomo's, probably on another Monday evening when I don't have to wait. There is, however, a second location in the South End, which does take reservations. But I have a feeling it's not quite as charming as the North End version. And it just wouldn't be the same if you couldn't go to Cafe Vittoria for cannolis after dinner.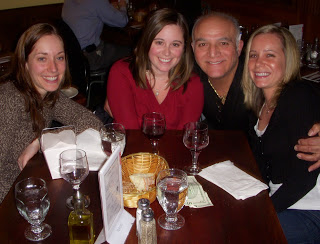 Giacomo's Restaurant
355 Hanover St.
Boston, MA 02113
(617) 523-9026
[Sues]