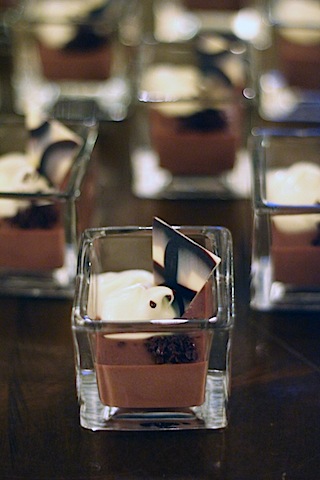 Imagine for a moment, an entire bar filled with chocolate delicacies. I'm not talking a chocolate bar, like a Hershey's bar; I'm talking a chocolate bar, like an alcohol bar, but with chocolate instead of liquor. And for one set price, you can eat AS MUCH AS YOU WANT. Yes, there is such a thing. And it happens every Saturday from now through June at Boston's Langham Hotel.
Chels and I were lucky enough to receive an invitation to a preview of the 23rd annual Chocolate Bar, Chocolate Intensity, preview. That's right; it's the 23rd year the hotel has been doing this. Where have you been? The better question is, where have we been?? I've definitely heard lots of talk about Langham's Chocolate Bar, but always thought of it as one of those things tourists did and not life-long Boston residents. Wrong!
In addition to Chocolate Bar, the Langham also has a regular Sunday brunch called City Brunch. And at the preview, they were nice enough to let us indulge in some of the savory brunch selections, as well as the Chocolate Bar selections.
Unfortunately, it was really, really dark in the room where we were attending the preview. It was great for the mood, but not so fabulous for the food photos. I managed to make them a wee-bit more viewable with some Photoshopping, but I apologize for the not so wonderful quality. But I'm pretty sure it's enough to make you say "I must go eat chocolate immediately!!" As you should.
The photo you see at the top of this post was one of the most incredible chocolate desserts I have ever tasted. It was Creme Fraiche and Bitter Chocolate Trifle. At first it appeared to be like chocolate mousse, but because it was made with creme fraiche, this dessert was incredibly tangy and silky, all in the best possible way. I forced an already-full Chels to take a bit because as I said, "It will totally surprise you! In a good way!"
Below, you see Black Forest Verrine, which was much more traditionally chocolatey and decadent.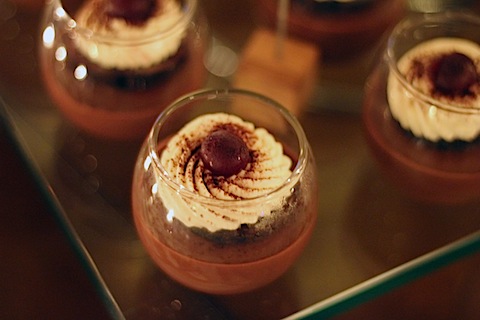 And I'm very certain I could have eaten an entire huge bowl of this Mango White Chocolate Chili Parfait. You already know how I feel about mango… And though I don't claim to be the biggest white chocolate fan, this was out of this world! The chili gave the mellow mango a hint of heat and the white chocolate sweetened it out. Put me at a brunch with a table of these and they'd be gone in 10 minutes.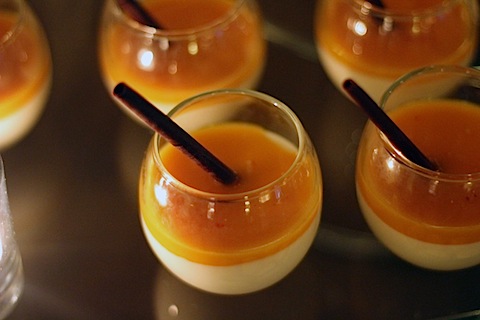 Another new and totally innovative (and beautiful) selection is the Caramel Pistachio Mousse Tort.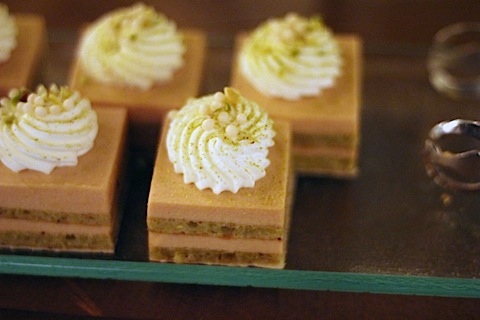 And the Caramelia Milk Chocolate and Pumpkin Torte. The pumpkin flavor was a little more discrete than I would have liked, but it was perfect as a light dessert selection. And I just can't get over how beautiful all the desserts were at the preview.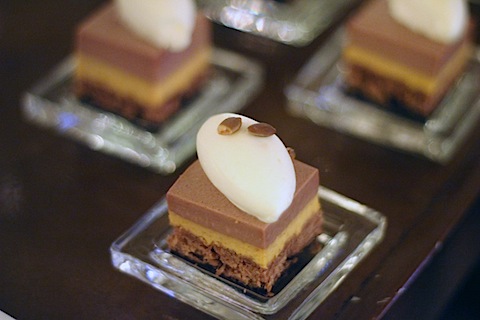 Dried Fig and Walnut Tart with Dark Chocolate: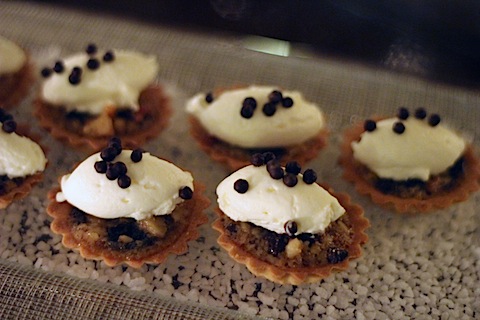 The richness of this Caramelized Pineapple Tart with Maldon Salt and Coeur De Guanaja was incredible, too. Plus I'm a sucker for any and all pineapple. And a new convert to the world of enjoying fruit with my chocolate. One of the things I loved about each of the desserts is that they featured a sign letting us know the what percentage of cocoa was used. This one had 80%. Swoon.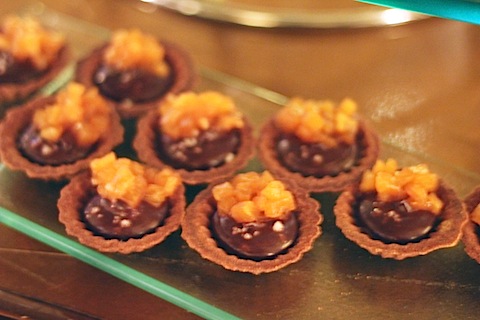 I also indulged in a pink macaron with chocolate ganache filling that was to die for, but I somehow neglected to take a photo of it.
The savory selections from the Sunday brunch were also pretty fabulous, too.
I was crazy about this New England Cheese "Pie" with Crimson Grapes and Spiced Honey Roasted Pecan. There was some sort of gorgonzola or blue involved and it was awesomely pungent, while remaining perfectly creamy.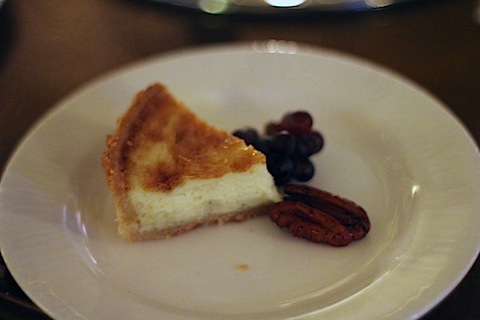 Chicken and Goat Cheese Ballontine with Late Harvest Corn Relish: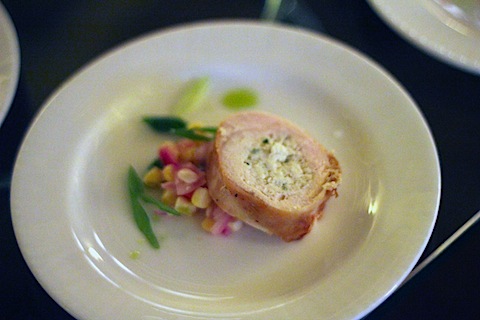 This Maine Shrimp and Lobster Martini was absolutely packed with big pieces fresh lobster meat. AKA heaven. I used a little fork, but really wanted to throw this martini glass back like a shot.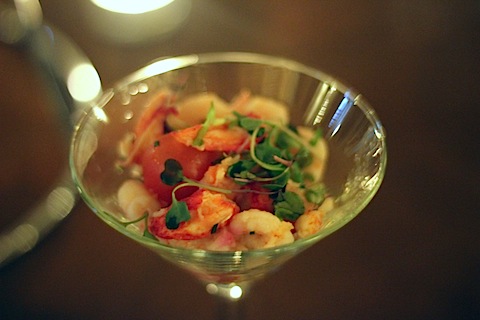 Now, I already knew I loved prosciutto and pears, especially when combined… But I had no idea how much I loved Duck Prosciutto Wrapped Roasted Red Pear with Lavender Honey. Speaking of, I need to make my own lavender honey ASAP.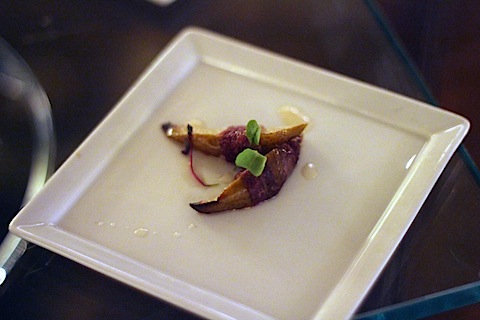 I'm generally not a huge fan of smoked salmon. At least I didn't think I was. But this absolutely changed my mind. It was House Smoked Maple Cured Atlantic Salmon Terrine with New England Horseradish. It fell apart with barely the touch of a fork.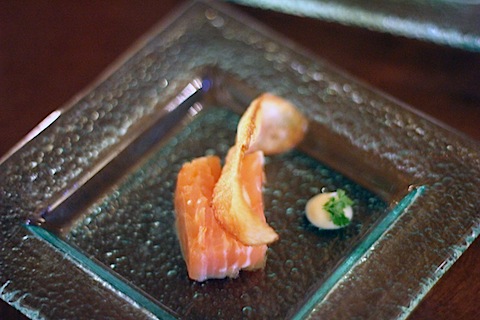 Being the bloody mary lover I am. I had my eye focused on these Bloody Mary Shooters with Chilled Poached Gulf Shrimp. Not as spicy as I would have liked, but that's OK because the AMAZING bartender was whipping us up bloody marys as spicy as we wanted them.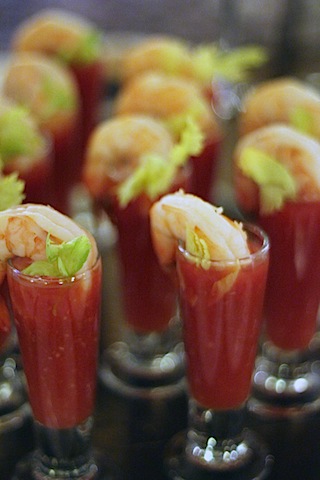 And sushi. Lots and lots of sushi.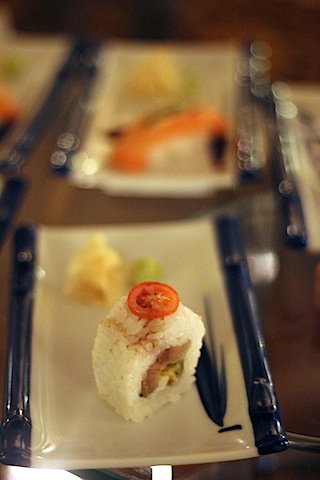 And yes, in addition to presenting us with bloody marys from the Sunday City Brunch, we were also offered several types of chocolate martinis, like the ones you can indulge in at Chocolate Bar. They were delicious (even though I mistakenly ordered a chocolate martini while I was eating the savory bites and switched to a bloody mary for the chocolate).
Tempted? I am. This preview was incredible, but now I seriously want to make reservations at Langham's Chocolate Bar as soon as possible to see (and eat, duh) all the other selections. Because there are plenty more chocolate desserts than what we tasted. And since the brunch is all-you-can-eat, you'd be silly not to try them all.
Langham's 23rd Annual Chocolate Bar (called Chocolate Intensity this year) occurs every Saturday from now until June 30, from 11:00 a.m. to 3:00 p.m. Pricing is $40 for adults and $25 for children (ages 5-12). Call Cafe Fleuri at 617-451-1900 (extension 7125) for reservations.
If chocolate isn't quite your thing, partake in Cafe Fleuri's City Brunch every Sunday from now until June 24 from 11:00 a.m. to 3:00 p.m. Pricing is $52 for faults and $28 for children (ages 5-12). Call Cafe Fleuri at 617-451-1900 (extension 7125) for reservations.
Have you ever indulged in an entire brunch of chocolate? Would you?
[Sues]