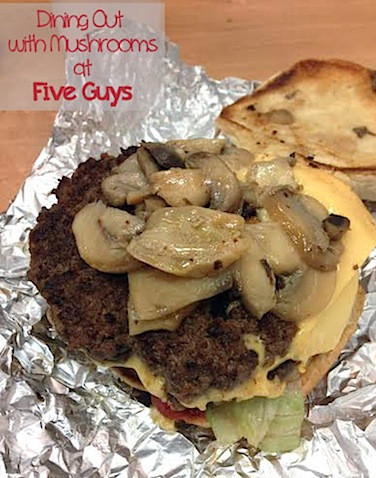 According to their website, there are over 250,000 possible ways to order a burger at Five Guys. But when I stopped by for dinner the other night, I only had ONE way on my mind. With mushrooms! Next time, I'll try way number 2, with extra mushrooms. I'm super excited to be working with the Mushroom Channel again this year and kicking the program off with this post. But instead of inventing my own mushroom recipes this time, I have the luxury of dining out and finding some local spots that have mushrooms on the menu. Five Guys was my first stop. I'm lucky enough to have one pretty close to my apartment and it ends up being Friday night dinner more than I'd like to admit. Hey, at least they don't deliver to our place… We actually have to exert some energy to walk down the stairs, get in the car, and drive. I totally deserve a burger after that, right?
If I'm being honest, mushrooms aren't often on my mind when I'm ordering a burger. I'm generally a lettuce, tomato, cheese, and ketchup (extra ketchup!) sort of girl. But since I was dining out with the Mushroom Council, I obviously opted for the grilled mushrooms on top. Other than those, I decided to stick to my basics, so I could really appreciate the flavor of the mushrooms.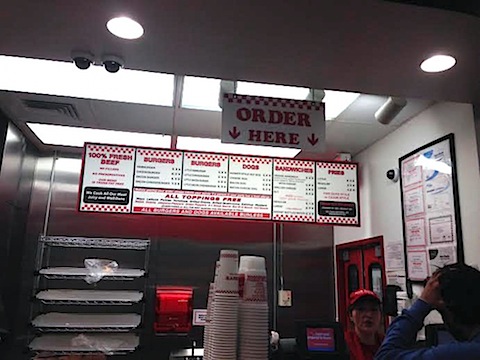 Of course, mushrooms do more than just pack a little flavor into whatever you're eating. I feel like many people don't actually realize how nutritious mushrooms are. They are packed with B vitamins like riboflavin, niacin, and pantothenic acid and minerals like selenium, ergothioneine, copper, and potassium, as well as beta-glucans. They also happen to be the only source of vitamin D in any produce. Pretty cool, huh?
Getting hungry...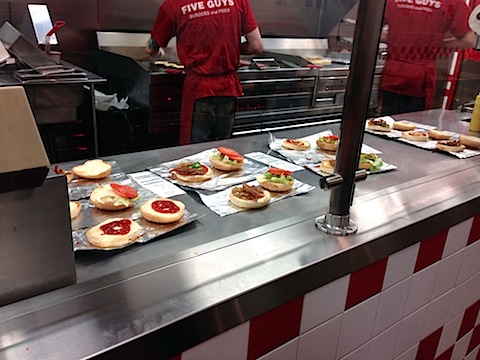 You guys, I don't care what time it is where you are, you can't pretend like you're not craving a burger right now. One of the things I love about Five Guys is their vegetables are actually super fresh… And they're not stingy with the cheese. Also, yes this is a double burger… I always kind of forget this is what you get if you just order a burger and don't specify "little." Selective memory maybe?
But the true star of the show was the grilled mushrooms. My only complaint is that there weren't more of them. Which is why I'll probably ask for extra next time. But you can tell just by looking at them that Five Guys didn't just throw some mushrooms on their burger. They're perfectly grilled and added a beautiful balance to the well-done burger.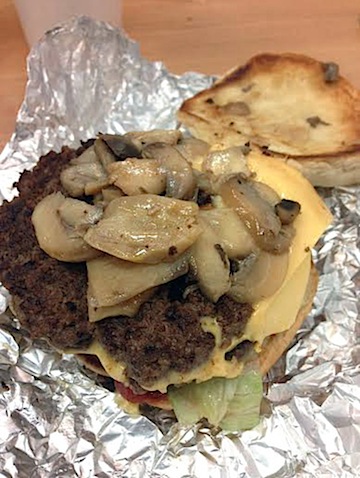 I keep thinking in my head "Roll that beautiful mushroom footage," which I know is really weird. And shows that I watch far too much television AND commercials, despite the fact that in this day and age, watching commercials is basically unnecessary.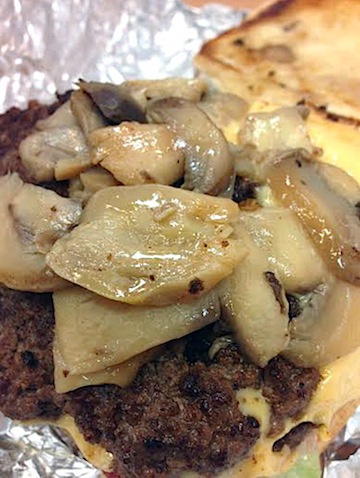 Oh wait, these have nothing to do with mushrooms, but Five Guys fries are delightful. And I say that as not much of a fry person. But you have to get the Cajun!! Just trust me on this. Extra ketchup, too.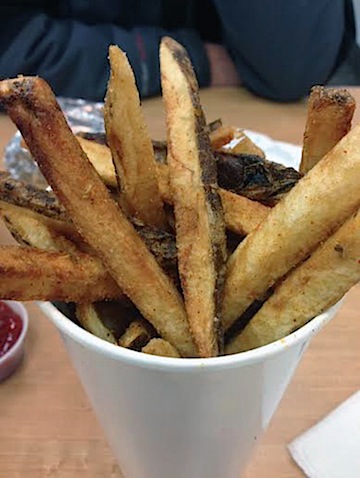 Obligatory, look how much I'm enjoying my burger photo. Excuse my dirty windswept hair and beyond exhausted look. Let's just say a Five Guys dinner came at the perfect time as I was in no mood to cook.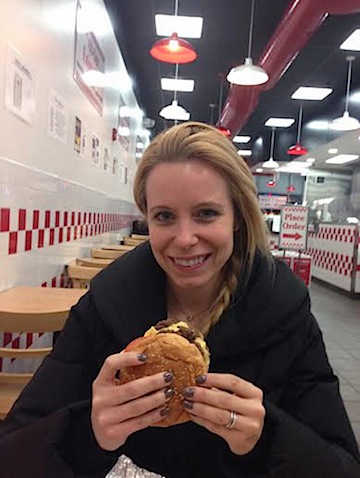 I just ate this burger the other day, but now I'm craving another one already. Is it Friday yet?
I can't wait until my next mushroom dinner out 🙂
Have you had any fabulous mushroom dinners lately?
[Sues]
This post was brought to you by the Mushroom Council, but as usual, all opinions are 100% my own!