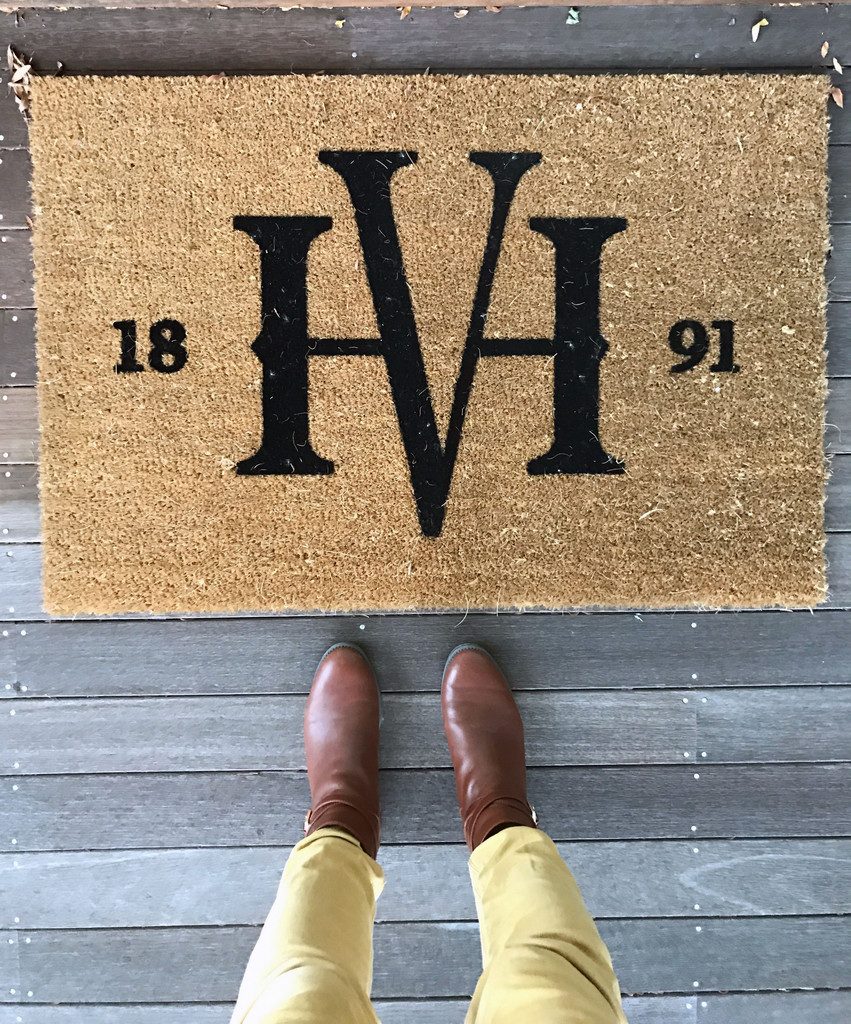 Welcome to the official holiday season! I hope everyone had a fantastic Thanksgiving and that you're all ready for the hustle and bustle of the season. I think I am... Mainly because less than two weeks ago, I had the most relaxing, wonderful weekend I've had in a long time. A weekend that prepared me for whatever may come in the next 5 weeks. The Harbor View Hotel on Martha's Vineyard generously invited me to the island to experience their hotel. And while I knew it would be a fun weekend, I had no idea just how awesome it would be. I hope this post does it justice, but in case it doesn't, you should know that both Chris and I have called our two-day getaway basically the best vacation we've had (and we've gone on quite a few vacations together in our 8 years together).
First of all, it was our first time to the island! Understandable for him considering he grew up in Virginia. Not so much for me, considering I grew up in New England (Massachusetts, for goodness sake!). While I've always really wanted to visit Martha's Vineyard, I think I just got overwhelmed by the thought of all the crowds in the summer and I never even considered visiting off-season. While Martha's Vineyard in November may sound strange to some, I honestly can't recommend it enough. In this post, I'm going to tell you all about our experience at the Harbor View Hotel and then next week, I'll share with you all of the other fun stuff we did on the island.
I guess we should start off by getting to the island. We were thrilled by how super easy it was. The ferry leaves from Woods Hole on Cape Cod, which is about 2 hours from my house (3 if you choose to leave during rush hour... Thanks, Boston). From there, we literally drove our car onto the ferry and settled in for a 45 minute ride. Complete with a Bloody Mary. You obviously don't have to take your car on the ferry, but we really wanted to explore the island in full, so we brought ours.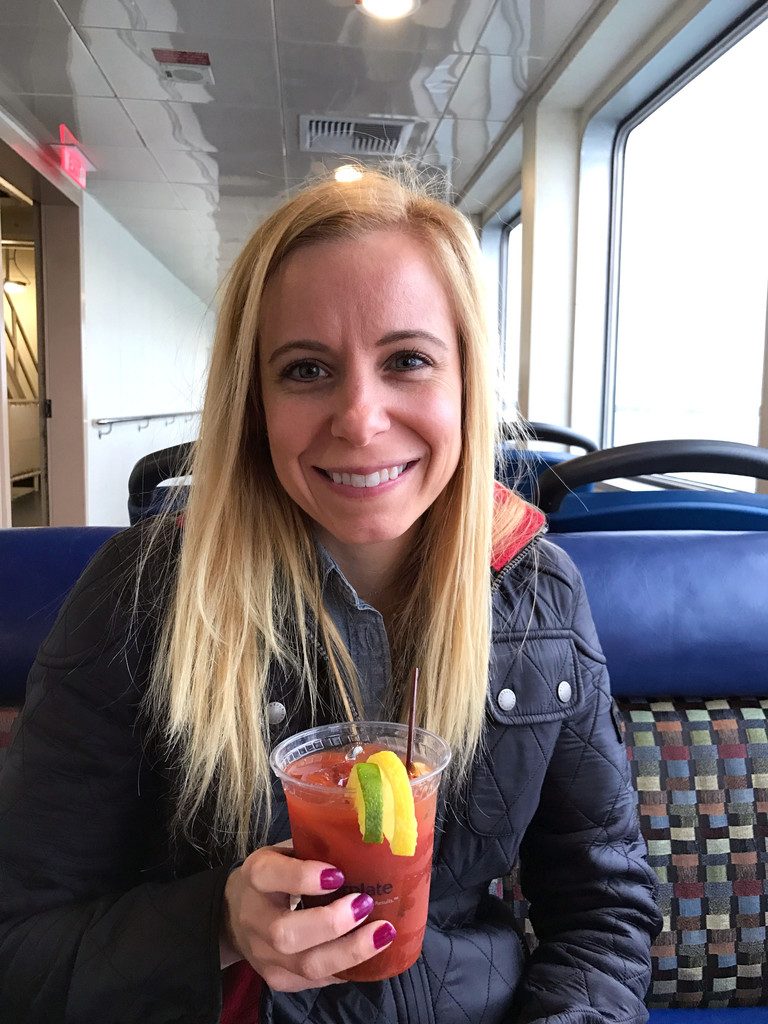 The drive from where the ferry arrives in Vineyard Haven to the Harbor View Hotel in Edgartown was absolutely beautiful, but I swear it kept getting more beautiful as we got closer.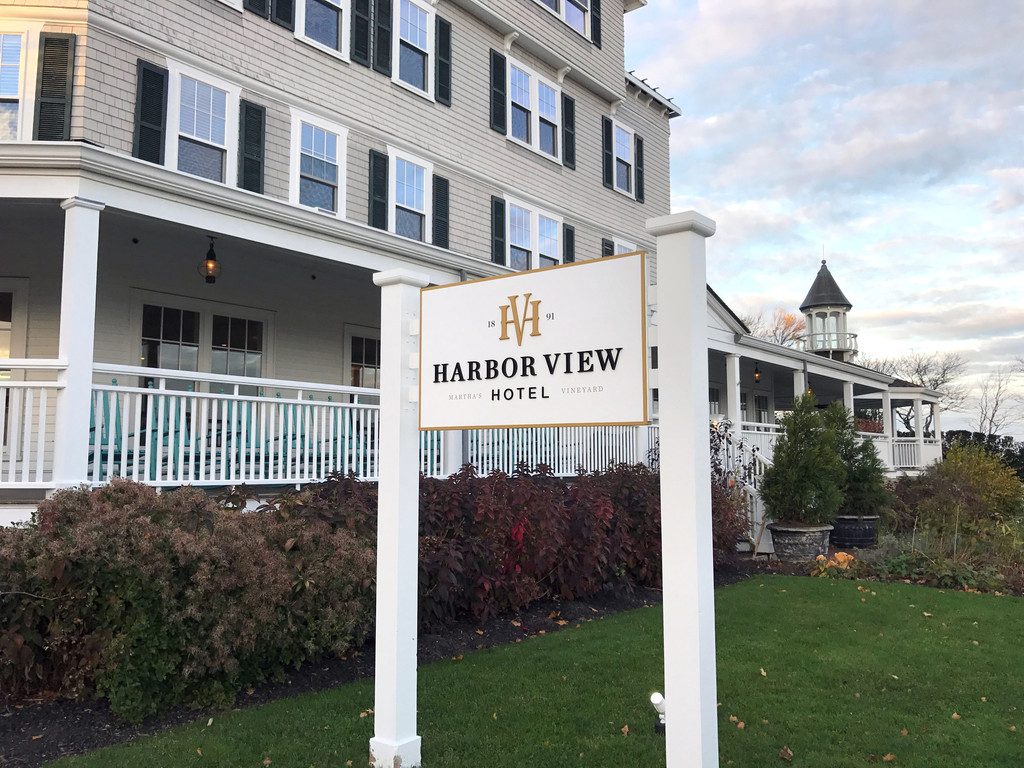 First things first, the hotel's Director of Marketing, Elizabeth Rothwell, gave us a tour of the property and to say we were impressed would be an understatement. The Harbor View Hotel is currently celebrating 125 years, which is actually kind of crazy if you think about it. That means, it opened in 1891!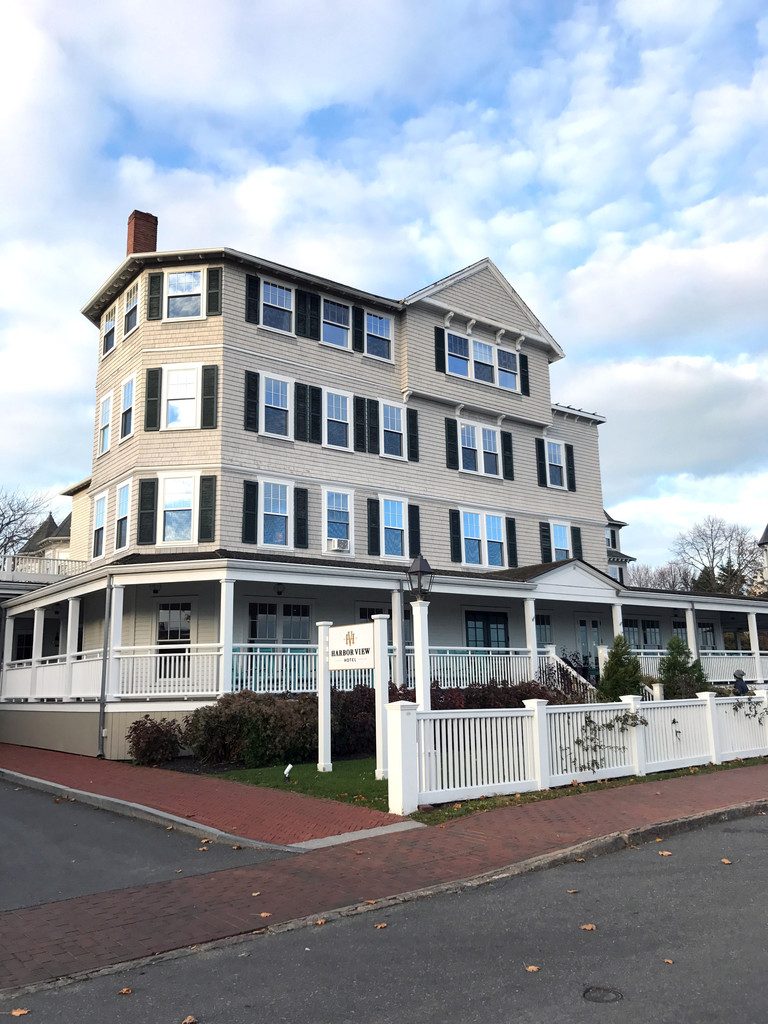 It's fun to think about how different things were in 1891 and the hotel pays tribute to this with the historic photography in their hallways. Check out the full-on outfits people wore to the beach. It actually makes me a little nervous to think about how different things will be another 100 years from now.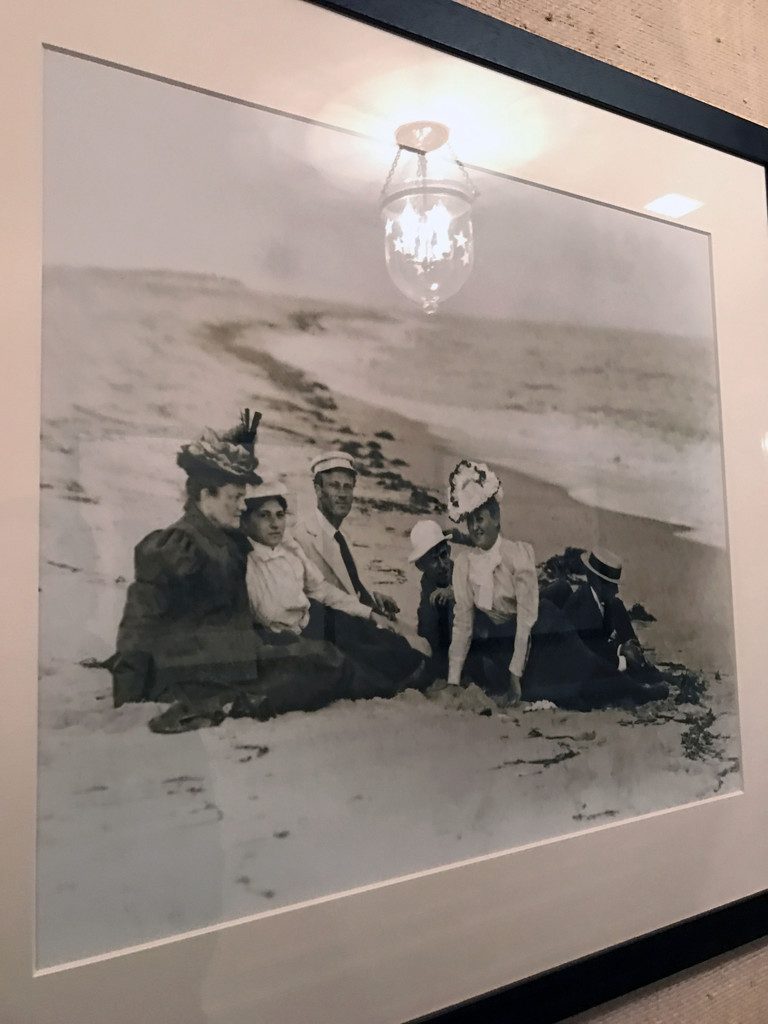 The patio off the main building was probably my favorite spot. A long line of teal chairs just waiting for you to take a seat and enjoy the view.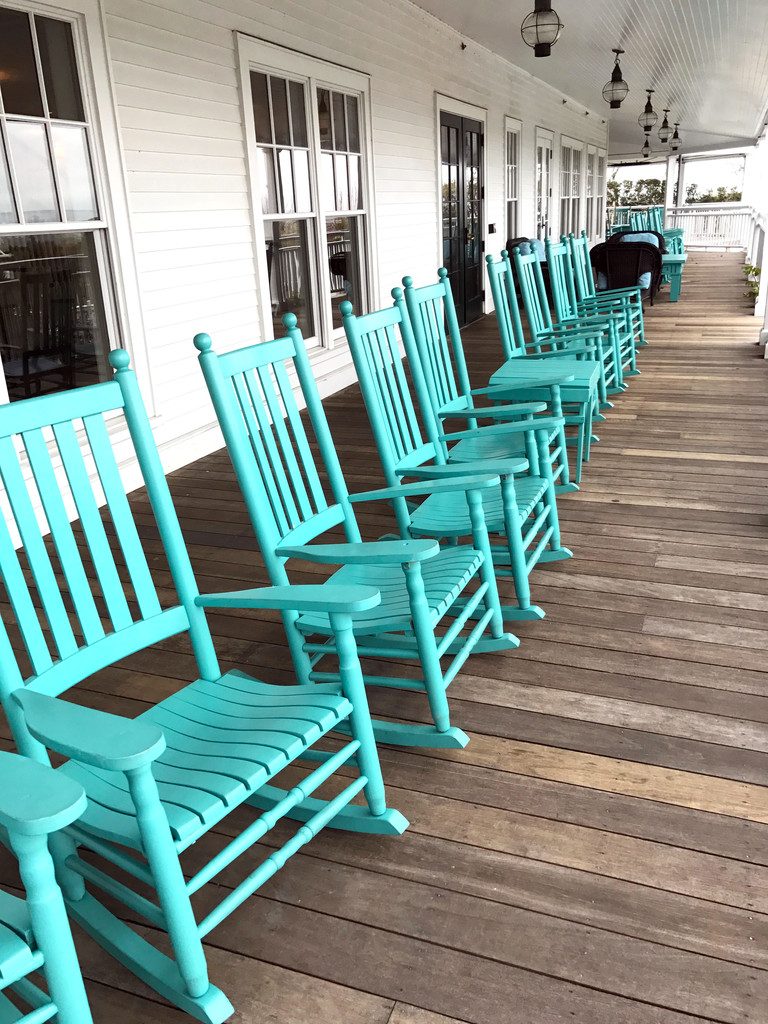 In case you were wondering, they don't call it the Harbor View Hotel for nothing!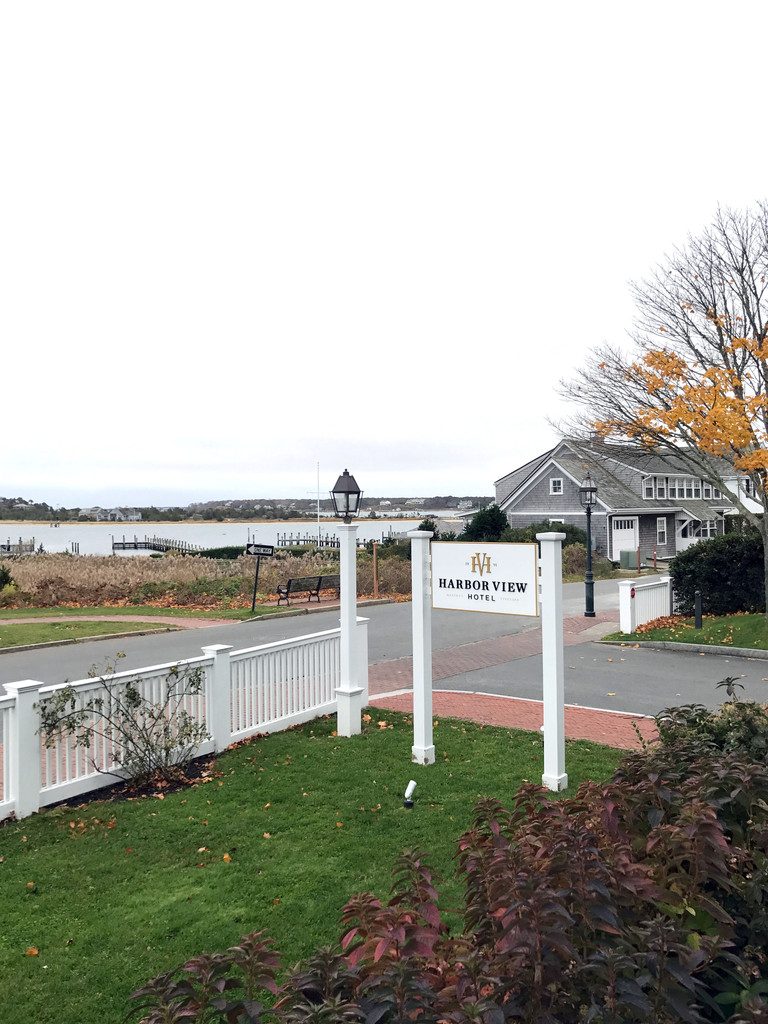 Beth took us into a variety of different rooms and everything from the guest rooms with views in the main building to Governor Mayhew's standard rooms to the cottages were beautiful and definitely more spacious from what we're used to in Boston.
This is one of the standard rooms in the Governor Mayhew building. As you can see, it's nothing super elegant, but it's seriously cute and island appropriate.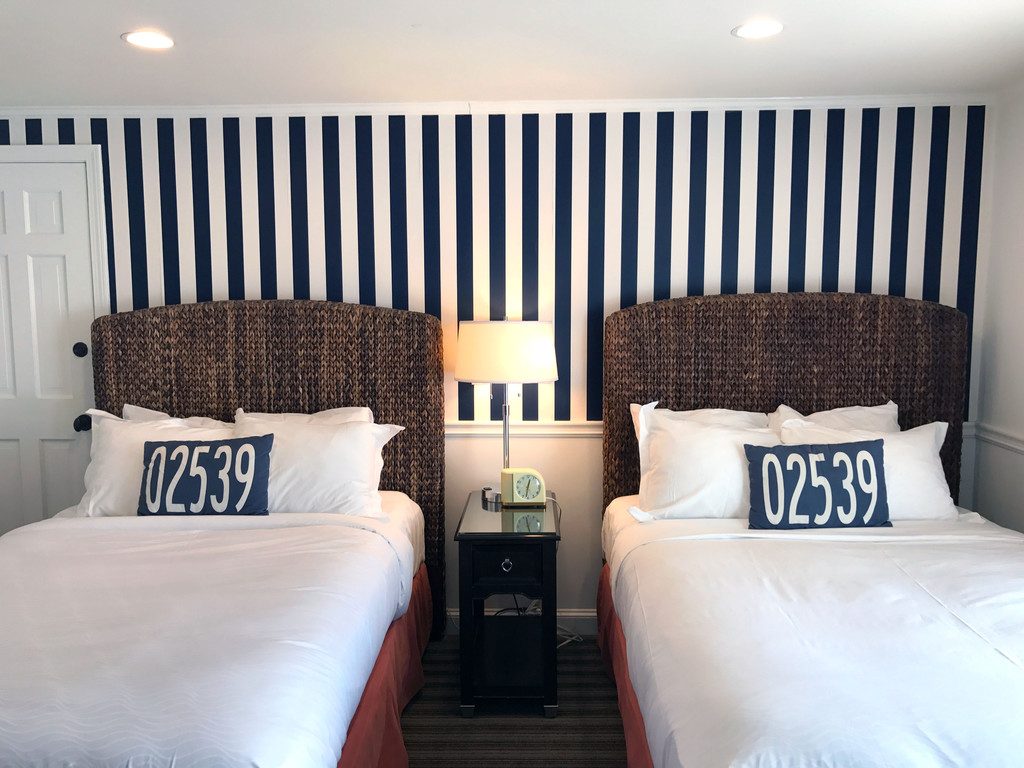 After that impressive tour, we were actually a bit shocked to see the cottage we were to stay in for the next two nights. After a little walk down the brick lane with gorgeous fall foliage, we came upon the Captain Abraham Osborne Cottage.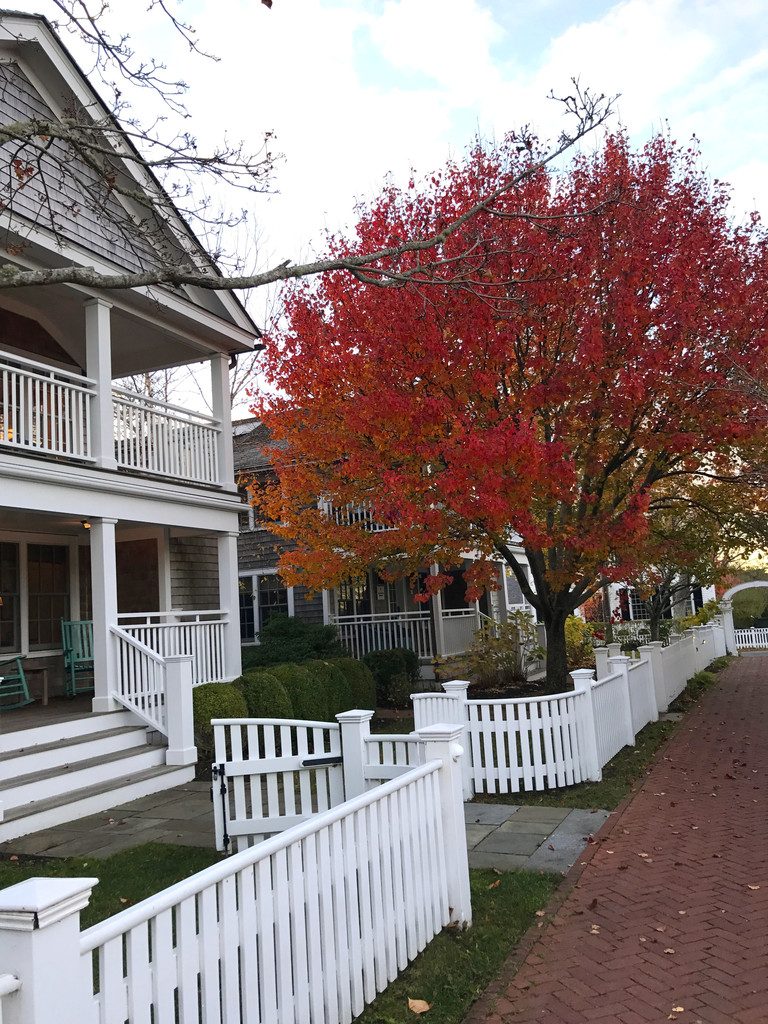 And it was even more stunning than anything we'd seen yet! One of the cool things about these one-, two-, and three-bedroom cottages is that you can actually buy them! And when you're not using it, the hotel will rent it out for you. After spending two days here, I can 100% see why someone would want to buy a cottage at the Harbor View Hotel, except I don't think I'd ever want to leave.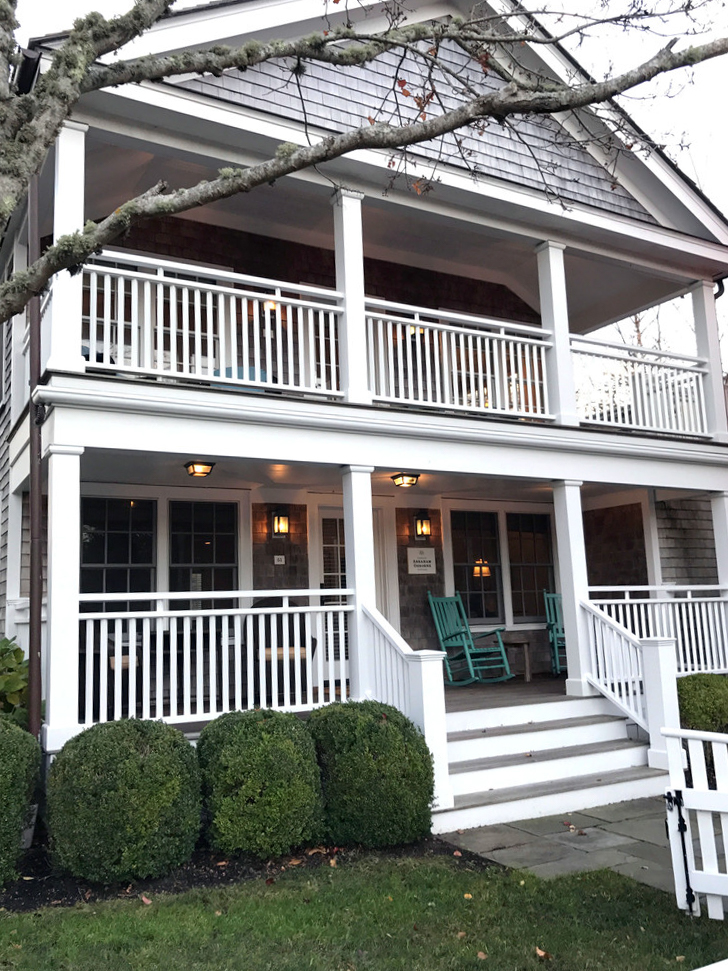 Check out the front porch of our cottage! Yup, more teal chairs that I want to hang out in all day.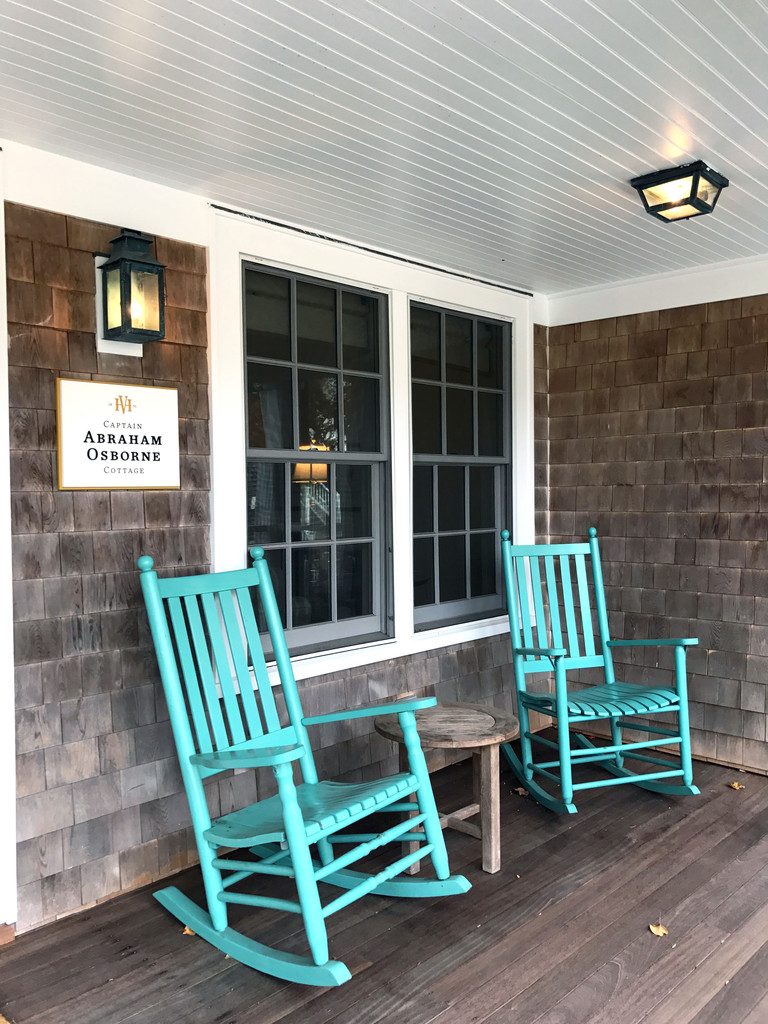 I took a few little videos of the cottage that I shared on my Instagram Stories during my stay. Check them out below to see the gloriousness of our little temporary home.
Entering the cottage:
The Bathroom (very important, obviously!):
And the bedroom:
I somehow didn't save my video of the dining room/sitting room and kitchen (Ugh the struggles with Instagram Stories and Snapchat), so here are a few other shots: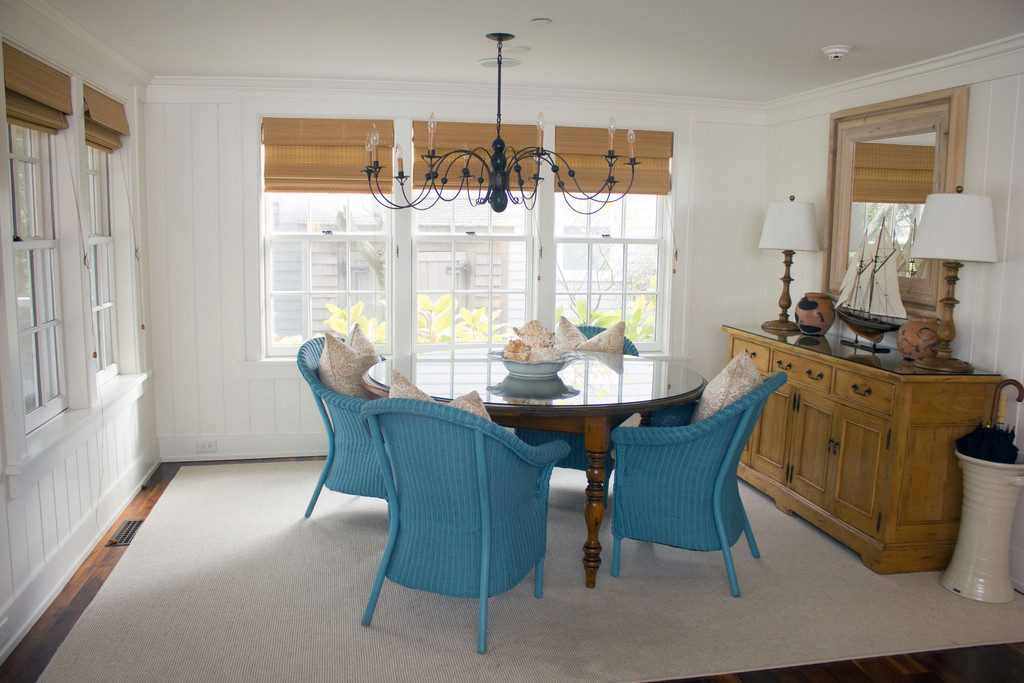 A comfy cottage sitting room: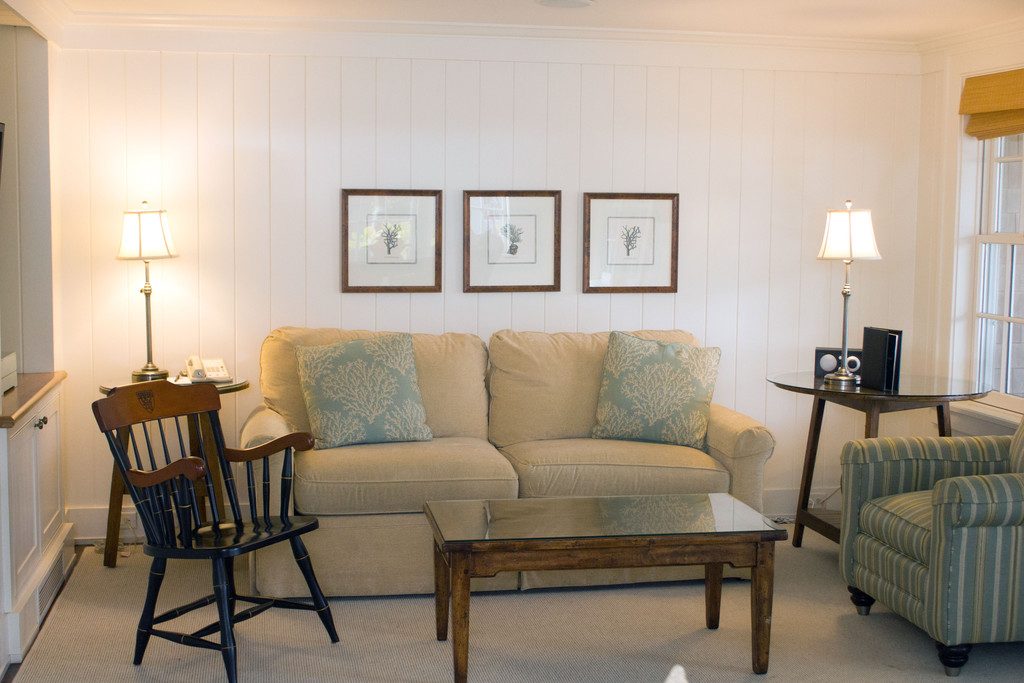 And the super cute little kitchen. It didn't have a stove/oven, but had a hot plate, a Sub-Zero fridge drawer, and the most gorgeous sink ever: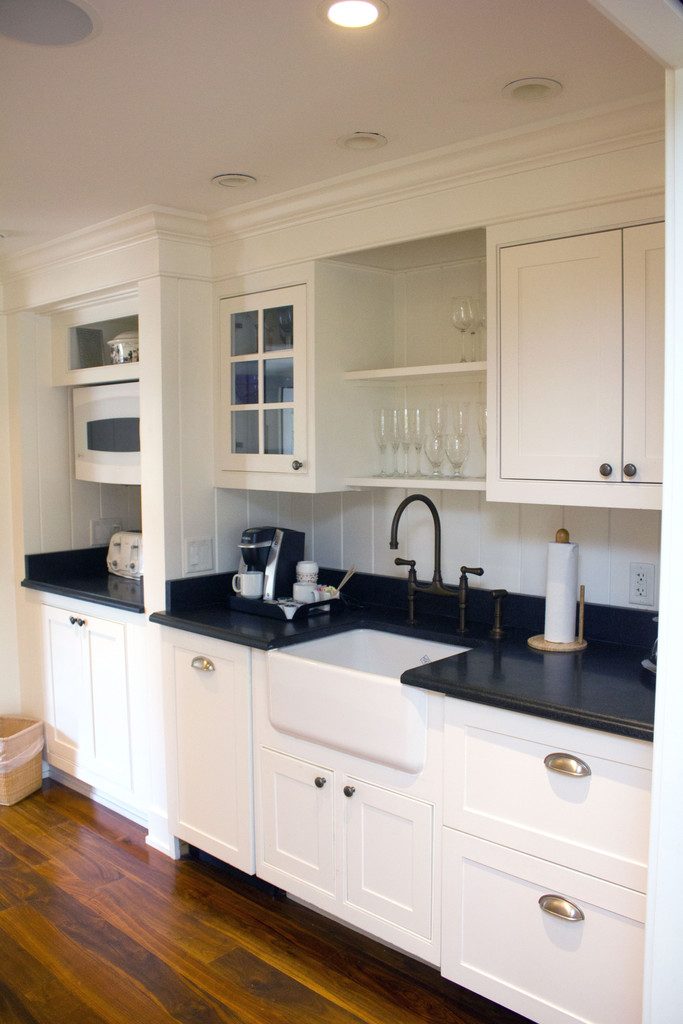 Oh wait, I didn't show you the outdoor shower: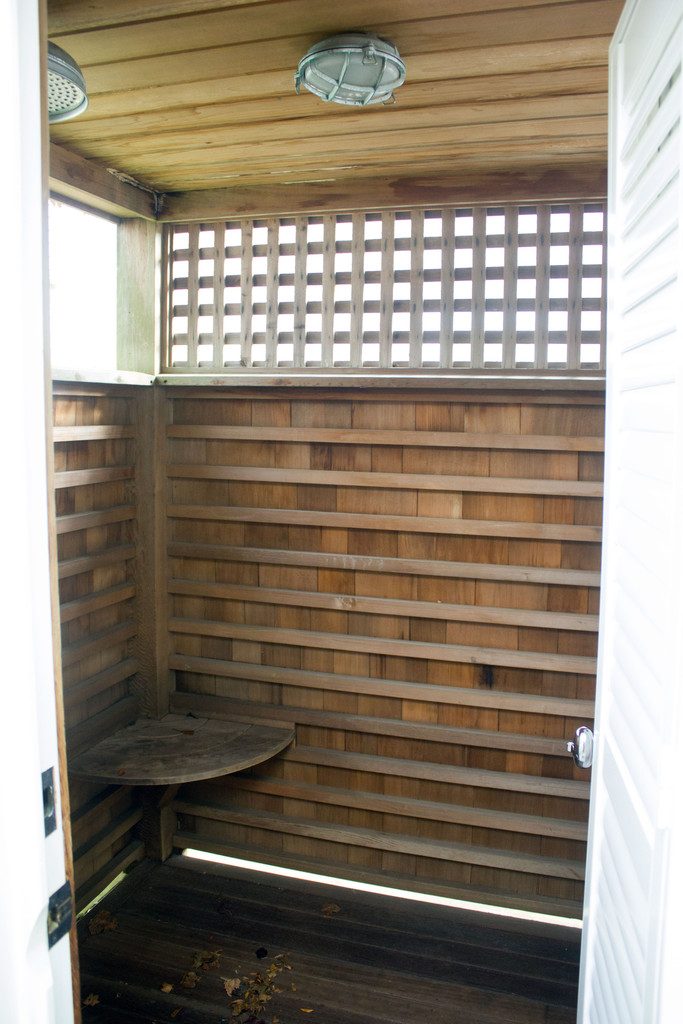 It was a little bit too chilly to use it, but this shower was located right off the bathroom and was so cute. You can see in the below bedroom photo that there's a nice walk-in closet off of it, complete with washer and dryer. And a gas fireplace that we definitely got some use out of!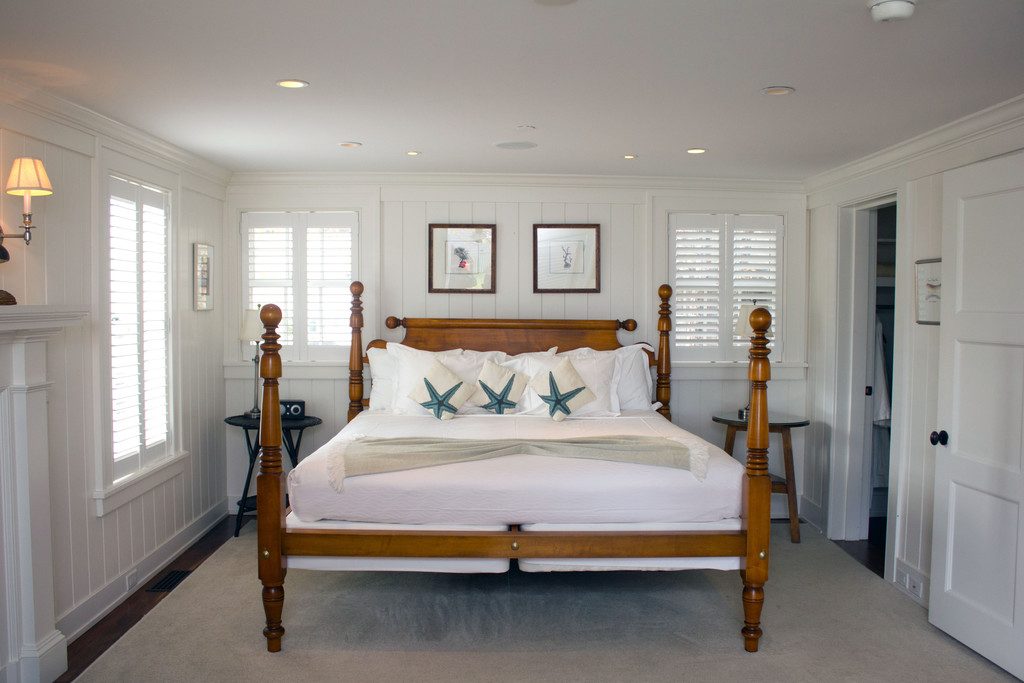 You know that feeling when you know you should go out and do something, but you're just so comfortable and happy where you are? That was us. It was almost difficult for us to leave the cottage and go see the island; we would have been perfectly happy staying put with some good books and a fire. And probably a cocktail or two.
But after we settled in, we took a nice walk into town to grab something to eat. Then we wandered back to the hotel to the beach and lighthouse across the street. This is literally right across from the hotel: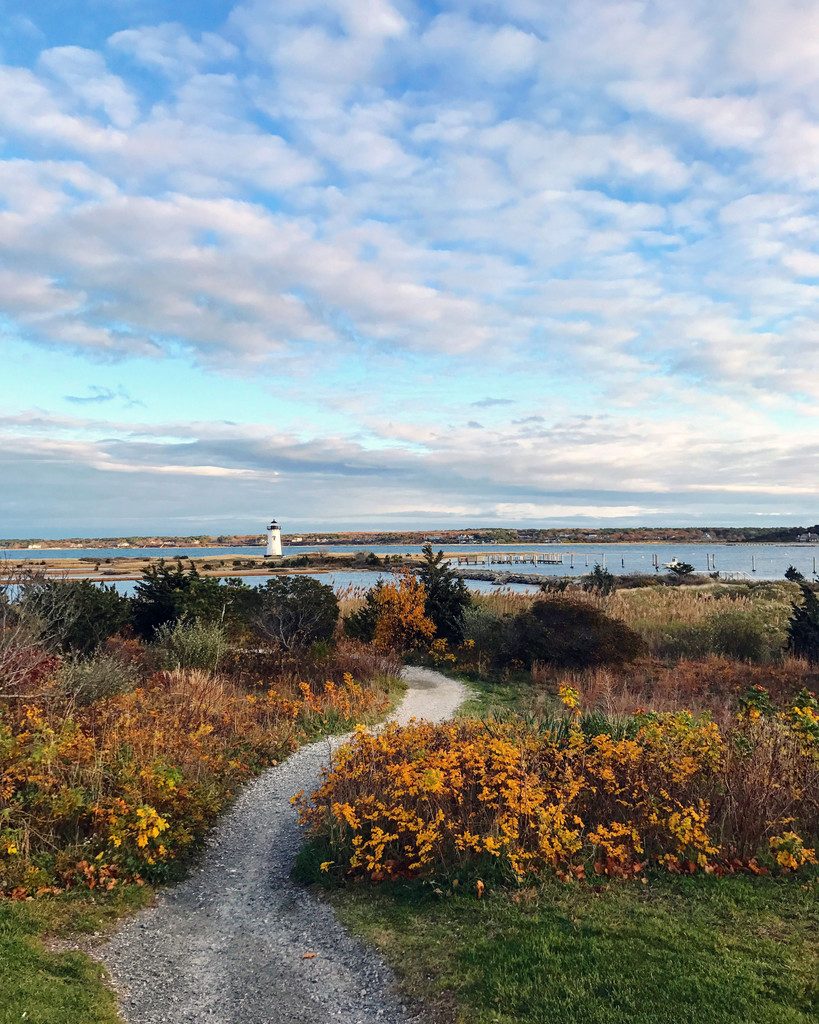 It's Lighthouse beach with the historic Edgartown lighthouse.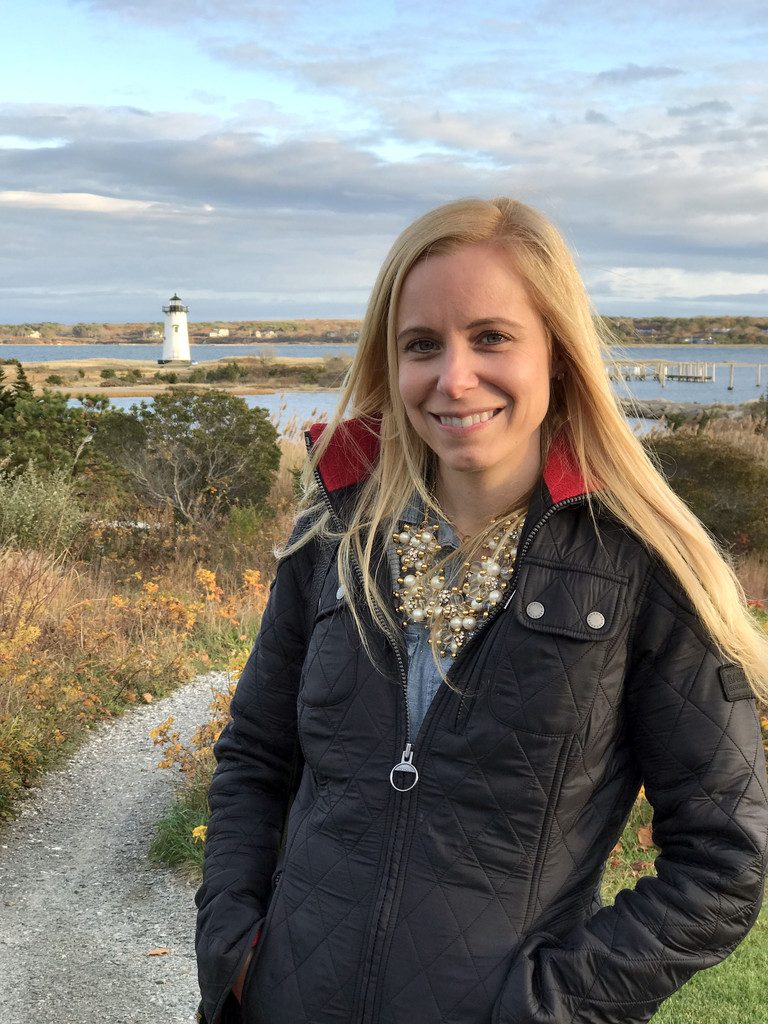 I'm not sure if I've ever taken more photos on a vacation before!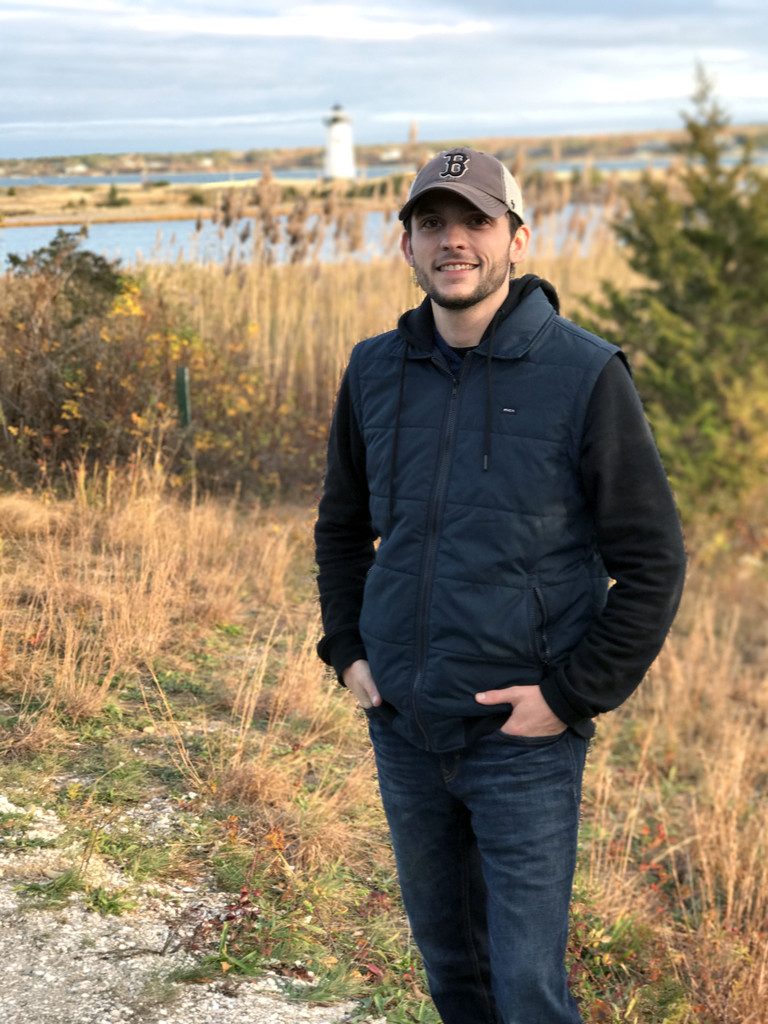 We majorly lucked out with the weather and had some absolutely beautiful November days. There was a chill in the air, but no need for big coats or gloves and scarves. It was a really nice walk down to the lighthouse.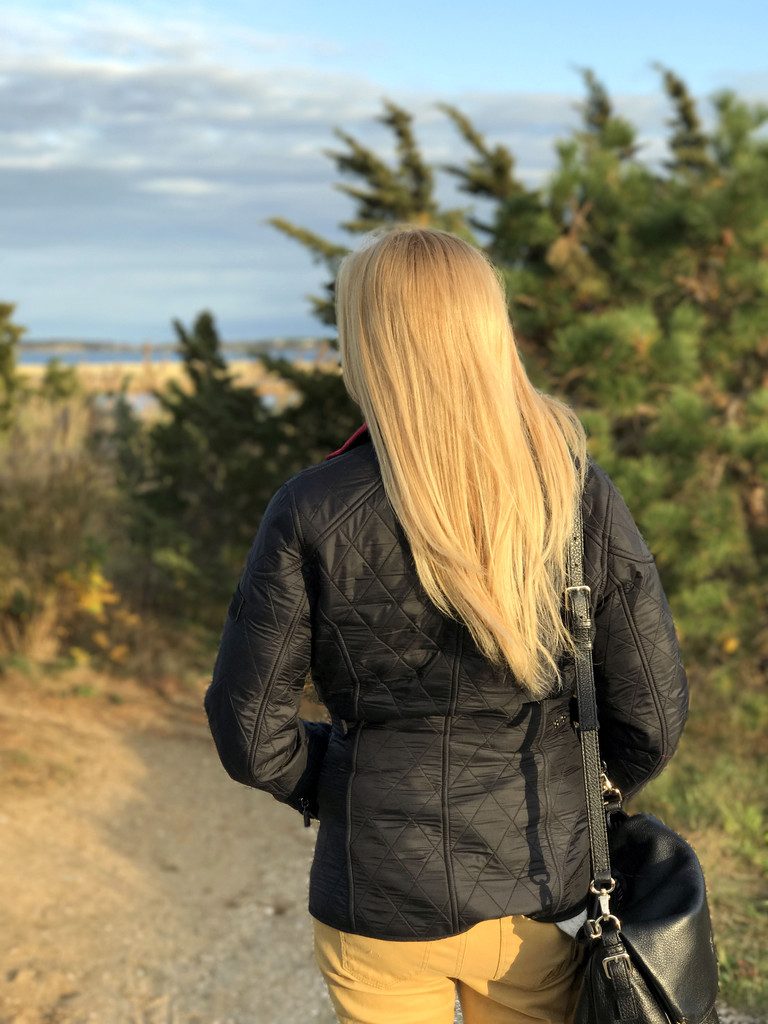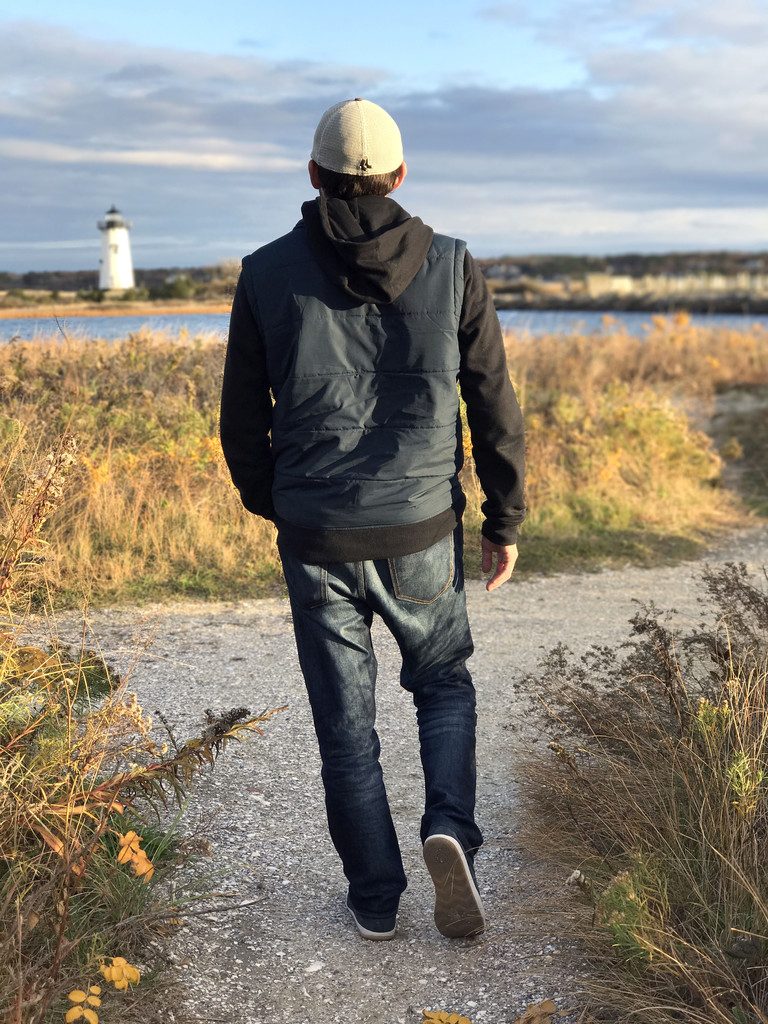 We joked that we were pretty sure this was a setup solely for Instagram purposes. Right??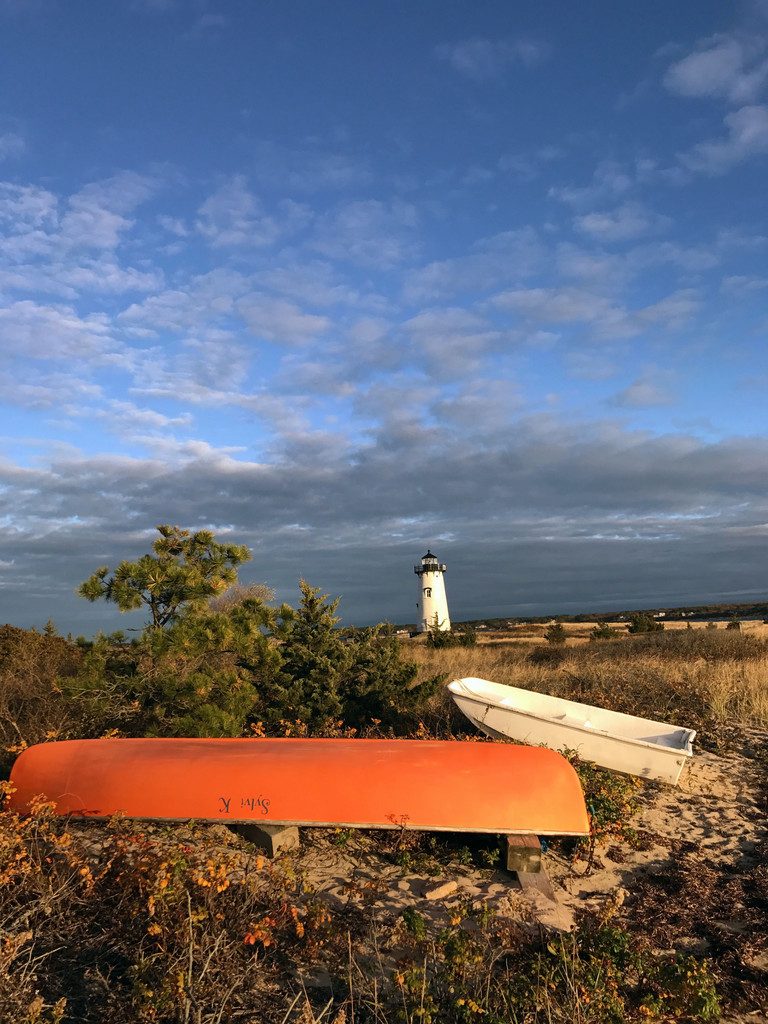 While I'm sure this area is glorious in the summer (think sandals, sundresses, and dipping your toes in the water), it was absolutely wonderful to be the only people out on the beach and out by the lighthouse; so peaceful.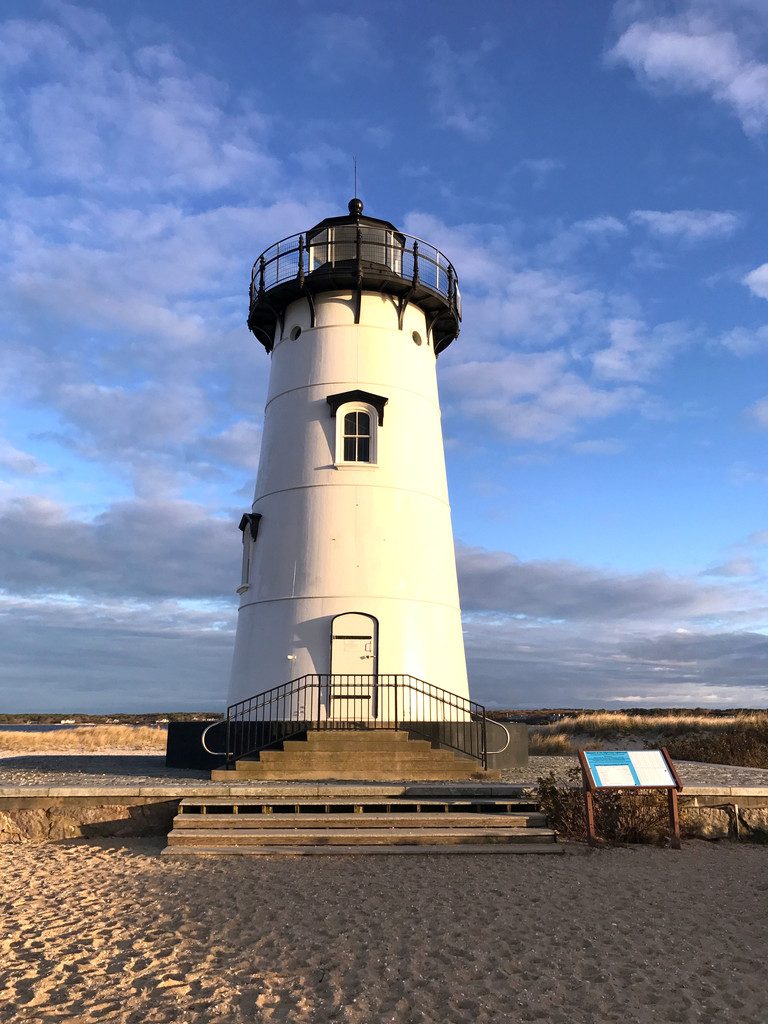 While there was unfortunately some graffiti on this lighthouse memorial plaque, I thought the sentiment was so powerful. No matter where you vacationed as a child, I think this probably means something to you, but I imagine a Vineyard summer is something amazingly special.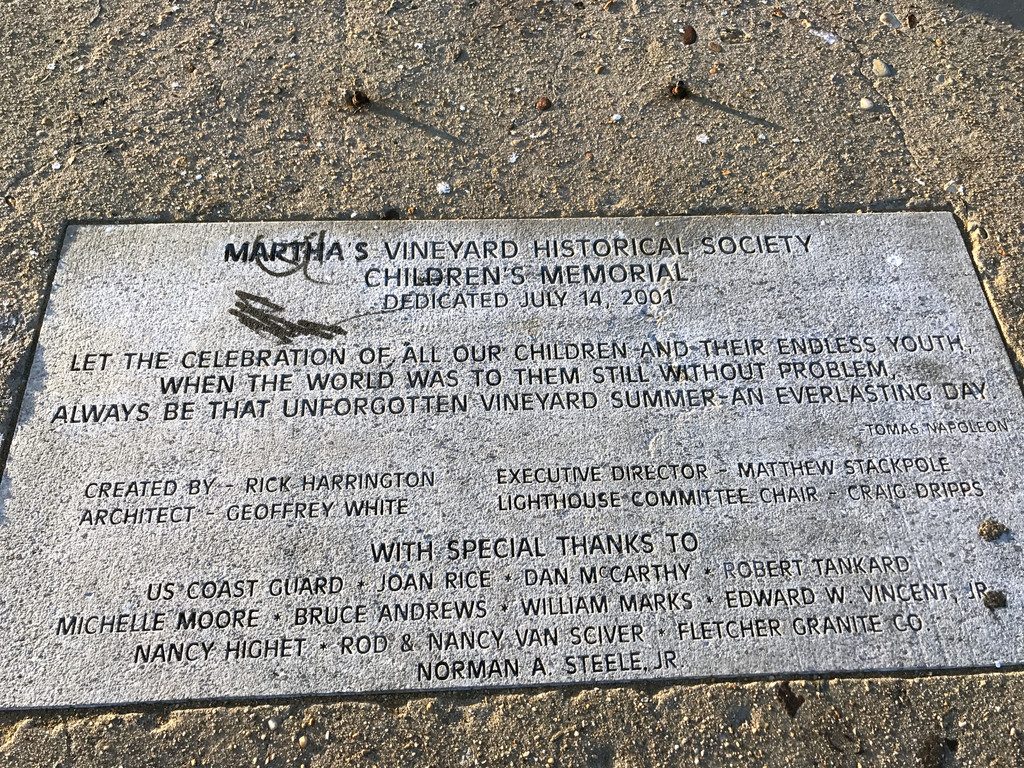 Even just our two nights on the Vineyard in the fall felt endless in a sense. Nothing else really mattered while we were there.
The Harbor View Hotel also kindly treated us to dinner at one of their restaurants, Henry's. They have a couple restaurants on their property- the Lighthouse Grill is a bit "fancier," but isn't open for dinner in the off-season. Henry's is a bit more casual as it's the hotel bar, but we were incredibly impressed by the food and the service. There was so much on the menu we wanted to try and our dinner at Henry's pretty much solidified the idea that the next time we stay at Harbor View, we may not leave the premises at all!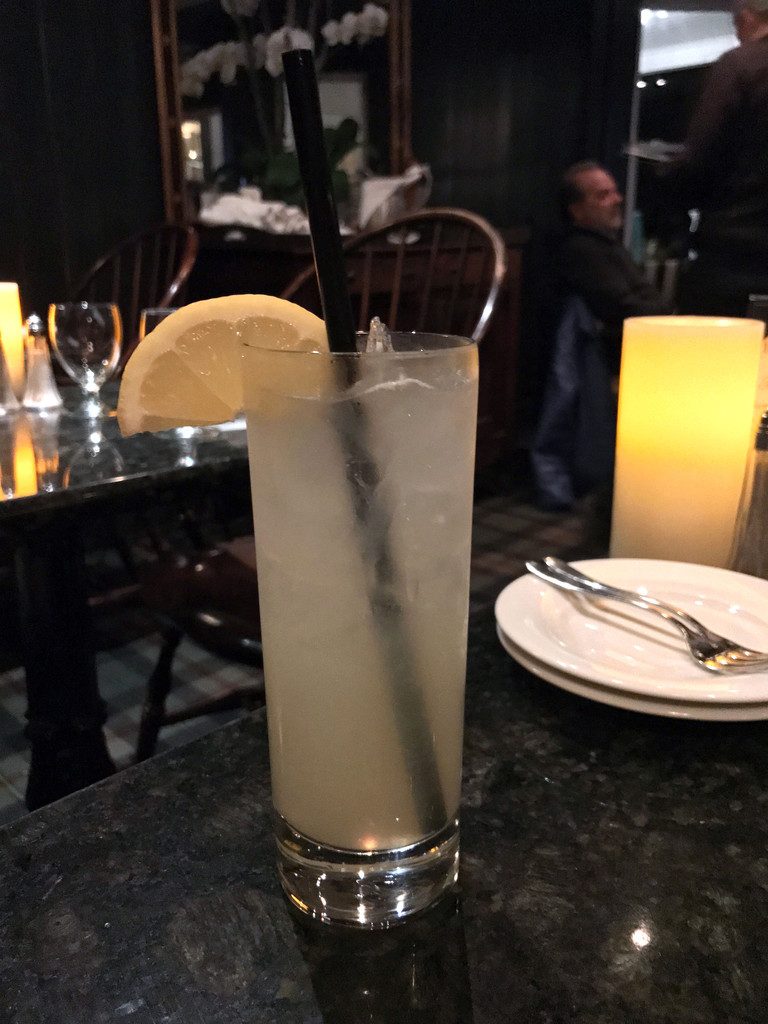 First of all, they had pigs in a blanket on the menu... I mean, when do you ever see pigs in a blanket on a menu? They're not something I generally get very excited about, but you should have seen Chris's face. I couldn't deny him that joy, so we ordered them. They were way better than any pigs in a blanket I had before... Fried and paired with mustard and seriously delicious.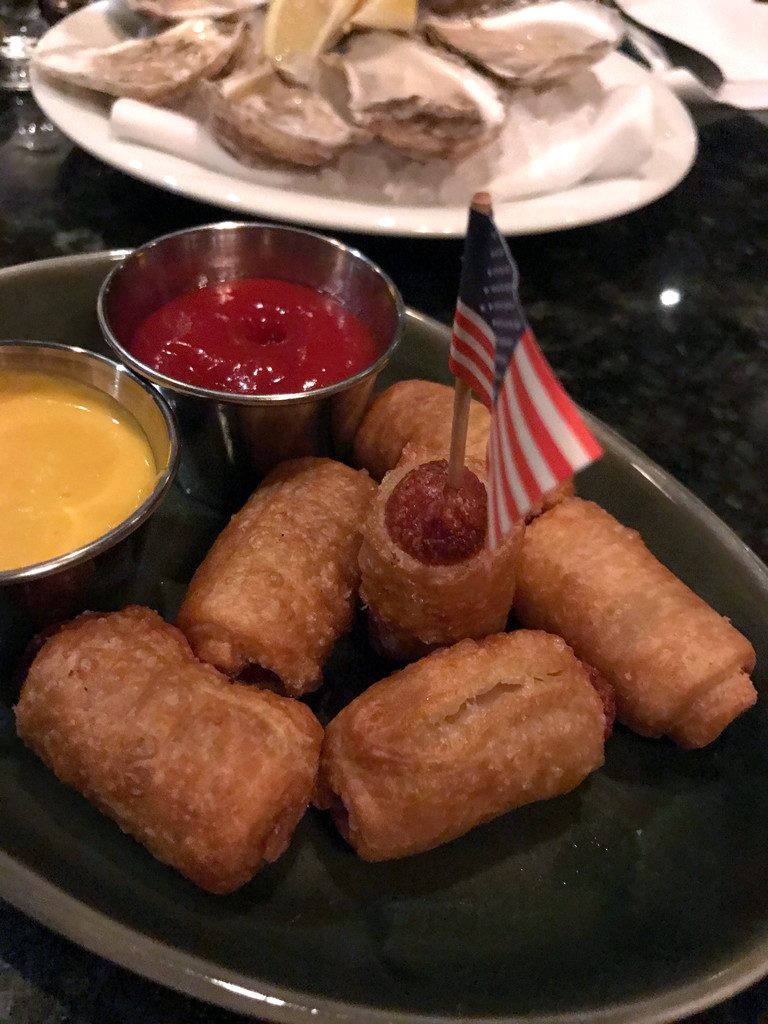 Chris was a happy man.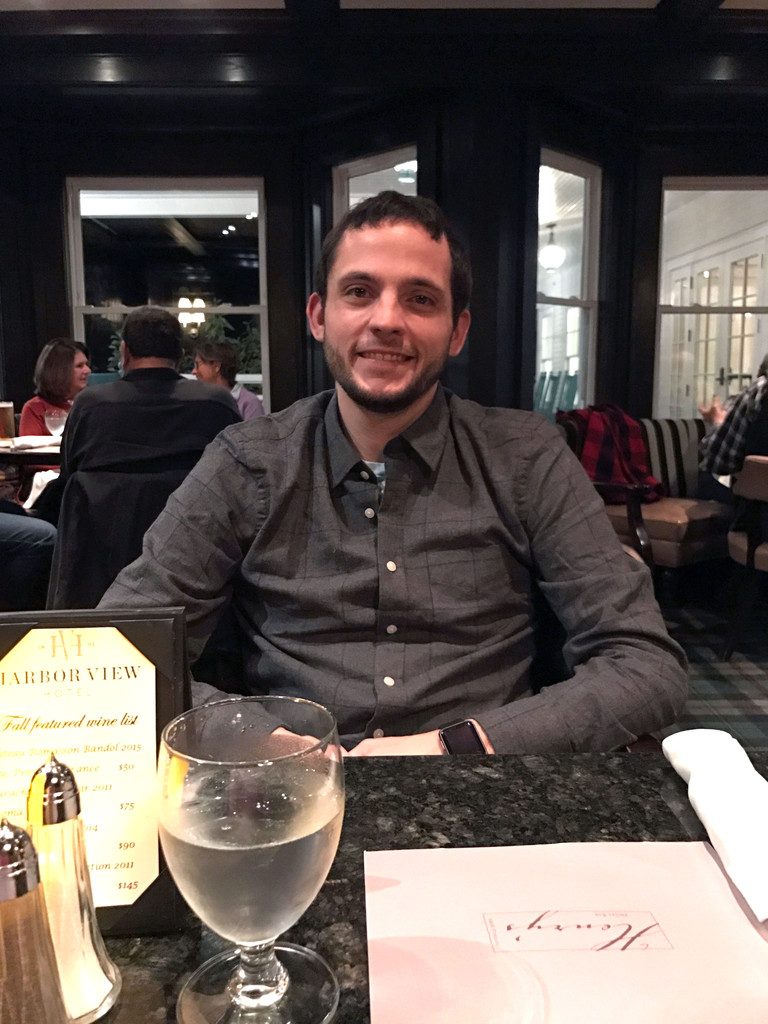 Obviously we paired the pigs in a blanket with oysters because have you ever heard of a better match made in a heaven?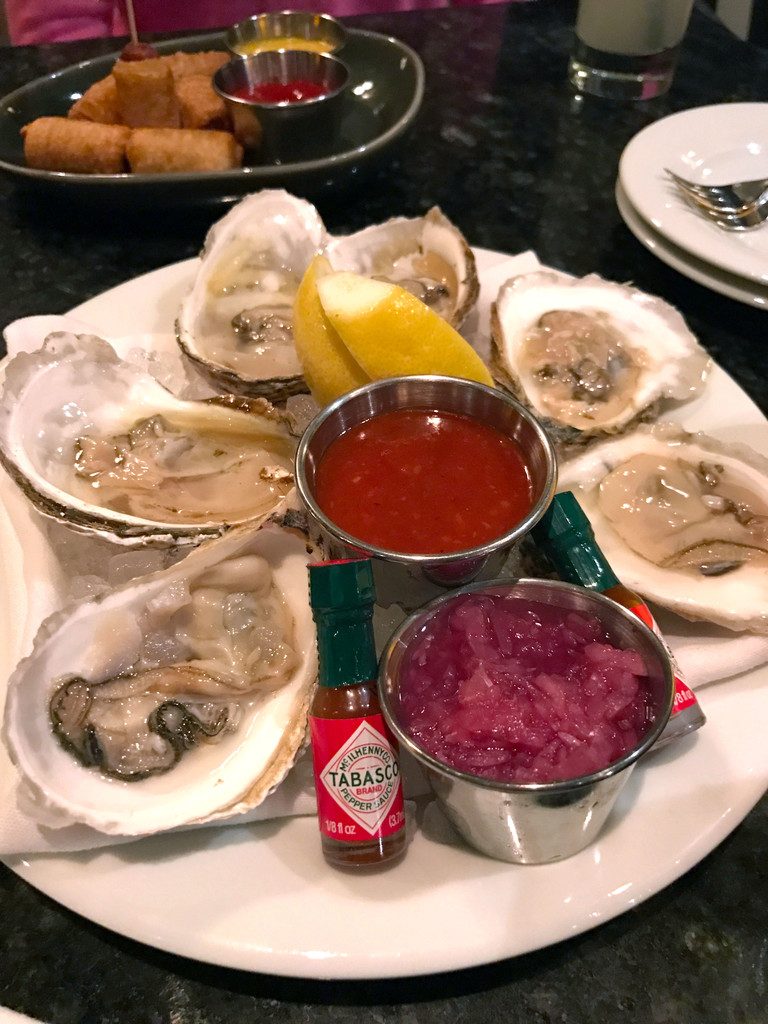 And so, I was pretty happy, too.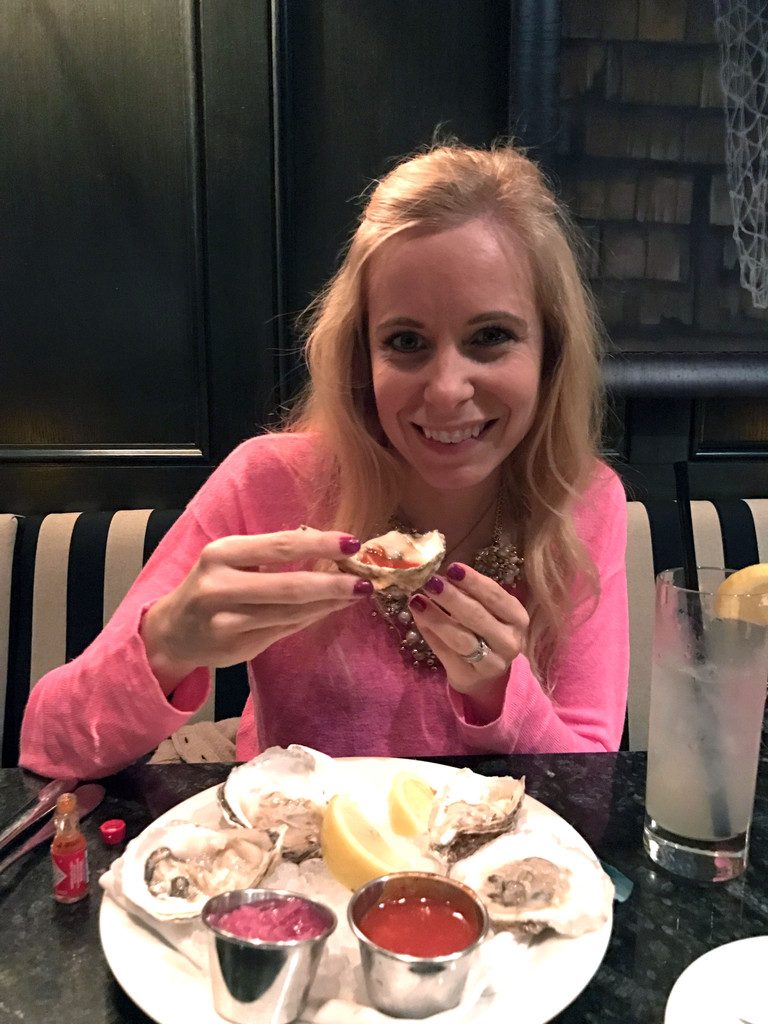 I was also pretty happy to see that chicken pot pie was the special of the night. Chicken pot pie is basically my favorite food ever, but I've found it can be a little risky to order in a restaurant. The one at Henry's was awesome, from the crust to the filling to the sauce. I sadly neglected to take a photo of the inside (probably because I was too busy scarfing it down), but I can tell you it was filled to the brim with good stuff. And it was funny to see that at every single table around us, at least one person ordered the chicken pot pie.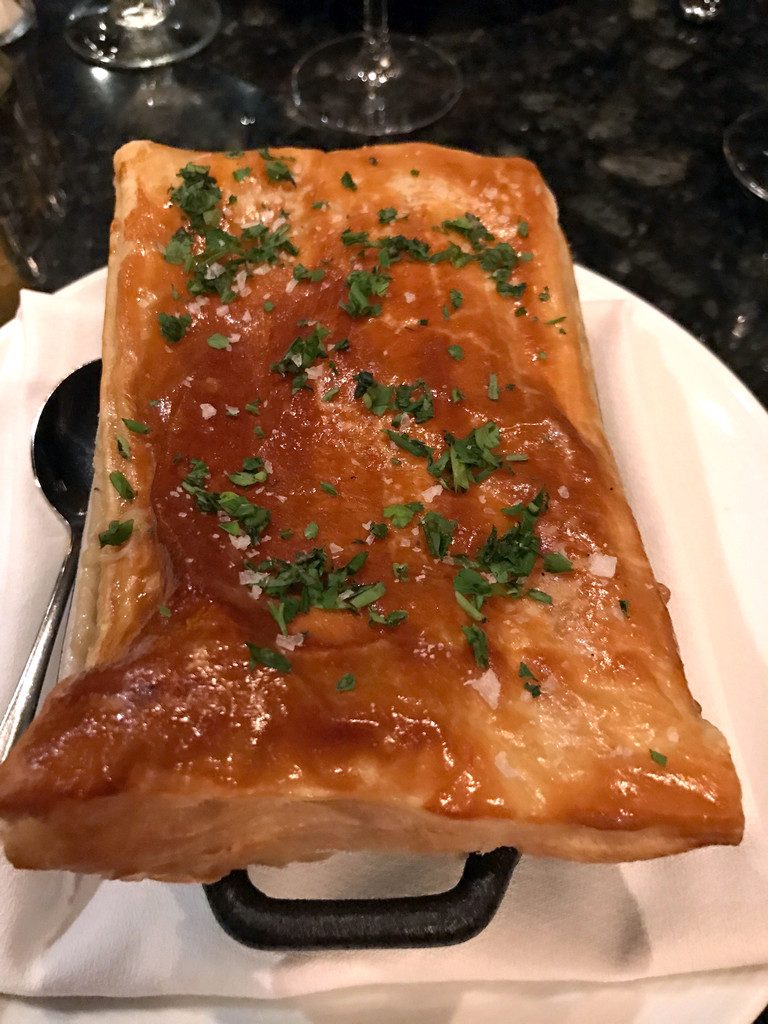 Chris was also thrilled with his lobster roll (and the option to order waffle fries!). He's something of a lobster roll connoisseur and he declared Henry's delicious and absolutely stuffed with lobster.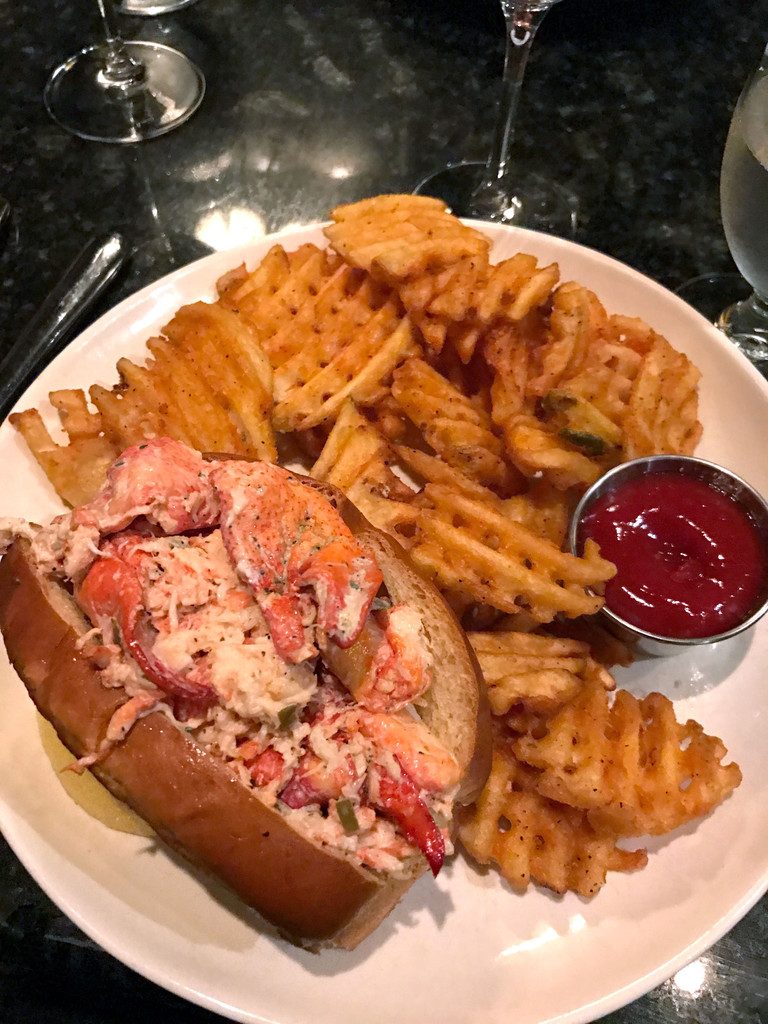 S'more bites for dessert? Don't mind if we do! I saw these on the menu and having no real idea what they were, I decided to order them by name alone. And they were everything I love about s'mores in a bite of deliciousness, complete with torched marshmallow. Even if you can't be on the Vineyard in the summer, you can still partake in s'mores!
I feel like I've been gushing this whole post, but both Chris and I have honestly been gushing about our trip since we returned home. I'm actually pretty sure I've never heard him talk more excitedly about any other place and there's a strong possibility that we'll be making this trip an annual mini vacation for us. I never thought that Martha's Vineyard in the off-season would be so appealing to us, but it was so much more than we expected. And even if the weather had been freezing and snowy, we would have been perfectly content cuddled up in a room (or cottage!) in the Harbor View Hotel! Just leaving for dinners at Henry's, of course.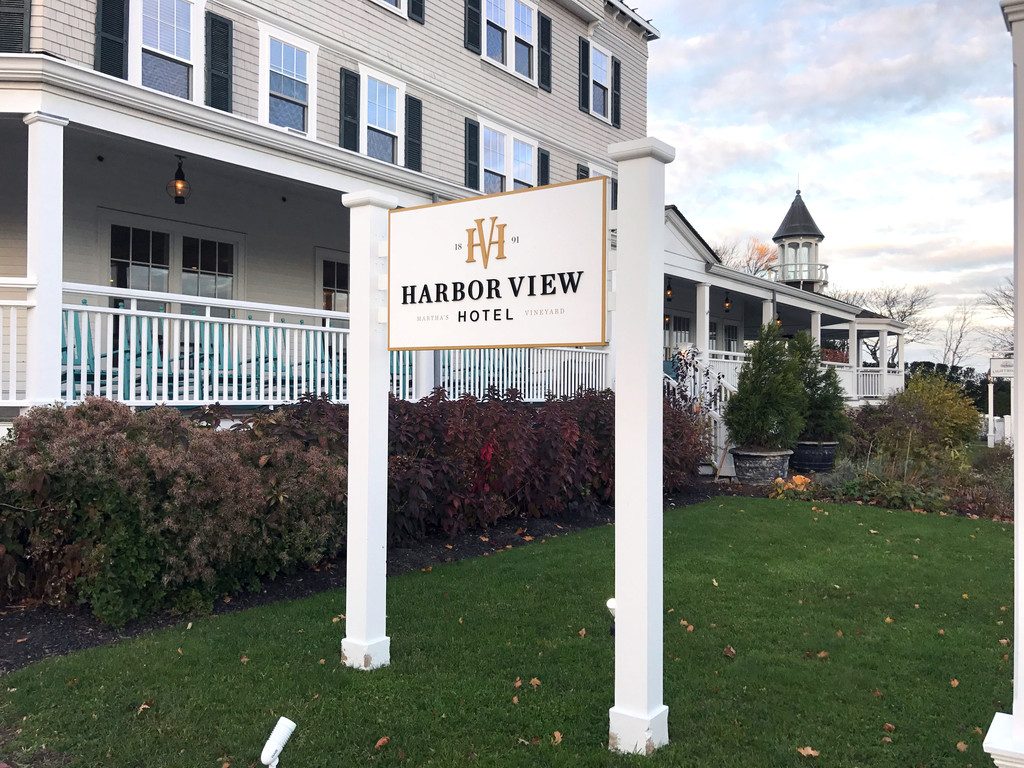 Stay tuned for my upcoming post detailing the other fun activities we did on the island in the 0ff-season... You know, when we managed to drag ourselves away from our beautiful accommodations! I was initially going to group everything together into one post, but then realized I had way, way too much to say.
So yes, this mini vacation will be powering me through the crazy holiday season. If you'd like to plan a stay at the Harbor View Hotel, I'd recommend booking for summer now (they have lots of visitors who come every single year!), but like I keep mentioning, I highly recommend it in the off-season. I also hear they have a pretty killer New Year's Eve party. New Year's Eve on the Vineyard? I'll meet you there!
Thank you SO SO much to the Harbor View Hotel for generously gifting me with a stay at their hotel and dinner at Henry's. As usual, all opinions are 100% my own and I can say without a doubt that I fell in love with this place!