This is one of those recipes where halfway through I almost just threw it all away. You know when you're baking something and you just think, "This is SO not going to come out well"?? Not to mention I was in a big rush to finish packing for my family reunion in upstate NY and I had just finished making a loaf of cinnamon bread.
But I'm glad I didn't throw it away because these cookies actually came out quite good. I, however, think I ate the whole batch myself. Trying to make a semi-healthy cookie for your family reunion where there will be brownies, cookies, and other forms of chocolate delicious-ness is a pretty stupid idea. Let's see, almond jam cookies or mint chocolate brownies?? Hmm, tough choice. In fact, I'm not sure the tupperware was even opened.
While I've always loved blueberries, I've recently become obsessed with them and will eat anything and everything involving them. So when the recipe told me to choose whatever kind of jam I wanted, I automatically bought a nice big jar of blueberry jam from Trader Joe's (um, it is amazing and I've been eating it on my toast ever since).
Almond Fruit Bars
1/2 cup (1 stick) unsalted butter, room temperature
1 1/2 cups flour
1/2 teaspoon cinnamon
1/4 teaspoon salt
1/4 teaspoon baking powder
1/2 cup packed light-brown sugar
1/4 cup sugar
1 large egg yolk
3/4 cup sliced almonds
1/2 cup fruit jam, such as cherry, plum, or raspberry (or blueberry!!)
Mix the flour, cinnamon, salt, and baking powder together in a bowl.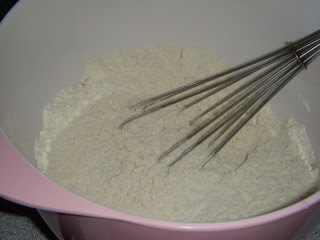 Now cream the butter, white sugar, and brown sugar in another bowl until light and fluffy. Then beat in the egg yolk. Why does this mixture look so good to me?? Probably because it's butter and sugar and nothing is really better than butter and suagr. Yummm.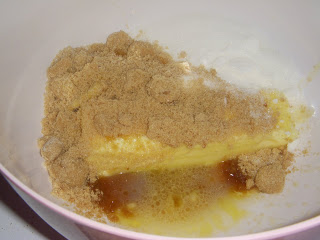 Now slowly mix in the flour mixture into the sugary buttery goodness mixture.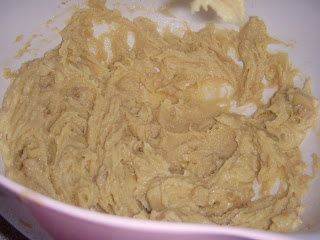 Add the sliced almonds in too.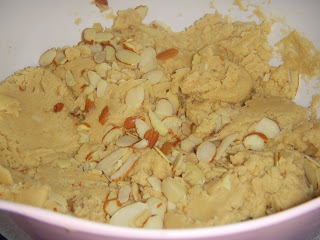 Put your jam in a small bowl and whisk it a little. Allegedly, this "loosens" it so it will spread better. Again, this jam is so fresh and delicious. It actually has blueberries in it and tastes like a blueberry pie! OK, you get the point. Blueberry jam=heaven.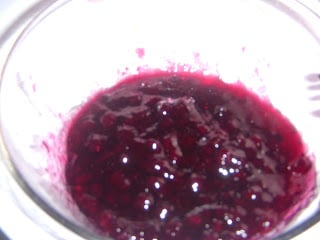 Now, get an 8-inch square baking dish and butter it. Press half of the dough onto the bottom of the pan.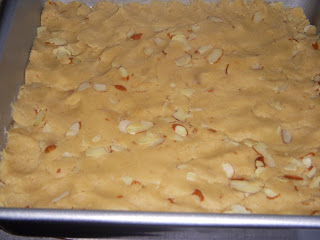 With a spoon, spread the jam over the dough, leaving a 1/4 inch border. Then sprinkle the remaining dough over the top and gently press it down. This is where I almost gave up. Because it didn't seem like enough dough was on the top layer and I thought, "No way in hell is this going to cook right."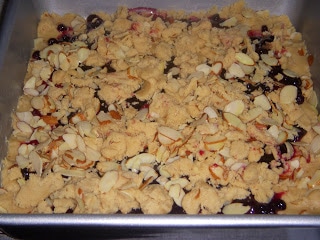 But I figured it couldn't hurt to throw it in the oven while I finished packing for my trip. So I put it in at 350 for about 25 minutes. And when the timer went off, I took it out.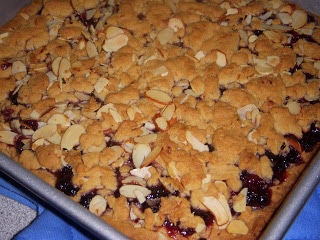 It looked OK, but I figured it would be impossible to cut and would stick to the pan all crazy like.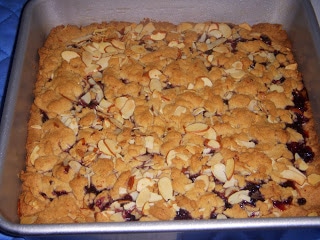 But when I went to cut the squares, it actually cut smoothly and effortlessly came out of the pan. Yesss.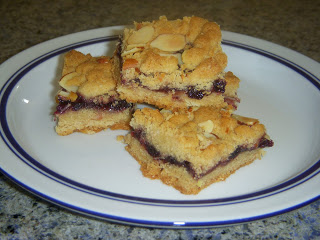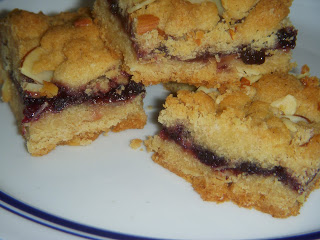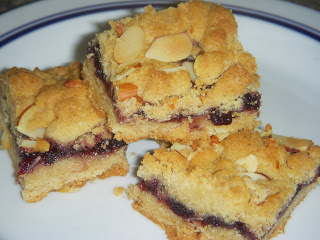 And what do you know? They were fabulous! Not only did they have the perfect moistness and crumble to them, but the jam gave them a sweet little kick.

I think these are a good little snack and might actually just make them for fun and to calm my sweetness/blueberrie cravings. However, I definitely wouldn't recommend making them for family reunions, especially if your family is known for being a little chocolate crazy. But do make them! If you know me, you know I am extremely chocolate crazy myself, but I still went quite crazy over these little cookie bars.

[Sues]
*Quick P.S.* During my family reunion I also had Oso Buco for my first time. Made by my fabulous Aunt Judy, I'm so disappointed I didn't take a picture because it was absolutely beautiful. And while there was a time in my life when I wouldn't go near veal (not my fault I was trained by MSPCA camp!), it was so incredibly delicious!