Once you try this Blueberry Simple Syrup, you'll want to keep a jar of it in your fridge all year round. It makes adding blueberry flavor to cocktails so easy and is also a delicious pancake or ice cream topping!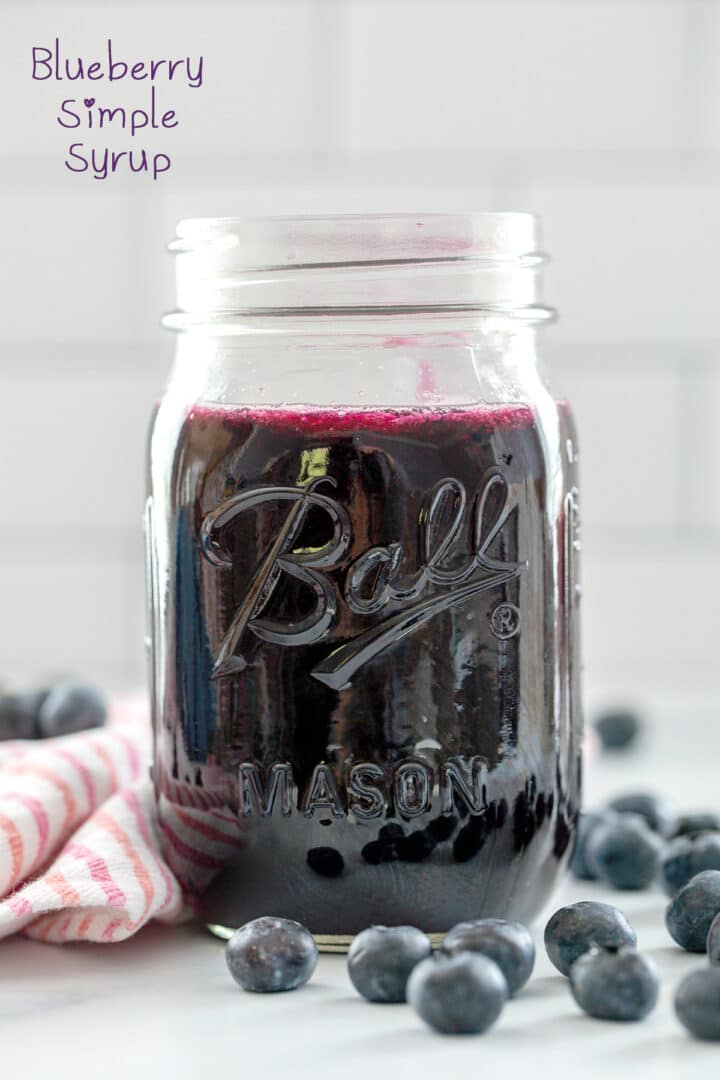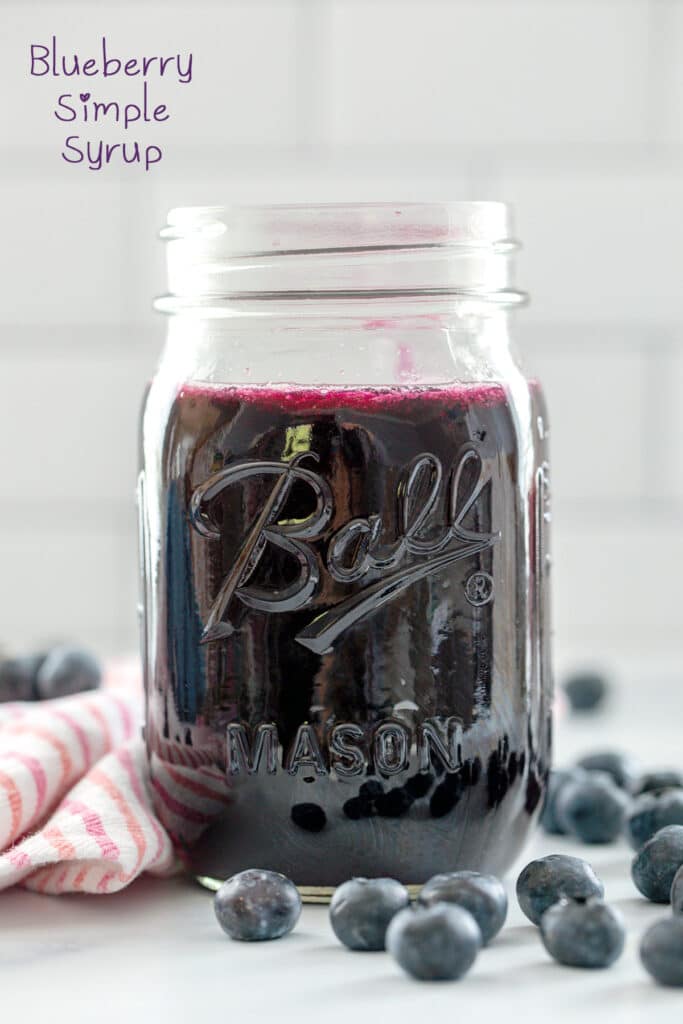 Instant blueberry margaritas or blueberry lemonade any time your heart desires? Count me in!
All you need is a jar of this blueberry simple syrup. It takes just 3 ingredients, minutes to make, and an hour to chill.
And there are so many different things you can do with it. Of course, my favorite way to enjoy it is as an ingredient in all kinds of cocktails!
What is Simple Syrup?
Simple syrup is essentially just water and sugar heated in a saucepan and thickened into a syrup. Once it cools, it's an essential ingredient in many drinks and cocktails because it makes it so easy to add liquid sweetness.
Simple syrup also makes it easy to add flavoring to drinks. I love blueberry-flavored cocktails, but don't love muddling blueberries into my drinks. So, I simmer the fresh blueberries into a simple syrup and then I have sweet blueberry flavor to add any time I want!
Some of my other favorites are jalapeño, lavender, and mint. But you can really make any flavor simple syrup... Including bubblegum!
Ingredients
This recipe couldn't be easier and there are just three ingredients in this blueberry simple syrup. All you need is:
Water
Granulated Sugar
Fresh Blueberries
How to Make Blueberry Simple Syrup
It couldn't be easier to make this simple syrup! Follow these directions and be sure to check out my video tutorial and you'll see how simple it is!
Start by putting water, sugar, and blueberries into a saucepan and bringing to a boil.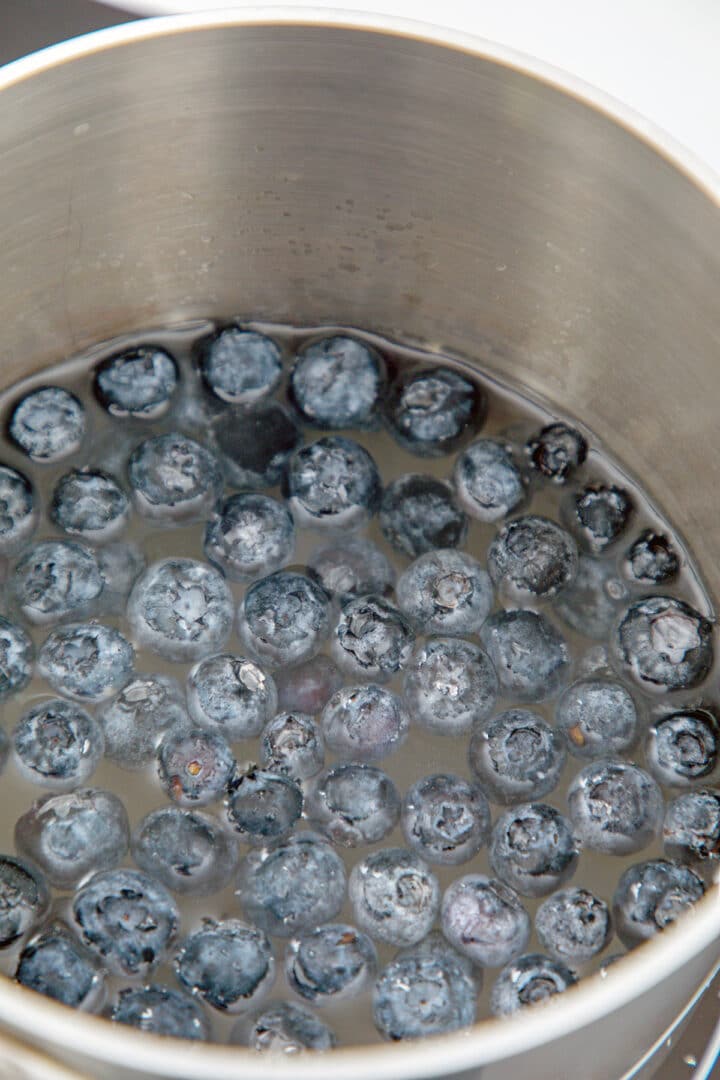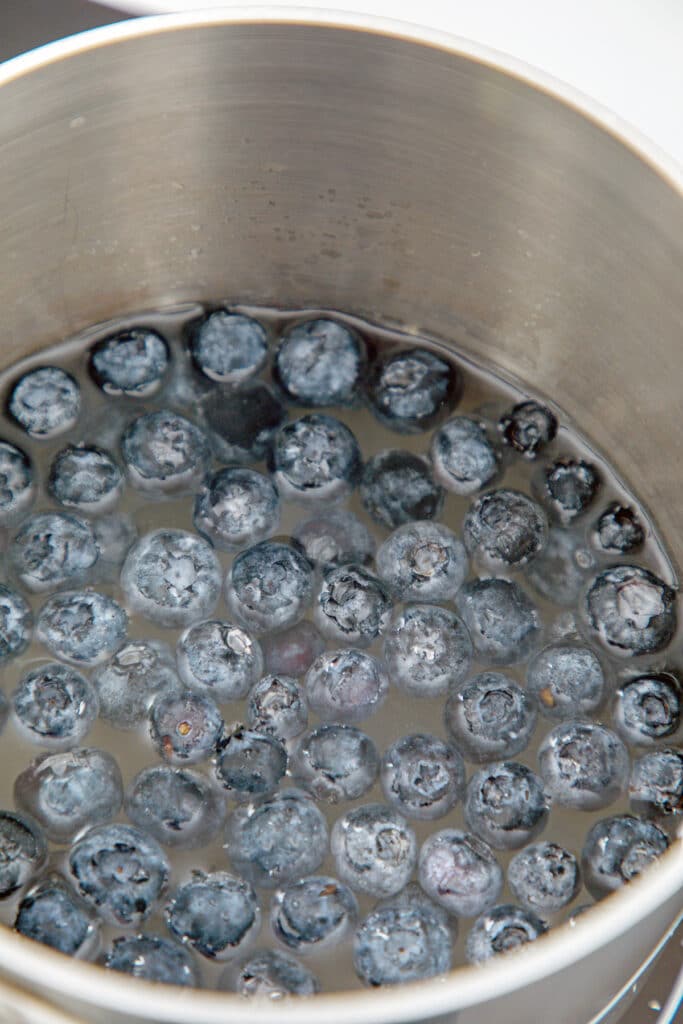 Once mixture is boiling, lower to a simmer and let simmer for 10-15 minutes, until blueberries have burst and mixture has thickened into a syrup.
I think blueberries bursting is one of the prettiest sights!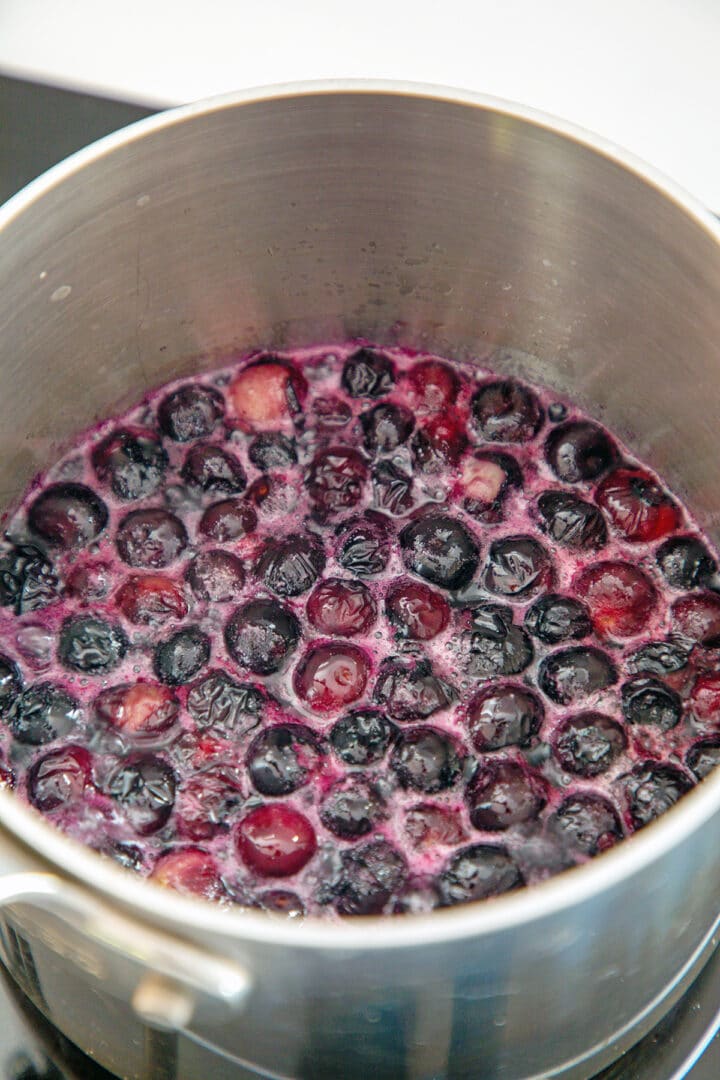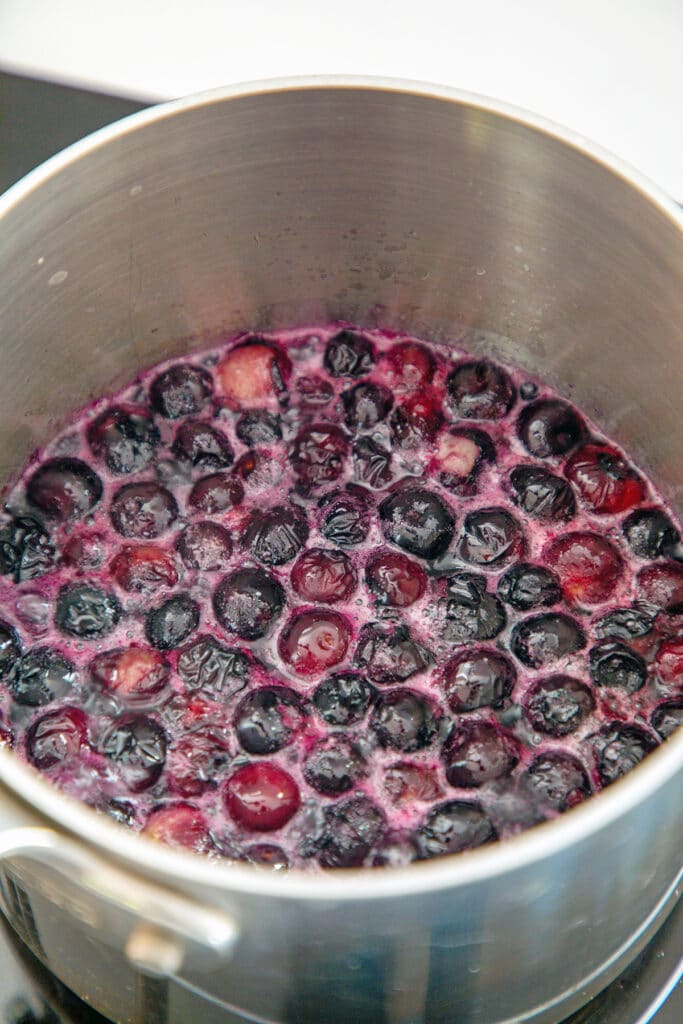 Now, place a fine mesh strainer over a heat-proof bowl and pour syrup into it to strain blueberries out.
Make sure you press down on the blueberries with a wooden spoon to extract as much liquid as possible.
You can dispose of the blueberry mash, but to be quite honest, it's really, really good and makes a lovely ice cream topping! I may also eat it right out of the strainer sometimes.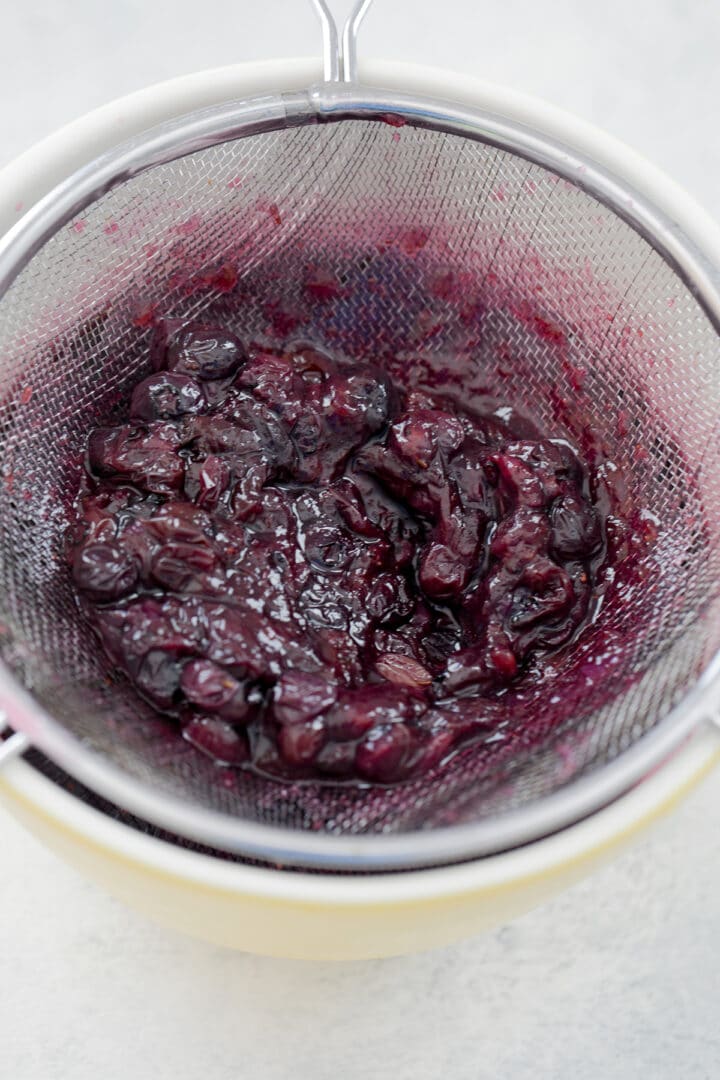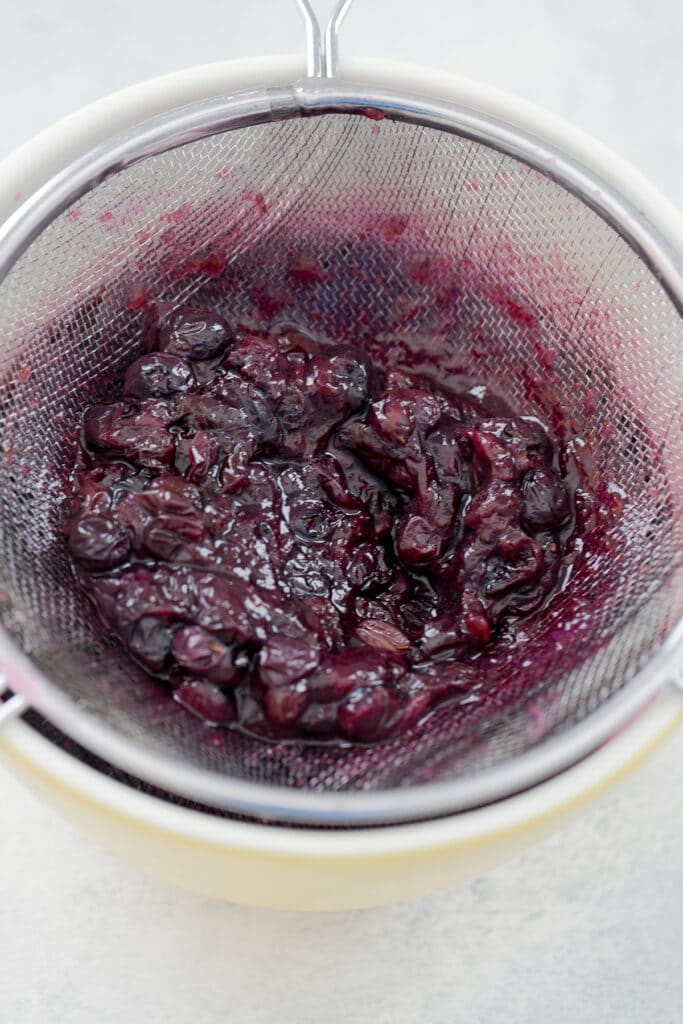 You can either keep the blueberry simple syrup in the bowl or pour it into a. mason jar. I like to keep my simple syrups in mason jars since they're easy to cover and store in the fridge.
You'll want to pop the syrup in the fridge for at least an hour so it can chill completely.
Look at that gorgeous color! And trust me, it tastes even better... Just like blueberry pie filling!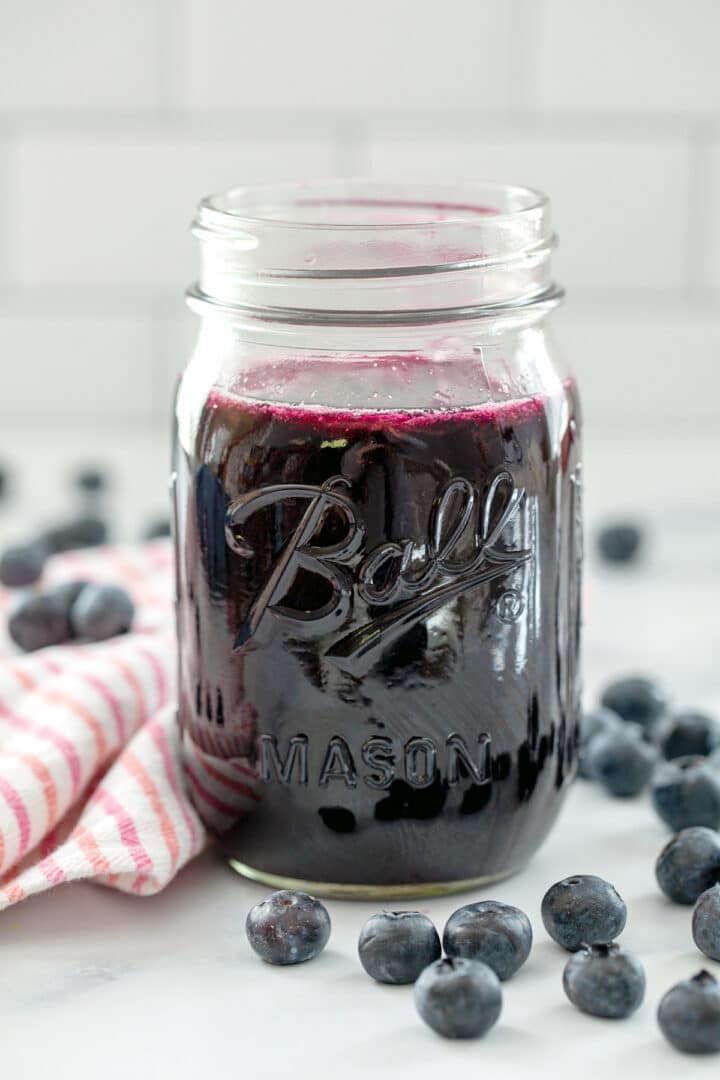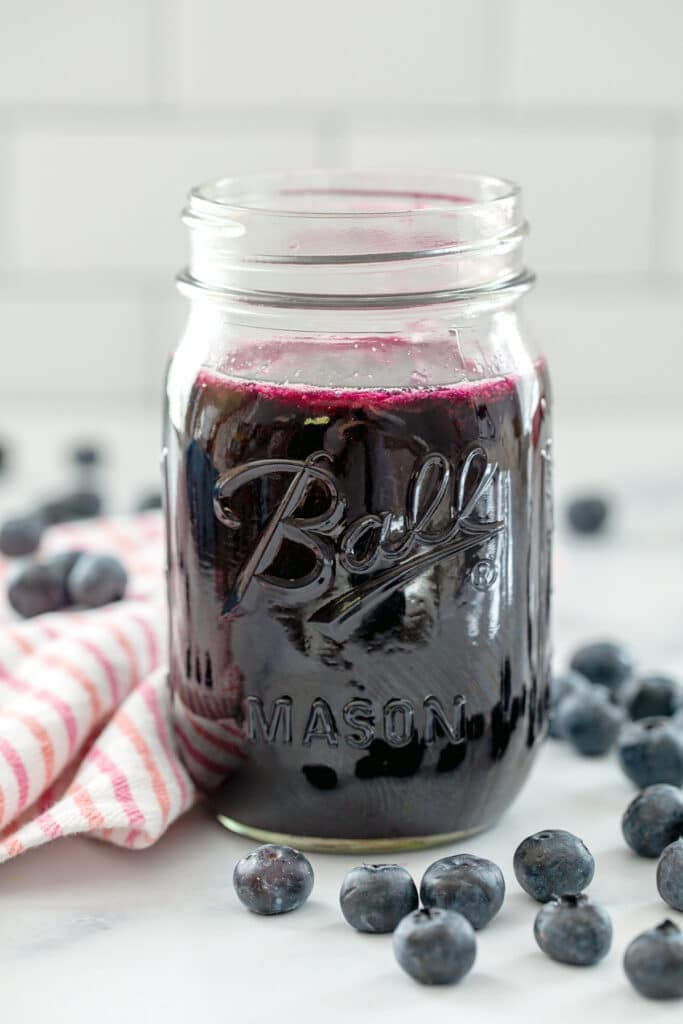 How to Use
Of course, I use blueberry simple syrup mainly for drink making, but there is so much you can do with it! Here are a few of my favorite ways to enjoy it:
Blueberry Vodka Lemonade (this is one of my most popular recipes here on WANM and one I make all summer long every summer!)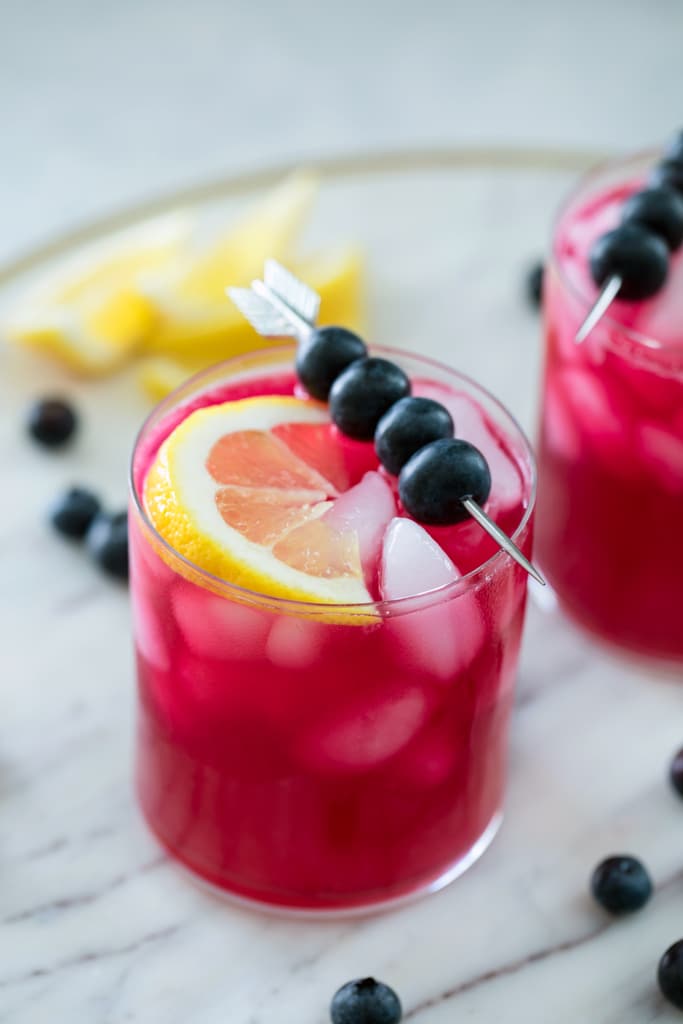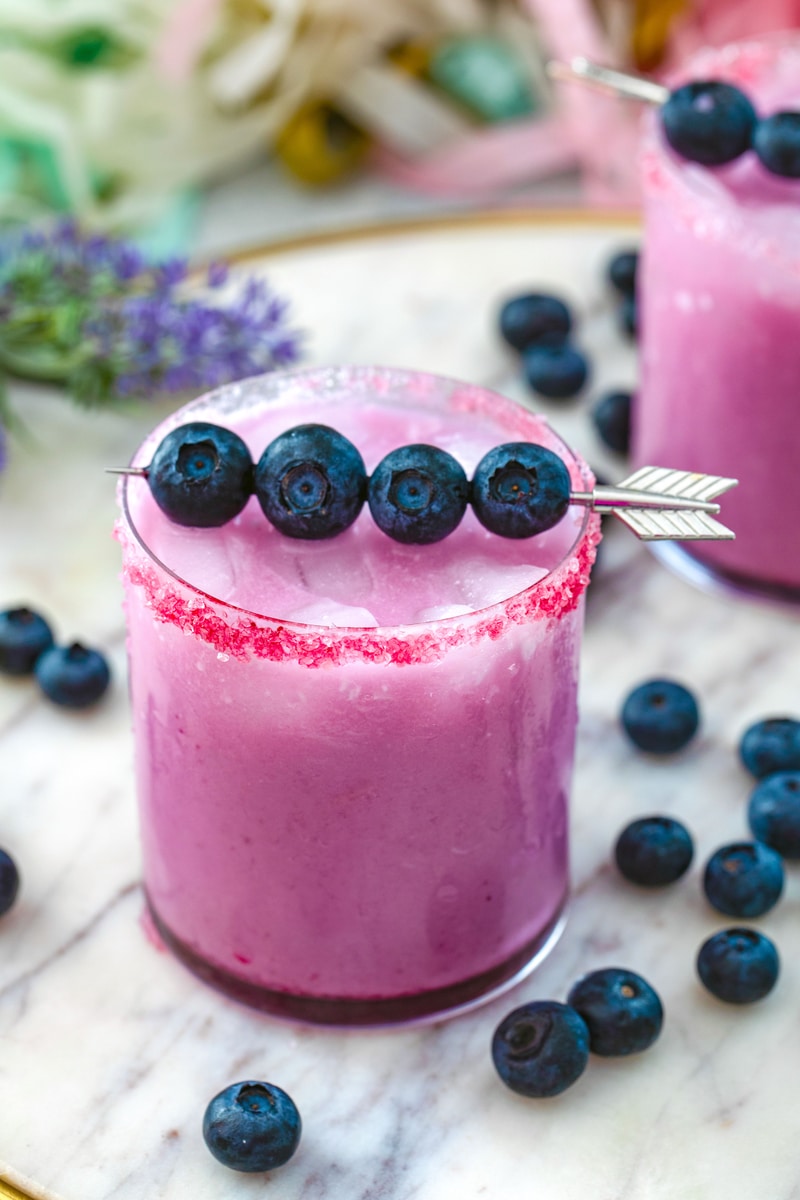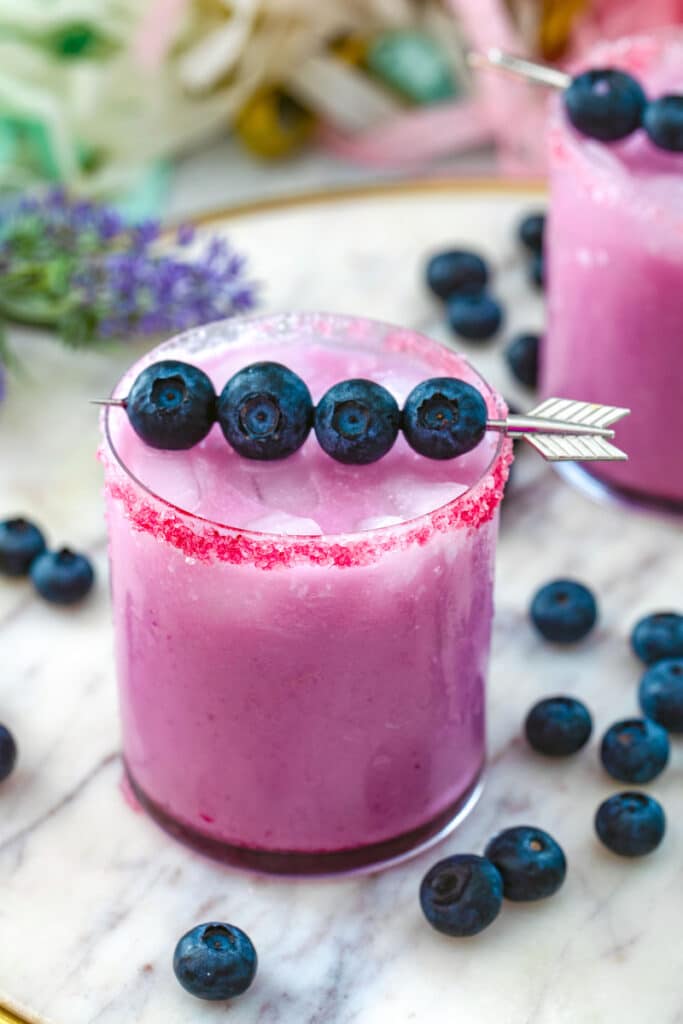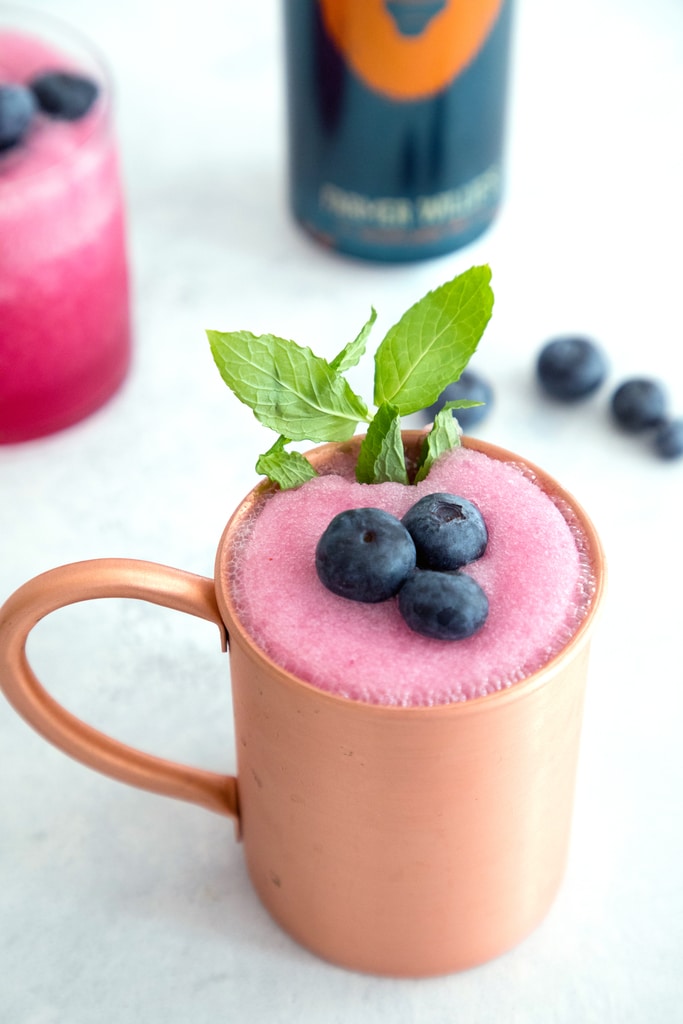 Mocktails: Simply add a little to some sparkling water for a deliciously sweet treat.
Pancake Topping: Drizzle a little over pancakes or waffles instead of maple syrup
Ice Cream Topping: Drizzle over vanilla ice cream for a blueberry pie-like frozen treat.
Meat Marinade: Simple syrup makes a yummy marinade for all kinds of meat. Blueberry would be especially good with pork.
Cake Moistener: Lots of people brush simple syrup on cakes after they cool to make cakes extra moist. Flavored simple syrup will also add flavor to the cake and blueberry would be delicious on a vanilla or lemon cake.
As you can see, once you have a jar of blueberry simple syrup in your fridge, you'll have plenty of options for using it up... Luckily it's easy to make more!
How to Make More
This recipe makes about 1 ¾ cups of simple syrup. But if you're planning to use the simple syrup in a big batch cocktail or just know you're going to go through it quickly, you may want to make more of it.
Luckily, it's easy! Simple double the ingredients and use the same method for cooking. If you want 3 ½ cups blueberry simple syrup, you'll need 2 cups water, 2 cups sugar, and 2 cups fresh blueberries.
I recommend storing bigger batches in a large mason jar, like a 32 oz one.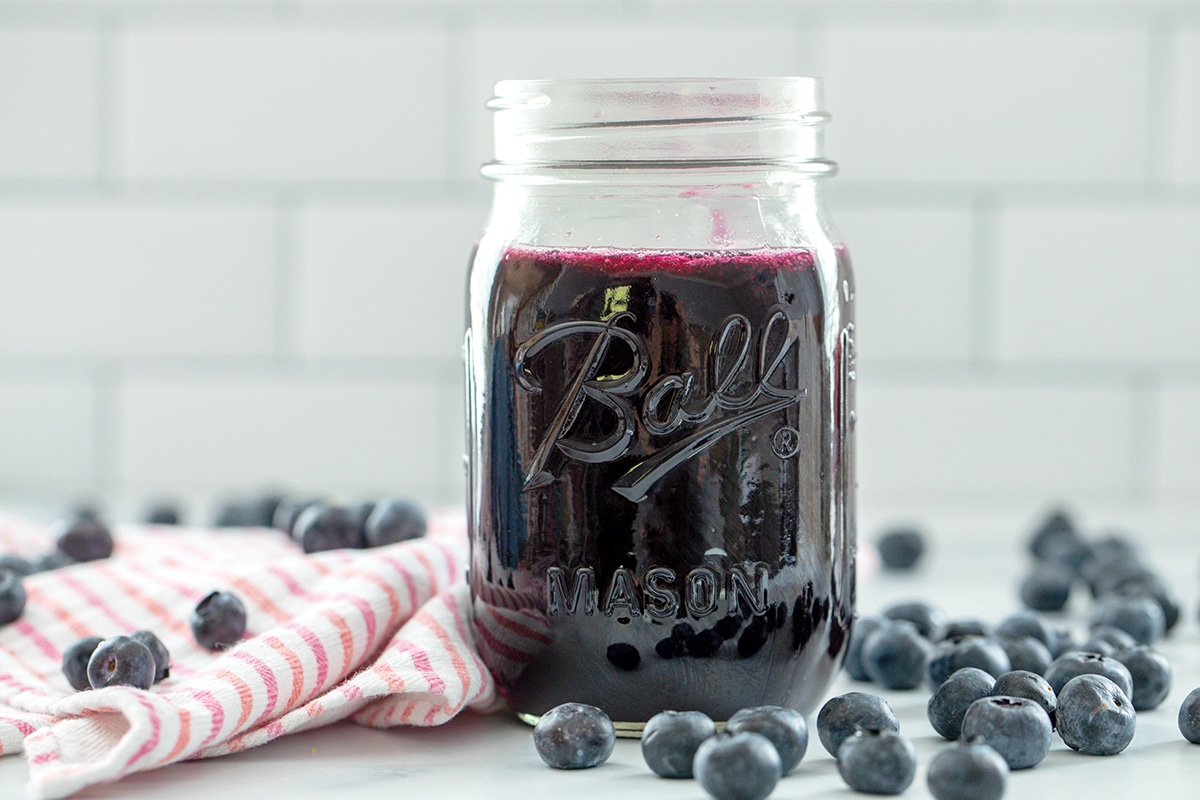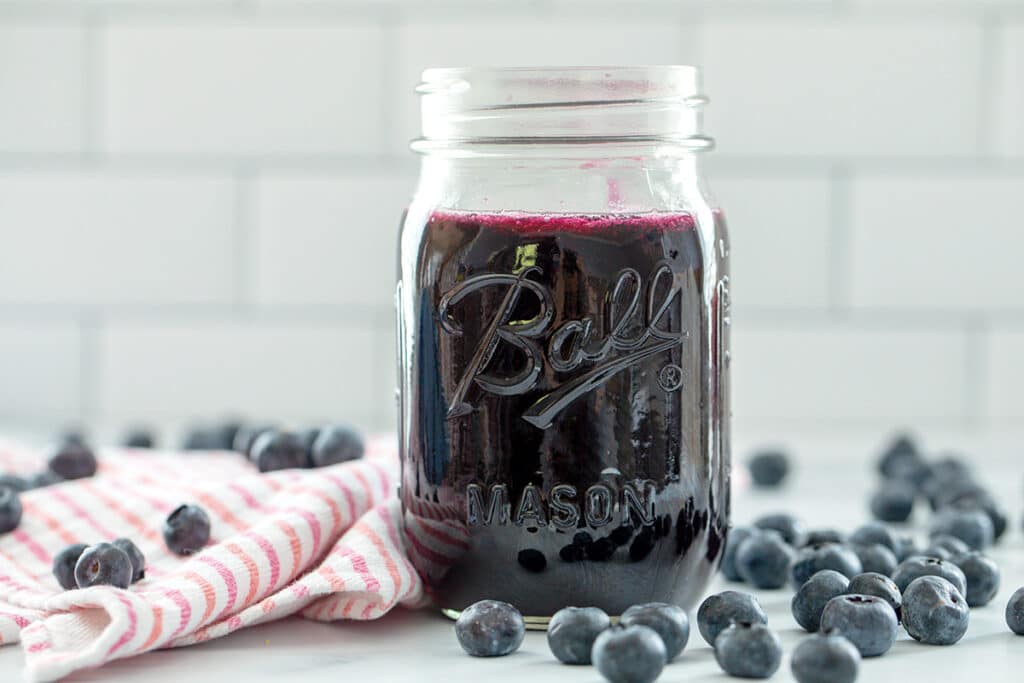 How to Store
Be sure to store your simple syrup in a airtight container and keep it in the fridge.
This syrup will stay good in the fridge for about a month... If it lasts that long!
Where to Buy
If you aren't in the mood to make your own or you can't find fresh blueberries, you can also purchase blueberry simple syrup from the store. Here are some of the best options:
Of course, I always think homemade is best! Especially since my recipe is made with just 3 ingredients and no preservatives or artificial flavors.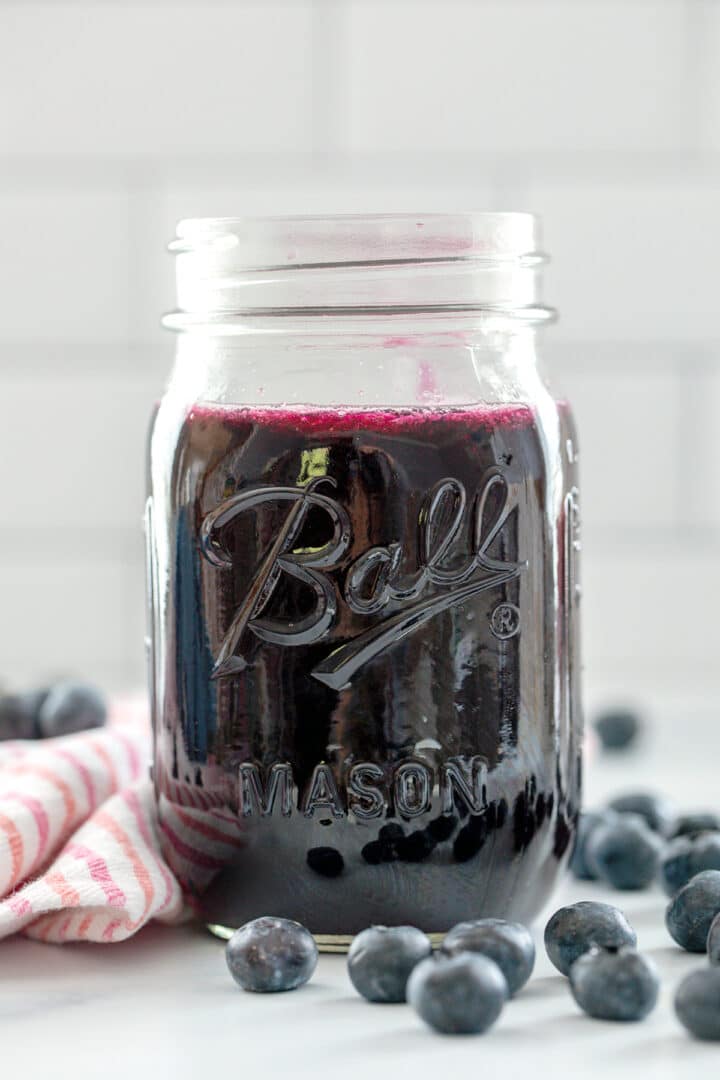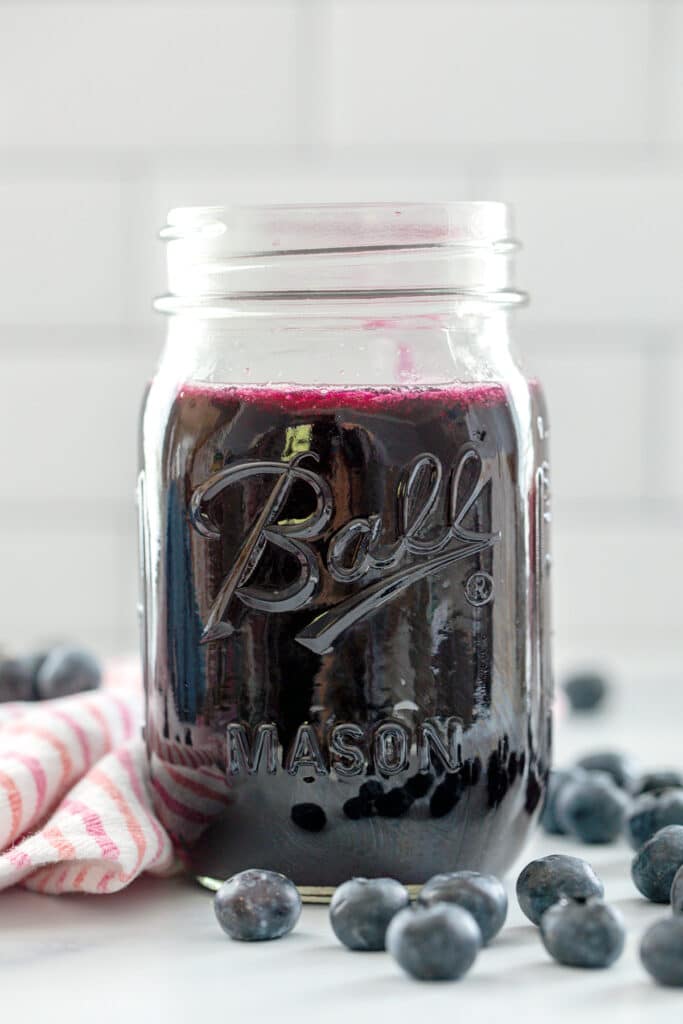 More Simple Syrup Flavors
The flavor options for simple syrups are seriously endless and I love experimenting to develop new ones. I have multiple jars in my fridge at all times, which means instant craft cocktail options whenever I desire them!
Here are some of my other favorite flavored simple syrups.
What would you use this blueberry simple syrup for?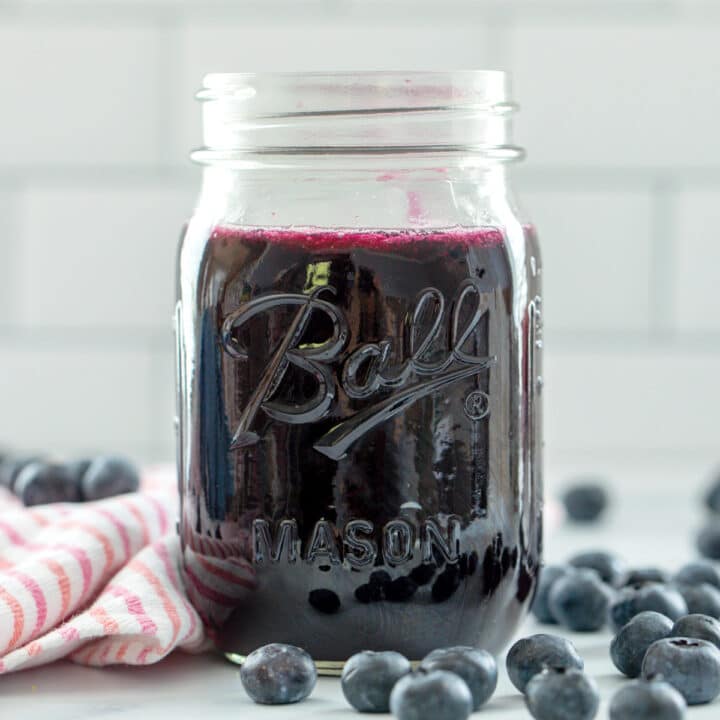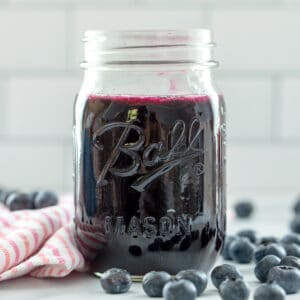 Ingredients
1

cup

water

1

cup

granulated sugar

1

cup

fresh blueberries
Instructions
Put sugar, water, and blueberries in a medium-size saucepan and bring mixture to a boil. Once boiling, lower heat and let simmer for about 10-15 minutes, until blueberries have burst and mixture has thickened.

Strain mixture into a bowl, being sure to press down on the berries to extract as much juice as possible. Keep syrup in bowl or pour into a mason jar and place in fridge to cool completely before using.
Share a Photo of Your Finished Recipe!
Mention @wearenotmartha and share a photo if you've made the recipe!
View Web Story for this recipe