Who isn't a Jamie Oliver fan, right? Well, if you're not for some crazy reason, I promise you will be after you see this recipe. In case you haven't noticed, I make quite a lot of risotto. It's one of my all-time favorite foods for many reasons: 1) There are SO many things you can do with it and an incredible amount of different ways you can make it, 2) It makes an awesome one-dish meal, and 3) It can last you all week. I feel like I make it too often, so lately I've been trying to avoid it. But it always seems to find me and taunt me, basically begging me to make it. I saw Jamie's website. And hard as I tried, I could not resist.
Hello, just look at the name: Apple and Walnut Risotto with Gorgonzola. Plus, there's goat cheese in it. That's like a quadruple yum right there. Unfortunately, I am an idiot and failed to buy walnuts, so I made the risotto with cashews, but am sure walnuts would be much, much better.
What you'll need:
Basic risotto recipe (Martha's is easiest)
Parmesan cheese, 1-2 small handfuls
Gorgonzola, 7 oz.
Goat cheese, 3 ½ oz.
2 Crunchy eating apples, tossed in lemon
Marjoram, small bunch
Walnuts, handful
Extra virgin olive oil
Salt and pepper
You basically start by making a typical risotto. I used to follow a strict recipe, now I just kind of make it up because I've realized it's not too difficult to make a good one. First I cook my onions in some oil until they're translucent and then I put about 1 ½ cups of risotto in the pot for about a minute. I throw in some white wine and then pour in a cup of chicken stock at a time, wait for it to dissolve, and then add another. I do this until it's all dissolved and the risotto is nice and fluffy. But if you feel more comfortable following a recipe, check Jamie's basic risotto recipe out (he has a whole section on his website for risotto!). And I love how he says, "knobs of butter." So cute! If you prefer the more straightforward, American measurements, Martha's risotto recipe is pretty perfect and fool-proof!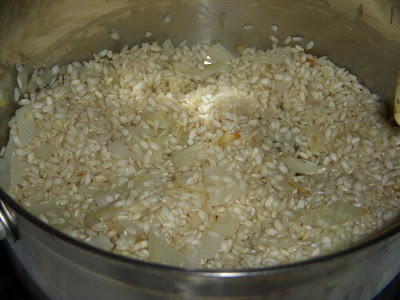 While my risotto was cooking up (be sure to stir it lots!), I got going on grating some parmesan cheese. Check out my amazing parmesan cheese graters/Tupperware containers that I scored at Ikea a couple years ago for my ex boyfriend and then subsequently lost. I just found them in the back of my closet and am so happy to have them for myself! Best idea ever. And only $5.99 for two of them!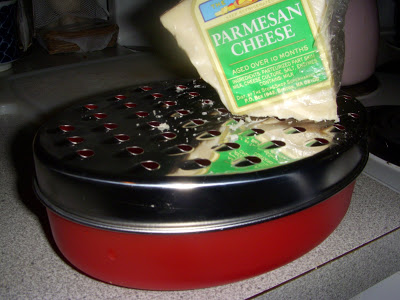 I also chopped up my apples, though I failed to squeeze lemon juice on them, so they began turning a bit brown.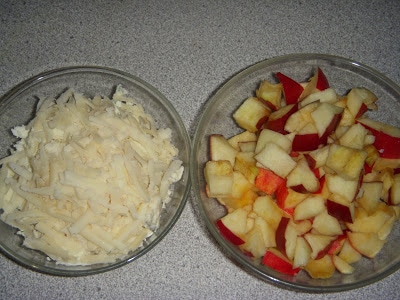 And then I was ready to throw everything to the risotto. I put in a knob of butter (haha, really it was a ½ tablespoon) and then added in the cheeses: parmesan, goat, and gorgonzola. I also put the marjoram and apple.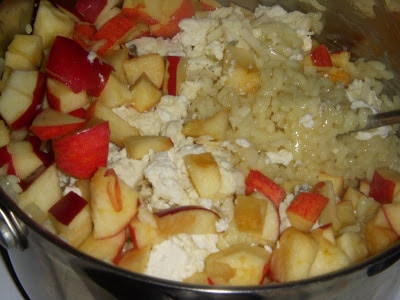 Season with salt and pepper and stir it up.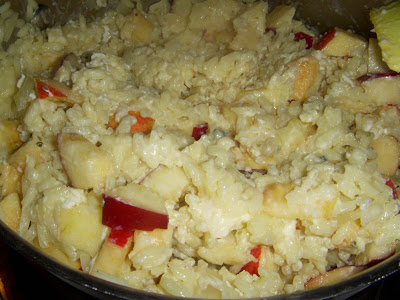 Serve it and put your toasted walnuts on top. See, the cashews don't look quite as pretty.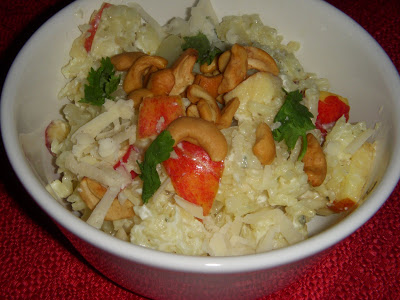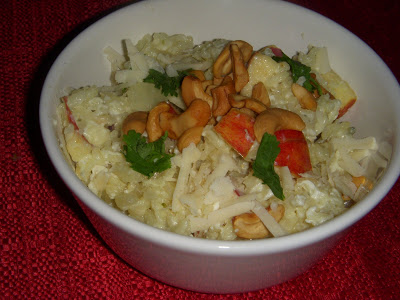 This is one of my favorite risottos yet and absolutely perfect for fall. The cheeses all compliment each other so well and combining parm, goat cheese, and gorgonzola is pretty much heaven. Throw some feta in there and maybe some brie and I'm happy for life. The apples add the perfect crunch and seasonal touch. You'll want to eat the whole pot, but you should probably try not to. That's a lotta cheese. Thank you, Naked Chef.