These Cheddar Cups with Avocado Feta Mousse are the best ever party appetizer. They look fancy, but are incredibly simple. The cheese cups require just one ingredient and the entire appetizer is so easy to put together!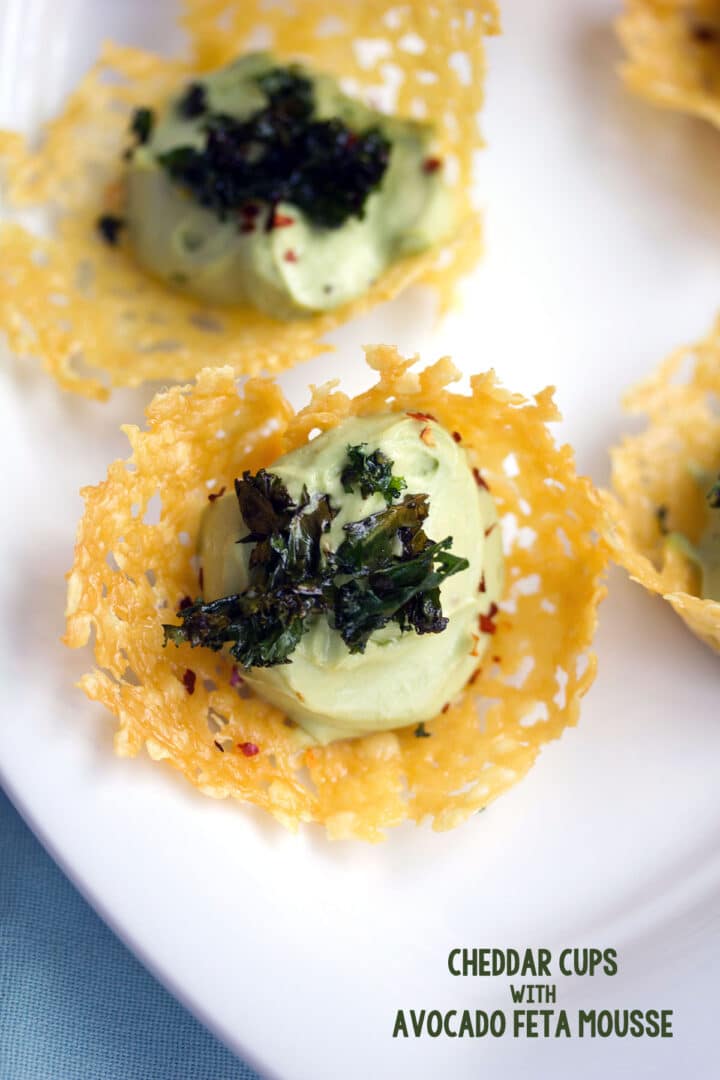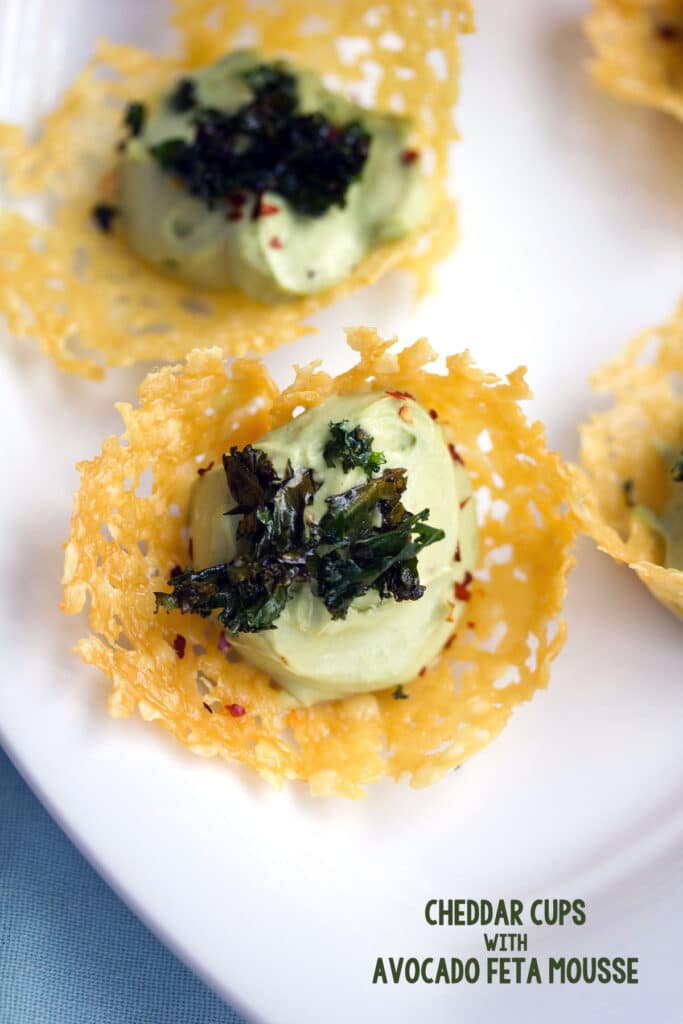 This weekend, I thought my house was blowing up. Legitimately. Somehow, a transformer exploded across the street from us and the explosion occurred just as I was turning off a light in my house.
I heard a huge boom, saw super bright colorful flashes of light, and felt the house shake. "OMG did I blow up our house?!?!" I frantically yelled to Chris as I tried to determine the quickest way out.
But when we opened the door, we realized it happened across the street and there was a small fire on the electric wires and another on the ground. And a neighbor who claims she saw three large turkeys roosting on top of the wires the night before.
Huh. This is seriously concerning, right? Turkeys allegedly setting fires in my neighborhood and attempting to destroy homes. Yikes.
Needless to say, I required a glass of wine and lots of cheese that evening.
And now I'm here to blog about more cheese. LOTS of cheese. But better than that. This is an appetizer that contains all of my favorite things in one glorious little bite. Is this what heaven is like? I hope so.
They're Cheddar Cups with Avocado Feta Mousse and they make a pretty ideal app. Plus, they have baked kale on top.
Why You'll Love This Recipe
My husband has an obsession with parmesan crisps; the ones they make at the French Laundry. But more specifically, the ones from the French Laundry that our friend Jeff makes at every one of his and Kyle's wine parties.
Sometimes it's a total embarrassment because Chris eats the entire platter of them within the first hour of the party. I'm pretty sure they have taken to hiding extras, so that Chris can't find them.
I started wondering if I could do the same type of thing with cheddar cheese... And you can!
Instead of just crisps, I decided to make cups and then I filled them with an avocado feta mousse. Because yum.
This party appetizer looks really fancy... But it's actually super easy to make! You can make the cheddar cups earlier in the day and then fill them with the avocado feta mousse right before your guests arrive or before you leave for the party.
Ingredients
The ingredients for this appetizer are quite simple. In fact, the cheddar cups just have ONE ingredient! Here's everything you need for the filled cups.
Cheddar Cups:
Shredded cheddar cheese (I recommend buying a block of cheese and shredding it yourself. I also recommend a sharp cheddar!)
Avocado Feta Mousse:
Avocados
Crumbled feta cheese
Lime juice
Milk
Black pepper
Crispy Kale:
Kale
Olive oil
Red pepper flakes
Salt
How to Make Cheddar Cups
My favorite thing about this appetizer is that it's very impressive, but also very easy. The cheddar cups seem complicated, but even they're quite simple.
To start, take your shredded cheddar cheese and make little circular mounds of on a parchment or Silpat-lined baking sheet. Make sure they're spaced at least an inch apart.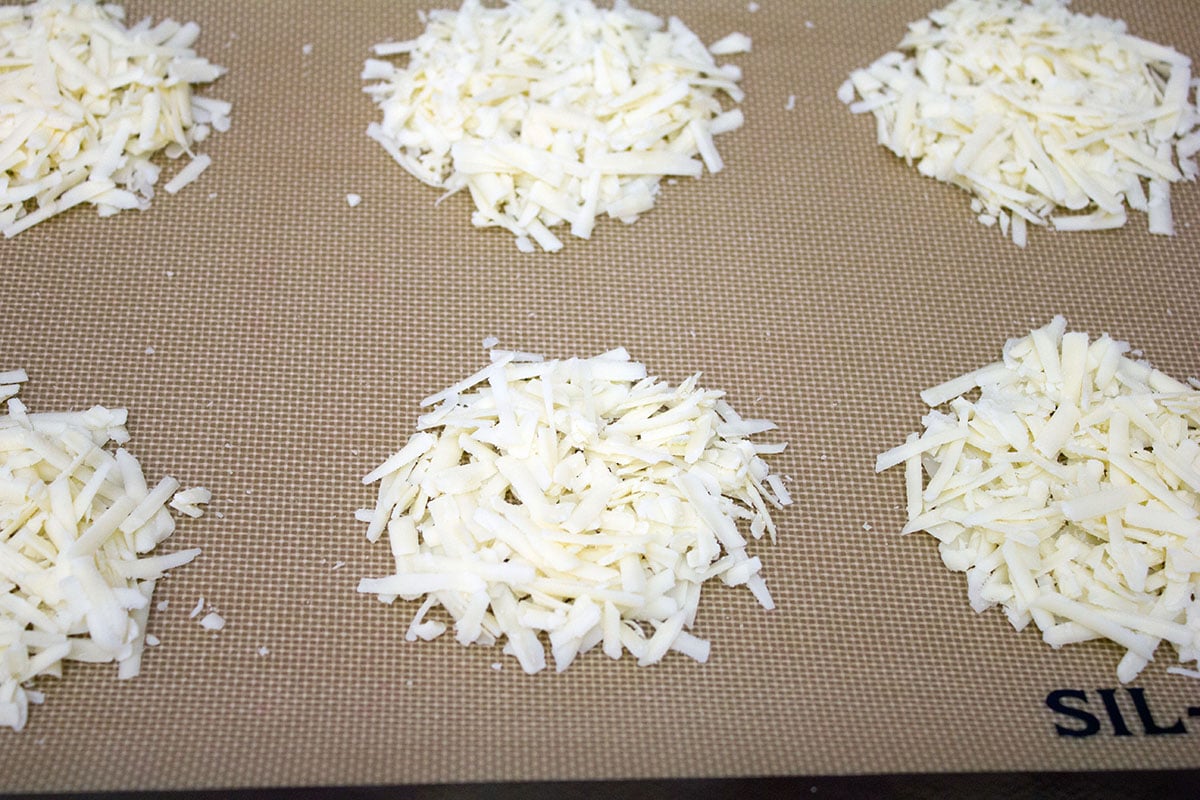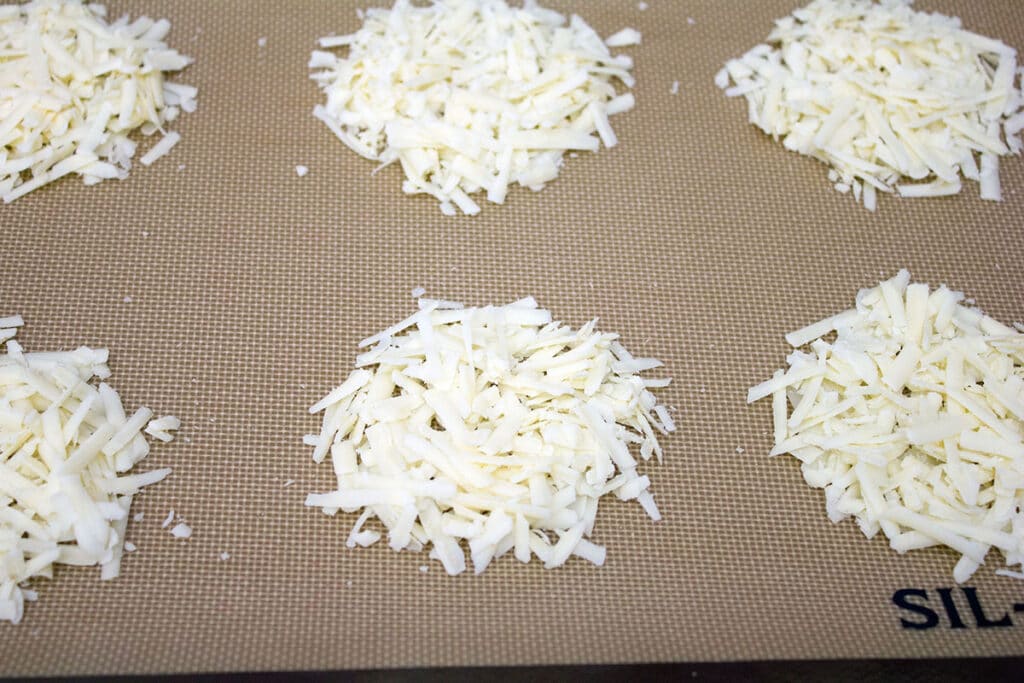 Then bake them at 350 degrees for about 8-10 minutes, until cheddar is flattening out and turning golden.
Now you have cheddar flats!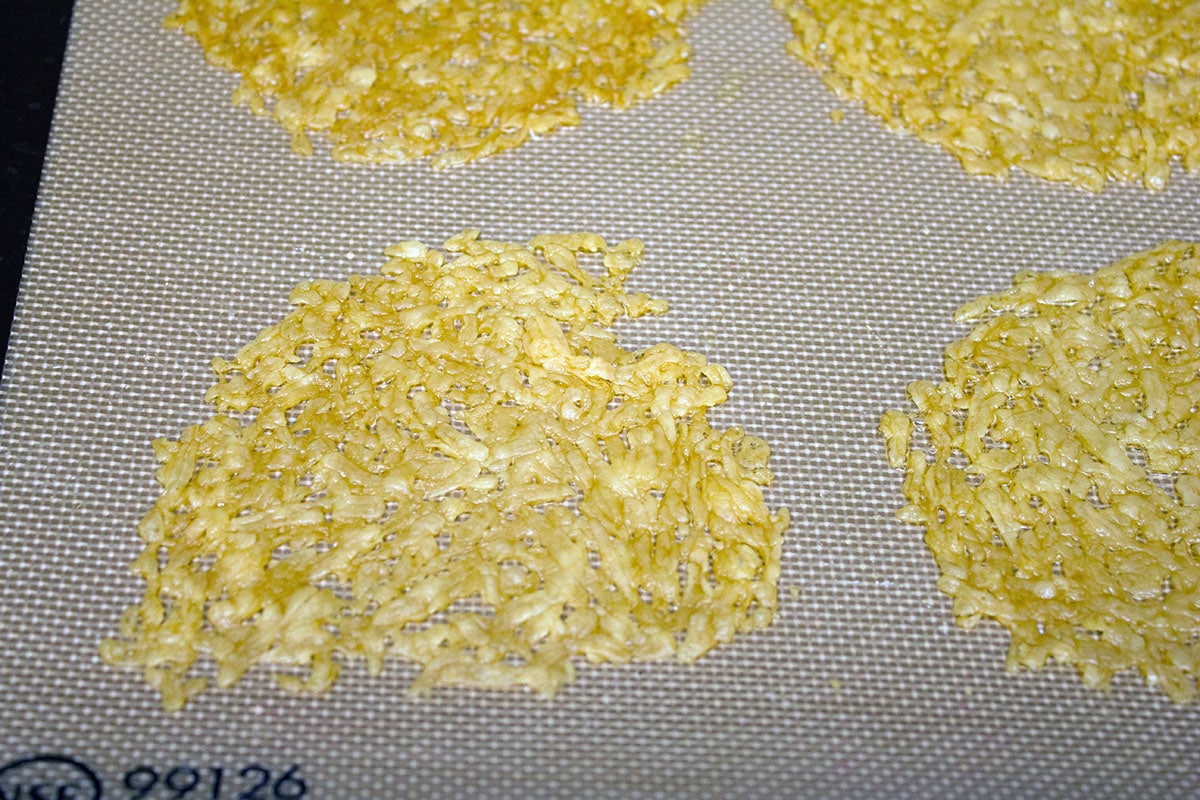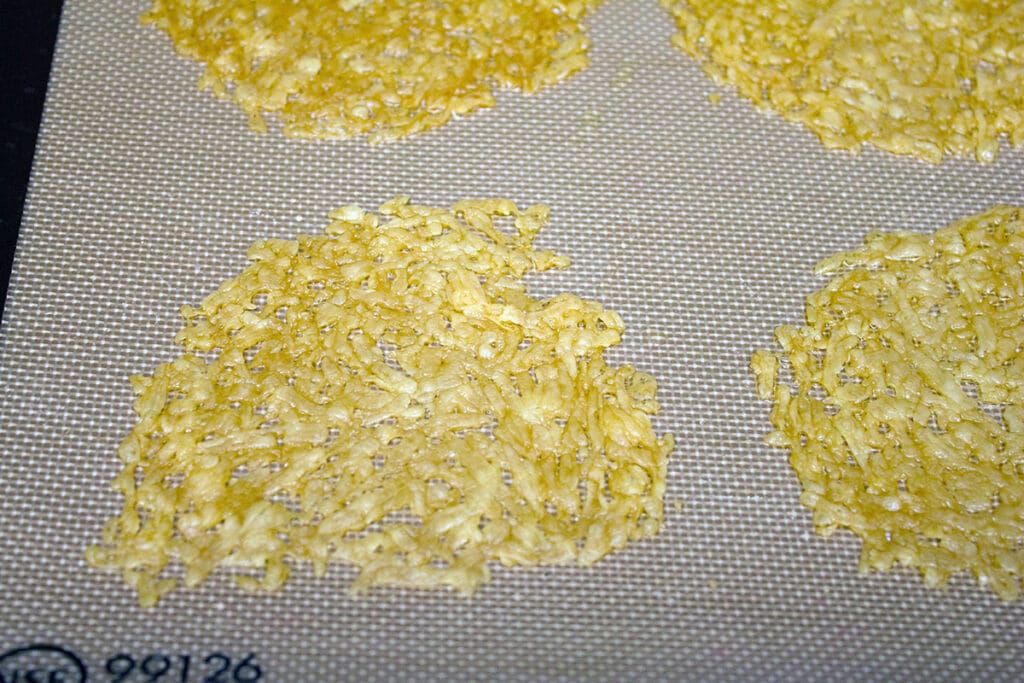 Let the rounds sit for 30-60 seconds, until you're able to pick them up with a spatula and place them into a muffin tin.
Timing is important now as you don't want the cheese to be too gooey, but you also don't want it to harden before you get it in the tin... And it hardens quickly!
Let the cheese cups cool in the muffin tin before removing.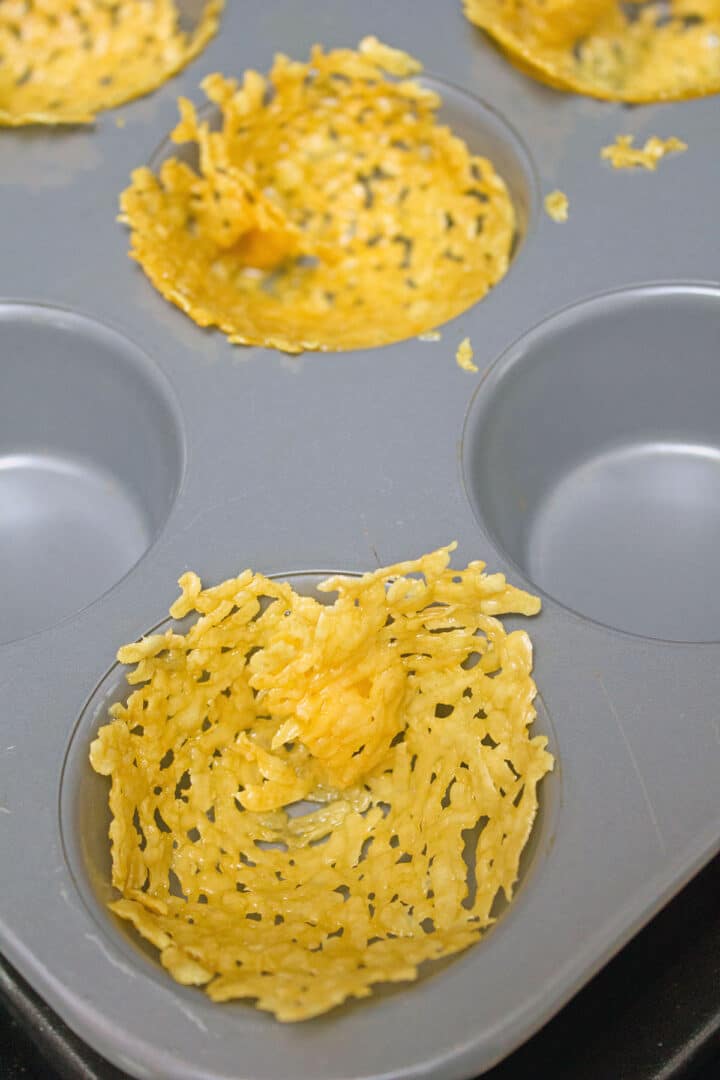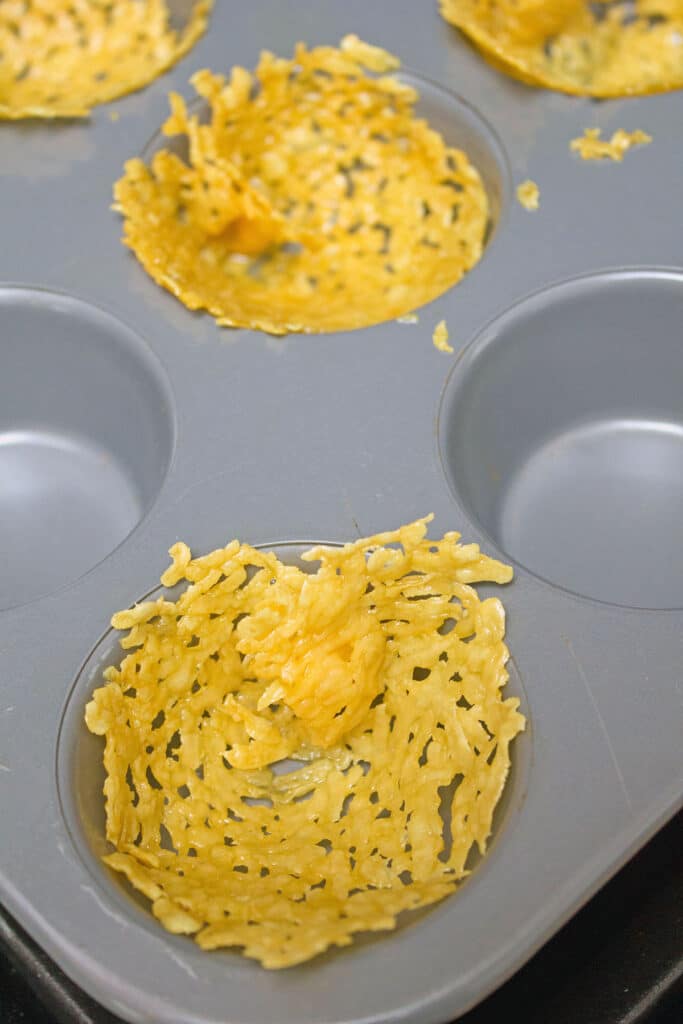 How to Store
These cheese cups are best served fresh, but if you want to make them ahead of time, store them in an airtight container at room temperature with a piece of waxed or parchment paper in between each layer. Do not refrigerate.
And don't fill them with the avocado feta mousse until right before you're ready to serve them.
Tips for Making Cheddar Cups
While these cheese cups are super easy to make, a few tips will help make them even more delicious!
Use cheddar shredded fresh from a block of cheese: This is generally more high-quality and will make for better cups.
Use a sharp cheddar: This will make your cups taste the best!
Timing is key! I don't multi-task when making cheddar cups because I want to make sure I'm focused on getting the melted cheese into the muffin tin at the optimal time (when it's not too gooey, but not yet hardened).
If making cups ahead of time, make sure to wait to fill with avocado mousse and baked kale just before serving. If you think they'll be sitting for a bit, drizzle with some fresh lime juice to keep avocado from browning.
If you love the idea of cheddar cups, but want less work and don't care about presentation, you can simply bake the cheese, let it cool, and eat it as is without forming into cups or filling.
How to Make Avocado Feta Mousse
The avocado mousse filling is about the easiest thing ever!
Just put 2 peeled and pitted avocados, ½ cup crumbled feta cheese, 1 Tbsp freshly squeezed lime juice, 6 Tbsp milk, and ¼ tsp black pepper in a blender or food process.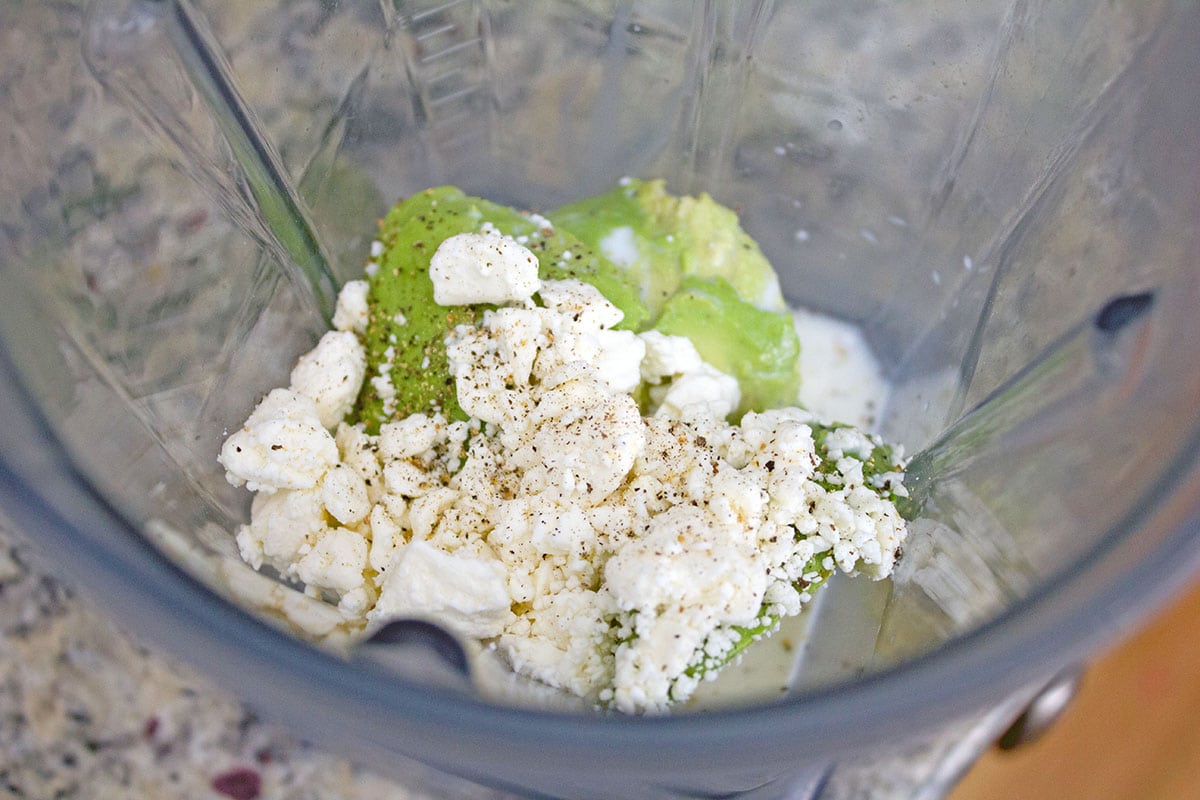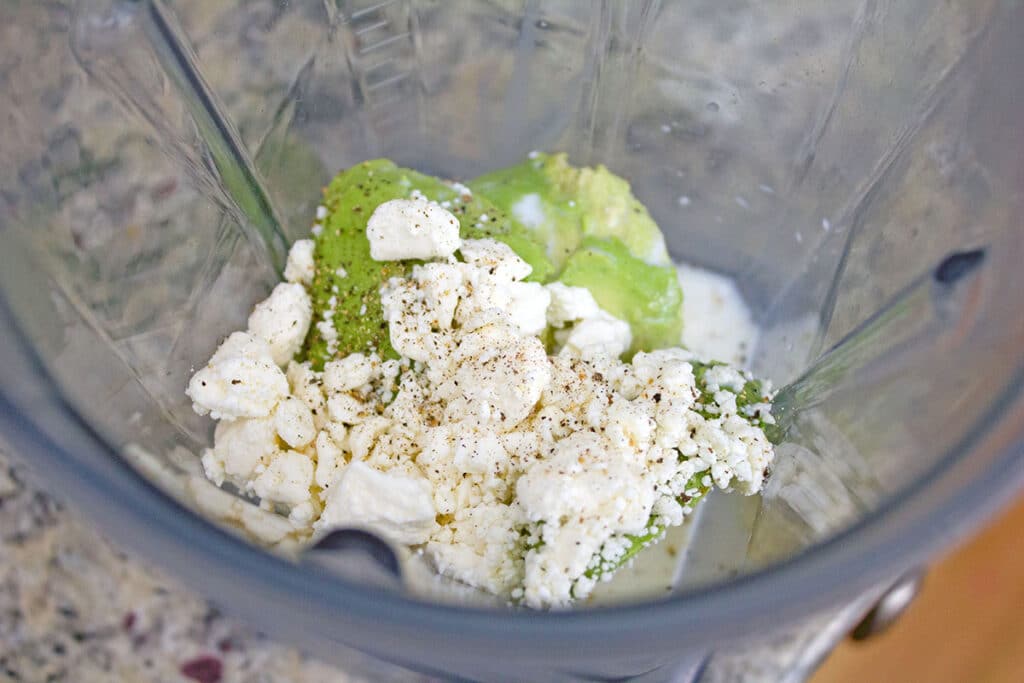 Blend away until smooth and creamy!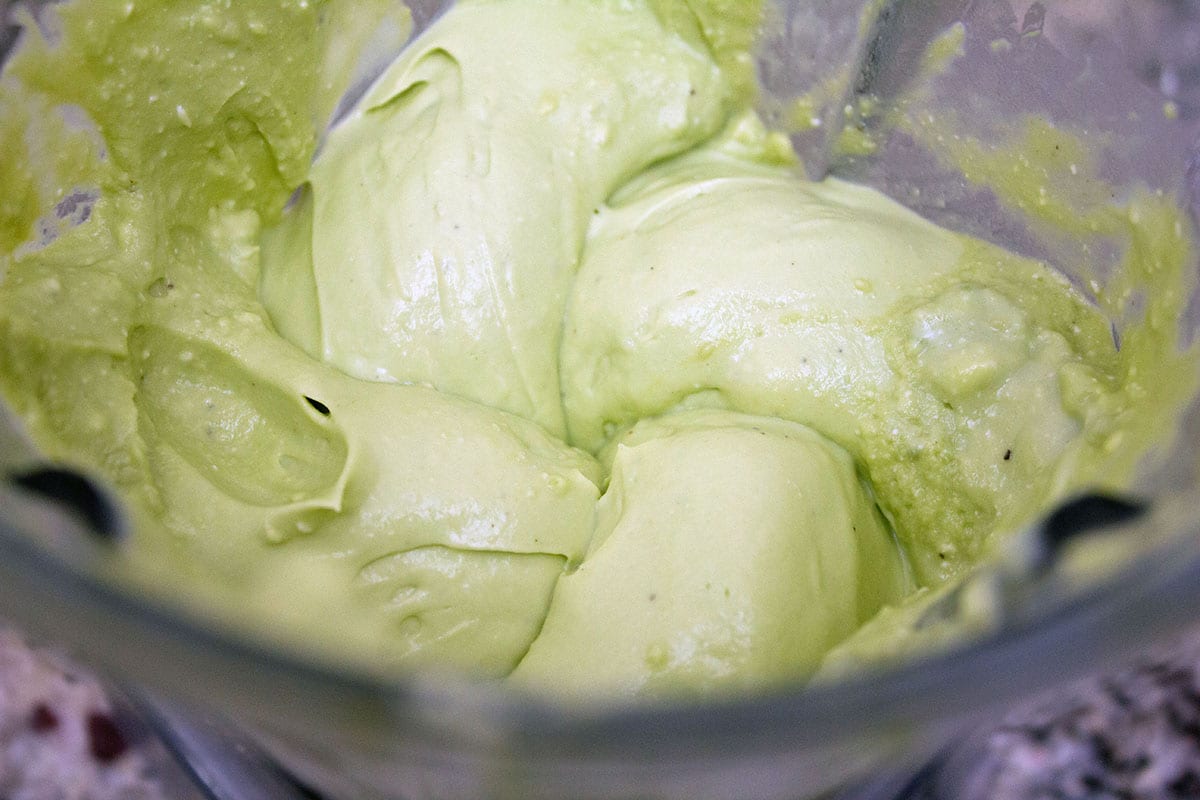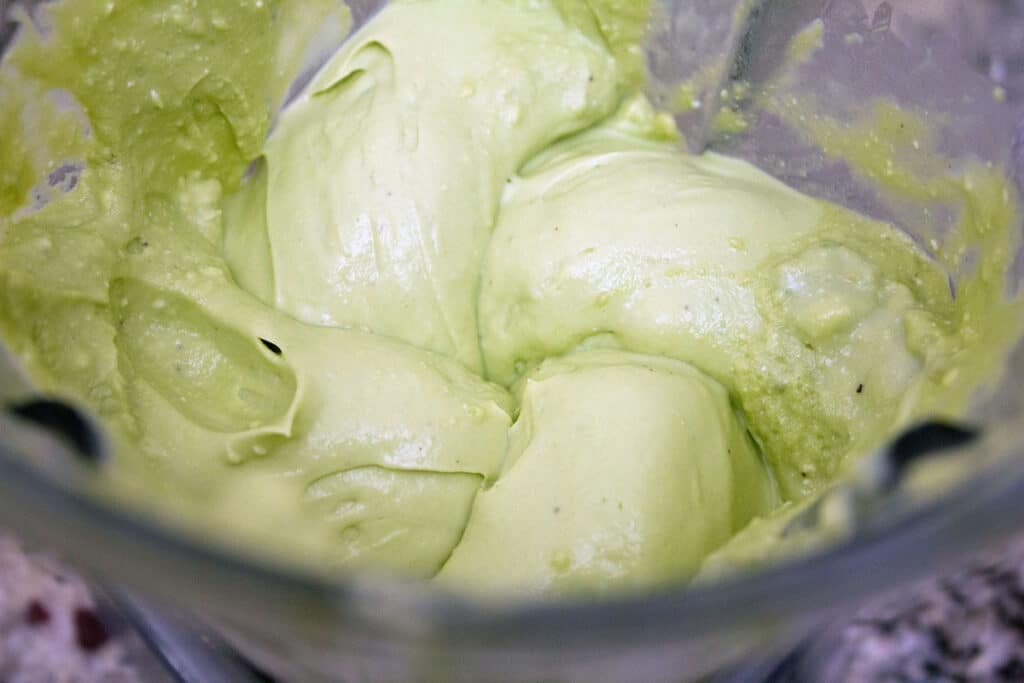 Can I Make the Mousse in Advance?
I recommend making the mousse right before serving, but if you want to make it in advance, put it in a bowl and drizzle lime juice over it. Then cover the bowl in plastic wrap, making sure the plastic wrap is pressed against the top of the mousse.
Give it a good stir before piping it into the cheese cups.
How to Make Baked Kale
Baking the kale is easy, too. Take 2 cups of kale and 1 ½ Tbsp olive oil and mix them together in a bowl with some red pepper flakes and pinch of salt.
Then spread the kale in a single layer on a baking sheet and bake at 350 degrees for about 16-20 minutes, until nice and crispy.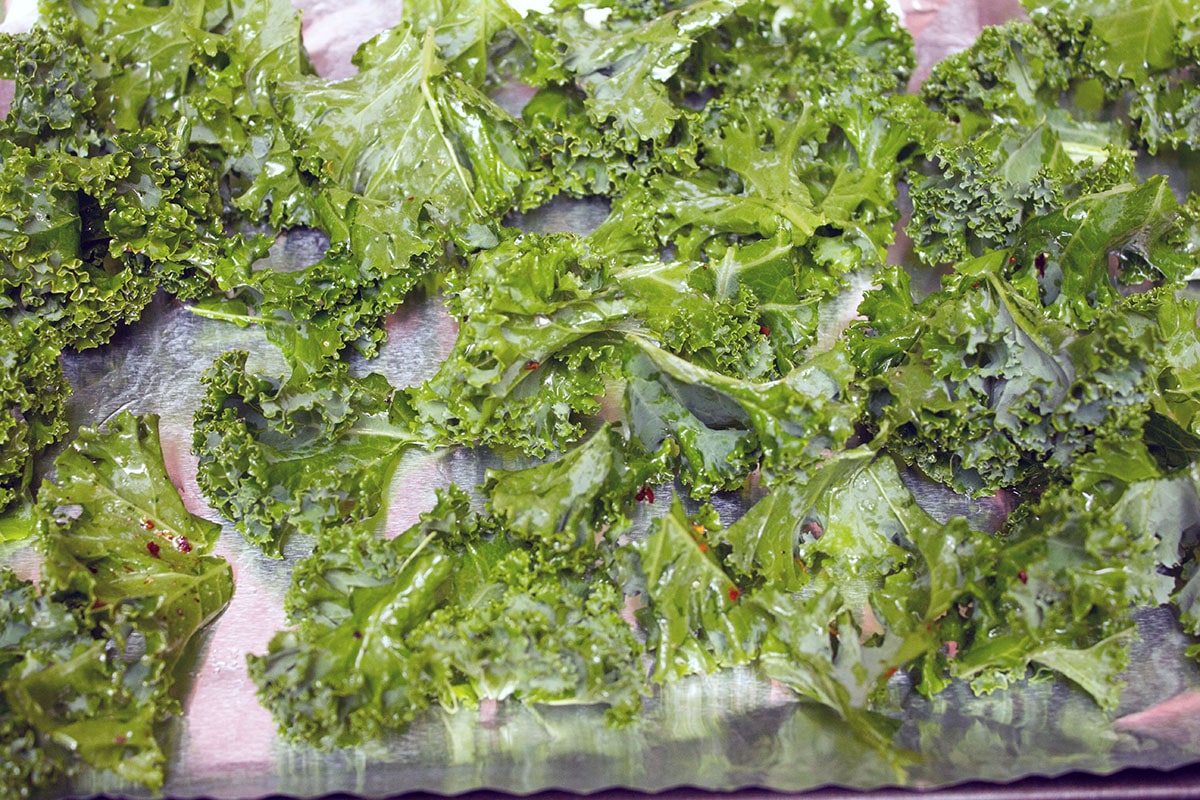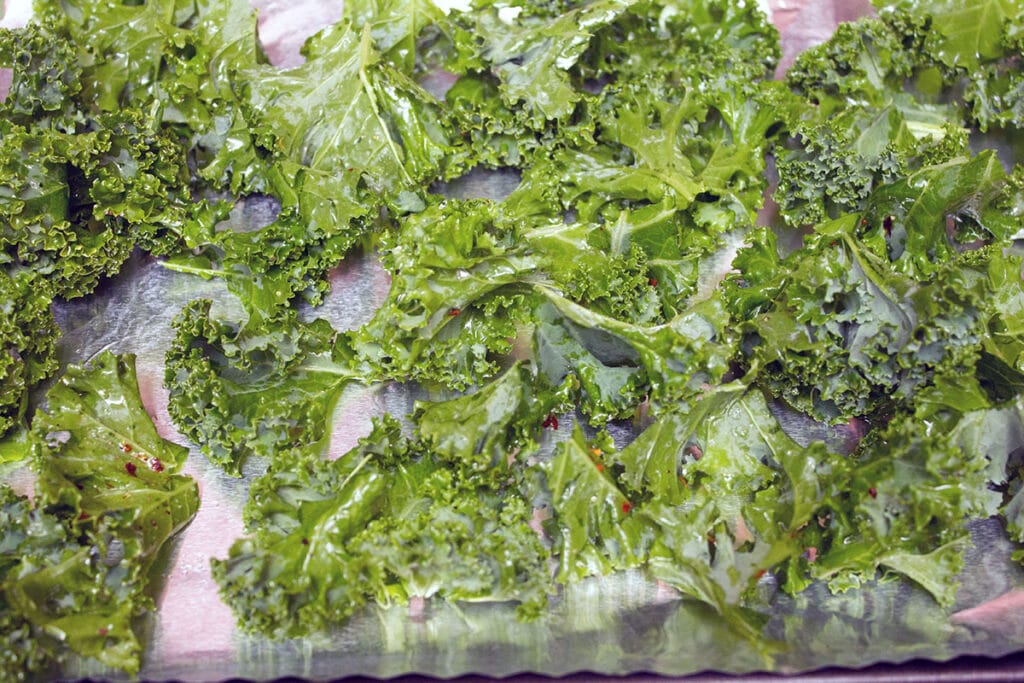 Remove from oven and let cool.
If you prefer to leave the kale off, you certainly can... I recommend topping with a bit of crumbled feta instead!
Can I Make Baked Kale in Advance?
You can make the crispy kale chips in advance. Just make sure they are fully cooled before storing them an airtight container at room temperature. They should keep for 2-3 days.
I've heard that if you add some uncooked rice to the container you're storing them in, they'll last even longer and stay fresher!
Assembling Cheddar Cups
Now all your components are ready and it's time for the assembly. You can either pipe the avocado feta mousse into the cheddar cups or you can simply spoon it in.
Just don't forget to top with the crispy baked kale! I added some more red pepper flakes on top, too.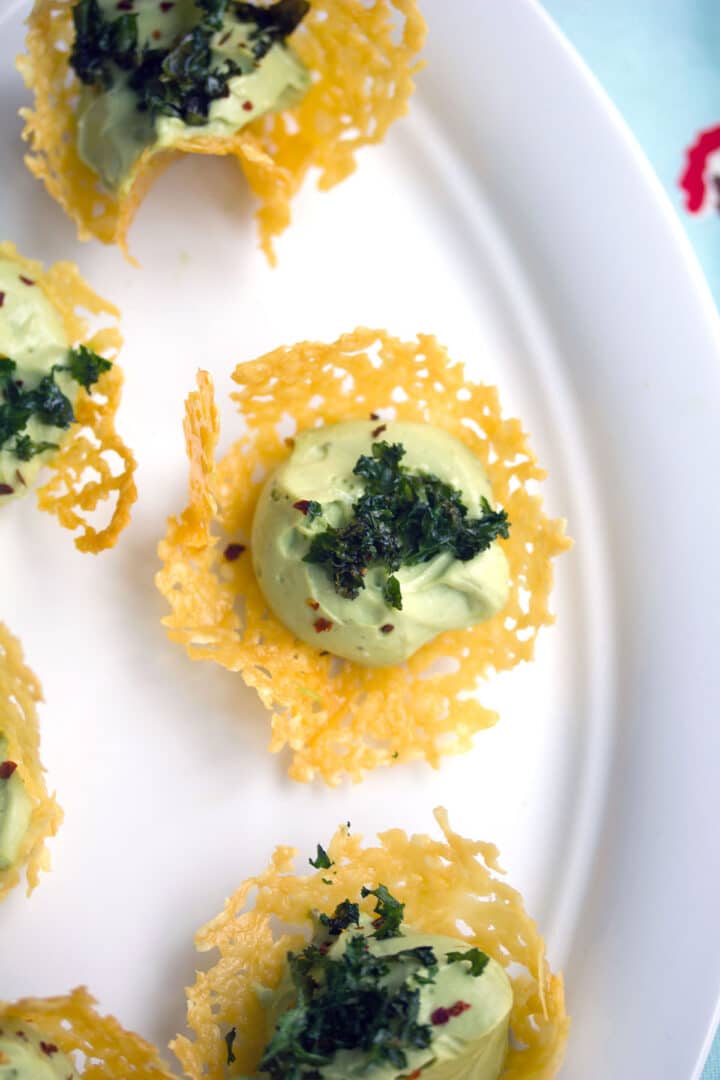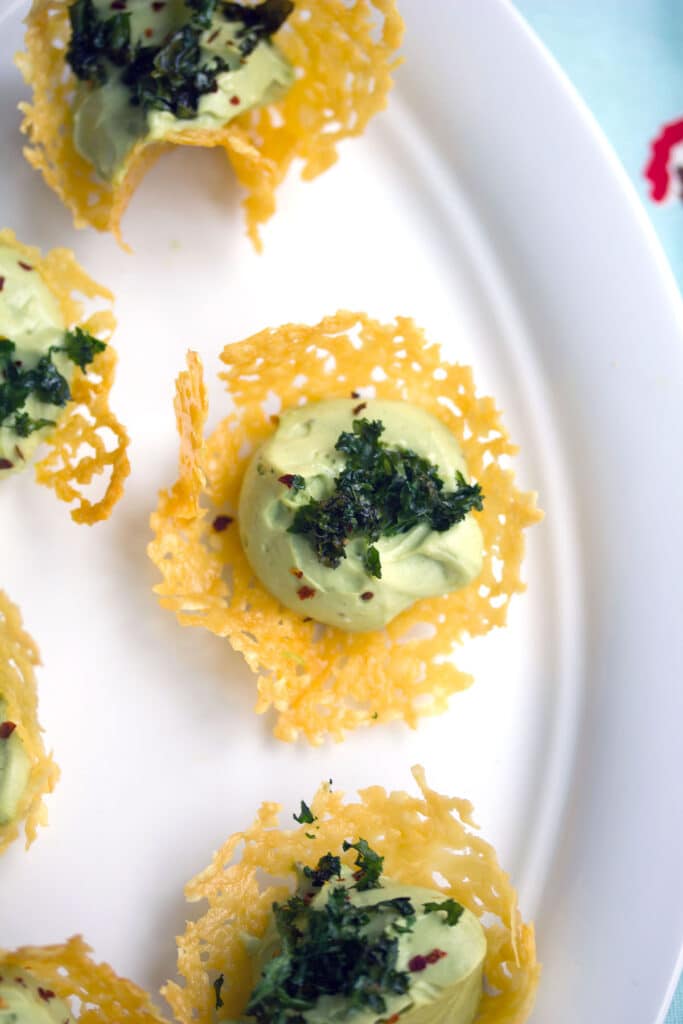 I honestly think that if I could only choose a few foods to live on for the rest of my life, cheese, avocado, and kale would be on the list.
I actually really, really do like kale. I mean, not as much as cheese, but I legitimately Googled, "Is kale addictive" the other day because I think I may have a problem. I crave it so much and eat way too much of it.
I'm chalking that up as a good problem to have, but it's kind of freaking me out. If you don't like kale or think it's just OK, try baking it and eating it crispy style and you may realize you like it more than you think you do!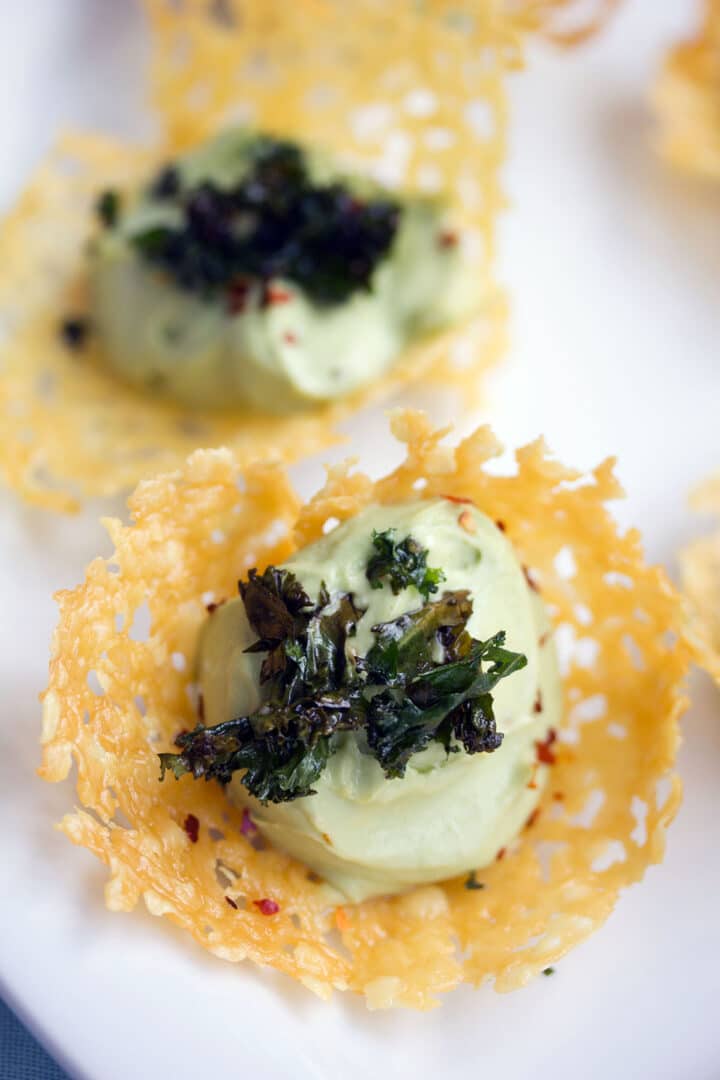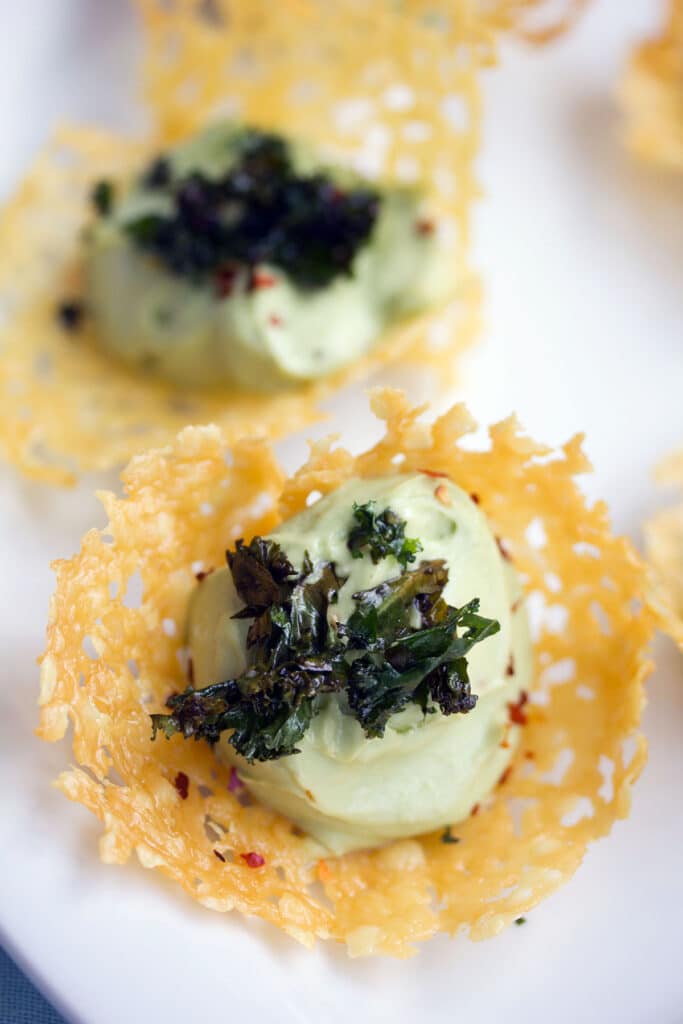 If you're planning to serve these cheddar cups at a party, I seriously recommend making extra because you may have no idea how much cheese you're able to eat until you start eating these.
I also recommending drizzling a little lime juice over the top. While I don't think these apps will be sitting around your party for long, the lime juice will give them a little protection from browning.
More Party Appetizers
If you're looking for more great party appetizers, I've got plenty! Here are some of my favorites: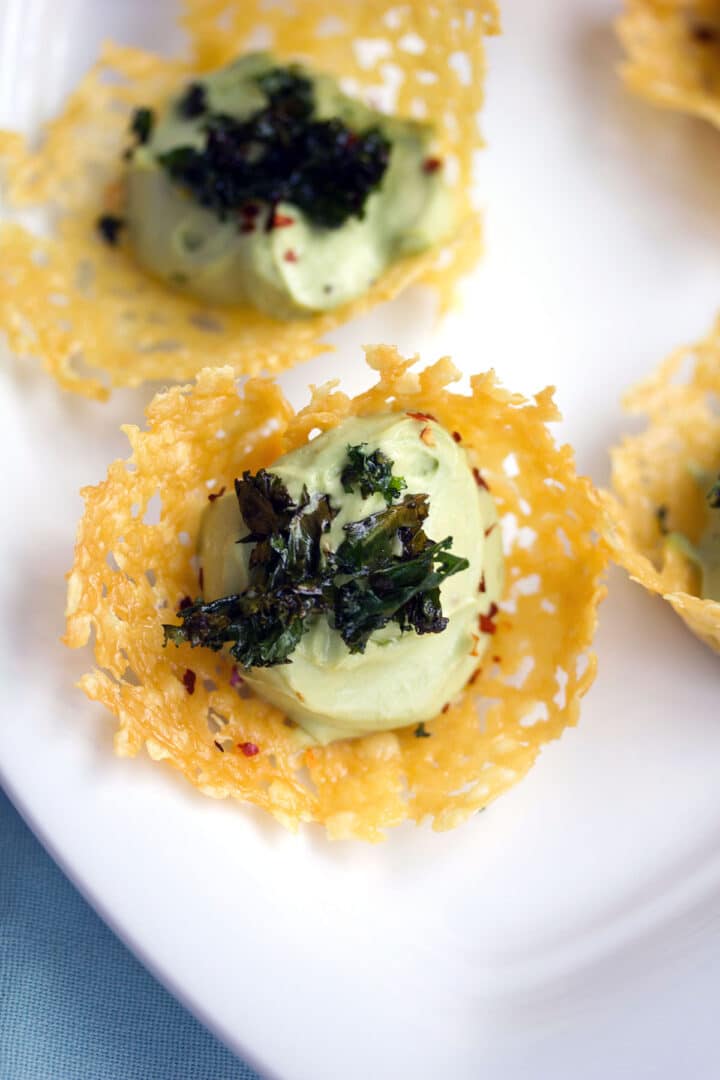 It was definitely a mistake for me to learn how to make these. Too easy and ridiculously dangerous. What wouldn't be delicious in a cheddar cup??
These could definitely help you overcome all sorts of bad days... Probably not a home explosion caused by turkeys, but lots of other stuff. They certainly make me pretty happy!
What three foods would you choose to live on for the rest of your life?
📖 Recipe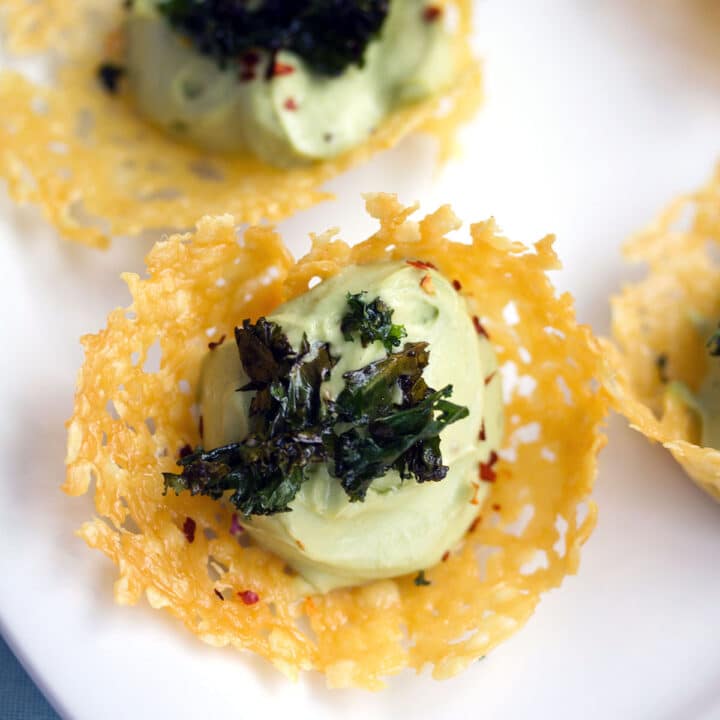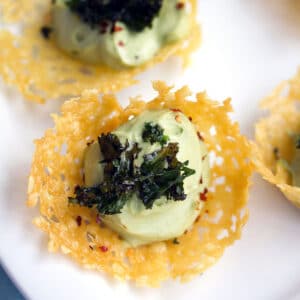 Cheddar Cups with Avocado Feta Mousse
These cheese cups involve just one ingredient... Cheddar! Fill them with an avocado feta mousse and top with some crispy kale for an absolutely perfect party appetizer.
Print
Pin
Rate
Ingredients
Cheddar Cups
1

block (6 oz.)

Cheddar Cheese,

shredded
Avocado Feta Mousse:
2

avocados,

peeled and pitted

½

cup

crumbled feta cheese

1

Tbsp

freshly squeezed lime juice

6

Tbsp

milk

¼

tsp

black pepper
Baked Kale
2

cups

kale leaves,

cleaned with ribs removed

1 ½

Tbsp

olive oil

¼

tsp

red pepper flakes

Pinch

of salt
Instructions
Cheddar Cups
Pre-heat oven to 350 degrees and spray a muffin tin with cooking oil.

On a parchment paper or Silpat-lined baking sheet, scatter shredded cheddar in small circular mounds, spaced at least an inch apart.

Bake at 350 degrees for about 8-10 minutes, when cheese is just turning golden.

After removing from oven, let sit for 30-60 seconds and then lift cheddar rounds with spatula and fit into muffin tins. Press down to form cheese into cups. It's important wait 30-60 seconds before moving, so cheese isn't gooey, but then you must work quickly before it hardens completely.

Cool completely and then remove from muffin tin.

Spoon or pipe avocado feta mousse into each cup and top with crumbled baked kale.
Avocado Feta Mousse
Place avocado, feta, lime juice, milk, and black pepper in a blender and process until a smooth mousse is formed.
Baked Kale
Place kale leaves in a bowl and toss together with olive oil and red pepper flakes, and salt.

Once kale is coated, spread leaves in a single layer on a baking sheet and bake at 350 degrees for about 16-20 minutes, until nice and crispy.

Remove from oven and let cool.
Notes
If these cheddar cups will be sitting out at a party, you may want to squeeze a little fresh lime juice over them to prevent the avocado mousse from browning.
Share a Photo of Your Finished Recipe!
Mention @wearenotmartha and share a photo if you've made the recipe!
View Web Story for this recipe.