This Oreo Funfetti Popcorn is also known as birthday cake popcorn or party popcorn. Packed with sprinkles and Birthday Cake Oreo Cookies, it's a quick and easy dessert perfect for bringing to parties!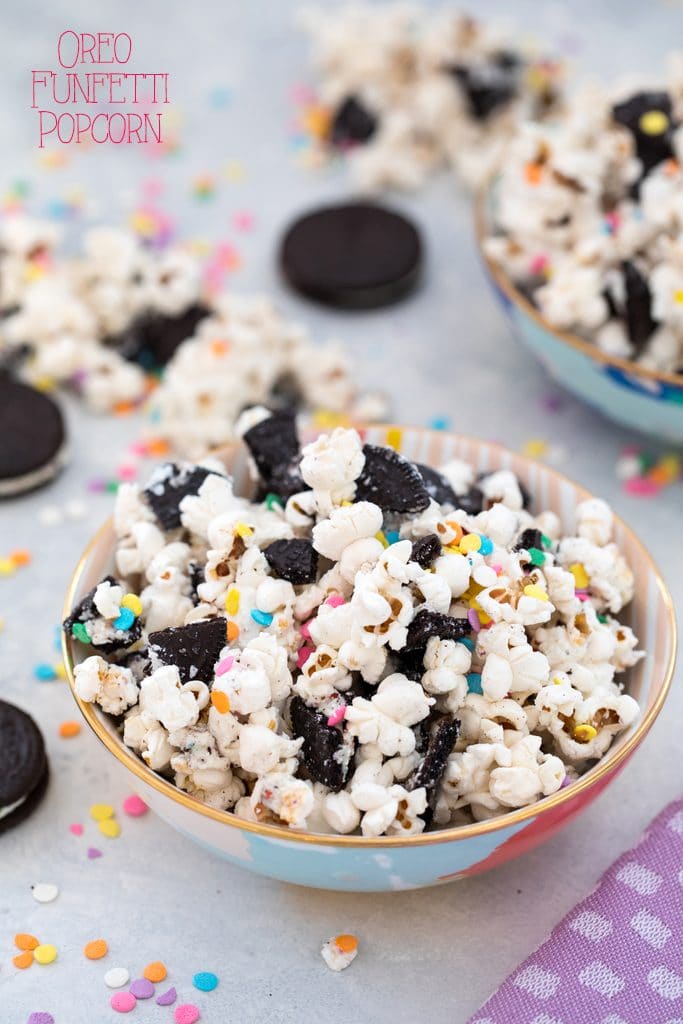 (This recipe for Oreo Funfetti Popcorn was originally published in April 2014, but has been updated with new photos and content in 2018.)
When I was in middle school, I set a bag of popcorn on fire in my kitchen microwave while preparing an after school snack before heading to dance class. Probably needless to say, my parents were not exactly thrilled that the entire house smelled like burnt popcorn for like a week. And that I almost burned the house down. I actually think the microwave shorted out, which is probably the only thing that really saved us.
Middle school and I couldn't even handle the microwave... Ack. To be fair, popcorn can be tough since all microwaves are a bit different and the package might not always have the best recommendation. I think that's why they invented the popcorn button. But here I am now just making excuses for my 12-year-old self.
Well, I'm so happy to say that I have come a long, long way since my middle school days. To the point where I now make popcorn on the stovetop, which would have been a serious danger back in the day. Canola oil and direct heat? Let's just say, I never would have been left alone again. So far, I have experienced no danger in my stovetop popcorn making adventures, but with images from last night's episode of This is Us locked in my mind, I may need to refrain from using any kitchen appliances for the next 10 years or so. Yikes.
Anyway, If there's one thing I know we all love, it's sprinkles. I mean, you probably would have abandoned my blog 35 years ago if you didn't like sprinkles. Also, every time I post a picture to Instagram Stories that involves my sprinkles lamp, I get a million questions about it (it's featured in this post in case you're wondering!). So, I'm pretty sure we're all in this sprinkles love boat together (OK, a sprinkles love boat sounds half majorly creepy and half really awesome). And sprinkles in popcorn scream "party!" especially when there are Birthday Cake Oreo Cookies included, too.
OREO FUNFETTI POPCORN RECIPE
I first made this Oreo Funfetti Popcorn years ago (during my Wilton partnership) and have continued to make it for any party where I want to bring something fun, but don't have a whole lot of time to spend in the kitchen. It's incredibly quick and easy and really difficult not to love. Like I mentioned, I mainly pop popcorn on the stovetop these days, but you can certainly use microwavable popcorn. If you do, you should know that I used 10 cups of popped popcorn in this recipe.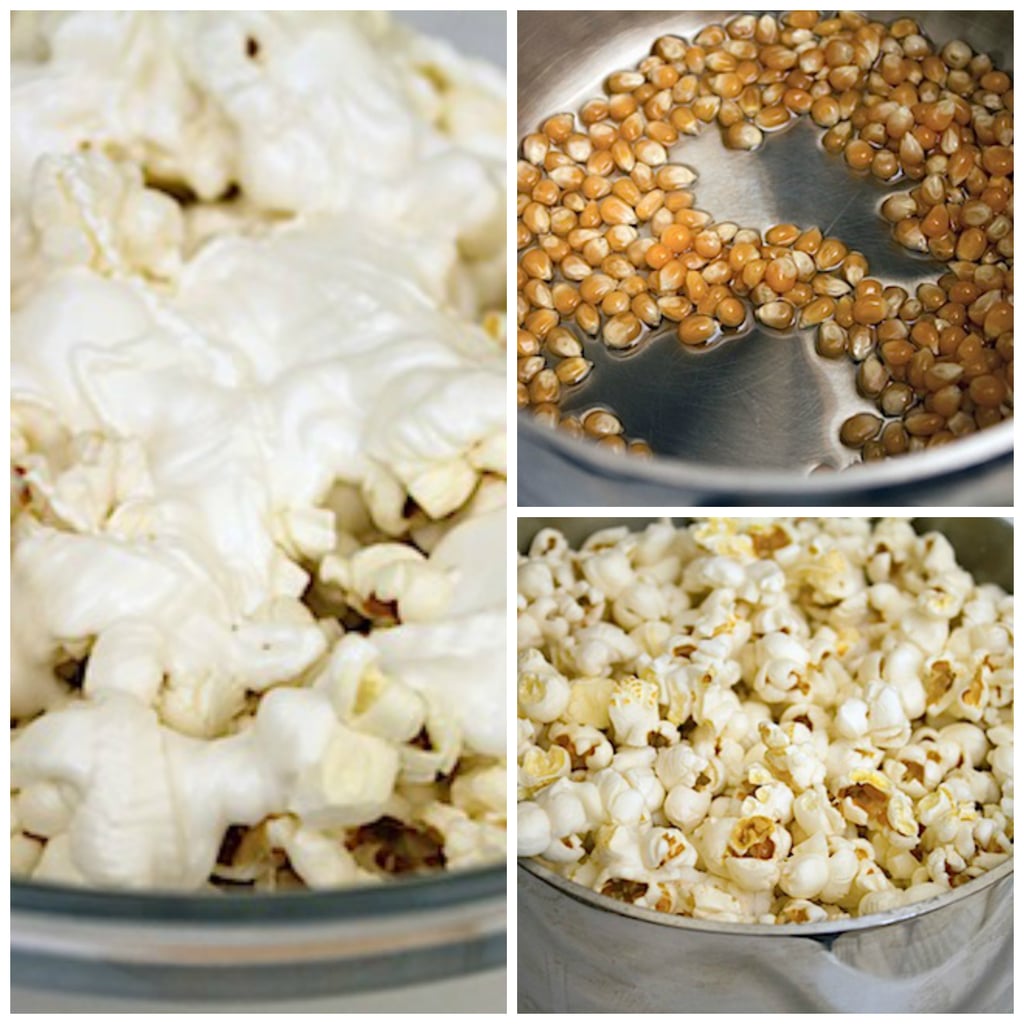 You also need candy melts! I generally use Wilton, of course. When I first made this recipe I used their marshmallow candy melts, but since they were limited edition, it's sadly tough to find them these days. Luckily, any of their vanilla versions taste very similar, so that's what I used here. They have all different shades of white and any will work, though I like bright white (affiliate link) best. Also, I used these sprinkles (affiliate link!).
Once you pop your popcorn and melt your candy melts, you simply drizzle the melts over the popcorn and toss with crumbled Birthday Cake Oreo Cookies and sprinkles.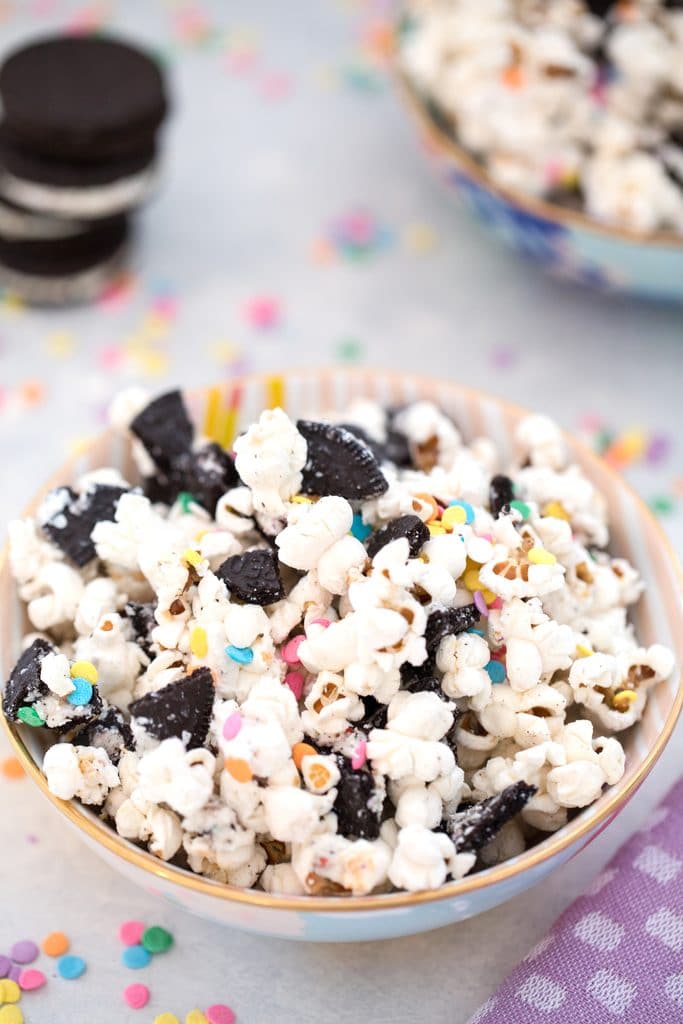 And you will never, ever eat savory popcorn again. OK, that's not true because sometimes when you're watching a movie you might crave a buttery, salty popcorn. Or perhaps one with extra tabasco and parmesan cheese (obsessed).
But this dessert popcorn will shoot way up on your list of top popcorns in the world. You may even find yourself making excuses to make it... I mean, I'm not going to a party, but if you consider Saturday night in and of itself a party even if it just involves PJs, the couch, and a glass or wine... There's really no bad time for funfetti popcorn.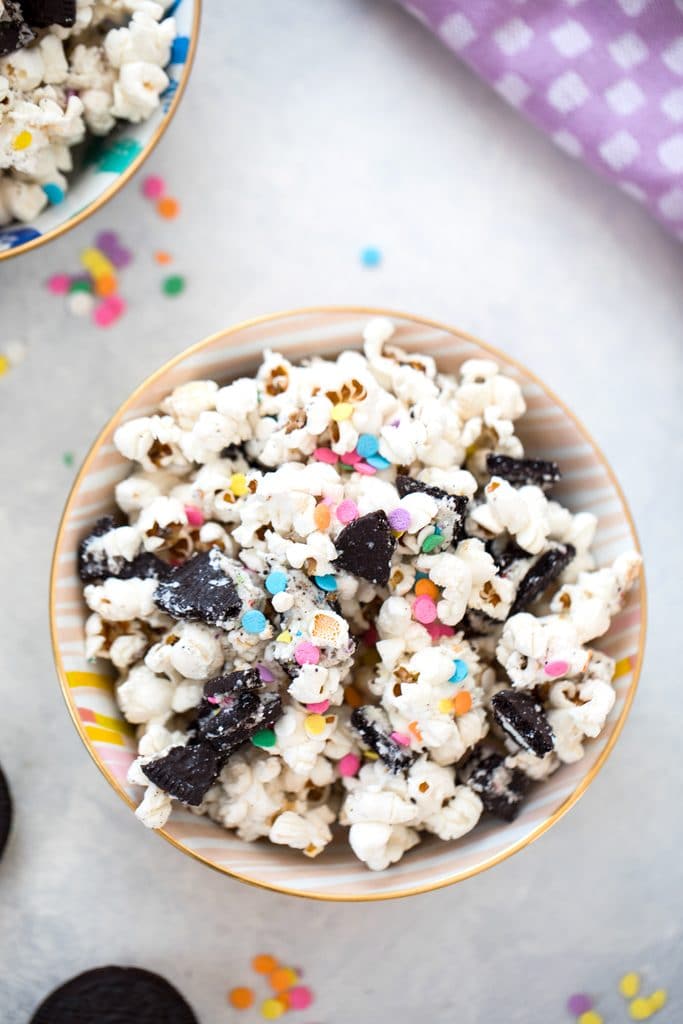 Because it's awesome. And pretty to boot. In my opinion, funfetti everything is better (I recently made Alison Roman's Chocolate Chunk Shortbread Cookies funfetti style!) and funfetti popcorn is no exception.
This just feels like a party! It also makes me think of spring (yay spring! Hurry up!) and would make for a wonderful Easter popcorn. Though popcorn on holidays always makes me think of Snoopy making popcorn for Thanksgiving 🙂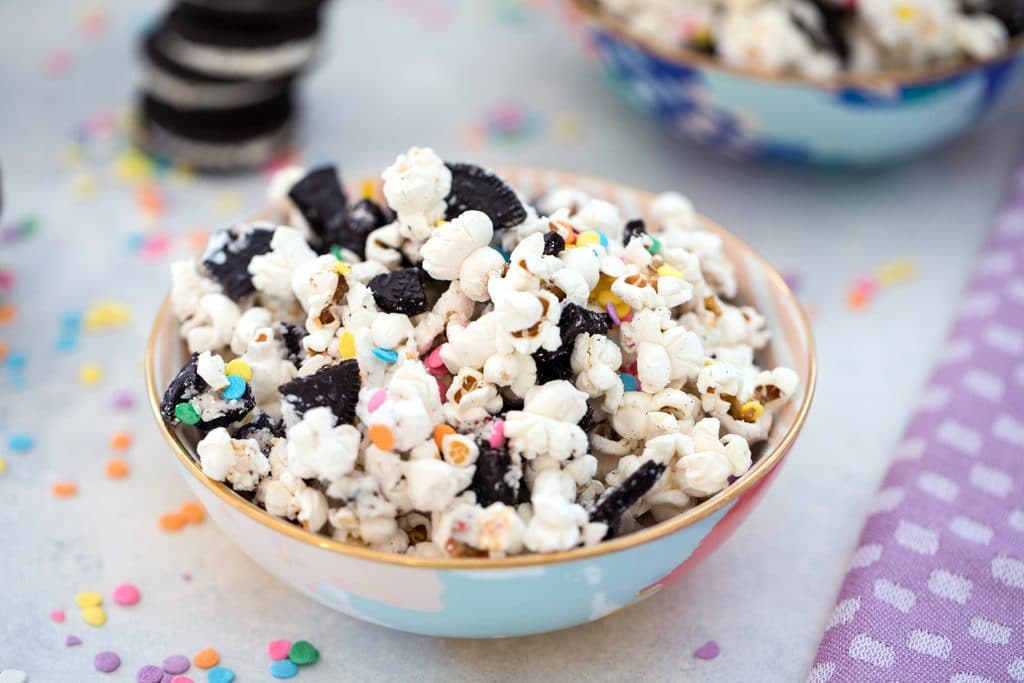 I also think that Birthday Cake Oreo Cookies (basically Funfetti Oreo Cookies) are the best Oreo Cookies and I will almost always choose them over others. I just realized they have a golden version now, too... So, if you're making this popcorn for someone who doesn't love chocolate, those could totally work here. It's a pretty simple recipe and the options are endless!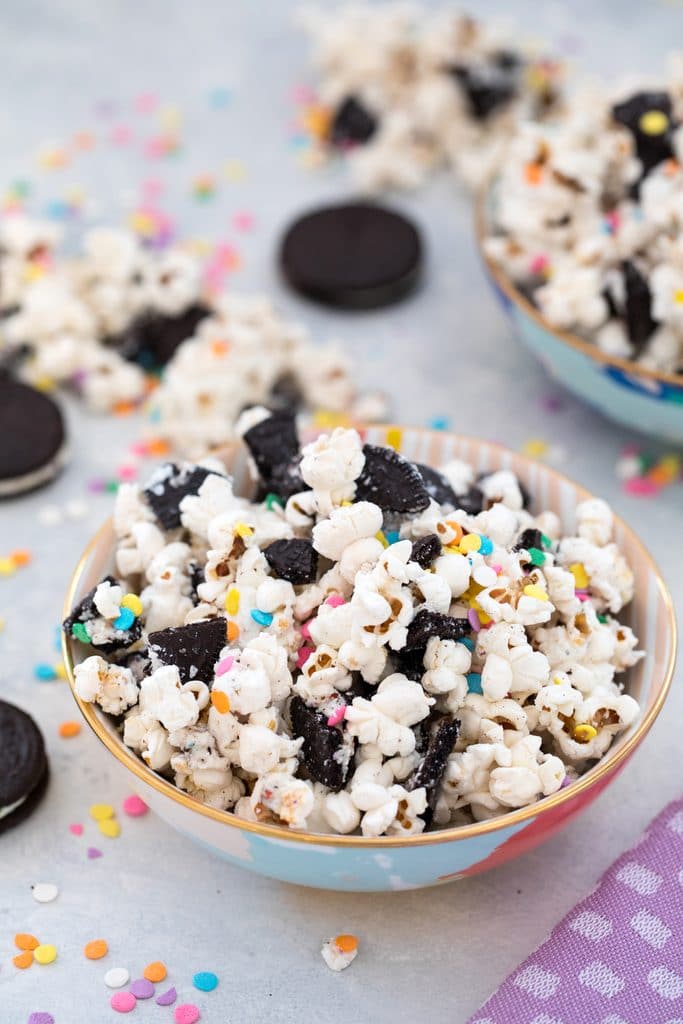 I also have to include this sad photo from one of the first times I made this funfetti popcorn back in the day. I brought it into the office to share with my co-workers and it tragically fell to the floor. It was a sad, sad day and one we hope is never repeated. I can't totally recall, but I want to say that most of that popcorn was eaten anyway. Worth it.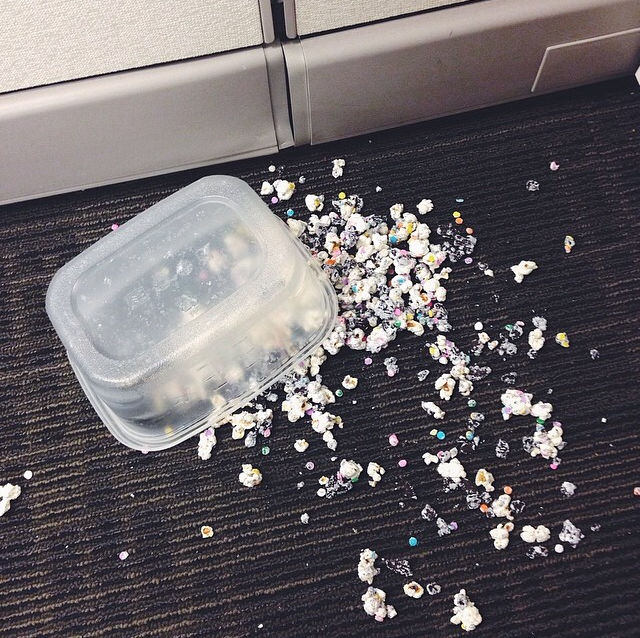 I'm happy to say that my most recent batch of Oreo Funetti Popcorn all made it in one piece until its final resting place. Thank goodness.
What's the best popcorn you've ever had?
For more delicious popcorn recipes, check out my Bacon Jalapenño Cheddar Popcorn and my Sriracha Basil Popcorn. I also really want to try this Snickerdoodle Popcorn from Club Crafted!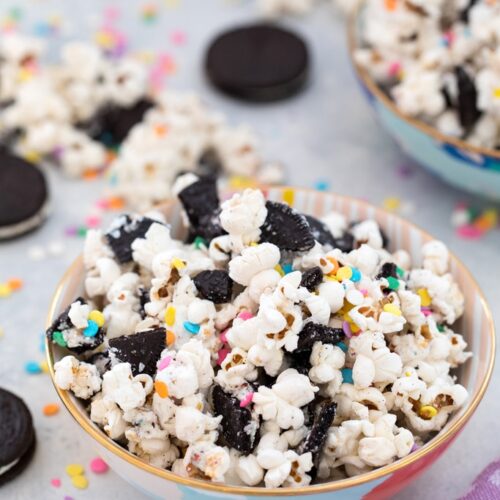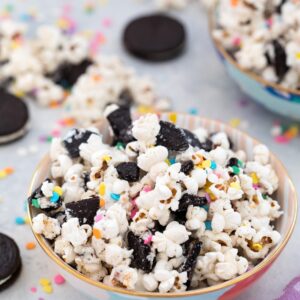 Oreo Funfetti Popcorn
This Oreo Funfetti Popcorn is also known as birthday cake popcorn or party popcorn. Packed with sprinkles and Birthday Cake Oreo Cookies, it's a quick and easy dessert perfect for bringing to parties!
Print
Pin
Rate
Servings:
12
cups popcorn
Ingredients
2

Tbsp

canola oil

⅓

cup

popcorn kernels

8

oz.

Wilton Candy Melts (Marshmallow or any Vanilla flavored version)

8

Birthday Cake Oreo Cookies, crumbled

Sprinkles of your choice
Instructions
Put oil and popcorn kernels in a large pot over medium-high. When the first kernel pops, cover the pot and remove it from the heat for about 30 seconds.

Place pot back on the stove and once kernels start popping, vigorously shake the pot back and forth, keeping it on heat. Once popping slows, take pot off the heat and remove cover. Put popped popcorn in a large bowl.

Put candy melts in a microwave safe bowl and place in the microwave for 1 minute at 40% heat. Stir mixture with a spoon and then repeat regimen at 30-second intervals, stirring in between each one, until candy melts are fully melted.

Drizzle candy melts over popcorn and toss with crumbled Oreo Cookies and sprinkles.
Notes
If you prefer to use microwavable popcorn, use 10 cups popped.
Store popcorn in airtight containers at room temperature and enjoy as soon as possible.
Pin this Recipe for Later!
Mention @wearenotmartha and share a photo if you've made the recipe!