There's nothing fancy about this easy taco dip, but it will take you five minutes to put together and will likely be the hit of the party. With just five ingredients, all of your friends will be asking for the recipe!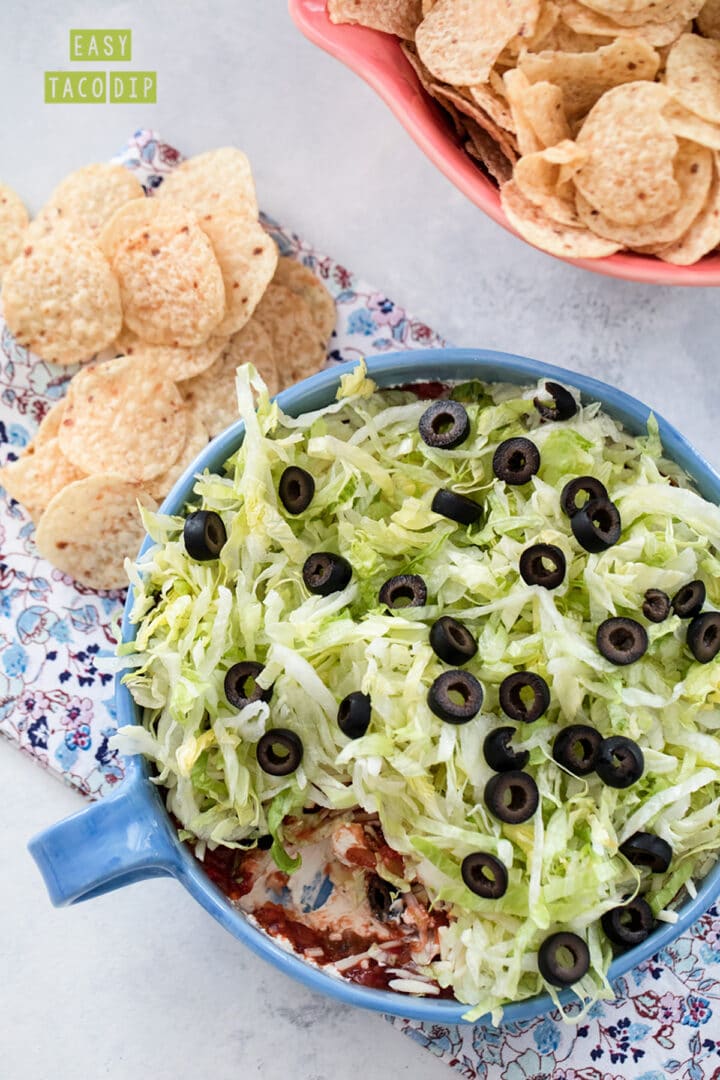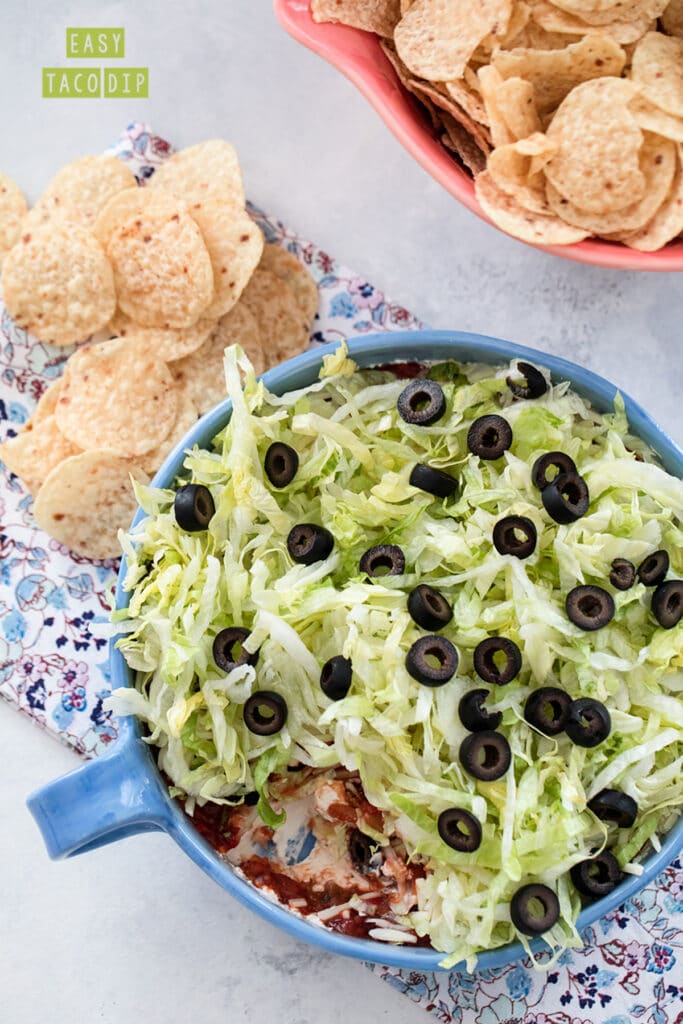 (This recipe for Easy Taco Dip was originally published in February 2008, but was updated with new photos in 2018).
I've learned that sometimes the easiest things can be the biggest hits. And when you're planning a party, any dishes you can put together that will save you stress and be party hits are must-makes.
I've been making this simple taco dip ever since high school when my mom got sick of making it for my get-togethers and started having me do it myself. That means I've been making it for approximately 80 billion years. Which is a long time.
It's not one of those crazy 7-layer dips, but it's incredibly easy and absolutely delicious and seriously makes the crowd go crazy. It's simply cream cheese, salsa, cheese, lettuce, and olives all thrown together in a pie dish. It really doesn't get much easier than that.
And I seriously have never made anything that people go so wild over. I often feel guilty when people rave about it because it takes about 5 minutes to make and literally a child could do it. Sometimes I wonder if people really like me or if they're just inviting me to their parties for the taco dip!
First things first, a really cute pie dish is not totally necessary to enjoy this taco dip, but if you have one, use it! I'm in serious love with my Painted Pup pie plate.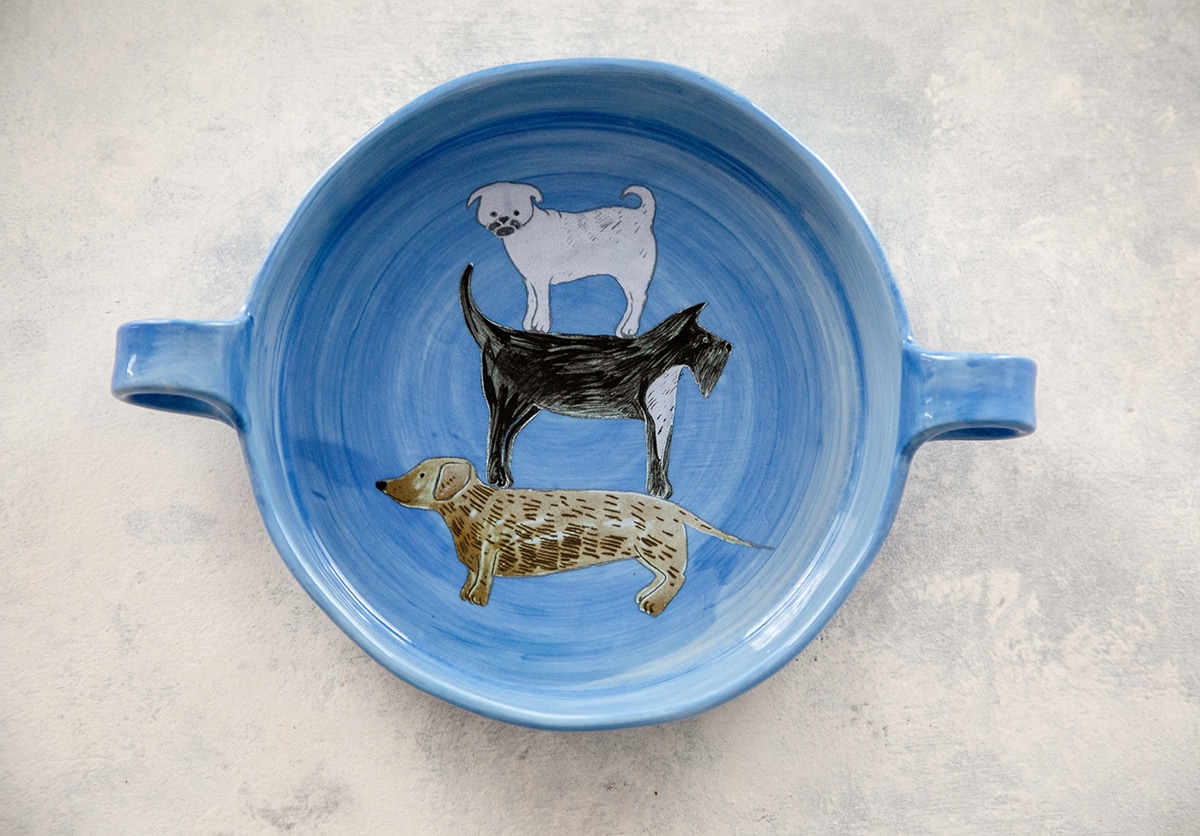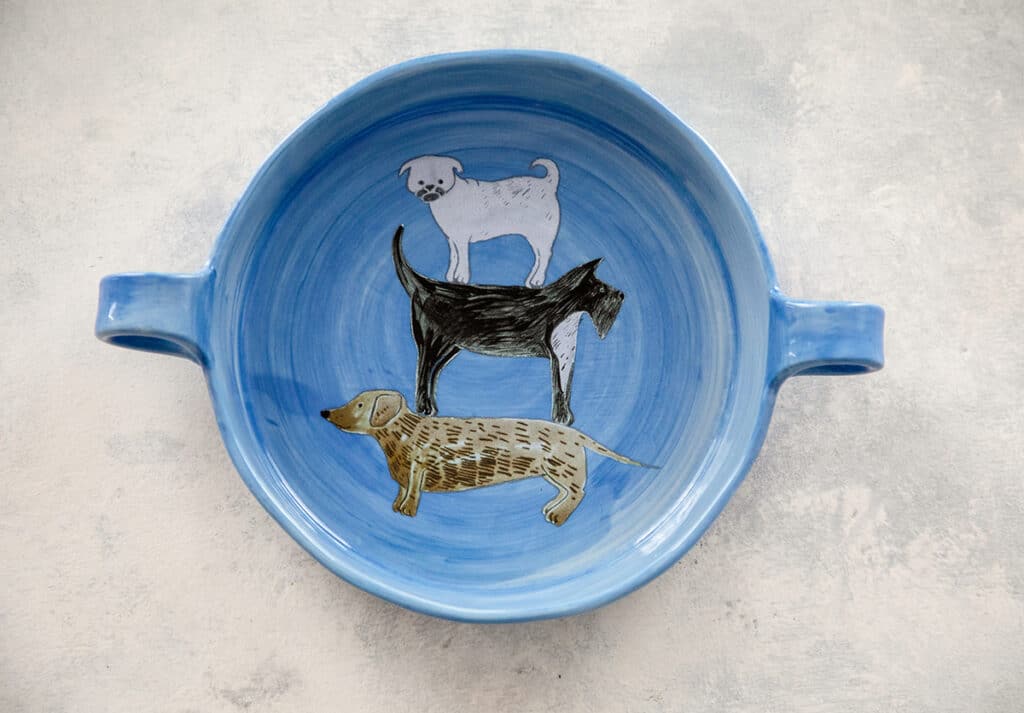 How to Make Easy Taco Dip
Ready to see how easy this taco dip is? It's just a few simple steps!
Spread cream cheese on the bottom of the pie plate. And then spread the salsa over the top.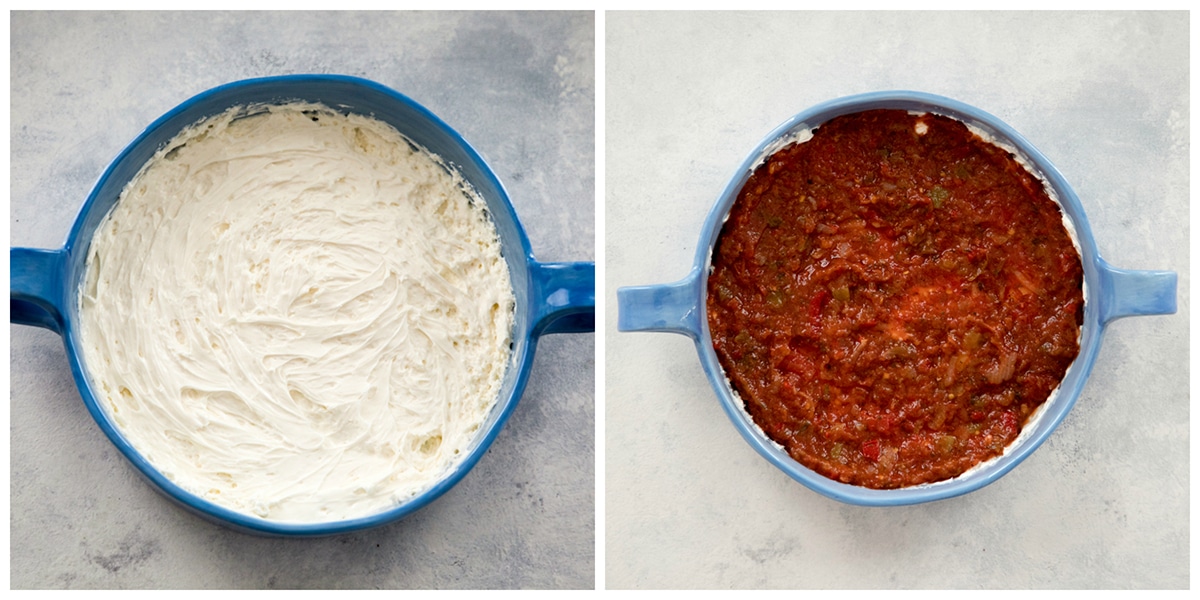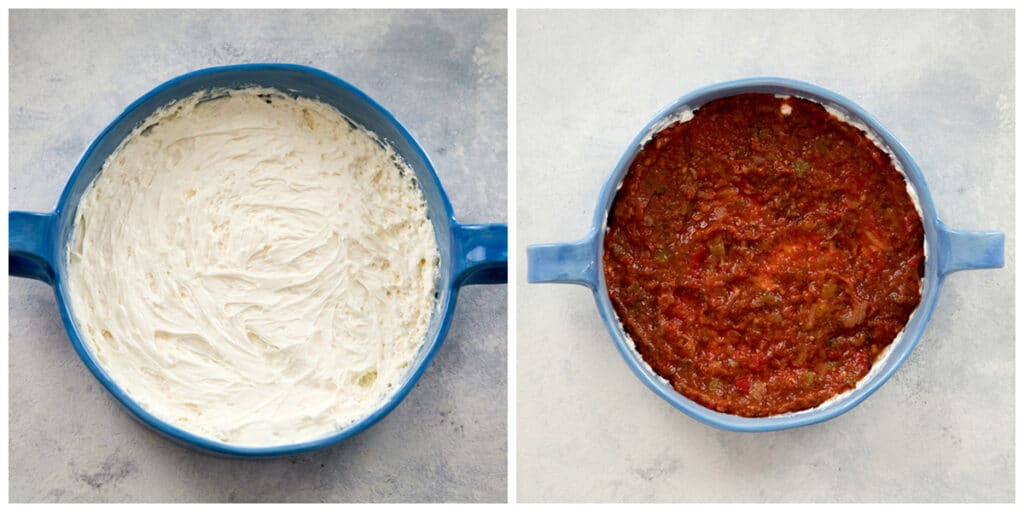 Next up- sprinkle the cheddar cheese over the salsa and top it all with shredded lettuce and sliced black olives if you're using them (they're easy enough for the haters to pick out!).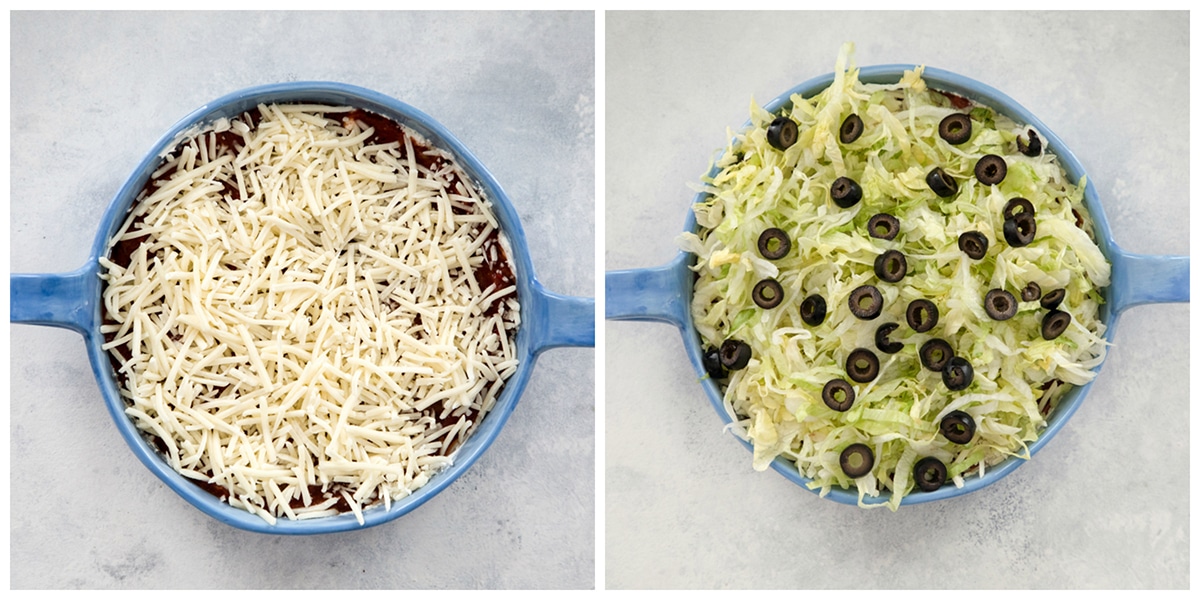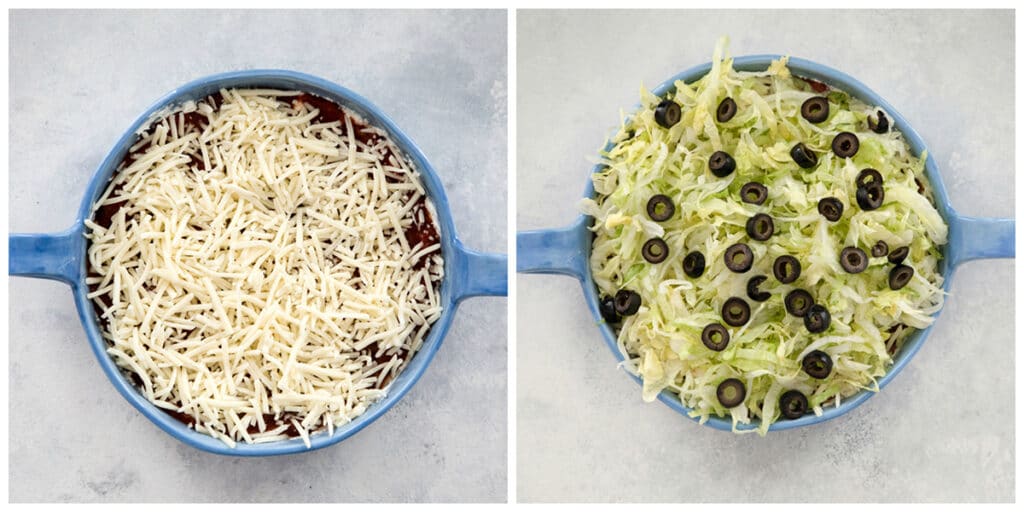 And you're done! That literally took 5 minutes and that's only if you're a slow cream cheese spreader. You can make this easy taco dip a day ahead and keep it in the fridge.
When you're ready to serve, just make sure you take it out of the fridge about 20 minutes before enjoying as you'll want the cream cheese to soften a little bit to prevent broken chips.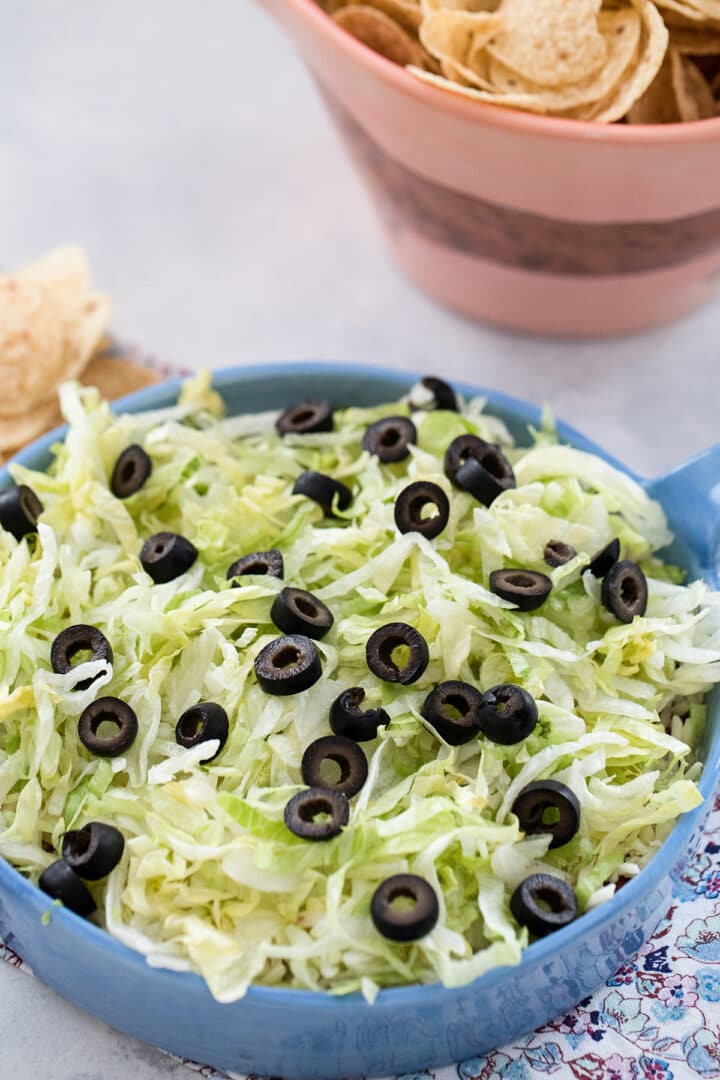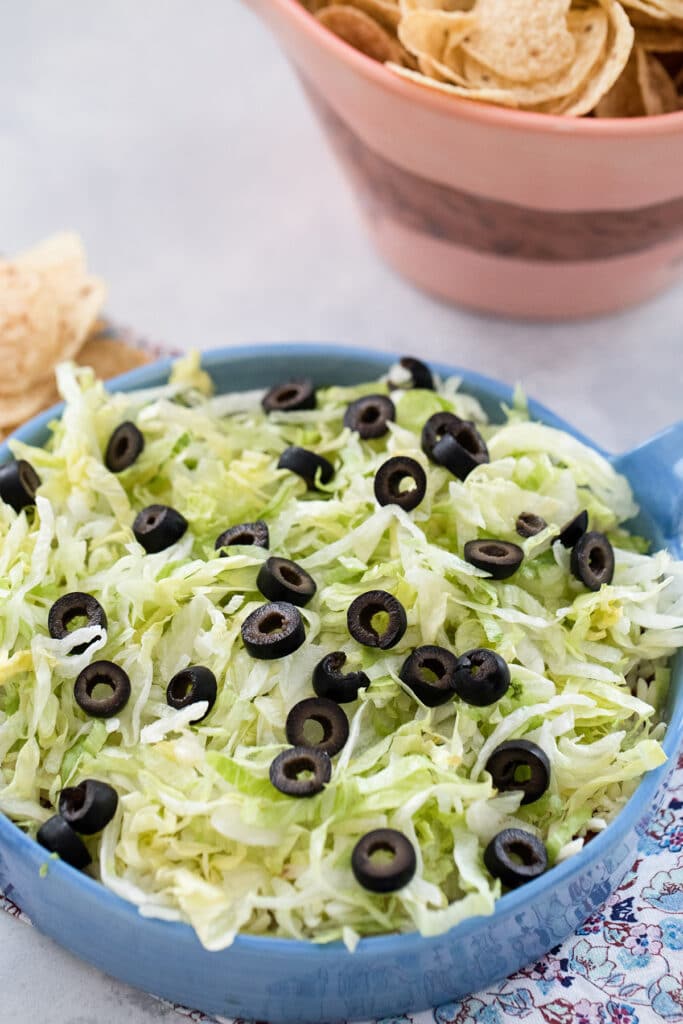 Alterations to Taco Dip
Though I think this taco dip is perfect as is (and as easy as could possibly be!), there are plenty of alternations you could make to it. Some will add a little time to the prep, but it's always fun to mix things up sometimes. Here are some recommendations:
Add ground beef or turkey: Simply sauté ground meat with seasonings, drain the oil, and add a layer of it over the cream cheese.
Add black beans or beans of your choice.
Change up the cheese: I use shredded cheddar, but you could use Monterey Jack or pepperjack or anything you choose.
Add jalapeños: If you're looking for a bit more of a kick, mix diced jalapeños into the cream cheese before spreading.
In case you're wondering, my favorite salsa to make this taco dip with is Newman's Own Habanero Hot Salsa, which is seriously the best salsa in the world. And it's really not that spicy. I have friends who greatly dislike spicy food, and I've never had a complaint about this.
Just be careful not to make the mistake I've made before and use peach salsa (the jars look way too similar). Unless of course you enjoy peach salsa in your taco dip. Then, by all means, go crazy. Luckily, this is such an easy taco dip to make that if you mess anything up, you can make another one in no time at all.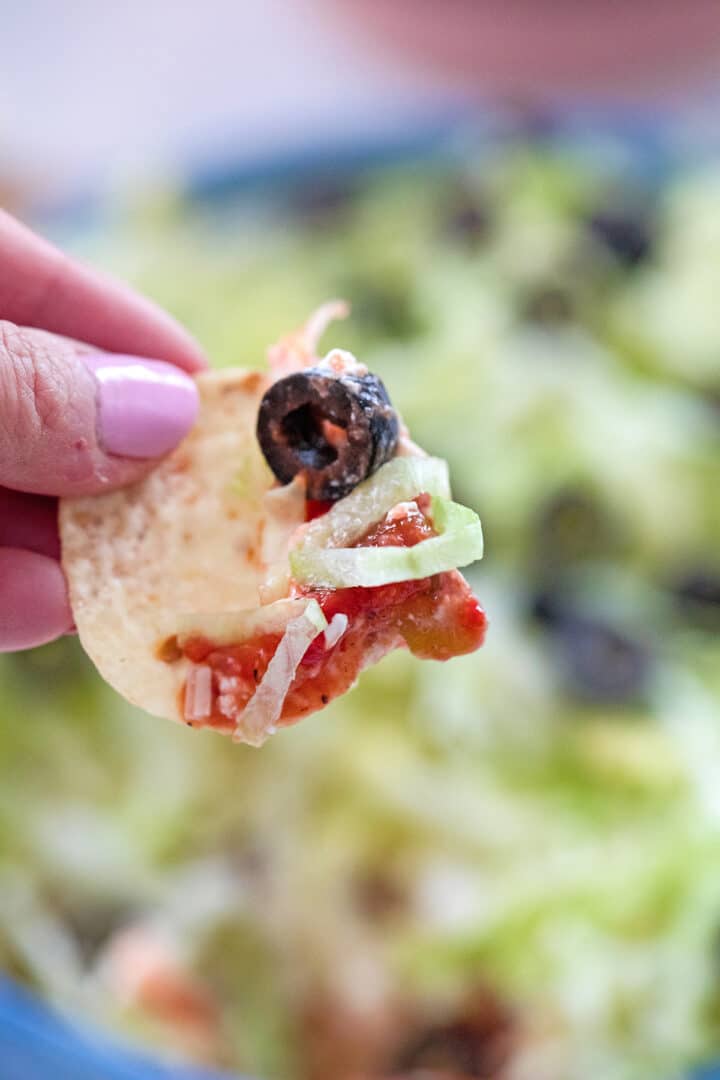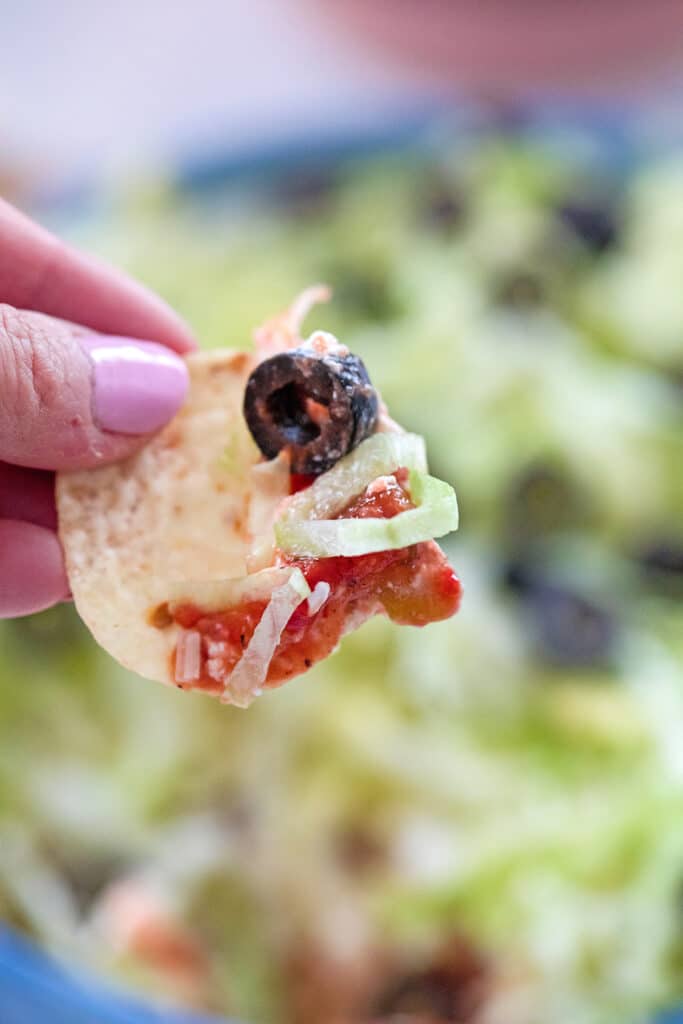 I'm not really loyal to any one tortilla chip brand, though I do really love multigrain tortilla chips. And if you're looking to class up your party a bit and live in New England, you should consider these Mi Niña Jalapeño Agave Chips, which are pretty much the most delicious chips ever.
But for the purposes of this taco dip, simple tortilla chips are fine since it's all about the dip here. If you're me, you'll serve those tortilla chips in a fun bowl, again, Painted Pup for the win here!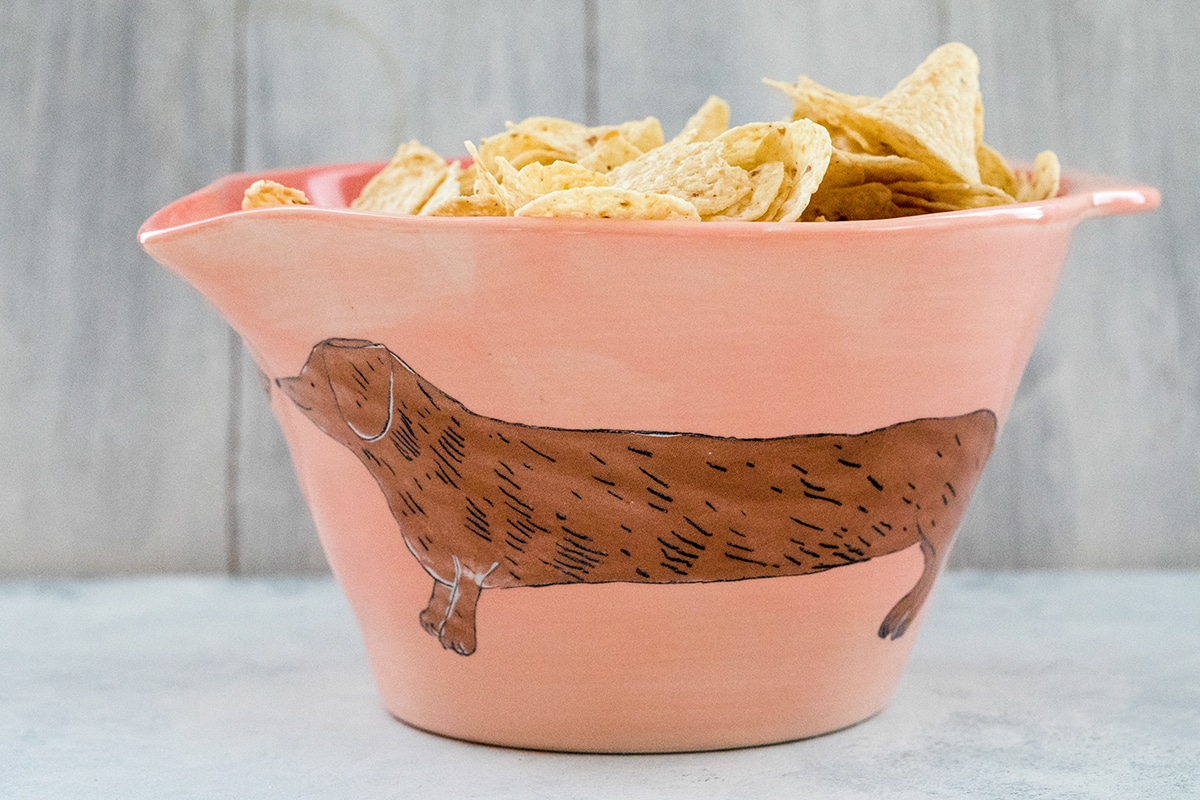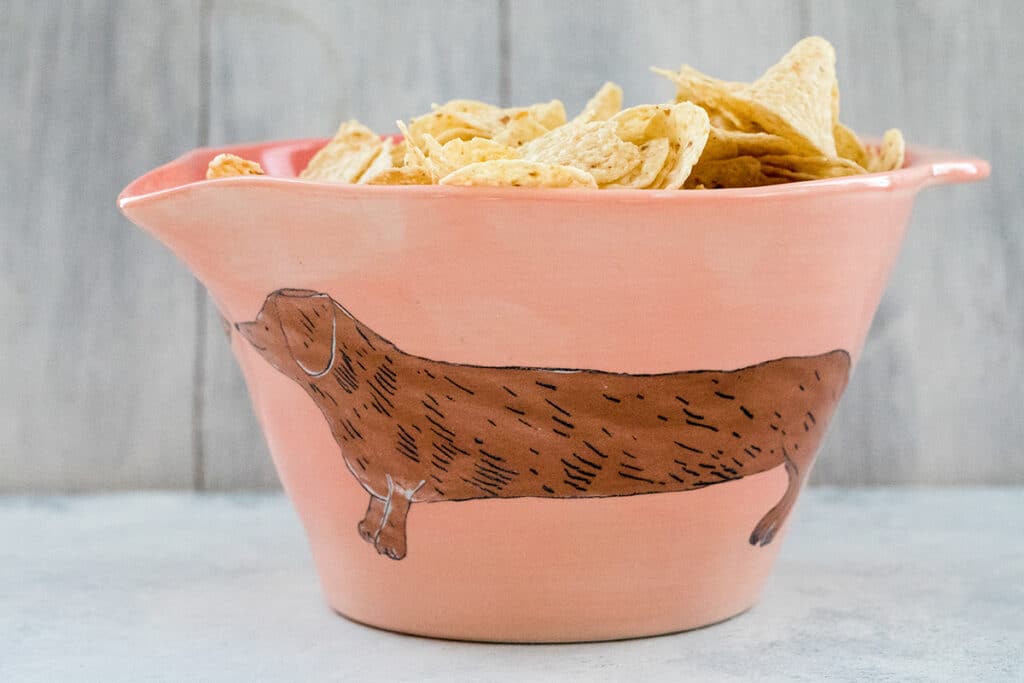 Since this easy taco dip is ideal for football watching and Super Bowl parties, I feel it's only right to include a shoutout to the Patriots team for making it to the 2018 Super Bowl.
You should also know that the first time I wrote this post, it was 2008 and the Patriots were also in the Super Bowl. And they sadly lost. And Chels and I ate this taco dip while crying over the game. I cannot even believe that was ten years ago. But that just proves this taco dip stands the test of time!
More Easy Dip Recipes
Though I don't think it gets any easier than this easy taco dip, I have plenty of party dip recipes that are simple to make! Here are some of my favorites: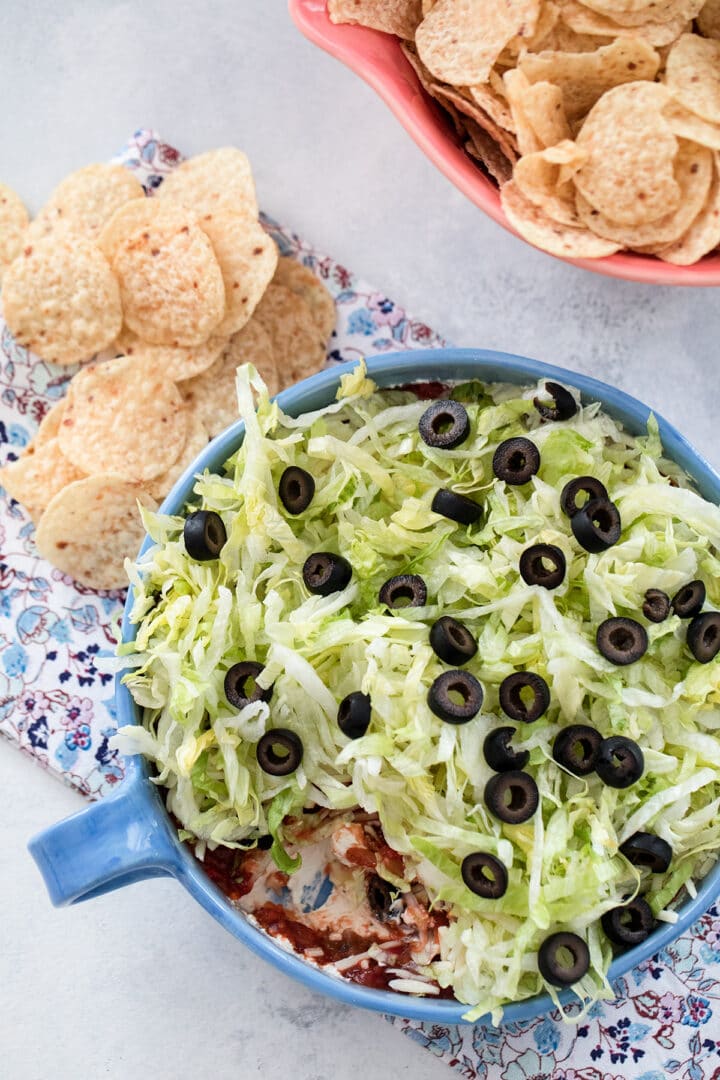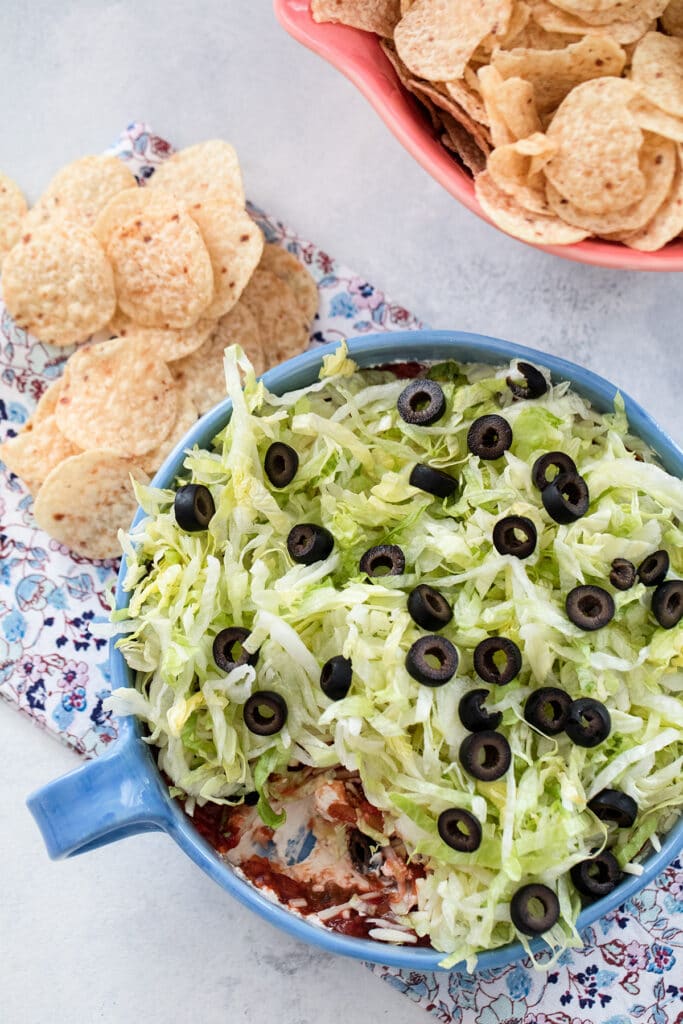 If you're looking for simple appetizers that your party guests will love, I highly recommend this easy taco dip. But be aware that once you make it, you'll be bringing it to parties for life.
Just make sure nobody ever figures out how easy it is to make or else they'll be asking you to bring something else, too. It can be our little secret.
What's your favorite easy party appetizer?
📖 Recipe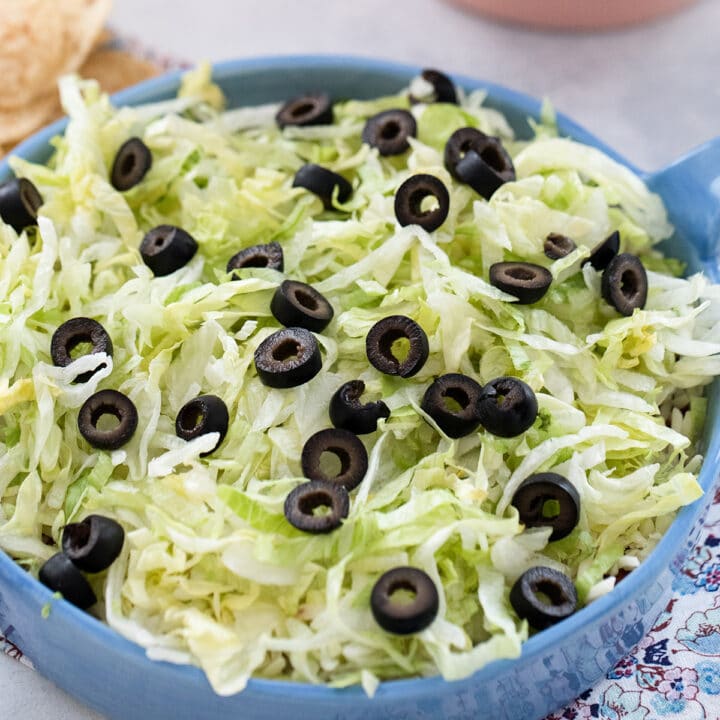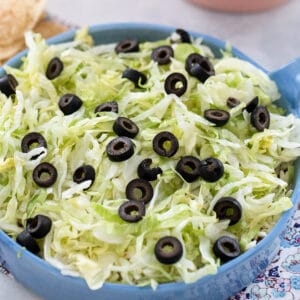 Easy Taco Dip
There's nothing fancy about this easy taco dip, but it will take you five minutes to put together and will likely be the hit of the party. With just five ingredients, all of your friends will be asking for the recipe!
Print
Pin
Rate
Ingredients
8

oz.

cream cheese,

softened

1

cup

jarred salsa

1 ½

cups

shredded cheddar cheese

2

cups

shredded lettuce

¼

cup

sliced black olive,

optional
Instructions
Using a spatula, spread cream cheese in the bottom of a 9-inch pie dish. Top with salsa and spread to cover cream cheese.

Sprinkle cheese over the salsa, layer lettuce on top, and top with black olives.

Remove taco dip from fridge about 20 minutes before serving. Serve with tortilla chips.
Share a Photo of Your Finished Recipe!
Mention @wearenotmartha and share a photo if you've made the recipe!
View Web Story for this recipe.